15 Recipes to Use and Preserve Fresh Basil
If you propagated your basil from cuttings like I did this year, no doubt you have a boatload of basil to contend with. Here are some recipes that go beyond the norm and help that basil last throughout the year.

Pesto

Usually the first thing people think of making with fresh basil is pesto. Make a big batch without the cheese and store in the freezer in small jars. Thaw just enough to use, add the cheese back in and it's like you have fresh pesto all winter long.
Preserving
Besides storing as pesto, there are a few ways to preserve basil for the winter months.
Dry clean, trimmed basil by layering onto the shelves of a food dehydrator. Leave lots of space between leaves and check often to ensure they don't over dry. Store dried herbs in a sealed jar for up to a year.
Freeze chopped basil mixed with water in ice cube trays. Transfer frozen cubes to a freezer bag to store. Thaw a cube when needed for a recipe.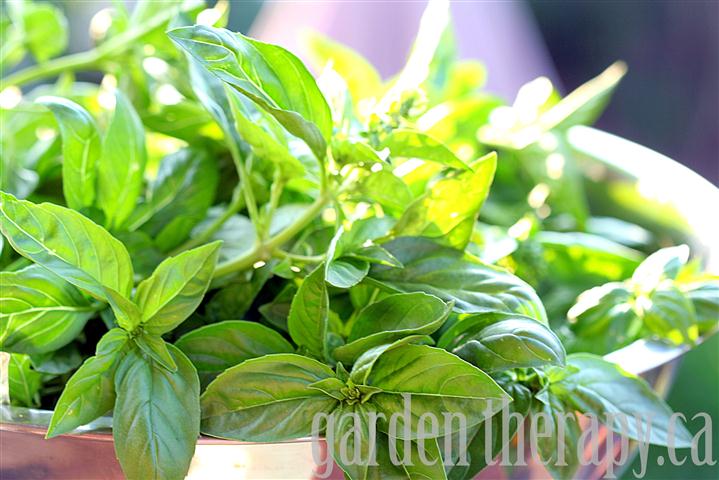 Condiments
Using fresh basil as a condiment is one of my favorite ways to eat it.
Make basil mayo by finely chopping a handful of basil and a teeny bit of garlic, then mixing it with 1/4 cup of mayonnaise.  This is beautiful on salmon burgers.
Make basil butter the same way as the mayo, but skip the garlic and replace the mayo with butter. Cook your morning eggs with basil butter and you'll never want them another way again.
To make basil-infused olive oil, blanch two handfuls of basil by dropping it into boiling water for 5 seconds, then immediately into ice water. Squeeze out water, then add it and a cup of olive oil into a blender. Puree, then strain until all that remains is a beautiful bright green oil. Perfect for drizzling over some grilled white fish.
Make basil vinegar by packing basil, peppercorns, and garlic into a jar topped with apple cider vinegar. Let infuse for 2 weeks before using as an ingredient in a fabulous vinaigrette.
Make Basil-Aioli Dipping Sauce by pulsing  basil leaves, garlic, olive oil, lemon juice, and anchovy paste in a food processor, then folding into some mayo. I would love this with some panko crusted shrimp or even a steamed artichoke.
Salads
Fresh basil is always a welcome addition to salads.
Caprese salad is a perfect go-to recipe when you have an abundance of  heirloom tomatoes. Slice and salt tomatoes, add some  fresh mozzarella and full-size basil leaves, then drizzle with a great olive oil.
This Watermelon and Basil Salad looks interesting, and since the instructions are simple enough it's worth a try in my books.
I love the balance of this Cucumber, Tomato and Basil Salad.  Cool cucumbers and sweet basil translates to a very refreshing side dish.
Try a twist on the classic with this Basil Cesar Salad that makes a perfect lunch with the addition of hearty croutons.
Dessert
Basil's sweetness and mild anise flavor also make it a wonderful addition to desserts.
If you haven't yet tried basil ice cream, what are you waiting for?! It's delicious. It has the exact flavor you would expect: basily, sweet, creamy. Delightful. Top a small scoop with some dark chocolate sauce and you have your dinner guests licking their bowls (seriously, it happened).