While the ingredients make the soap, I sure do love how these swirls turn out! I can't get enough of making swirls in all my cold process soap recipes. Once you get a hang of the method, it's really quite simple! Here's how I make my swirl soap, no hanger or fancy tools necessary.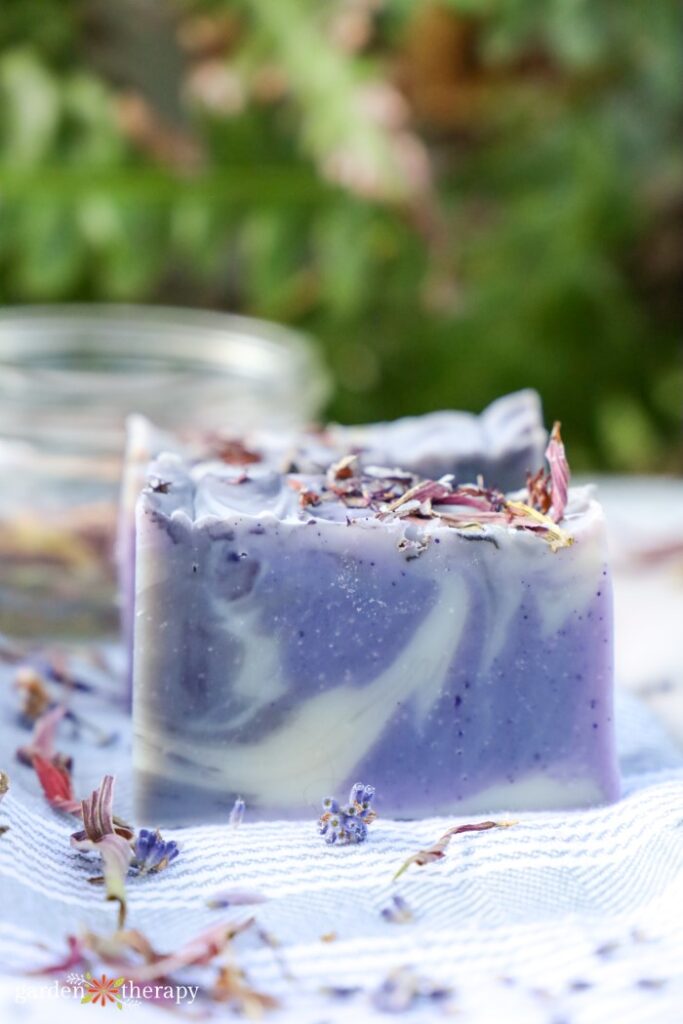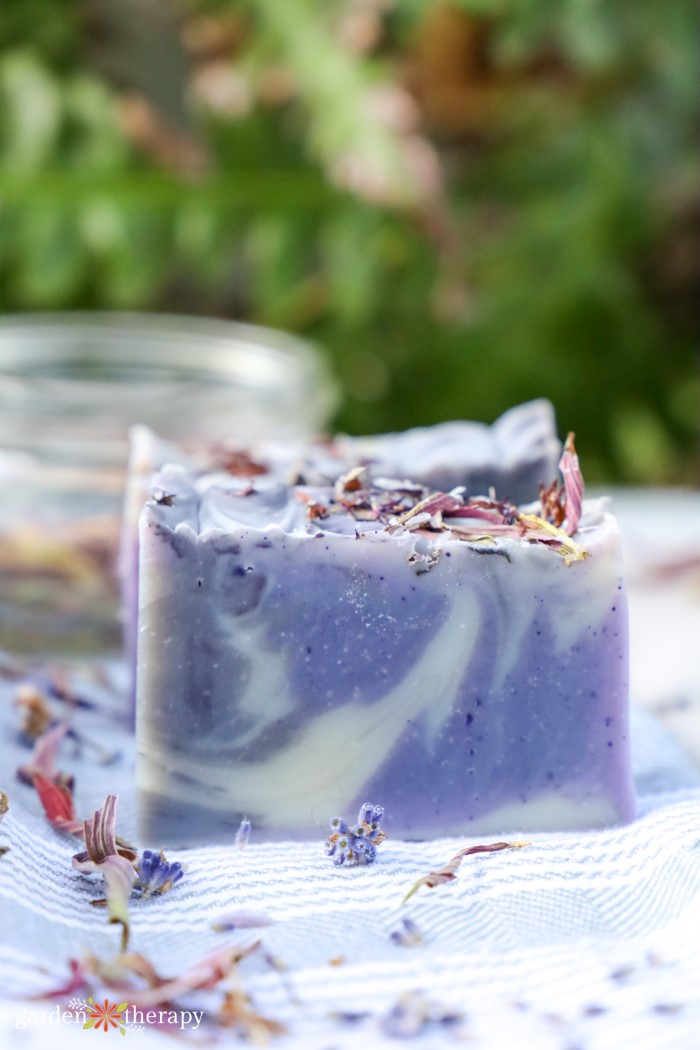 Beginner soap makers may look at swirl soap and wonder how on earth can I get my soap to look like that?? While I encourage you to get your basics mastered first, making cold process swirl really isn't that hard. I've mastered my own method and have made many soaps this past year featuring this swirl.
Yes sweet orange and cinnamon soap and lime and cedarwood soap, I'm looking at you!
While the soap is a stunner all on its own, the scent alone could gather crowds. Scent can get really personal for some people. Just like our tastebuds, not everything we smell can be a hit with the masses. But, in addition to teaching you my method for swirled cold process soap, I've also included a recipe that smells so glorious, everyone will love it.
This post will cover…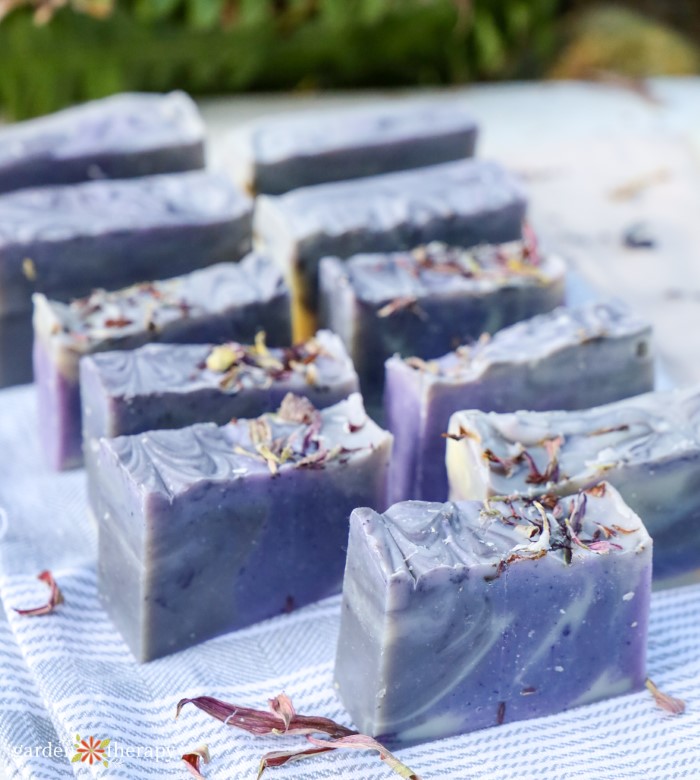 The Three Gloriously Scented Musketeers
When I first smelled the scent combination of this soap, I knew I hit the jackpot. It's so romantic but has a masculine note to it that makes it earthy at the same time. On their own, each essential oil is a worthy competitor, but together, they're unstoppable!
Without a doubt, it's a scent anyone would adore. Here's my secret recipe using three key essential oils.
Lavender
I put lavender essential oil in everything I possibly can. While a very floral scent, it pairs exceptionally well with many other essential oils. It's one of the most popular scents used in aromatherapy for its relaxation and sleep-inducing properties.
Besides its calming effects, it's also antiseptic and anti-inflammatory. It can be used to treat infections and wounds when used topically.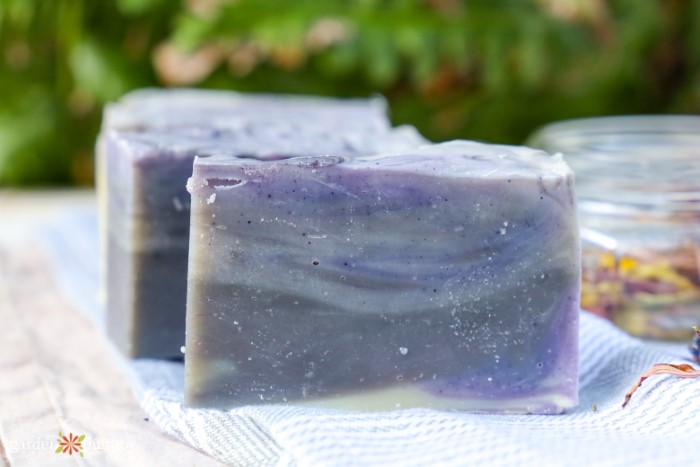 Black Pepper
People know this seasoning most for its culinary use, but the essential oil from the peppercorn has a deliciously warm and spicy scent. It adds a little zep to the step in this recipe.
The active ingredient in black pepper is known as piperine. It has anti-inflammatory, antioxidant, and disease-fighting qualities. When ingested it's especially known for fighting chronic diseases such as insulin resistance.
Cedarwood
Take a walk through the pacific northwest with me and with some cedarwood essential oil. Slightly sour, zesty, and 100% woodsy, cedarwood agrees with everyone's nose. A strong scent, it works well for deodorizing which makes this soap a good one after a long, hard day.
For the skin, cedarwood works at treating tough acne. Its antibacterial properties also make it great for helping with swelling, inflammation, and pain for small wounds. When inhaled, it also aims to reduce anxiety and encourage sleep.
Black Pepper and Cedarwood Swirl Soap
Whenever I use this cold process swirl soap, I feel like a million bucks. Combined with its devouring scent and gorgeous swirls, it feels very silky. If you're in need of moisturizing soap, I recommend giving this one a try.
To make this soap, find detailed descriptions on how to make cold process soap here. Then, come back for this ultra-luxurious recipe and to learn how to get that elusive swirl!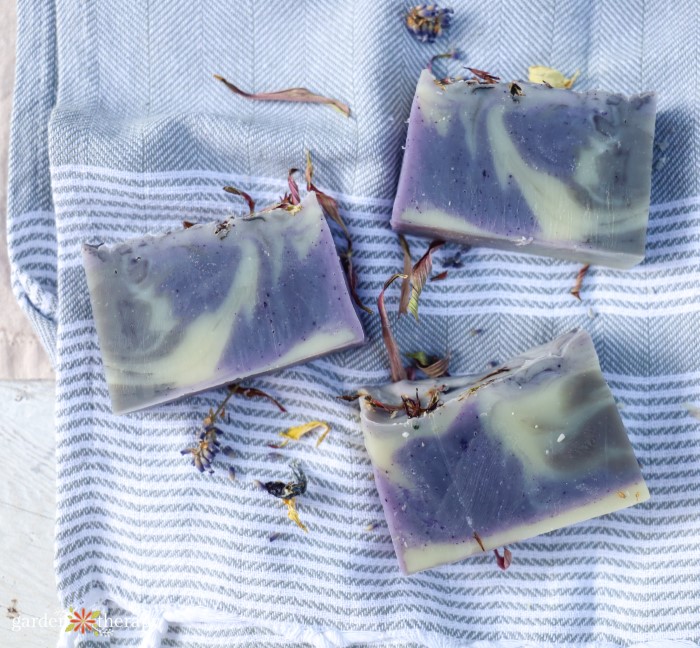 Materials
Makes 2 lbs of soap. For exact measurements, refer to the recipe card below.
Jump to Recipe
Pyrex measuring cup (or another glass cup with a pour spout)
Safety gear gloves, apron, eyewear, etc.
Olive oil infused with calendula
Distilled water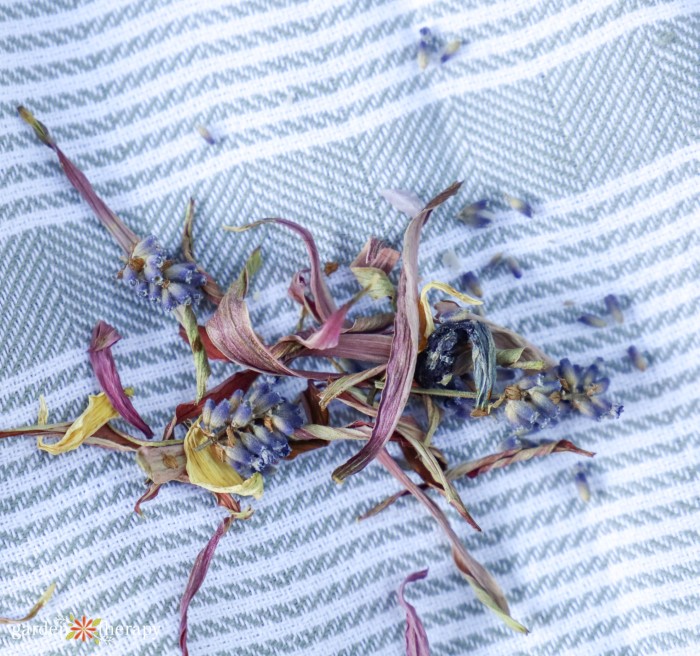 How to Make Swirls in Your Soap
When it comes to making swirl soap, there are so many different methods out there for achieving the lustrous swirls. I call this method my 3-point swirl and it creates a unique whirl completely unlike the hanger method. All the work happens in the bowl before you pour it into the mould!
For my recipe below, I made a swirl using 3 different colours: the uncoloured soap base as a creamy white, activated charcoal to add a darker swirl, and lavender mica for a purple swirl.
Once your soap is at trace and you've blended in the essential oils, it's time to make your swirl. Pour your mica powder on one side of the bowl and the charcoal on the other. Use the immersion blender to mix the colours in place. Use the spatula to drag each colour through the mix only once while in the bowl.
Pour your soap into the mold. Use a chopstick to create a figure-eight pattern through the soap. For my recipe, I added dried echinacea petals on top as they take on an earthy purple colour that compliments the soap well.
As you cut the soap, you'll notice how each piece looks so incredibly different from one another. Some will have more white, others black or purple, and some a little bit of all three.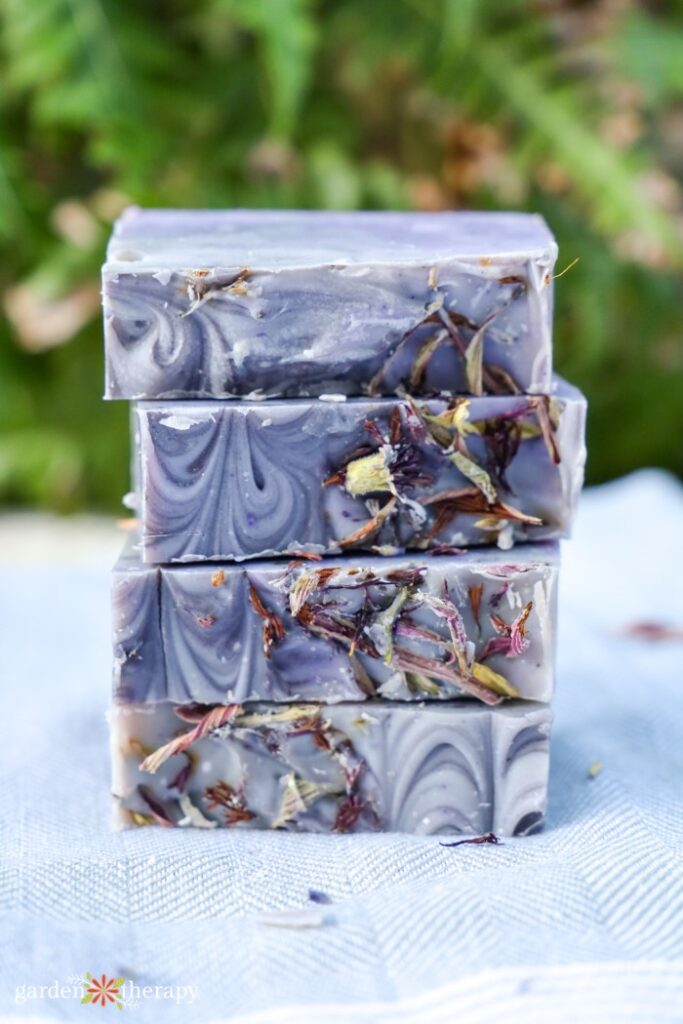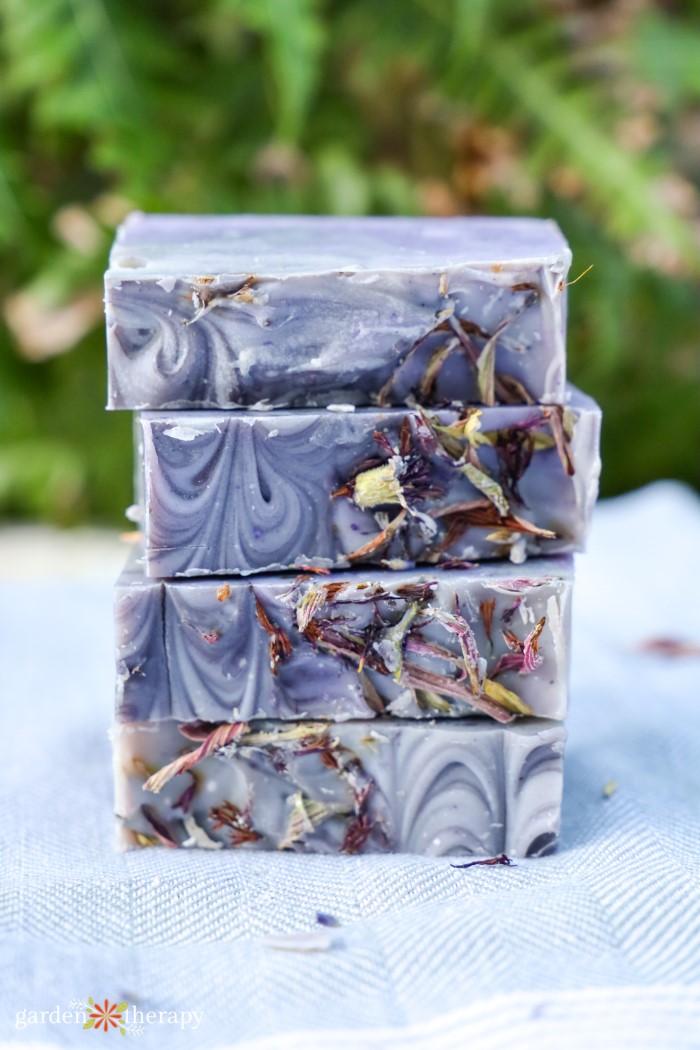 Let me know how this swirl method works out for you! And even better yet, how much you love the smell of this soap.
More Soap Recipes to Try
Black Pepper and Cedarwood Swirl Soap
Earthy yet romantic, the scent and the swirl of this soap are a match made in heaven. This recipe makes 2 lbs of soap.
Equipment
Safety gear (rubber gloves, face mask, apron, eye protection, etc.)
Instructions
Measure out your ingredients using a kitchen scale.

Melt your oils and butters together over low heat until they reach 115°F.

In a pyrex cup, combine your water and lye. Stir continnuously until fully dissolved and then cool in an ice bath until 115°F.

With an immersion blender, combine your lye water and melted oils.

At trace, add the essential oils and then blend again.

Place your mica powder on one side of the bowl and the charcoal on the other. Mix in place with the immersion blender.

Use a spatula to drag each colour across the bowl once. Pour into soap mold.

Use a chopstick and make a figure eight pattern back and forth across the soap. Top it off with dried echinacea petals.

Let the soap sit somewhere warm for 48 hours before cutting.

Once cut, let the soap cure for a further 6 weeks in a cool, dark setting before using.