What's better for last-minute gift making than something that you can make with items picked up at the grocery store, where you likely have to make a stop anyway? This Christmas Morning Granola is a simple recipe that makes a thoughtful hostess gift, stocking stuffer, or treat for Santa.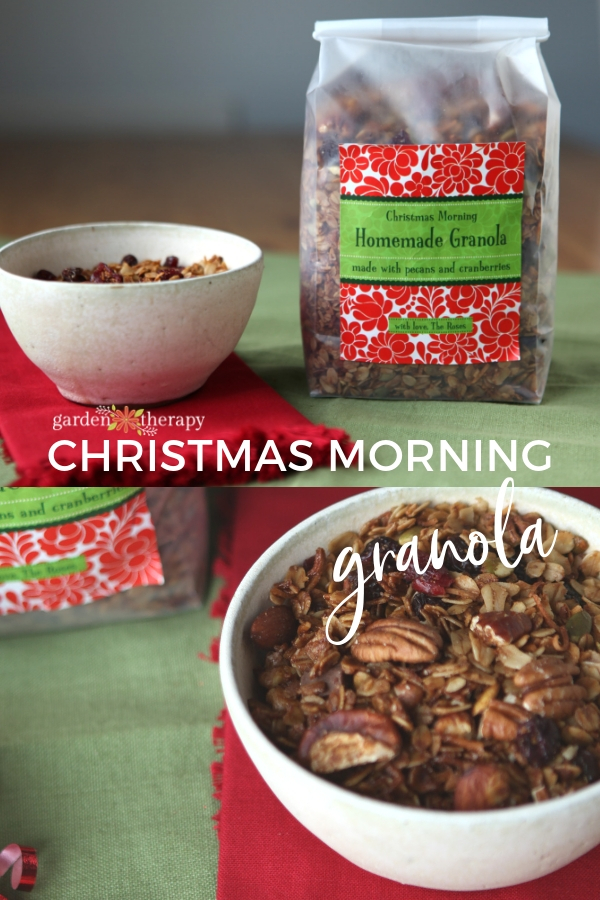 It makes a healthy breakfast choice for holidays laden with rich food and too much drink. Top 1/3 cup of Greek yogurt with 3/4 cup homemade granola for a filling breakfast or a healthful treat.
Growing up, Christmas morning was the time that we opened our stocking and all the presents. Sure, there was one gift opening allowed on Christmas eve before we snuggled into bed, but the bulk of the gift gluttony was done in the morning. With all of the wrapping paper being torn open and ribbons being hurled in the air, you could certainly work up an appetite. As an adult, I now like to have something quick and nutritious available to feed the masses. Homemade granola packed full of seeds, nuts, and fruit makes a thoughtful gift for the holidays. I'll be bringing one of these pretty packages for the hosts of every dinner or party after December 20th. Good thing this recipe makes a lot!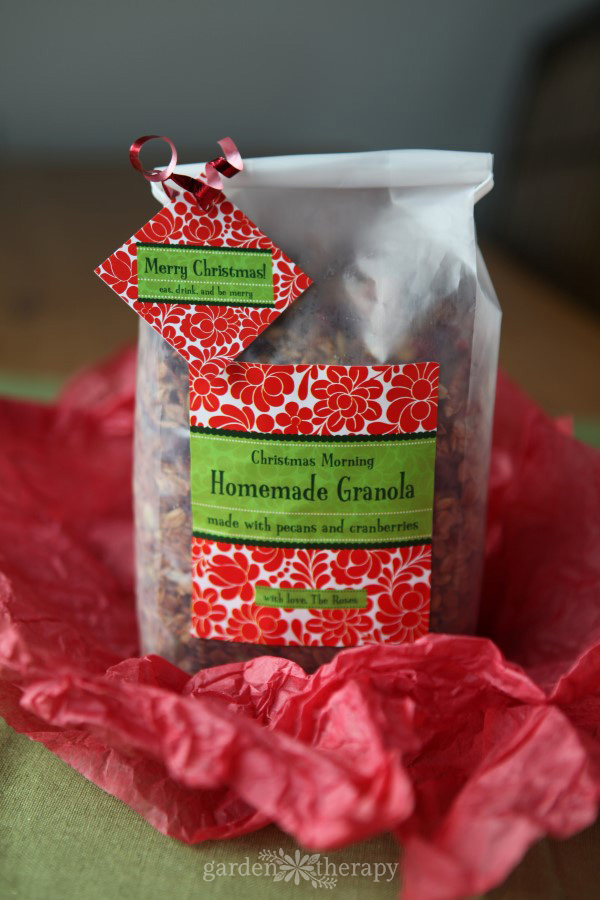 Christmas Morning Granola with Cranberries and Pecans
Makes 4 packages
8 cups rolled oats
2 cups unsweetened coconut
2 cups whole pecans
1 cup raw pumpkin seeds
1/2 cup brown sugar
1 cup honey
1 cup sunflower oil
1 tbsp vanilla
1 tsp salt
1 cup cranberries
1 cup raisins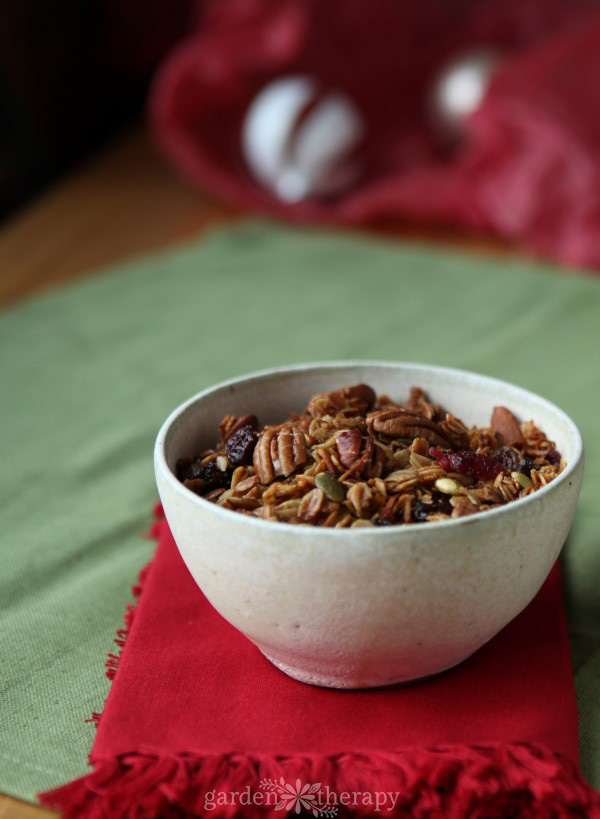 Make it!
1. Preheat oven to 325 degrees F.
2. Measure the oats, coconut, nuts, seeds and brown sugar into a large bowl.
3. Combine the honey, oil, vanilla and salt in a pot and warm up on the stove, stirring constantly. Warm just until all the elements are mixed evenly, then pour the hot mixture over the oat mixture. Stir well to ensure all of the oats are covered.
4. Spread the mixture onto a few greased cookie sheets and toast in the oven for 1 hour. Remove the granola from the oven every 10 minutes and stir so that it toasts evenly on all sides.
5. Once cool, mix in the cranberries and raisins.
6. Fill 4 frosted tin tie bags with the granola and add labels.
Once the bags are filled and decorated, they will make thoughtful hostess gifts for those who are kind enough to cook you a turkey.
For more awesome handmade ideas for gifts you can whip up in the kitchen, grab a copy of Sugar and Spice: Handmade Gifts from the Kitchen for instant download here:
Swapping out the cranberries for dried apples and adding in a bit more cinnamon will change it up again to Apple Pie Christmas Morning Granola. A little modification suggested this year was to add molasses, ginger, and clove to make it a gingerbread flavored granola. What a fabulous idea! I've made some and I can attest to its deliciousness.
I'm sure you can come up with all kinds of delicious variations of your own as well (please let me know if you do!). The key here is to use what you love, and it will shine through in the final flavors. You can, indeed, taste the love.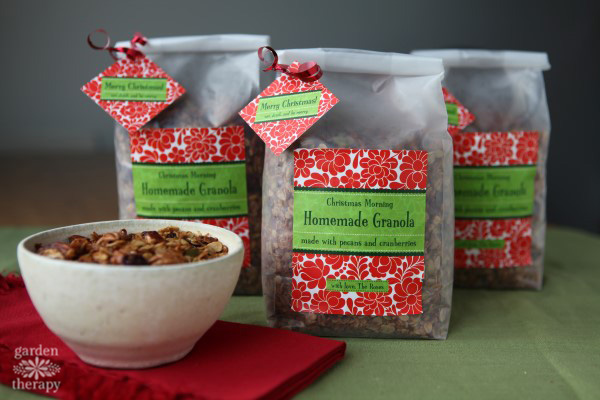 More ideas for Christmas: