Small space gardens are as easy as one, two, three with these three simple strategies for designing the container of your dreams! You don't have to be a pro to create eye-catching planters that look like they came from the most stylish nursery in town. By following a few simple guidelines, you'll be able to create an endless variety of stunning arrangements that will add new life to your home, patio, or yard.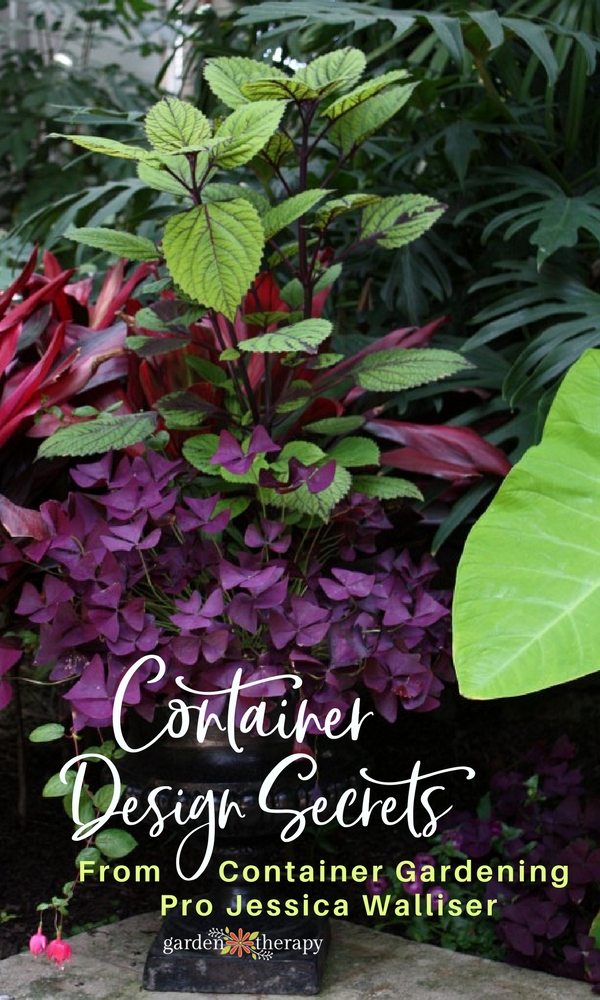 Organic gardening pro Jessica Walliser's book Container Gardening Complete: Creative Projects for Growing Vegetables and Flowers in Small Spaces is the essential guide to small-space gardening. It contains a ton of great projects and ideas for growing all sorts of container gardens, and today Jessica is here to share her top three container garden design strategies. To get detailed instructions on how to plant the containers shown in this post, plus lots more useful tips and creative projects, grab a copy of the book!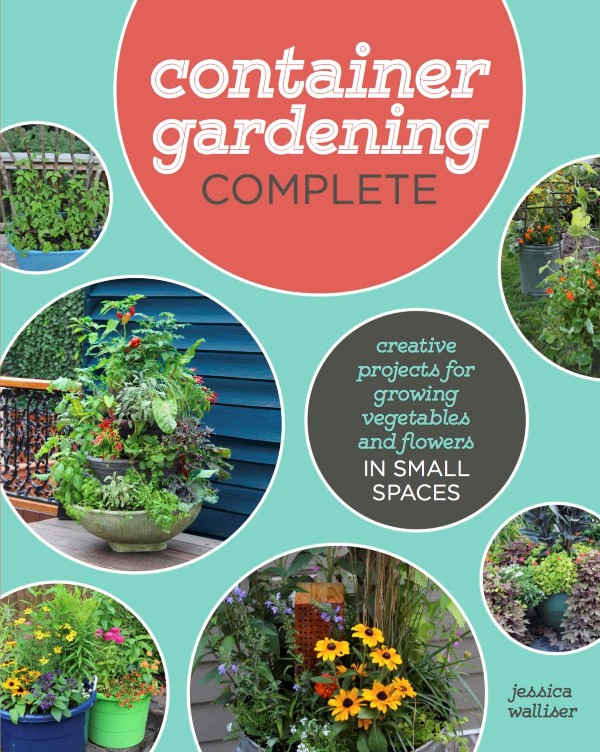 Three Strategies for Successful Container Garden Design
by Jessica Walliser
Much like designing your home, good container garden design is a matter of personal aesthetics. There will be color combinations that appeal to you and others that won't. The trick is to find what you love.
But good design clearly extends way beyond color choice. It's also about partnering foliage and floral forms and textures in a pleasing manner and pairing vegetables, fruits, and herbs in a way that yields a good harvest.
And, it's not just about combining the right plants with each other, but also with the right container. When it comes to planting beautiful containers, there are three primary concepts to keep in mind as you create your designs.
 1. Get the Proportion Right
Plantings that aren't in the correct proportion with their container look off-kilter, top heavy, too dense, or flat, depending on which direction the designer erred. Even if your aim is to create a naturalistic container rather than one that looks planted, proportion is important.
The rule of thirds is an excellent guide to maintaining proportion in both container gardening and floral design. Begin by looking at the height of your container.
For good proportion, your container should comprise either ½ or 2/3 of the total height of the plants and container combined, with the height of the plantings taking up the remainder. In other words, you should strive for a container-to-plantings height ratio of 1:2 or 2:1. The container won't be in perfect proportion until the plants reach their mature height, but most container plants grow quickly, and it won't be long before the correct pot-to-plant proportion is achieved.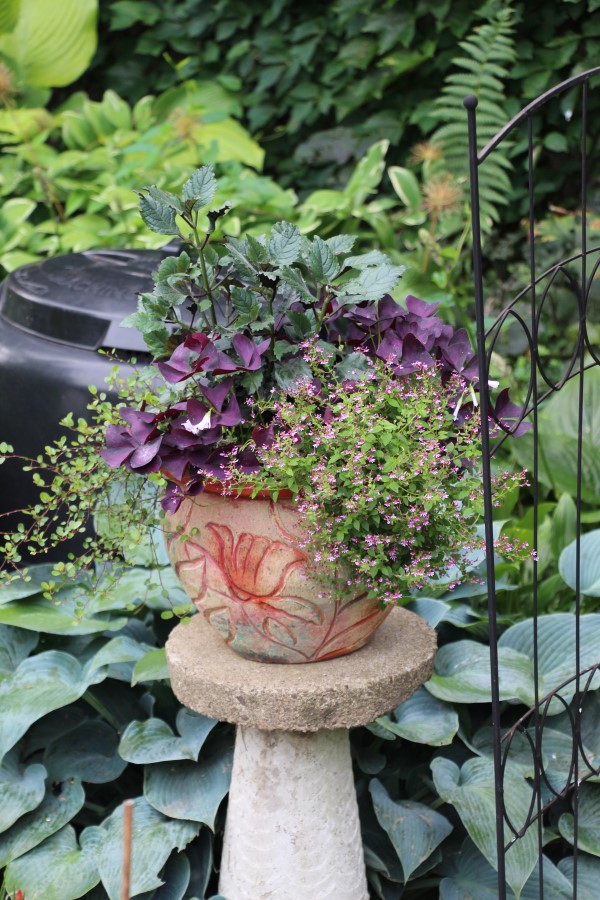 Here is an excellent example of a container design in proper proportion. The purple stems of the thriller plant, plectranthus, are highlighted by the purple leaves of the shamrock plant, and the balance and simplicity of the design are quite nice.
Container Garden Design Tip: to keep the plants in any container design in proper proportion with the container itself, be prepared to do some trimming and pinching throughout the season.
2. Designate a Focal Point
Another goal for container garden design is having a single focal point. A focal point can be very direct and obvious, or more subtle. Often the largest plant in your design becomes a natural focal point because of its size alone, but fun focal points can also be based on a jazzy color, bold leaf texture, variegated foliage, or a narrow, vertical element. No matter what you choose, use only one primary focal point for each container. Multiple focal points can be very distracting.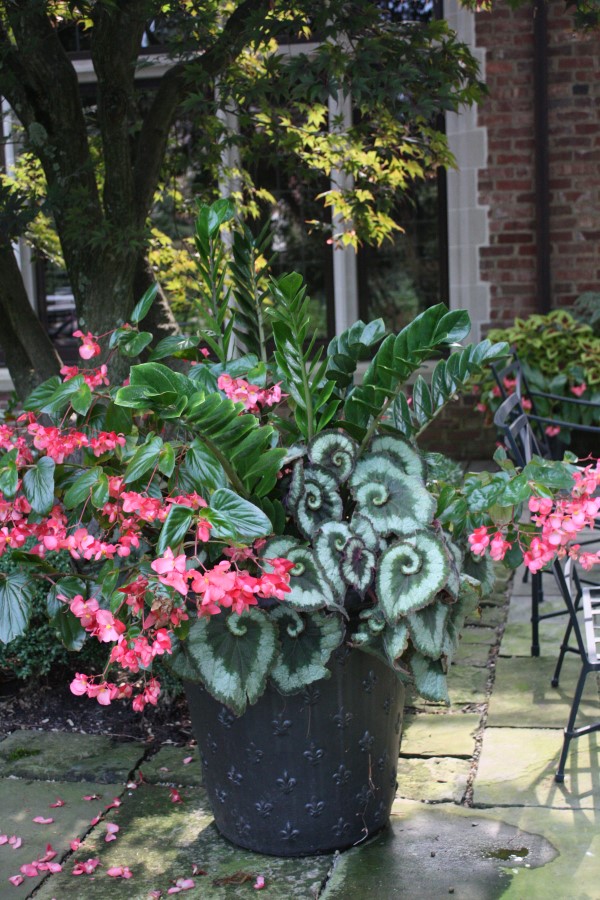 This striking combination of plants is very bold, and it thrives in even the densest shade. There are only three plants in this container, but it's lush and full of interesting textures and leaf forms and has an eye-catching focal point.
Container Garden Design Tip: this combination of plants looks great when partnered with a dark container. Choose black, slate blue, or dark gray to really make the plants "pop."
3. Create Balance
Well-conceived designs always have good balance, too, both vertically and horizontally. Proper balance keeps a container planting from looking lopsided or top heavy.
A tall, narrow container planted with a tree will always look like it's ready to topple over because the top-to-bottom visual balance is off. Or, if you're planting a window box or another long container, keep the tallest plant toward the center or have two or three of them spread out through the entire length of the pot.
However, note that balance does not necessarily mean symmetry. You don't have to use identical plants to get good balance, just select ones that balance each other in terms of visual weight.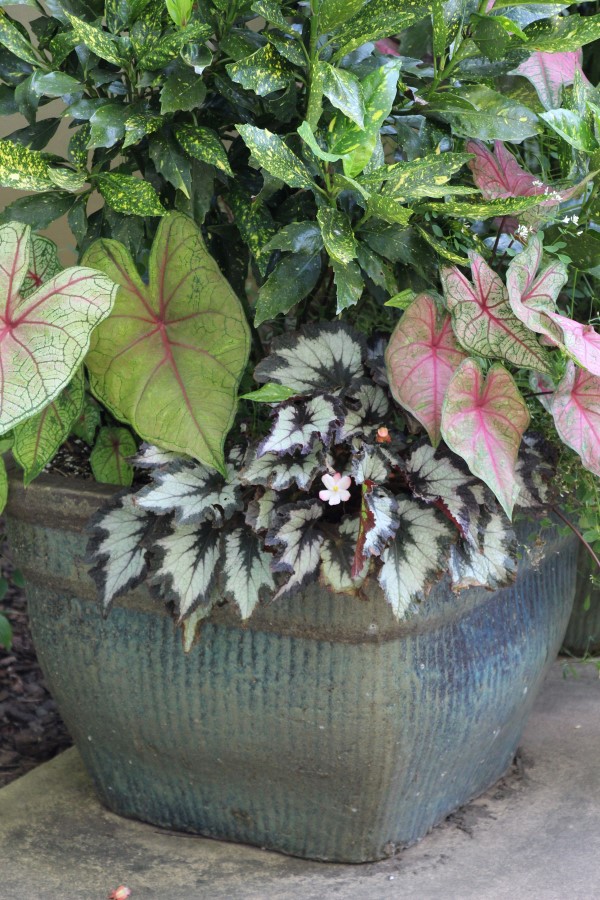 I love the soft, rustic blue of this container partnered with the pink, tropical-looking caladiums and the striking variegation of the begonia.
Container Garden Design Tip: this design would also look nice with an added spiller plant. If you'd like to include a few plants to cascade over the edge of the container, consider using silver falls, creeping Jenny (Lysimachia nummularia), or white or pale pink bacopa (Sutera cordata).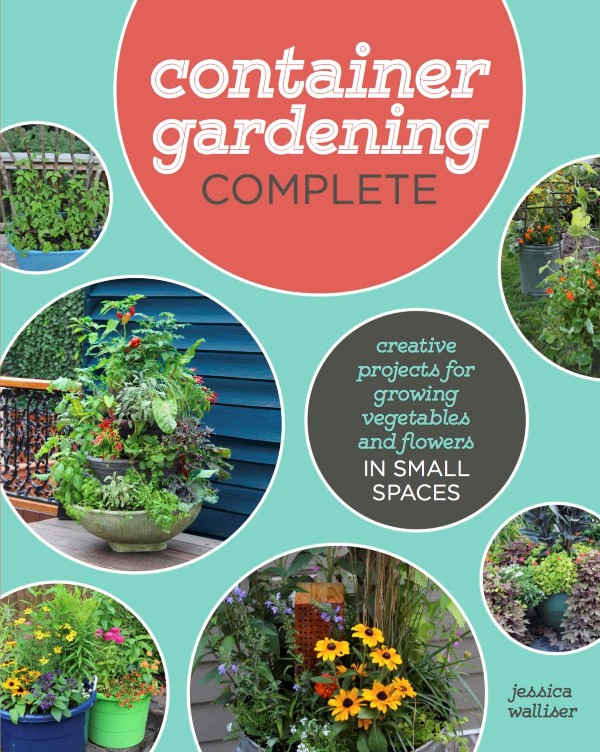 About the Author
Horticulturist Jessica Walliser is the co-host of KDKA Radio's "The Organic Gardeners" and an award-winning garden columnist for the Pittsburgh Tribune-Review. She is a regular contributor to many national magazines, including Fine Gardening and Hobby Farms. Jessica is a co-owner of SavvyGardening.com and serves on the Editorial Advisory Board of The American Horticultural Society. Her company, IronweedApparel.com, creates unique urban farming and gardening t-shirts to help gardeners grow in style. Jessica has authored five gardening books. Her newest title, Container Gardening Complete, was released in December of 2017. She's a big fan of plants, insects, microbes, and cupcakes – not necessarily in that order.
Printed with permission from Container Gardening Complete: Creative Projects for Growing Vegetables and Flowers in Small Spaces by Jessica Walliser, © 2017. Published by Cool Springs Press. Photography provided by Cool Springs Press.
Find more info on container gardening in these posts