Planting a container garden doesn't have to be limited to only those with small spaces. Of course, using containers is a great way to create a garden where there isn't one. Balconies, decks, patios, and even fire escapes and windowsills can have a fulfilling space to toil in the soil. A container garden can also be a garden feature, front door decor, or a way to fill in space when there is a lag in the blooming schedule.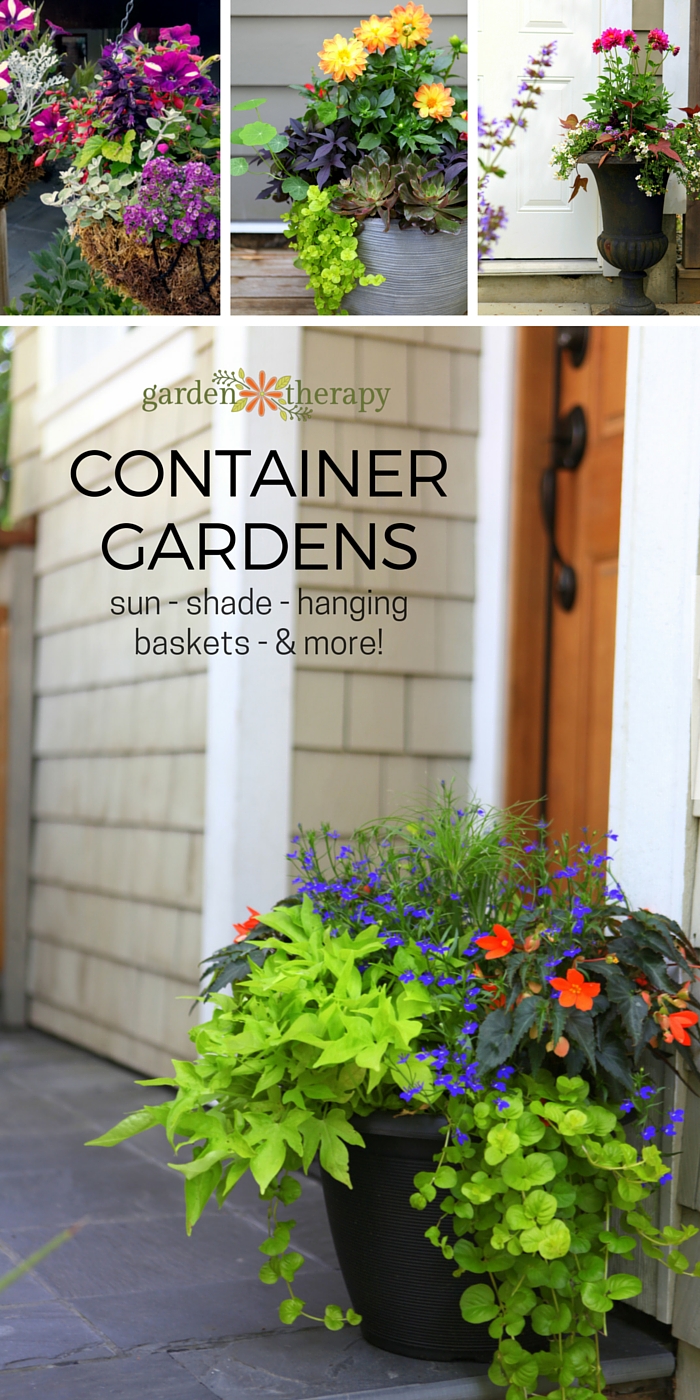 If you are looking for ways to add some simple beauty into the days as they get longer, you have come to the right place. Get ready to tour some ideas that will get you inspired to enjoy the season to come.
Hanging Baskets
The decorative hanging baskets that I created with the "clock-face planting method" are growing in nicely. Clock-face planting means that you begin by planting a thriller plant in the center of the basket, then add spiller plants at the 12, 3, 6, and 9 positions of the clock and add filler plants in the spaces in between.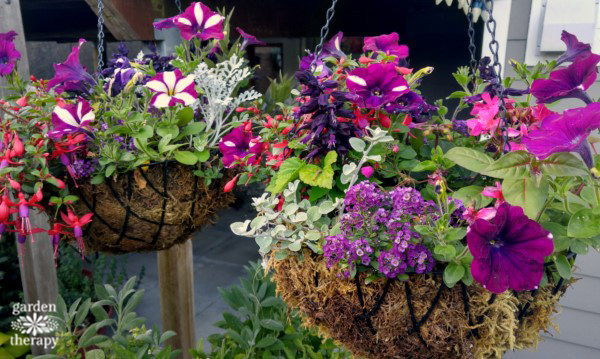 Front Door Welcome
This planter is made just for my shady front porch area. Blue lobelia, lime green sweet potato vine (Ipomoea batatas), creeping jenny (Lysimachia nummularia), and an orange tuberous begonia (Begonia bertinii) make up a cheery planter that will be low maintenance all season.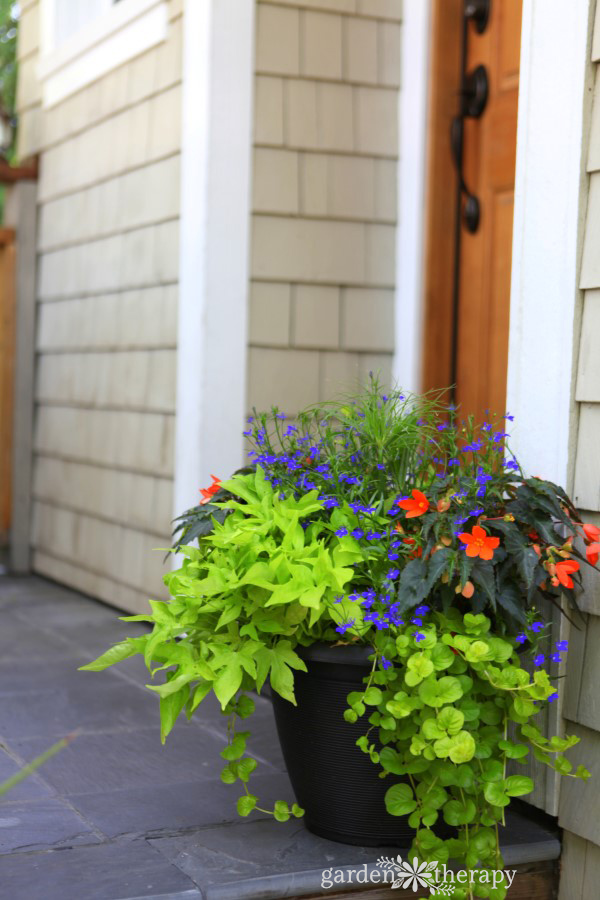 Annual Update
Last fall I created some perennial planters for my front entryway which is also shady. The perennials did so well that I divided them up this spring and planted the larger ones in the garden. I transplanted the colorful heucheras back into the pots and added some annuals to cascade over the edges. This new color scheme of deep purple, orange, lime, and blue is a fresh combination that inspired me this year. And I love that it took only 10 minutes to transform these planters!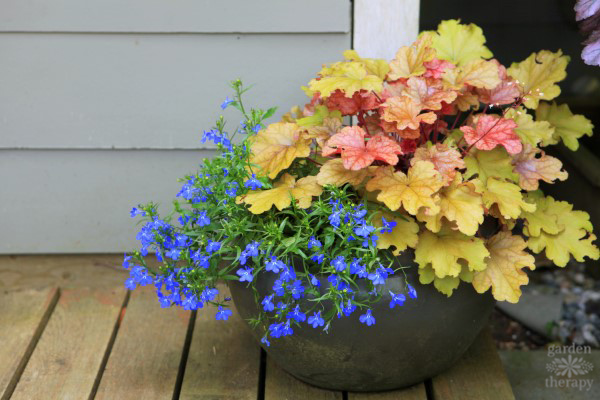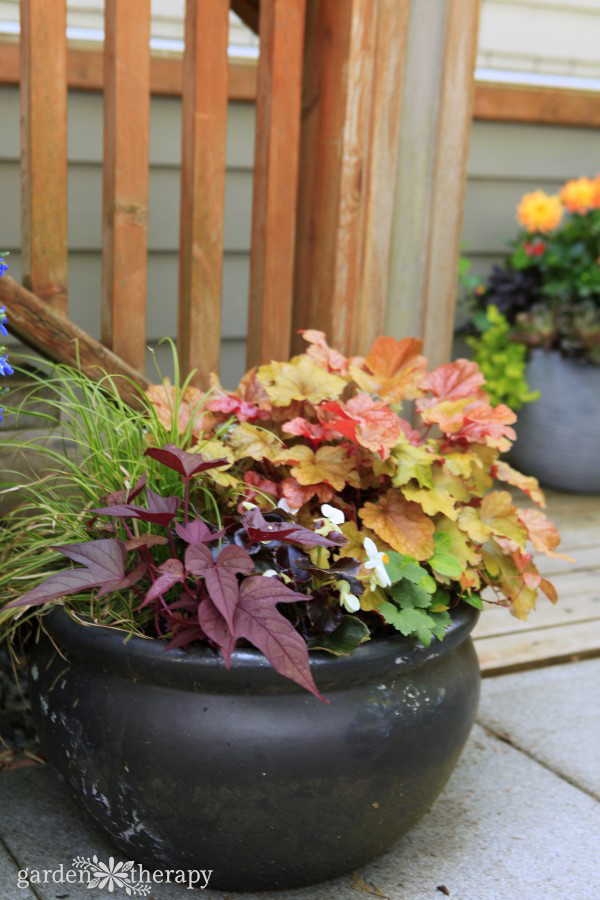 Outdoor Artwork
I created this living artwork for my book, Garden Made: A Year of Seasonal Projects to Beautify Your Garden and Your Life, and it overwinters very well. I simply keep it out of the elements for the cold months then prune back and divide the succulents in the spring.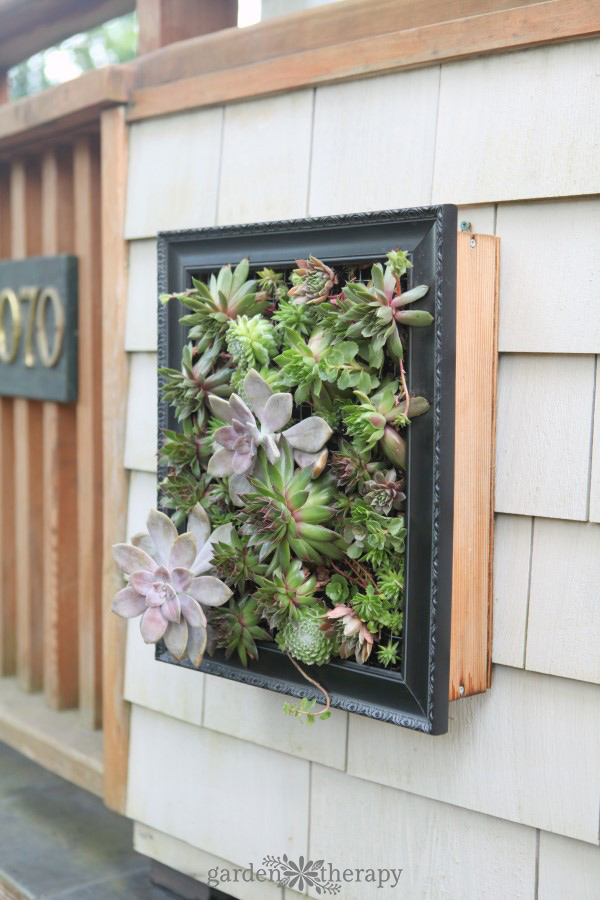 For the Birds
Each year I move all of my succulent planters to a covered outdoor area in the winter. As spring approaches, I set them back out in the garden and let the plants come back to life. This succulent birdcage planter from last year is growing back in very well. When the last day of frost has passed, then I'll add in a few decorative, tender succulents like Echeveria or Aeonium in addition to the Sedum and Sempervivum that overwintered.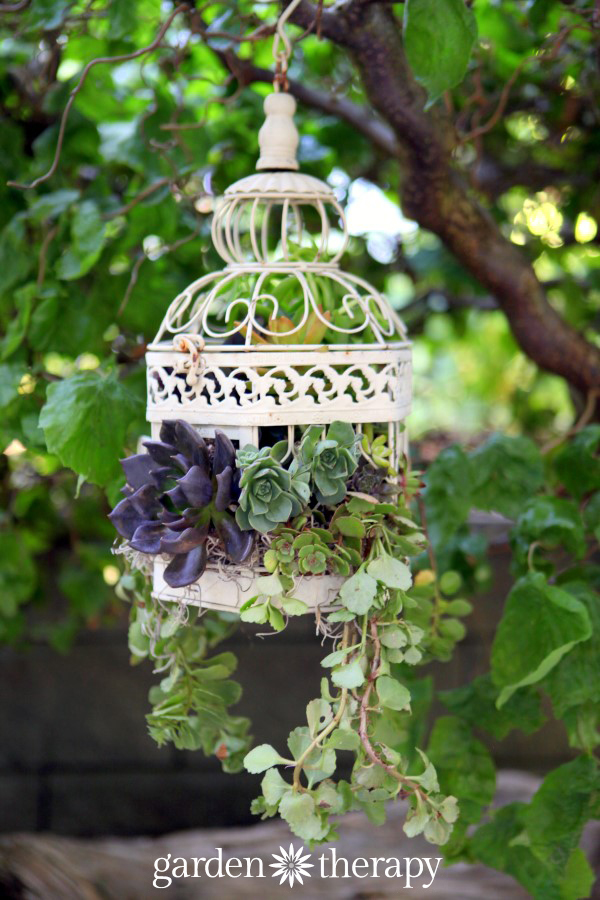 Succulents in the Sun
I like modern succulents in traditional terracotta throughout the garden. They can fill in spaces and add a pop of interest when there are young plants or a lack of blooms in a certain area.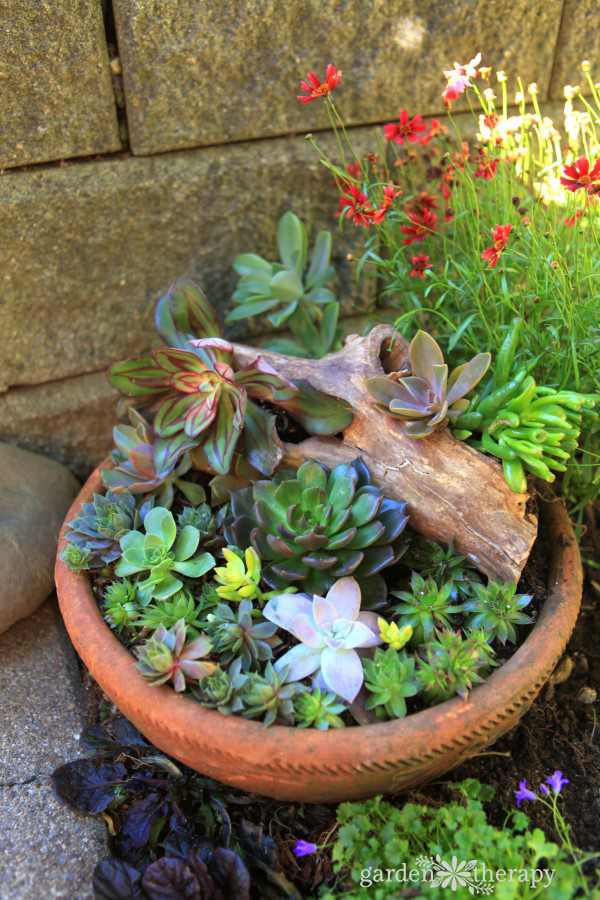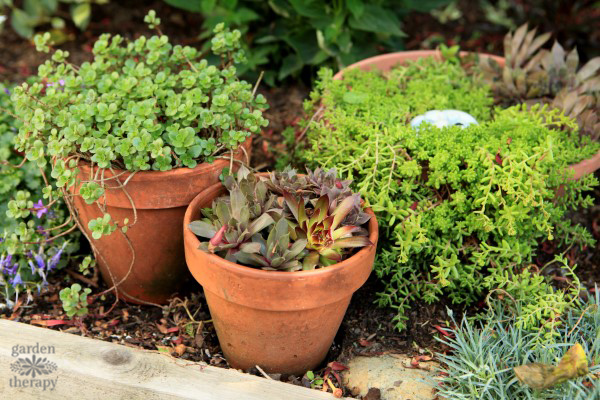 I also like using unique containers for succulents like this metal kettle planter that sits at the tree stump table and stools.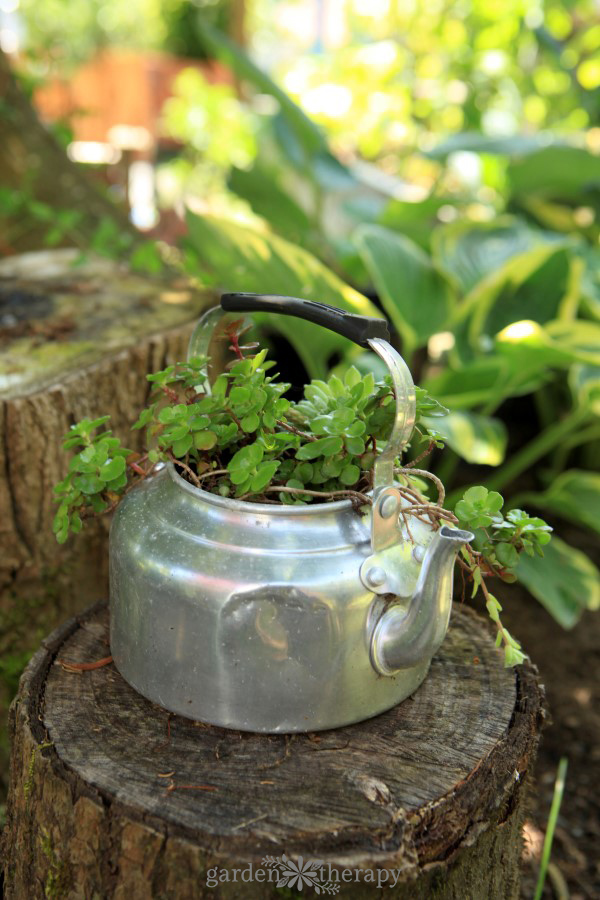 Right in the Middle
The centerpiece of the lawn is a huge stone-gray planter that contains a Japanese Maple "Bloodgood." The soil around the tree is filled with alpine strawberries that can handle a bit of shade as well as a brand new Calibrachoa hybrid for 2016 from Proven Winners, Superbells "Holy Moly!".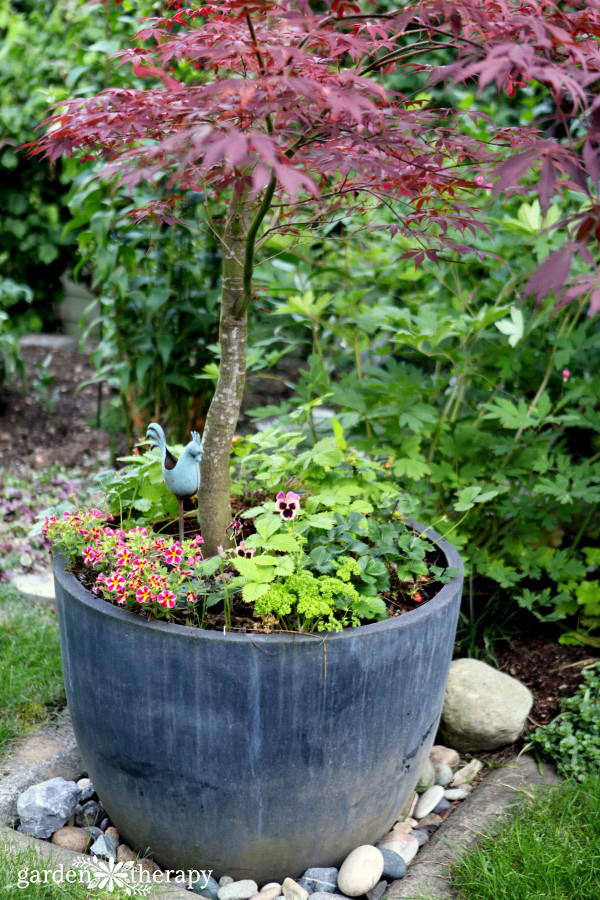 Berry-licious
This year I have just added three self-watering containers from Lowe's Canada that contain Monrovia's BrazelBerries, container variety berries for small-space gardening. As the deck gets full, hot summer sun, I thought it would be a great place to add some snacks. The Raspberry Shortcake Dwarf Thornless Raspberry has an endearing, rounded shape and requires no staking, making it perfect for a container. Both the Peach Sorbet Blueberry and the Jellybean Blueberry are compact and decorative as well. Each will produce a bumper crop of large, sweetly delicious berries this summer as can be seen by all the berries that have formed already.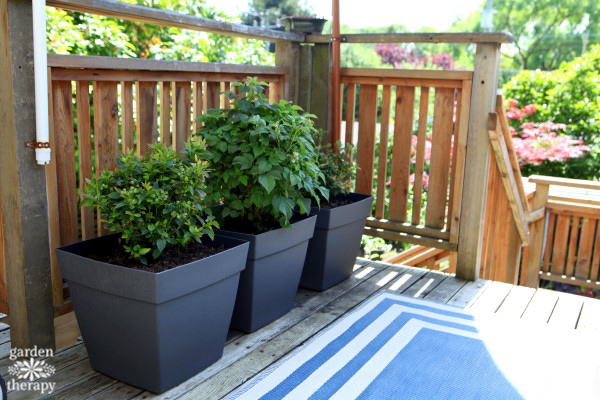 Sun Lover
For a bare but sunny spot in the garden, I created a highly decorative container garden that can not only take the sun, but also stands out in harsh light. This planter contains an annual dahlia in vibrant fuchsia, along with a brownish sweet potato vine (Ipomoea batatas), white Bacopa, and, purple Sweet Alyssum (Lobularia maritima syn. Alyssum maritimum).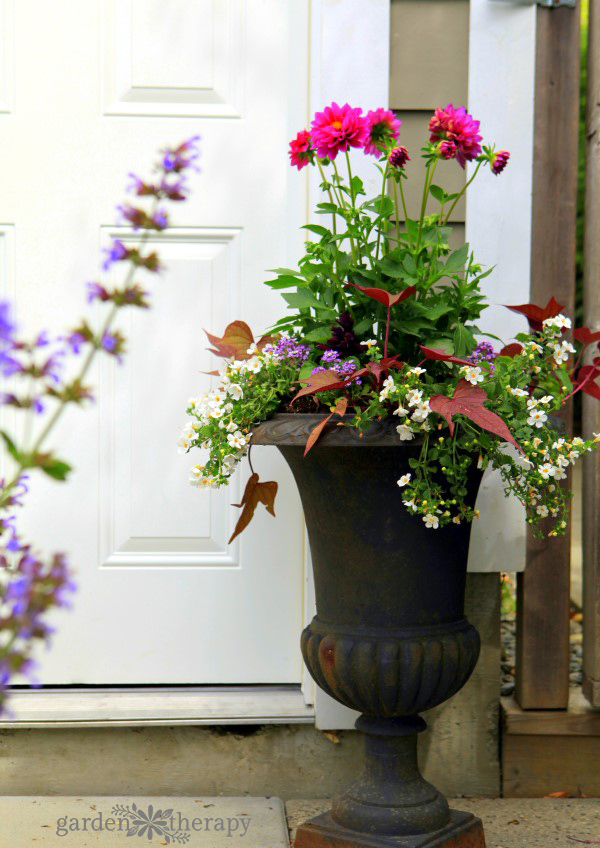 These planters don't take a lot of maintenance throughout the season, but they look gorgeous and add a little extra pizzazz to the garden. For me, container gardening gives a lot of bang for my buck and that simply makes me happy. For even more summer planter ideas, take a look at these gorgeous outdoor houseplant container gardens.