Ground cherry plants make an excellent, and more unusual, addition to any home garden. They are a favourite in children's gardens; although adults will also love the sweet caramelized pineapple flavour that you just can't find in any other fruit! Learn all about why I love the ground cherry and how to grow ground cherries in your own garden.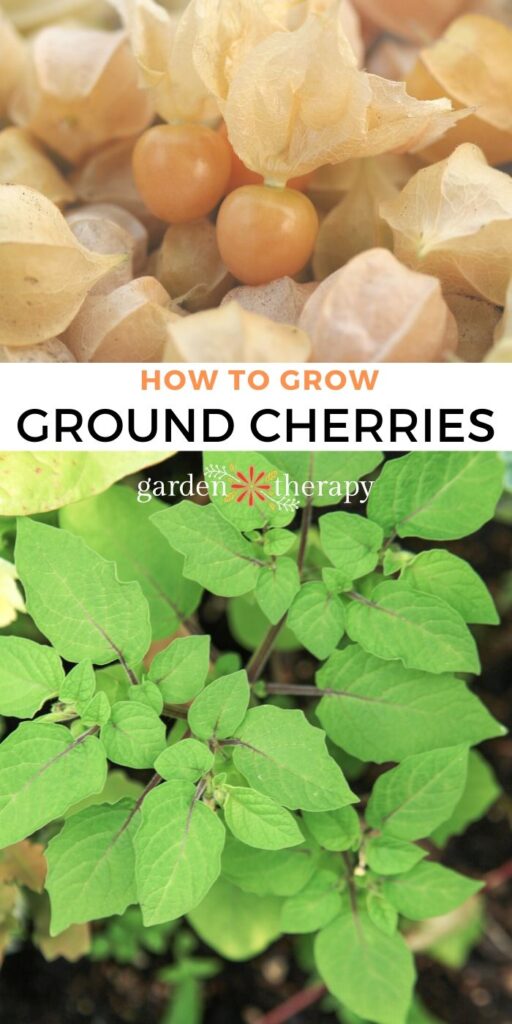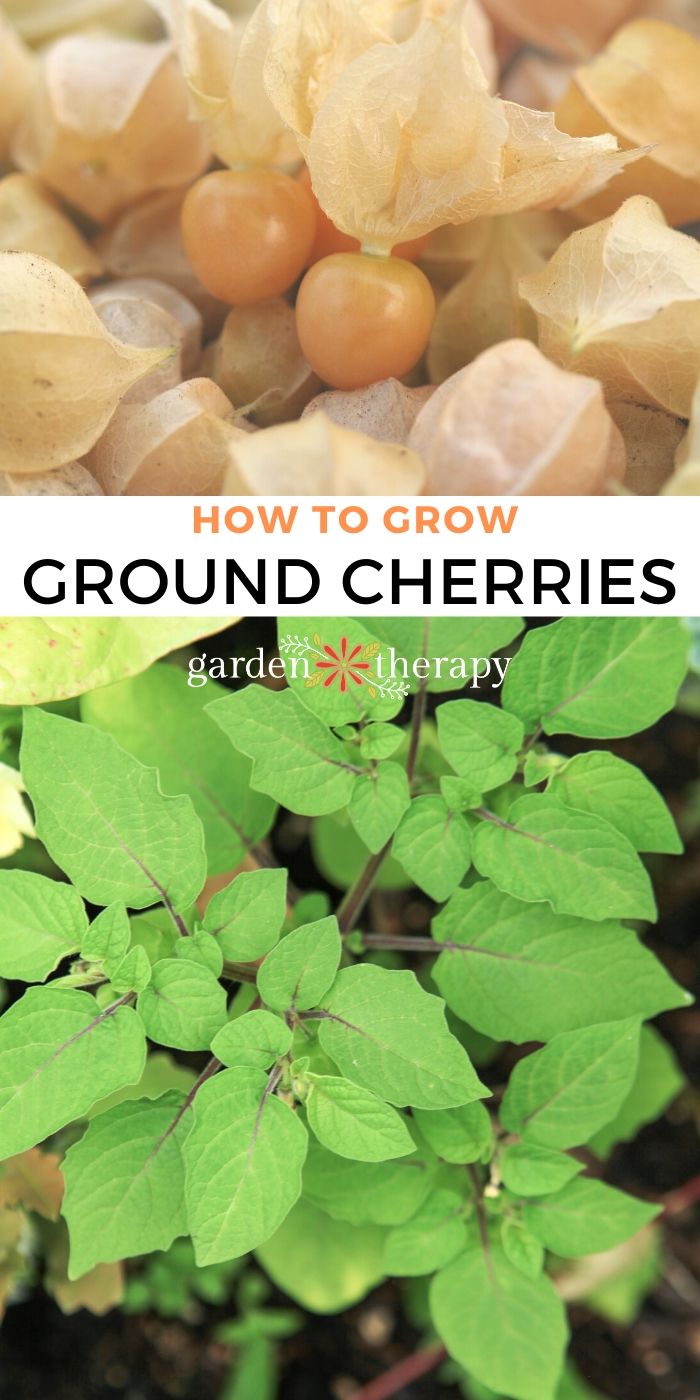 Have you ever grown ground cherries? If you haven't, I'm not surprised. They are as well-known of a fruit as blueberries, raspberries, and apples. They are, however, delicious to eat and pretty darn fun to grow in a home garden.
What Are Ground Cherries?
Ground cherries are native from Central America to Northern Mexico. The plants are known for their habit of growing close to and spreading along the ground.
Ground cherry plants have large, dark green leaves with an abundance of small, light yellow flowers that develop into golden-orange, cherry-sized fruit when ripe. Both the plant and the fruit resemble tomatillos and each fruit berry develops in a papery husk called a calyx.
Important Note: Many parts of the ground cherry plant are toxic to people, including the calyx. If ingested, they can cause gastrointestinal upset. Once the fruit is ripe and golden in colour, it is safe (and delicious) to eat.
Where to Find Ground Cherries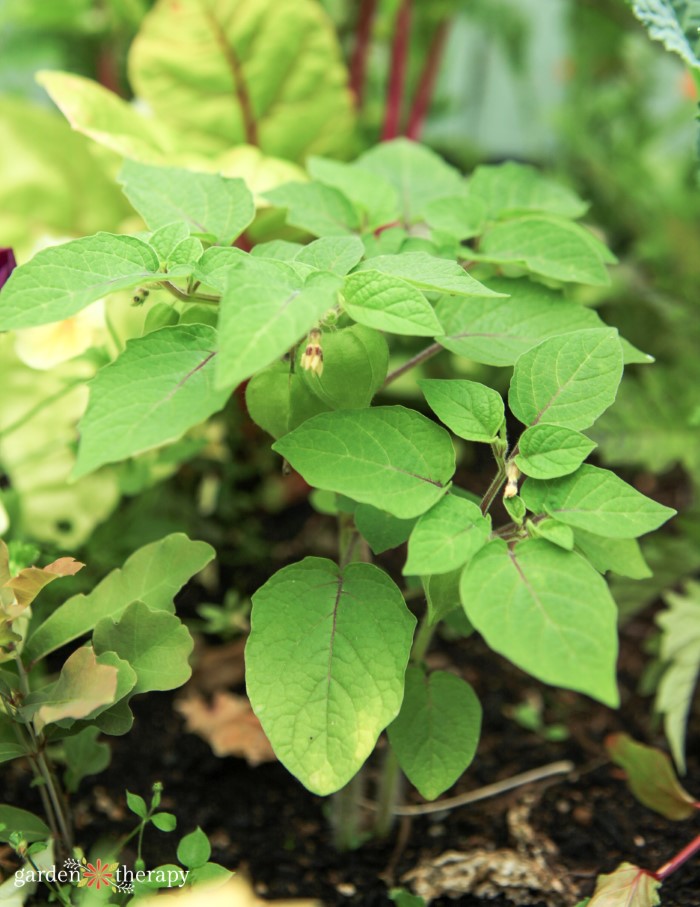 These plants are primarily grown as a garden crop although, you may also sometimes see them for sale at farmers' markets. 
After tasting them, it wouldn't surprise me if you wondered why they are not sold as a fruit staple beside the blueberries, blackberries, raspberries, and strawberries at the grocery store. After all, they taste similar to a tomatillo with hints of pineapple flavour.
It's not because they don't last or ship well. Ground cherries last in their paper husks for up to 3 months! They have built-in self-storage and protection.
You won't find ground cherries as a grocery store staple because they are difficult to harvest in large quantities. The ripe fruit will fall to the ground when ready for harvest. This happens over many weeks so the harvest is spread out. 
Farmers have to get down to ground level and pick up a handful of fruit from each plant every day for weeks to get the harvest. This makes for a fantastic garden fruit plant because of course we want fruit to be ready for harvest over a longer period of time, but doesn't work for mass production.
What Are Some Other Names for Ground Cherries?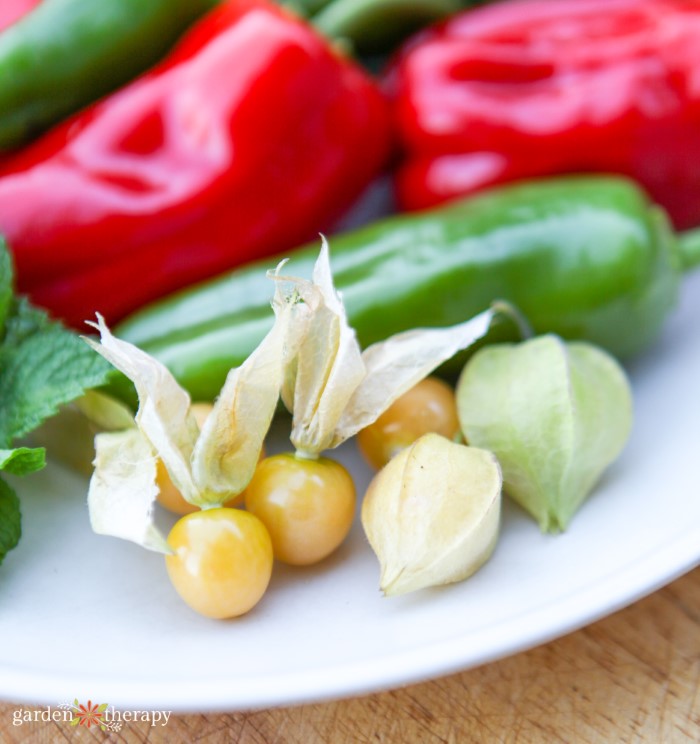 Ground cherries can be mistakenly called several other names as well. The confusion around the name 'ground cherry' is a great reason why we refer to botanical Latin names for plants when clarifying exactly which plants we are talking about.
In this case, ground cherries refers to Physalis pruinosa. These are the cool-season annuals also called husk cherries, strawberry groundcherries, and Aunt Molly's. 
There are many more "ground cherry' relatives that I am NOT referring to. Here is a sampling of plants that can sometimes be mistaken for ground cherries:
Cape Gooseberries (Physalis peruviana)
Although ground cherries are closely related to cape gooseberries, they are not the same plant. Cape gooseberries are larger and have more of a citrus flavour than ground cherries do. 
Also, cape gooseberries should not be confused with the true gooseberries, which are of the genus Ribes in the family Grossulariaceae.
Tomatillos (Physalis ixocarpa) 
Although related to the ground cherry, the Mexican husk tomato (a.k.a. tomatillos) is not sweet. Tomatillos are small, spherical (often) green fruits that are used to make green salsa.
Chinese Lantern Flower (Physalis alkekengi)
These pretty and long-lasting dried flowers are not a good fit for many gardeners to grow because they can be invasive and are not edible as they are poisonous plants. 
Ground Cherry Nutrition
After growing ground cherries for a gazillion years (OK, maybe it's really more like 15 years), I was shocked to see them packaged and marketed as a "superfood".
Golden Berries are made from… Physalis peruviana (cape gooseberries), NOT Physalis pruinosa.
The packaging on these superfoods say they are a great source of essential minerals, vitamins (including vitamins A and C), antioxidants, and fiber.
How fabulous! But no matter what the marketing says, my experience is that they grow well, taste great, and are fun for everyone to harvest. And including any garden-grown food on your plate is my definition of a superfood.
How to Grow Ground Cherries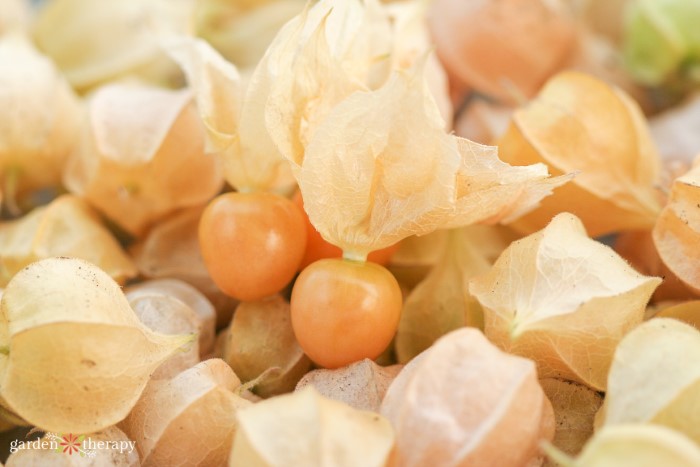 The most common complaint I hear about ground cherries is that the seeds are hard to germinate, however, I've never really had any issues germinating ground cherries. I start them just like I start growing tomatoes, but since they are slower to grow into large transplants, I start them a few weeks earlier than I would start my tomatoes.
They are truly easy to grow.
Plant them in a sunny spot, and they can adapt well to cooler climate gardens as annuals because they produce plenty of fruit quickly, in just a few months.
Seeding Time: Spring 
Days to Germination: 7 – 14 
Seeding Depth: ¼" 
Weeks to Transplant: 6 – 8 
Soil Temperature: 70°F
Water Needs: Water regularly in well-draining soil 
Transplant Spacing: 18 – 36" x 3 – 4' 
Harvest: 65 – 70 days (from transplanting them in the ground)
How to Harvest Ground Cherries
They produce fruit for many weeks over the growing season, so you can continuously pick and enjoy them fresh during the summer. When refrigerated, they will last for a week to 10 days, allowing you to enjoy your harvest well into the fall.
They have a natural preserving husk that allows the berries to fall from the plant and stay protected on the ground for a week or more.
Of course, that depends on who else is out looking for tasty garden treats to snack on. 
Ground Cherry Recipes To Make At Home
Ground cherries are such a treat in the garden; it's hard to imagine that any would last long enough to need a recipe for them. Then again, they are so prolific that you might have far too many fruits to eat them all fresh.
If you get a bounty of ground cherries, you are in for a delightful experience. When cooked, ground cherries get a bit of a pineapple caramel flavour that is out of this world!
I made a few small pots of jam one year and when I tasted it, I thought my head would explode from joy. 
Who could blame me? I mean, the rich, sweet, fruity jam I made was gobbled up instantly and I started growing many more plants each year after that just so I could make more as well as try my hand at making a ground cherry pie, a decadent treat that is beyond compare. 
If you would like a few more ideas for ways to use up your ground cherries, here are a few ideas:
Cook them down into a jam,

like this one from Practical Self Reliance. 

Combine them with tomatoes and basil for a

tasty appetizer

from The Reluctant Entertainer.

Enjoy them in a

salad

like this on from Sugarlaws. 
How to Save Ground Cherry Seeds
If you want to save your ground cherry seeds so that you can plant them next year, follow the same process to extract and preserve the seeds as you would with tomatoes.
I hope you'll try growing ground cherries for yourself so that you can see what a well-kept garden crop secret they are!
More Posts to Read: