Hanging baskets aren't just for flowers anymore! They are also a great small-space solution for gardeners who want to grow a lot of food but don't have a lot of garden space.
These plants will produce a high yield and thrive in hanging baskets. Plus, keeping them elevated as opposed to planting them in the ground will keep them out of reach of many pests and insects.
You can also create a visually pleasing hanging basket that pulls double duty as a decorative element on the patio and a miniature, easy-access kitchen garden!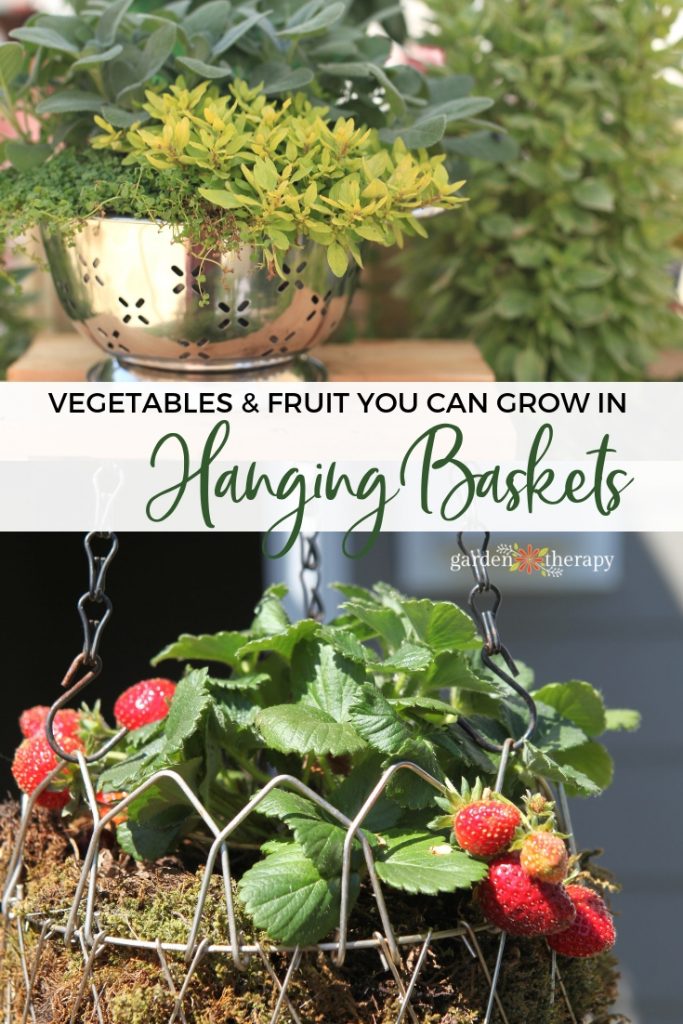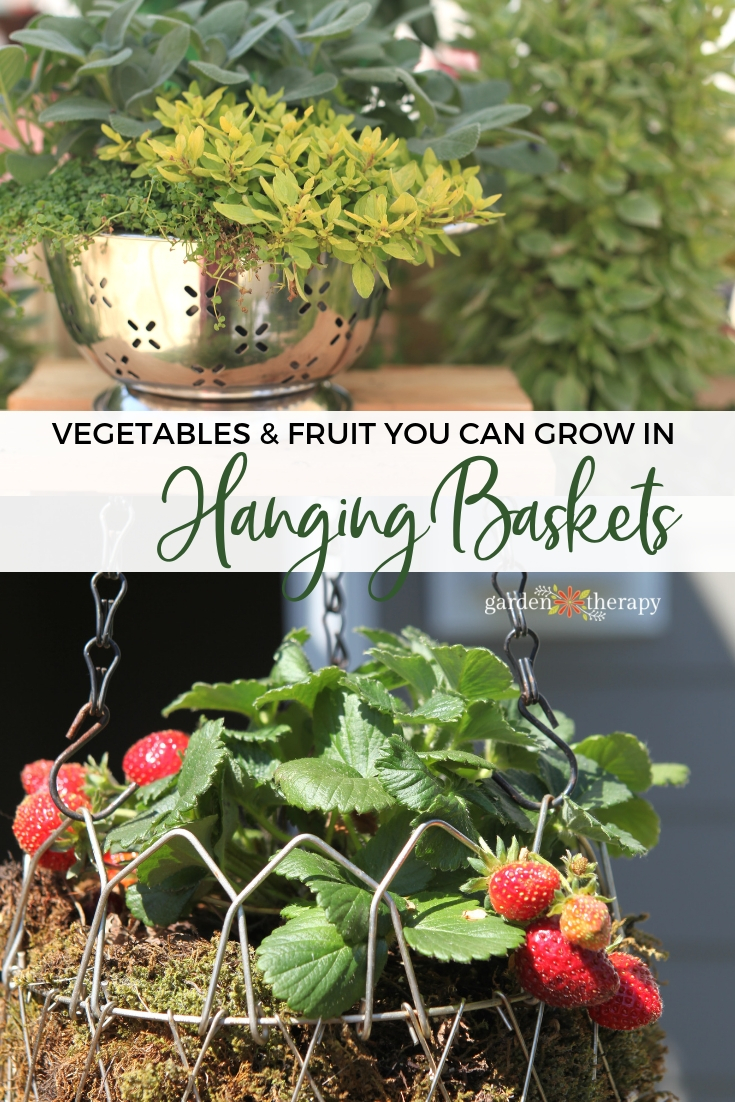 How To Grow Vegetables On A Patio Or Balcony
When you don't have a backyard, how do you grow vegetables? My favorite way to grow produce on a patio or balcony is with hanging baskets! You can also grow them in other containers, but a hanging basket gives you the ability to use vertical space.
Plus, hanging baskets are a pretty way to grow a lot of garden produce.
Try planting individual baskets with edible plants, or get a layered hanging basket with multiple pots so that you can grow various veggies in one space.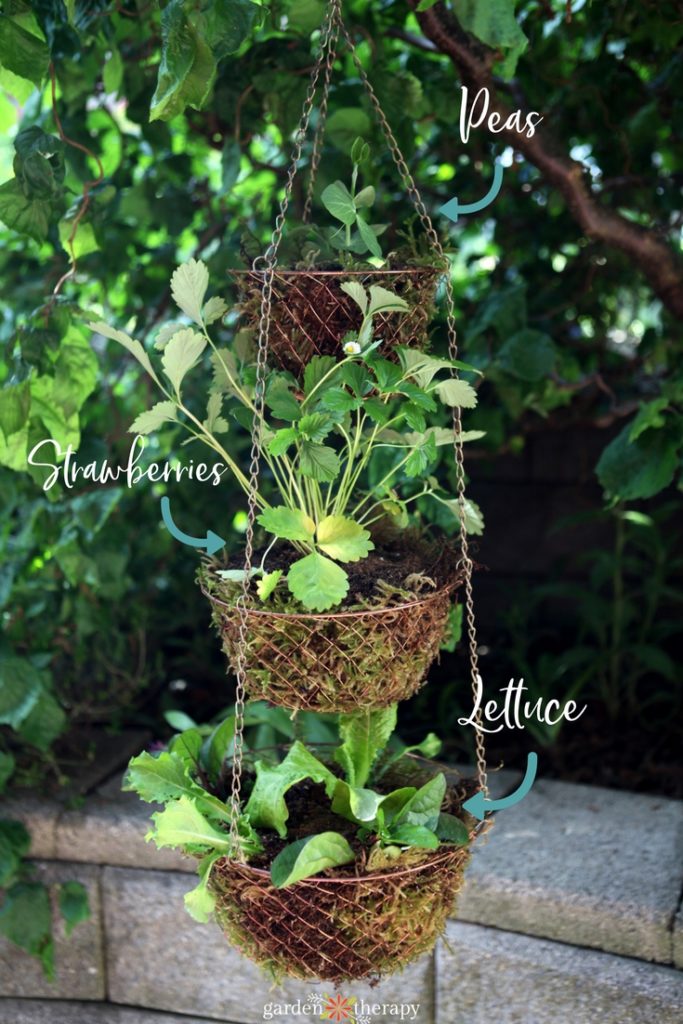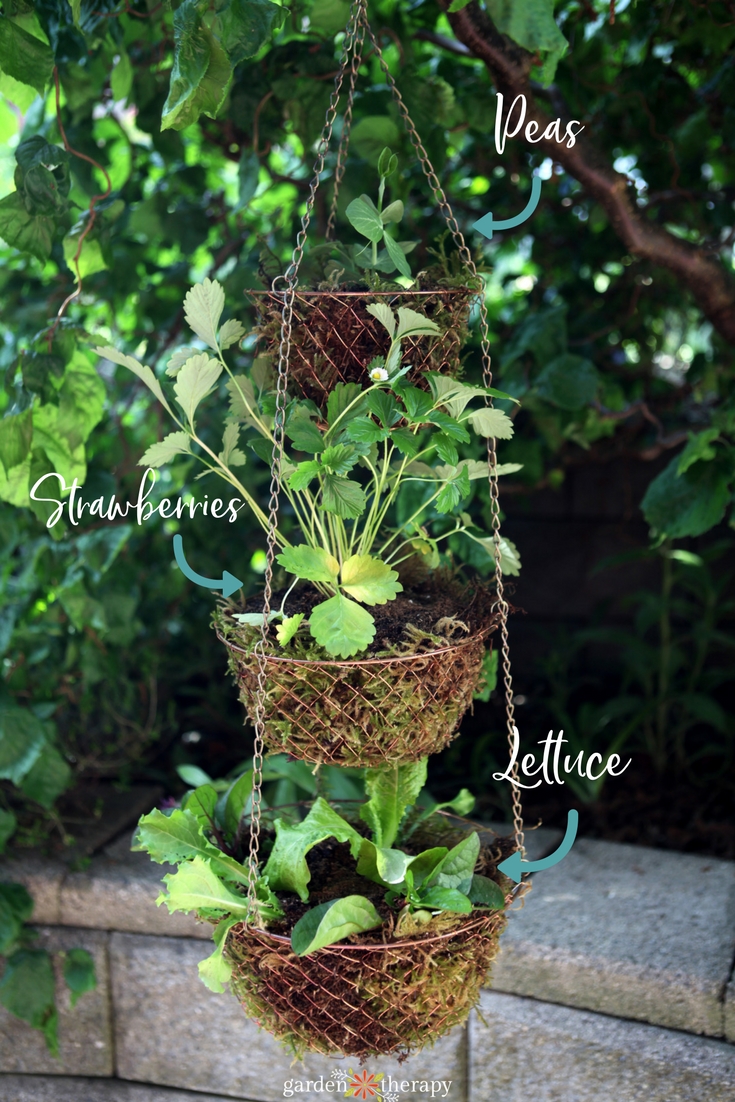 Hanging Baskets – The Best Things to Grow in Them
These plants all grow well in hanging baskets and will produce a large harvest, so you'll have plenty of garden-fresh produce to munch on all season long even if you don't have a big (or any!) garden.
How To Grow Herbs In Hanging Baskets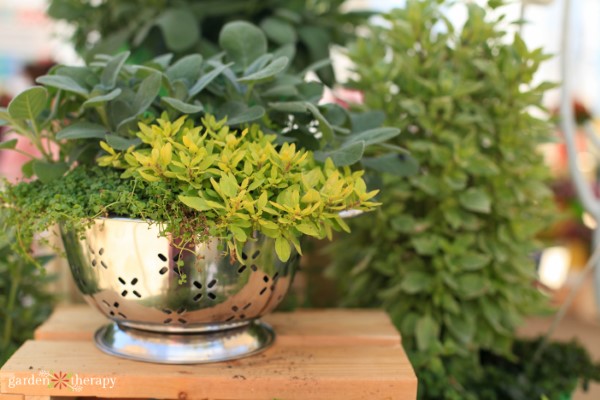 A hanging herb garden is convenient for snipping fresh herbs as you need them and it lends a wonderful aroma to your porch or patio space. It also looks very pretty, and since most herbs love full sun, it is a great hanging basket option to liven up a hot, sunny area!
If you're looking for some herbs that you can hang in a shady area instead, choose members of the mint family. For a small-space herb garden that regrows year after year, take a look at this post on growing a perennial herb container garden.
How do you grow herbs in a hanging basket? First, you need to add a generous amount of compost to the hanging basket. If your patio or balcony receives constant sun, find a way to give them some shade during the day. Most herbs will grow all winter if you care for them correctly.
How To Grow Peas In Hanging Baskets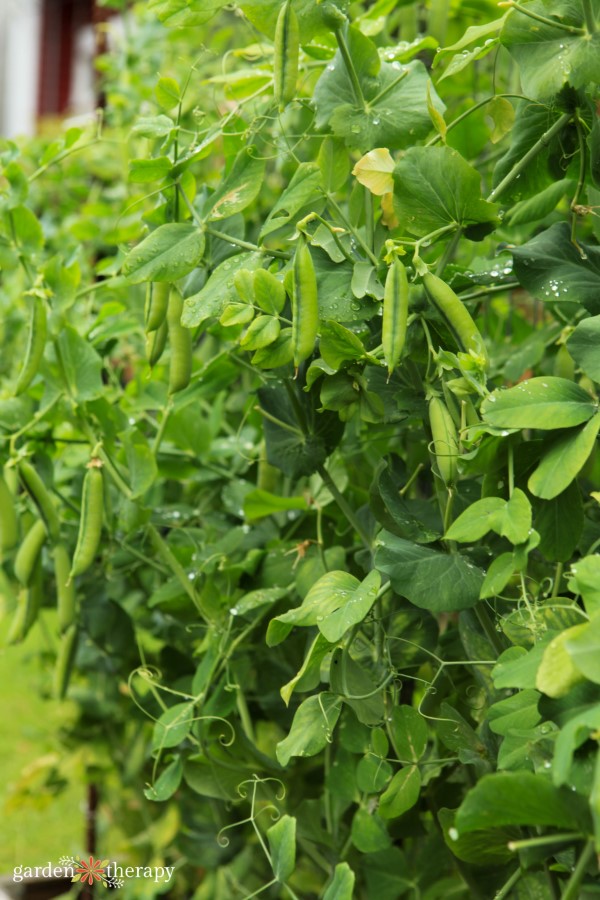 Peas grown in the ground need a support structure like this one, but if you plant them in a hanging basket, they will grow downwards and don't require support. A dwarf variety or snow pea will do best in a hanging container.
You should hang the basket in a sunny location and watch your peas thrive! Harvest pods quickly once they are ripe as this will cause the plant to produce more and more, giving you a big harvest from a small space.
How To Grow Salad Greens In A Hanging Basket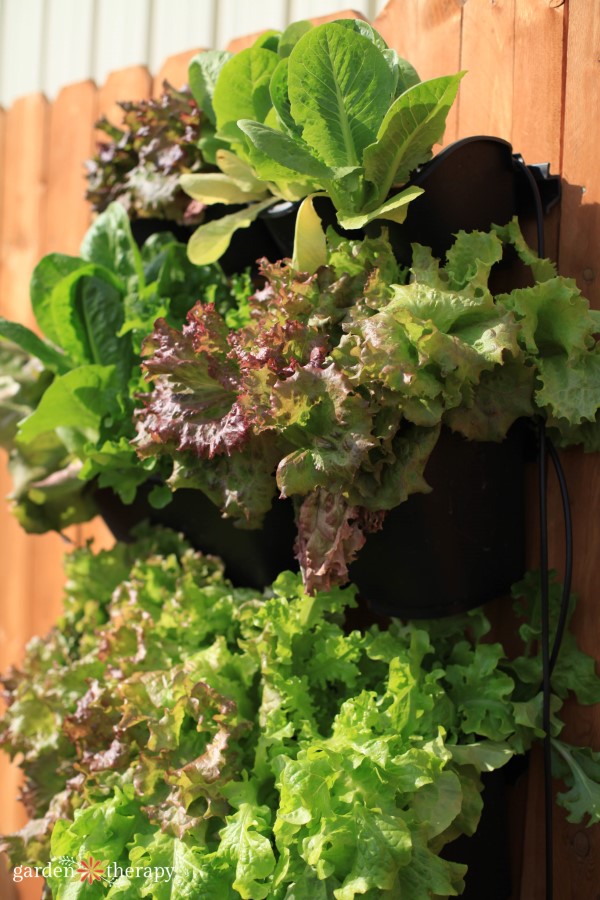 Planting lettuce and other salad greens in a hanging basket can keep them away from the damage caused by snails and slugs on the ground. Choose a soil mix rich in humus to promote growth of greens and hang your basket in a sunny area.
Plant multiple different kinds of lettuce or a spring mix for a varied basket that is visually appealing and contains everything you need for a yummy salad.
Just like the peas, the more you harvest the more it will produce. Enjoy a fresh salad every day!
Growing Strawberries In A Hanging Basket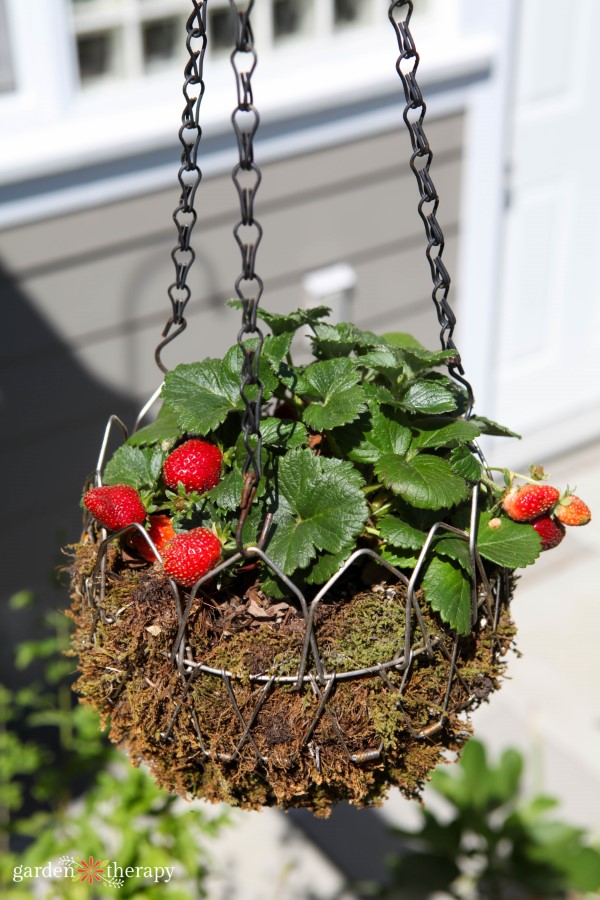 Hanging strawberries up in the air means that deer can't reach them to eat them up. So, if a deer happens to be a problem in your garden, try planting your strawberries in a hanging basket or grow bag this season!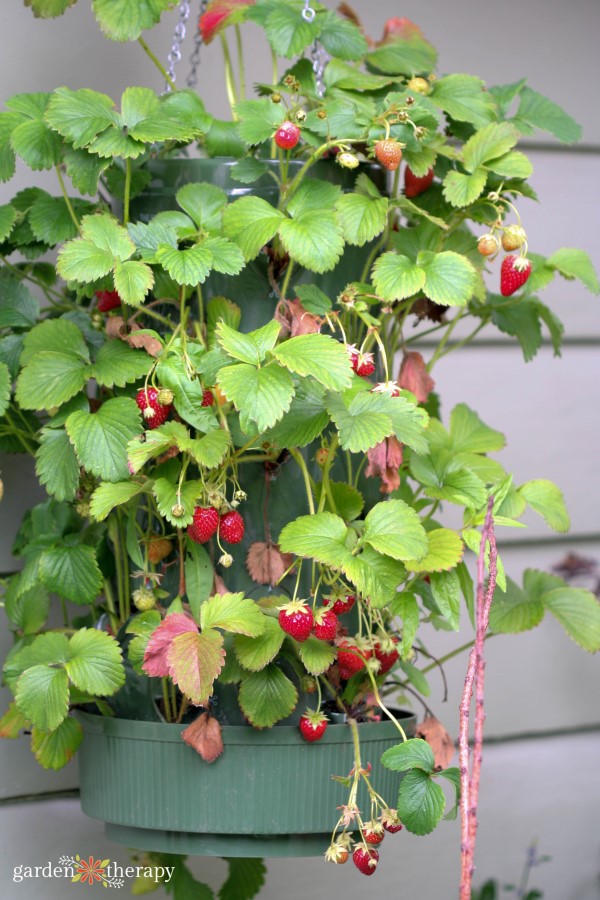 Strawberries thrive in hanging baskets because each plant has a compact root system and you can even hang them indoors as long as they get six to eight hours of sunlight every day. Strawberry plants are perennial, but after three or four years, they will no longer be able to produce fruit and you will need to replace them with new plants.
How To Grow Tomatoes In A Hanging Basket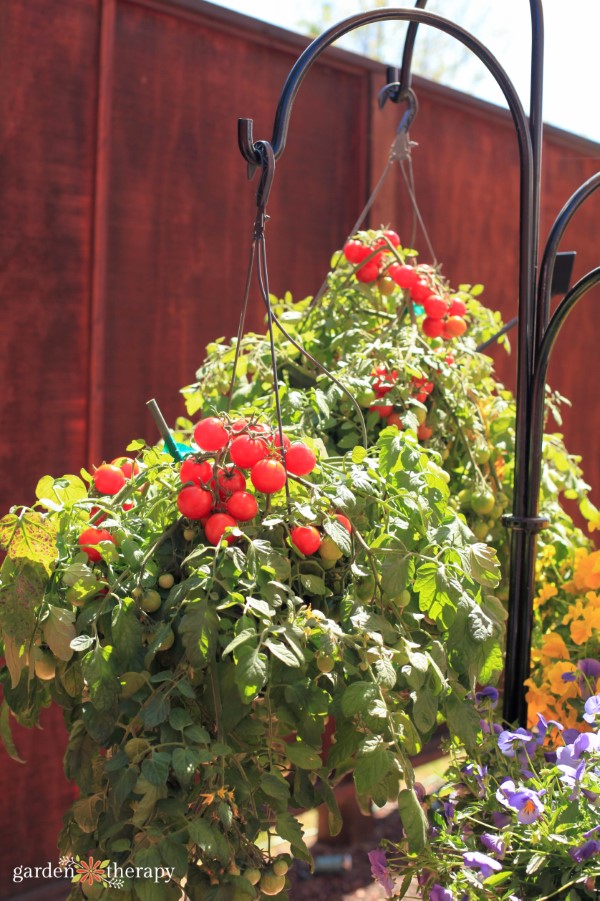 Tomatoes do well in hanging baskets, or even hanging upside down! Large slicer tomatoes are too big to be supported in a hanging basket, but the dwarf and cherry varieties will thrive.
My favorite type of tomato for hanging baskets are Tumblers, which can be grown in hanging planters as small as ten inches in diameter. They will grow over the edges of the planter and tumble attractively down the sides, which makes harvesting easy, and they come in both yellow and red varieties.
Plant Tumblers around the edges of your basket and hang it in a sunny spot where you can reach them easily.
Hanging Basket Soil Recipe
What type of soil is best for use in a hanging basket? I like to make my own. In fact, I wrote about my soil recipe in my newest book, Garden Alchemy.
I'm sharing the exact recipe I use to get my hanging basket plants to thrive at the bottom of this post, but if you're interested in gardening, I highly recommend the book. It has a wide variety of other recipes for DIY organic fertilizers and natural pesticide control too.
How To Grow a Vegetable Garden in Hanging Baskets
If you have ever wondered how to grow a vegetable garden in a hanging basket, then this is for you. I'll take you through each step so you will have the largest yield.
1. Soak a Liner Overnight
Choose a moss or coconut coir liner for your basket and soak it in water overnight. Choosing the right liner is important as this is what is going to allow your plants to breathe correctly.
2. Insert the Liner and Add Soil
Insert the moistened liner into the basket, then add soil. You want to choose the right soil for a hanging basket—a mix that is light, airy, and retains moisture is best because hanging planters will dry out quickly. Remember to check the bottom of this post for my simple DIY hanging basket mix!
3. Add Your Plants
Add your plants, give the whole basket a good watering, and hang it up.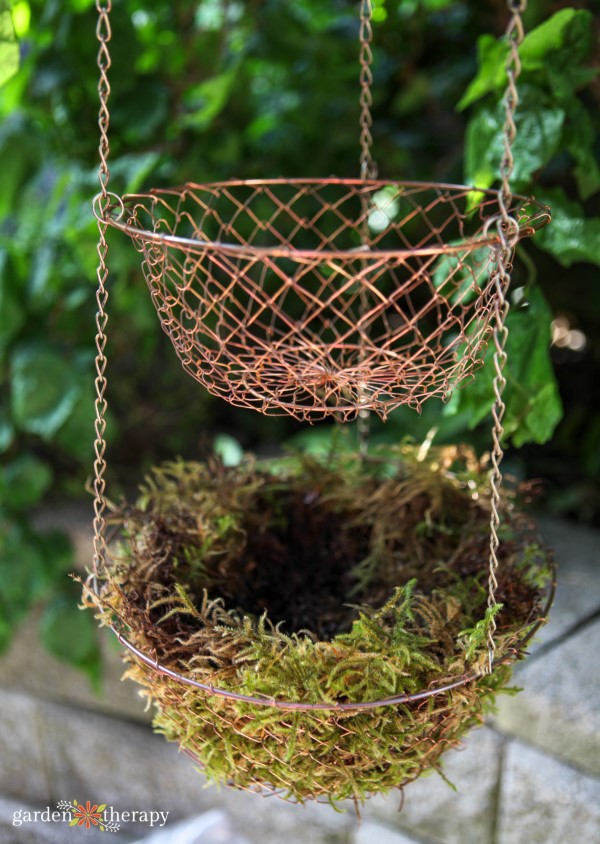 4. Choose The Best Location For Your Plants
Choose a location for your hanging basket based on the light requirements of the plants that will be growing in it. Remember that you will want to harvest your produce easily, so hang the basket somewhere accessible.
Hanging Baskets Drain Water Faster
Keep in mind that when you water a hanging basket, gravity will drain the water quicker than in other containers that sit on a surface, so check the soil often and water frequently.
You also need to be careful not to stuff the hanging basket too full of plants. If you put too many plants in the same basket, the roots will all compete for water. This isn't all bad. It just means you will have to water your hanging baskets more than normal.
If you are afraid that you'll forget to keep watering them, then set up a self-watering system. Popular ones are watering bulbs or bottles. They will add more water to the soil as it dries out.
See more tips for hanging baskets here!
How To Help Hanging Baskets Retain Water
There are some things you can do to help your hanging baskets hold onto the water.
First of all, create the right soil mix as there are some mixes that will hold onto the water more than others.
You also want to remember to water them every single day. This is a critical step if you want healthy plants! Lastly, add a clear hanging basket drip tray and this will help your plants hold onto moisture really well.
What To Do If Your Plants In Your Hanging Basket Dries Out
If the weather is super hot and dries out your plants or you forget to water them for a few days, there is a way to save them. Just set the hanging baskets in a child's swimming pool or a bucket filled with a few inches of water. This will rehydrate the soil.
That's it!
Hanging baskets are a ton of fun and an excellent solution for anyone that wants to grow vegetables on their patio or balcony. They might take a little extra love and care, but it's possible to grow strawberries, herbs, and peas in a hanging basket.
More Container Garden Ideas
Hanging Basket Soil Recipe
This soil recipe retains more moisture, so it's perfect to use when you are growing vegetables in hanging baskets.
Supplies
2

parts

compost

1

part

perlite

1

part

vermiculite

1

part

worm castings

3

tablespoons

blood or alfalfa meal per each gallon of prepared mix

1

tablespoon

kelp meal per each gallon of prepared mix
Instructions
Mix the items above together well.

Use in hanging container baskets.