Hanging baskets aren't just for flowers anymore! They are also a great small-space solution for gardeners who want to grow a lot of food but don't have a lot of garden space. These plants will produce a high yield and thrive in hanging baskets, plus keeping them elevated as opposed to planting them in the ground will keep them out of reach of many pests, and you can create a visually pleasing hanging basket that pulls double duty as a decorative element on the patio and a miniature, easy-access kitchen garden.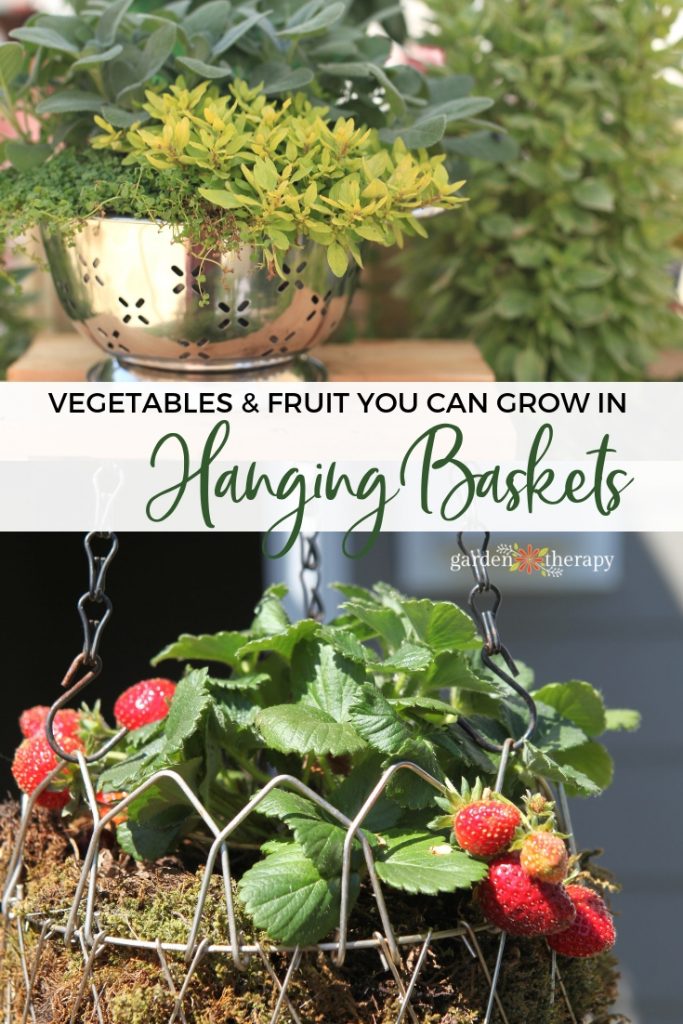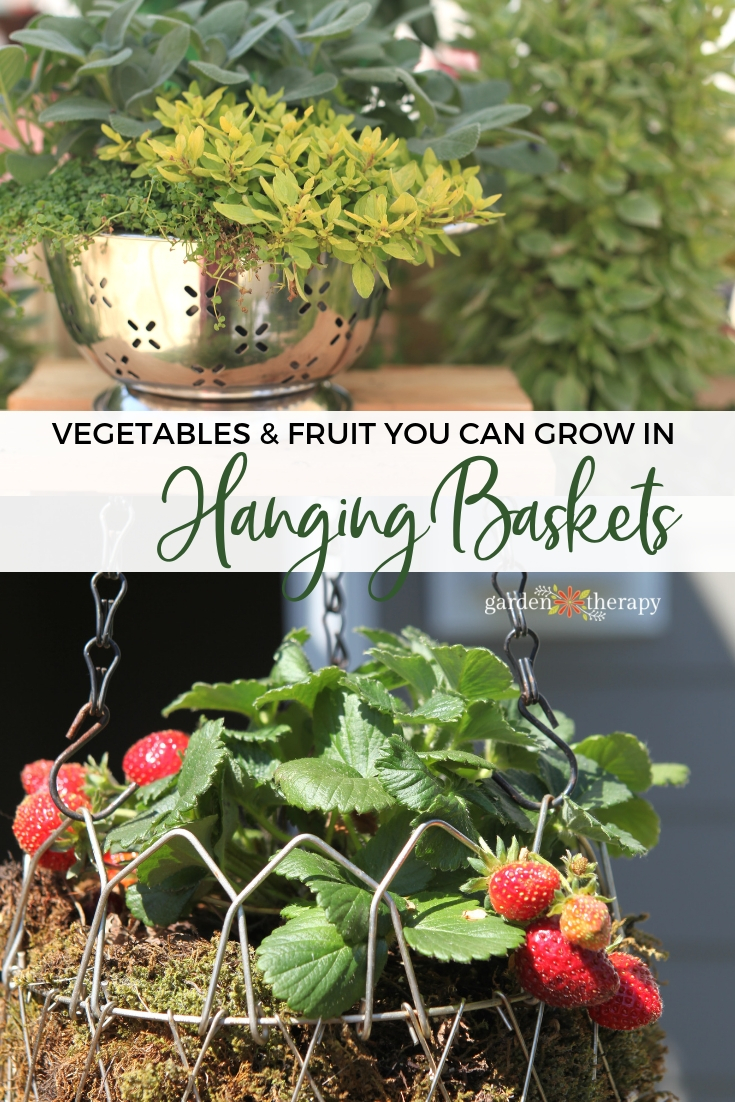 Hanging baskets are a pretty way to grow a lot. Try planting individual baskets with edible plants, or get a layered hanging basket with multiple pots so that you can grow various veggies in one space.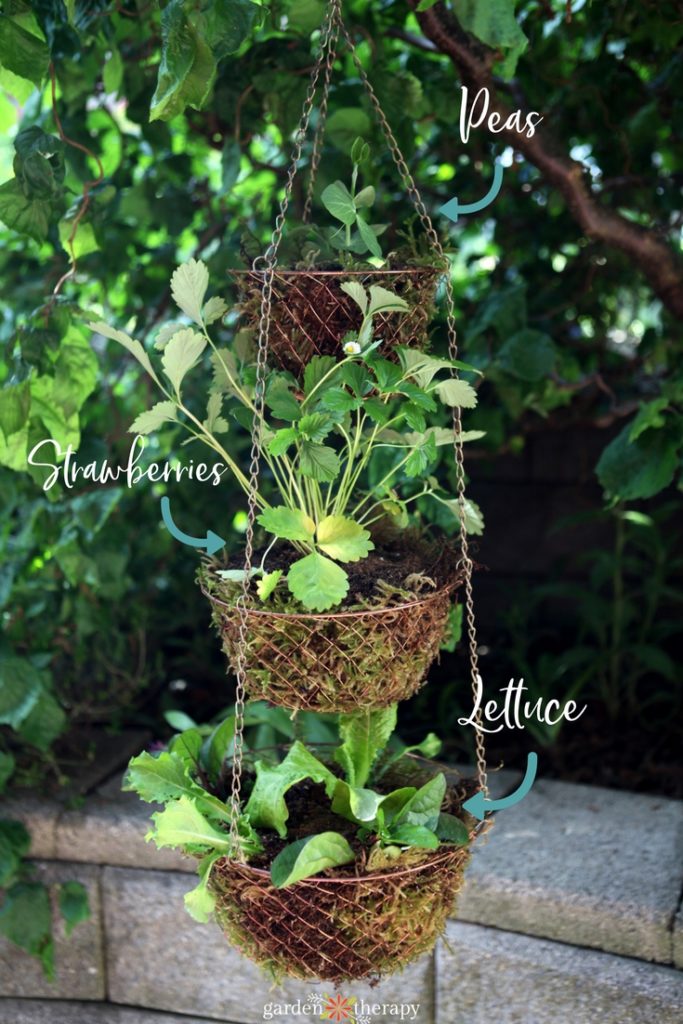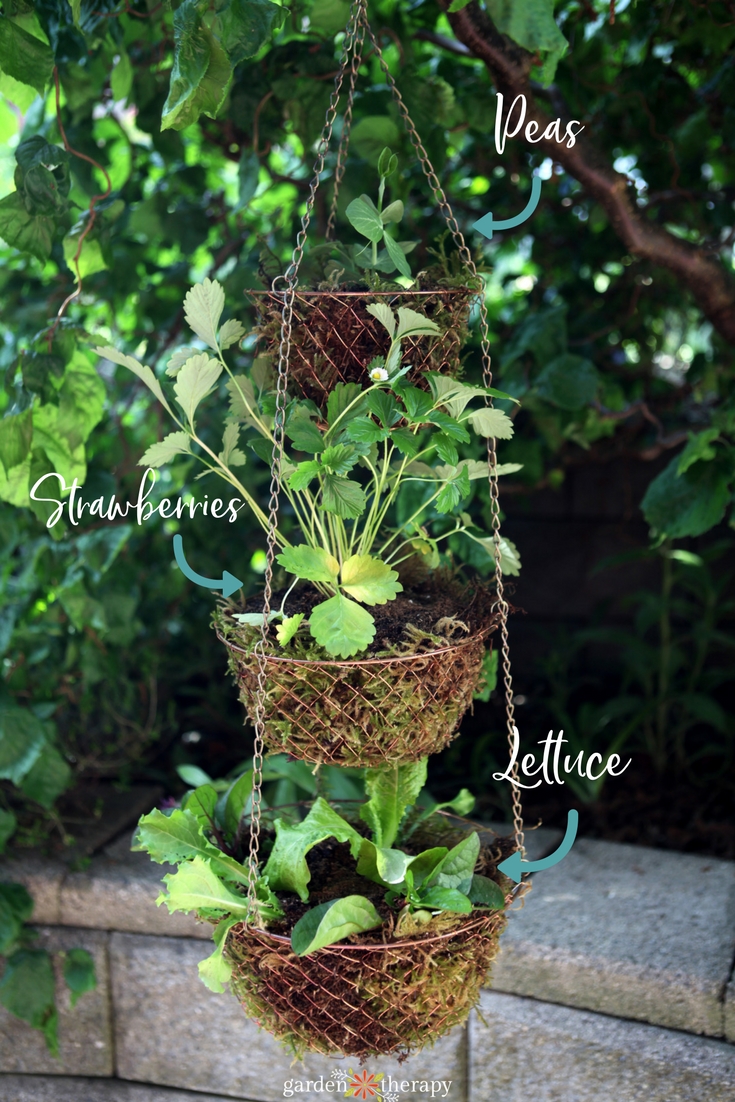 These plants all grow well in hanging baskets and will produce a large harvest, so you'll have plenty of garden-fresh produce to munch on all season long even if you don't have a big (or any!) garden.
Herbs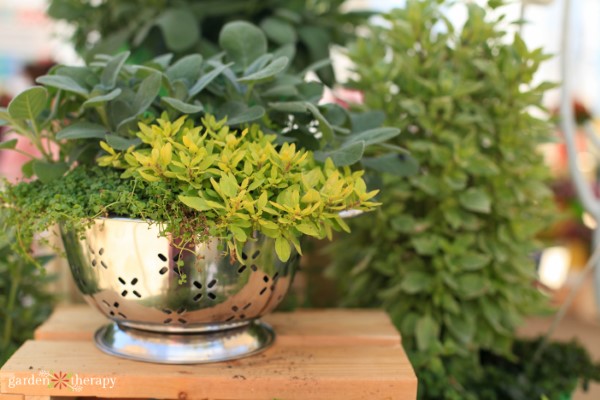 A hanging herb garden is convenient for snipping fresh herbs as you need them and it lends a wonderful aroma to your porch or patio space. It also looks very pretty, and since most herbs love full sun, it is a great hanging basket option to liven up a hot, sunny area. If you're looking for some herbs that you can hang in a shady area instead, choose members of the mint family. For a small-space herb garden that regrows year after year, take a look at this post on growing a perennial herb container garden.
Peas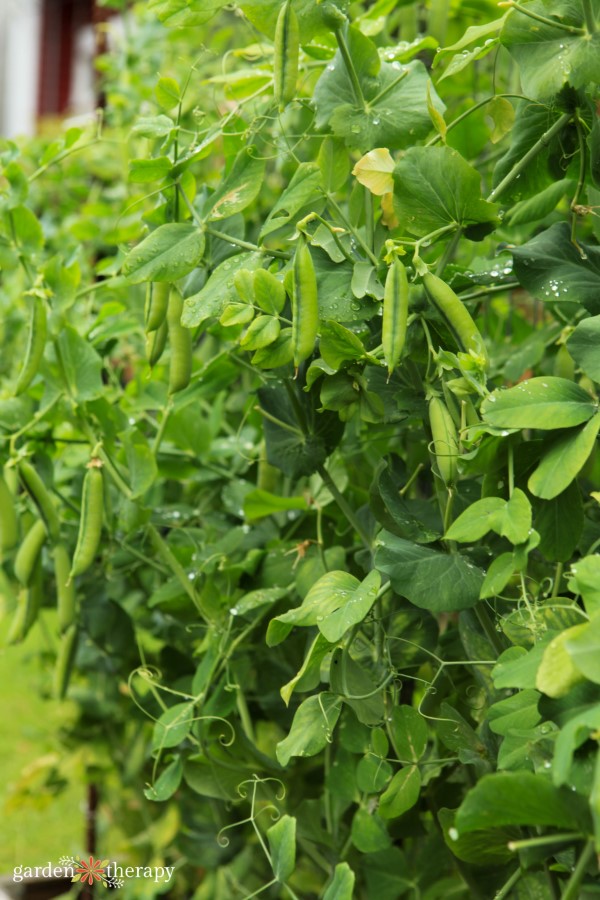 Peas grown in the ground need a support structure like this one, but if you plant them in a hanging basket they will grow downwards and don't require support. A dwarf variety or snow pea will do best in a hanging container. Hang the basket in a sunny location and watch your peas thrive! Harvest pods quickly once they are ripe, as this will cause the plant to produce more and more, giving you a big harvest from a small space.
Salad Greens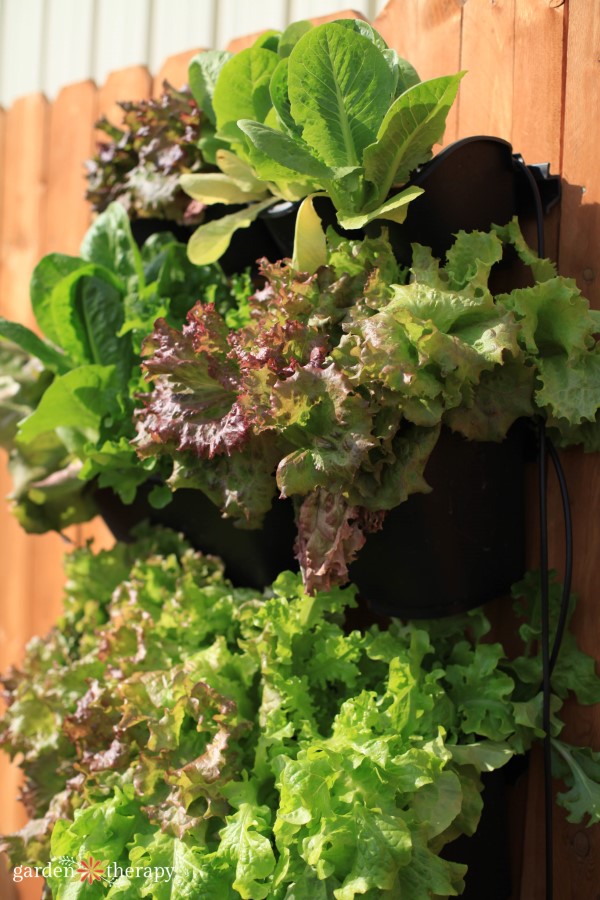 Planting lettuce and other salad greens in a hanging basket keeps them away from the damage caused by snails and slugs on the ground. Choose a soil mix rich in humus to promote growth of greens and hang your basket in a sunny area. Plant multiple different kinds of lettuce or a spring mix for a varied basket that is visually appealing and contains everything you need for a yummy salad.
Strawberries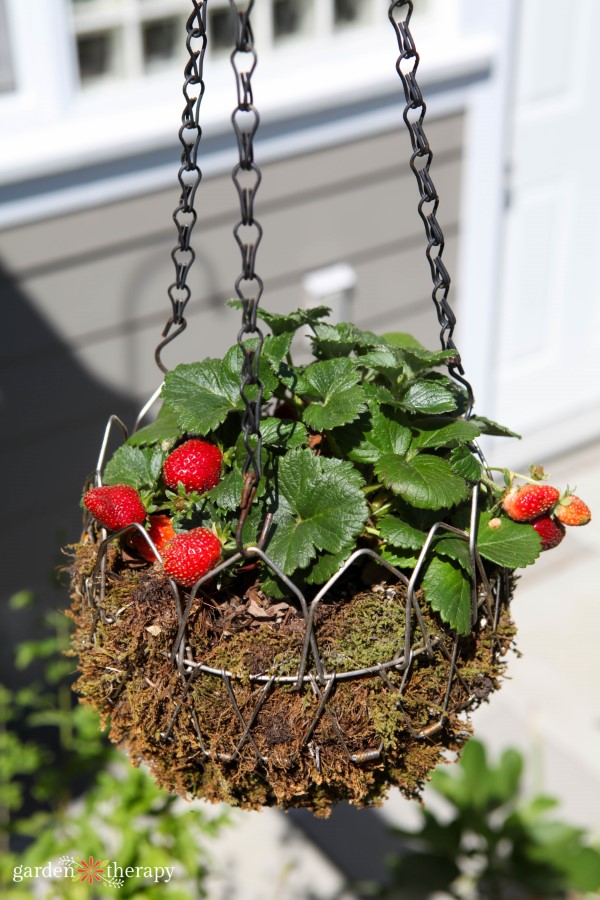 Hanging strawberries up in the air means that deer can't reach them to eat them up, so if deer are a problem in your garden, try planting your strawberries in a hanging basket or grow bag this season.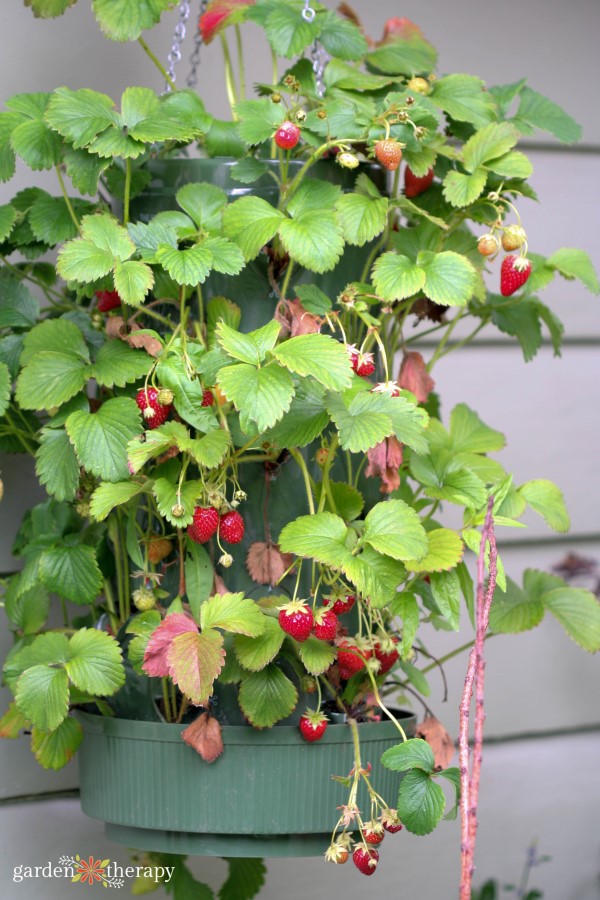 Strawberries thrive in hanging baskets because each plant has a compact root system, and you can even hang them indoors as long as they get six to eight hours of sunlight every day. Strawberry plants are perennial, but after three or four years, they will no longer be able to produce fruit and you will need to replace them with new plants.
Tomatoes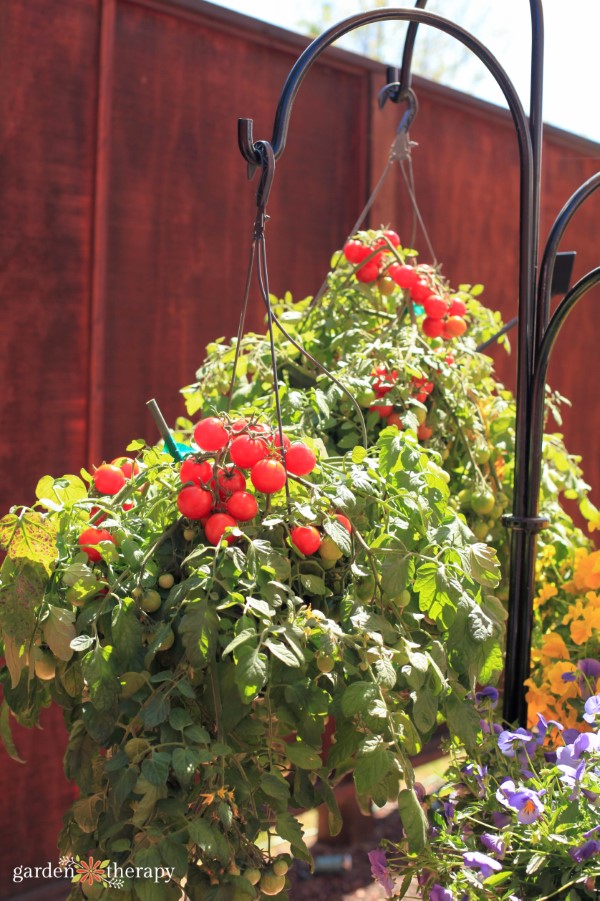 Tomatoes do well in hanging baskets, or even hanging upside down! Large slicer tomatoes are too big to be supported in a hanging basket, but dwarf and cherry varieties will thrive. My favorite type of tomato for hanging baskets are Tumblers, which can be grown in hanging planters as small as ten inches in diameter. They will grow over the edges of the planter and tumble attractively down the sides, which makes harvesting easy, and they come in both yellow and red varieties. Plant Tumblers around the edges of your basket and hang it in a sunny spot where you can reach them easily.
Hanging Basket How-To
Choose a moss or coconut coir liner for your basket and soak it in water overnight. Insert the moistened liner into the basket, then add soil. You want to choose the right soil for a hanging basket—a mix that is light, airy, and retains moisture is best because hanging planters will dry out quickly. See this post to find out how to mix up your own container garden soil blend. Add your plants, give the whole basket a good water, and hang it up.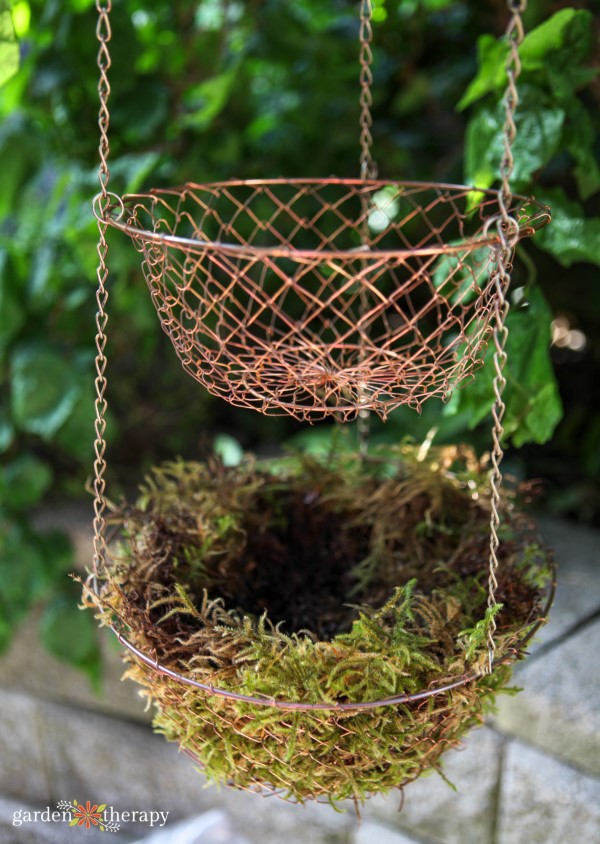 Choose a location for your hanging basket based on the light requirements of the plants that will be growing in it. Remember that you will want to harvest your produce easily, so hang the basket somewhere accessible.
Keep in mind that when you water a hanging basket, gravity will drain the water quicker than in other containers that sit on a surface, so check the soil often and water frequently. See more tips for hanging baskets here.
More Container Garden Ideas