If you're looking for a way to bring your love of gardening to every area of your home, why not grab some of these beautiful free herb printables? These make fantastic decor for any plant lover.
You may have noticed how much we love herbs here at Garden Therapy. Naturally, we jump at any chance to celebrate (and decorate with) them! Debbie Wolfe from the fabulous blog, The Prudent Garden, created these beautiful herb printables. Even better? She's kind enough to share them with all of us for free!
They are a gorgeous way to bring your appreciation of herbs into the home by displaying them on the wall, or give them away as gifts; each herb has a different meaning, so you can give personalized printables depending on the occasion.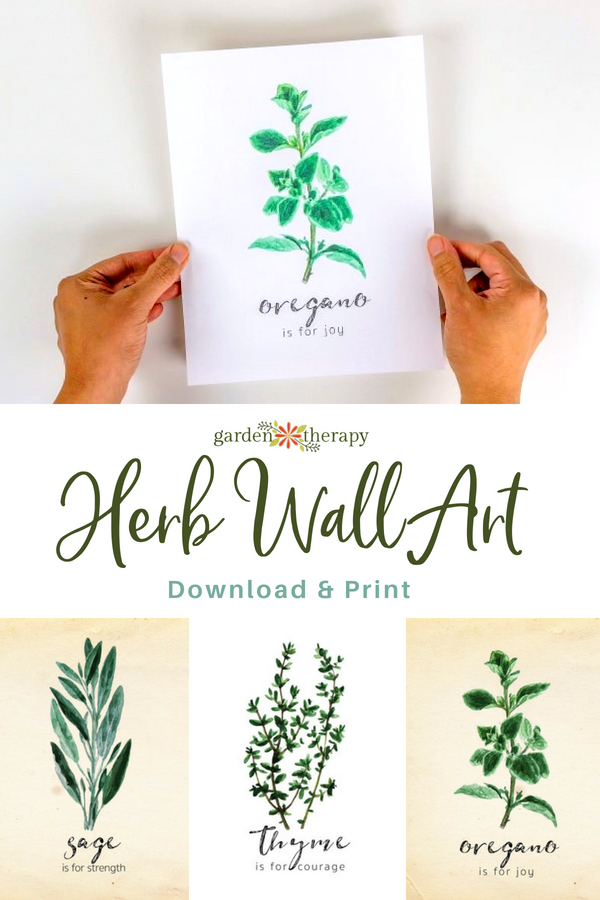 Free Herb Printables with Herb Meanings
Herbs have been used for centuries as a medicine and to flavor food. Besides their usefulness in the kitchen and in beauty products, they are also some of the easiest plants to grow. These resilient little plants often grow in the toughest conditions and exhibit a simple beauty that will accent any garden.
While herbs hold a variety of wonderful properties, they also have special meanings. These meanings were derived mostly from their therapeutic properties.
Herbs and Their Meanings: Video
Here is a little video I made about the meanings of different herbs. It's truly fascinating!
Meanings of Different Herbs
I (Debbie) made printables of 6 herbs below, that you can download and print. What to know what they symbolize? Keep reading!
Rosemary
This herb stands for remembrance and immortality. In fact, it has a history full of being used in times of solemn mourning.
Its use can be traced back to the ancient Egyptians who laid rosemary on coffins and tombstones. The connection of rosemary with mourning continued with the Greeks. Scholars used to wear garlands of rosemary on their heads to help memory during examinations.
Basil
Basil represents love and peace. Ironically, the first historical mention of it was before 206 B.C.E. when Chrysippus, a Greek stoic philosopher stated basil "exists only to drive men insane." Why? Because Greeks and later Romans somehow had the theory that you'd only get a great crop of basil if you swore and ranted while you planted it.
Interestingly, the French still have a saying today, semer le basilic. This translates to "sowing the basil" and is used when someone is ranting and raving. As time went on, this herb began to be known for the tragic Italian love story between Lisabetta and Lorenzo in The Decameron.
Oregano
This herb symbolizes joy and tranquility, which is pretty surprising since it's such a powerful herb! Do you remember Aphrodite, the Greek goddess of love? The ancient Greeks believed she created it as the herb of joy in her garden.
Then, in Elizabethan times, this tradition was continued as the herb was used to create good luck and good health.
Thyme
This lovely herb stands for strength and courage.
The meaning of this herb is found in its name. "Thyme" is from the Greek word thymus that means "courage." The Greeks used this herb to represent an elegant style. In the Middle Ages, it was a sign of chivalry and bravery.
Sage
You often hear about burnt sage being used to keep evil spirits away, but it also stands for strength and wisdom.
During the time of the Greeks, Romans, and even the Middle Ages, the white sage plant was used in ceremonies. It was also used medicinally to help keep fevers at bay and to keep people strong.
Parsley
Parsley is known to represent gratitude and festivity, which is somewhat surprising considering how people first used to treat this herb. The ancient Greeks used it as a funeral herb. People used to make wreaths out of parsley and lay them on graves.
The symbolism changed throughout history and different cultures. The Hebrews used it in Passover to represent rebirth. In Medieval times, people were afraid to plant parsley. They thought the long germination period meant the seeds went to hell and back.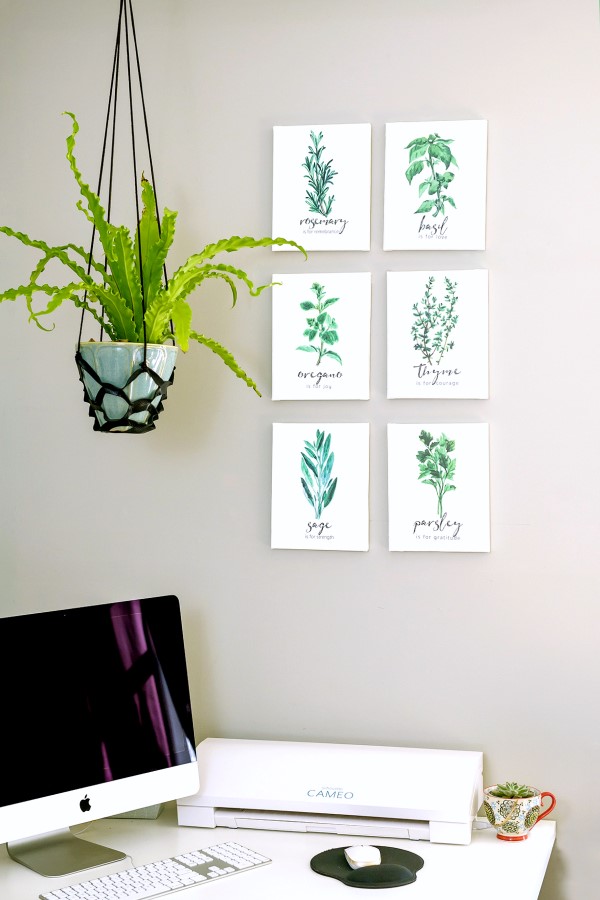 Download And Print Free Herb Printables
I created a printable collection of herb prints that feature some of my favorite herbs. This project is an extension of the herb cards I designed for The Prudent Garden. I grow all of these in my zone 7 garden, and I must admit, rosemary is my favorite.
How to Mount the Herb Printables on Canvas
The herb prints are perfect to frame for an inexpensive display or mount them on canvases for a modern gallery look.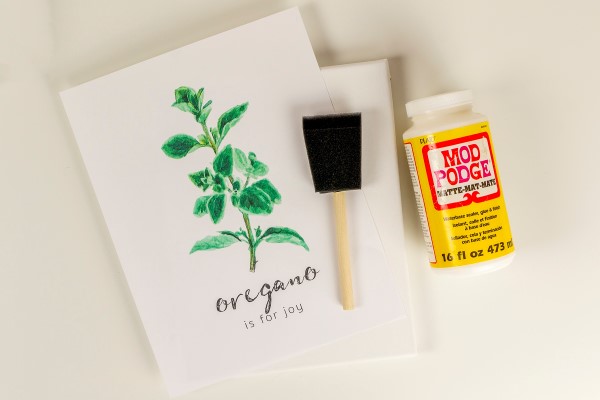 Supplies
*Cardstock works best for this project. Regular printer paper tends to wrinkle and cause the ink to bleed once the decoupage glue is applied.
Start by downloading and printing the herb designs. I've made two different options, one with a crisp, white background, and one made to look like the paper is vintage and weathered. Download the PDFs below:
Apply a generous layer of decoupage glue onto the surface of the canvas.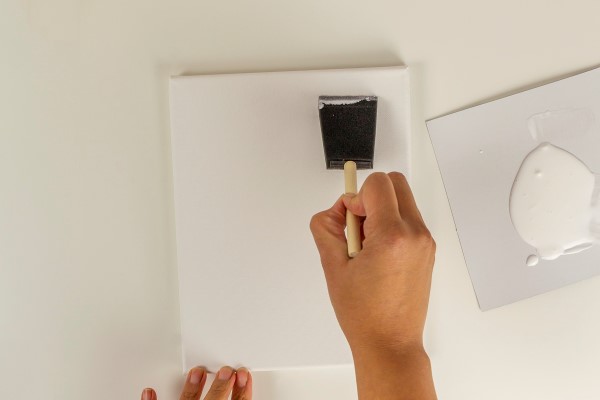 Center the print on the canvas. There will be overhang if you printed onto a standard 8.5×11 inch paper. Smooth down the print, working from the center out.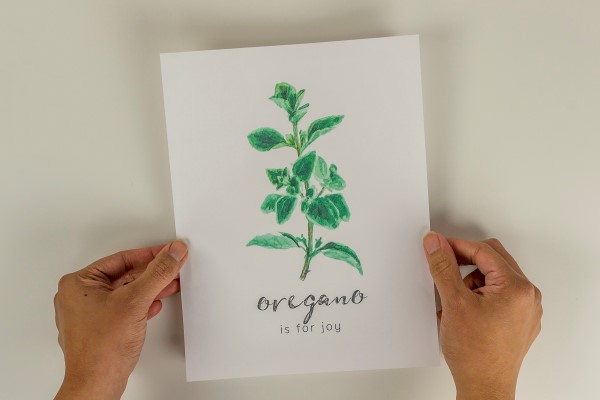 Flip the canvas over and press against the back of the canvas to help smooth out the paper. Continue working out any bubbles you see by gently, but firmly rubbing the surface of the print. Let the canvas dry for about 10-15 minutes with the print side up.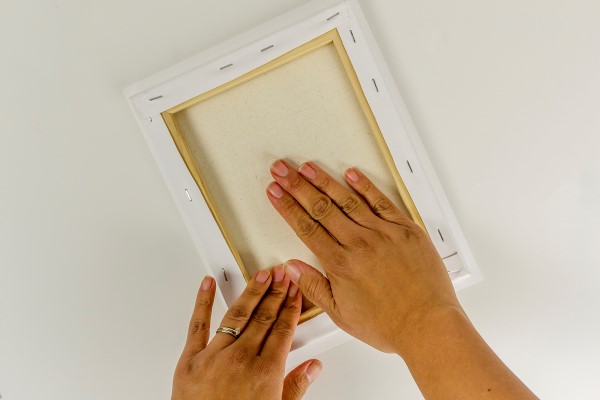 Once dried, flip trim off the excess paper with a sharp craft knife.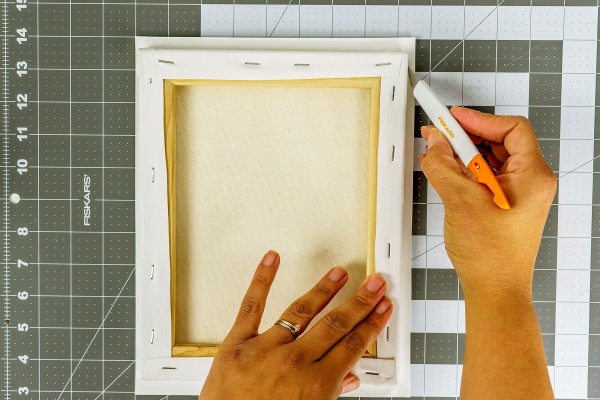 Apply a top coat of decoupage glue on the surface of the canvas and let it dry thoroughly.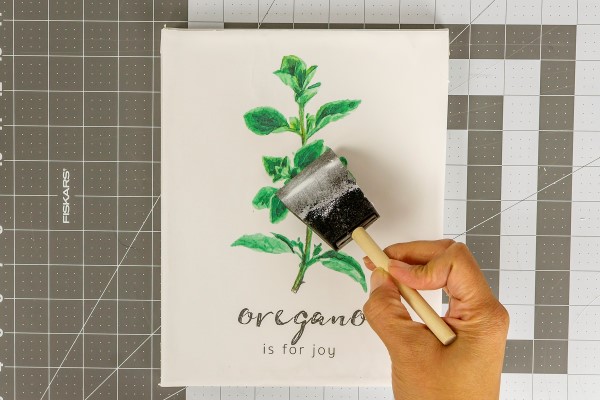 Hang your artwork wherever you need herbal inspiration or an uplift in spirits.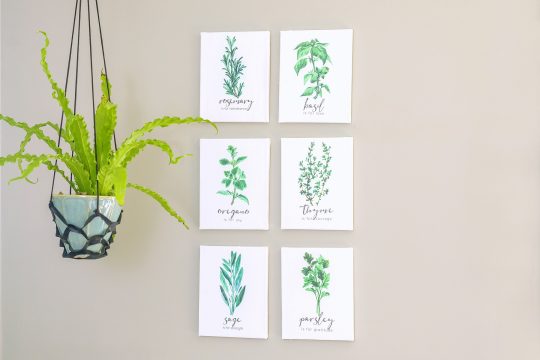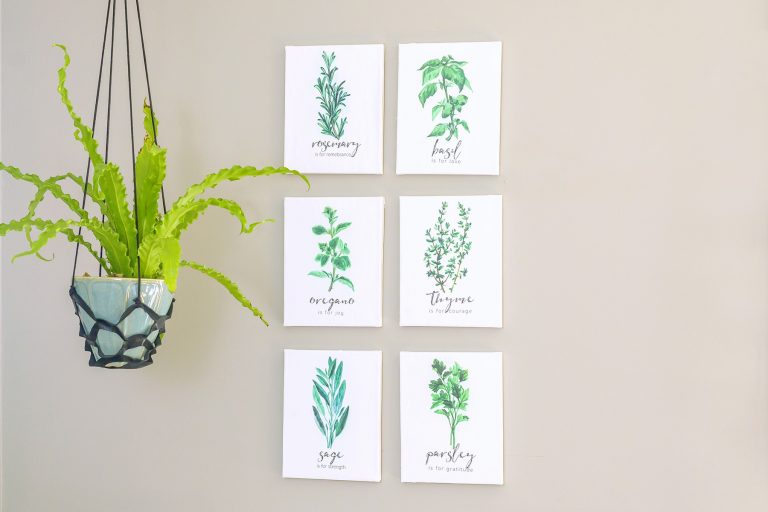 More Garden-Related Crafts to Try:
Canvas-Mounted Herb Printable
These free herb printables are a gorgeous way to bring your appreciation of herbs into the home. Mount them on a canvas frame for an elevated look - here's how!
Instructions
Choose between the herb prints on vintage paper or white paper. Then print out the herb print(s) of your choice on a piece of white cardstock.

Center the printable on the 8" x 10"  canvas, and smooth it down. Make sure there are no bubbles or lumps.

Let the canvas dry for about 10-15 minutes with the print side up.

The print will be slightly larger than your canvas. Once the canvas is dry, flip it over and use a sharp craft knife to trim off the excess sheet.

Apply another even layer of decoupage glue and let it dry, then display your handiwork.
About the Author
Debbie Wolfe is a mom of two rambunctious boys, wife, and work-at-home mom from Georgia. In her free time (when there is such a thing), she is in the garden or hidden away reading the latest post-apocalyptic sci-fi drama! As for interests, Debbie is an obsessive crafter, home chef, and gardener. She is a freelance writer, blogger, and is a co-author and photographer behind the garden blog The Prudent Garden: a collection of tips, crafts, and articles that highlight home gardening.