Feverfew is a pretty, cheery flower that has some excellent medicinal benefits. From preventing migraines to helping with menstrual problems, this herb is a wonderful addition to any herbal garden. Here's how to grow, harvest, and use the feverfew plant.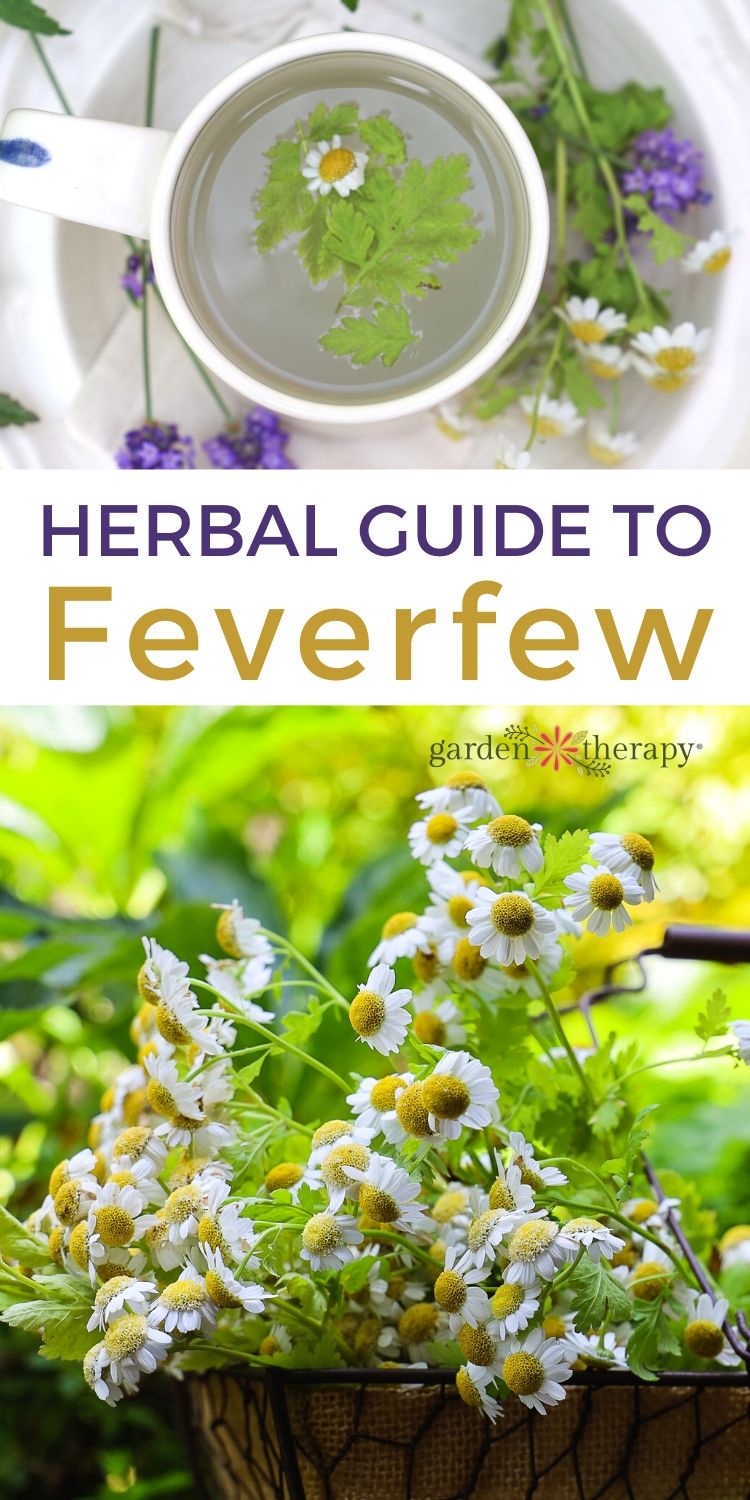 Perhaps, like me, you were wandering around your garden one day when you saw a cheery mass of white-petaled, yellow-centered flowers standing about two feet high in the garden. Looking a little bit like chamomile, but as you get closer and give it a smell, yikes! It doesn't have that sweet apple smell that chamomile has but instead resembles something more like a dirty sock. It's feverfew!
Feverfew is such a pretty flower and it always has a welcome home in my garden. I don't plant it because, in these parts, it's a wild medicinal plant that pops up easily each year without much thought.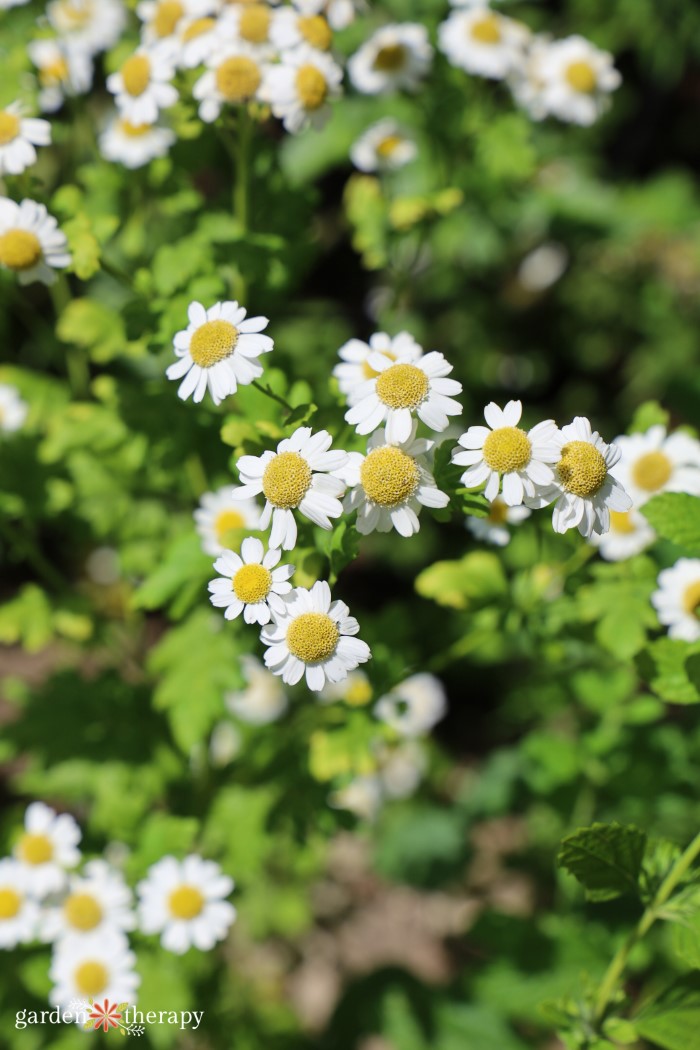 It's a good thing because feverfew isn't just pretty, it has some wonderful properties. It's most famous for being used as an ongoing treatment to reduce the severity and number of migraine attacks in some sufferers. But in addition, it also provides a calming relief to tension and arthritis.
There's a lovely cultivar called white stars that has plenty of double white flowers on shorter seven-inch plants. This highly attractive feverfew is a great cut flower in arrangements, dries well for dried flower arrangements, and looks great in containers or at the front of the garden.
Lori's Green Blessings

This article was reviewed by herbalist Lori Snyder. This is not to be used as personal medical advice; always consult your health care professional for individual concerns.

Here's what Lori has to say about feverfew:

"Feverfew has so many medicinal benefits and is easy to grow. I like making alcohol tinctures as alcohol extracts out chemical components that are not extracted with water.

According to Bartram's Encyclopedia of Herbal Medicine, prepare fresh leaf within 2 hours of harvesting, 1 part pulp to 5 parts (45% proof alcohol), let sit for 7 days. Filter. Dose 5-20 drops every 2 hours for acute conditions, 3x's daily for chronic conditions.

Note: Feverfew may inhibit activity of blood platelets that play a role in clotting, affecting blood-thinning medication."
History of Feverfew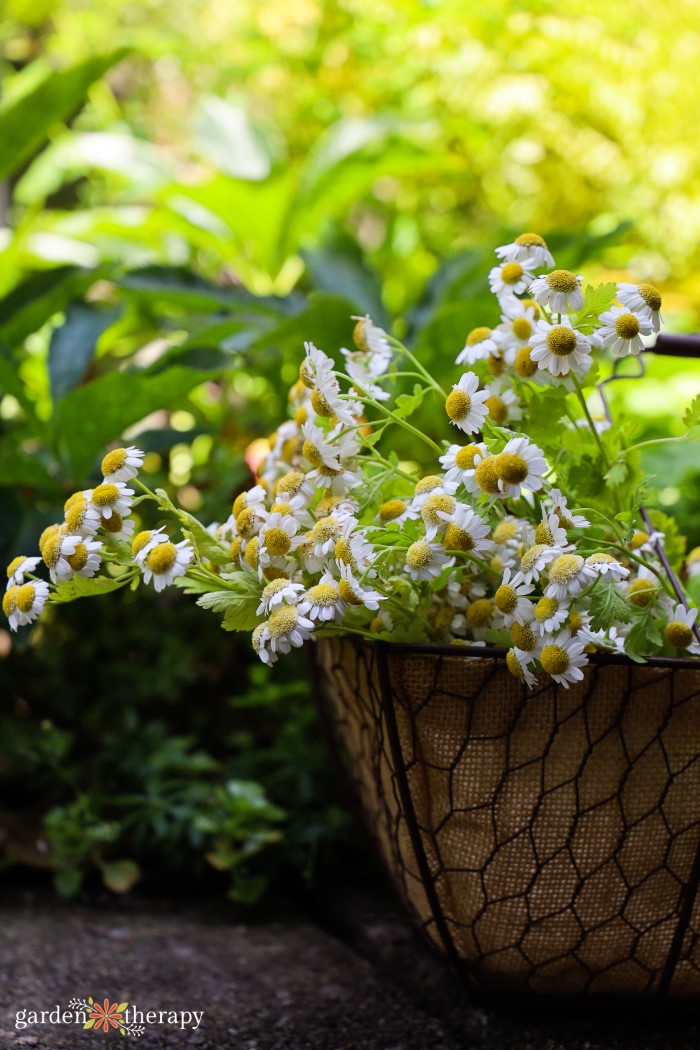 Throughout history, feverfew has been traditionally used to treat migraines, arthritis, and menstrual and labour pain. Today, feverfew can be found throughout Europe, Australia, and North America, but it was originally found in southeast Europe. 
Since feverfew has had so many names throughout history, it can be hard to find it listed in older texts. One herb that is believed to be feverfew is parthenion. The name, derived from the Greek word for maidenly, was often associated as a women's herb and was most frequently used to treat uterine problems. However, there are at least three herbs that were referred to as parthenion! Feverfew is likely one of them.
The herb parthenium is also suspected to be feverfew. As the story goes, it was once used to save the life of a slave who had fallen from the Parthenon, Athena's famous temple, during its construction in the 5th century BC.
In the 1st century, Greeks began using the herb as an antipyretic, a medicine used to reduce fevers. During the 18th century, feverfew got its nickname as the medieval aspirin.
Although it did not arrive until the mid-19th century, it also had many uses in the Americas. The people in Costa Rica used the herb as a digestion aid, a cardiotonic to help the heart, and as an enema for worms. Costa Ricans and Mexicans were both known to use the herb to help regulate menstruation. Feverfew has long been a powerful aid for women!
Feverfew Benefits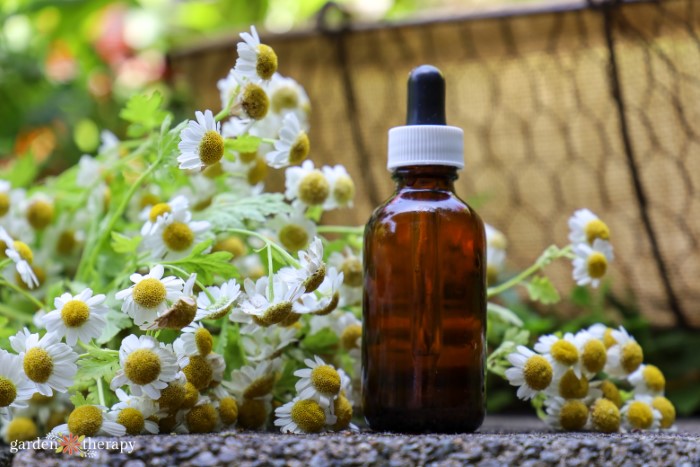 While its name and history may suggest it as a fever relief, it actually is not very effective in reducing fevers. That being said, feverfew benefits are numerous. Here are a few ways to use this herbal remedy. 
Feverfew for Migraines
Ever since the 1970's, feverfew has been a popular choice for migraines and headaches. Studies show that not only does feverfew reduce the severity of migraines, but it also helps to reduce the frequency when taken regularly. It also can help to remove nausea that is associated with migraines.
However, it is best used as a prevention tool rather than as an on the spot cure for headaches.
Anti-Inflammatory Properties
The ability to help migraines comes from its anti-inflammatory properties. This means it has also been used to help the diaphragm, assisting with issues such as:
a

sthma

cough

phlegm

chest congestion

pain associated with arthritis

general pain relief.
Feverfew Benefits for Menstrual Issues
As its history suggests, feverfew is also extremely beneficial for menstrual issues. It can help to regulate a cycle, helping with deficiency, scanty periods, and delays as well as clots and excess. It can also be used to help relieve menstrual pain and spasms. 
How to Grow Feverfew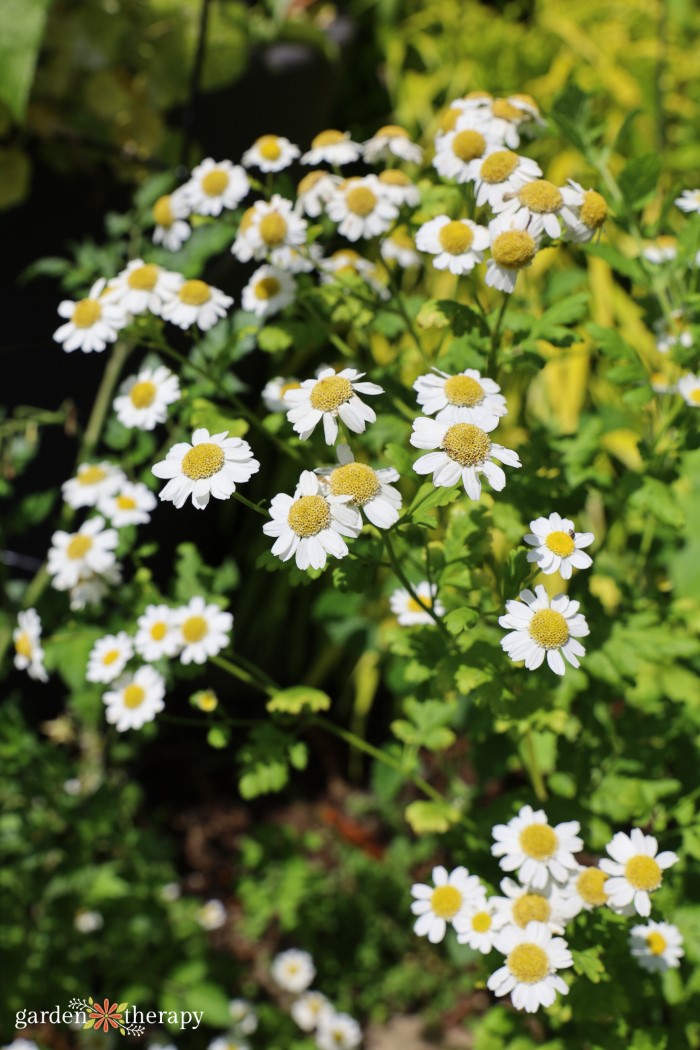 Feverfew (Tannacetum parthenium) belongs to the daisy family Asteraceae. It is sometimes called 'feverfew' because of its feathery leaves. Keeping consistent with its history, it has many other names like featherfoil, mid-summer daisy, flirtwort, or wild chamomile. It commonly grows along roadsides and in gardens and is often confused for German chamomile.
Botanical name: Tanacetum parthenium
Family name: Asteraceae
USDA Zone: 5 to 9
Height: 18 to 24 inches
Spacing: 15 to 18 inches
Light: Full sun
Water: Average water needs: water regularly and do not overwater.
Warnings: May be a noxious weed or invasive in some areas.
Feverfew is a perennial and attractive landscape flower. It has a strong, herbaceous aroma and white flowers with yellow centers. It is best to start this plant in late winter and plant early spring. Set 15 to 18 inches apart in all directions. 
Feverfew Companion Planting
Because it repels bugs, it grows well alongside mint and other tea plants and in beds where bugs are not wanted. This insect repellent ability makes it a great option for growing near doorways. However, you want to be careful about what plants are growing nearby. Feverfew will repel bees and butterflies which may be needed as a pollinator for some of your plants. 
How to Maintain the Plant
For maintenance, consider deadheading the spent blooms. This will encourage more blossoms and will prevent excessive self-seeding.
Six-month-old, well-rooted plants may tolerate frost well and winter temperatures to -20F (-29C). Most plants die in their second or third summer after heavy blooming. In early spring, after plants emerge from winter, mulch with rich compost.
How to Harvest, Dry & Store Feverfew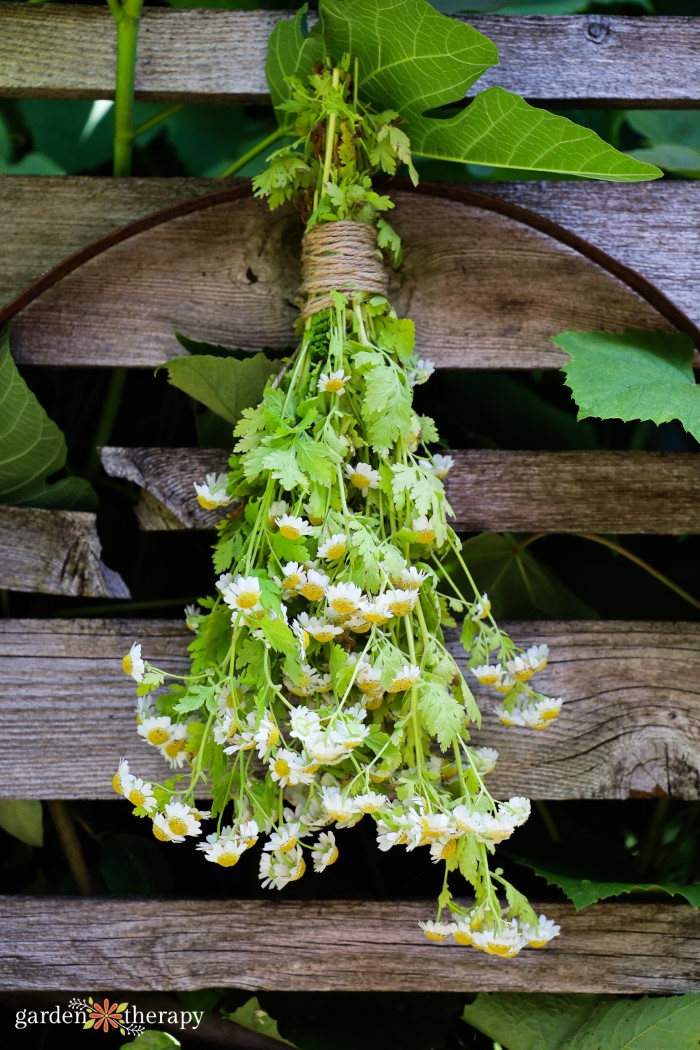 While all parts of the plant can be used in medicine, the leaves are most commonly used in commercial products. Like most herbs, fresh is always better. However, I know we can't always have fresh herbs at our disposal and so it is important to properly dry and store our herbs for the colder seasons.
It is best to harvest feverfew right before flowering or during flowering. The night before you intend to harvest, gentle hose down the flowers. This will help clean the plants, particularly if they have attracted aphids. Gather mid-morning when the flowers are still full but there is still an abundance of greenery. Cut no more than ⅓ of the plant so it doesn't die. 
Thoroughly wash the feverfew again, then tie in a bundle and hang to dry in a warm, dark area. Or, layout on a dehydrator tray to dry until crispy. To store your feverfew, put in in an airtight container in a dark room out of direct sunlight.
Feverfew Recipes
Feverfew has a variety of properties that make it a great addition to your herbal remedy cabinet. Whether combining with other herbs for headache management or using it alone to support the body, it is an effective herb. There are some precautions that go along with feverfew. Some herbalists have varying opinions, however, it is best to use caution. Consult with your primary care provider and experienced herbalist before using feverfew to make sure it's a good fit for you.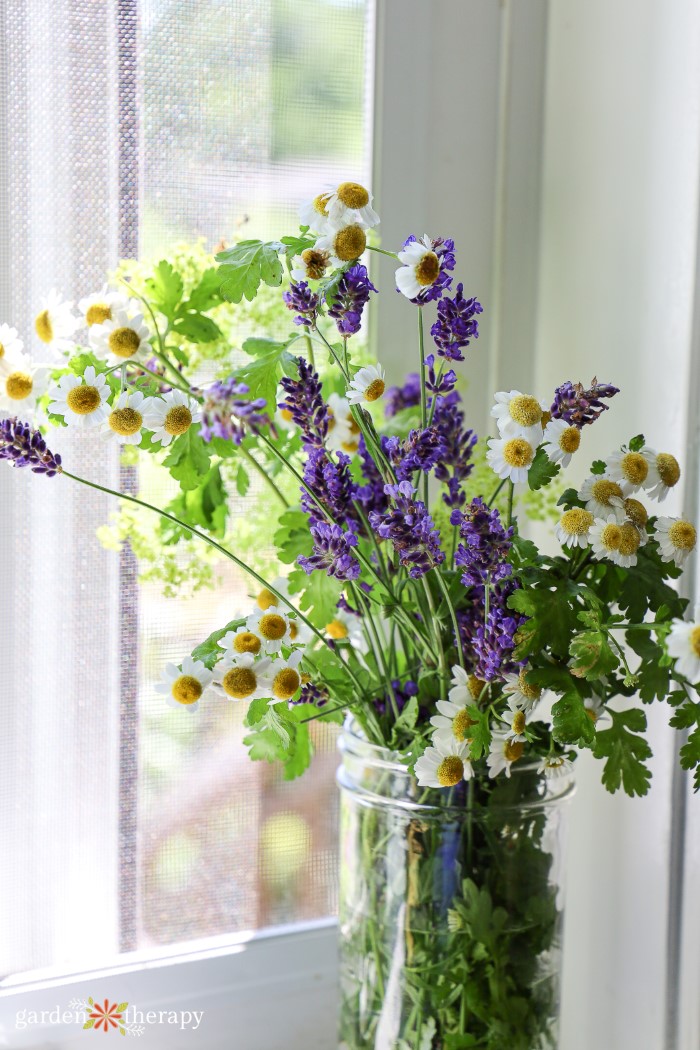 That being said, there are a number of ways to enjoy the benefits of feverfew, and none are complicated. Rosemary Gladstar suggests, "some people find that eating a fresh leaf or two directly from the garden helps to prevent migraines."
That quote, plus the advice that it is most effective when taken over one to three months for a preventative measure, comes from Rosemary Gladstar's Herbal Recipes for Vibrant Health. Rosemary also recommends combining feverfew with lavender and other nervine herbs.  Read more about lavender here.
See the recipe card at the bottom of the post to learn how to make a headache tea and a bruised skin compass with harvested feverfew plant.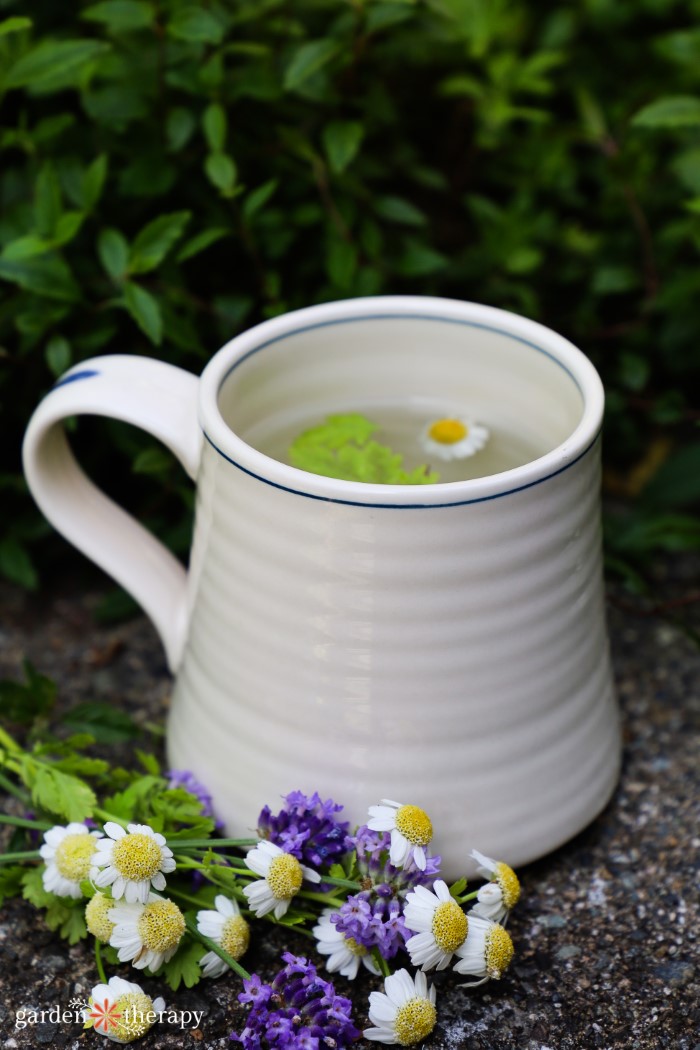 More Herbal Guides for Common Garden Plants
Feverfew Headache Tea + Bruised Skin Compress
Feverfew benefits are far and wide. Here's how to use this plant to prevent migraine headaches, as well as treat bruised skin.
Supplies
Bruised Skin Compress Supplies
Instructions
How to Make the Headache Tea with Feverfew*
Pour boiling water over the herbs, then cover with a saucer.

Steep for 15 minutes, then strain out the herbs.

Add honey to taste. The tea may be slightly bitter.
How to Make a Compress for Bruised Skin
Add dried feverfew to a cup.

Pour boiling water over the herbs, then cover with a saucer to retain the essential oils.

Steep for 25 minutes, then strain herbs and allow the tea to cool.

Soak your cloth in cooled tea. Then apply to the bruised area to facilitate healing. Refresh as needed.
Notes
*Do not consume if you are pregnant, nursing, or in conjunction with blood-thinning medications. Do not give to children under 2 years of age