Each December a few of my dear friends from the neighbourhood get together and make our Christmas wreaths together. That time means more to me than any gift I could get from them. My favorite thing about the holidays is celebrating traditions with friends and family. When those holiday traditions also include fresh air, plants, crafting, and Prosecco, it becomes a party that I look forward to all year.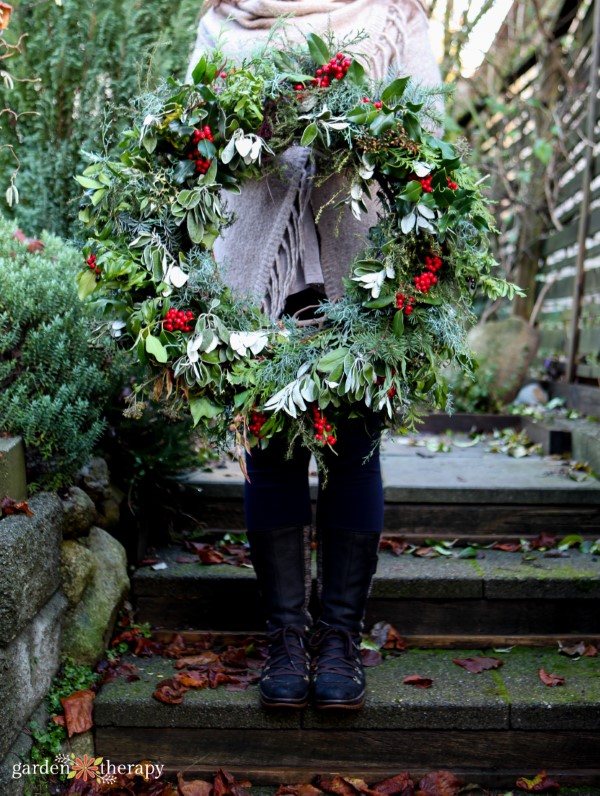 It all started in 2009 when one of my neighbors (a gardener by trade) invited me and some of the women from the block over for "bubbly" and wreath-making. We laughed and chatted and crafted up these enormous wreaths from all the clippings she had collected from winter clean up in her clients' gardens. The afternoon quickly became an annual event of bonding and garden therapy.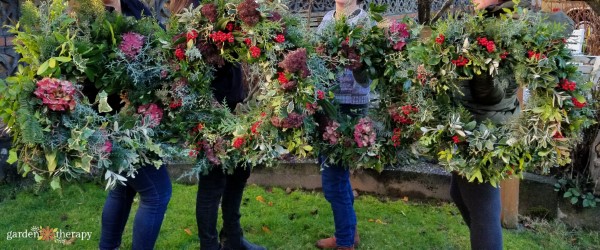 Since 2009 was also the year that I started blogging, I have photo journal of my wreaths of Christmas past and today I'm sharing them with you.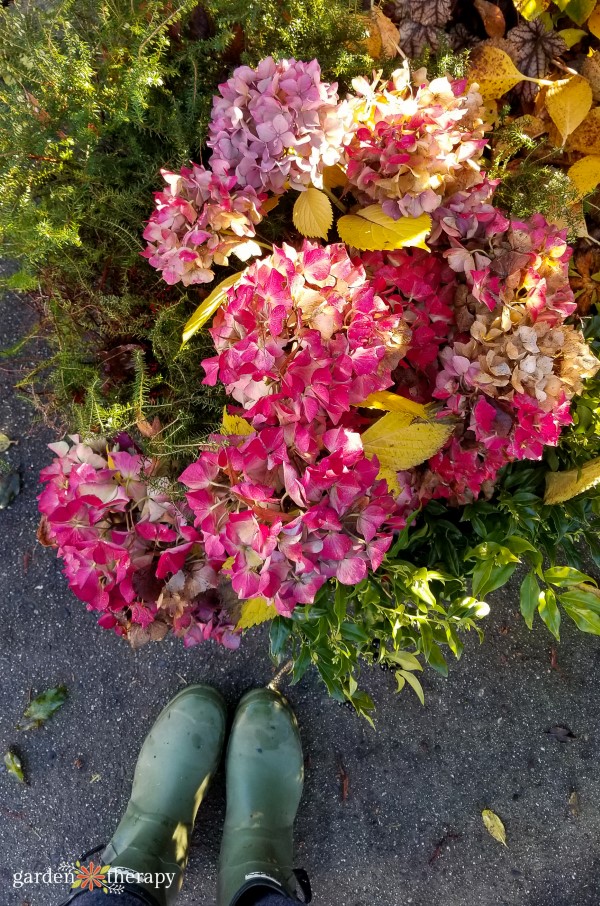 Oh, and if you would like to make your own wreath from foraged greens or garden clippings, see the steps to make a wreath.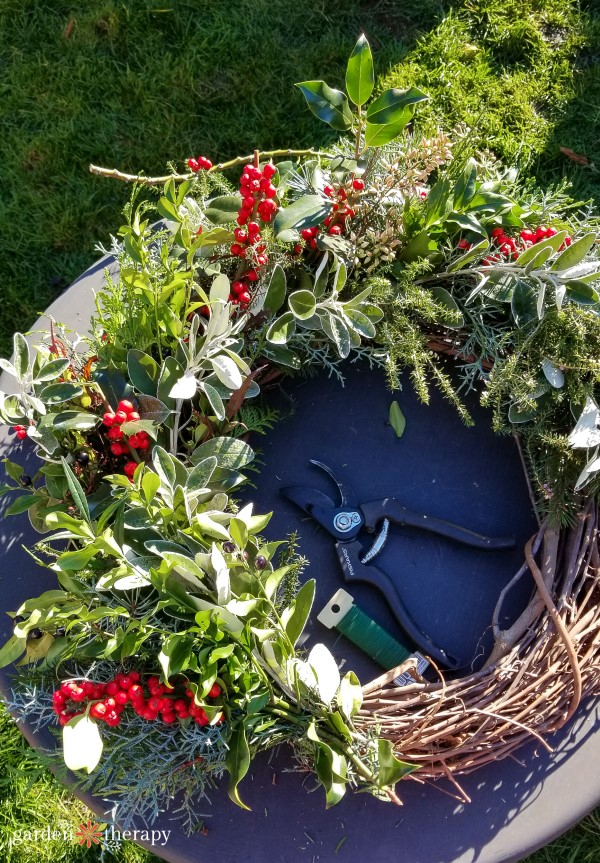 Pacific Rainforest Christmas Wreath (2018)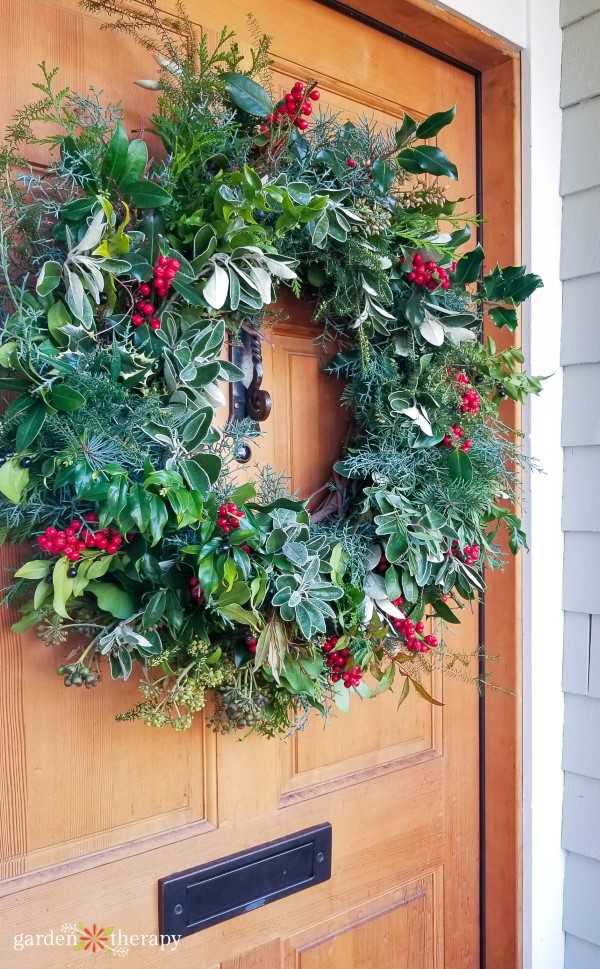 My wreath for 2018 celebrates at least 13 different plant varieties that were cut from within 1 km radius from my home. I used cedar, pine, blue spruce, heather, English ivy, holly, Nandina, Sarcococca, and more to add a ton of texture and color to the wreath. This seems to be my go-to style, as you will see it's pretty similar to the wreaths from a few of the previous years. You will also notice that I have become a better wreath maker over the years, as this one has a dense and even form, with a clear hole in the middle. Both of these characteristics help to make the wreath look intentional and refined. I made sure to have a few sprigs popping out here and there so it still has that homegrown/homemade look that I love.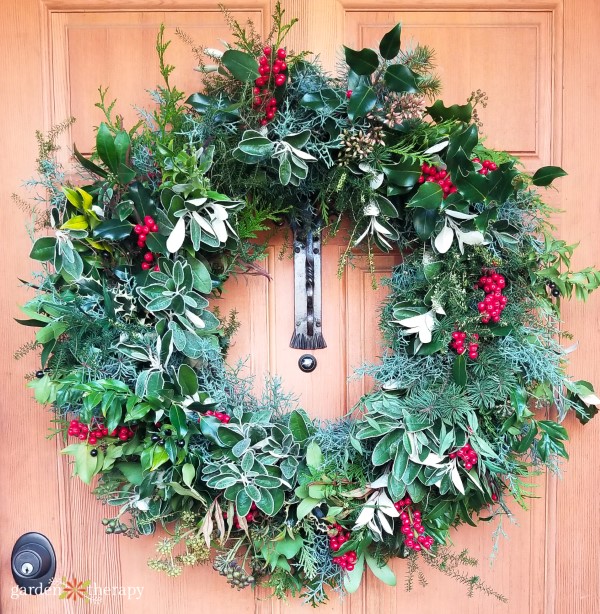 Giant Pink Hydrangea Wreath (2017)
Last year I decided to "Go Big or Go Home" with an enormous wreath that rivals those at a 5-star hotel with an opulent entryway. That being said, I don't live in a 5-star hotel and my entry-way is pretty average-sized. I hung the wreath (it held!) but it was pretty hard to get past it to get in the house. See how that looked here. The holly snagged everyone that came to visit, oy!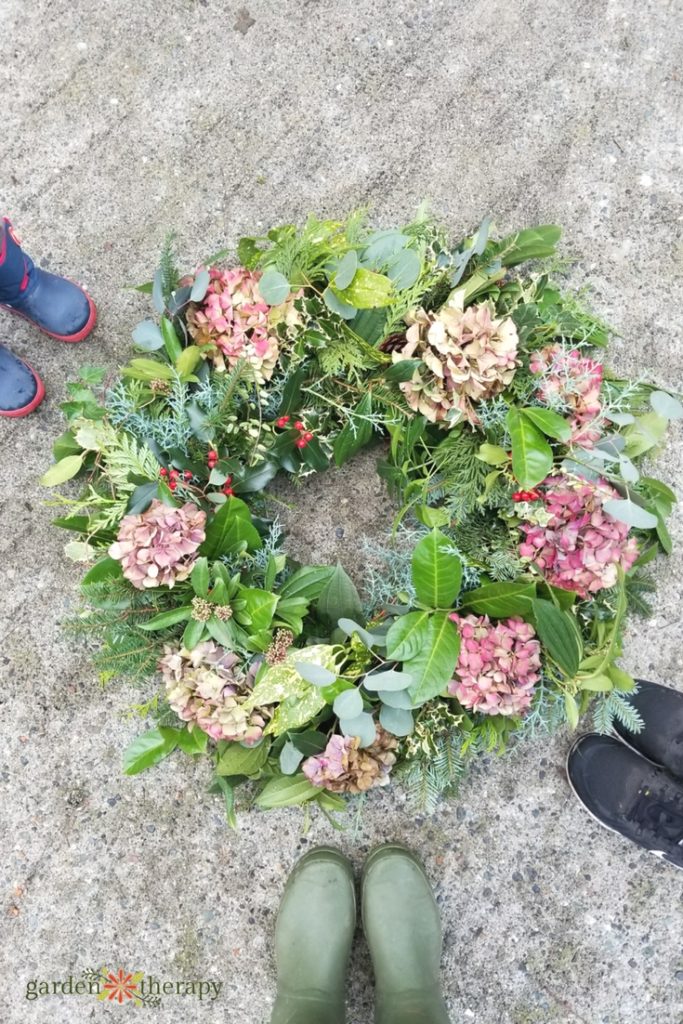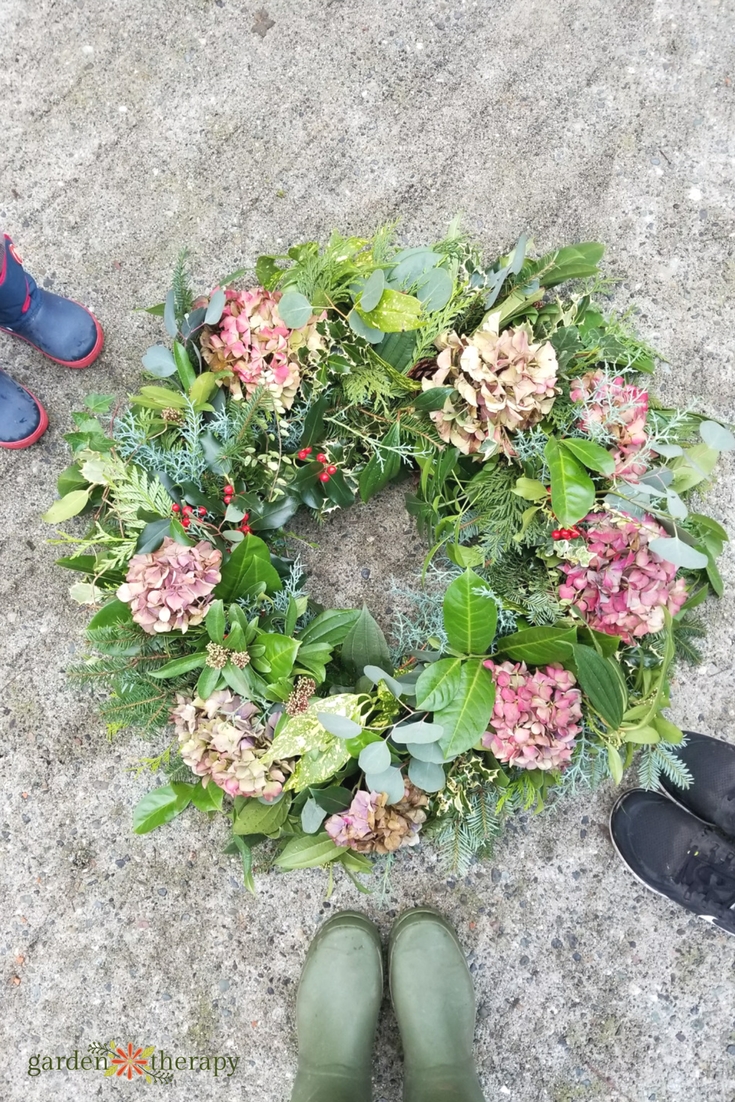 Bleached Pinecone Wreath (also 2017)
I also made a wreath that could be displayed indoors and last forever. I went for a rustic, neutral wreath made entirely from pinecones. Bleached pinecones, to be exact. I love how the soft, weathered look of the pinecones pairs with the natural ribbon that us used to attach it to the wall. The whole thing came together to look cozy and festive while remaining simple and clean.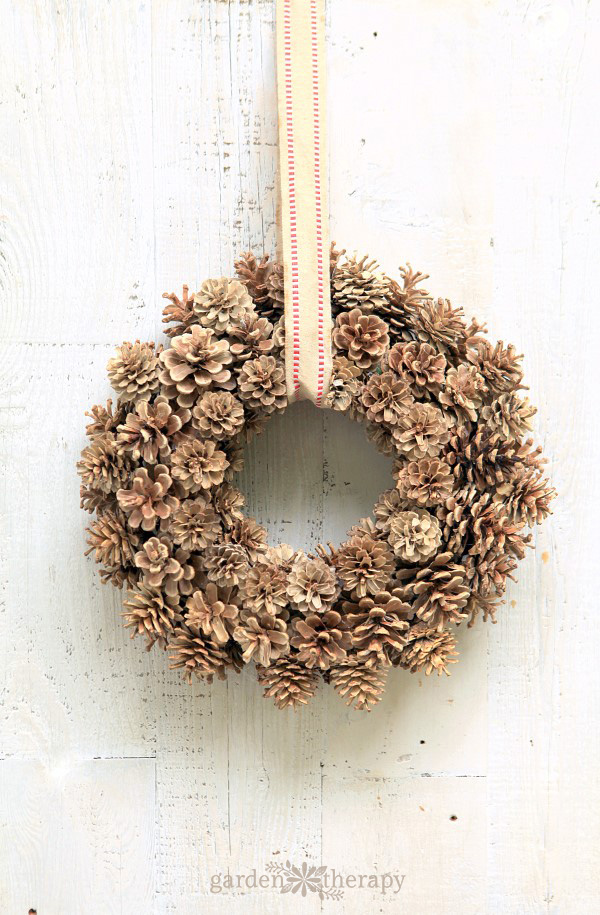 A Study in Green Wreath (2016)
2016 was unusually cold and snowy. For 7 weeks it hovered around freezing so there was a thick layer of ice on the roads and sidewalks. I got Yaktraxs ice cleats to put on my shoes so I could still get around outdoors and enjoy the snow! I love that when there's snow on the ground it makes everything green stand out all the more. This wreath was inspired by all of the gorgeous varied green hues of the winter season. Snippets of bright green cedar, blue-green spruce, and everything in between come together to celebrate the season.
Everything Wreath (2015)
This year I couldn't quite decide on a theme for my wreath, so I decided to make it with a little bit of everything, and boy am I glad I did! It turned out beautifully, didn't it? It contained a lot of traditional holiday elements like holly and pinecones, but the hydrangea flowers added an unexpected yet equally festive vibe.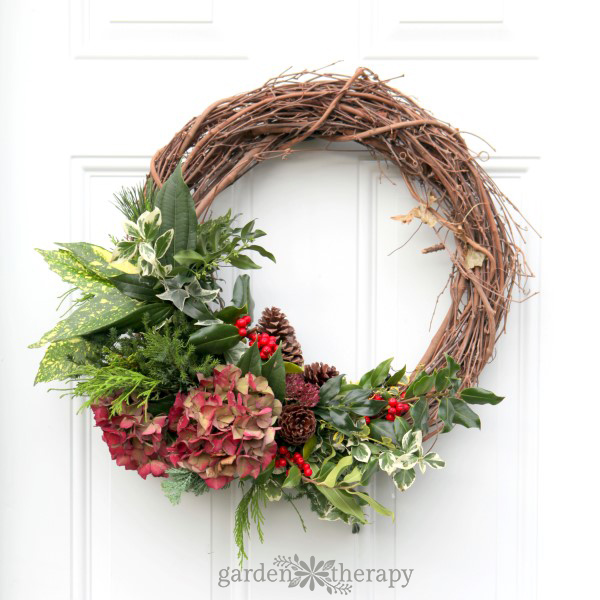 Holly Wreath (2014)
In 2014, I went for a traditional holly and laurel wreath. Holly really is such a stunning plant and it grows like crazy here in the Pacific Northwest, so it seemed like a good idea to showcase it in all its glory.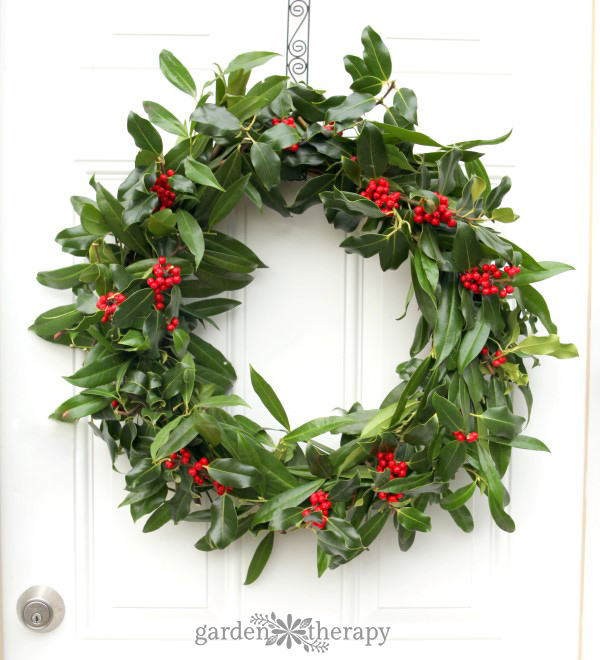 Evergreen Wreath (2014)
One of the cool things about evergreens is that they're not all green. They come in lots of different colors and varied textures, making them look great all pulled together in one wreath. Lots of color in this wreath comes from the red foliage of new Heavenly Bamboo (Nandina domestica) growth and holly berries (of course).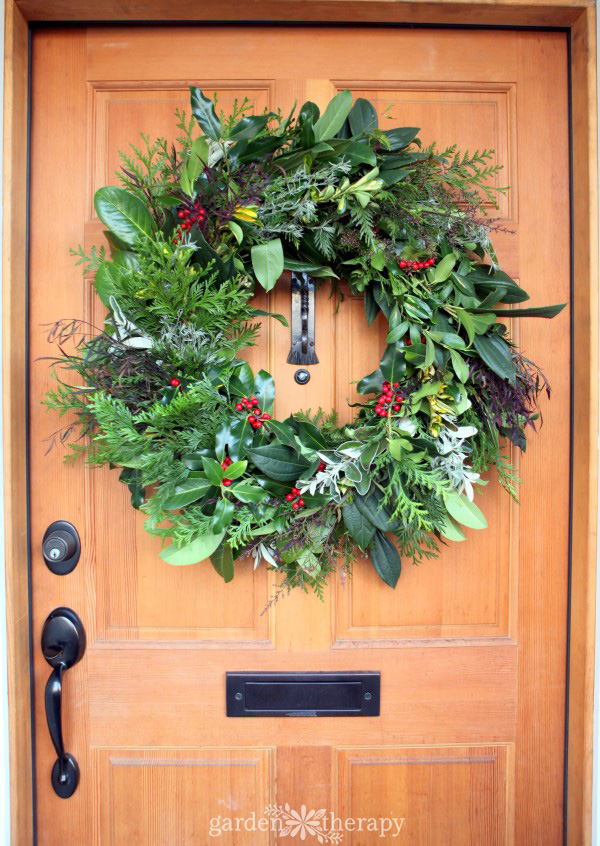 Red and Green Wreath (2013)
Using glossy green leaves like laurel, holly, and English Ivy, and magnolia made for a long lasting wreath that doesn't drop so many needles. I love the ivy flowers just before they are about to form berries. Ripping out big handfuls will also prevent this invasive plant from spreading and it does make a long-lasting wreath green. This year I also went "crazy" and added a burlap bow to the wreath (I think I was probably just filling in a bare spot, but don't tell anyone that!).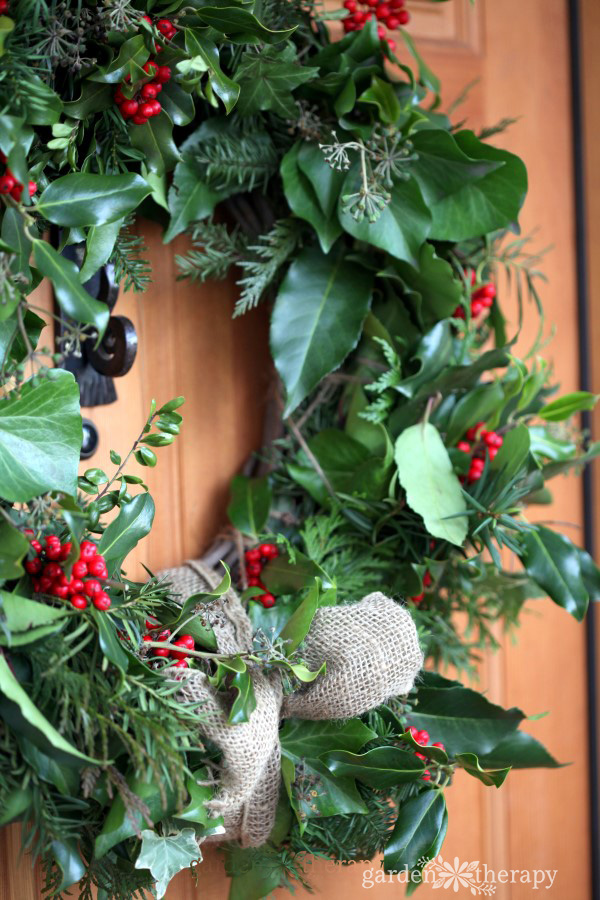 Blue Hydrangea and Hawthorne Berries (2012)
I made this wreath for the first Christmas in my new home. I moved away from the street that my wreath-making sisters live on to a house 7 blocks away. It was sad to leave my close friends but it's not like I went that far. Even so, it did change things. There have been less impromptu dropbys and garden visits since then. It's adorned with hawthorn berries harvested from the tree in front of my old house, the blue hydrangea blooms, Aucuba, and  Skimmia came from that street as well.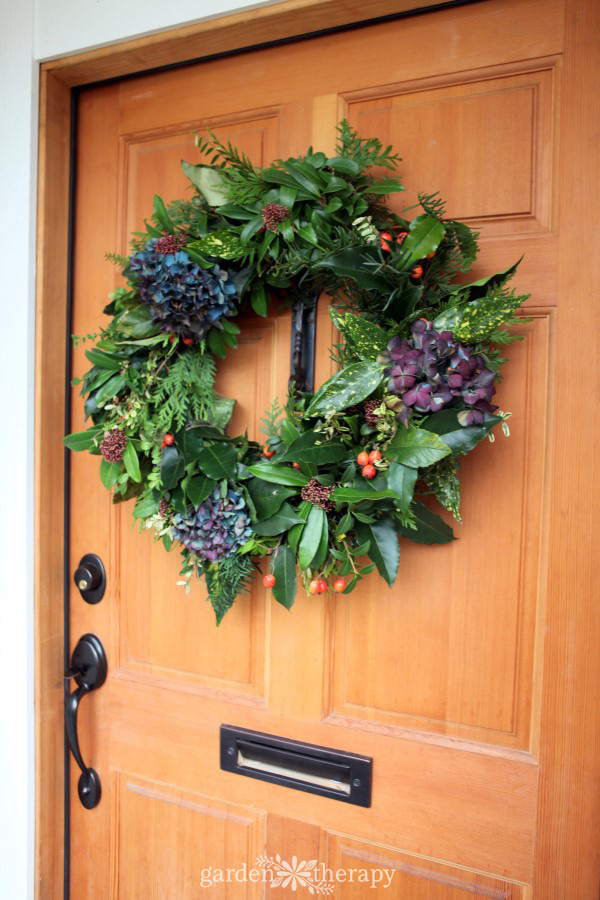 Oval Wreath (2011)
In an effort to make a wreath from scratch, I made my own wreath form from grapevines. I wanted a bit of a different shape so I made an oval. Many of the greens that I've used each year can be seen, but you may also notice some Sedum Autumn Joy flowers. Some years they look quite good at wreath making time. It depends on how much rain we get in the fall. The red garage door of my old house was painted to match the Japanese maple I planted in front of the garage.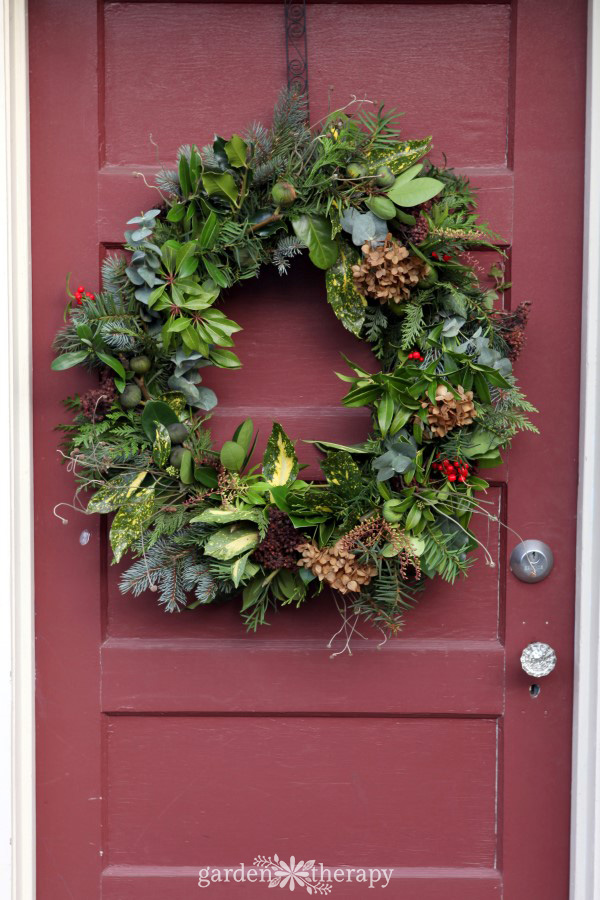 The Wreath that Started it All (2009)
My very first homemade wreath! As you can see, it was made up of snippets of all sorts of greenery which looked festive on the red front door.  I included a teeny bit of red here there with some holly berries, but you can see that this year I was feeling pretty green. It's a bit messier and has some curly willow twigs added for interest. I love the wreath that started it all and I hope that you do too.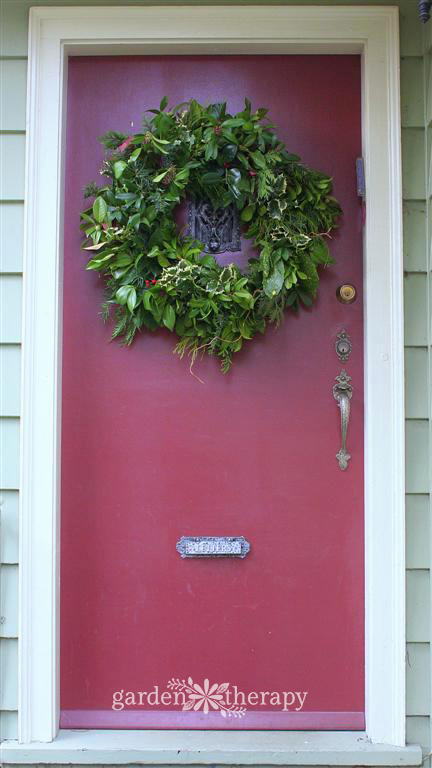 Which one was your favorite? Let me know in the comments!
Pin it!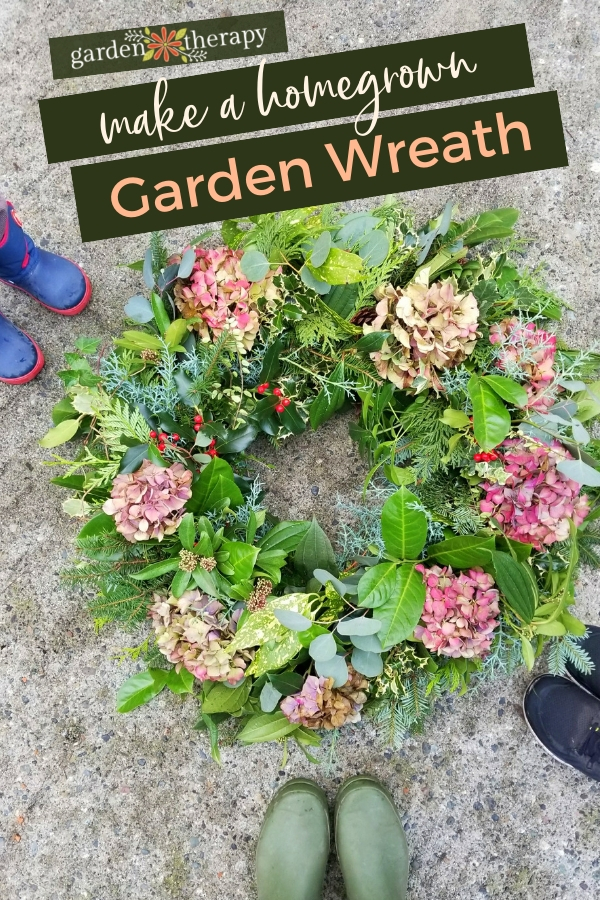 More Posts You Might Like: