Here is a unique and crafty garden idea for the holidays! Get ready miniature garden lovers, this project will get you started with a holiday garden, or help you decorate your existing miniature garden for Christmas. Janit Calvo, the Miniature Garden Guru from Two Green Thumbs Miniature Garden Center shows us how to decorate a miniature tree and create a garden that you can enjoy long after the holidays.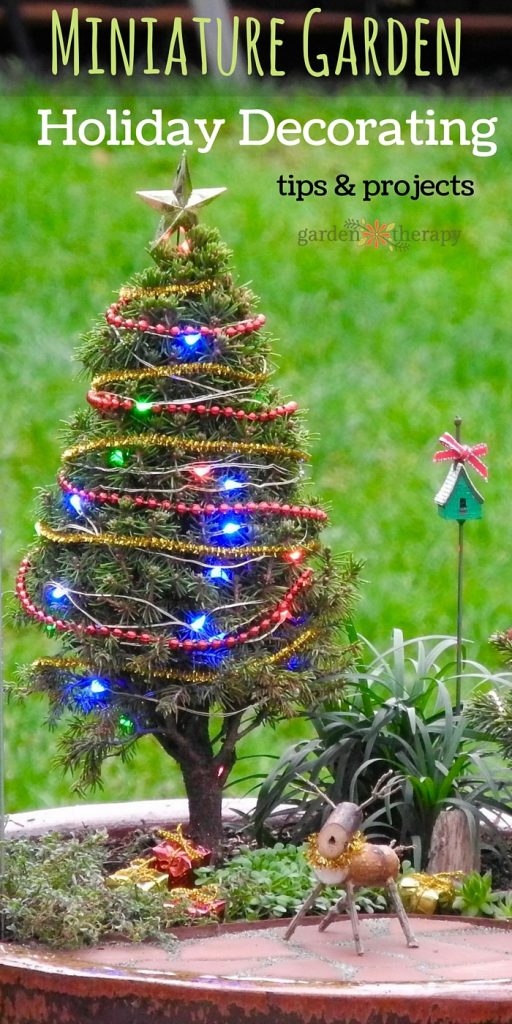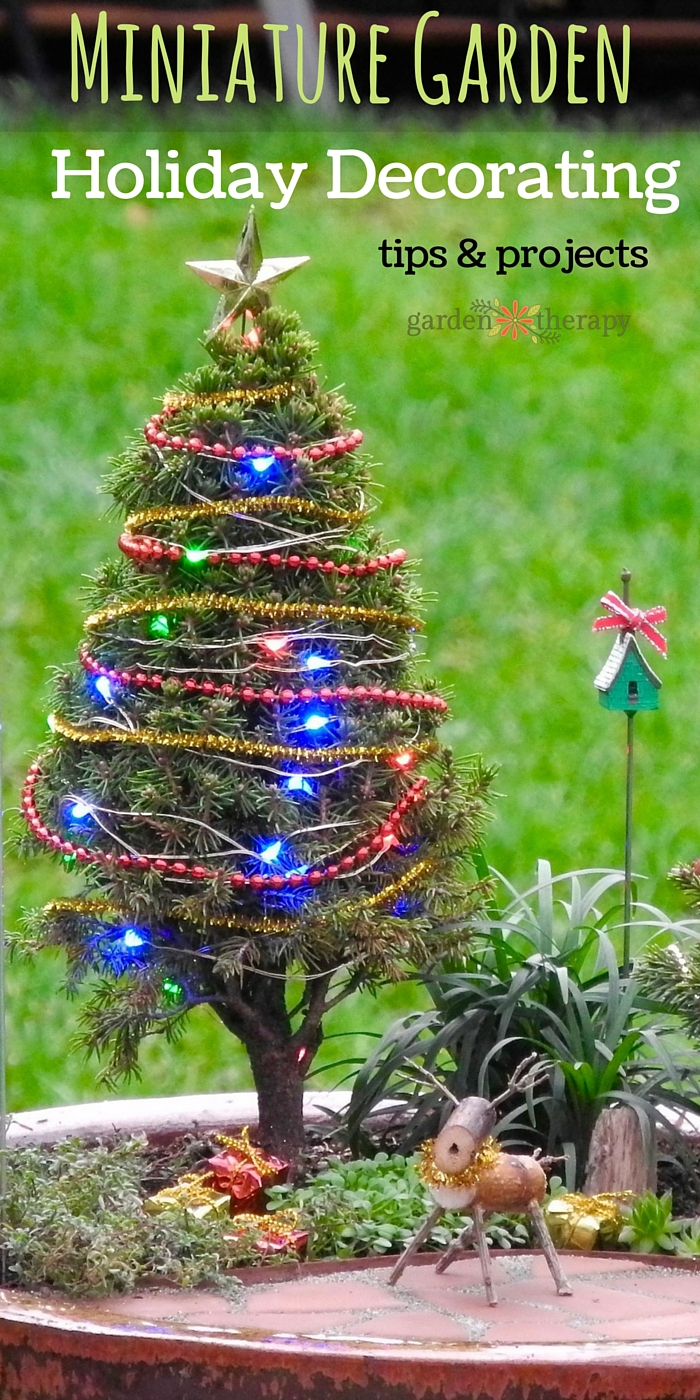 Making Christmas in the miniature garden will add multiple layers of fun to your crafting, decorating and gift giving this year. Not only will you have a blast planting up a special scene (here is how to do it) and making the tiny decorations, you will generate big, bright smiles when your family and friends see it.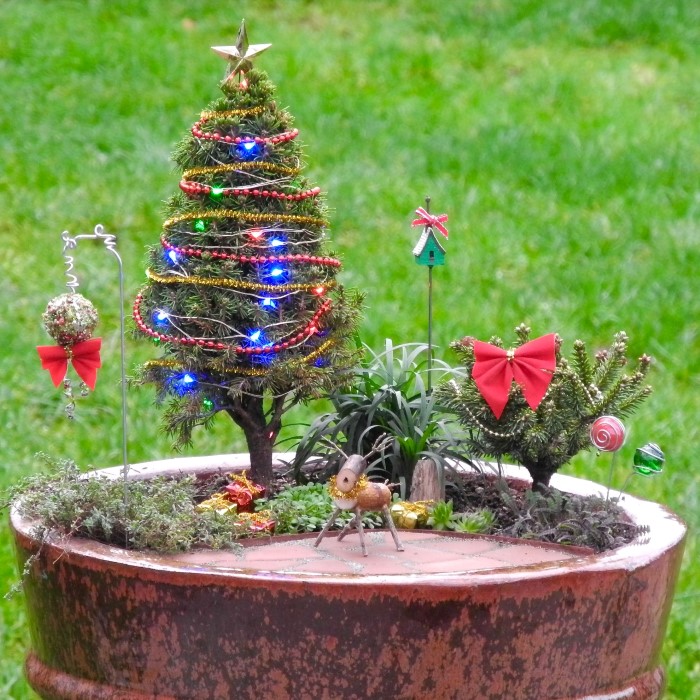 Here are some quick tips on growing trees in miniature, along with a few outdoor plant suggestions, plus some really fun DIY decorations that you can adapt to fit your miniature garden.
Mini Trees, Please!
Quick Container Care
You can plant a container miniature garden anytime of year but if you are in an area that freezes in winter, make sure to keep the potting soil damp through out the winter. It is better for the plant's roots to be frozen than freeze-dried. Your containers should be weatherproof and it should have a drainage hole in the bottom for any excess water to escape so the roots don't rot.
Fun in Miniature
Here are some projects you can add to your miniature garden that can be easily done within one sitting. All the ingredients can be found in your back yard and your local craft store. If you use regular white glue, be sure to keep the finished project from getting too wet in the rain or whenever you water your mini garden.
Great Balls Of Christmas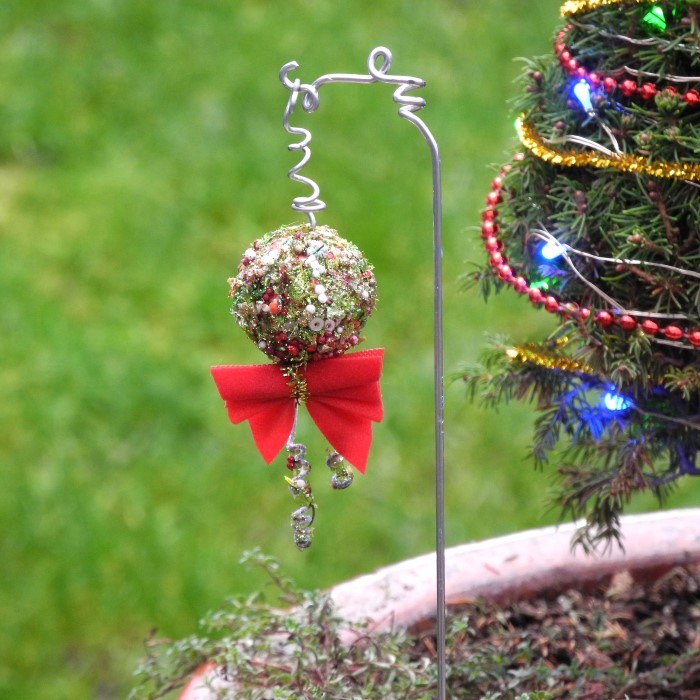 These gorgeous Holiday balls that hang in your garden is a full-sized trending idea that you'll see a lot around Pinterest – and we've miniaturized it for you! See the different styles that you can recreate depending upon what you have on hand.
Materials
Floral wire
Small Styrofoam balls
White glue or hot glue gun and hot glue
Glitter or similar
Small ribbon or trimmings
Round-nosed pliers
Needle-nose pliers with grooved jaws for gripping
Wire cutters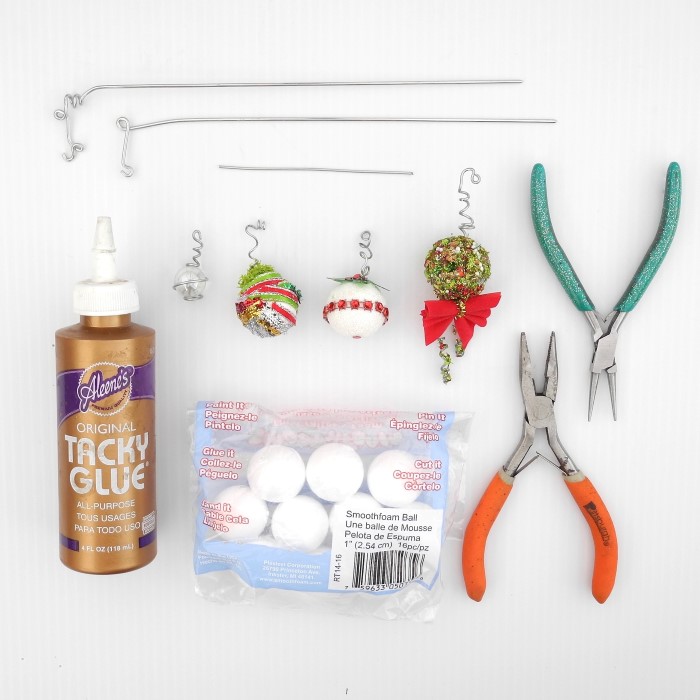 1. Make a U on one end of the wire.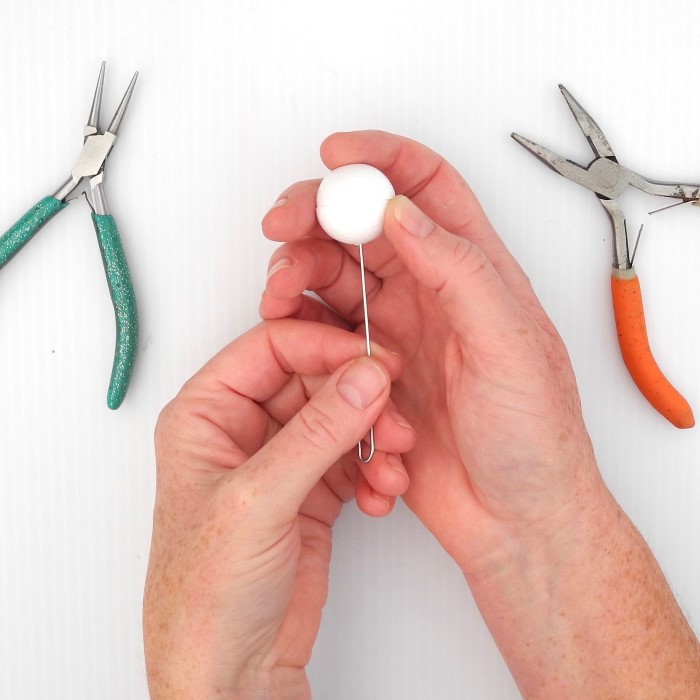 2. Using the needle-nose pliers, gently push the other end of the wire through the ball. (This step depends upon if you used a denser Styrofoam or not. Be careful not to poke your other hand while doing this step.)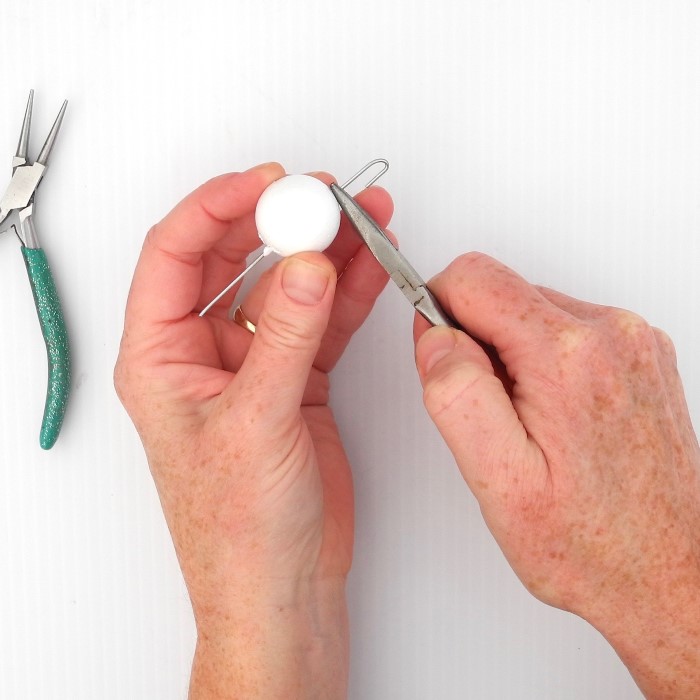 3. Using the side of the pliers or the table, push the hook into the ball so it's flush with the ball's surface.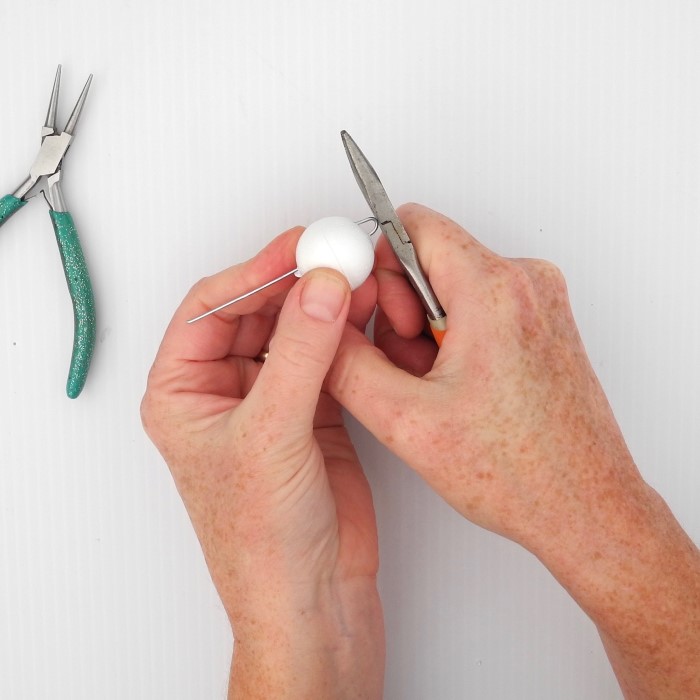 4. Twist a fancy hook in the other end for hanging.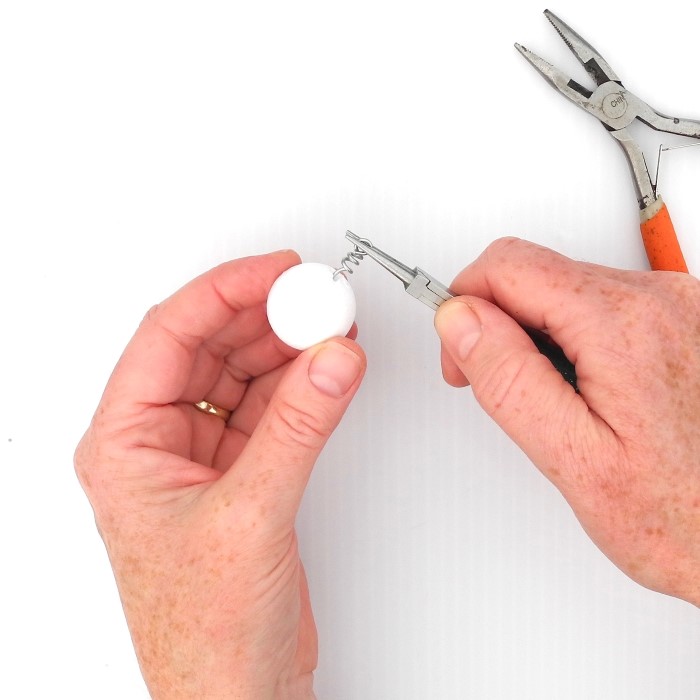 5. Decorate however you wish.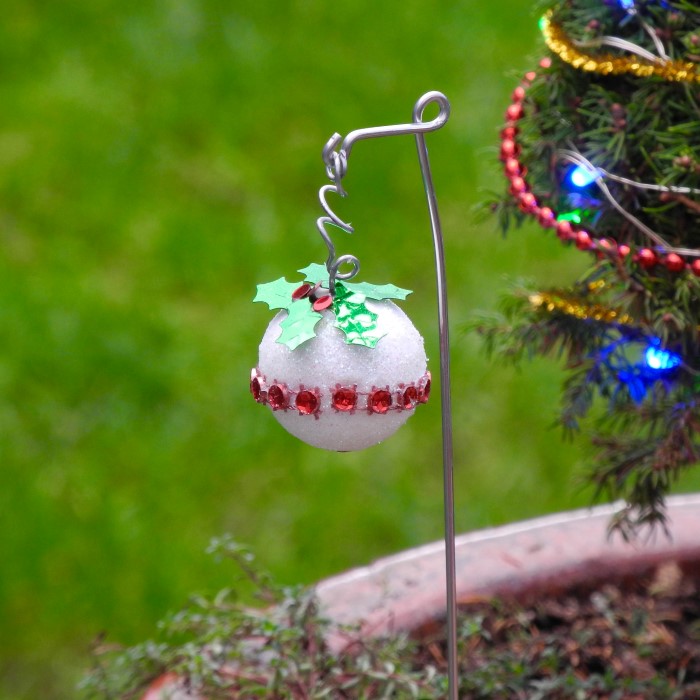 More Great Holiday Decorations for the Miniature Garden!
Check out how to make these DIY Gazing Balls for a miniature garden. They are perfect for Christmas but will suit the garden any time of year!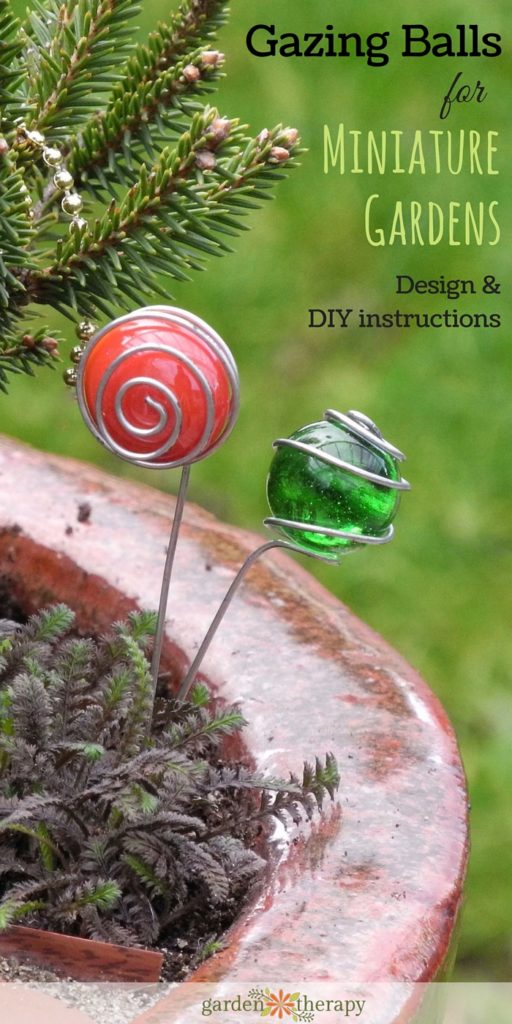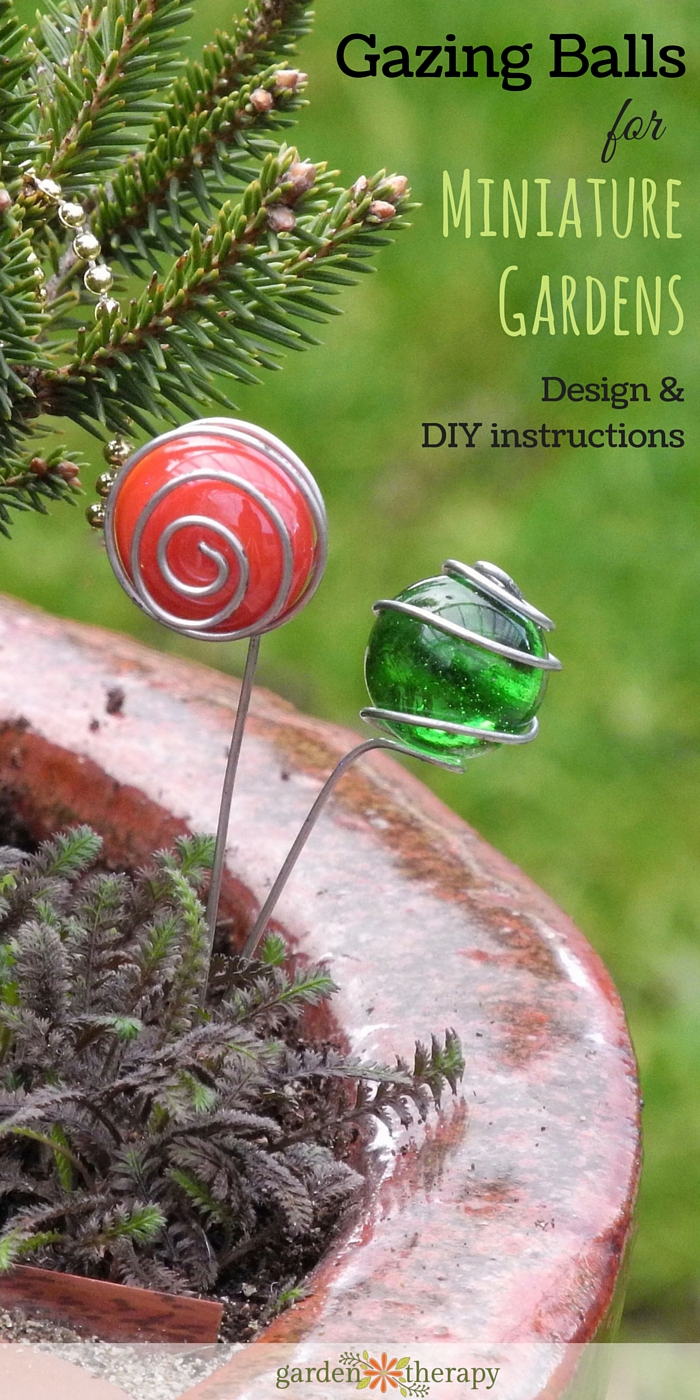 Or how about adding a twiggy reindeer? See how to make a twiggy reindeer and other critters!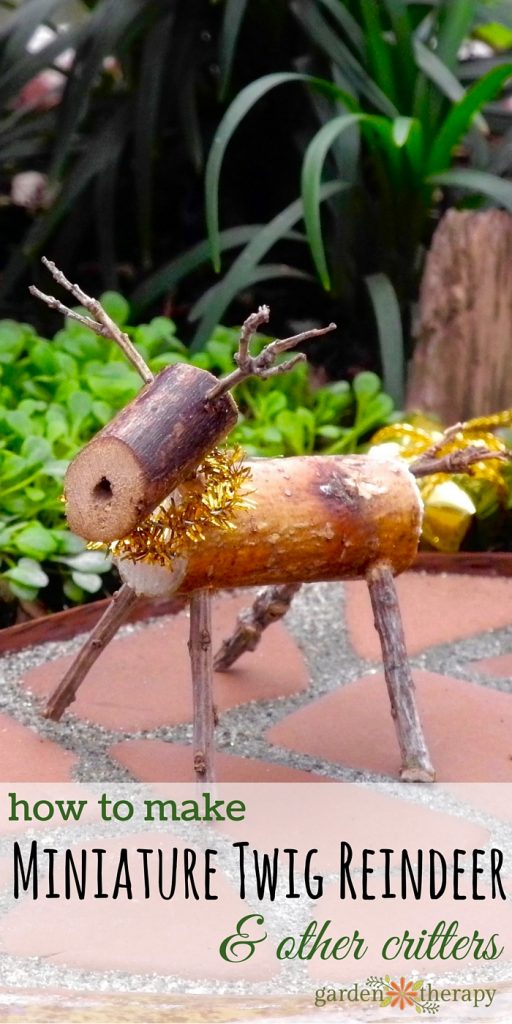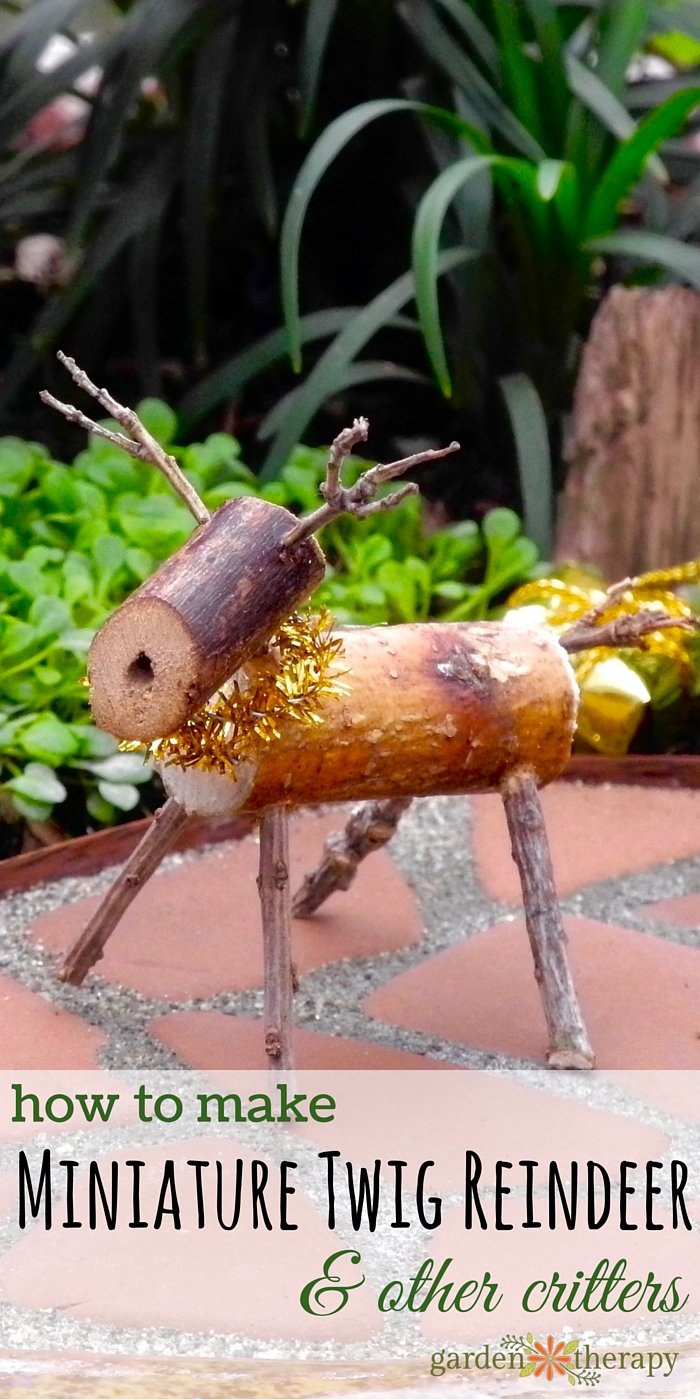 Simple and sweet ideas that you can do anytime and add a touch of holiday magic to your decorations this year.
To see all of Janit's holiday ideas at Two Green Thumbs Miniature Garden Center, including smaller trees for indoor scenes, colored lights and tiny Christmas decorations, click here. Don't forget to sign up for the newsletter while you are there.