This project will take you through the steps to make a beautiful and long-lasting moss terrarium garden from NYC author and teacher, Maria Colletti. Whether you harvest moss from your garden or procure it from a florist or craft shop, these projects will keep their glorious green freshness without much care or maintenance.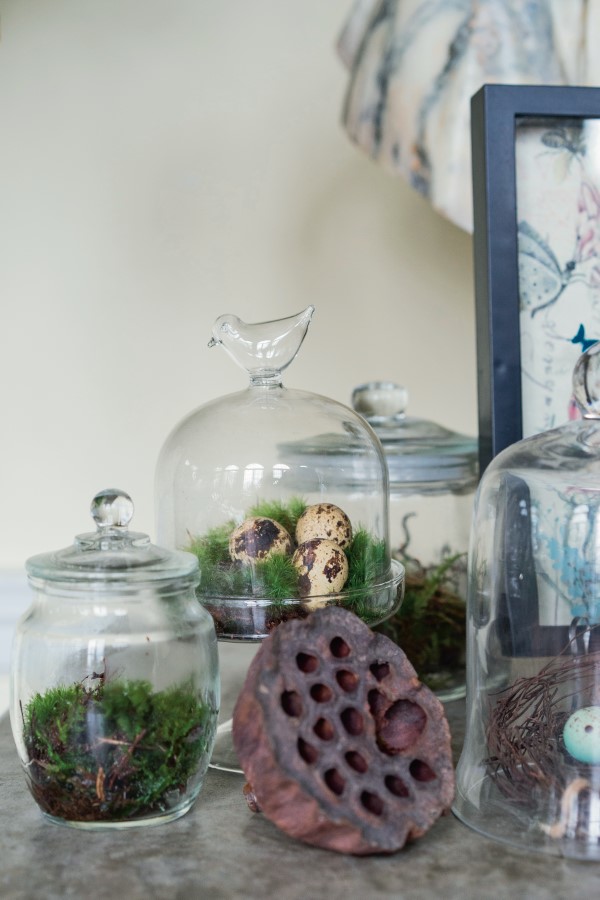 I have a fondness for moss. Perhaps it comes from living in British Columbia where the ground, trees, and skyline are every colour of green because of the moss. The fresh, earthy smell and the soft padding under my feet as I go for a walk. I encourage moss to grow in my home garden, so that I will have plenty to use for projects. I do occasionally collect moss from outside my garden as well, but I make sure to only collect that which has fallen. Usually there is plenty for the taking after a wind storm.
I also have a fondness for Maria Colletti, author and garden workshop teacher. I met her through reviewing her book Terrariums: Gardens Under Glass where she shared How to Make a Pebble Terrarium here on Garden Therapy. A few years later, I invited Maria to meet when I was travelling to New York City for the BHG Stylemaker event. We met for dinner and chatted about all things plants and bonded over using them an art supply. At the time, she was working on a new book, Living Decor: Plants, Potting and DIY Projects and now that it has been released, I've invited Maria to join us once again to create a moss terrarium!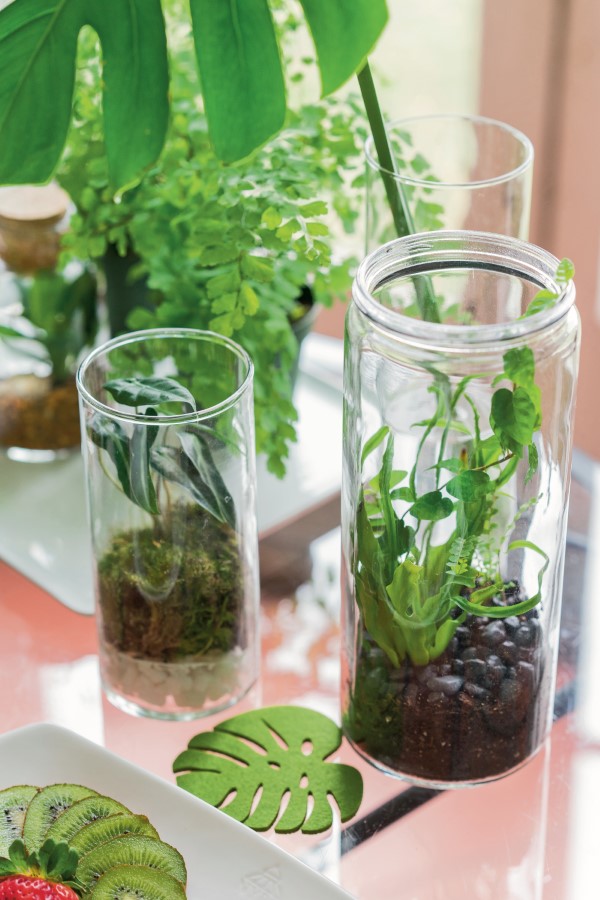 Moss Jar Gardens
by Maria Colletti.
MOSS IDENTIFICATION
Thousands of moss species live worldwide, providing carbon offset along with trees. A variety of mosses are preserved or dried for florists, crafts, and event displays. Craft projects come to life with each different form of moss. Each type of moss brings a different texture and can fit into a variety of projects. Here are three types of moss you'll find most useful in craft projects.
Reindeer moss: I find this to look a bit like sea coral. If your batch grows dry, it can become brittle. You should lightly mist the moss bunches with water to revive and soften them for use. This moss has shades of dark and light green, with which you can create a subtler design within a larger a moss design.
Spanish moss: This moss is related to the epiphyte family of plants, which live on trees, such as orchids or air plants. Spanish moss dangles off giant oaks in the Southern states. Follow a winding driveway lined with oak trees of the Old South plantations and you will find Spanish moss in its natural habitat and natural gray color. Spanish moss looks like wiry hair and gives a particular look to any project you add it to.
Mound moss: This variety is often used to create hillside terrain in a terrarium design with rocks larger than pebbles that mimic boulders. So many talented terrarium landscape artists utilize this moss effectively. Try using it in a flat tray alongside white sand for an Asian-inspired Zen garden.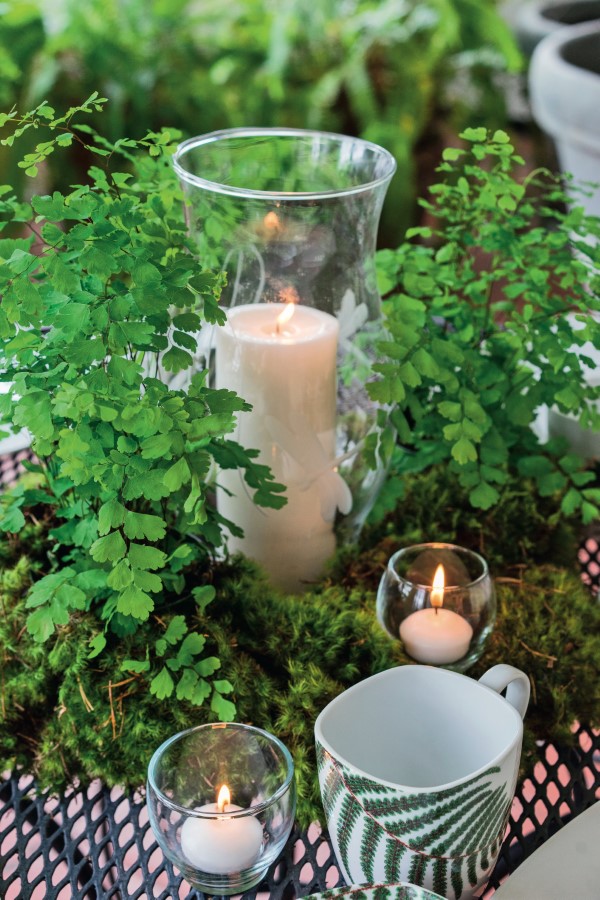 MOSS BOTANY SIMPLIFIED
Moss is broken into two types or classifications: Pleurocarpous and acrocarpous. Pleurocarpous moss grows outward with tiny branches, as if it is slowly creeping around. Acrocarpous moss grows upward into neat, thick little mounds of tightly packed stems. Understanding the growth pattern of the moss you intend to use in your living decor will give you a better idea of how to use and care for it.
For example, sheet moss, a common type used in craft projects, is a pleurocarp and has a flat growth habit. The thatch bottoms of pleurocarps attach well to stone, making them better for colonizing on hard surfaces.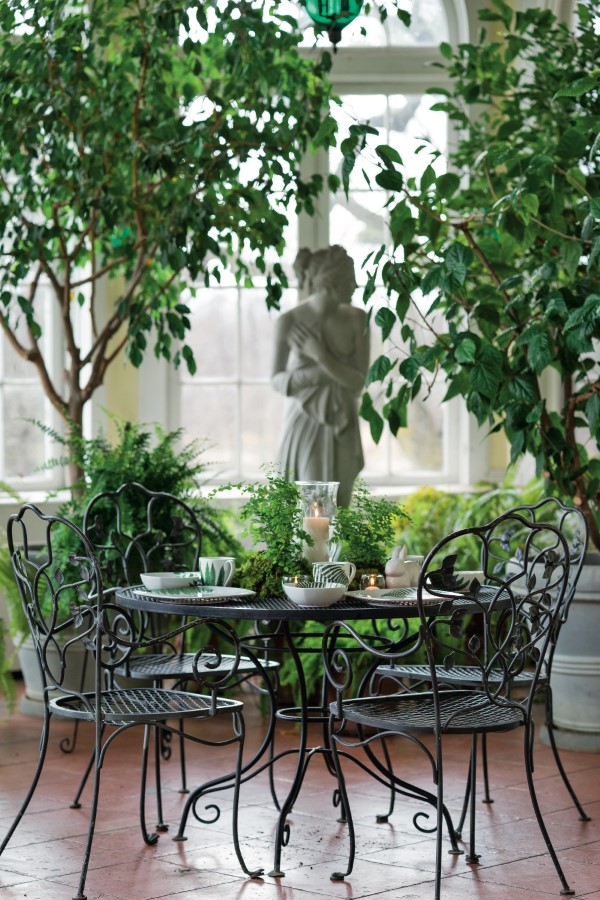 Moss has no true root system and can therefore live on many surfaces. If you walk in a woodland area, you will find moss growing on rocks, bark, in crevices, and on the ground. Moss is drought tolerant and takes moisture from rain, humidity, and even fog, while absorbing dotted sunlight through tree canopies.
The tiny green structures of moss do not produce flowers, pollen, or seeds, so how do they reproduce? After fertilization they develop sporophytes, which are mini stalks topped with single capsules that contain spores.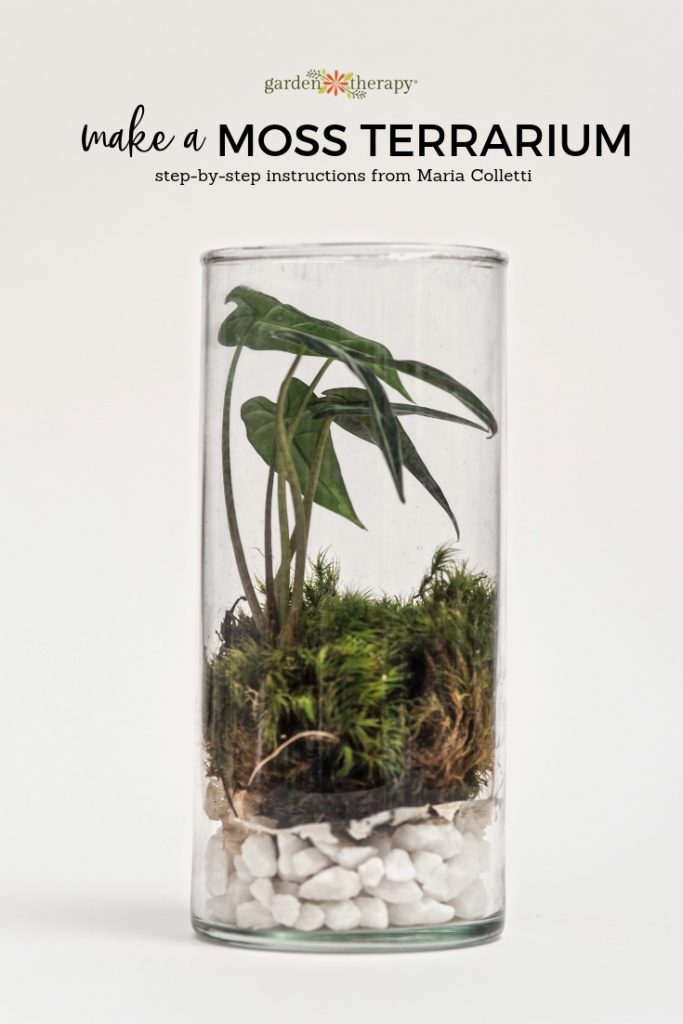 Steps to Make a Moss Terrarium Garden
Clean the jars thoroughly. Toss in your decorative gravel, pebbles, or glass marbles of choice to sit at the bottom of the jar. This creates a space where excess water can drain away from plant roots and evaporate upwards, feeding the plant's need for constant moisture. The material you use for the bottom layer creates a decorative element you can match to the plant's colors or your room's decor.
Try placing a barrier made out of paper cut exactly to the interior size of the container. Place the paper over the gravel or pebbles to keep soil, sand, or moss from sifting into your colorful bottom layer. I like to keep layers clear and separate because you can see them through the glass jar. This is a good overall design practice.
Take a chunk of your living moss in your hand. Do not pull out slivers of it because you want to keep a good measure of the thatch mat intact to hold the moss together. Form it so the green side hits the glass and the brown side is facing inward or down. Leave a space or hole in the center to fit a small terrarium plant with a rootball about 1 inch wide.
Find your favorite plant. I often use Ficuspumila (variegated creeping fig) or Pellaearotundifolia (button fern) for this project. Both plants have thick leaves, are strong growers, and will be good candidates for the small living quarters.
Squeeze your plant's wet rootball and place it in the center of your forest moss bed. Tamp it down.
Pull the moss closely around the rootball using a tool such as a knife or chopstick to manipulate it. If you have the lid of the jar, screw it on. This will ensure the moisture does not escape and you will rarely have to water your new jar terrarium. You are done!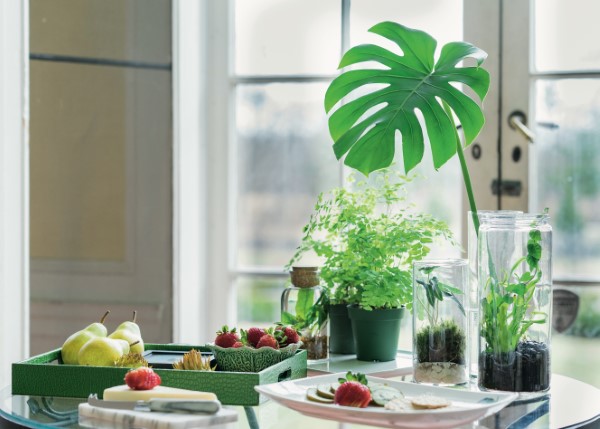 Excerpts and photography reprinted with permission from Living Decor: Plants, Potting and DIY Projects by Maria Colletti, © 2019. Published by Cool Springs Press. Photography: Alcides Aguasvives.
About the Author
Maria Colletti, author of Terrariums: Gardens under Glass and Living Decor, is a traveling workshop instructor. She currently teaches the Living Décor terrarium series at New York Botanical Garden, where she previously spent thirteen years as the Garden Shop manager. Colletti was dubbed a "terrarium savant" in an online article for Edible Manhattan, and her terrarium tips have been featured in the Washington Post.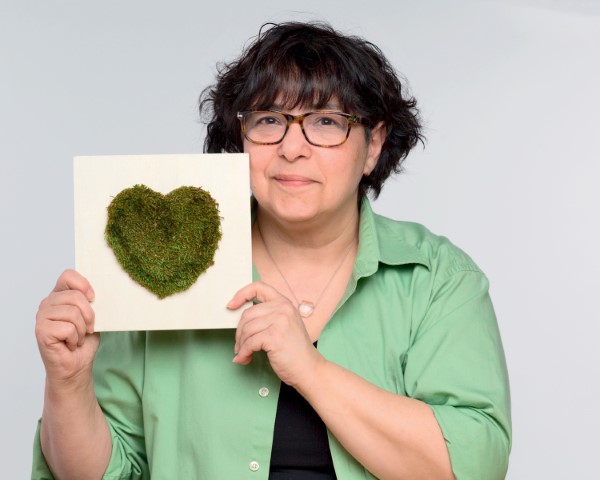 See Maria make a pebble terrarium here and be sure to get a copy of her new book, Living Decor: Plants, Potting and DIY Projects for more wonderful ideas for designing with plants.