If you have been following along with me on Facebook, Twitter, Instagram, and of course here on Garden Therapy, you already know that I've been decorating a gnome for the BC Home and Garden Show's Better Gnomes and Gardens Feature benefiting Sole Food Street Farms. Read more about that here.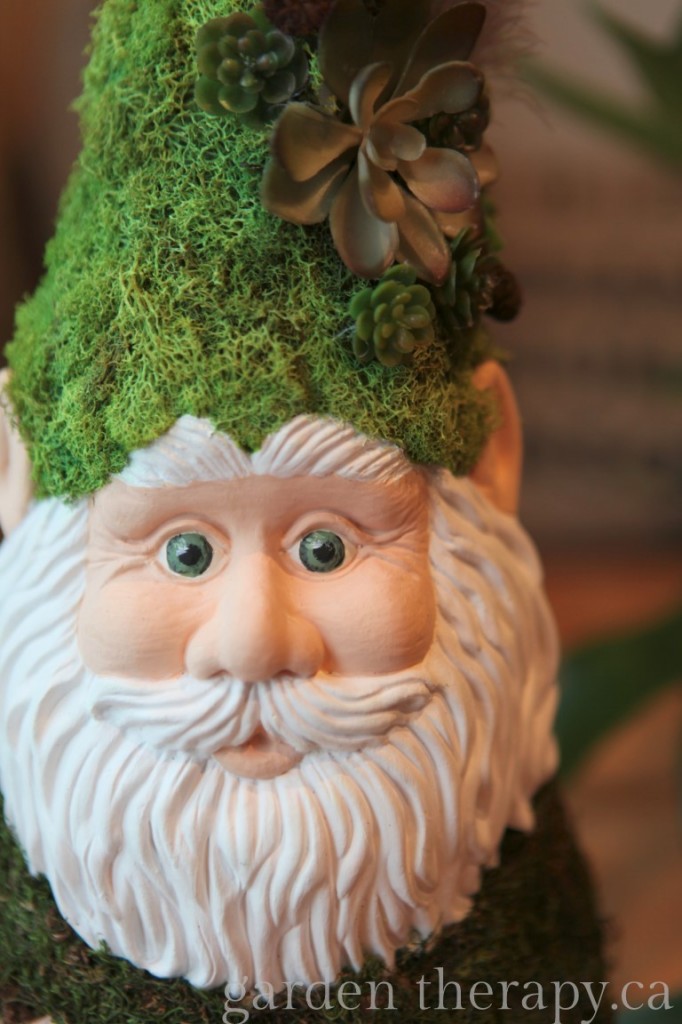 Today I'm going to show you just how I transformed this: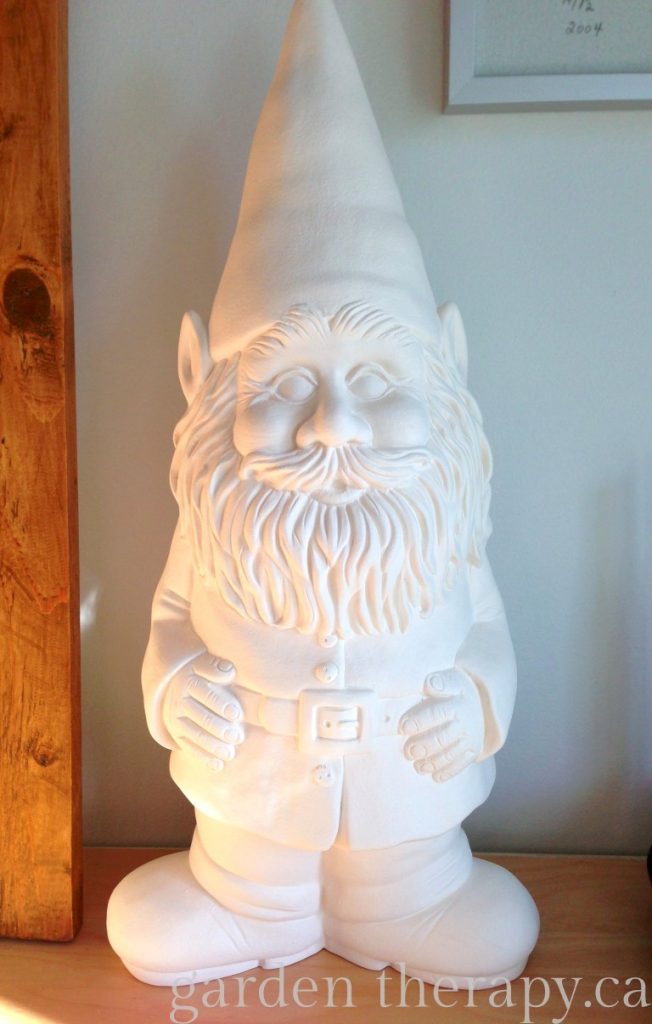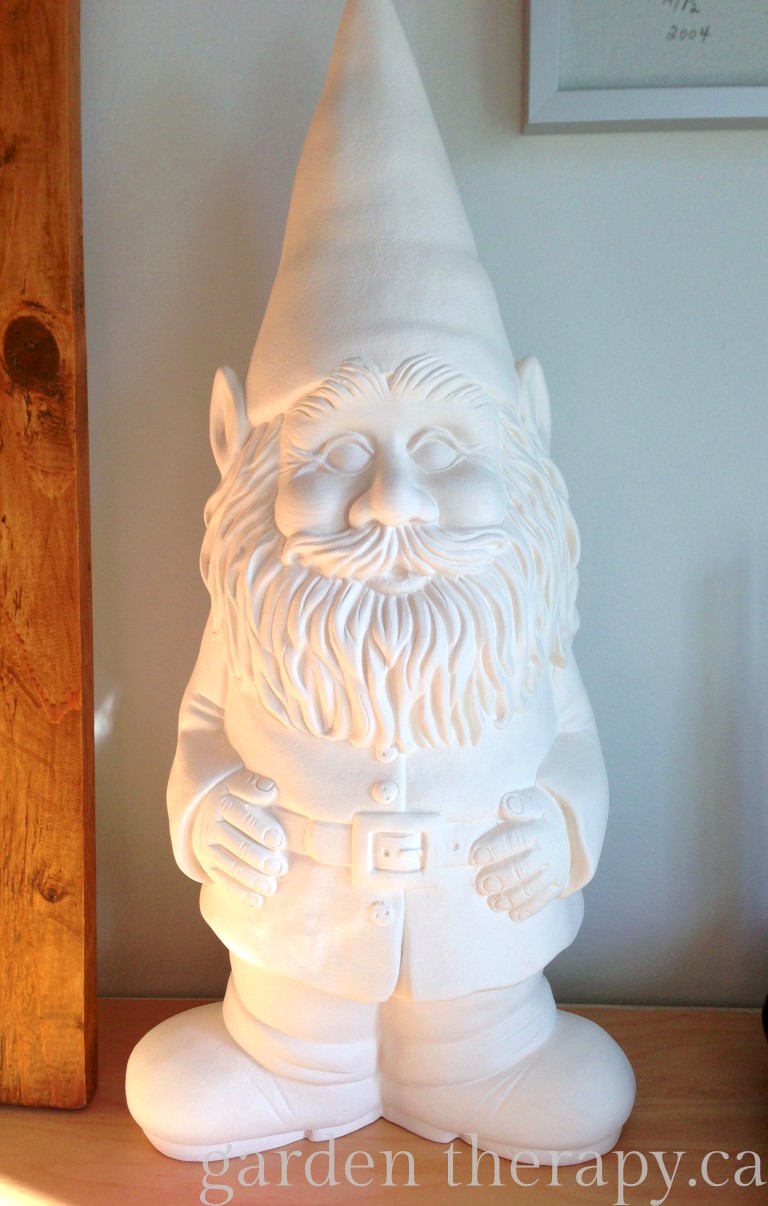 into Woody: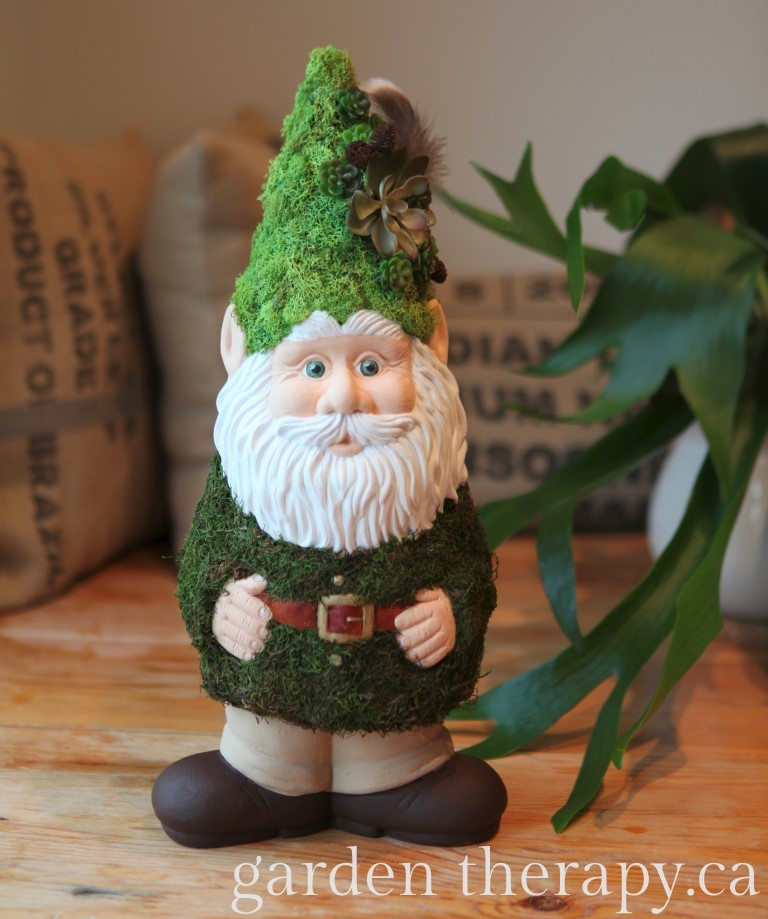 "Woody" lives deep within the forest where he escaped to in 1994 when he went "off the grid". He keeps his squat, stout figure by wrestling the rabbits at Jericho beach. His moss coat and lichen hat were knit by a garden gnome collective who tired of him looking like he was on his way to Wreck Beach and decided to take matters into their own hands. Woody sports an owl feather in his cap and a belt made from squirrel leather that he tanned himself.
To create his woodland look I first gave him a good coat of paint. (Sorry about the creepy zombie gnome eyes!)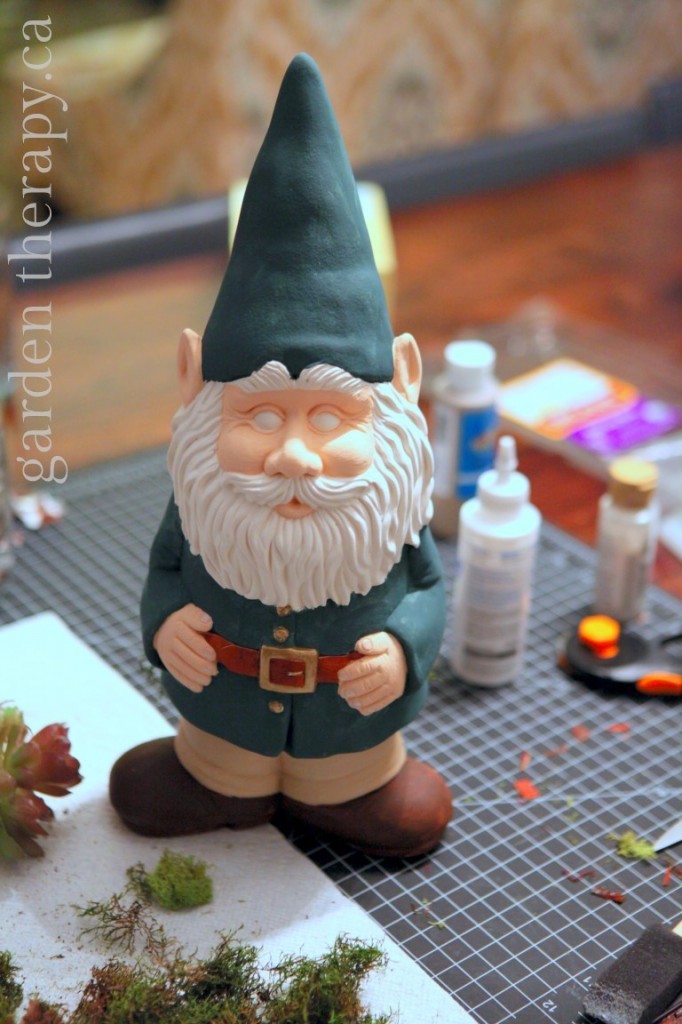 I used leather for his belt. I cut out the shape to fit and used a hot glue gun to attach the pieces.
Then I worked on mossing up his coat. I collected moss from a tree just down the street from me. It was drying on the tree so it came off quite easily and was already the final deep green colour it will stay. It was pliable as it hadn't quite dried up yet so it wouldn't have been more perfect for this project. It was very easy to mould onto the ceramic: I painted some white glue on with a brush and pressed the moss on to Woody. A couple of layers later and his jacket was completely covered.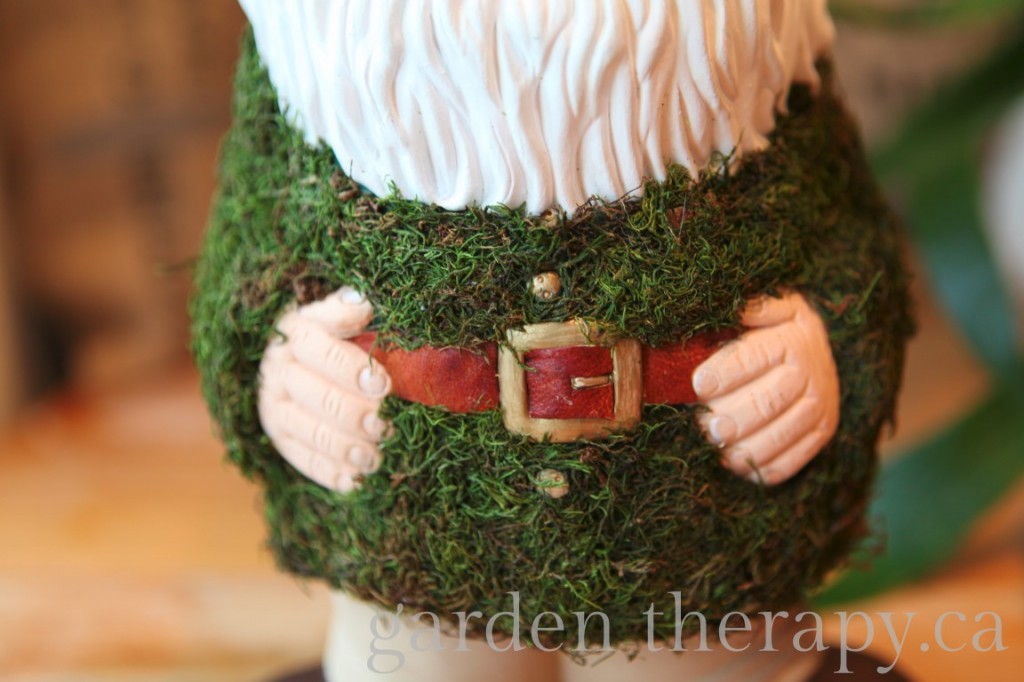 The same process was used for his lichen hat. I hear you over there…"but that's reindeer moss?!" It may be commonly called moss but it is actually a type of fruticose lichen, Cladonia rangiferina. I bought this particular bunch of it, which was dyed bright green, at a craft store.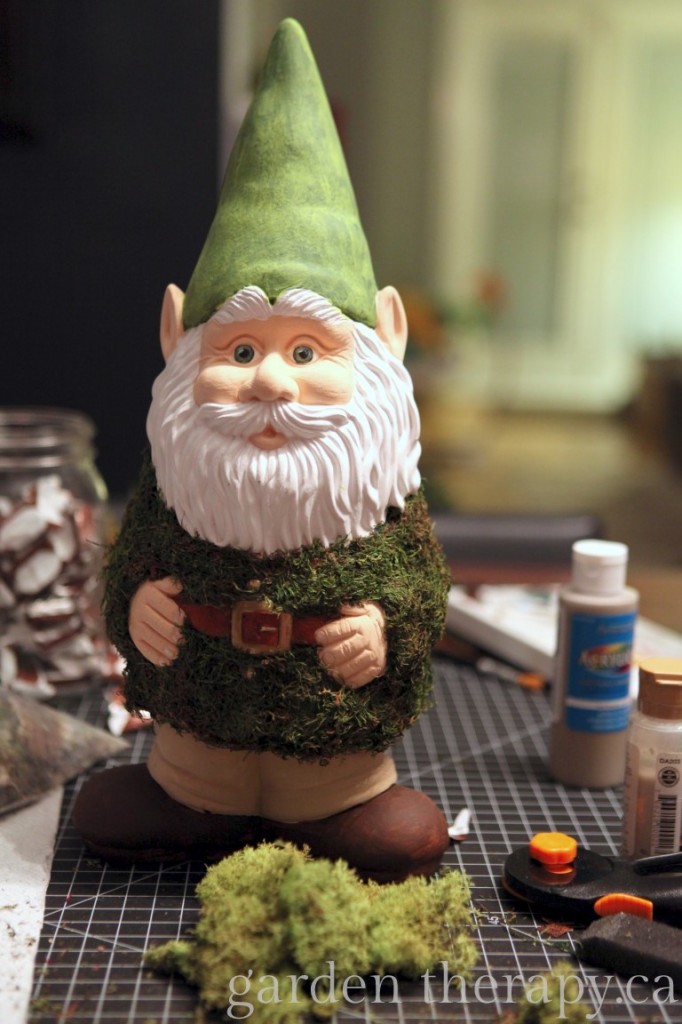 Plastic succulents, mini pine cones, and a snowy owl feather I collected from Boundary Bay, were all hot glued on to his cap. I really (really) wanted to add air plants instead of the plastic succulents but I wasn't sure where his journey would take him from here. I know I would be diligent with watering the plants, but would his adoptive parent? Hard to know. Against my nature as an organic gardener, I went for a few little plastic succulents, in an effort to make Woody as low maintenance as possible.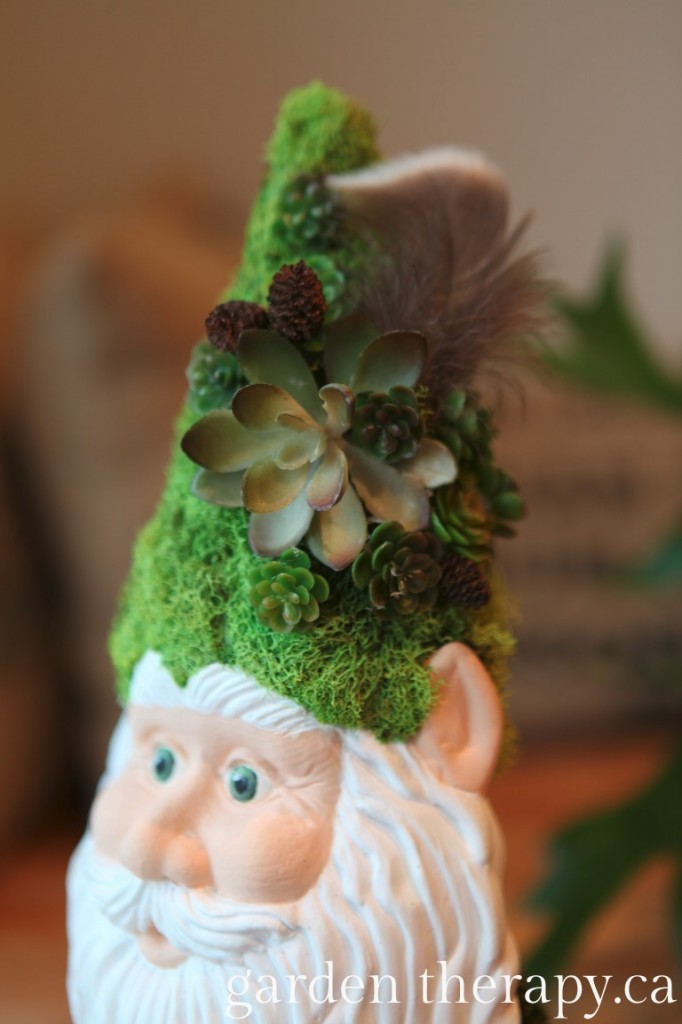 I hope that if you are in the area, you will take some time to go visit Woody and make a bid on any of the gnomes. Sole Food is a great cause and I was happy to be involved.