Kendall H. Brown's beautiful book Visionary Landscapes: Japanese Garden Design in North America examines the principles and evolution of Japanese gardening by presenting profiles of five incredible landscape architects who specialize in building Japanese gardens in North America, including Hōichi Kurisu whose mandate is to create spaces for physical and spiritual balance through his gardens. Read on to find out more about Kurisu and his garden design techniques and take a virtual tour of an urban Japanese garden in the heart of Chicago.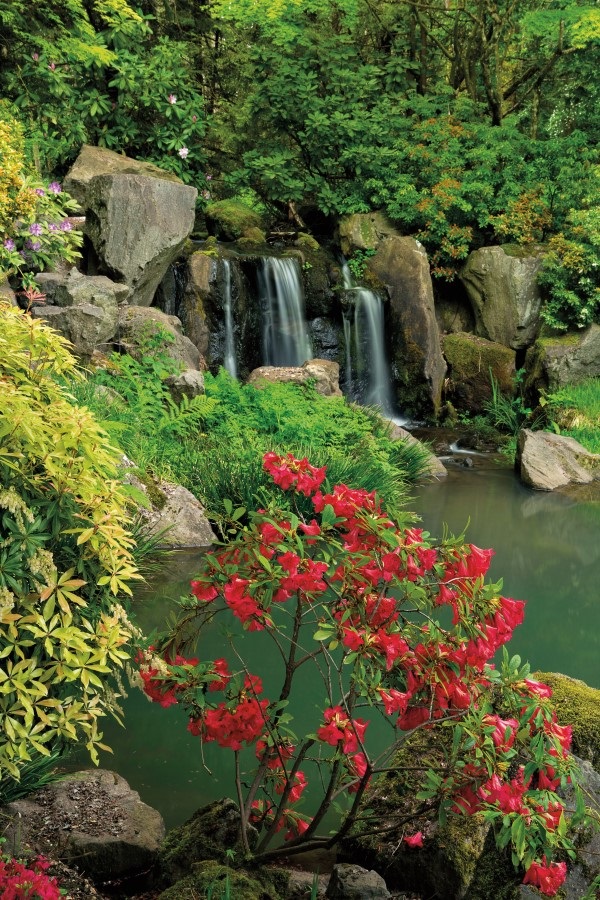 Gardens of Vision—Lives of Insight: The Healing Worlds of Hōichi Kurisu
By Kendall H. Brown
Gazing at Hōichi Kurisu's most successful gardens reveals a subtle sensitivity to material and its arrangement. Walking in them is to discover space as a transformative experience. Kurisu's practice is premised on the belief that intimate connection with nature—through its sights, sounds, textures and fragrances, as well as memories—can ameliorate the anxiety and ennui caused by the regimented materialism of an affluent, system-oriented society.
A Life in Gardens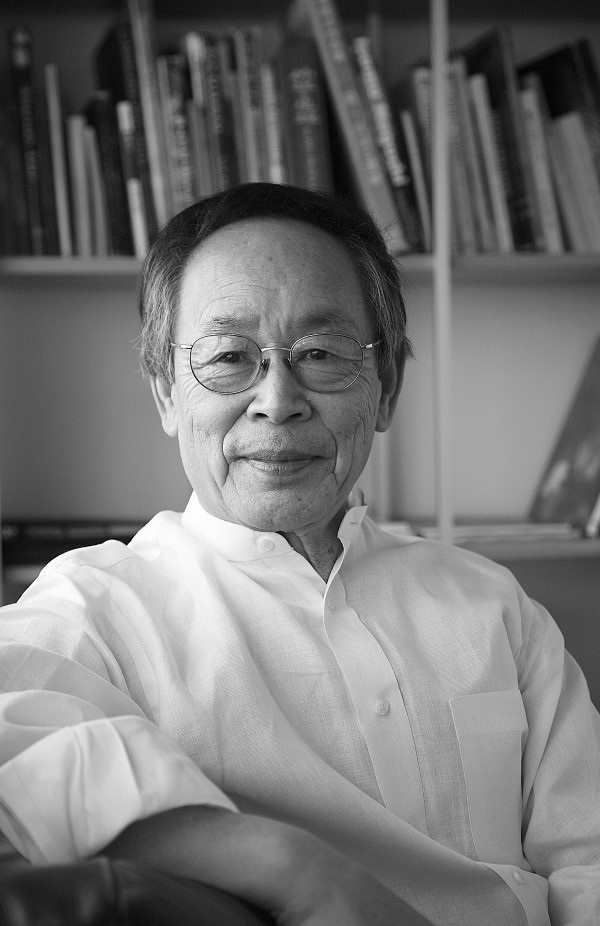 Born in 1939, Hōichi Kurisu was raised in Tsunami, a small town near Hiroshima. His early memories include desperate destruction and food scarcity at the end of World War II, followed by the almost magical return of hope as plants, and sustenance, sprouted in the family garden and forest.
In 1962, after studying at Waseda University, Kurisu went to California to join his father who had bounced between America and Japan. In Los Angeles, Kurisu assisted his father and stepbrothers in a landscaping installation and maintenance business. The experience impressed upon him the possibilities of spreading Japanese culture outside Japan, the ability to have a successful business and the unhappiness and emptiness that defined the lives of too many Americans despite their material wealth.
Kurisu returned to Japan in 1964 to study at the Tokyo University of Agriculture. There, Professor Kenzō Ogata's emphases on the experience of space and kisei (spirit force) in a garden, and the resulting joy, contrasted profoundly with the empty forms of the small quasi-Japanese gardens Kurisu had seen in Southern California.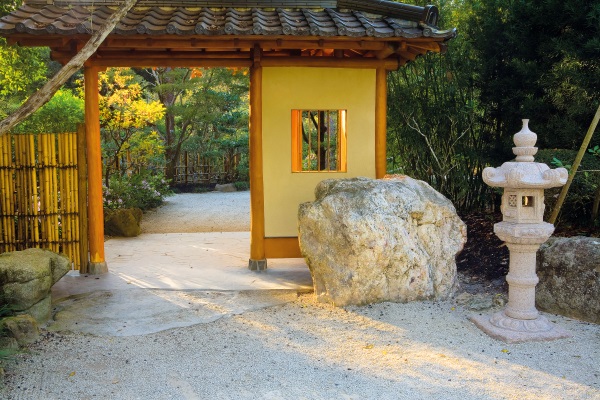 In 1972, Kurisu established his own design-build-maintain firm, Kurisu International, serving primarily residential clients in Portland. His early design philosophy was to integrate house with garden to connect the residents with natural space, bringing non-material value into their lives.
By the mid-1990s, Kurisu International had eighty employees and its own nursery.
In his mission statement of January 2001, Kurisu explains his vision of the garden visitor "little by little laying aside the chaos of a troubled world and gradually, gently nurturing the capacity within to hear a more harmonious, universal rhythm . . .exchanging burden, boredom, and despair with renewal, inspiration, and hope."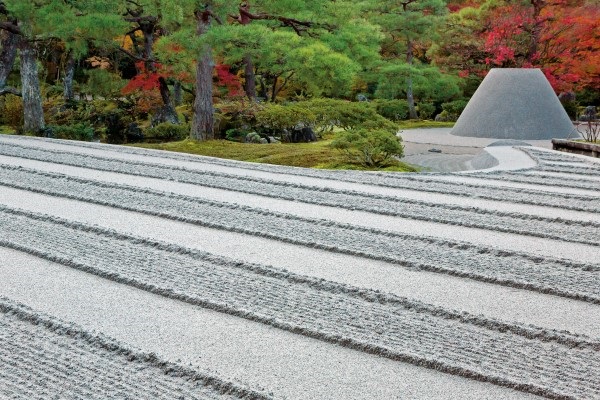 Eden on the Fourteenth Floor: A Garden Grows in Downtown Chicago
In 2005, a couple seeking an urban sanctuary at their neo-modernist high-rise condo in Chicago's River North district hired Kurisu to create a series of Japanese garden rooms on the 3,000-square-foot patio. Despite the concrete and aluminum building materials and the location among Chicago's famous towers, the bounded space framed by the overhanging roof resembles a Japanese courtyard mediated by a verandah beneath eaves.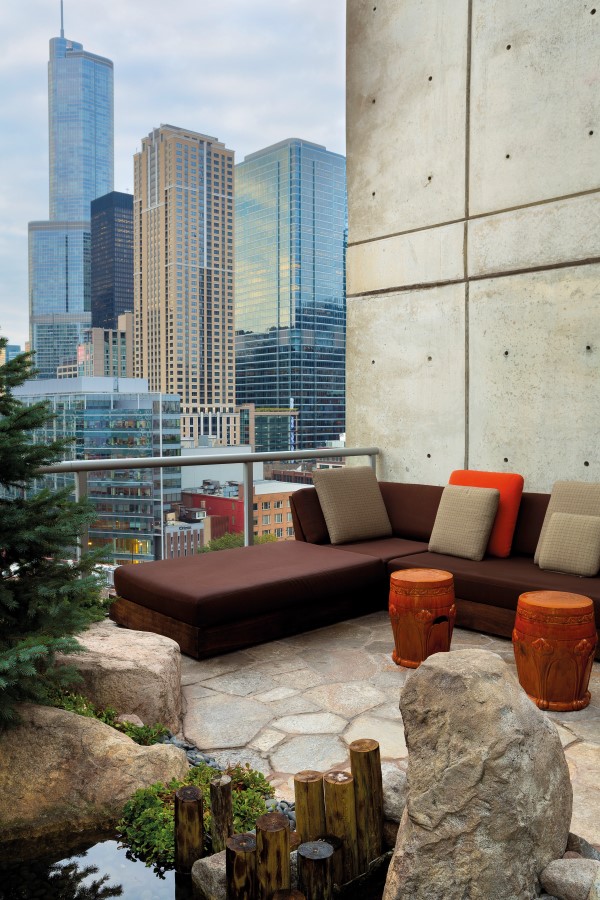 Kurisu uses maples and pines to partially screen the garden, both creating intimacy in the garden and allowing limited glimpses and spectacular vistas of the surroundings. A waterfall in one corner brings the sound and movement of water to the garden and feeds the shallow pond.
One accesses the garden from the condo's entry, where a small waterfall and stone floor lead out to a nobedan paved path, across stepping stones over the pond and then into the garden's depths. Not only do plants divide the main garden into a series of linked but sequestered spaces, a second garden accessed through the living room adds spatial complexity and intrigue.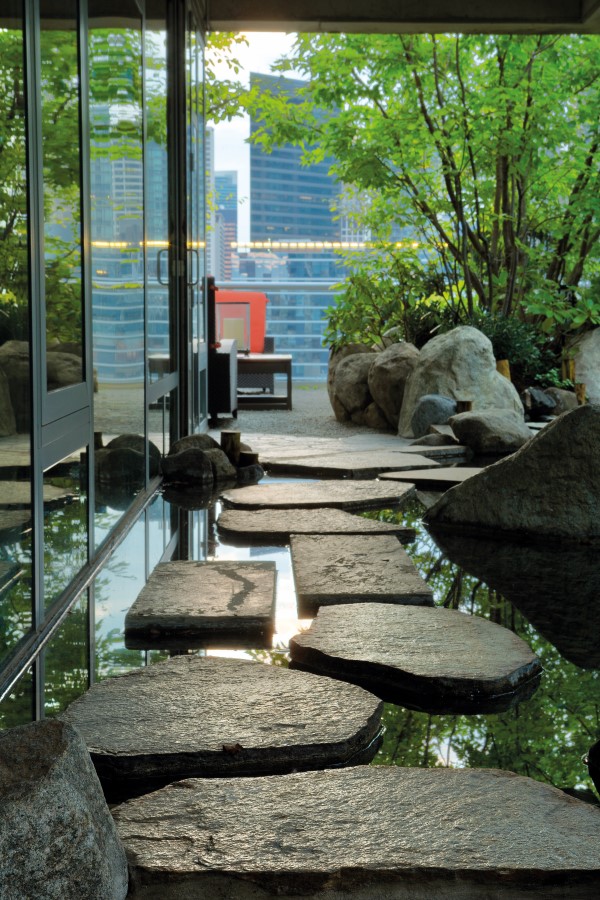 The vertical stones are analogues for the broad-shouldered towers, while the water (or just elegant black beach stones when the water is drained in the winter) links the garden to adjacent Lake Michigan.
The power of this garden in the sky is witnessed by its hold on its second owner. When newly divorced and well-traveled investment banker John Leonard looked for a residence in central Chicago, he wanted somewhere he could be grounded and recall his boyhood in the woods of Wisconsin. On first seeing the garden condo, he could not imagine not living there surrounded by the city and by nature, invited to explore while being comforted.
The garden transports the four seasons into the heart of the city. It also provides a place for Leonard to work with his hands, even transplanting a few shrubs long tended by his late father. The garden is conducive to introspection, so that no matter how awful the workday Leonard cherishes his return home where balance returns in the garden's invitation to mindfulness.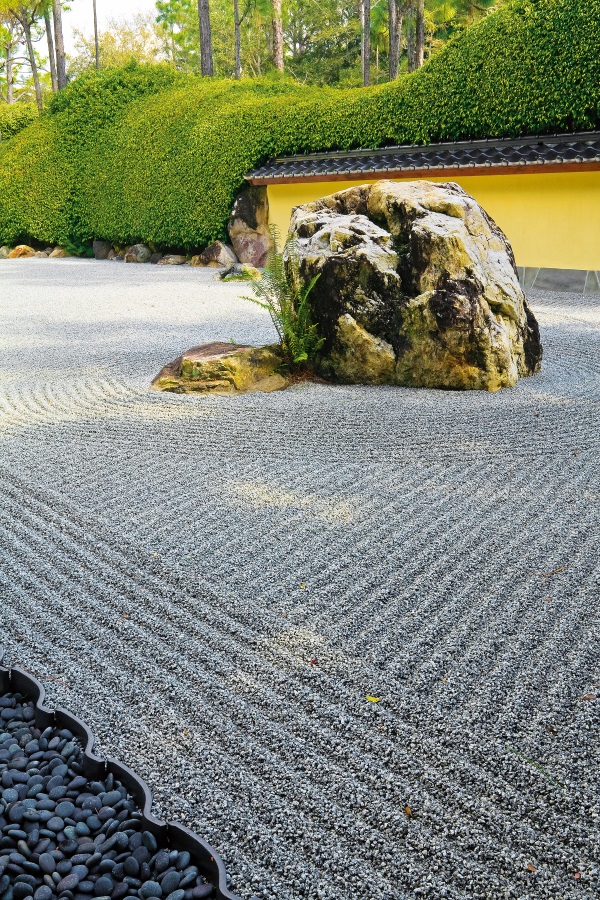 Printed with permission from Visionary Landscapes: Japanese Garden Design in North America by Kendall H. Brown, © 2017. Published by Tuttle Publishing. Photography © by David M. Cobb.
About the Author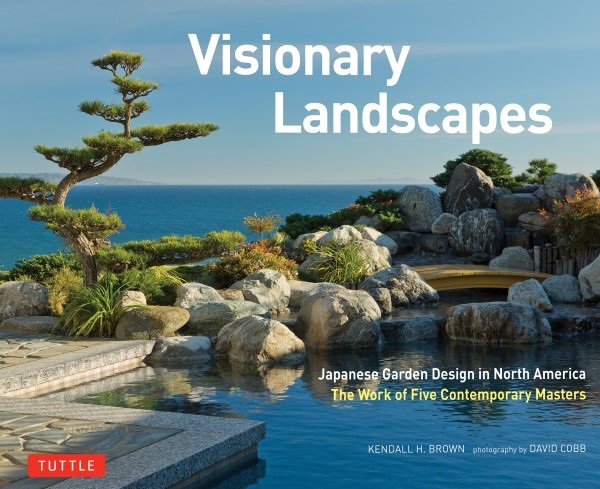 Kendall H. Brown is Professor of Asian Art History at California State University, Long Beach. He recently served as Curator of Collections, Exhibitions and Programs at the Pacific Asia Museum. He received BA and MA degrees in history and art history from the University of California, Berkeley, and a PhD in art history from Yale University. Dr. Brown publishes actively in various areas of Japanese art. He is a leading figure in the study of Japanese gardens in North America, and he is the author of Japanese-Style Gardens of the Pacific West Coast and Quiet Beauty: The Japanese Gardens of North America.
More posts you might like: