This coconut oil sugar scrub is like a little slice of heaven for your skin. It smells like the Garden of Eden with a mix of essential oils such as lavender, rose, geranium, carrot seed, and ylang ylang. But the beauty is not only in the scent because it's also packed with an essential oil blend that has a wonderful effect on your skin.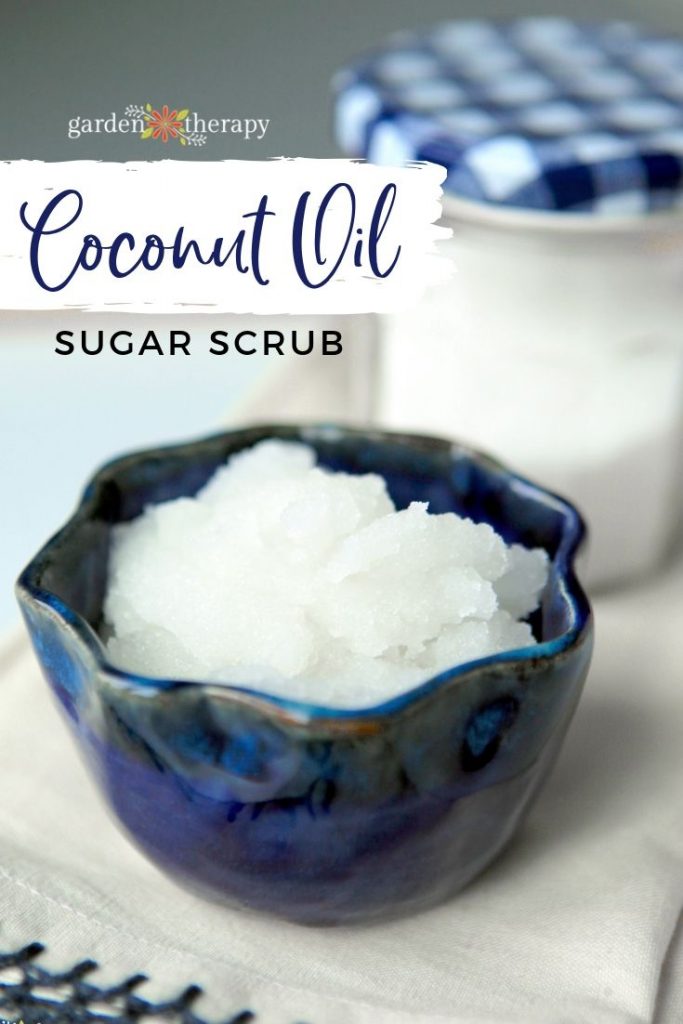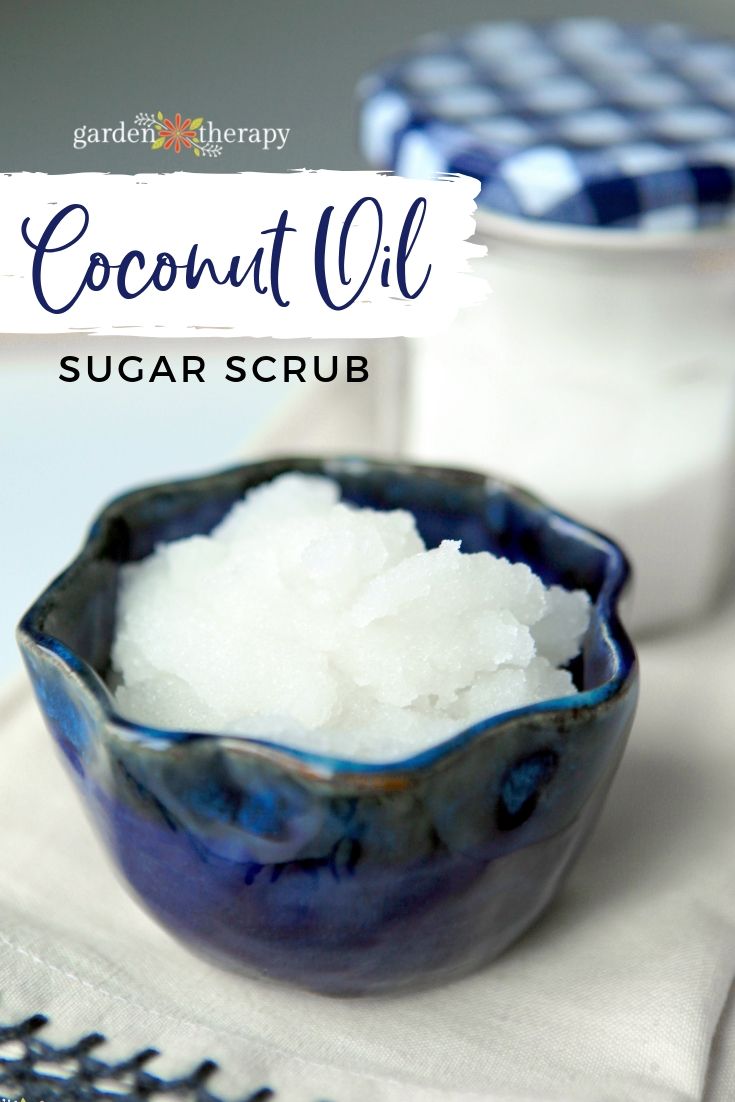 So simple and yet so lovely. This coconut oil sugar scrub is so simple to make. Just melt the coconut oil, stir in the essential oils and add the sugar. You can adjust the amount of exfoliation by choosing a finer or coarser form of sugar. Sugar melts quickly on the skin, so it is a very gentle way to exfoliate. The massaging acting helps to stimulate the skin and release tension as well.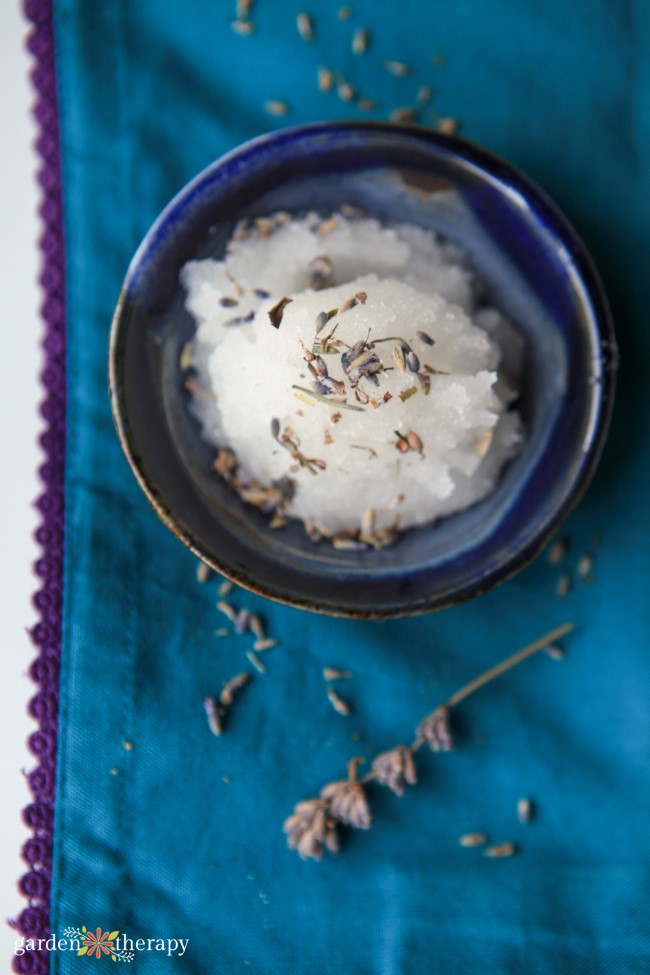 Essential Oils to Pair with Coconut Oil for Skin Care
I have played around with a few different combinations of essential oils for this recipe and really like the combination of lavender, rose, geranium, carrot seed, and ylang ylang. Read about the various properties of each and use that to customize the blend that you make. With all of the essential oils added, this is quite a powerful recipe. Essential oils contain the volatile oils of hundreds to thousands of plants, and so each drop should be used with mindfulness and purpose.
Lavender essential oil can be nurturing and calming.
Clary Sage essential oil can calm puffy skin and tackle the signs of aging.
Geranium essential oil can regulate oil production and improves skin's healthy glow.
Carrot Seed essential oil can regenerate skin cells helping to repair wrinkles and scars.
Ylang Ylang essential oil has a gorgeous floral scent and is said to help with skin elasticity.
Coconut Oil Sugar Scrub Recipe
Ingredients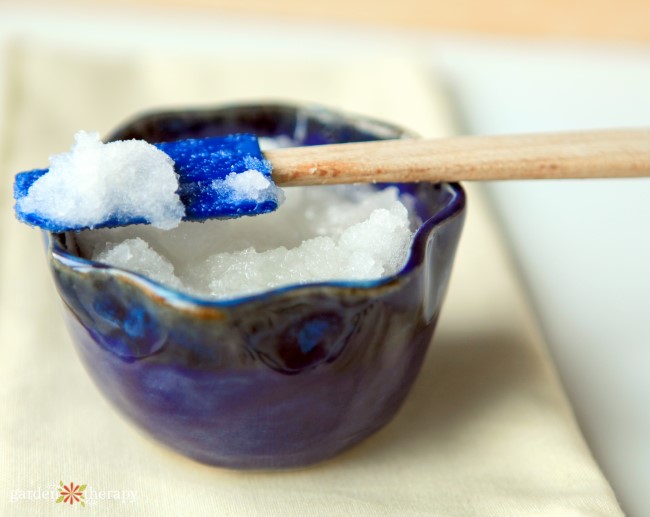 Make it!
Melt the coconut oil on the stove if it isn't in liquid form. Choose virgin organic coconut oil.
Stir in the sugar in a non-reactive bowl and add in the essential oils. A little goes a long way here. Use them sparingly.
Transfer the coconut oil sugar scrub into two mason jars with plastic lids to store. This coconut oil sugar scrub will stay fresh in the fridge for a month but if you keep it in the shower it will start to break down after a a few weeks, particularly in the summer or in warm climates.
Use a clean spoon to remove the scrub for each shower (an ice cream taster spoon works perfectly so I keep a few of those in the bathroom. Using a spoon will help you avoid adding water and bacteria to the scrub so it will last longer.
Scrub your skin in the shower after washing and pat to dry. The shower may have a bit of oil residue left that can make it a bit slippery. Grab one of those kitchen scrubbers with the handle you can pour soap into and fill it with liquid soap so you can give the shower a quick wash before you get out. It only takes a minute but it will always leave the shower clean and oil-free!
More Sugar and Salt Scrubs