Easily make a beautiful DIY chandelier for your garden! This post will show you how to make eco-friendly hanging solar lights to enjoy in your own backyard outdoor living space.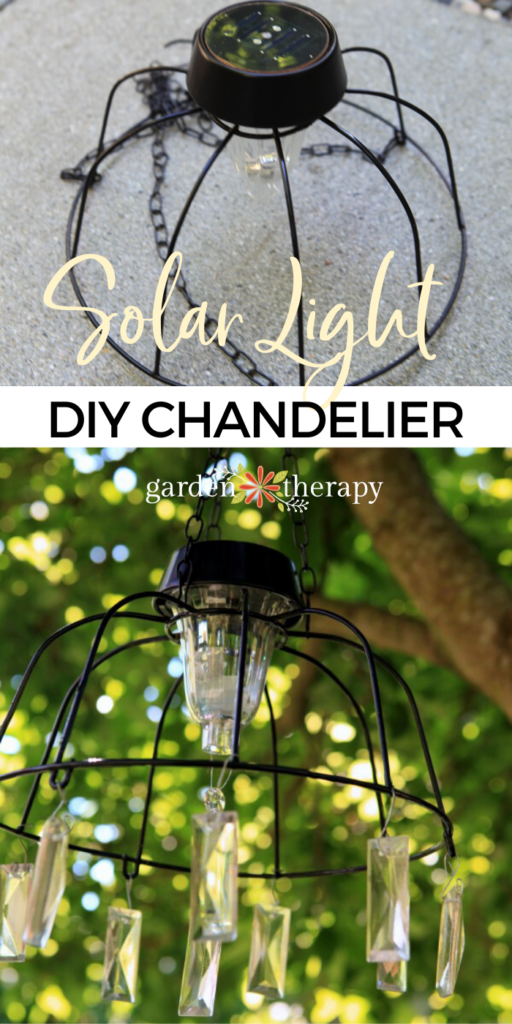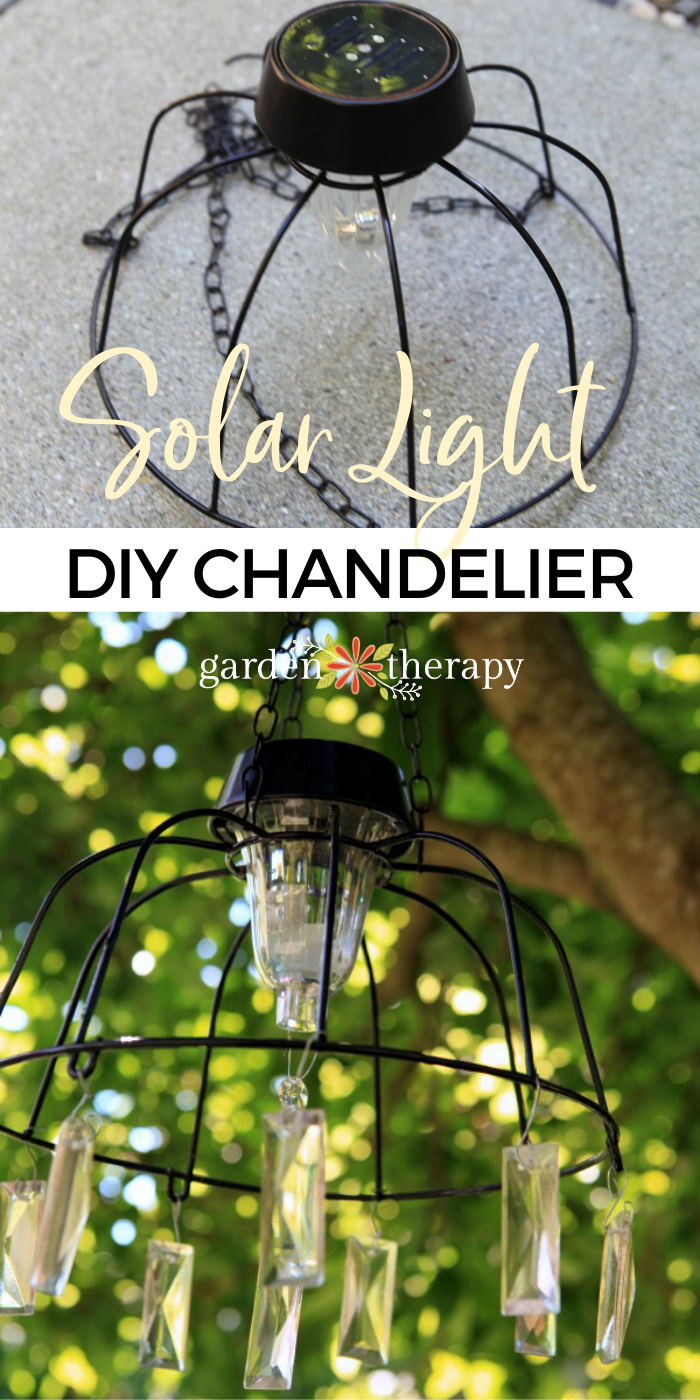 If you want to add a little ambiance and whimsy to your garden area, I have a fun and easy DIY chandelier project for you today. In a spark of creativity (and inspired by my mason jar solar lights), I decided to make hanging solar lights for my play garden by making a solar chandelier. 
I am so happy with the way it turned out that I want to show you how to make it too.
I love creating ambiance in my garden, but anything I create for my garden needs to be clean and green. This DIY outdoor solar chandelier definitely fits that requirement, and it's easy and fun to make too, which is a bonus!
You can make your outdoor living space beautiful, fun, and inviting without paying a higher electric bill or running cords through your yard. All you need is to harness the power of the sun.
How Does The Hanging Solar Light Hold Up?
I originally made this in the summer of 2015 when I built my son's play garden. While many elements of the garden have changed over the past 5 years, I still have the chandelier. Even though I have never changed the solar light, it still glows every night for an hour or so after the sun sets!
A question I often get asked is how it can charge in the shade. The answer is that a solar light works best when charged in direct sun, but it will still charge with ambient light. Less light when charging will make the light glow less bright and for less time.
Additionally, older lights also perform less well than newer ones. I can easily replace the light when it's needed but so far so good. I get just enough light to make this a wonderful garden feature.
As far as how well it holds up outdoors, I have left it in the garden for 5 years in all weather conditions – through winter, storms, rain, and sun. It's been completely maintenance-free.
Hanging Solar Lights: Outdoor DIY Chandelier
This DIY solar chandelier light is an easy project that took me no more than fifteen minutes to put together, and since then, it has become one of my most-loved decorative objects in the garden. 
I love the whimsical touch it adds hanging from the tree above the rustic table-and-chair set in my backyard play garden.
You can make your own solar lighting chandelier in no time with a few common materials. Then, have even more fun letting your imagination run wild or include your kids as you decorate it. 
Hang it up somewhere that it can catch the light and enjoy watching it shine. This DIY chandelier is so gorgeous that you just end up calling it your solar fairy lights because it might attract some fairies to your garden.
Materials Needed for Your Outdoor Solar Chandelier
Make Your Hanging Solar Lights DIY Chandelier Project
Follow these 4 easy steps, and in just a few minutes, you'll have your very own solar chandelier!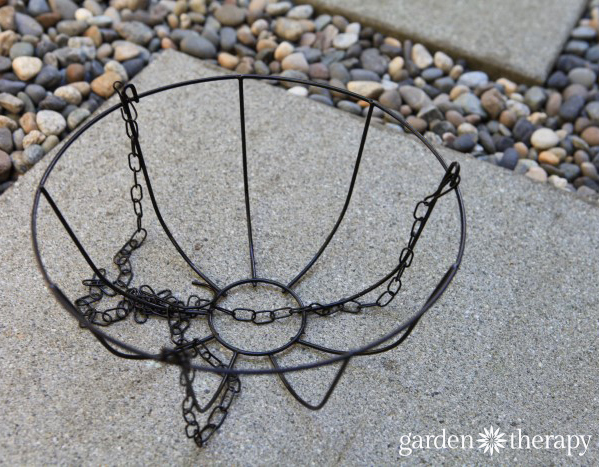 1. Get Your Wire Hanging Basket Ready
Start with a hanging basket that has a round circle of wire at the bottom. This will be used to hold the solar light. 
Look for a solar light that will sit in the hole without needing to be glued or adjusted in any way. I used a basic solar stake light and removed the stake.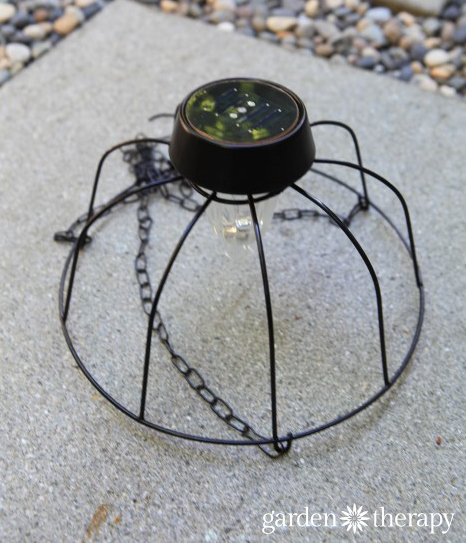 2. Attach the Chains Your Chandelier Can Hang
Move the chains that hold the basket from the top of the basket. Turn the basket so that it is convex and reattach the chains to the top wires around the hole.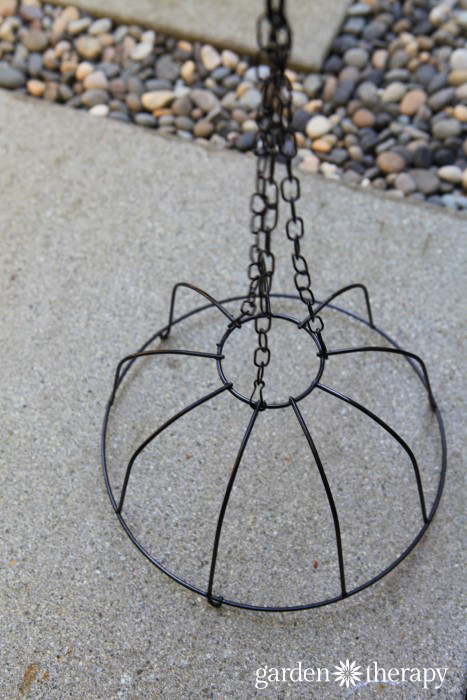 3. Install the Solar Light
This step is actually quite simple. Set in the solar light and you are ready to decorate!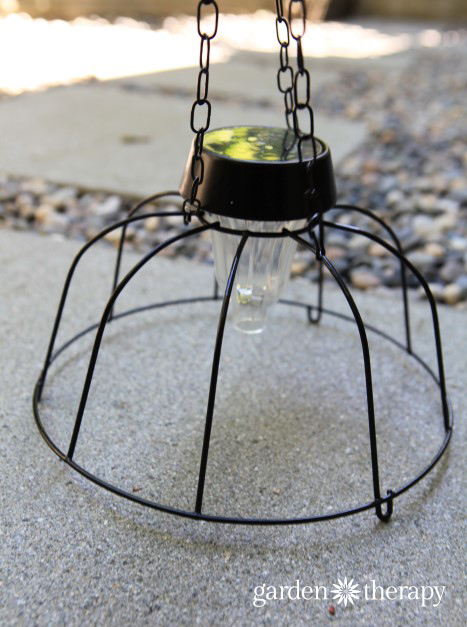 4. Decorate Your DIY Chandelier
I chose to use crystals so that they would sparkle and reflect the solar lights at night. 
You could add beads or even seashells instead (I can just imagine a gorgeous beach-themed chandelier with shells and sea glass dangling from it!). You could also spray paint the whole thing (except the light) for a pop of color to add to your garden. 
However you decide to decorate, it is completely up to you. I personally think this is the perfect place to include your kids and have them help decorate and use their creative imagination. 
Have fun making it fit your personality so that you enjoy looking at it in your garden space!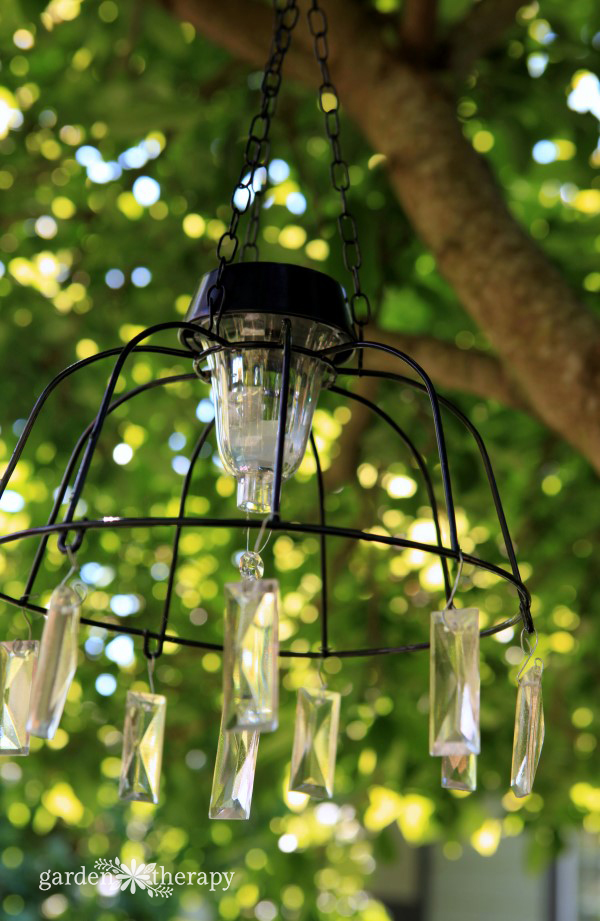 The Difference A Little Ambiance Can Make
My hanging solar lights look wonderful hanging in the play garden. I was pleasantly surprised at what a big difference it made to the overall feel of the entire space.
Did you know there are solar lights that can charge in the sun and in the shade? If you want to put solar lights in a shady area of your garden, definitely check to verify that you have the type of solar lights that will charge in shady areas.
Note: They may not stay lit quite as long or shine as bright as solar lights that charge in the sun, but they will work.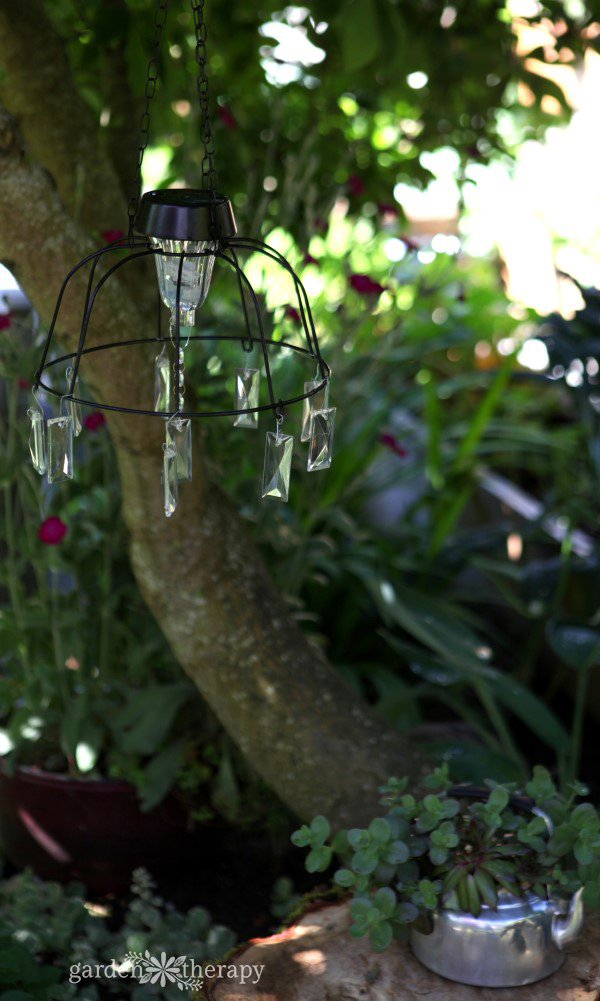 Hanging Solar Lights Project: Final Thoughts
The play garden was already decked out with hopscotch stepping stones and other kid-friendly features, but this chandelier added yet another element of playfulness without looking like it was overtly designed for children.
I chose to hang my chandelier from a tree above my rustic stump table, where I keep an old tea kettle as a planter.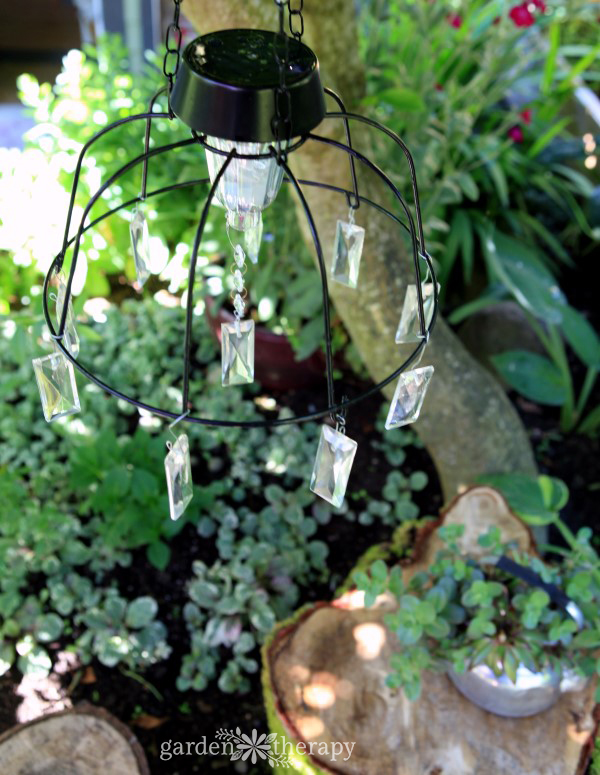 The reflective crystals on the chandelier balance well with the shiny metal of the tea kettle planter, and I love the look of the chandelier hanging from a tree, as it both contrasts with and compliments the natural elements around it.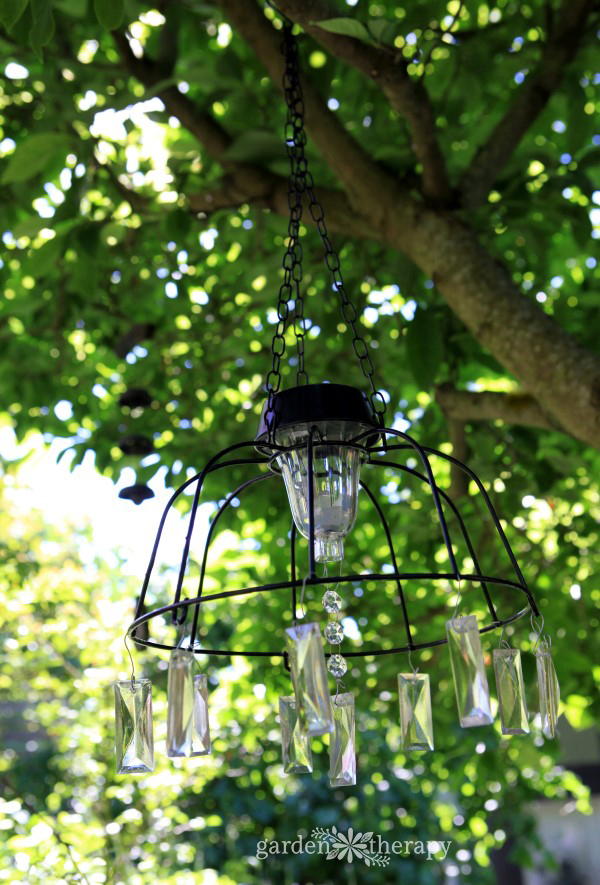 It also lights up beautifully at night. There's nothing like watching the crystals twinkle in the moonlight!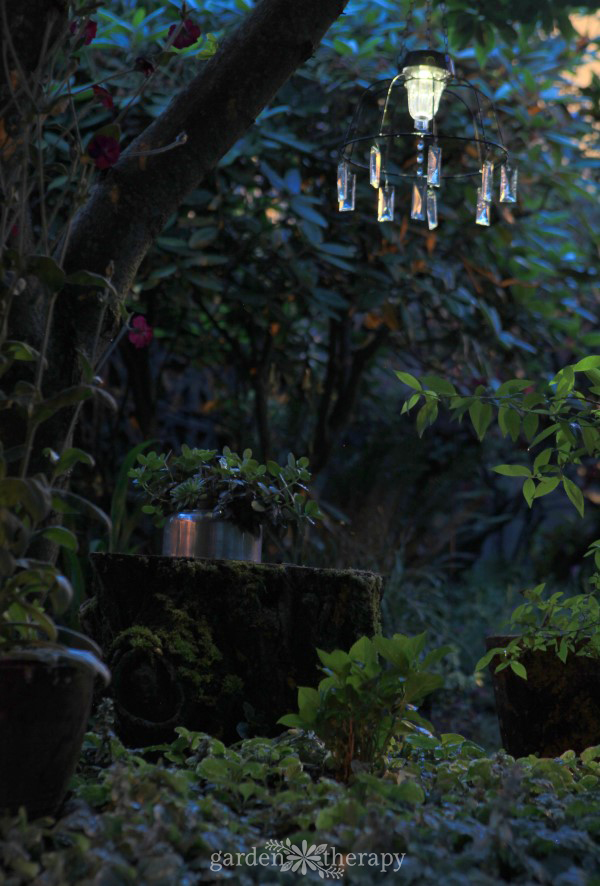 I hope you love this hanging solar lights project as much as I love mine. 
For more solar light fun, check out these Beach Glass Solar Lights and Mason Jar Solar Lights. And, don't forget to sign up for my newsletter to get new projects every week.
Check Out These Other Garden Decor and DIY Ideas:
DIY Hanging Solar Lights
This eco-friendly hanging solar light will help add a dash of playful whimsy to your garden. Learn how to turn a basic solar light into a beautiful outdoor chamdelier.
Equipment
1 Pair of wire cutters

(optional)
Instructions
Attach chains to the wire basket with the basket upside down

Remove the stake from a solar light, then insert it on top of the basket. It's best if it fits without needing to be glued down at all.

Decorate the chandelier with beads, crystals, shells, or anything else that you'd like to use.

Hang the DIY solar light and enjoy.