There are so many ways you can use fresh herbs from your garden, but this is my new favourite! Herb infused vinegar gives you practically unlimited flavour combinations that you can use on salads, as dips, or even by the spoonful. Here's how to make herb vinegar, plus a few of my favourite combinations to get you started.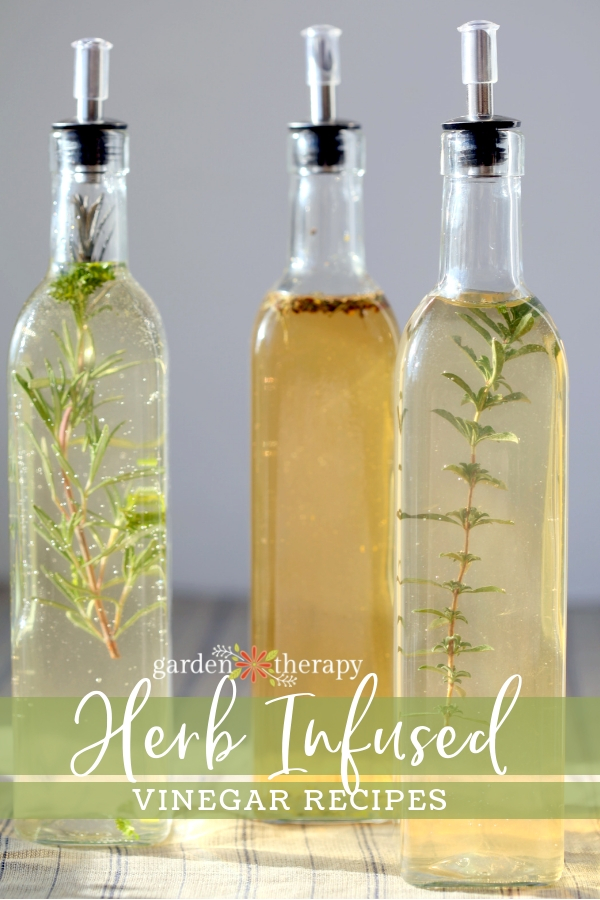 I love love love herbs. They are a delicious, beautiful, and healing part of my garden that has become integral to my daily life.
I'm always looking for different ways to get more herby goodness into my life, which is why I have started making herb-infused vinegar more and more lately.
DIY Herb Vinegar
Don't think I'm the originator of this fabulous idea, however. Herb vinegar is a traditional herbal preparation method that has been used for hundreds of years. Not only will it preserve the flavour profile of the herbs, but it will also keep the health benefits intact as well.
These infused vinegars are a great alternative to an alcohol-based tincture if you want an herbal extract that doesn't contain alcohol. Plus, these kinds of vinegar are delicious!
There are so many different tasty kinds of vinegar out there and endless combinations of herbs that you can use to create a custom artisanal vinegar blend that's all your own. I have a few favourite recipes that I'll share below, but I hope you use them as a jumping-off point to get even more creative with your herb/vinegar mixtures.
What Kind of Vinegar Should I Use?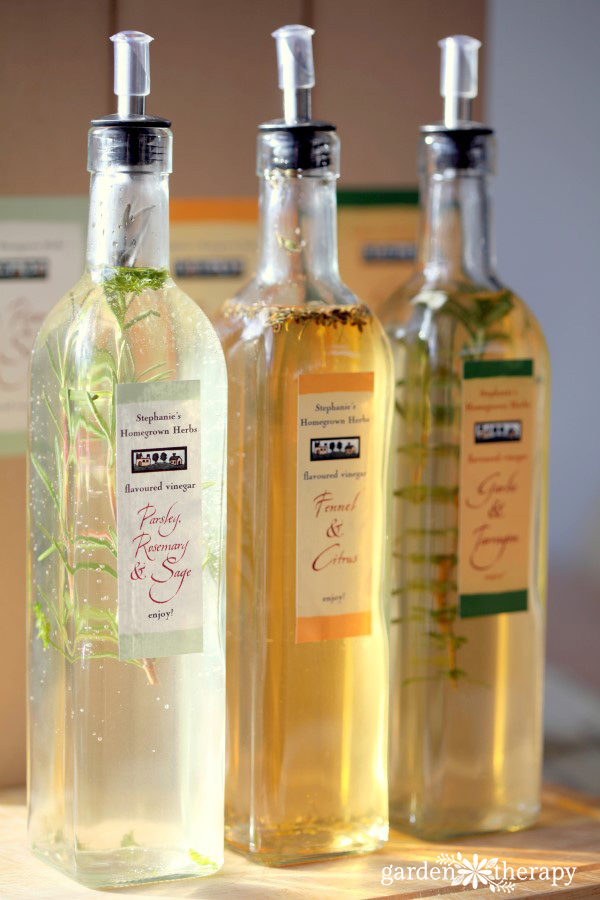 In addition to the many health benefits of herbs, vinegar itself can also have positive effects.
It is a good idea to invest in quality vinegars (especially fruit vinegar like apple cider) to get the most healthful and delicious infusion.
Plus, the flavour profile will change immensely depending on which type of vinegar you use as the base. Here are a few options to try:
Apple cider vinegar is made from fermented apples, and is often used in natural wellness recipes (such as fire cider).
Rice vinegar is a delicate, lovely vinegar made from…you guessed it, fermented rice! This type of vinegar is commonly used in Asian cooking.
White vinegar is one of the most inexpensive and most-used types around. The flavour tends to be sharp and intense, so I typically will not use this one on its own. You can easily use a 1:1 ratio of this with another vinegar.
White wine vinegar often gets confused with white vinegar, but this type is made from fermented white wine and is quite a bit sweeter.
Balsamic vinegar is arguably the most popular type of vinegar. This sweet, thick vinegar is dark in color and pairs nicely with fruits as well as herbs for infusion.
Tips for Infusing Vinegar
It's best to make your initial infusion in a large Mason jar, then strain out the herbs when pouring it into a sterilized vinegar bottle.
Making infused vinegar is somewhat quick, too. The herbs will start to flavor the vinegar in just 24 hours, but the taste of the herbs will become more prominent after a few weeks.
There's no rule as to when it must be ready by. Instead, let your sense of taste be your guide when determining if your herb vinegar is ready or not.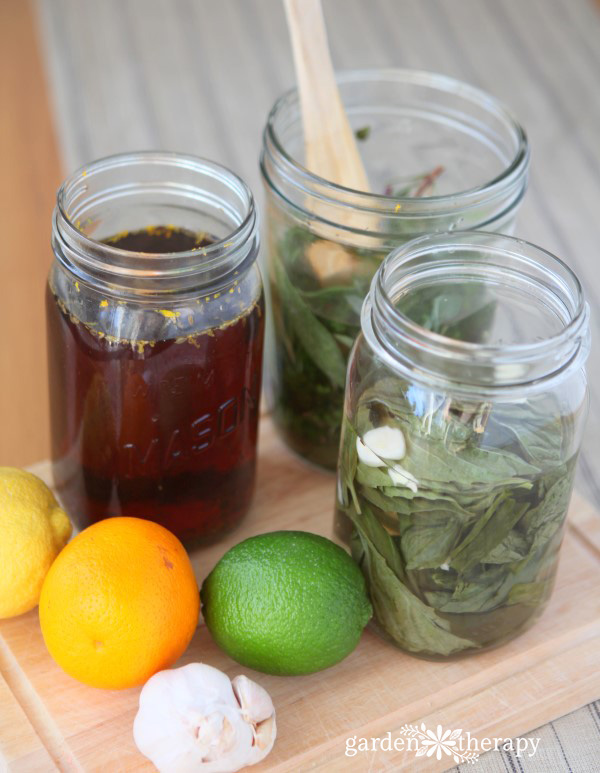 Feel free to add a few herbs to the bottles to give it that homemade look, but they are best strained out after a month or so to prevent spoiling.
However, once your custom infused vinegar starts getting used as salad dressing and bread dip, I'm sure it won't last that long!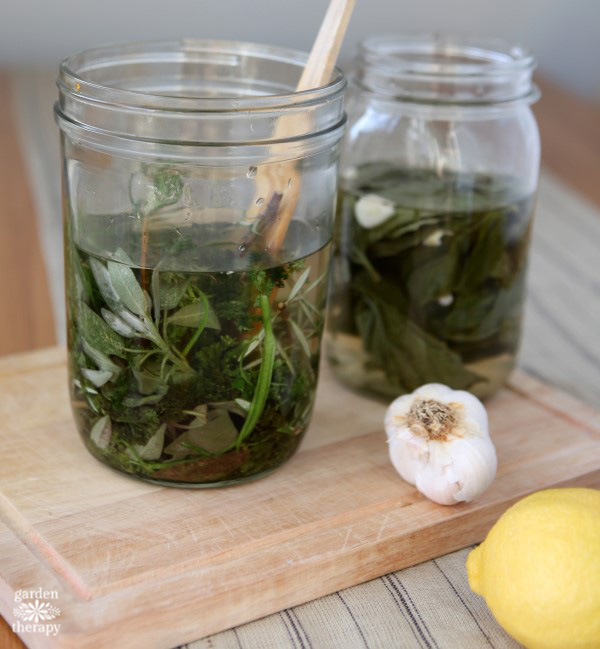 Infused Vinegar Combinations to Try
You can pack really any herbs that you want into the infusion. Some of the combinations that I love are:
Parsley, Rosemary, & Sage Infused Vinegar
Pack a handful of parsley, rosemary, & sage in a jar with ½ rice vinegar and ½ white wine vinegar for a rich flavored vinegar that's a bit sweet and perfect for Thanksgiving dinner.
Fennel & Citrus Infused Vinegar
Add fresh fennel or crushed fennel seeds with the zest of one lemon, lime, and orange to apple cider vinegar. This bright and fruity combination pairs well with a spinach salad with mandarin slices and toasted almonds.
Tarragon & Garlic Infused Vinegar
Fresh tarragon sprigs and garlic cloves are all that is needed to make this fine vinegar usually reserved for gourmet grocery store shelves. Use a delicate white wine vinegar to ensure the sweet but earthy tarragon flavor has a chance to shine.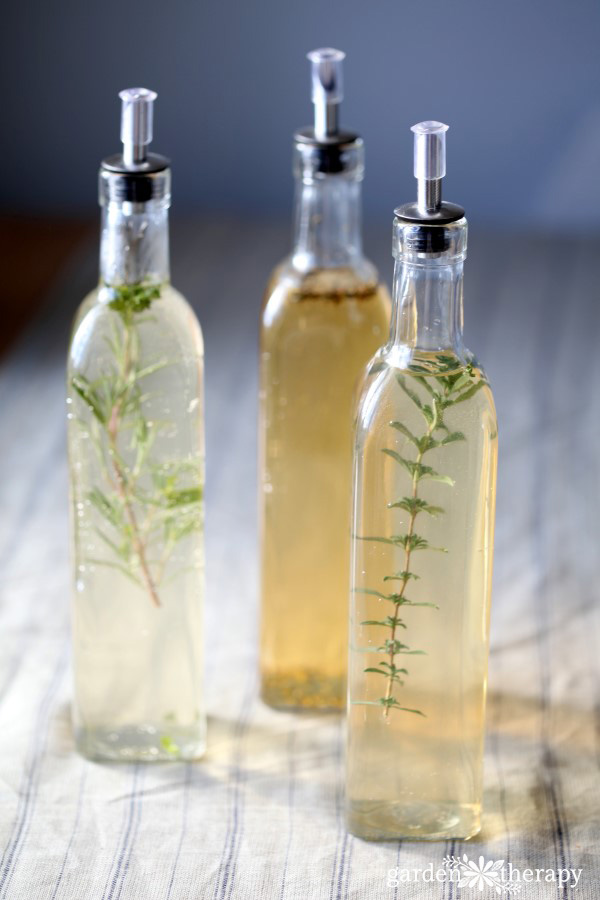 As you can see, making your own infused vinegar is a simple DIY that any gardener can take advantage of! Which one will you try first?
Love herbs? You might like these posts: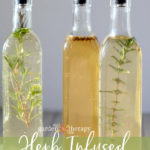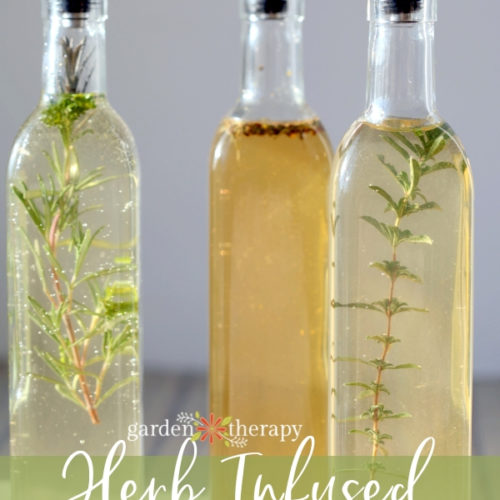 Print Recipe
DIY Herb Infused Vinegar
Use your garden herbs and make an easy herb-infused vinegar. The combinations are endless- here's how to make a batch of your own!
Ingredients
12-16

oz

vinegar

of your choice

1-2

handfuls

herbs

of your choice
Instructions
In a large mason jar, add herbs and vinegar. Muddle with a wooden spoon.

Let it sit about 24 hours, then strain out the herbs and pour the vinegar into a sterilized container.

Enjoy as salad dressing, bread dip, or by the spoonful!
Nutrition
Serving:
1
tbsp
|
Calories:
3
kcal