I love love love herbs. They are a delicious, beautiful, and healing part of my garden that have become integral to my daily life. I'm always looking for different ways to get more herby goodness into my life, which is why I've been making herb-infused vinegars lately. This is a traditional herbal preparation method that has been used for hundreds of years as a way to preserve the flavor and health benefits of herbs. It is also a good alternative to an alcohol-based tincture if you want an herbal extract that doesn't contain alcohol. Plus, these vinegars are delicious! There are so many different tasty vinegars out there and endless combinations of herbs that you can use to create a custom artisanal vinegar blend that's all your own. I have a few favorite recipes that I'll share below, but I hope you use them as a jumping-off point to get even more creative with your herb/vinegar mixtures.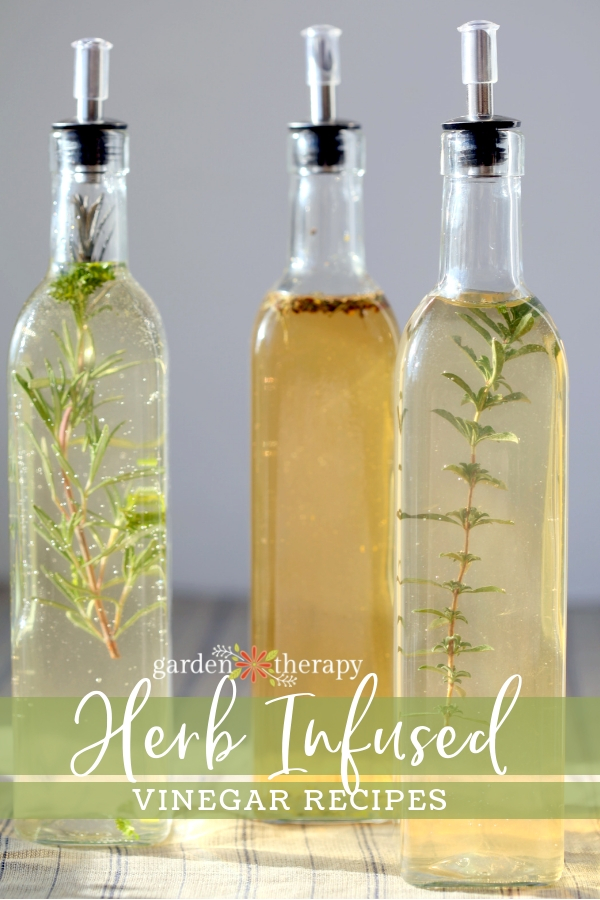 In addition to the many health benefits of herbs, vinegar can also have positive effects. Apple cider vinegar is often used in natural wellness recipes (such as fire cider). It is a good idea to invest in quality vinegars (especially fruit vinegars like apple cider–I like this one) to get the most healthful and delicious infusion.
It's best to make your initial infusion in a large Mason jar and then strain out the herbs when pouring into a sterilized vinegar bottle. The herbs will start to flavor the vinegar in just 24 hours, but it will become more prominent after a few weeks. Let your sense of taste be your guide when determining if it is ready or not.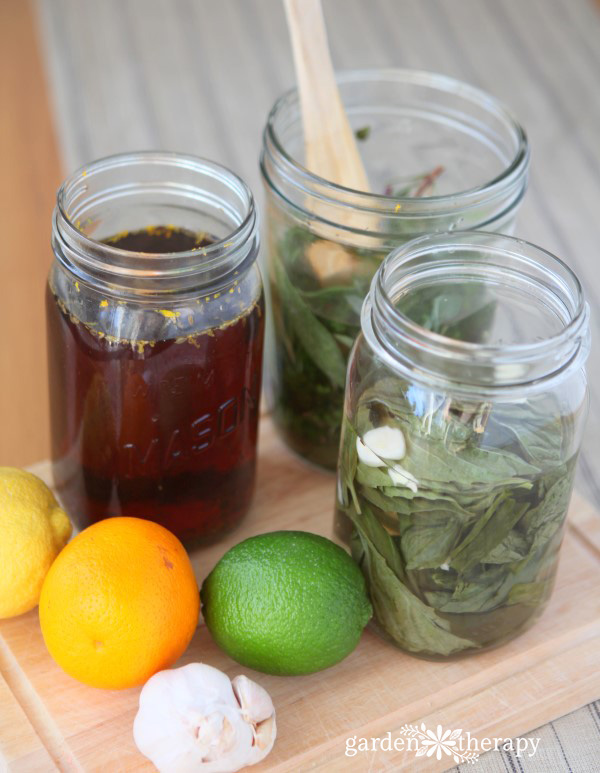 Feel free to add a few herbs to the bottles to give it that homemade look, but they are best strained out after a month or so to prevent spoiling. However, once infused vinegar starts getting used as salad dressing and bread dip, I'm sure it won't last that long!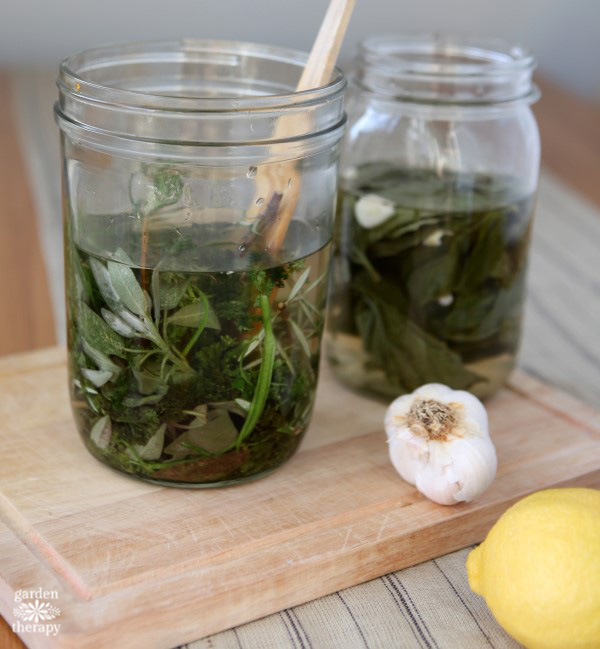 You can pack really any herbs that you want into the infusion. Some of the combinations that I love are: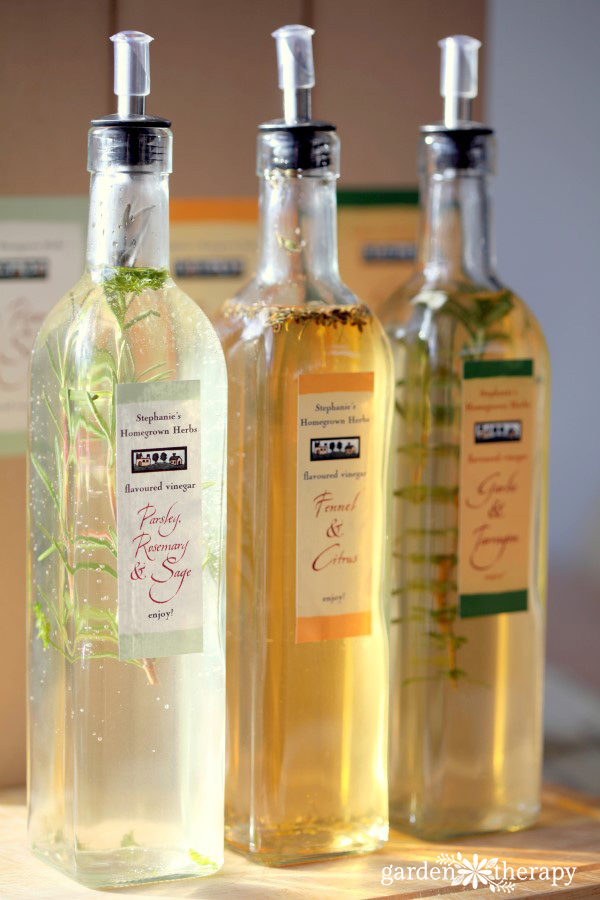 Parsley, Rosemary, & Sage Infused Vinegar
Pack a handful of parsley, rosemary, & sage in a jar with ½ rice vinegar and ½ white wine vinegar for a rich flavored vinegar that's a bit sweet and perfect for Thanksgiving dinner.
Fennel & Citrus Infused Vinegar
Add fresh fennel or crushed fennel seeds with the zest of one lemon, lime, and orange to apple cider vinegar. This bright and fruity combination pairs well with a spinach salad with mandarin slices and toasted almonds.
Tarragon & Garlic Infused Vinegar
Fresh tarragon sprigs and garlic cloves are all that is needed to make this fine vinegar usually reserved for gourmet grocery store shelves. Use a delicate white wine vinegar to ensure the sweet but earthy tarragon flavor has a chance to shine.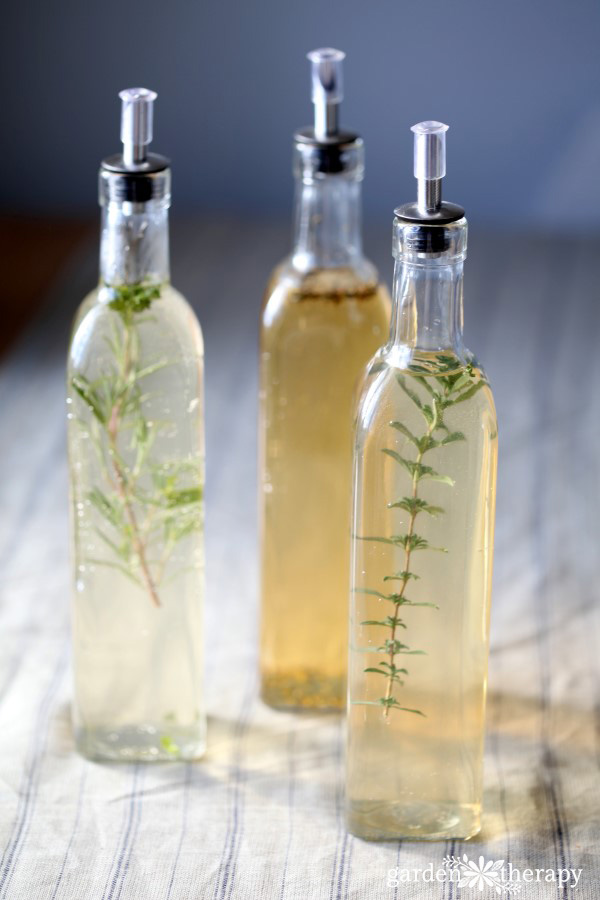 Love herbs? You might like these posts: