Drying herbs is a perfectly fine way to store your garden-fresh flavorings for use throughout the year, but it isn't the only game in town. You can preserve herbs in many creative ways that can add some lift to your cold-weather culinary creations. Freshly preserved garden herbs also make wonderful gifts that are beautiful and personal.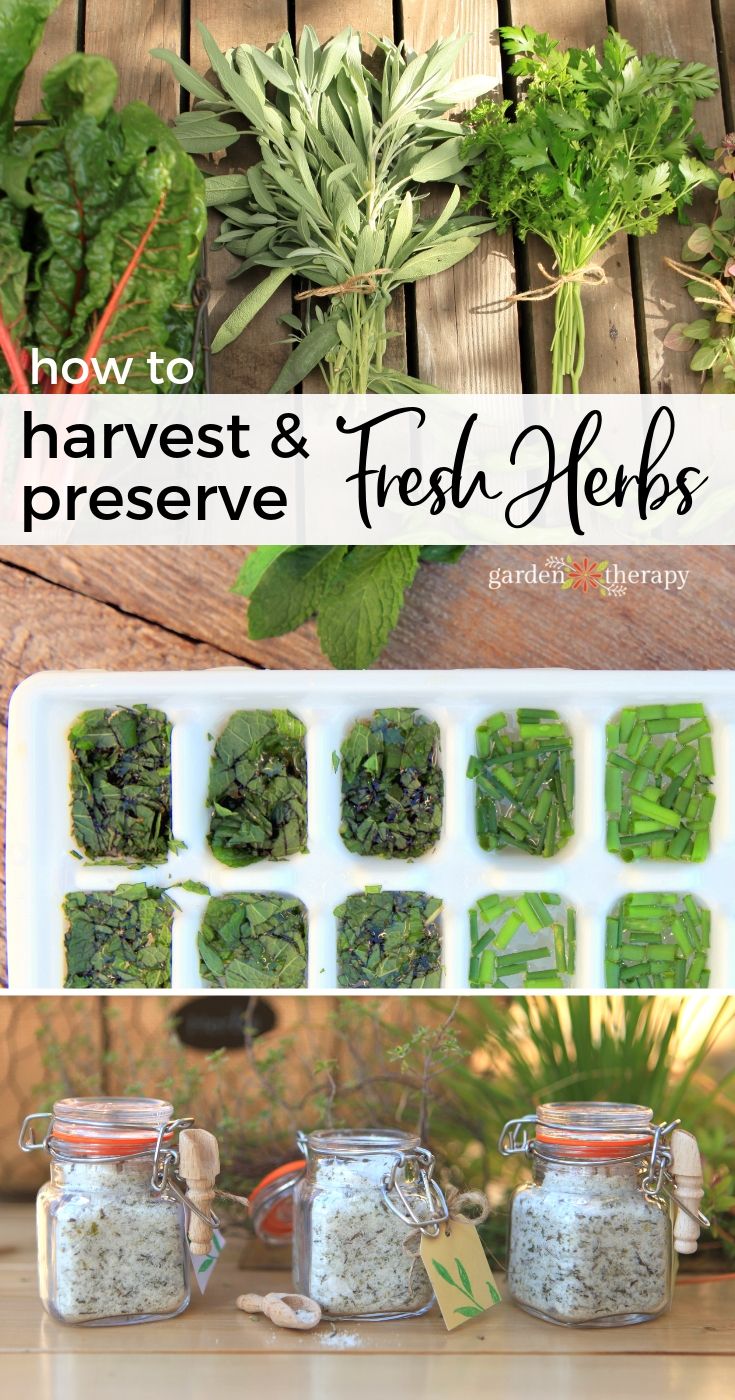 How to Dry Herbs
Drying herbs is a common and reliable way to preserve them. To do this, snip herbs and tie them into a small bundle with twine. Hang the bundle upside down, and once they are entirely dry, remove the dried leaves and store in an airtight container. Dried herbs keep for about a year when stored in this way.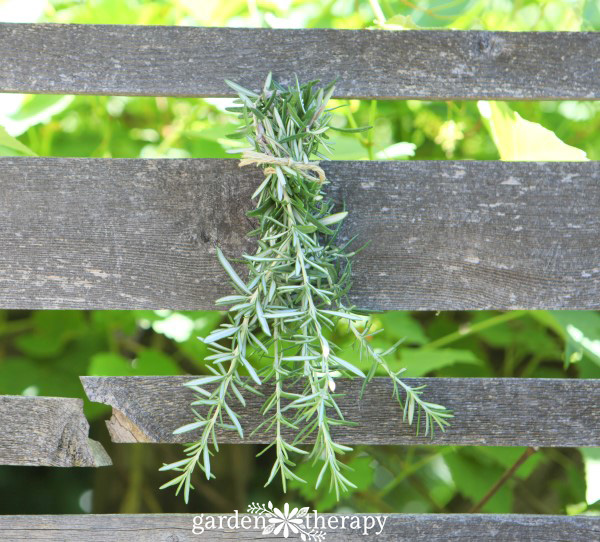 Dried herbs are delicious and wonderful to have on hand, especially over the winter, but they do lose some of that fresh herb flavor that is so appealing.
If you want some alternatives to drying, here are a few of our favorite creative ways to preserve herbs:
Overwinter Herbs Indoors
You can have fresh herbs all winter if you bring your garden herbs indoors for the colder seasons. Dig up herbs and plant them in pots or take cuttings from your garden plants and propagate them. Keep them somewhere sunny inside and enjoy your new indoor herb garden.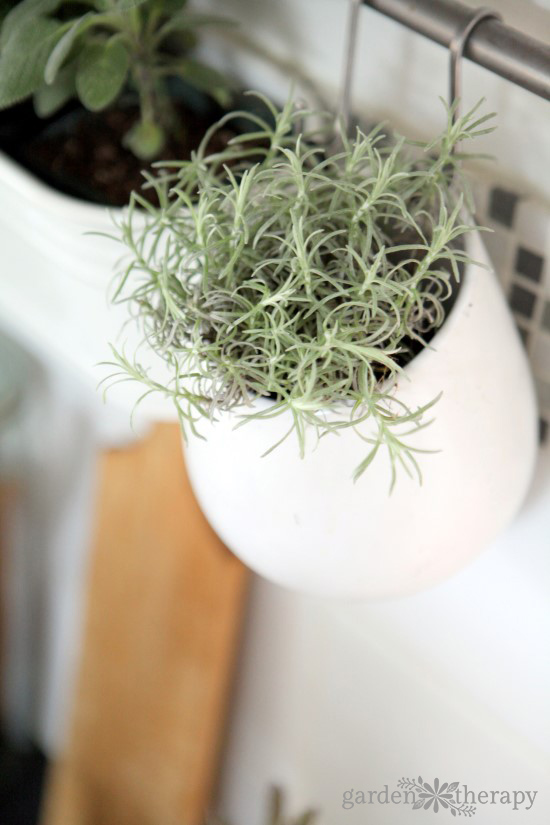 If you are lucky enough, you may have some herbs that grow outside throughout the year, or perhaps the seasons are so different that the only year-round growing you do is indoors. I'm able to keep woody perennial herbs like rosemary, sage, and lavender in my garden and many will keep just enough leaves in the winter to harvest them fresh.
Winters have been unpredictable as of late (as I'm sure that you have noticed) and so not every plant that used to survive has made it through the rocky road of climate change. Before I risk losing those woody herbs to a cold winter's night, I propagate them by cuttings and move them indoors. Here are some articles on how to propagate and grow herbs indoors:
Freeze Herbs for Future Use
Chop fresh herbs and fill ice cube trays with them. Add water to the trays and freeze. Once your herb ice cubes are completely frozen, you can pop them out of the tray and store them in plastic bags in the freezer. Then, when you need fresh herbs for pasta sauce or other recipes, just add an herb cube from the freezer!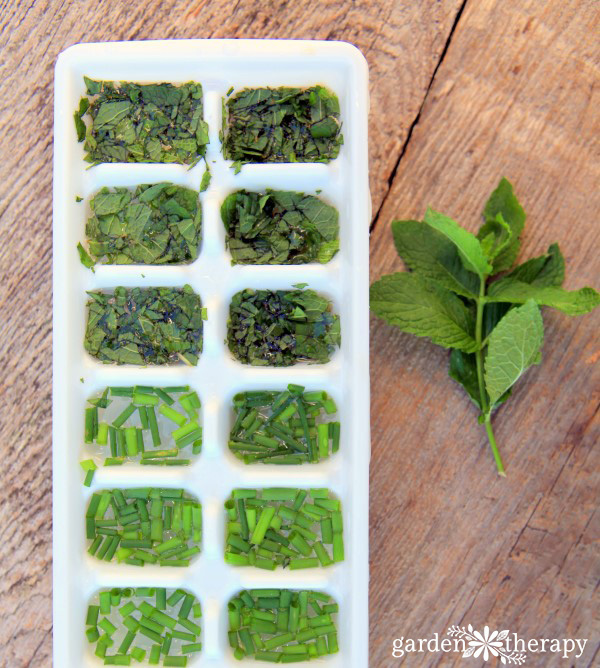 Make Herb-Infused Vinegar
Infuse vinegar with herbs to preserve their flavor. Pack a Mason jar with fresh herbs and pour white vinegar over them, filling the jar. Let the vinegar/herb mixture sit for about two weeks. Strain the liquid and discard the herbs, and you are left with a deeply flavorful herbal vinegar that you can use to make amazing homemade salad dressings. Herb-infused vinegar also makes a lovely hostess gift. Simply transfer it to a pretty bottle with a pour spout and add a decorative label.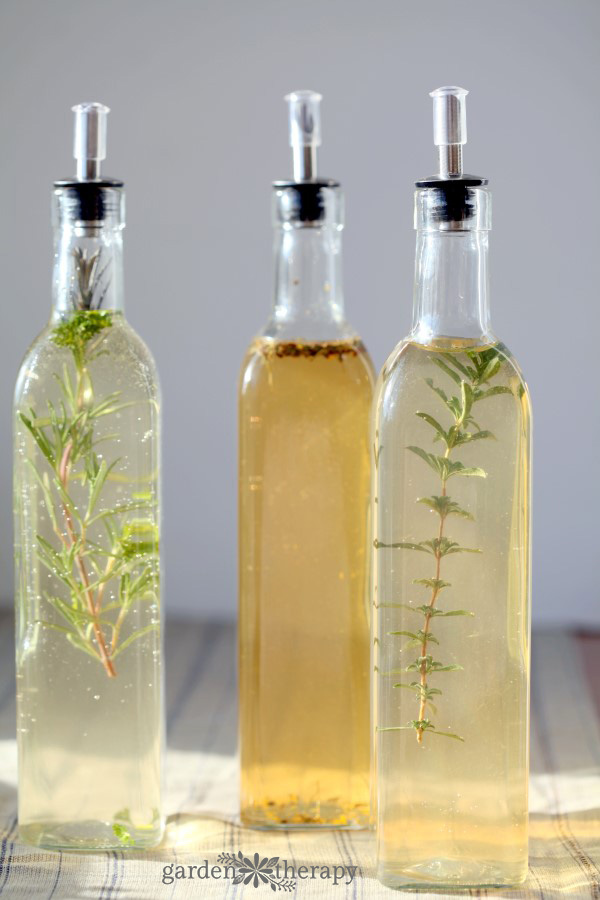 Craft with Herbs
You can always use herbs for crafts as well. The cover of my book, Garden Made, shows that harvested sage and other seasonal garden cuttings like seed heads, flowers, and even garlic bulbs can be turned into a wreath. Here are more of the articles we have shared on Garden Therapy for crafting with herbs:
Make Compound Herb Butter
This is a really yummy way of preserving your herbs. Chop up your favorite fresh herbs (use just one or a combination). Mix a handful of the chopped fresh herbs with ½ cup of softened butter. Scoop the mixture onto a sheet of plastic wrap and use the wrap to form it into a log shape.
Refrigerate wrapped butter for at least two hours before using. Spread this on bread or corn on the cob, add to savory recipes, and use it to fry your morning eggs. Keeps for one week in the fridge.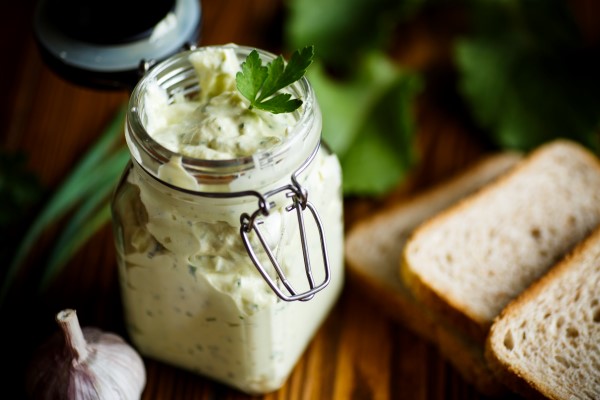 Make Herb Finishing Salt
Culinary salt infused with garden herbs is a wonderful way to maintain their freshness. Try this recipe for Rosemary Lime Finishing Salt, and feel free to substitute in any other herbs of your choosing. The possibilities are endless (and delicious).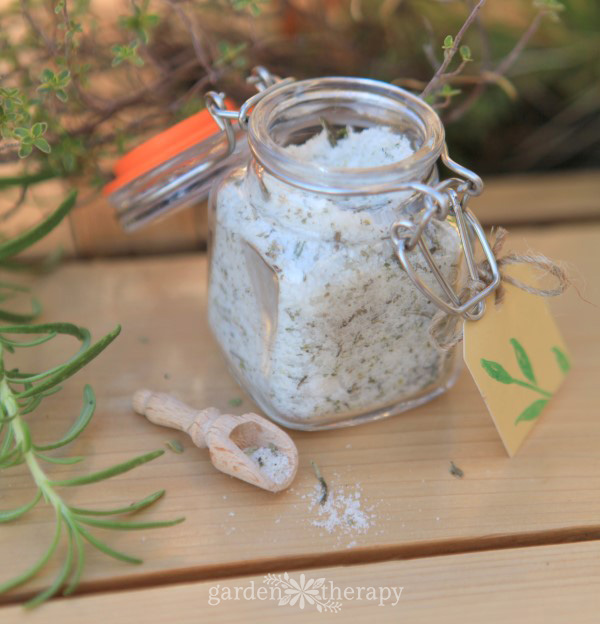 Even More Herbs!
Let's not forget the king of the annual herbs, basil. There is nothing quite like the aroma of sweet basil cut fresh from the garden. Dried basil just isn't the same thing! Basil can be so productive that you may have more on your hands than you know what to do with. This article on 16 Recipes to Use and Preserve Fresh Basil should help.
You might also like this tour of my newly renovated herb garden: A Culinary Kitchen Garden Perfect for Small Spaces.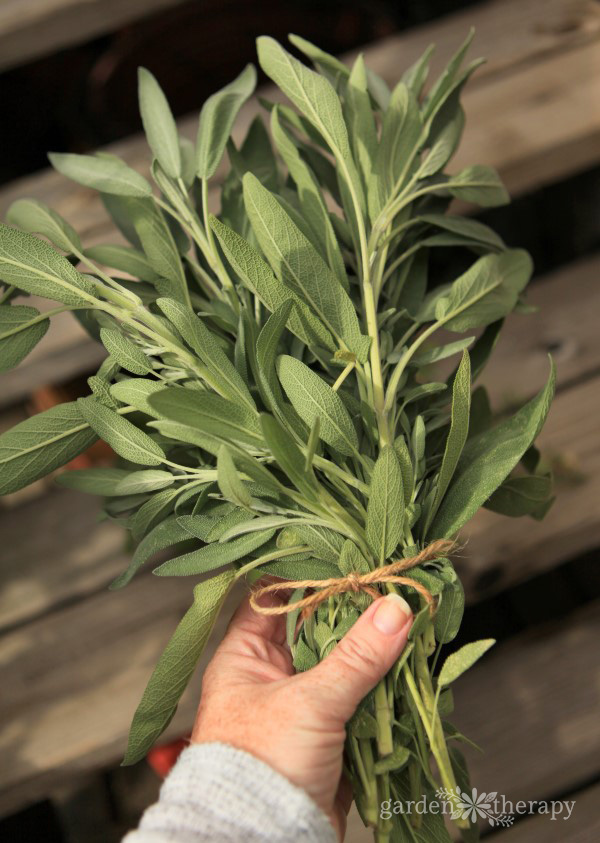 My herb garden is the most rewarding garden I have at home. I'm always looking for new ideas for preserving herbs and using them in recipes. Please share any of your favorite ideas in the comments. I will keep posting ideas as I try them as well.
Keep up with Garden Therapy by signing up for our Newsletter.