An herbal finishing salt is a flavorful condiment and a creative way to preserve the freshness of the herb garden for use throughout the year. Herb finishing salt can be used to flavor fresh vegetables from the garden or garnish your other culinary creations. It is easy to make and packed with aromatherapy, making the preparation process a therapeutic journey in itself.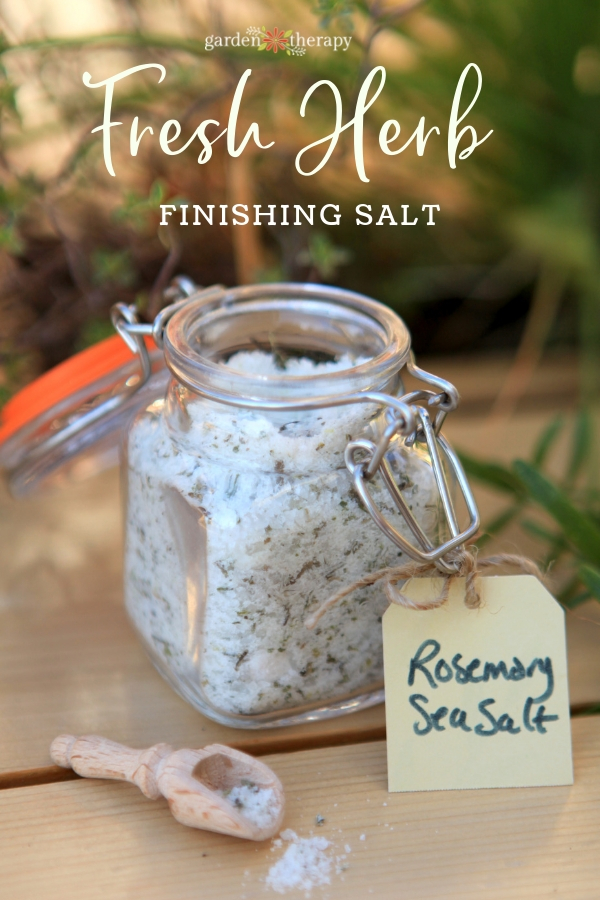 I have had a garden loaded with herbs this year! I renovated my kitchen garden last year and it has taken off like a rocket. I have giant rosemary, sage, oregano, and mint plants that refuse to be contained, a wine box herb garden, and I even planted some pretty little herbs in my table as you can see in this Deck Makeover project. I'm harvesting, preparing, and giving away a LOT of herbs to the point where my neighbors are locking their doors and closing the blinds when they see me coming with an armful of greenery!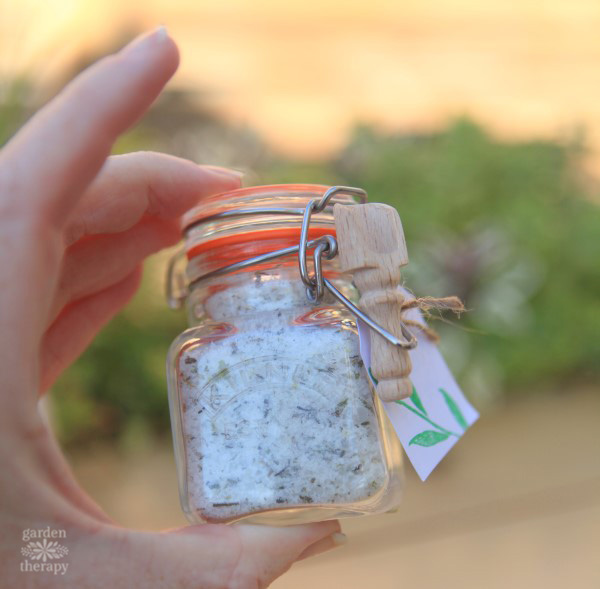 I'm kidding, of course.
They don't seem to mind herb deliveries all that much. How could they? Fresh herbs smell fabulous and have such a large effect on health and well-being.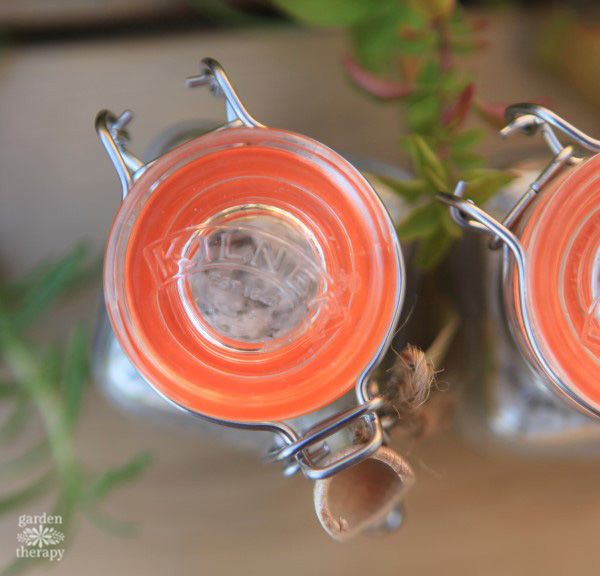 And with so many herbs growing in the garden, a finishing salt is a great way to preserve their flavor and bring it to meals throughout the year.
I made these little jars of rosemary lime herb finishing salt for a Burpee Home Gardens dinner event that I hosted. Thankfully, I had a ton of fresh rosemary because I had to make 25 jars of herb salt. I've pared the recipe down to 10 jars to make it a bit more manageable here, but you can scale it up or down depending on how many jars you want to make in the end.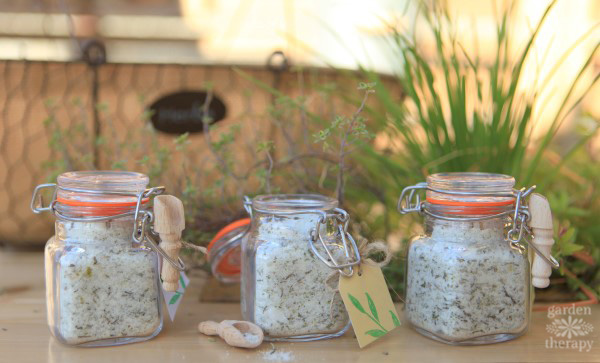 Rosemary Lime Herb Finishing Salt
Makes 10 x 4oz jars
Ingredients
4 cups coarse sea salt
4 cups fresh rosemary leaves
4 large limes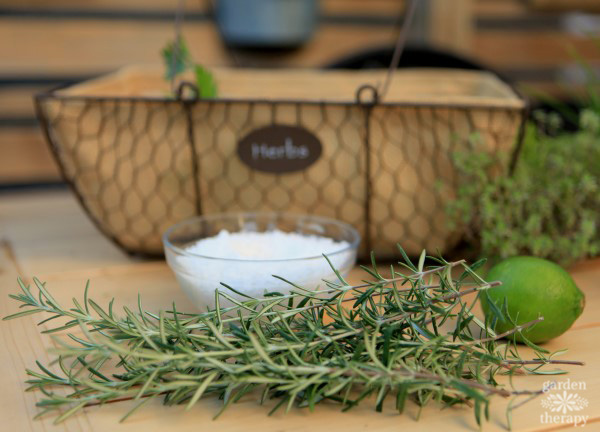 Make it!
Harvest fresh herbs from the garden and use them for this recipe within a week. Dried herbs don't have the essential oils and aroma that make this salt something special.
Remove the leaves from the stems of rosemary. The stems are too woody; you just want the tender green leaves for this recipe. To remove the leaves, pinch the stem at the top with your fingers and hold the top of the sprig of rosemary with your other hand. Pull down on the branch to remove the leaves.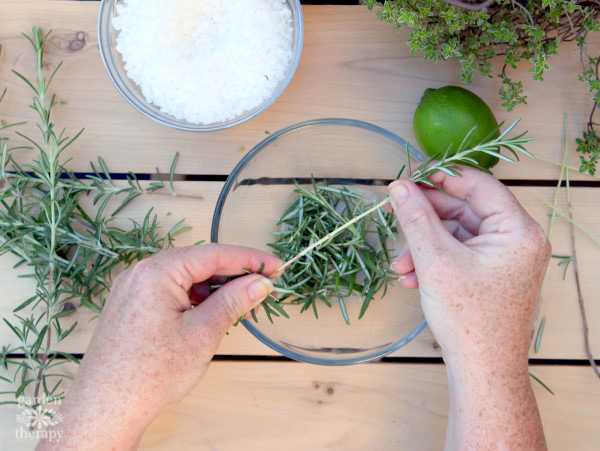 Add the leaves to a powerful food processor or Vitamix blender, or hand cut the herbs finely. I used the dry attachment of my Vitamix and it made quick work of chopping up the rosemary leaves. I went from almost a full blender of leaves to about two cups of chopped-up leaves in seconds.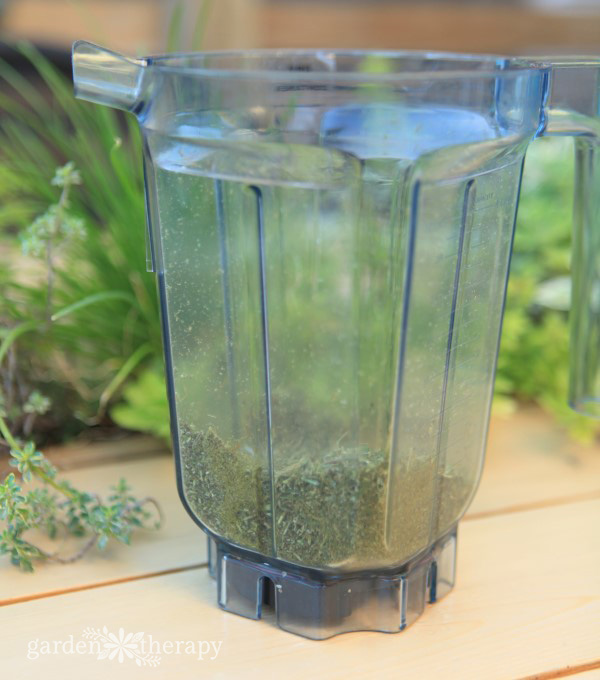 Add the coarse salt to the blender/food processor and pulse to grind up the salt to your desired texture. I like to have a few larger grains of salt in the mix, but at least 80% of it is fine.
Mix the leaves with the salt in a large bowl. Add the zest of four limes and stir. Leave the salt, lime, and rosemary to infuse for another week before packaging up in small terrine-lidded jars.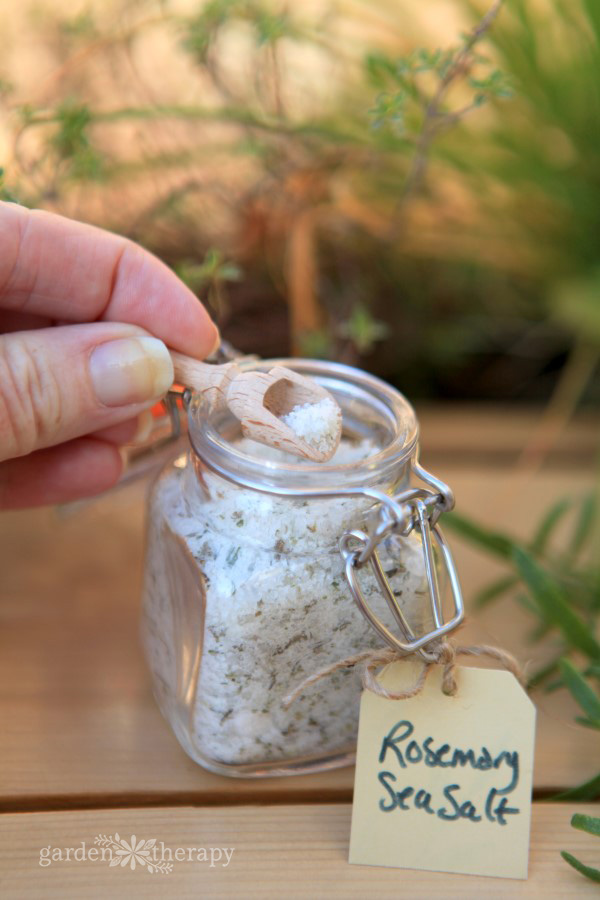 Serve herb finishing salt with a tiny wooden pinch spoon because a) it's cute and b) it keeps fingers out of the salt.
Update: I bought the adorable 1″ wood scoops for $2 each at The Soap Dispensary in Vancouver, BC. They don't sell online yet but according to the website they have an online shop coming soon. I've been looking for an online source of these little scoops but the smallest I can find is these 3″ wood scoops. If I find an online source for the smaller ones, I'll be sure to post it here.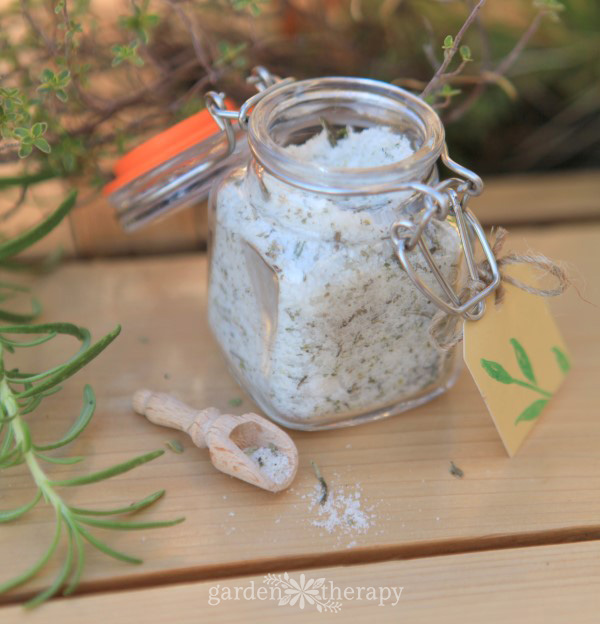 Use a dash of finishing salt on meat and fresh vegetables from the garden to add a little bit of extra freshness and garden flavor to every meal.
More Herb Recipes to Try: