I recently hosted a coloring party with friends, but not the same kind that I used to have as a kid. As a creative person, I can't get enough adult coloring, and I wanted to share it with my friends. We gathered for a fun evening of sipping wine, chatting, and coloring in our favorite books. If you are looking for simple way to get creative with some colleagues, or to add a bit of art therapy to your book club, here are some creative ideas for hosting a hip coloring party that trades in the sippy cup for a wine glass.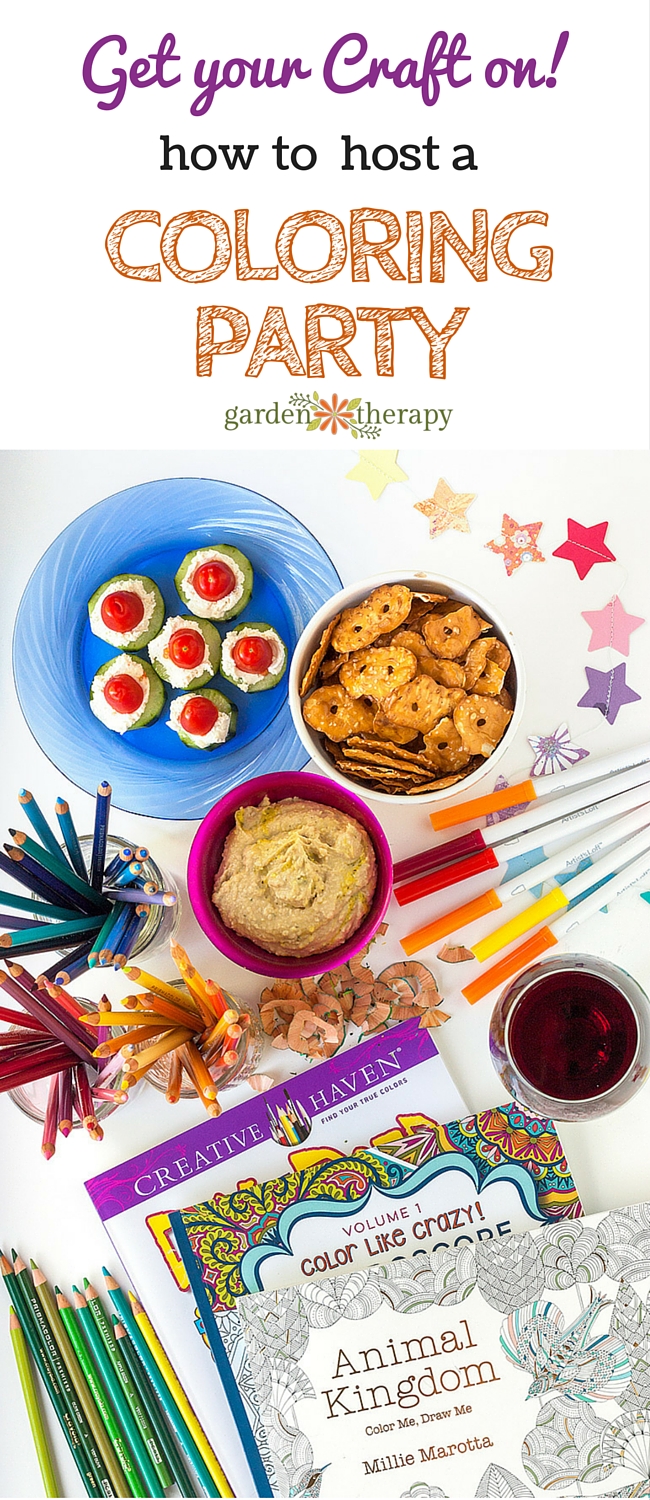 There are many different adult coloring books out there and I must say that I have amassed quite the collection! Bringing those books out for a social event turned out better than I could have hoped. We had a fun, relaxing night full of color. I hope to make it a regular occurrence in my social circle.
Hosting parties is one of my (many) passions. I love planning the food and activities, preparing my home for guests, and adding small details like handmade decorations. Since I'm already planning my next coloring party, I thought I'd share with you a few tips on how to host a fun, colorful evening for friends and family.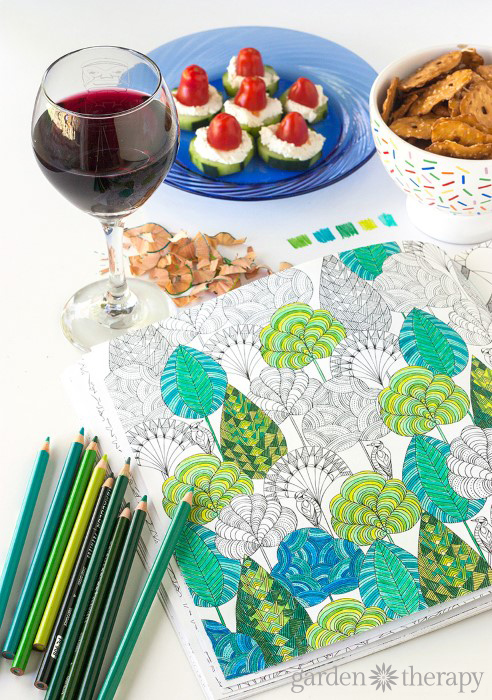 Party Tip #1: Invite Guests
You can make up your own printed invitations, invite friends using a Facebook event, or simply pass the word along via group text message. Whatever method you choose, be sure to invite people to bring their favorite coloring books and tools.
Party Tip #2: Gather Supplies
Before the party, gather up some extra supplies to make available for guests like coloring tools (colored pencils, sharpeners, markers, gel pens, watercolors, etc.). It's a good idea to have some extra coloring books on hand for anyone who might forget to bring their own or wants to try something new.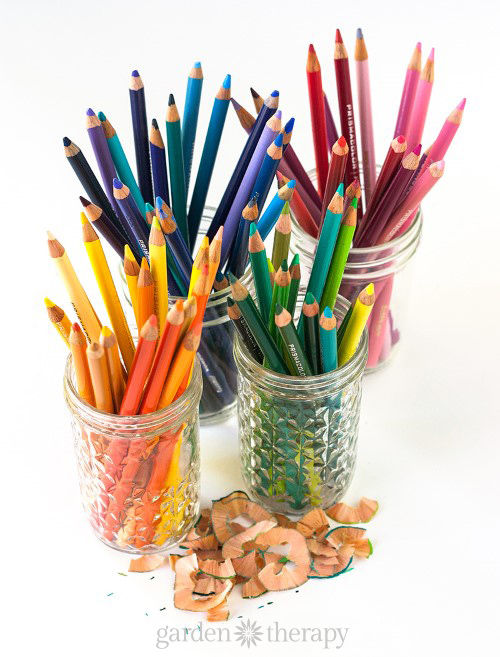 Party Tip #3: Decorate the Table
I've found the best place to color is sitting down at a table where there is plenty of good light. Avoid dark or moody lighting, which can make it difficult for guests to see their coloring pages.
Before setting things up, cover your table with white butcher paper. That way guests can easily test colors and experiment right on the table!
Turn your coloring supplies into pretty table décor. Arrange the colored pencils and/or markers by color and display them in glass jars.
Decorate the room and/or table with a colorful paper garland or place a small bouquet of flowers on the table for people to use as color inspiration.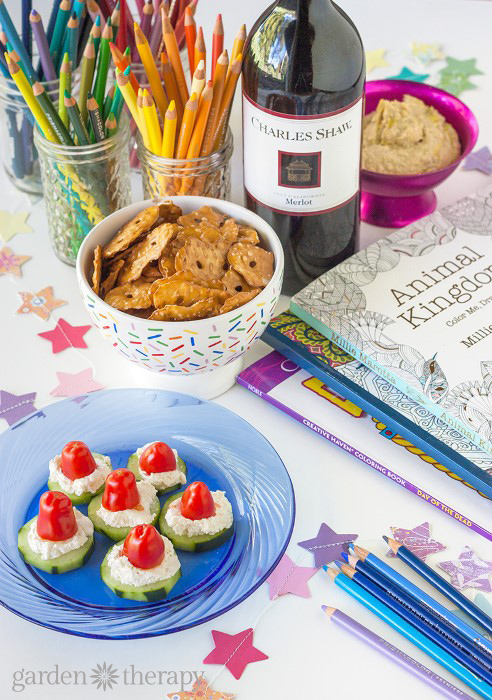 Party Tip #4: Food & Drinks
When it comes to the food, I recommend serving light snacks and finger foods. Avoid anything greasy or drippy (you don't want anyone to accidentally ruin their coloring page!). Continue the 'color' theme and serve vibrantly colored foods like fresh veggies and hummus. You could even make a rainbow theme dessert!
Also, don't forget the wine! It IS an adult party after all. I've found that sipping some wine or a favorite cocktail can help guests relax and become more open to a little fun and creativity.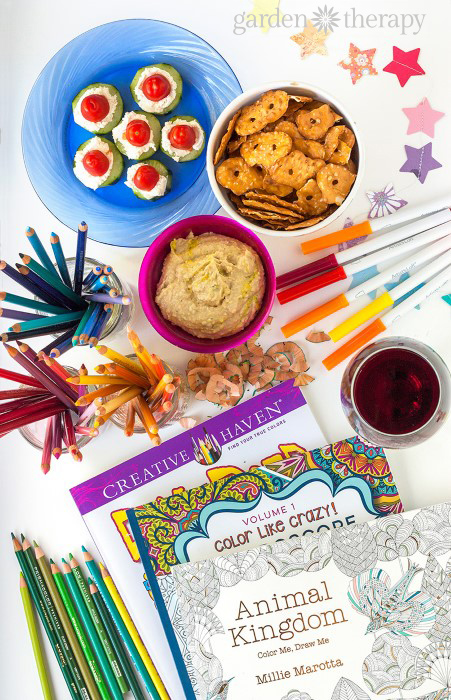 Party Tip #5: Admire Each Other's Work
At the end of the night, ask your guests to pass around their coloring pages so that everyone can admire each other's creative work!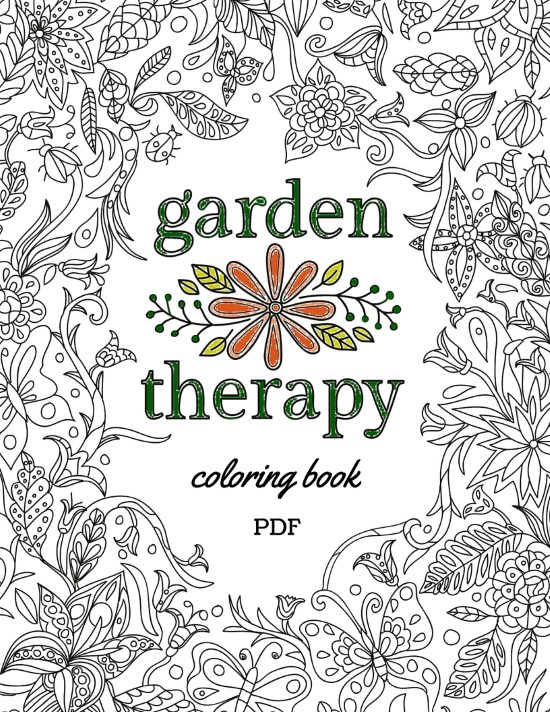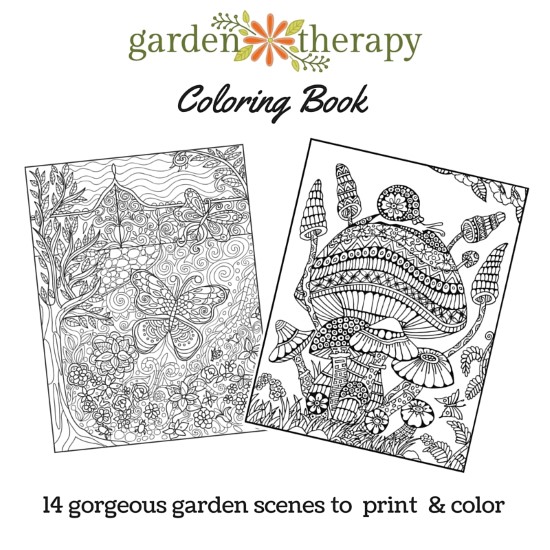 Want more coloring? Yeah, you do!
Get the Garden Therapy Coloring Book here! Created by a gardener for those who LOVE gardening and nature!
Head over here for more ideas on how to Repurpose and Display Your Finished Coloring Pages,including this coaster project.
Hey, I also created a FREE coloring page for you! You can download it here. It would make fantastic coasters!
If your addiction is out of control, you'll need books (see some great ones here) and more FREE coloring pages to download and print.
Want more coloring? Check out this post on How to Color Like a Boss.
And don't forget the Essential List of Supplies for Coloring.