I was floored by the response to the free printable adult coloring page that I posted last week. So far, thousands of avid coloring fans have downloaded it and are coloring their way to stress-free bliss. What I didn't expect was all of the follow-up questions on HOW to color the page and what tools to use.
I love to color, so I put together some tips for coloring, whether you are using a coloring book or a free printable page. This guide covers helpful ideas for coloring, shading, and even embellishing your adult coloring projects.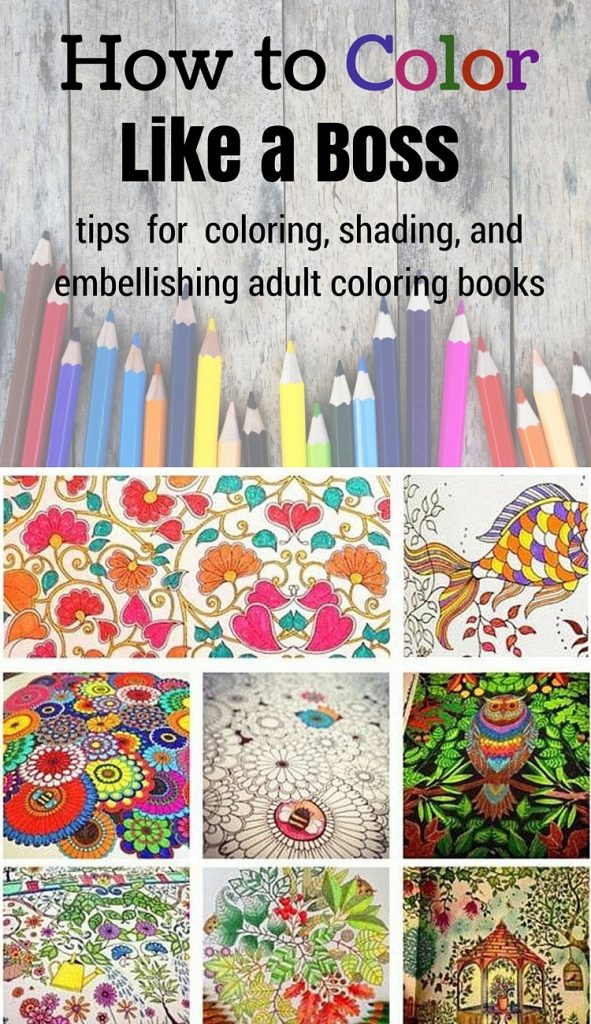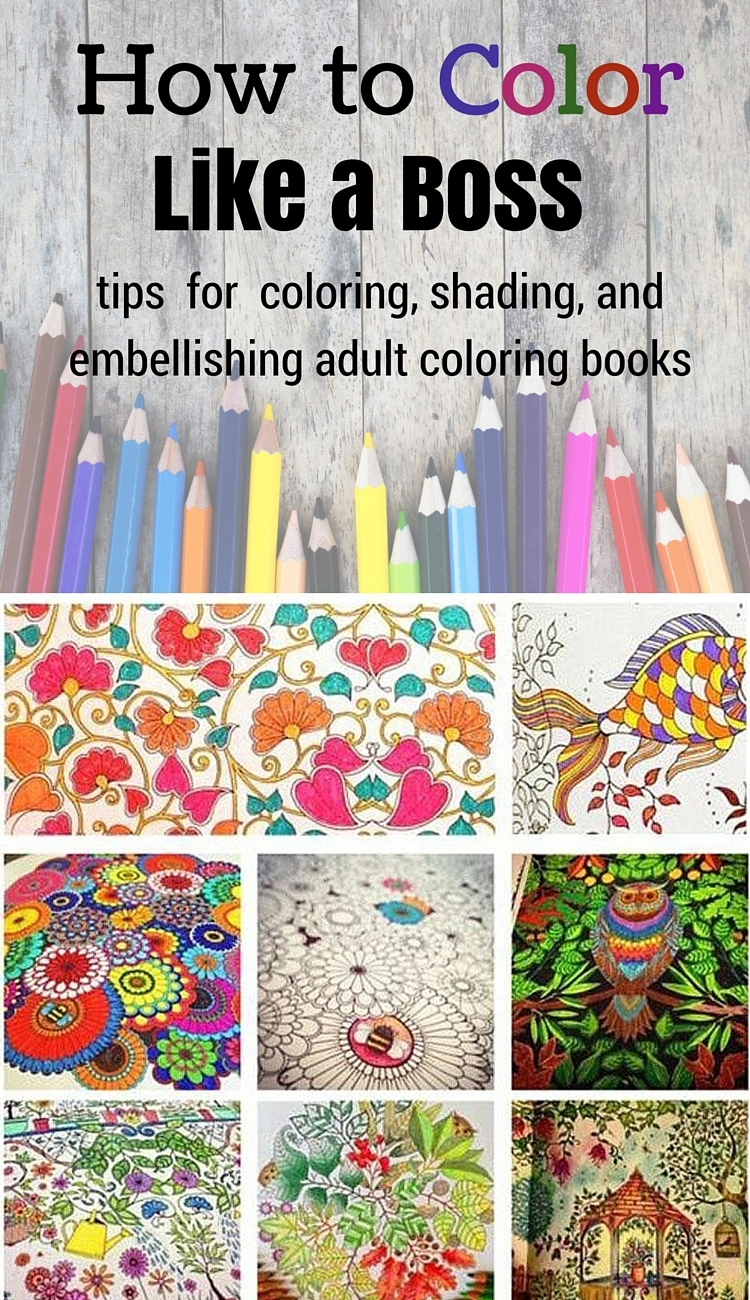 Basic Coloring Tips
Turn your coloring book as you fill in the page, so that the direction of your pen or pencil strokes is at a comfortable angle for your wrist.
Change the angle of your stroke regularly. This will prevent visible lines that can appear when you're coloring in the same direction.
It can be fun to color around the outside of the black-lined designs of a coloring page so that you have some elements that are not just outlined in black.
White space is your friend! Try leaving a little circle of blank space uncolored to achieve the shiny look of eyes or other round objects.
If you're feeling extra creative, use a black felt-tipped pen to add your own designs into a coloring page and then color them in as well.
Blending Tips
If you are using colored pencils, you can mix colors to create the perfect hue for what you're working on. Start with a base by coloring the area lightly with one color, then use the same color to go over it again, pressing a bit harder. Now you can add different colors over it. Experiment on a test page until you get a color you like.
When mixing colors, remember to begin with the lightest color as your base and gradually layer darker colors on top of that, with the darkest shade being the top layer.
If you want your color to have a smoother texture, you can use a special dry blender tool or fold up a paper towel and rub it over a colored area to blend it.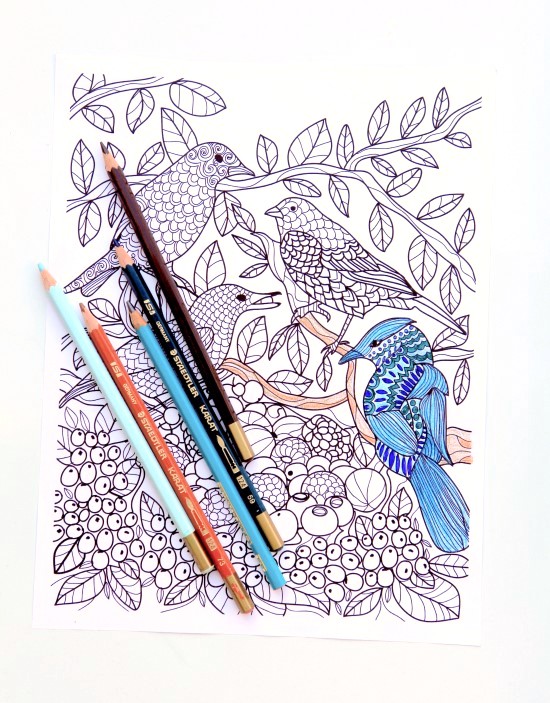 Shading Tips
To make a shape look full and round, color the edges darker than the center by pushing harder on the pencil.
It might be your instinct to use black to add shadows on an object, but don't—it will look too harsh. Instead, use a darker version of the object you are shading or a complimentary color.
For shadows on the ground below an object, smudge a bit of gray underneath the object.
For elements of the design that overlap, shade the bottom shape darker to draw attention to the layering effect.
To create highlights when using colored pencils, you can use an eraser to pick up some of the pigment and fade the color.
Embellishment
You can add all sorts of things to your coloring book! Get creative and add dollops of acrylic paint in metallic shades, add a layer of glitter over your art, glue on sequins, rhinestones, or other flat embellishments. Add absolutely anything you want. After all, this is your coloring page and nobody is telling you that you have to stay within the lines anymore.
While you are at it, here are some more resources for coloring aficionados like you and me. Of course, all of these are inspired by my love of gardening. From organic shapes to woodland creatures, there is so much inspiration! Oh, and there are many gardens to color too. These books will take you away to the garden even when it's under a blanket of snow, or when it's blooming and buzzing and the perfect place to sit down and color.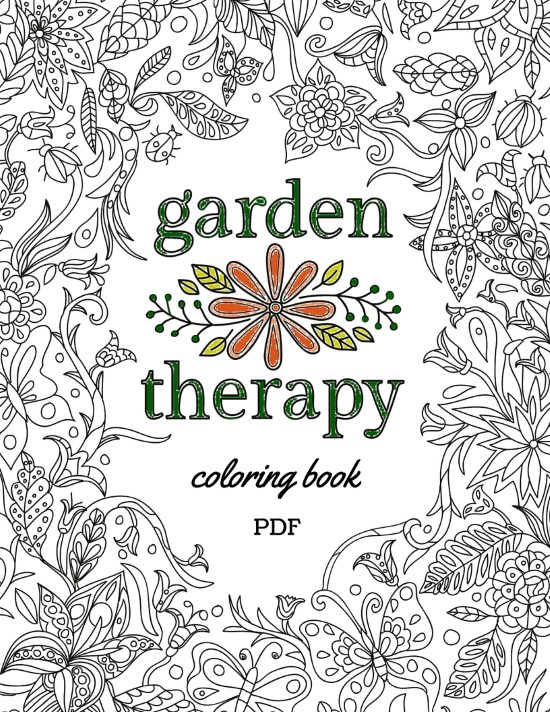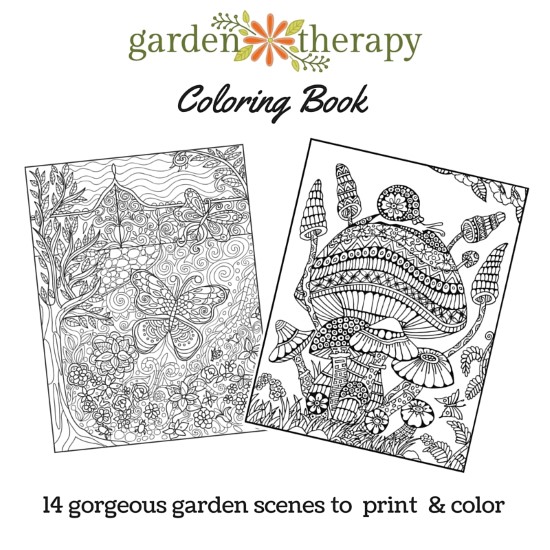 Want more coloring? Yeah you do!
Get the Garden Therapy Coloring Book here! Created by a gardener for those who LOVE gardening and nature!
Head over here for more ideas on how to Repurpose and Display Your Finished Coloring Pages including this coaster project.
Hey, I also created a FREE coloring page for you! You can download it here. It would make fantastic coasters!
If your addiction is out of control, you'll need books (see some great ones here) and more FREE coloring pages to download and print.
Want to shake up book club or girls night? Come on, Get Crafty: Host an Adult Coloring Party!
And don't forget the Essential List of Supplies for Coloring.