If there's one way to enjoy your shishito peppers, let it be this. Pickled shishito peppers will be your new favourite snack that you just can't help but eat up every time you open a jar. Once pickled, shishito peppers have a whole new flavour profile that's mildly spicy, tangy, and full of vinegary deliciousness. Let's get pickling!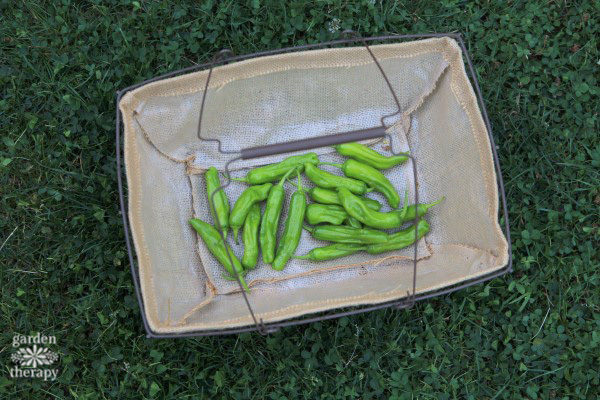 When it comes time to harvest your shishito peppers, you'll quickly notice just how prolific of a grower the plant is. While I love eating my pickles fresh, the reality is you may find yourself with more peppers than you know what to do with.
That's where the pickling comes in! You can easily pickle your shishito peppers as you harvest them so that you can enjoy the tasty treat well into the winter when the plant has come and gone.
Before you get pickling, be sure to check out my shishito pepper growing guide with tips on how to properly harvest and eat shishito peppers.
Jump ahead to…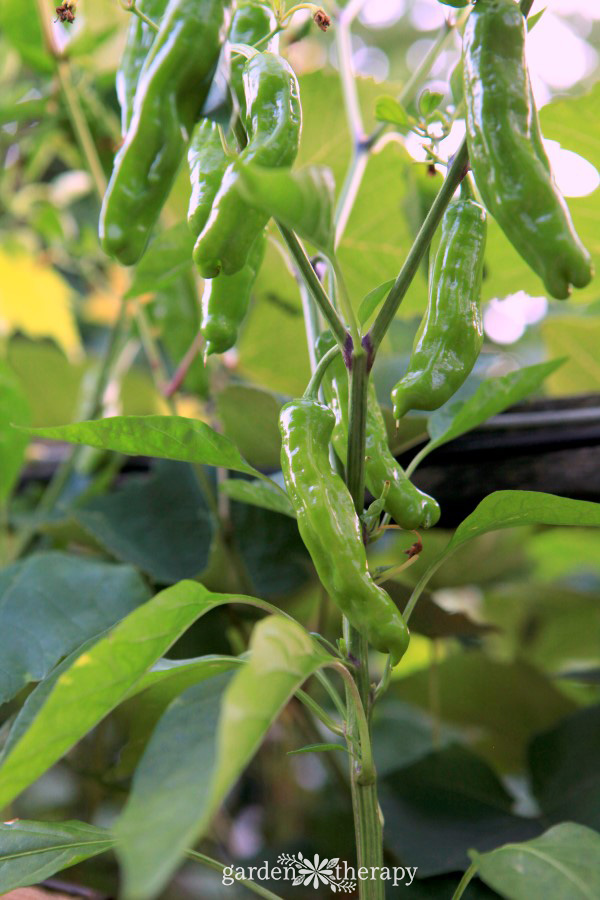 How to Pickle Shishito Peppers
Below you'll find my pickled shishito pepper recipe. For my pickling, I use a classic vinegar brine followed by a water bath canning. This method allows the pickled shishito peppers to have an extremely long shelf life and won't require refrigerating until opened.
The basic recipe is below, but feel free to mix it up by adding your own spices and fresh herbs. If this is your first time canning, be sure to check out this post for more information.
Ingredients
For exact measurements, refer to the recipe card below.
Jump to Recipe
Make It!
Bring vinegar, water, and grated garlic to a boil in a small saucepan.
Pack a clean 1-cup Mason jar with five to six shishito peppers, stem side up.
Strain the vinegar mix and pour into the jar, covering the stems with at least 1/4″ headspace.
Process in a boiling water canner for ten minutes. Pickles are ready in three weeks and will last for up to one year.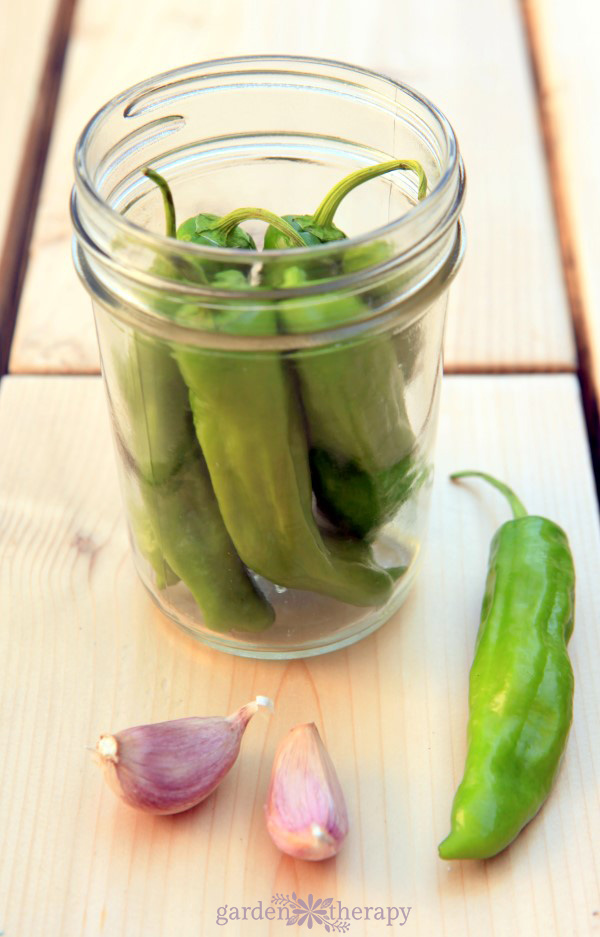 How to Use Pickled Shishito Peppers
Once I open a can of pickled shishito peppers, it's not in my fridge for much longer. They're such a tasty snack all on their own that I find I munch one or two every time I open my fridge. Pickled shishito peppers look as amazing as they taste when on display on a charcuterie plate.
You can also use them as a yummy topper much the same way you would use pickled asparagus or onions. Place them on pizza, atop a burger, or on a sandwich for some extra tangy flavour.
Reheating shishito peppers is another option, using them as a side alongside protein dishes like chicken, pork chops, or tofu.
Perhaps my favourite way to enjoy the pepper is as a garnish for a bloody Mary. And luckily for you, I don't keep secrets here on Garden Therapy! Here's my recipe for making my own garden-inspired bloody Mary featuring shishito peppers.
Bloody Mary Ingredients
Makes 2 servings
1 cup tomato juice
The juice of 1/2 lemon
1/2 tablespoon Worcestershire sauce
1/2 teaspoon peeled and finely grated fresh horseradish
1/2 teaspoon kosher salt
3 oz vodka (omit for a non-alcoholic mocktail)
Pickled shishito peppers
Lemon slices
Make a Bloody Mary
Mix the first five ingredients together to make Bloody Mary mix.
Pour the celery salt into a saucer or shallow dish. Make a cut in the middle of the lemon slices so they can fit on the run of the glass. Run the slices around the rims of the glasses and dip them into the celery salt.
Fill the glass with ice. Pour 1 1/2 ounces of vodka into each glass (or omit the vodka if making a mocktail). Pour the Bloody Mary mix over the ice. Put the lemon slices on the rims of the glasses and pop a pickled shishito pepper into each glass.
Cheers!
Frequently Asked Questions About Pickled Shishito Peppers
Can you ferment shishito peppers?
Canning shishito peppers and fermenting them are two different things. In fermenting, you focus on getting rid of bad bacteria while encouraging good bacteria. In canning, you focus on killing microorganisms so that it doesn't spoil.

That being said, you can certainly ferment shishito peppers. You can follow my fermented deli pickles recipe here and simply apply it to your peppers instead.
Do you remove seeds from shishito peppers?
There's no need! Save yourself some time and just leave the shishito peppers in while you pickle and eat them. The seeds are quite tender and not overly spicy like other peppers.
Are shishito peppers hotter than jalapeno?
On the Scoville rating, shishito peppers range from 100 to 1,000 Scoville heat units. However, jalapenos range from 2,500 to 8,000. It's not nearly as spicy as jalapenos!
You've officially been warned! Once you start eating these pickled shishito peppers, you won't be able to stop. Let me know how they turn out in the comments down below!
More Pickle Recipes to Make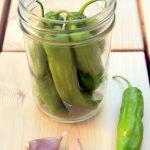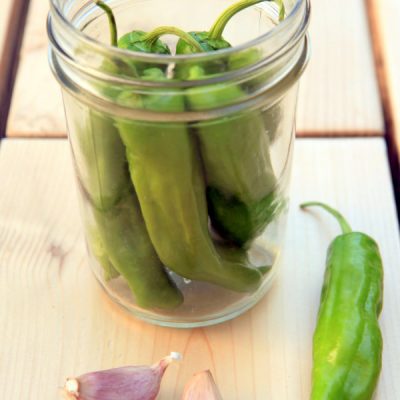 Print Recipe
Pickled Shishito Peppers
Makes one can of peppers. Add in your own herbs and spice to customize the flavour!
Instructions
In the saucepan, bring the vinegar, water, and garlic to a boil.

Stem side up, pack in the shishito peppers into the Mason jar.

Strain the vinegar mix while pouring it into the jar. Make sure to leave 1/4 inch headspace from the top.

Process the jar for 10 minutes in a boiling water canner. Enjoy the pickled shishito peppers after 3 weeks and consume within a year.
Nutrition
Serving:
1
pepper
|
Calories:
12
kcal