You heard it here first: homemade soy candles are totally worth the hype! Making your own soy candles allow you to burn only quality ingredients while also customizing your candles exactly to your liking. Try this recipe on how to make soy candles at home. You'll never purchase another candle again!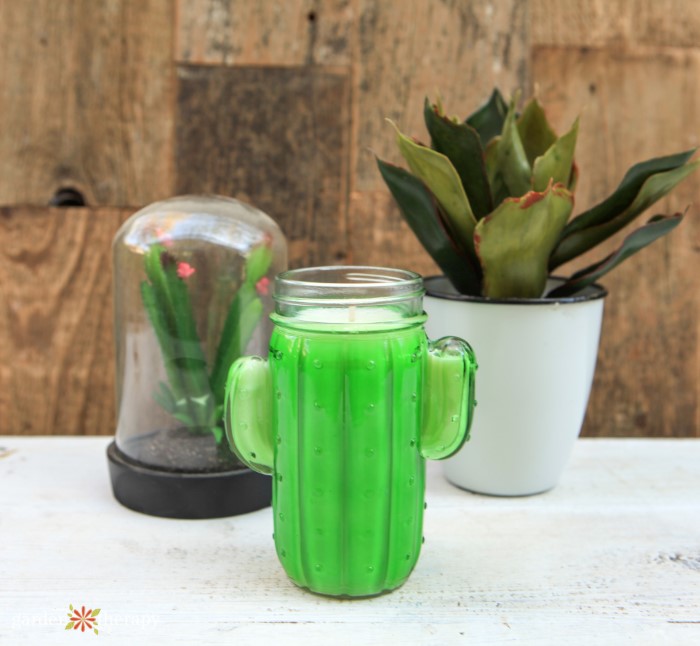 Candles are so luxurious. Whether you're brightening up the scent in your home or just enjoying a moody flame, candles have the ability to make a space feel special. I find that candles add a little bit of flair that goes a long way in your space.
Personally, I love making my own soy candles. The process is super easy and intuitive. Plus, making soy candles at home allows me to customize them to fit my space.
You can choose the scents you want to mix and match with your soy candle. You can also choose your own containers that add even more to your space's ambiance.
I saw these adorable cactus jars and knew I had to try out a new candle recipe with them. Learn how to make soy candles at home and see what all the hype is about!
Jump ahead to…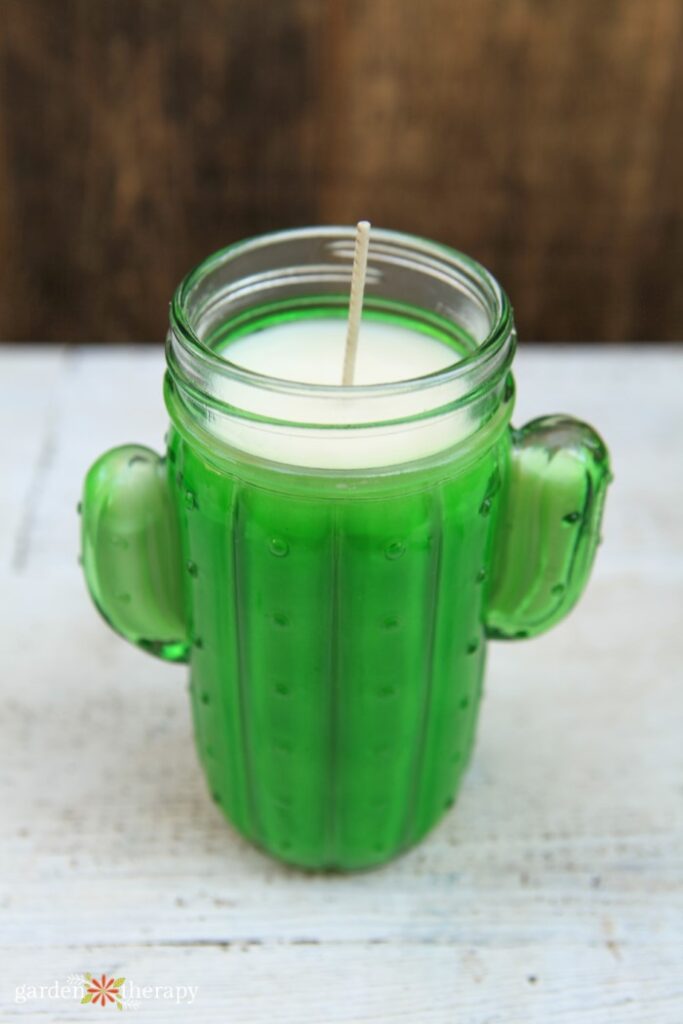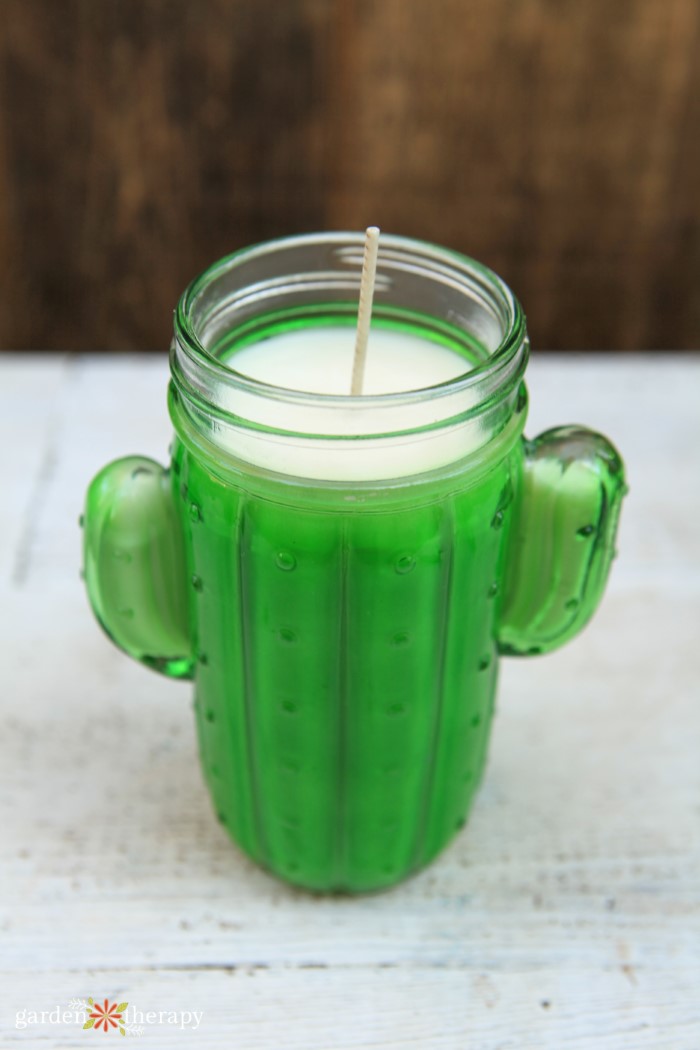 What's The Big Deal About Soy Candles?
I'm sure you've heard about soy candles by now. If not, you're doing a good job at staying away from your home and garden store. Soy candles are super popular right now and for good reason!
If you're anything like me, you're probably critical of the items that you buy and bring into your household. Many household products can cause potential harm to us and our loved ones–this actually includes many common candles.
Depending on what your candle is made of, it can produce harmful chemicals that when melted down, are released into your home. Traditional paraffin-based candles are not a good option; they can be toxic when burned!
I will always choose the natural alternative. Natural candles, such as soy wax candles, produce less soot and potentially toxic chemicals that you don't want flying about your home.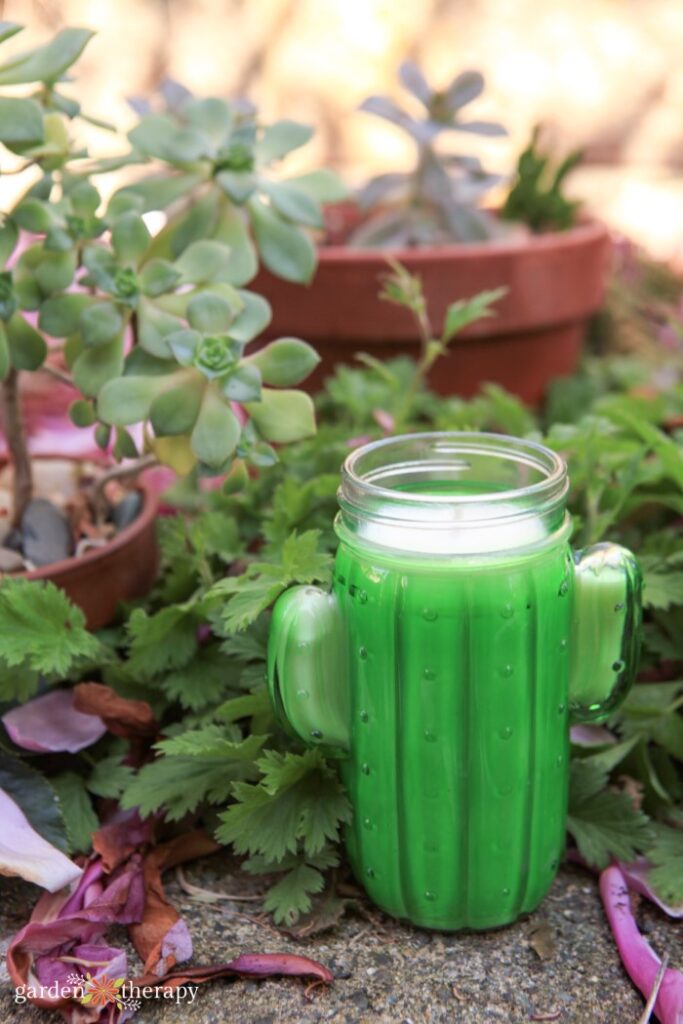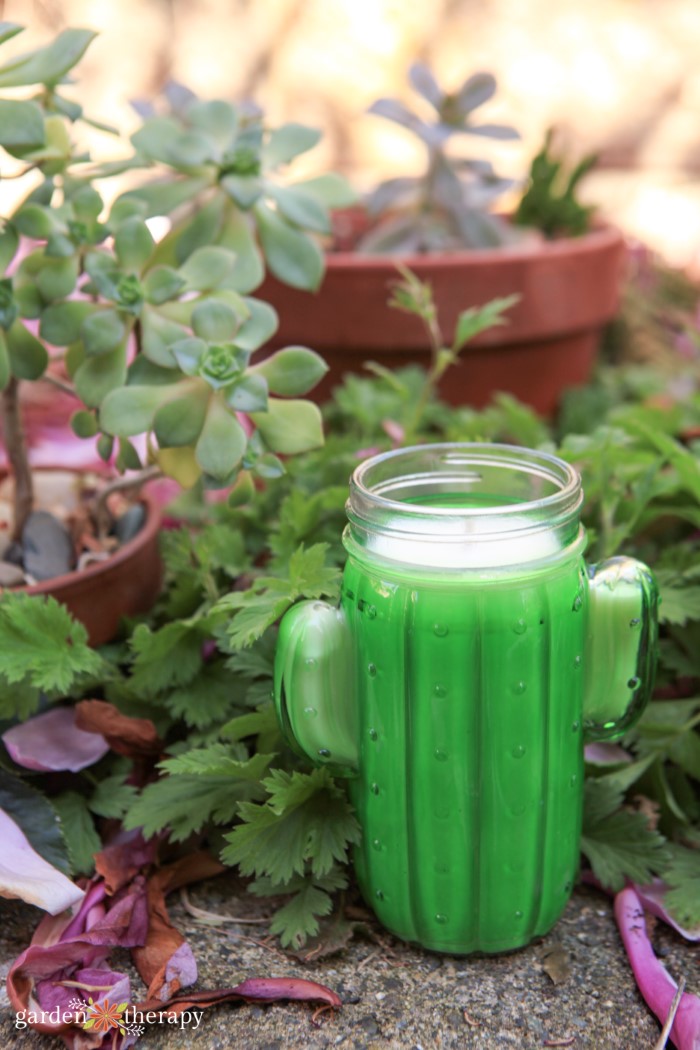 How to Make Scented Candles
The scent you add to a candle really makes the project shine! You can evoke different moods with your candle depending on the type of scent you choose.
The easiest way to make scented candles is by adding your favourite essential oils. Not all essential oils are the same, meaning, they won't all work well in a candle.
Some essential oils simply won't smell strong enough when burned in a candle. Not all oils can handle heat; some tend to quickly steam away.
When choosing an essential oil, think of strong, noticeable scents that are sure to last. I love incorporating oils such as eucalyptus, sweet orange, and lemon. Spicy scents such as cinnamon also work great in candles!
Additionally, you can add citronella oil to your candles to create a natural bug repellent!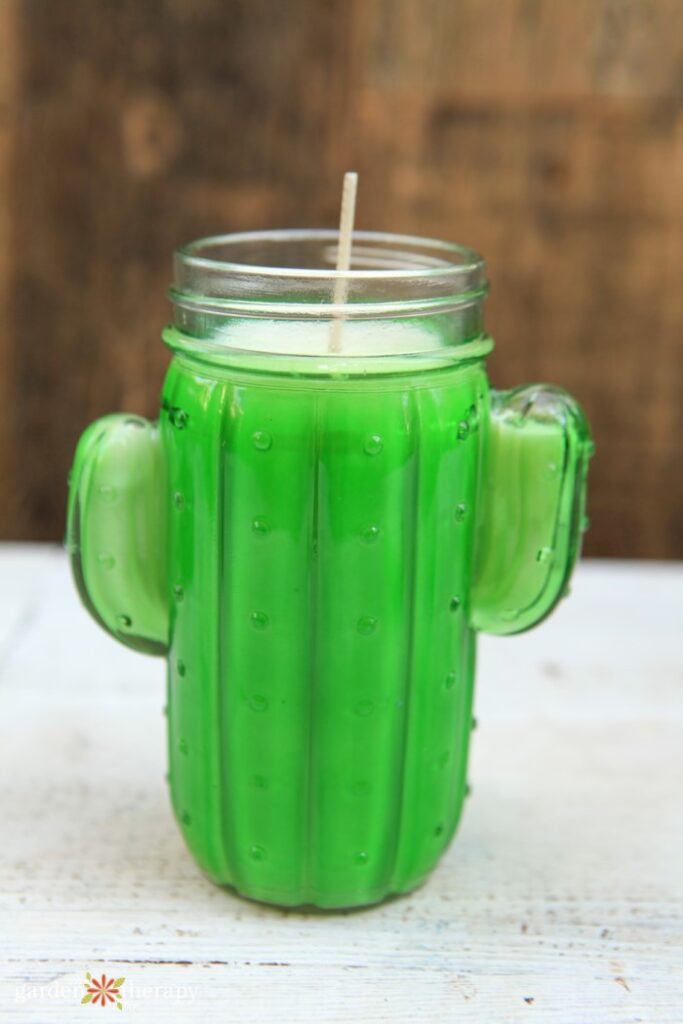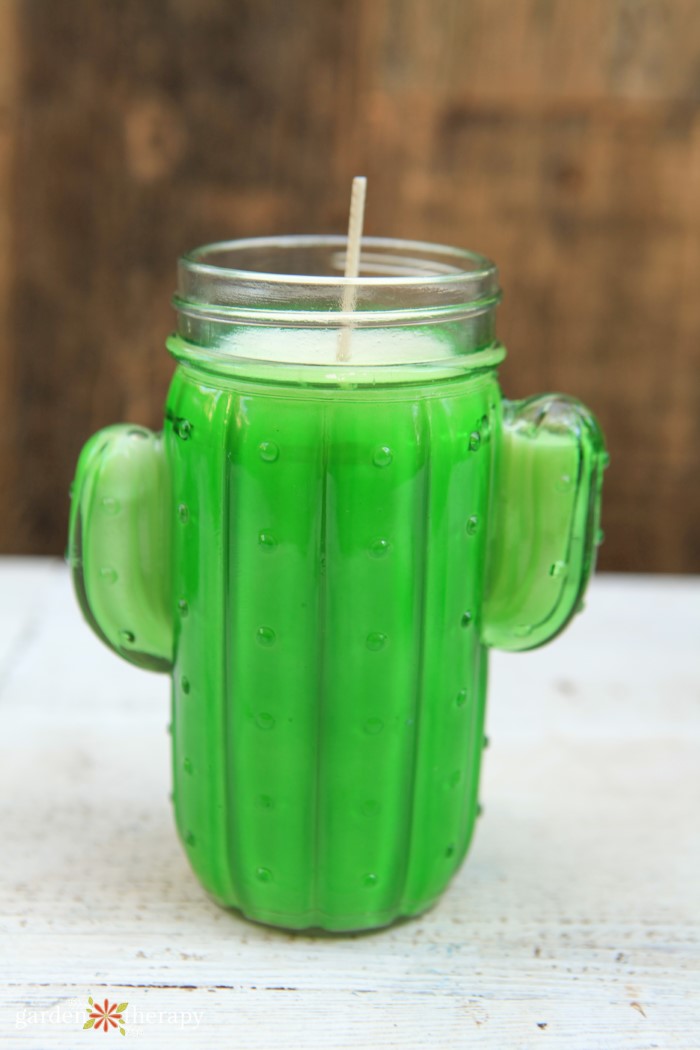 How To Make Soy Candles
For my container, I decided to make them in these adorable glass cactus jars. They're perfect for summer, burning outside on the patio or even while you have a soak in the tub after a day out in the sun.
Materials
Heat-safe container (I used these glass cactus jars, but you can simply grab a regular mason jar too)
Soy wax for the container candles
Heat-friendly essential oil of your choice
Equipment
Paper cup
Chopsticks or clothespins
Make It!
Use hot glue to affix the wick tab to the bottom of your candle container at the very centre.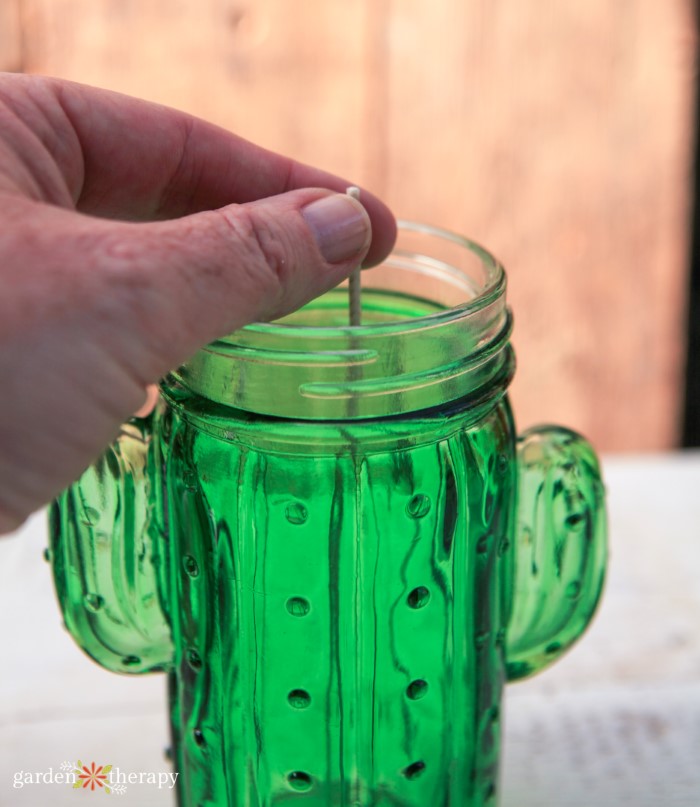 Melt the soy wax in the double boiler and bring it to 160 degrees Fahrenheit (71 degrees Celsius).
Let the wax cool slightly, then add your chosen essential oil and stir well.
Cool to 140 degrees Fahrenheit (60 degrees celsius) and pour into the container until it is ½ inch (1 cm) from the top.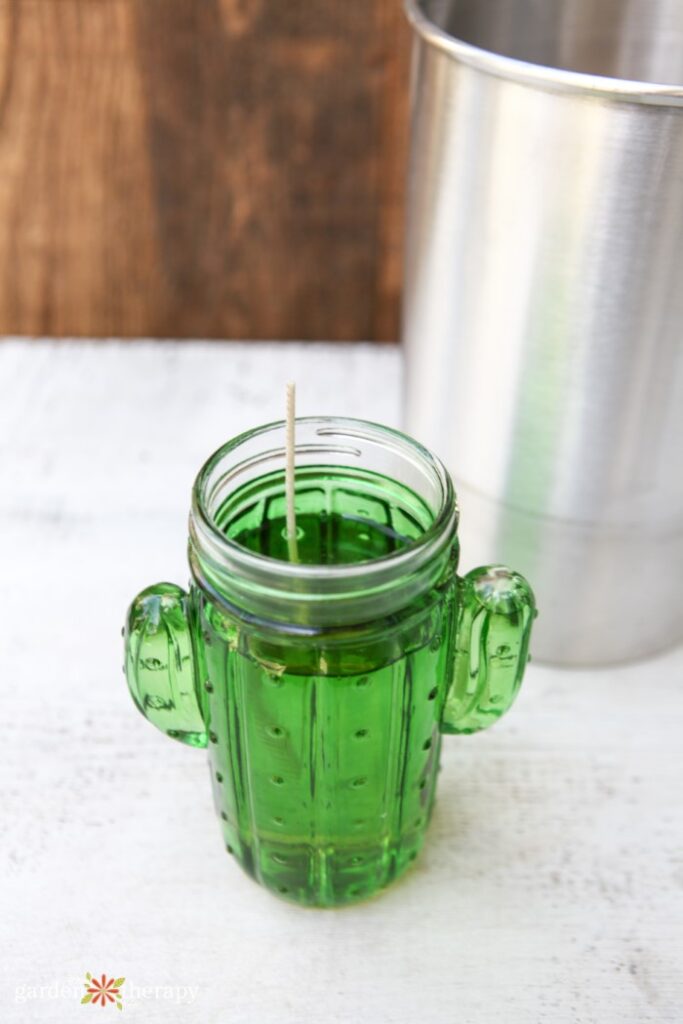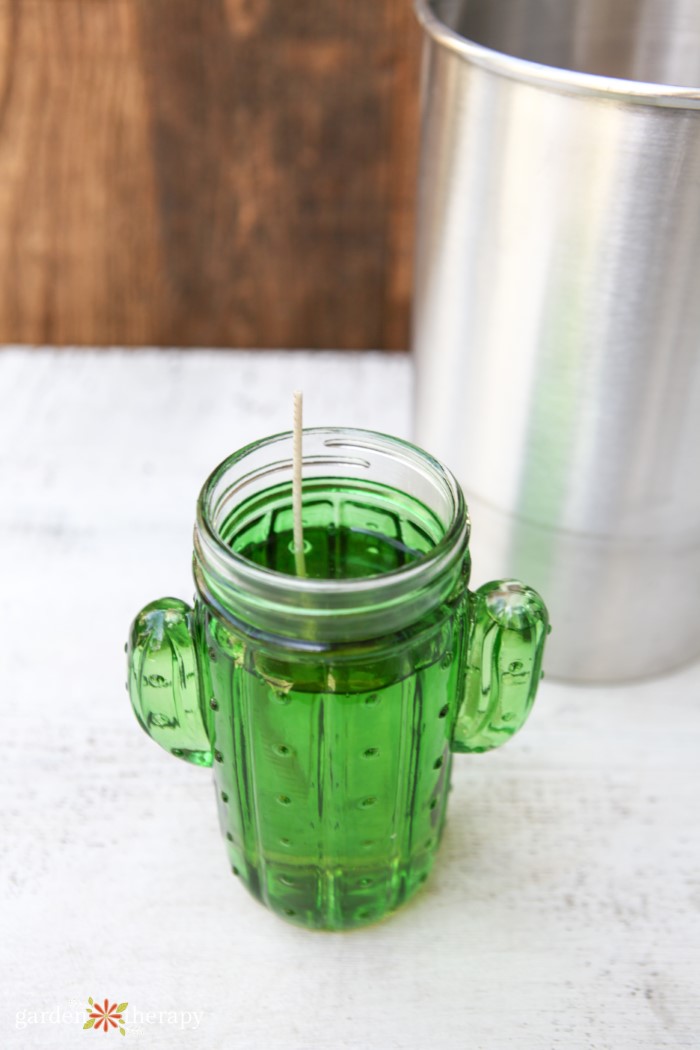 Prop the wick up straight with chopsticks.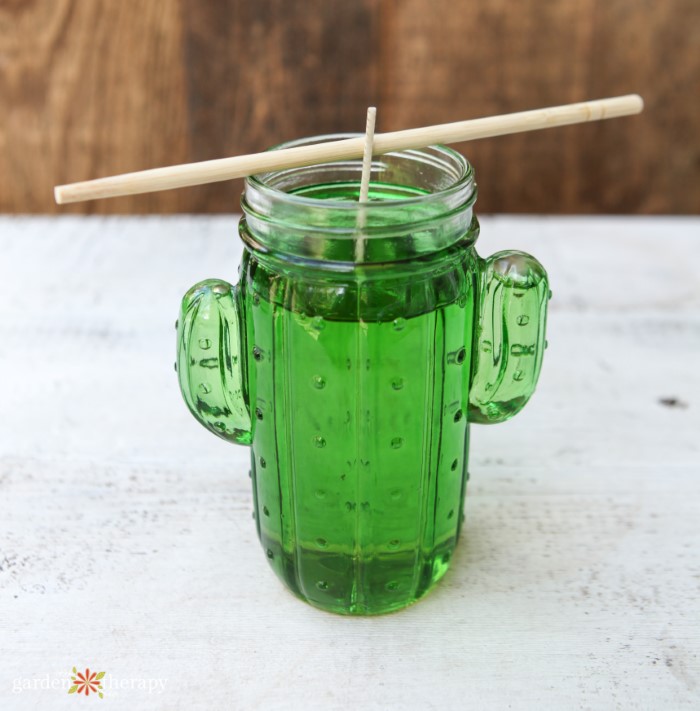 Allow the wax to dry completely untouched in a warm room. When dry, trim the wick to ¼ inch (0.6 cm) above the wax.
Note: Be sure to set the candles on a heat-proof base to protect surfaces from heat or leaks when burning.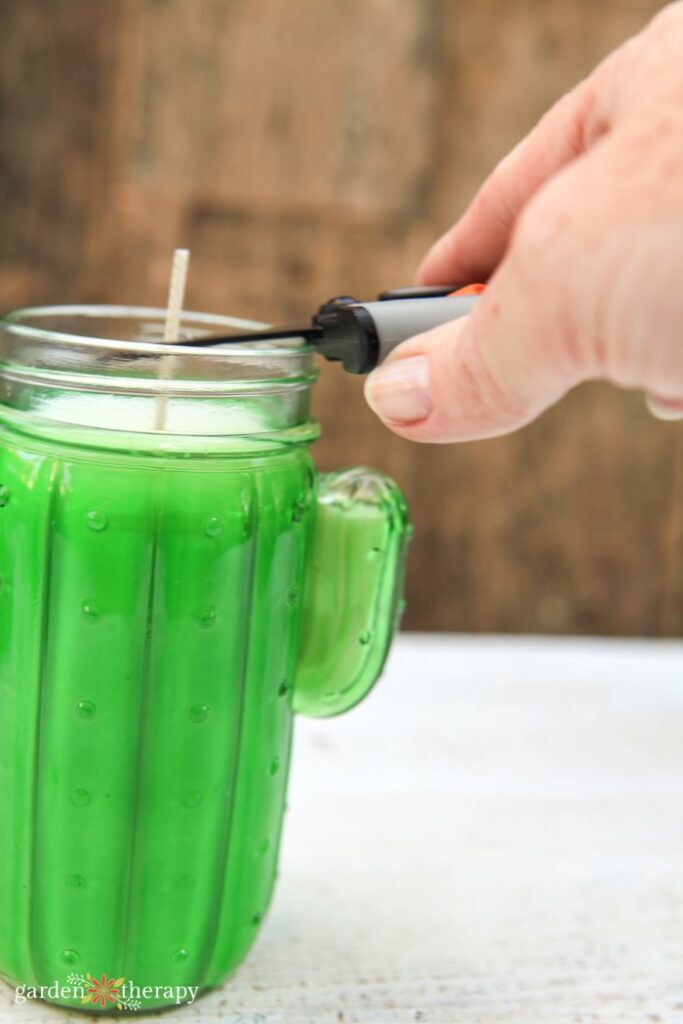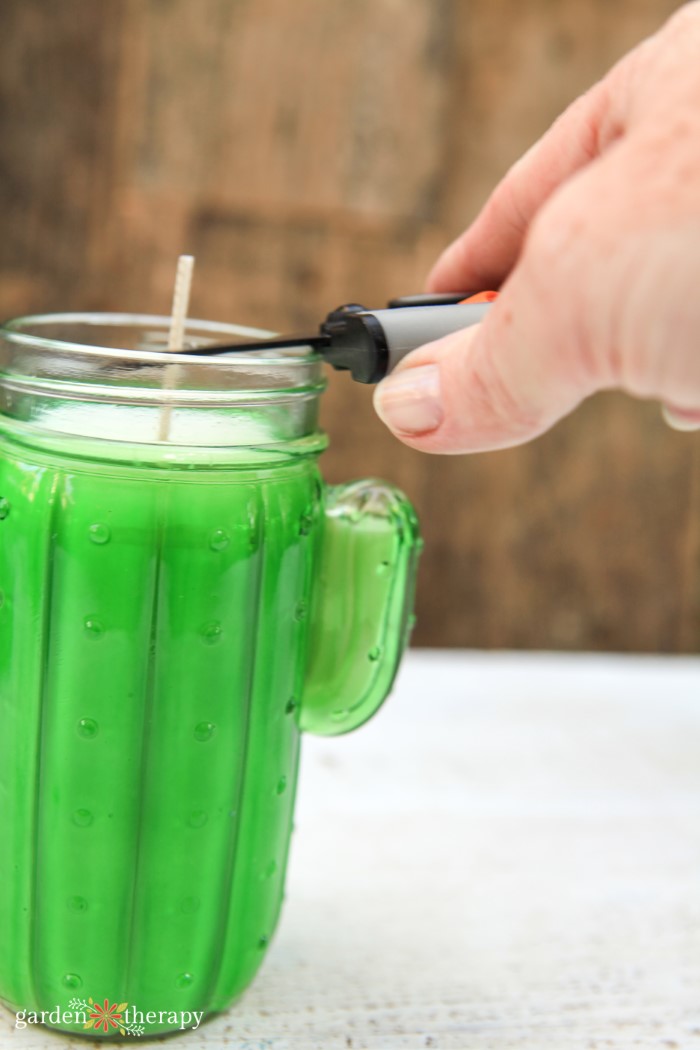 Frequently Asked Questions About Soy Candles
What are the benefits of soy wax?
Soy wax is an all-natural base for your candles. You have to be super careful about what you're burning because you're going to be inhaling at least some of the smoke it produces!

Soy wax candles are non-toxic, all-natural, and produce a clean and slow burn. They produce less soot than traditional paraffin-based candles and even last longer!
Is soy or beeswax better?
I'm an advocate for natural candles. Period. Beeswax candles produce a lovely, natural scent that many people love. It also gives off a warmer, yellowish light that is similar to sunshine. Beeswax, however, is not a feasible choice for vegans as it does of course come from bees. 

Soy candles are vegan-friendly. I also find them extremely versatile in the ways I can customize the scent. Soy candles produce a whiter light, similar to fluorescent light. Soy candles are also the more affordable option as beeswax tends to be a little more pricey.

The verdict: both are great options. It is just a matter of preference!
What containers can I use for candle making?
While you have many options when choosing a container to house your new candle, you need to make sure that it is heat-resistant! This means they won't crack, leak, or catch on fire! 
For example, one of my favourite uses for an old canning jar is to repurpose it as a candle. 

You can use a variety of containers made of glass, cast-iron, and oven-safe ceramics. When in doubt, safety first! Check to make sure your container is heat-safe, first. You don't want to learn the hard way.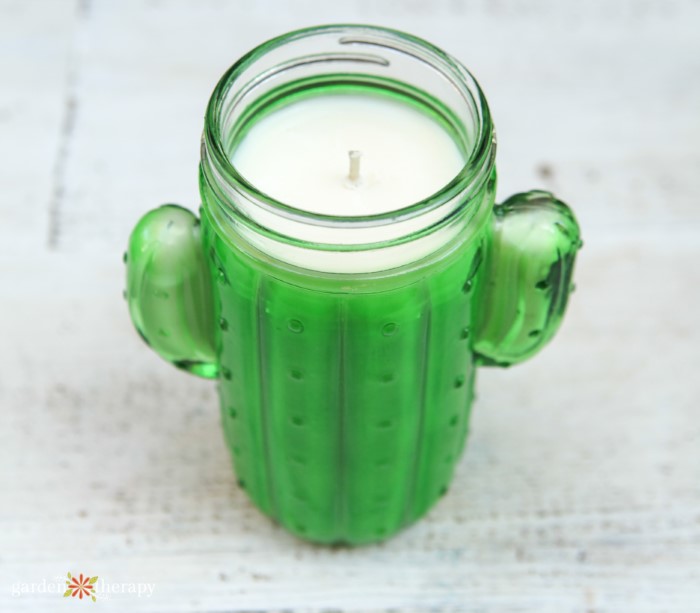 How can I make my candle's scent stronger? 
There are a few ways to make sure your candle is emitting maximum scent. 

When you're making your candles, don't add your essential oils too early (when the wax is still piping hot!). The fragrance will steam away and leave you with a dull-smelling candle. Let the wax cool a bit before adding fragrance. 

You may also need to experiment with the amount of fragrance you're adding. If your candles aren't as fragrant as you'd like, try adding more essential oil next time!

Lastly, a candle topper can help you achieve the level of fragrance you want in a room. The topper will help your candle to burn faster and more evenly which helps diffuse the scent.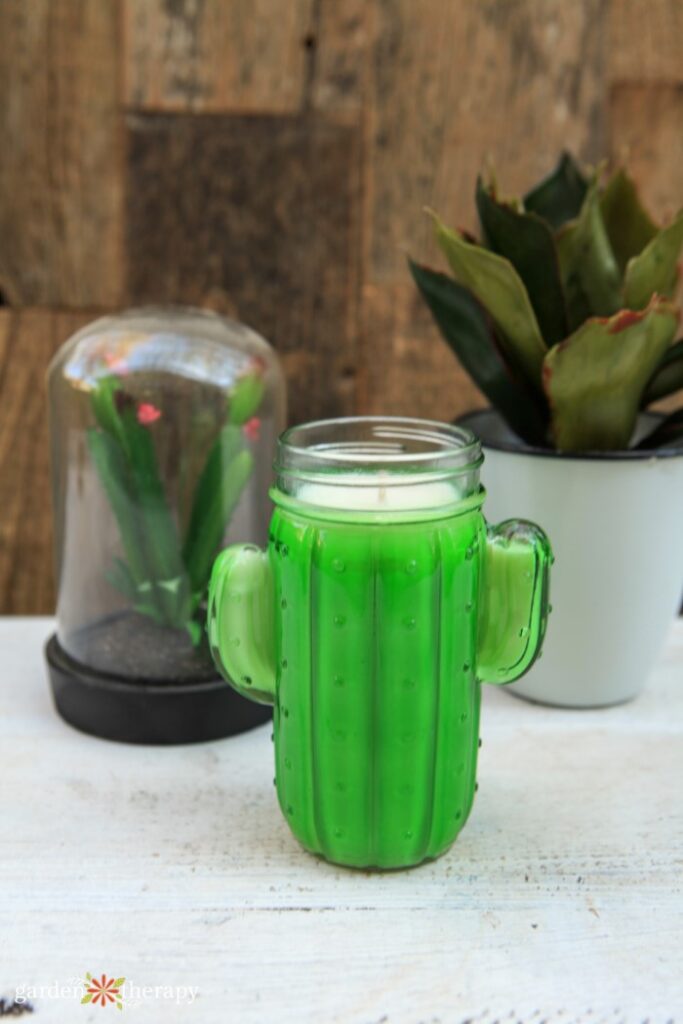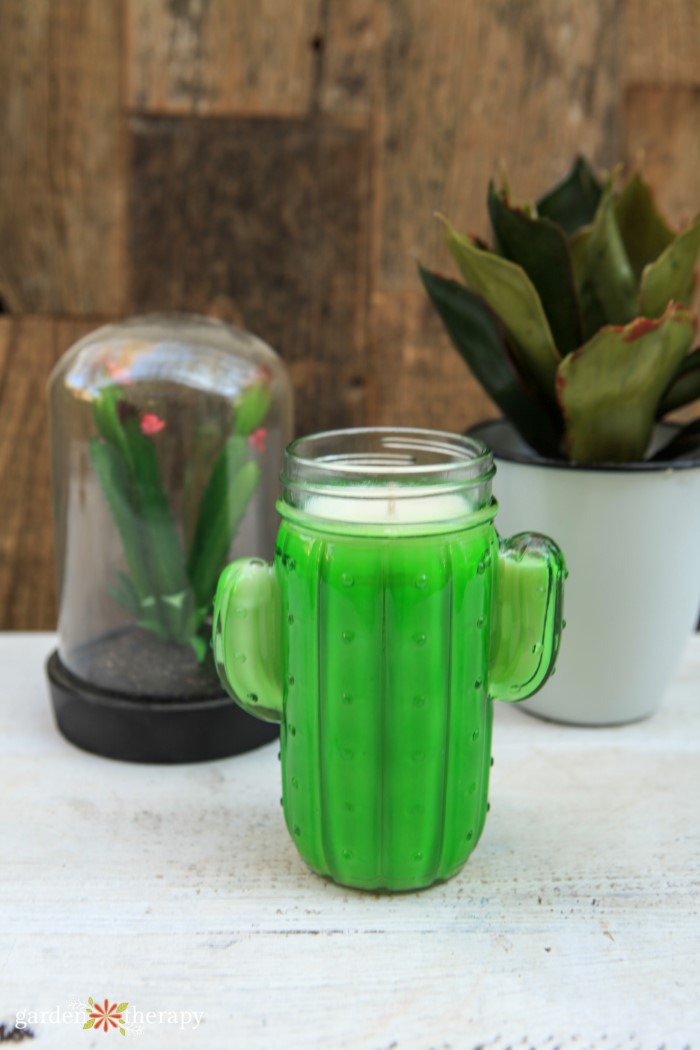 After making your own candles, you'll never want to buy them from the store again. The quality is just unmatched! Let me know how your candles turn out in the comments down below.
More Candle-Making Ideas
How to Make Soy Candles
Mix and match your favourite scents with this easy and fun soy candle recipe.
Equipment
Paper cup

Chopsticks or clothespins
Instructions
Attach your wick tab to the bottom centre of your container by using hot glue.

Using a double boiler, melt the soy wax until it reaches 160 degrees Fahrenheit.

Allow the mixture to cool slightly, then add your essential oil of choice and stir well.

Cool to 140 degrees Fahrenheit. Pour it into the container until it is 1/2 inch from the top.

Use chopsticks or a clothespin to hold the wick in place.

Let the candles cool in a warm room. Once set, trim the wicks to 1/4 inch above the wax.