Aromatherapy eye pillows are a wonderful way to promote sleep, relieve anxiety, and they can even help reduce headaches and chronic pain in some people. They create a gentle weight and soothing aroma that promotes deep relaxation. Eye pillows are often used in yoga practice for savasana, where I first discovered the bliss of a lavender eye pillow. With basic sewing skills, they are easy to make yourself in a few simple steps. Grab some dried lavender buds and some popcorn (yes, popcorn) and see just how easy it is to create a calming lavender eye pillow for insomnia and stress relief.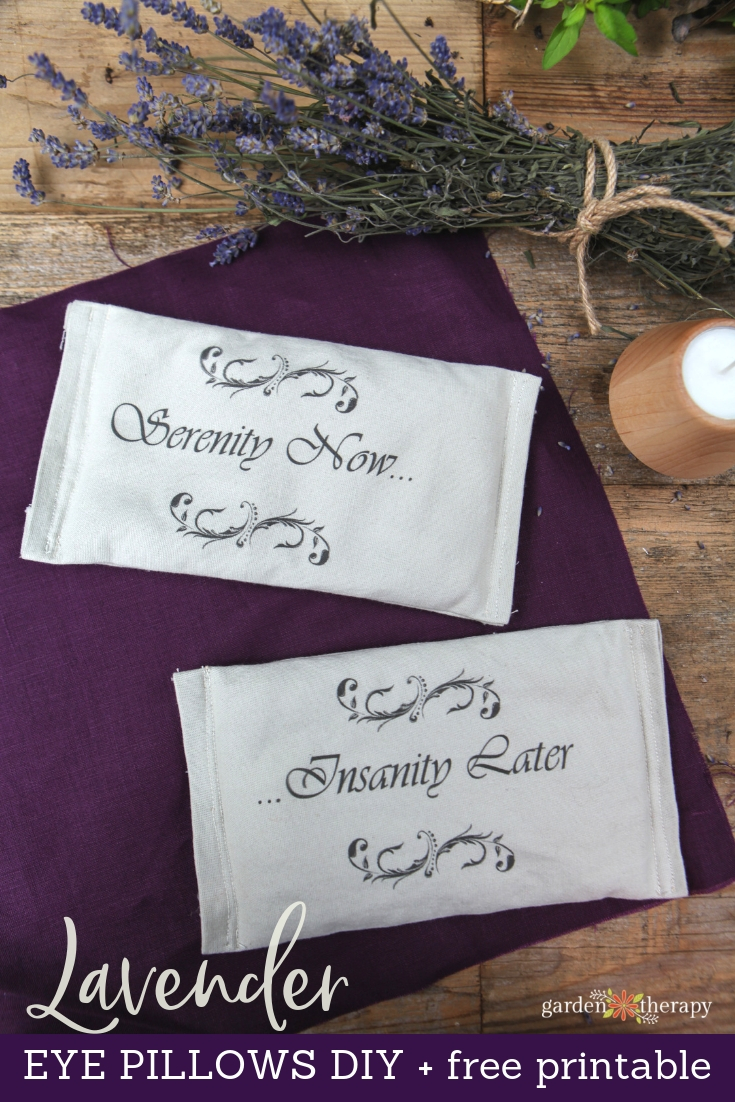 The Benefits of Eye Pillows
For many years in my recovery program, I did a gentle Restorative Yoga class where we would hold relaxation poses for a long time. In each 90 minute class we would only do 6-7 poses in total. The idea was to allow the sympathetic nervous system (fight or flight) to take a break and strengthen the connection with the parasympathetic nervous system.  I suffer from PTSD as a result of  childhood trauma, and because of this my nervous system is pretty much always in fight or flight mode.
I still do restorative yoga poses every evening as I wind down for bed. At the end of practice, the final pose, savasana (or "corpse pose") is deeply calming. There is nothing like lying on your back, feeling the ground strongly below, and shutting out all other sensations. This is where the lavender eye pillow comes in. The shape and weight of the pillow forms to your eyes and creates darkness and gentle pressure.
It reminds me of weighted therapy blankets. The heavy fabric is weighted to help you feel protected and comforted. That's kind of what these pillows do, but for your eyes. The popcorn inside gives them weight and allows them to form perfectly to your face, so they gently and comfortably press down on acupressure points that can help to relieve pain and decrease stress. We carry a lot of tension in our face muscles without realizing it, especially when we are stressed, and the weight of these eye pillows helps to decrease that tension.
Meanwhile, the dried lavender and lavender essential oil offer aromatherapy that promotes relaxation. Lavender is one of the most commonly used scents for tension relief and sleep. Its calming fragrance can help you to wind down, de-stress, and get a restful slumber.
These pillows are often made with flax seeds, but I chose to use popcorn because it doesn't have the the oil content that can make the flax go rancid. I also like the weight and roundness of the popcorn. This could also be achieved with dried beans.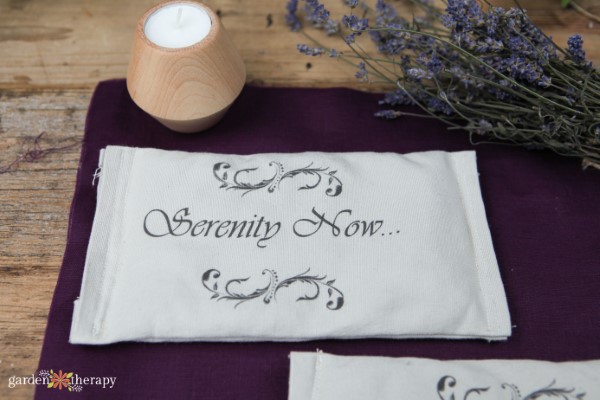 How to Make Lavender Eye Pillows
Makes 1 eye pillow
I have included the template for the design "serenity now…insanity later" which may bring you back to 1997 sitcom hilarity along with the instructions to print it on fabric using an inkjet printer. You can certainly skip that step and use any fabric that speaks to you in some way.
Equipment and Materials:
Materials for Printing "Serenity Now"
Make it!
To print the design on the fabric, fold the fabric in half and print one of the sides following the directions here.
Fold and iron a hem on the sides of the fabric.
Fold the fabric so that the back is on the outside (print inside), sew the long side of the rectangles together.
Turn right side out, fold the ends of the fabric in 1/2″ and iron flat. Sew one end together.
Fill the bag with 1 generous cup of popcorn and 1 heaping tablespoon of lavender. Adjust quantities for your personal tastes.
Push all the filling toward the end of the bag, and pin about halfway to help prevent popcorn from creeping towards the open end. Sew the open end closed and you're ready for serenity.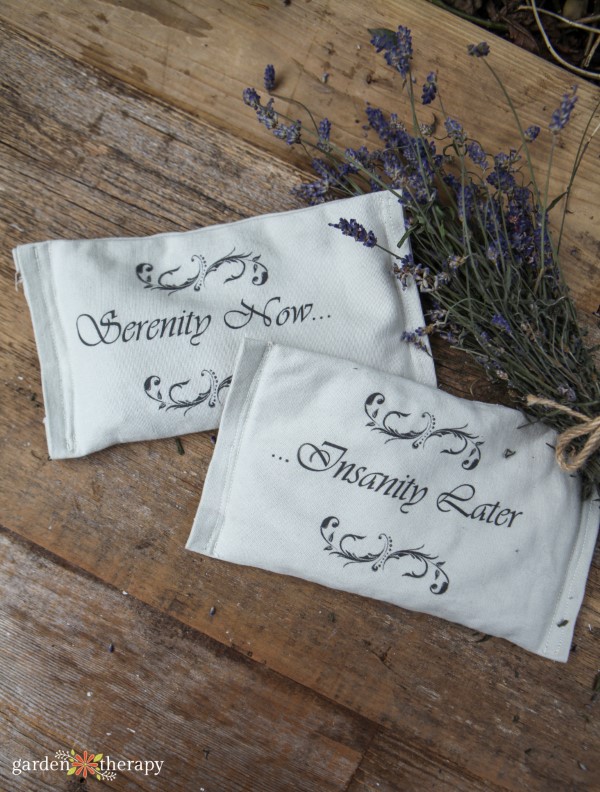 More Posts You Might Like: