Add a fresh scent to your home without overpowering the senses. This natural reed diffuser uses a blend of essential oils and diffuser sticks from your own backyard to naturally neutralize odours and give your home a fresh boost.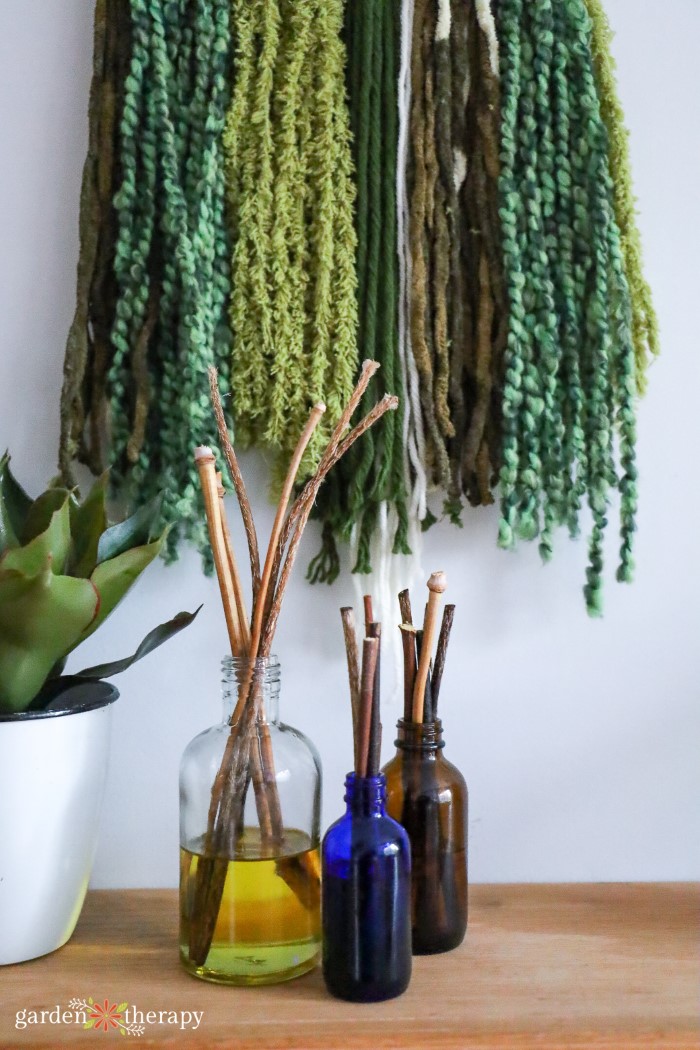 From stinky pets to musty hallways, sometimes there is no avoiding certain smells in the house. I like to find ways to freshen up the home as naturally as possible. While I love using sprays such as my lavender water, sometimes I don't always have the time to go around the house and spritz.
That's why I love my natural reed diffuser so much; it keeps everything smelling fresh without me needing to lift a finger. I use them in the bathroom, hallways, and even my bedroom to give off a pleasant aroma that is not too overpowering.
Benefits of a Natural Reed Diffuser
By far the number one selling point of this diffuser for me is that it is 100% natural. Whenever I have bought reed diffusers in the past, I have always found the scent to be overly harsh and chemical-like. The same can be said for many store-bought candles, plugins, or a cool air diffuser. The artificial fragrances are too irritating for my sensitive nose! Sniffle.
I also find that store-bought reed diffusers don't last very long. While my natural reed diffuser may last the same amount of time, I can refill and refresh it as often as I like. It's relatively inexpensive to make so you can have multiple diffusers throughout the home or refills for the same price as a single store-bought one.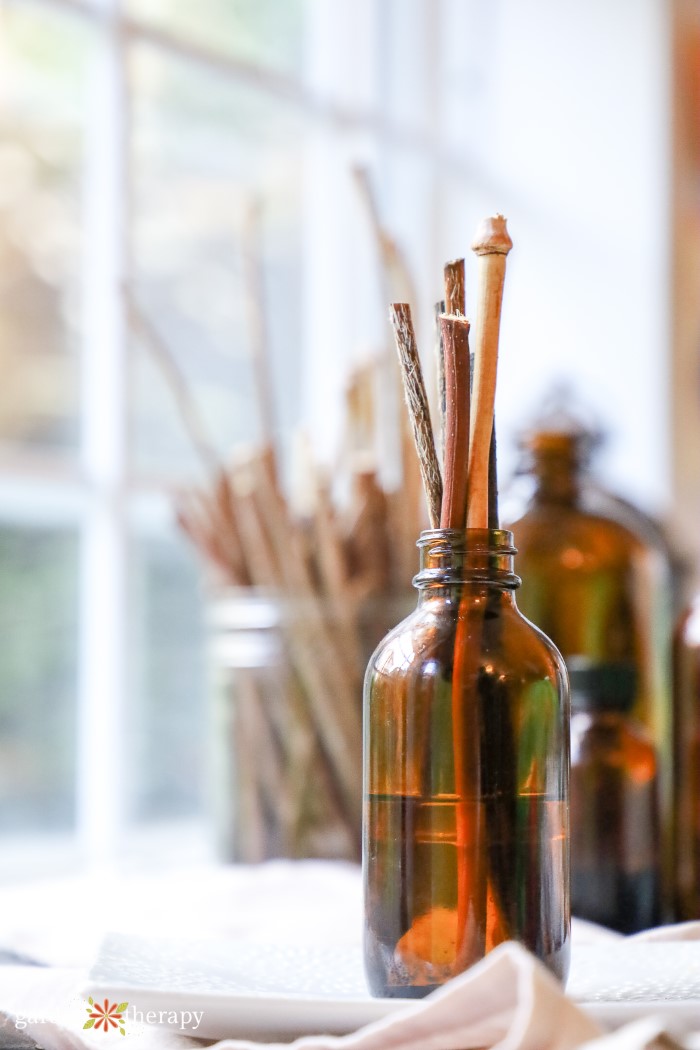 Of course, you also get to experience the many benefits of essential oils. They can enhance relaxation, reduce stress and anxiety, and even clear toxins from the air. Certainly no artificial fragrance can do that!
A Natural Pathogen Cleaner
Did you know that individuals spend 85% of their time indoors? While I do love to be out in the garden, there is something about curling up inside on a gloomy day that I can really get behind. With all that being said, I do miss the fresh air of the outdoors and do my best to maintain the best air quality indoors whenever I can.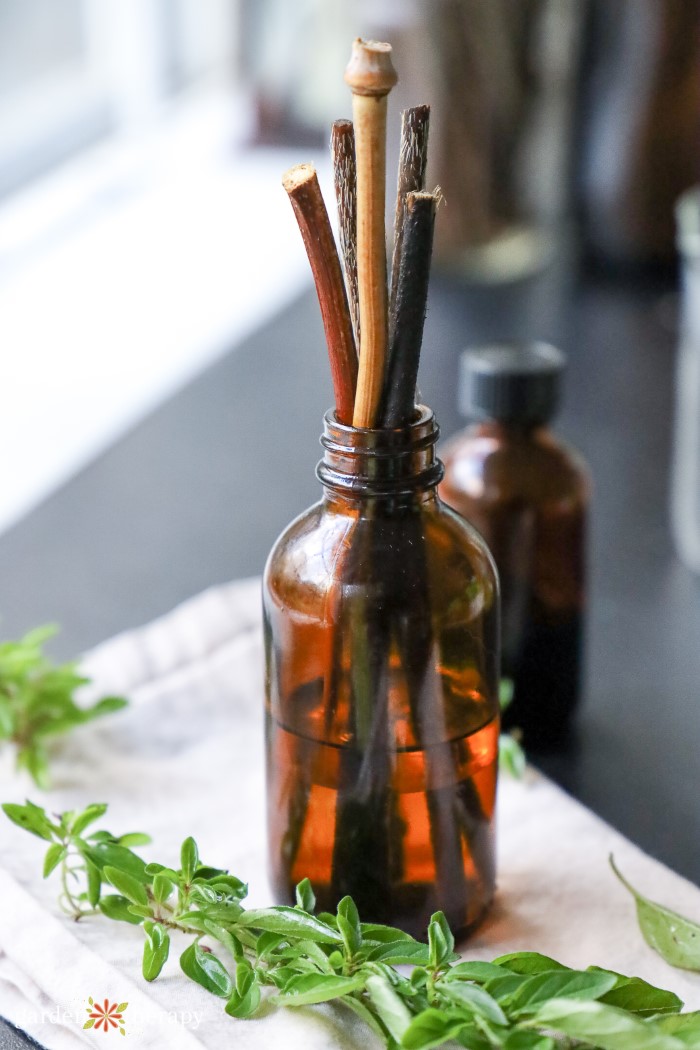 Essential oils actually have microbial properties. Some are better than others with one study finding that oregano, thyme, and lemon oil actually help to fight against human pathogens.
Another study found that essential oils also work to reduce airbourne pathogens by inhibiting their growth in the air. After being exposed to different concentrations of essential oils, the growth of bacterial cells decreased. This is especially meaningful by making the air cleaner for allergies and avoiding other sensitivities and infections.
While essential oils may not turn your air quality into the great outdoors, a little bit of air filtering always helps. And they smell good too!
Which Essential Oils are Best for the Reed Diffuser?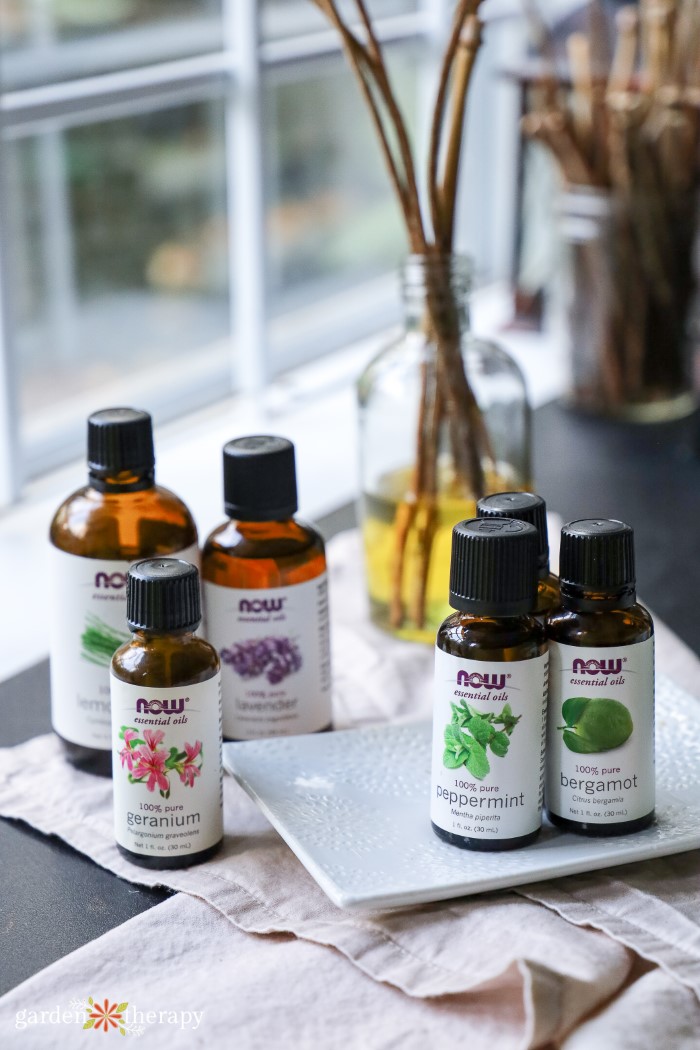 The very first question you should answer is what do you like. You will be smelling your reed diffuser oil throughout your home and you want to make sure that every time you catch a whiff, you love it.
Next, you can also look for specific aromatherapy benefits that each oil may offer. For example, lavender is a popular choice because of its calming scent and microbial and therapeutic properties.
You can also go to the other side and choose something to naturally boost your mood. Sweet orange is great for lifting the spirits and is very fragrant.
Feel free to get crafty and mix scents together. My secret combo is actually mixing the two scents together! Lavender and sweet orange smell lovely together in my go-to, balanced blend.
Fun Scent Combinations
Before you use essential oils, be sure to read all warnings. They are powerful plant extracts that can cause issues with people when used inappropriately. They can bother pregnant women, those breastfeeding, and even pets. Most essential oils will have warnings on them that tells you if they are not suitable for a specific use.
Watch the DIY Natural Reed Diffuser Video!
How to Make Reed Diffuser Oil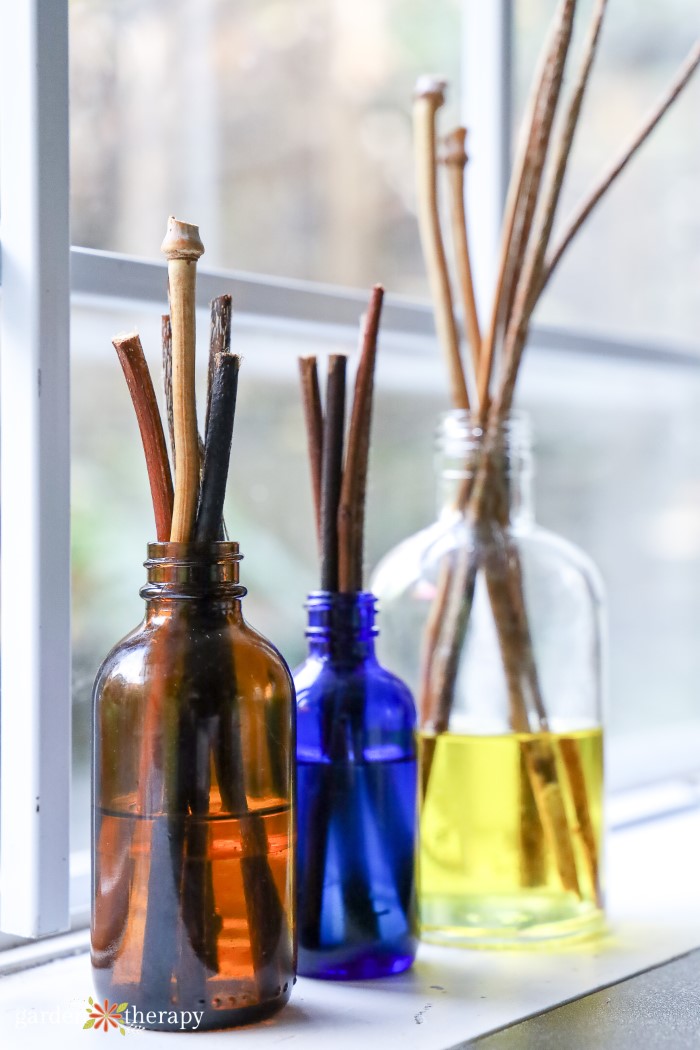 There are a ton of options when it comes to making your natural reed diffuser. There are three key components to the oil: a carrier oil, essential oils, and alcohol. The first thing you will want to decide is what base you would like to use. Most recipes can be made using an oil or an alcohol base. Whichever you choose, you want to make sure it has a minimal scent.
For an alcohol base, vodka and water make a great combo as it will travel easily through the reed diffuser sticks. However, you will find that it evaporates much quicker than an oil base. If you do use this method, use distilled water as it will last longer since it is purified.
I prefer to use an oil base. The trick is to use an oil that is thin enough to travel up through the stems of the reed sticks. Oils that are good for a natural reed diffuser include fractionated coconut oil, safflower oil, sweet almond oil, sunflower oil, and grapeseed oil. I would suggest avoiding any mineral oils as they are petroleum-based.
Once you have your base decided, you will want to proportion your reed diffuser oil as 30% essential oil and 70% base. You can measure this out if you prefer, but I like to just eyeball it. Pour your oil into a glass or ceramic container that doesn't leak with a narrow opening at the top. A narrow opening ensures that the oil won't evaporate too quickly. I also prefer to use a darker coloured bottle as essential oils degrade once exposed to the sun. You can find a ton of cool containers at your local thrift store or can re-purpose an existing container in your home.
If you're using an oil, you will still need to add a hint of alcohol to the recipe as it acts as a binder for the oil and will help to thin it. You can use grain alcohol, but I used but I like to use isopropyl. Anything 90% or higher is preferable. This way, the recipe only needs a couple of drops.
How to Make Reed Diffuser Sticks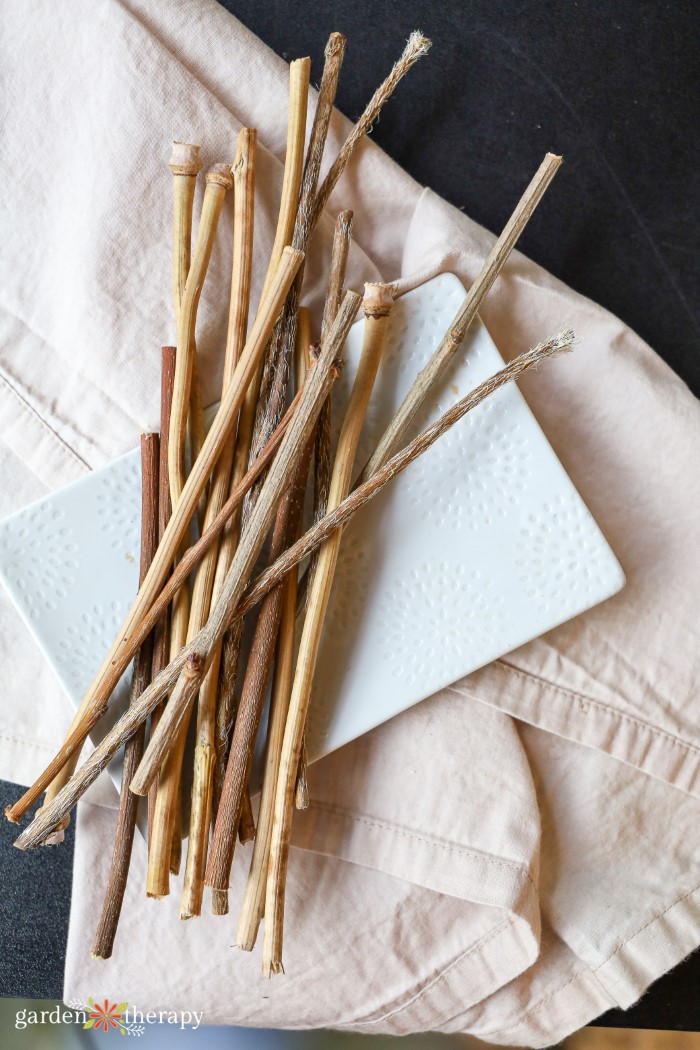 Now that you have your base and container, it's time to find some reed diffuser sticks! Like your oil, you can play around with some options here as well.
Bamboo skewers and rattan reeds are by far the most popular. However, I like to turn to my own garden whenever possible! By carefully looking through your garden and perennials, you may have some sticks and stems that will work as well. When choosing a stick for your diffuser, you don't want anything solid: it must be porous for the liquid to travel up and diffuse.
I found the natural reeds that work best come from flower stalks! I used poppies, daylilies, and echinacea for my diffuser but there are a ton of different ones you can use. Every year, I always dry the flowers and seed heads from my perennials and am left with the stems. Now I have something to use them for!
To use natural sticks, thoroughly clean them of leaves, dirt, and sprigs. If the stick you are using has bark, you will need to peel at least half of it from top to bottom to help the liquid travel up. Bake the sticks at 200 F for 25-60 minutes to dry out the sticks and be ready for use.
Once complete, fill your container opening with as many reeds as possible to keep the liquid from evaporating too quickly.
Tips and Tricks for Reed Diffusing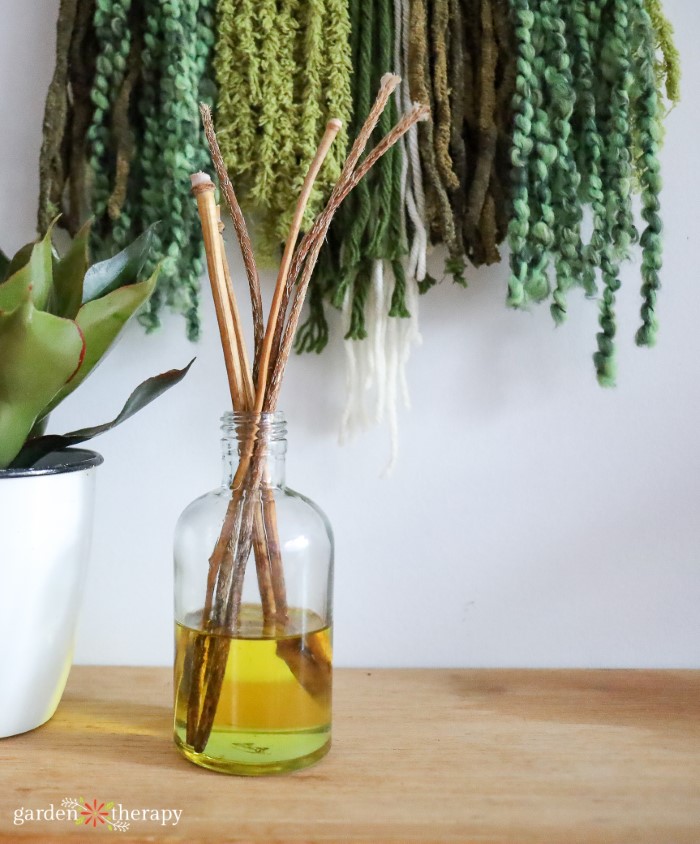 Placement
Where you decide to place your reed diffuser can actually make a huge difference in how well it will perform. You want to try and place it in an out of reach spot, away from little fingers and paws, but aim for a spot where movement will help to circulate the air and the scents.
Placing it near a vent can actually help to circulate the scent. Heat and sunlight will also aid it a stronger smell, but it will last for a shorter period of time. Avoid warmth for a longer-lasting diffusion.
Remember, this diffuser will not be a strong smell. They are meant to diffuse subtle fragrances for the everyday house. It works best in an enclosed place, such as a bathroom, or you won't really notice the smell.
You can use bigger containers for larger rooms to get a better diffusion of smell, but it can get pricey considering how much essential oils you will need to fill the container. This is why I prefer small containers in small rooms.
Reeds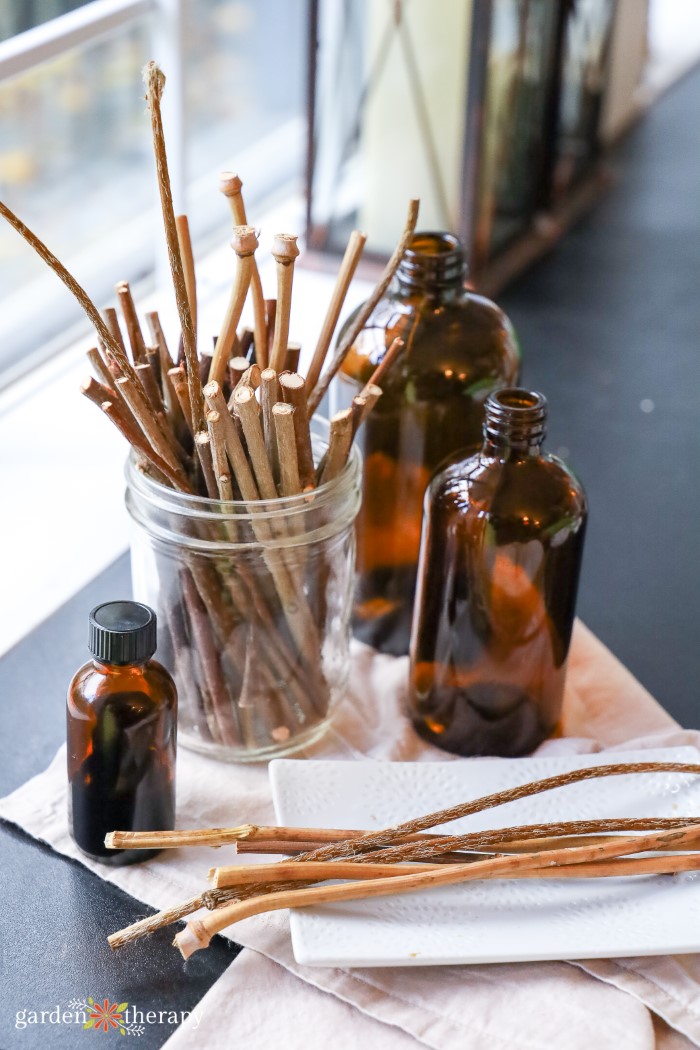 In order to get the most out of your natural reed diffuser, you will want to give the reeds some attention. While I say reeds, this will apply to whichever kind of sticks you choose to diffuse the oil.
Rotate which reed ends are in the solution once a week to help refresh the scent.
Reeds will need to be replaced every 4-6 months. After a while, they stop diffusing the oil. This also helps to avoid any rotting stems.
Oil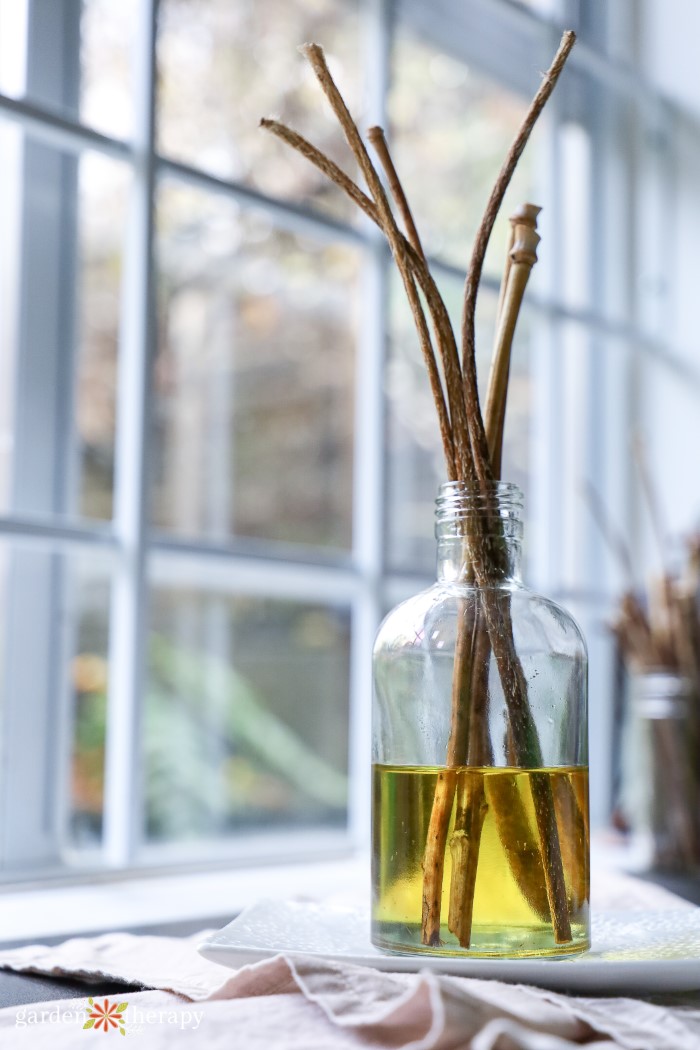 You will likely need to replace the oil every month as it will slowly lose its scent. To ensure you are not wasting oil, only fill your container up halfway at a time. I suggest creating batches and storing it in a mason jar until ready to use. This way you have it ready to go whenever it needs a top-up or replacing!
More Ways to Use Essential Oils to Freshen Your Space
How to Make a Natural Reed Diffuser
Looking for a simple, natural way to freshen up your space? Add a few of these pretty natural reed diffusers with homemade diffuser oil.
Equipment
Jar or container to act as the diffuser
Supplies
oil to use as base

I like fractionated coconut oil, safflower oil, sweet almond oil, sunflower oil, and grapeseed oil.

essential oils of your choice

natural reeds

Bamboo skewers, rattan reeds, sticks or stems from your garden - just make sure it is porous so the liquid can travel through them.
Instructions
Mix together a combination of 70% oil and 30% essential oils.

Add reed oil to the jar, and add your reeds.

Place the natural reed diffuser out and enjoy! I've found they work best in enclosed spaces such as bathrooms. They also work well near an air vent or in front of a window.