When it's time to mow your lawn this year, why not do it with less noise, no pollution, and some added health benefits? A reel mower is a superior alternative to a gas or electric rotary mower because it contributes less noise pollution and harmful emissions. Reel mowers don't use up a bunch of electric energy or gas. Instead, they give you a great workout. Don't be afraid, though, today's reel mowers are designed so that they take very little effort to push, perhaps less so than a heavy gas or electric mover. If that wasn't enough, a reel mower gives your lawn a better cut by cleanly slicing the tops of the blades as opposed to chopping and tearing them.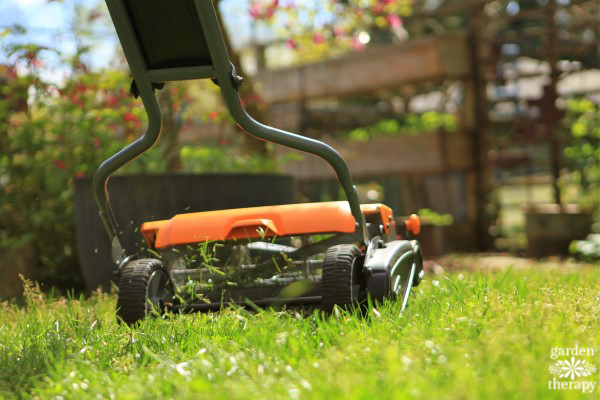 If you are ready to make the switch, then read on, because this article lists everything you need to know about mowing with a reel mower.
Disclosure: a special thank you goes out to Fiskars for sponsoring this post and providing me with a StaySharp™ Max Reel Mower, Reel Mower Blade Maintenance Kit, and Shear Ease® Grass Shears. All of the opinions that are shared in this post are my own. See the full disclosure policy here. Check out the contest at the end of this post and you could be the lucky winner of your very own Fiskars StaySharp™ Max Reel Mower!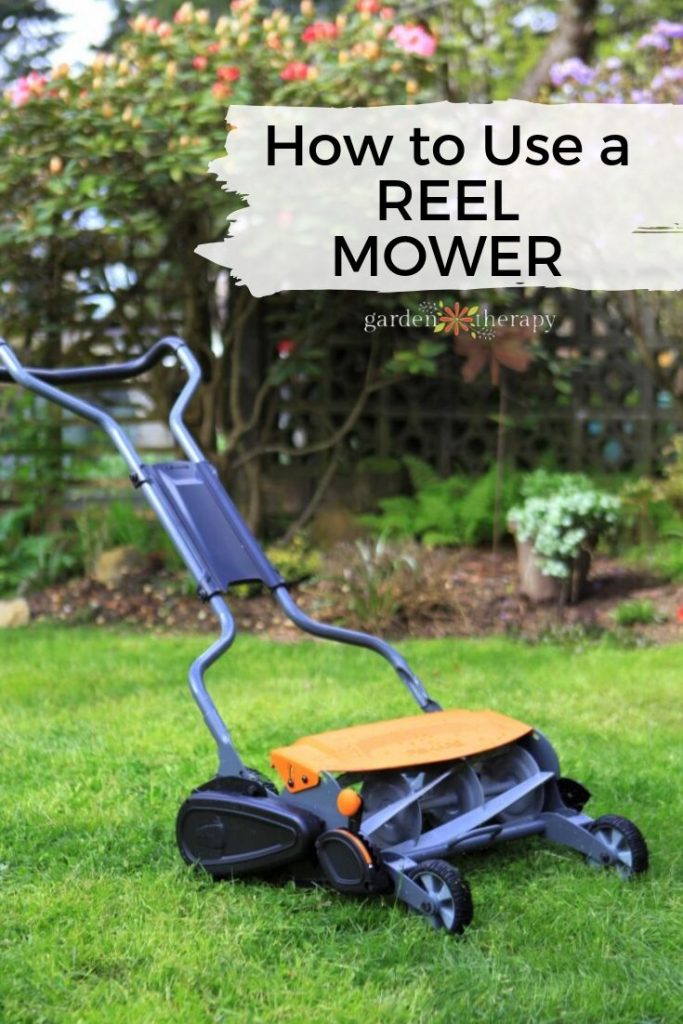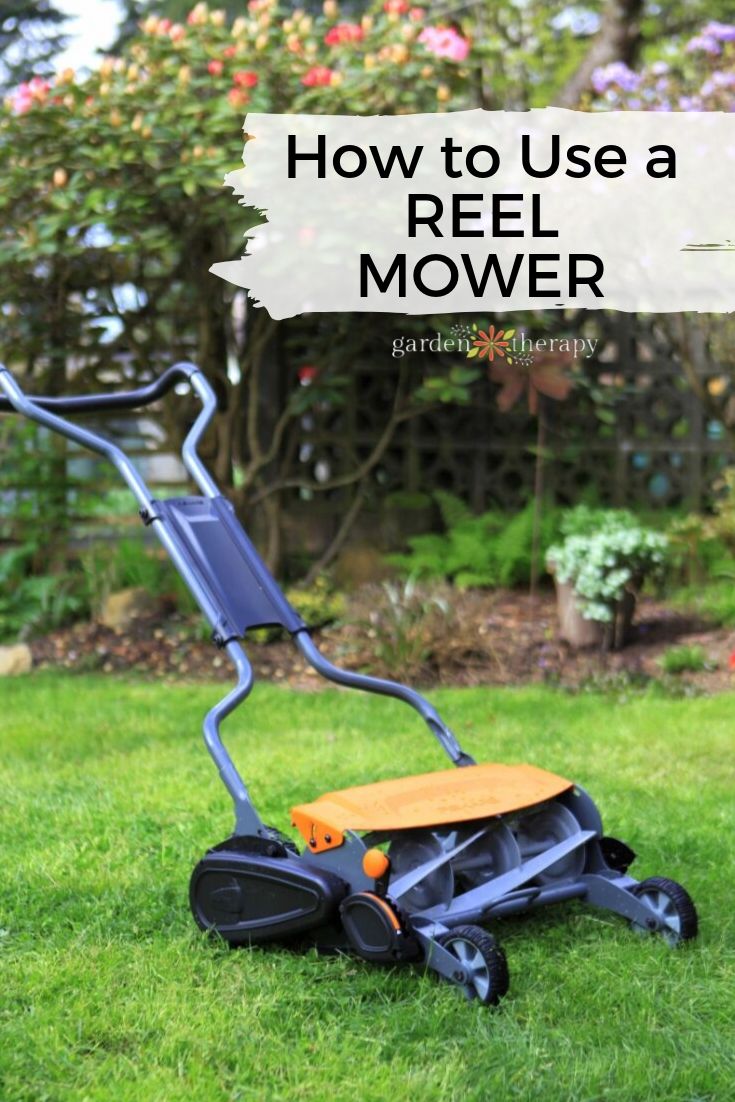 How to Use a Reel Mower
Reel mowers cleanly snip grass like a barber snipping your hair, while rotary mowers cut grass by chopping and tearing, resulting in a lawn that is susceptible to disease and pests. There are a few things to know to get the best cut with your reel mower. These tips will help you go unplugged forever.
You're Mowing Too Often!
You are probably mowing more than you should. At most, mow your lawn every 5-7 days during peak growing seasons. Cool season grasses such as bentgrass and ryegrass actively grow in the spring and fall. Warm season grasses such as zoysia and buffalograss actively grow when it is warmer. You don't need to know your grass type to figure it out, though. Just watch it grow!
Mow less frequently, if at all, during off-peak growing seasons. Grass is better off to get a little longer, allowing the plants to mature and set strong roots. If you let it go to seed before mowing, you will save yourself bags of grass seed in the process.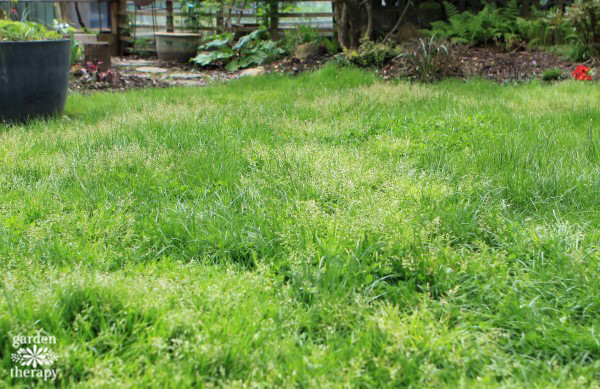 Know Your Ideal Height
Keep your lawn at its ideal high to promote vigorous growth and prevent weeds and heat damage. The minimum height of your lawn depends on a number of factors such as grass type, season, and growing conditions. Bentgrass (used commonly for golf courses) like to be cut short from ¼" to ¾", while grasses such as ryegrass (commonly used in lawns) like to be kept taller—between 1 ½" to 2 ½".
Keep your lawn on the shorter side during the cool and/or wet spring months, but ensure your lawn is at its tallest recommended height during the hot and dry summer months. Taller grass has deeper roots, allowing it to dig deeper for moisture. The longer blades also shade the soil, reducing water loss and protecting the plants from sunburn.
Mowing Tall Grass
You should not cut more than one-third of total grass height in a single cutting. If the grass is very long it may take a few mows to cut it down to its ideal height. Give your lawn at least 2 days rest between mows. For example, if the ideal grass height is 2" and the current height is 4", cut the lawn in two separate cuttings. The first cutting will reduce the lawn height by 1.3" maximum; the second cutting reduces it further by .6" to achieve 2" (for simplicity remove 1" on the first cut and another 1" on the next cut).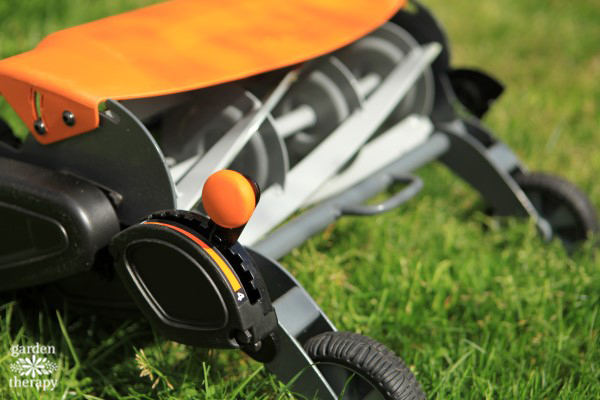 The Fiskars reel mower has one-touch height adjustment from 1" to 4", which makes height adjusting much easier than our old reel mower.
Mowing Wet Grass
Ideally, it is best to hold off mowing your lawn when it is wet. Wet lawn is harder to mow because it lays flat and sticks together. Additionally, if your lawn is really saturated, you may actually cause soil compression from walking on it.
Leave Those Lawn Clippings Alone
Lawn clippings are a great nitrogen-rich fertilizer for your lawn. Don't remove them unless they are diseased or are very long and won't break down quickly. Mow your lawn and let the clippings fall where they may. Sweep up the sidewalks and pavers, but leave the cut grass to mulch the soil. After a day or so, the clippings will have worked their way into the spaces between the blades, creating a moisture-holding mulch that will break down and feed the plant roots.
Clean Up the Edges
Just like a reel mower, grass shears are a superior alternative to a gas or electric trimmer. They are healthier for your grass, quieter, pollution-free, and simple to use. The Fiskars Shear Ease® Grass Shears have blades that rotate from 45-360 degrees. This is really handy when trying to edge your lawn in awkward areas. I won't lay out the instructions for using them because I'm sure that you can already use scissors.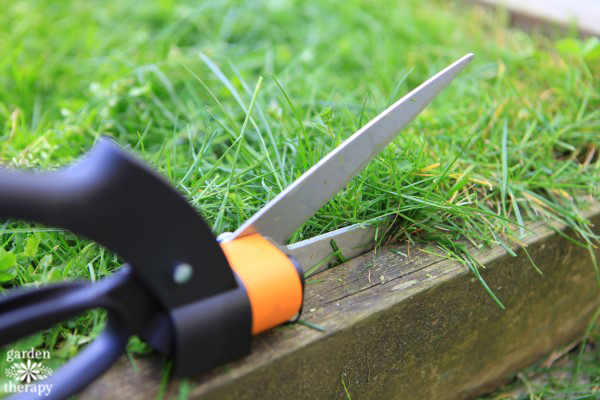 Regular Care and Maintenance
Before the lawn care season begins, be sure to book an appointment with a lawn mower repair shop for annual maintenance. While you are there, book the fall appointment too, you need both a spring and fall service to be sure that your mower keeps working.
Kidding! That's the service schedule for an electric or gas mower.
A reel mower needs almost no care. Get a blade sharpening kit and you can quickly and inexpensively sharpen the blades. You can clean it with a brush or the hose, and lubricate the joints with a silicone lubricant if it is getting stiff. The best part is that there is no motor to break so you can do it all yourself. A reel mower is an investment that lasts indefinitely!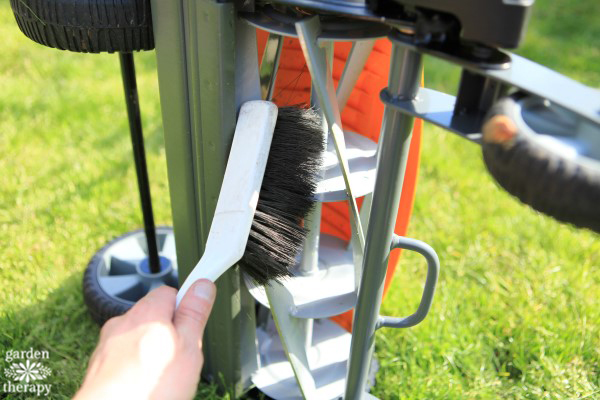 Ready, Set, Mow!
Think that using a reel mower is hard? Think again! The Fiskars StaySharp™ Max Reel Mower is really easy to use right from the box.
Steps:
Set mower to the desired cut height
Mow and mindfully listen to the snip-snip-snip of the blades;
Brush off lawn clippings from mower
Put mower away
Fiskars uses InertiaDrive™ technology to make their reel mowers easier to use than traditional ones. It combines a large diameter cutting reel and thick blades to store energy until a burst of extra cutting power is needed. The faster you mow, the more power is generated so you can rip through weeds, twigs, and tough spots. Neighbors were stopping on the street to check it out and give it a try because it's quite a sight to see. The blade keeps going—like a windup toy—when you stop pushing.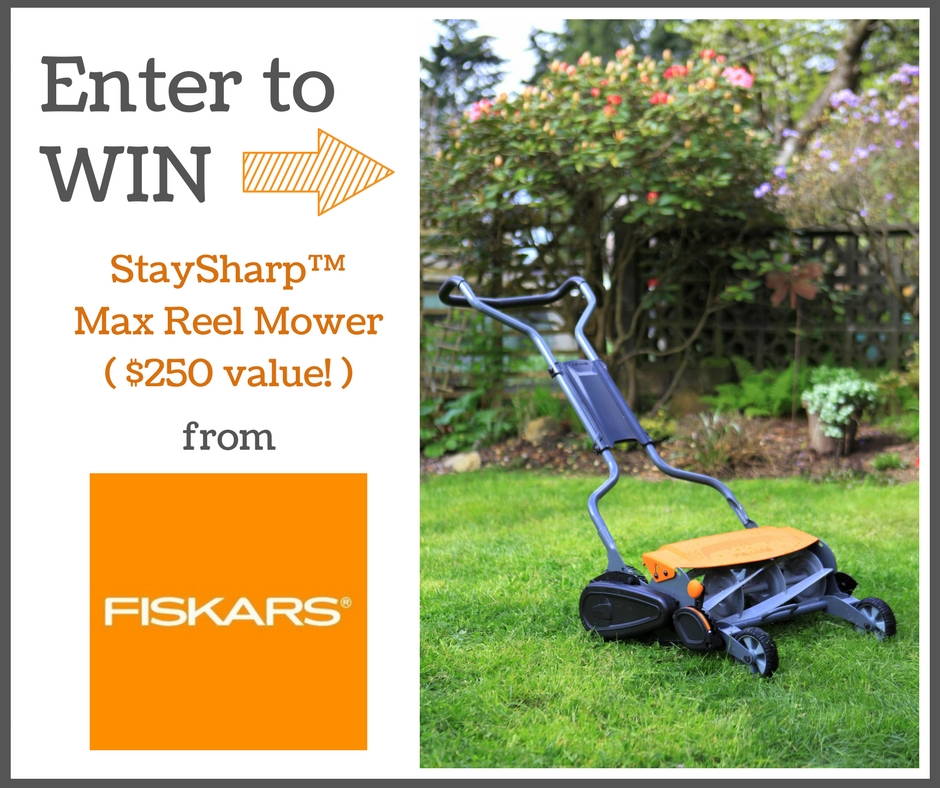 This contest is now closed. The winner is Kathy Liddell. Congrats, Kathy!