For centuries, lilies have captivated the hearts of gardeners. A cultivated plant as old and versatile as the lily means there are so many types of lilies to choose from. Today, I'm breaking down the many types of lilies out there so you can find the perfect lily flower for your garden. Plus, don't miss my amazing giveaway at the end of the post!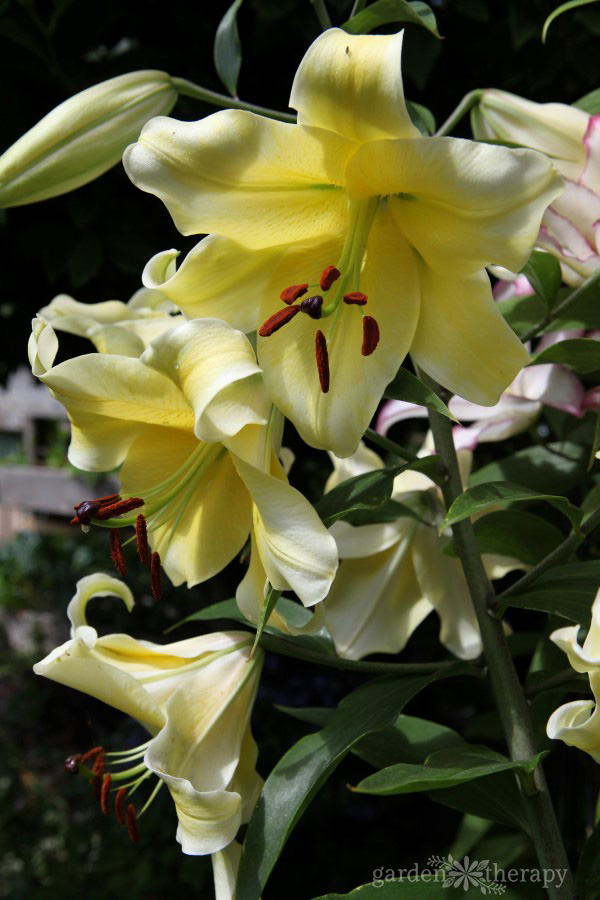 Once upon a time, I had the most magnificent lily. The gorgeous 'Black Beauty' (shown below) was given to me as bulbs by a dear friend. She was so happy in my garden that she grew into a mammoth that must have neared ten feet high in her prime.
The multitude of stems had dozens upon dozens of flowers. With the unknown variety of yellow lily (shown above) I had growing next to it, a had a stunning lily arch that marked a dramatic entrance to the garden.
But unfortunately, I had to dig them all up.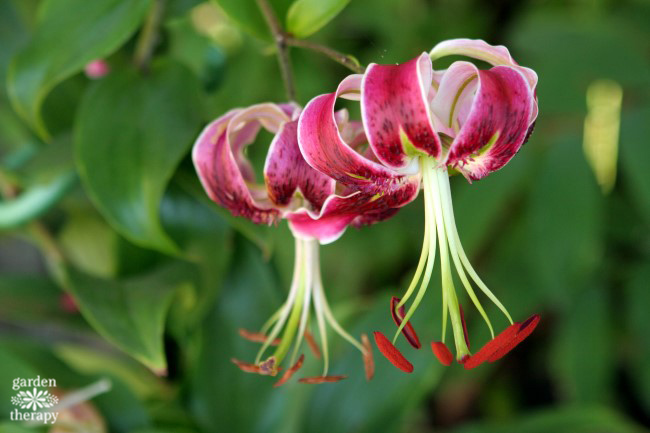 But why, you ask? Well, it's because my family expanded to include this guy.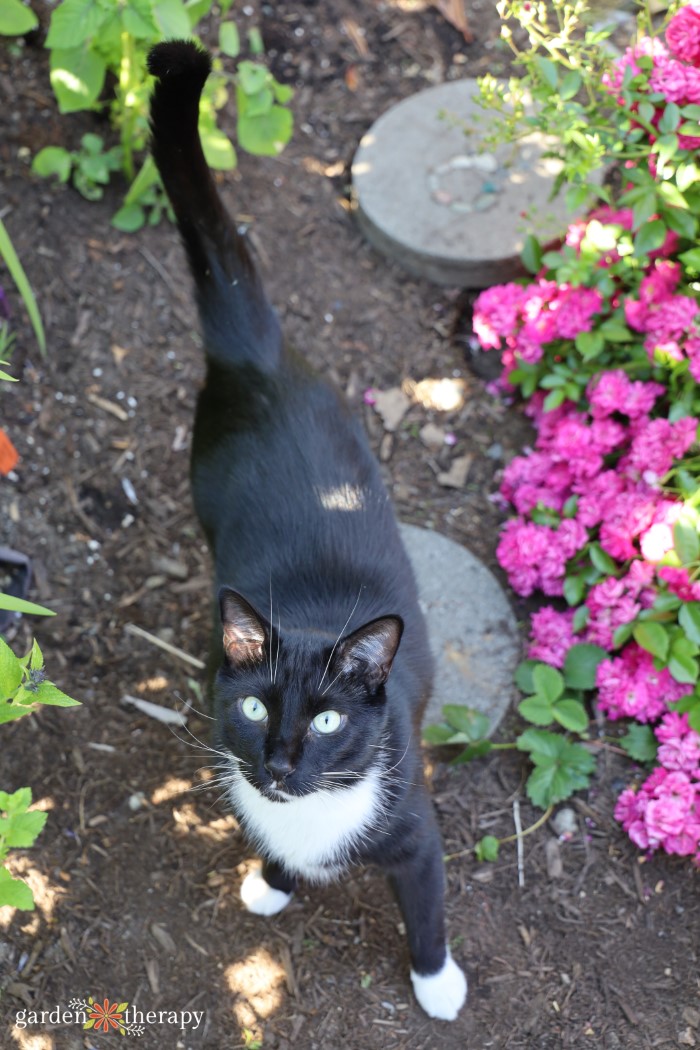 If you haven't my handsomely dressed cat yet, that's Magic. And lilies are extremely toxic to cats. Even just a lick of the pollen on their fur can make them severely ill. So as much as I loved those beautiful lilies, I love Magic more. It was time to say goodbye to my lily arch. Just look at how much pollen is on them!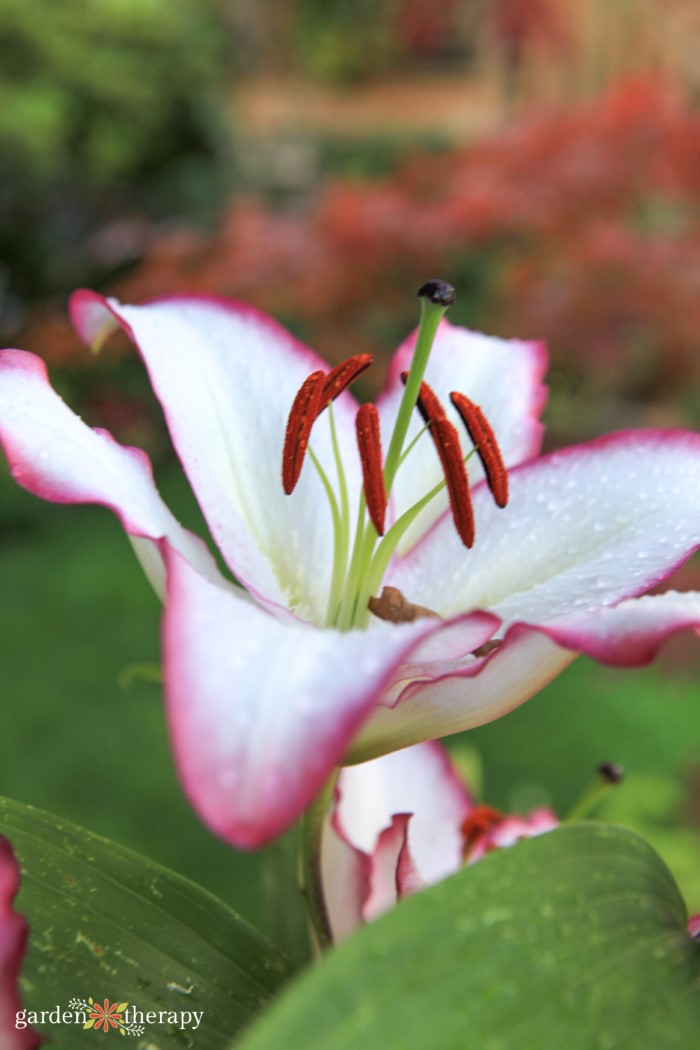 Since I couldn't transplant her until the end of the growing season, I had to go out every day and hand-cut the pollen from the stems the first year I had Magic. I admired my lily every day knowing she wouldn't be in the garden next year.
While she's now long gone and has a new home, I still hold an affinity for lilies. Any time I see them in a passing garden, I always stop to admire them. I will grow them again in my garden just as I did for the 10 years before I had a cat. Today I want to celebrate these lovelies and show the many types of lily flowers out there to enjoy!
Special Note: a HUGE thanks to flowerbulbs.com for sponsoring this post. They are one of my favourite partners to work with because they have the simple goal of spreading the love of flower bulbs. They don't sell bulbs directly but instead have the goal to share information about how to successfully grow different kinds of flower bulbs. Today I'm sharing some of that information alongside my own growing tips and a mix of their stunning photos and my own.
But here is the BEST PART: Flowerbulbs.com and I are partnering on a HUGE LILY GIVEAWAY. Head to the end of the post to read more and enter!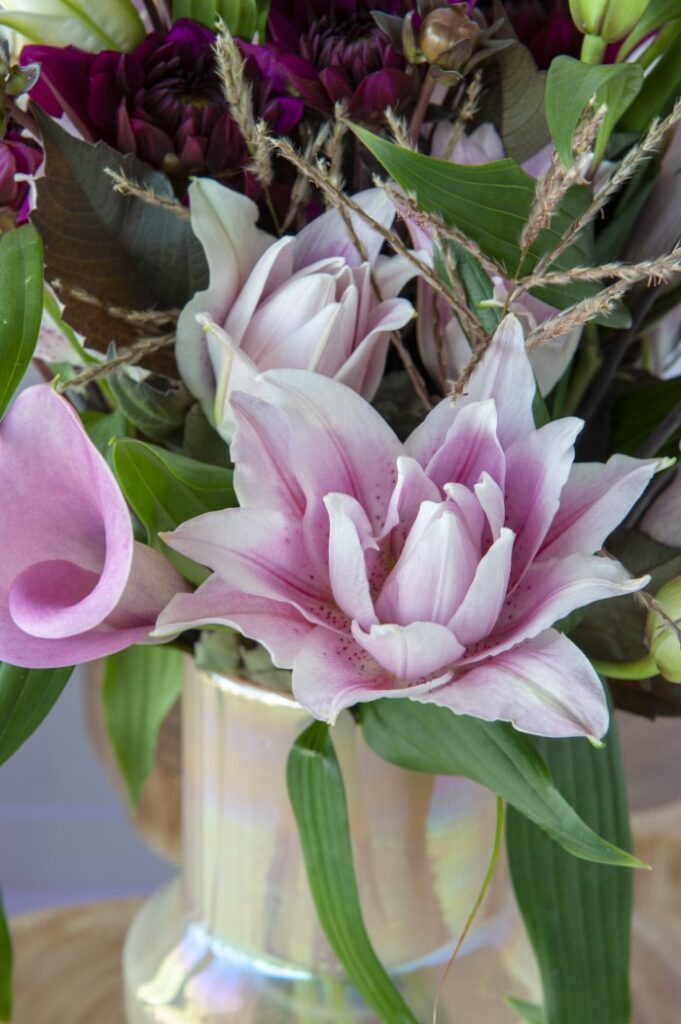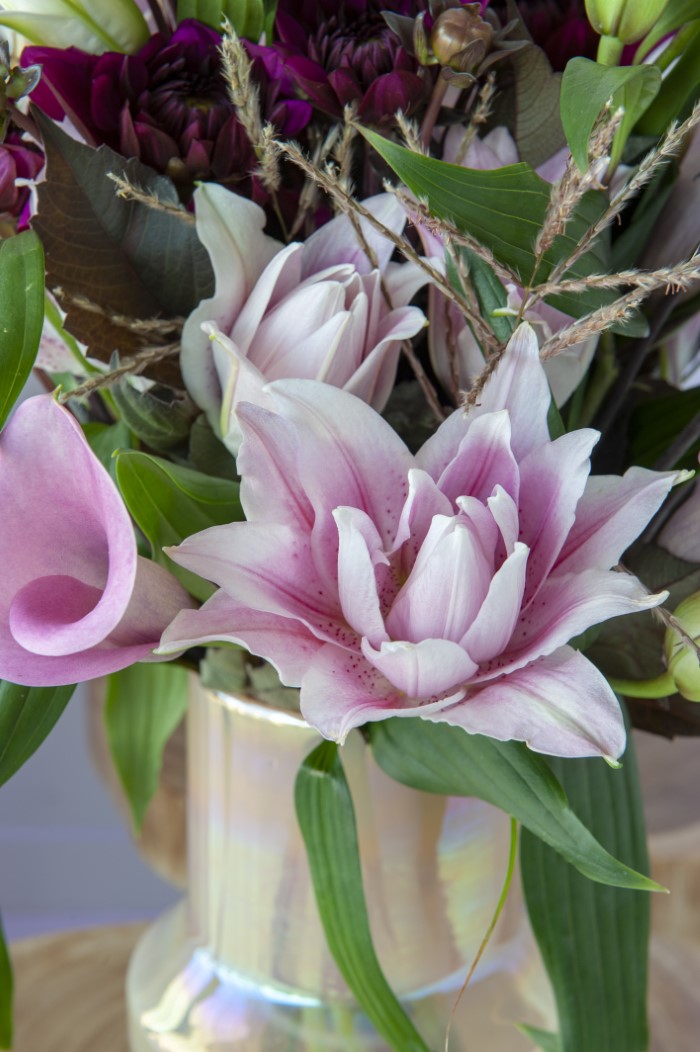 Meet the Lily Flower
Few flowers come as bold and versatile as the lily. Summer bulbs have a tendency to provide brilliant splashes of colour and lilies do not disappoint. They come in any colour you can think of, sometimes with spotted patterns and contrasting colours.
Most lilies bloom from June to August, but you can get flowers as early as May and late as September for some varieties.
Lilies have been cultivated for thousands of years. Some of the first mentions of lilies date back to 4,000 years ago. The Greeks particularly loved lilies, including pictures of them on their ceramics.
Artifacts with lilies have been found from the ancient Minoan culture of Crete. Also popular in China and Japan, they've been used as a dining room centrepiece flower for centuries.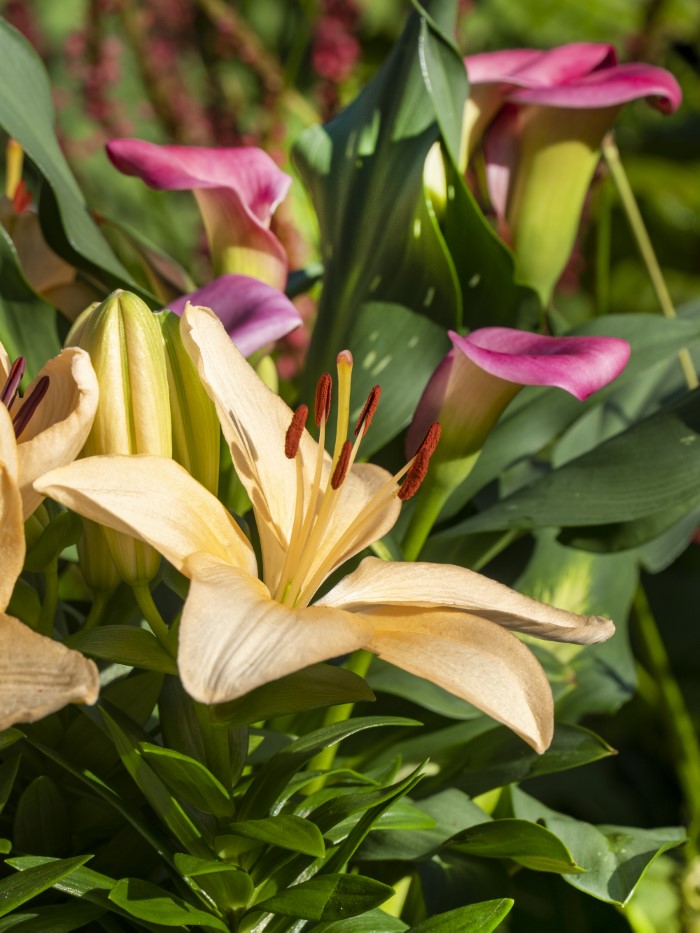 Types of Lilies
Below, you might not see some of your favourite "lilies". While many flowers have lily in the title, they are not actually considered lilies. This includes cannas, Callas, daylilies, water lilies, and lily of the valley. True lilies are those belonging to the Lilium family.
Of the true lilies, there are nine divisions each with its own subdivisions. Every lily falls under one of these divisions. In fact, certain lilies can fall under multiple divisions. To say it can get confusing is an understatement. As you can imagine, there are an incredible number of lilies. This means you can get pretty much any colour of lily under the sun in all sizes and shapes.
In many cases, a lily looks like a lily to the eye and that's not a bad thing. You don't need to know the horticultural division classifications set out by the North American Lily Society or the Royal Horticultural Society to be successful.
In all groups, there are differences in growing height, bloom times, and planting instructions. With your lilies, the best bet is to read the info that comes with the bulbs. But keep reading to get started learning about the main types of lilies you might encounter as a gardener.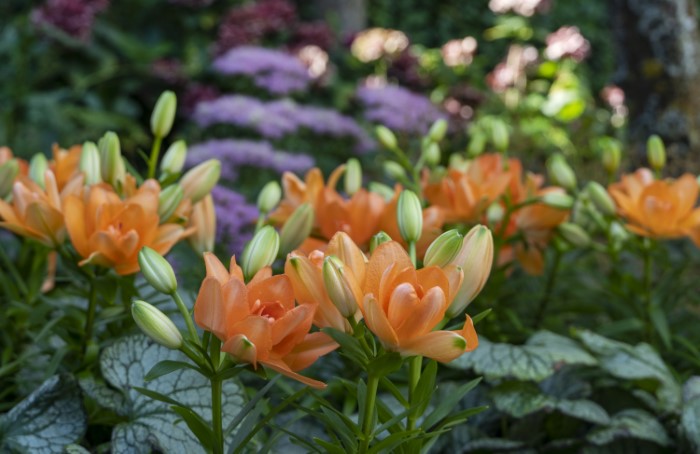 Asiatic Lily Flower
Lilium asiatica
Many gardeners add Asiatic lilies to their gardens as they're one of the easier lilies to grow and find. They're known for having lots of bright colours, ranging from pastels all the way to deep reds. Oftentimes with spotted petals, the flowers really stand out in your garden. The flowers vary in shapes, from simple to curved.
Their straight stems do feature lots of flowers, with 3-6 per stem. The plants range 2-5 ft high and can usually stand on their own without any stakes. Asiatic lilies are one of the first lilies to bloom, sprouting flowers in late spring and early summer. They live long and are vigorous growers, enjoying a long bloom season of around one month.
Unlike most of the other lilies, you won't get any fragrance from Asiatic lilies. They're also a favourite for deer and rabbits so make sure to keep them in an area of the garden they can't get to.
Plant your Asiatic lilies in spring or fall in full sun or part shade. They do well in most soil types, preferring well-drained soil with plenty of nutrients.
For low-growing cultivars, look at the 'Horizon' (orange), 'India' (red), 'Paulus Potter' (white with red center), and 'Admiration' (cream-white). Other notable cultivars include 'Connecticut King' (yellow), 'Monta Rosa' (pink), 'Roma' (creamy-white), 'Enchantment' (orange), 'Alaska' (white), and 'Gran Paradiso' (red).
Oriental Lily Flower
Lilium orientalis
Out of all the lilies, oriental lilies have the most to say. These dramatic flowers can be as large as a dinner plate and have ruffled edges. The flower petals are much larger than Asiatic lilies and open up completely, showing off spots and other vibrant patterns.
They grow tall, 2-5 ft and often need stakes to support their large blooms. These lilies are the last to bloom, emerging in late summer from August to September.
Everything about them is bold. Their rich colours typically include red, purple, pink, and white. They produce heavy amounts of pollen that need clipping if brought inside. And their delightful fragrance goes unmatched!
Oriental cultivars are more tolerant and even thrive in cooler regions. They can handle most soil conditions.
One of the most popular cultivars of lilies ever, the 'Star Gazer', has pink flowers with white edges and dark spots. A popular cut flower, it lasts long, has an amazing fragrance, and faces upwards for easy admiring.
Other popular cultivars include 'Mr. Ed' (white with red speckles), 'Miss America' (light pink), 'Miss Germany' (pink with a light red star), and 'My Romance' (dark pink). Other notable cultivars include 'Marco Polo' (white with a light pink edge), 'Mona Lisa' (pink), and 'Casa Blanca' (white), and the 'Roselily Felicia' pictured below.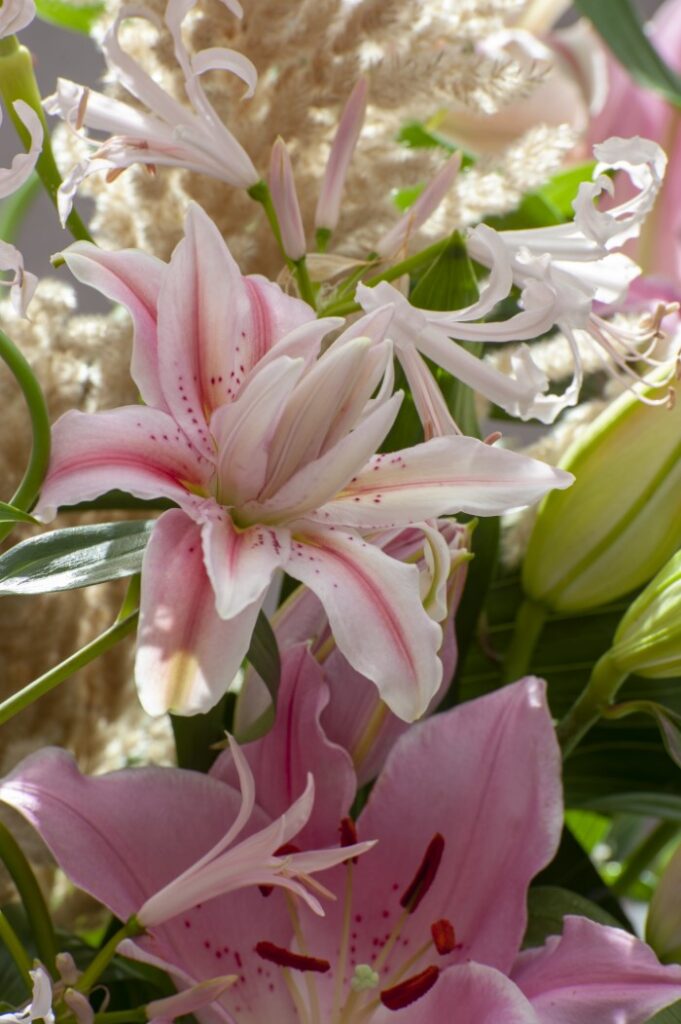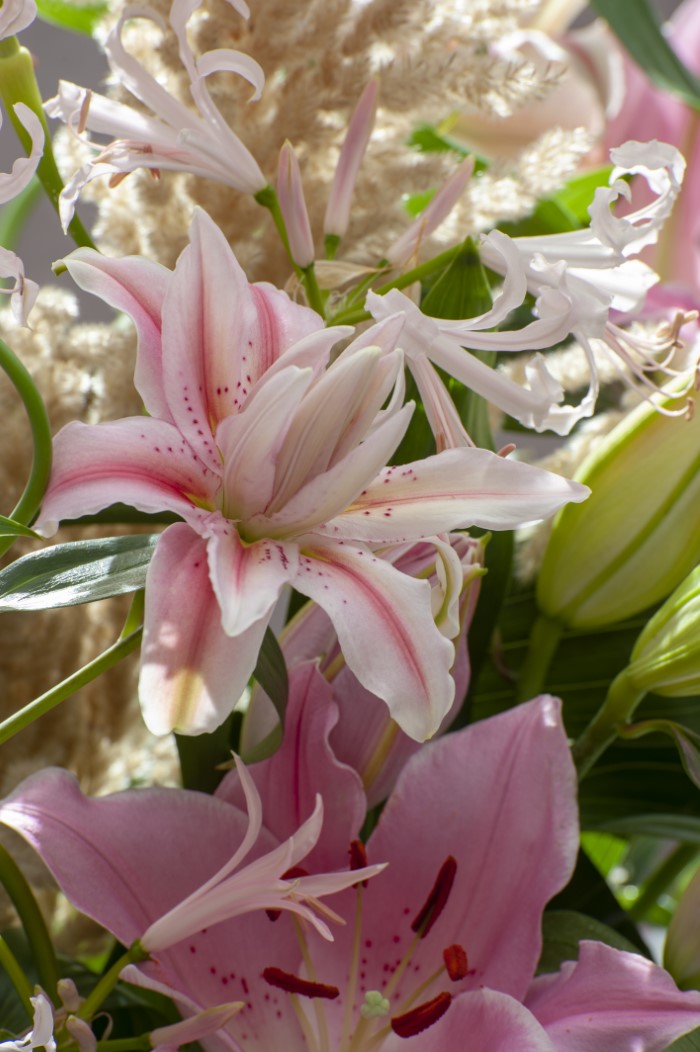 Martagon Lily
Lilium martagon
If bountiful numbers are your thing, try growing martagon lilies! More commonly known as Turk's cap lilies, these flowers can grow up to 6 feet tall and contains a dozen or more blooms per stem. In fact, you may see upwards to 50 flowers per stem if you're lucky.
One of the most difficult lilies to grow, they are well worth the effort. You'll often find them in yellow, orange, dark red, white, pink, and light purple with spots. They have much smaller flowers that face downward with curved petals.
Turk's cap lilies bloom in early to mid-summer from May to June. They work as wonderful border plants. With slender stems, they grow 3-6 ft tall. 
Plant them in the fall  May or June flowers. Out of all the lilies, these are the most shade tolerant. They enjoy slightly alkaline and well-drained soil. It may take them a year or so to adjust to your garden, but they will thrive for many years once established. 
Popular cultivars include 'Arabian Knight' (fragrant, golden with mahogany spots), 'Manitoba Morning' (pinkish-red with mahogany spots), and 'Scarlet Morning' (orange blossoms with mahogany spots). 
Trumpet Lily
Also known as Aurelian lilies, these flowers never fail to produce a multitude of flowers. On each stem, you can get anywhere from 12-15 blooms on average. The flowers are quite fragrant with a heavy sweet smell so you'll surely get enjoyment every time you pass by these beauties.
Most of the flowers will have contrasting colours in white, yellow, orange, and pink shades. The waxy, trumpet-shaped flowers are 6-10 inches long and either face upward or form a bowl shape. 
Unlike most of the other lilies, they are not frost-hardy and should be planted once the threat of frost has passed. But, they're fairly easy to grow as long as they're planted in a sunny location and kept moist.
Because of their later planting, you can expect blooms in mid to late summer. They have a long flowering period thanks to second or third buds. 
Common trumpet lilies include the Lilium longiflorum (known as the Easter lily with pure white flowers), Lilium regale (pink outside, white inside, and yellow throats), and the Lilium leucanthum (curved petals and noticeable stamens). 
Orienpet Lily
When you cross oriental and trumpet lilies, you get orienpet lilies! As with any good crossover, you get the best traits of each of the parents. Orienpet lilies are brilliant and bold like oriental lilies yet have the colour and abundance of trumpet lilies. This makes them one of the all-time favourites for home gardeners.
You'll find orienpet lilies in white, red, yellow, orange, and pink. The flowers are waxy and slightly curved and bloom towards the end of the gardening season. Orienpet lily flowers are also heavily fragranced. 
As a hybrid, they are much more drought, heat, cold, and disease tolerant than their parent plants. With heavy stems, they are quite sturdy and up to 3-8 ft tall. 
Popular orienpet lilies include my beloved 'Black Beauty', 'Flashpoint (bright pink flowers with white edges and bold fragrance), 'Gluhwein' (soft peach with red and pink tones and a golden throat), 'Belladonna' (cheerful yellow with large bowl-shaped flowers).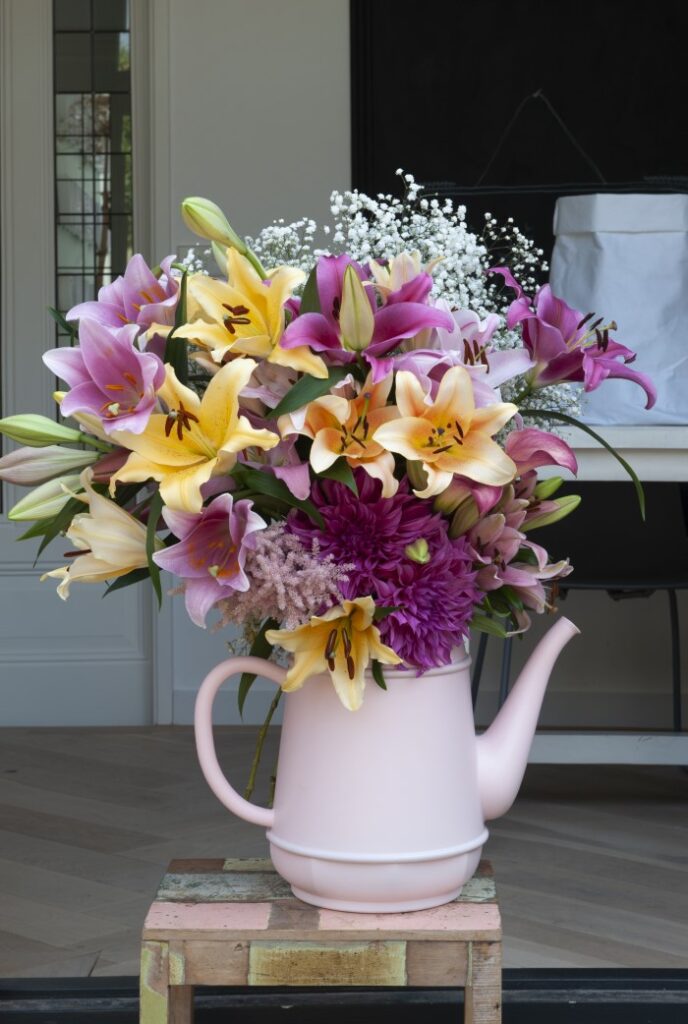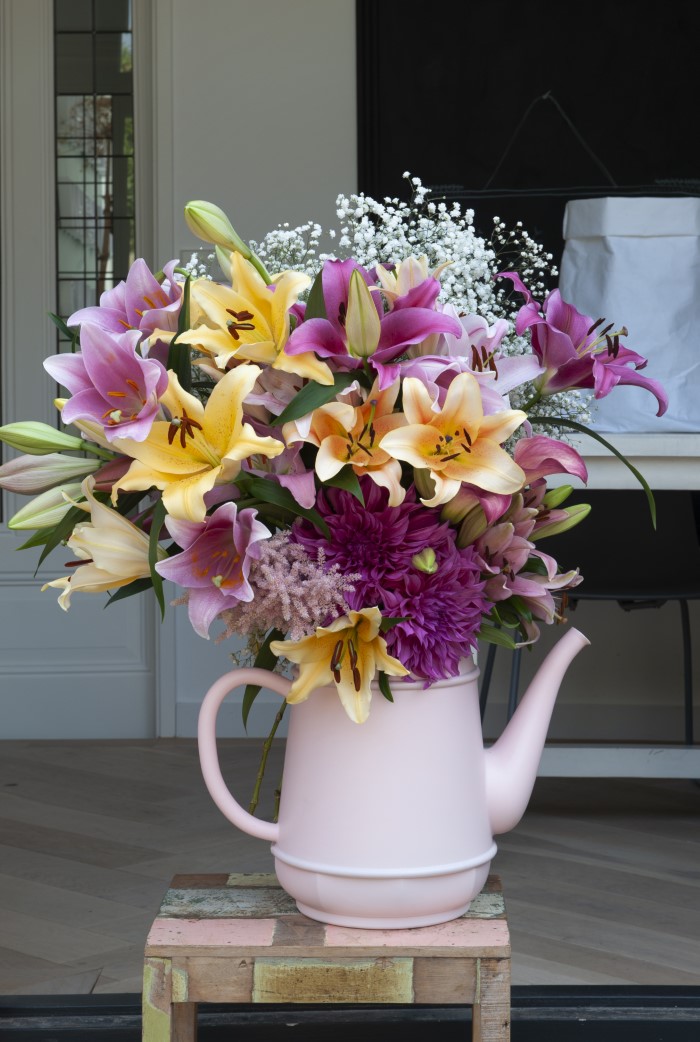 Wild and Species Lily
These lilies are the start of it all so they're worth a mention! These lilies are any native species found in the temperate areas of North America, Europe, and Asia. All cultivars are bred from these flowers.
In the wild, they propagate from seed. However, species lilies can be difficult for home gardeners to grow despite flourishing on their own without human help. If you're lucky to live where they are native, then they'll feel right at home and will easily grow. It's quite a treat to have such gorgeous native plants!
Notable species and wild lilies include the Canada Lily (Lilium canadense), tiger lily (Lilium lancifolium), Henry's lily (Lilium Henryi), Madonna lily (Lilium candidum), and golden-rayed lily (Lilium auratum).
Planting Lilies
Lily flowers come from true bulbs and should be planted either in the fall four weeks before the first frost date or early in spring once the ground becomes workable. Space each bulb 12 inches apart and 6 inches deep. To avoid bulb rot, make sure to plant them in well-draining soil.
You can also plant lilies in pots but they must be a low-growing variety. Make sure the pot is deep enough, around 12-16 inches. Pair with good potting soil for proper drainage.
Lilies can grow in partial shade but prefer full sun. Since they like 'cold feet', try to add plants to shade the lower part of the plant from the afternoon sun. They work well paired with perennials and will provide bursts of summer colour after the spring shrub blooms.
Tall lilies may need staking to stay upright. Consider planting your bulbs in an area sheltered from strong winds. While growing, give them plenty of water and fertilize every two weeks until the flower has finished blooming.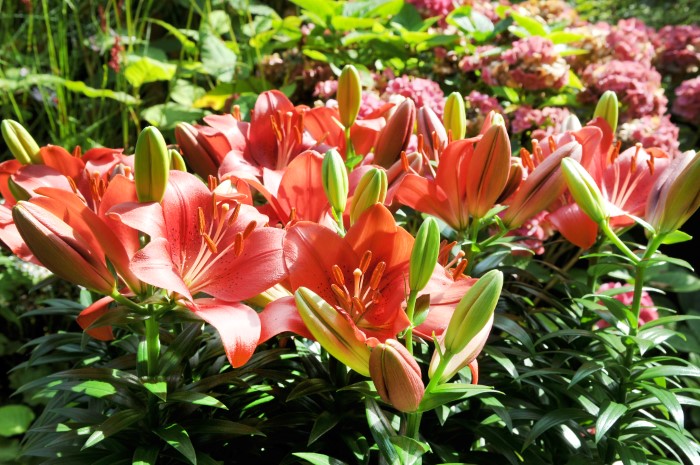 Lily Bulb Giveaway!
As promised, here is an amazing giveaway for you thanks to flowerbulbs.com.
NOTE: This contest is now closed. Congratulations to Bethany Stewart who was the winner!
One lucky winner will receive $100 worth of lily bulbs to plant this spring to enjoy this summer PLUS I will be sending you copies of 2 of my books, Garden Alchemy and The Regenerative Garden. You'll have a garden bursting with colour and fragrance thanks to some of the most beautiful lily flowers available this season.
To enter, leave a comment on this post and/or comment on my Instagram post about the giveaway. The contest closes on April 7th, 2022. A random number generator will select the winner from the pool of both sets of comments and the winner will be contacted by direct message or email. The winner has 3 days to reply before a runner-up is chosen. Due to shipping limitations, only those in the continental USA may enter.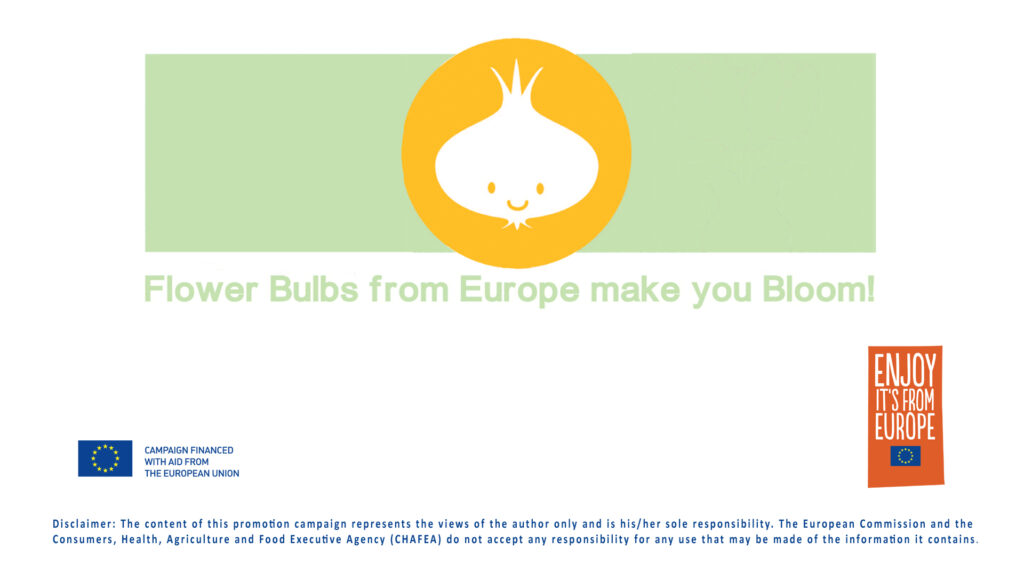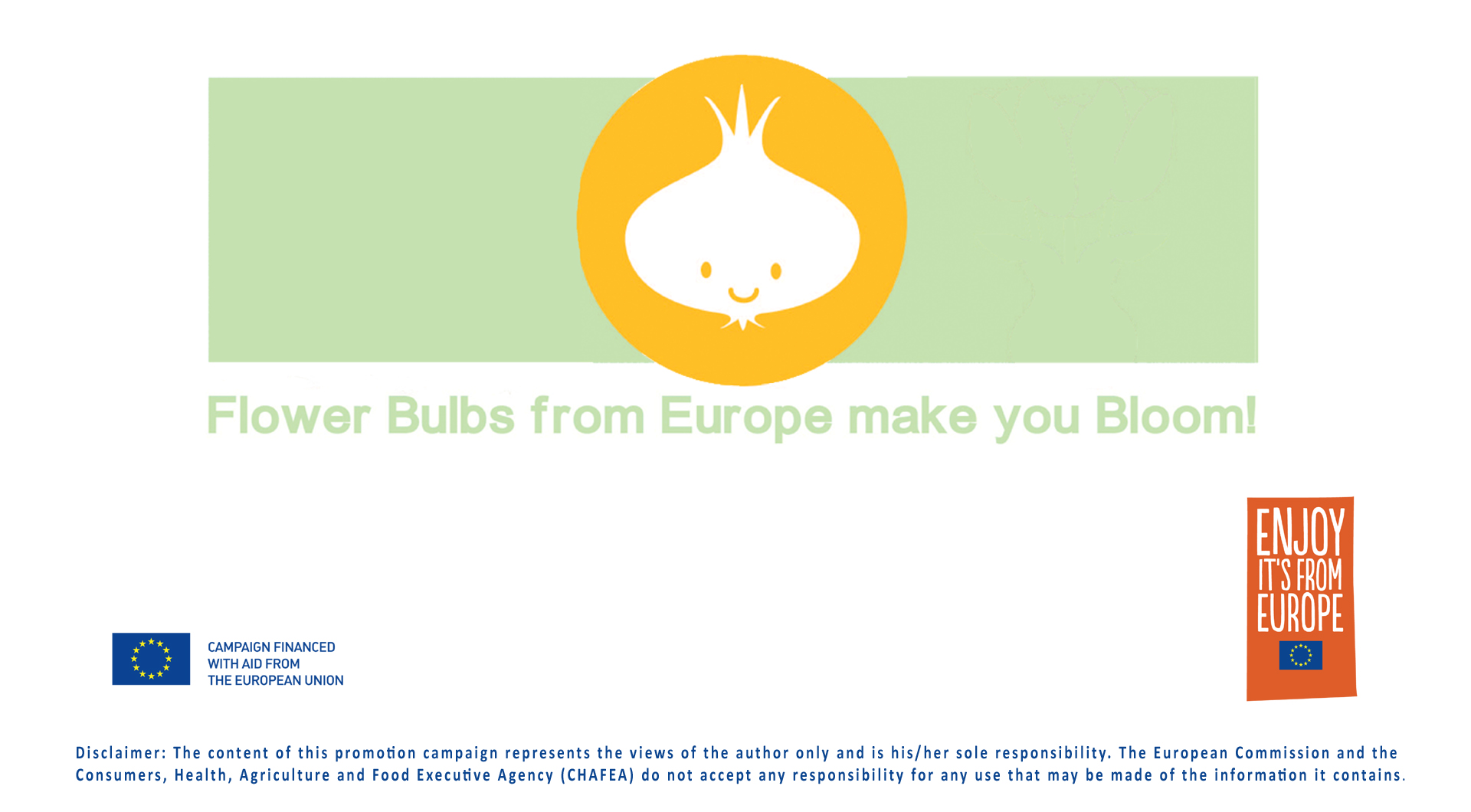 More Flower Guides