The garden experience can reach all of the senses, but my favorite is aroma. Among hosts of other pleasant garden scents, some of the first to come to mind are those of flowers. The thing is, not all flowers offer a scent. If you are gardening just for the smell of it, here are my top ten wonderfully fragrant flowers.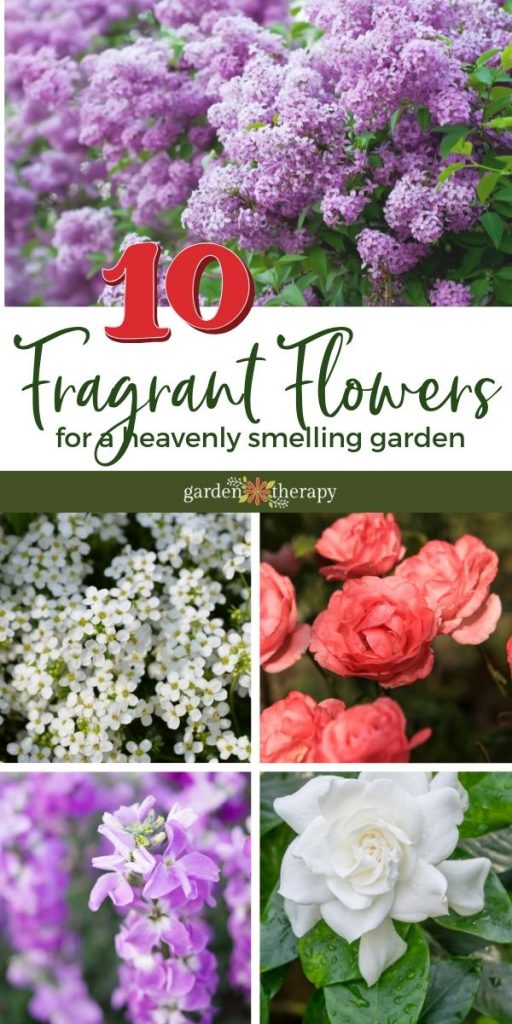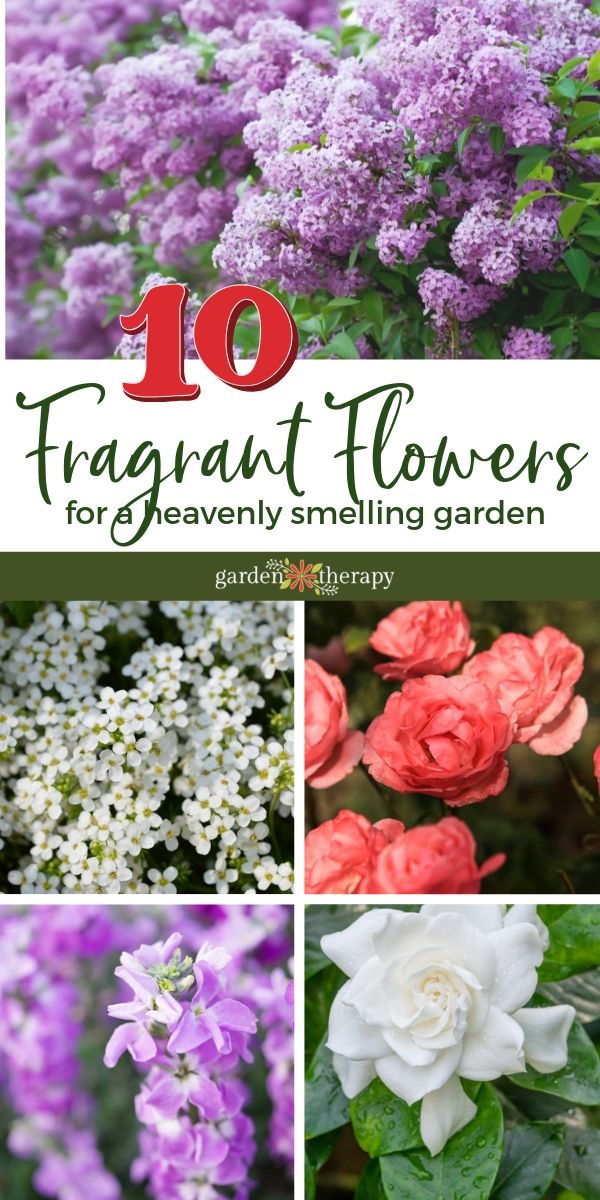 Fragrant Flowers to Delight Your Senses
I love to watch other plant-lovers interacting with plants. They see a beautiful flower, and pick up their step to get a closer look. They touch the leaves, possibly the petals, and then lean in for a sniff. We enjoy the garden with all of our senses. While we tend to lead with our eyes, we gather even more information about plants through touch, taste, sounds, and scent. That aroma that we love is there for biological reasons: to attract pollinators. Thankfully we get a chance to enjoy their sweet sweet smell too. Especially these ten heavenly-scented garden flowers.
Heliotrope (Heliotropium) – Annual
This purple beauty has an almond scent. Some even say it smells like cherry pie! Heliotrope is an annual that prefers full sun, but will tolerate afternoon shade if grown in an area with hot summers. They bloom from summer until fall and add a beautiful pop of color and fragrance mixed in an annual garden.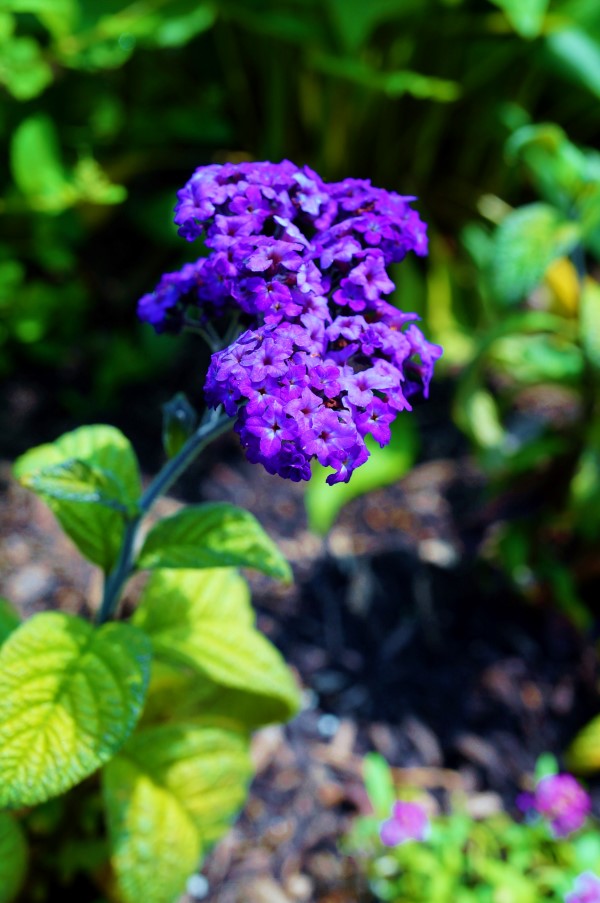 Sweet Alyssum (Lobularia maritima) – Annual
These delicate tiny flowers have a subtle, sweet scent. They are a cheery plant and really do not need much to remain happy. Give them well-drained soil and a bright location and they will reward you with a carpet of natural perfume all summer long.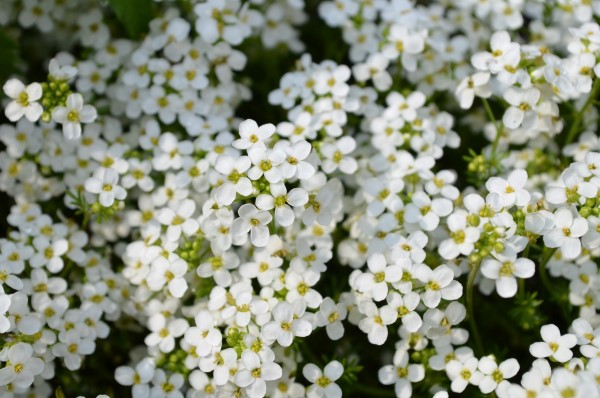 Stock (Matthiola incana) – Zone 7-10
They might be a grocery store bouquet staple, but these hardy flowers have a pleasant, spicy, clove-like scent. They hold up well as cut flowers which are why they are favorites of florists. They're available in white, pink, purple, yellow and red. You can grow this annual from seed in the spring to summer in a well-drained, sunny spot in your garden. They will give you plenty of continuous blooms all season long.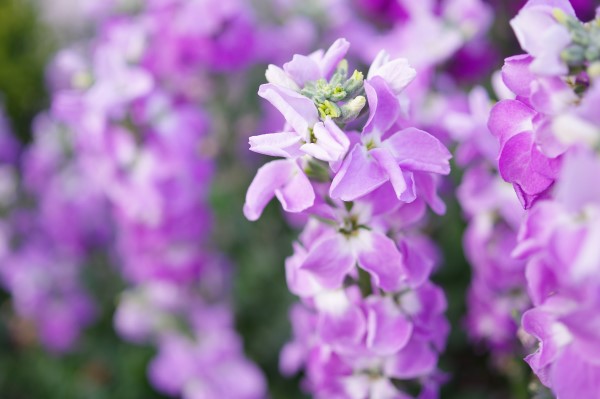 Scented Geranium (Pelargonium graveolens) – Annual
Although these beauties are known for their attractive blooms, it's the leaves of scented geranium that give them their famous aroma.The plants have glands at the base of their leaf hairs where the scent is formed. When you crush the leaves, the oil is released and so is the scent. Some say the scent (depending on the variety) smells like apricot, apple, lemon, mint, or strawberry. Scented Geranium like full sun to partial shade and bloom from late spring into summer.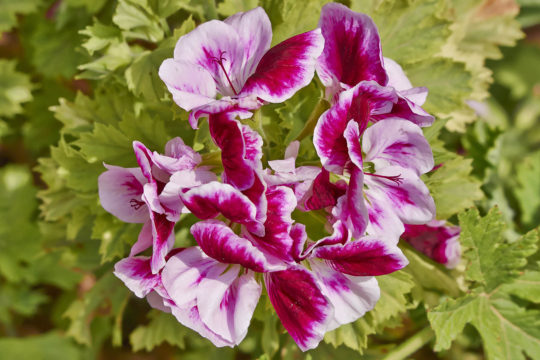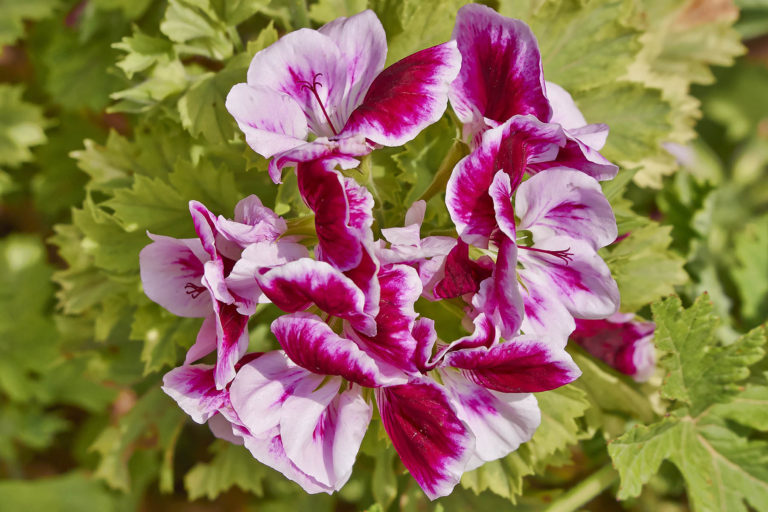 Lavender (Lavandula spp.) – Zone 5-9
This is perhaps the most popular herb grown for its fragrant flowers. Lavender is by far one of the most used scents in essential oils for its relaxing and calming properties. Lavender's tall blue blooms and heavenly scent make it perfect to plant along walkways or in perennial gardens. They love full sun and well-drained soil. In humid areas with poor soil drainage, plant lavender in containers.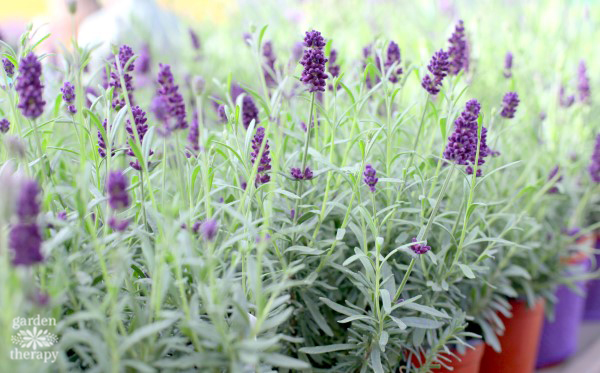 Lily of the Valley (Convallaria majalis)- Zone 2-9
For many, these dainty bell flowers are the quintessential scent of spring. The spring bulb has a clean, sweet smell that is as delicate as its flowers. Plant lily of the valley in late fall in partial shade and a moist soil. The bulbs naturalize an area pretty easily and can be invasive, so take that in mind before you put them in the ground. Alternatively, they grow beautifully in containers as long as they receive the right light and adequate moisture. Also, please note that lily of the valley is poisonous and should be kept out of gardens with children and pets.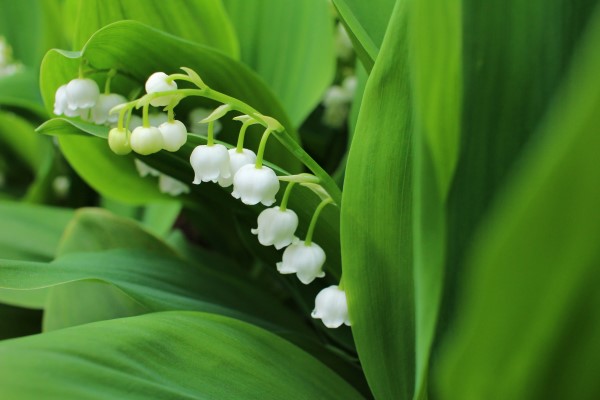 Hyacinth (Hyacinthus) – Zone 3-9
Skip the tulips and plant hyacinths to give you beauty and fragrance. These bulbs have densely packed flowers in deep shades of blue, violet, red, white, orange, pink, or yellow. Each color will have its own light floral scent. Plant the bulbs in Autumn in well-drained, moderately fertile soil in sun or partial shade under a window or near a walkway. In the spring, you will be rewarded with lovely blooms with an intoxicating scent in the warm spring breeze.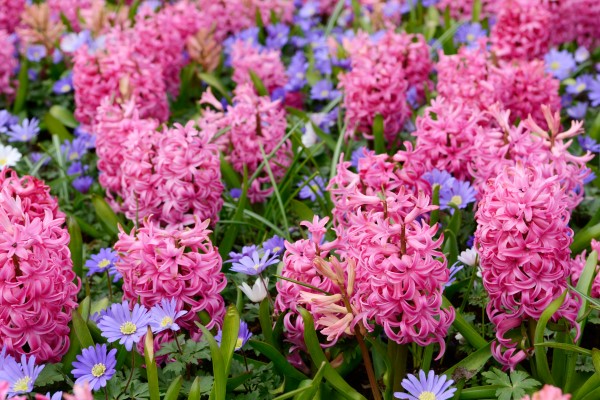 Gardenia (Gardenia jasminoides) – Zone 8-11
This lovely shrub is a southern favorite. I am aware that not all areas can grow these beauties outdoors since they are cold sensitive and may not survive severe winters. However, gardenias can be grown in containers and brought indoors for the winter. Are they worth all the fuss? If you have never smelled one, I assure you that you will fall in love with its warm, spicy scent. And they are sure pretty! Plant Gardenias in partial shade if you live in zones 7-11. They also prefer moist but well-drained acidic soil with plenty of organic matter.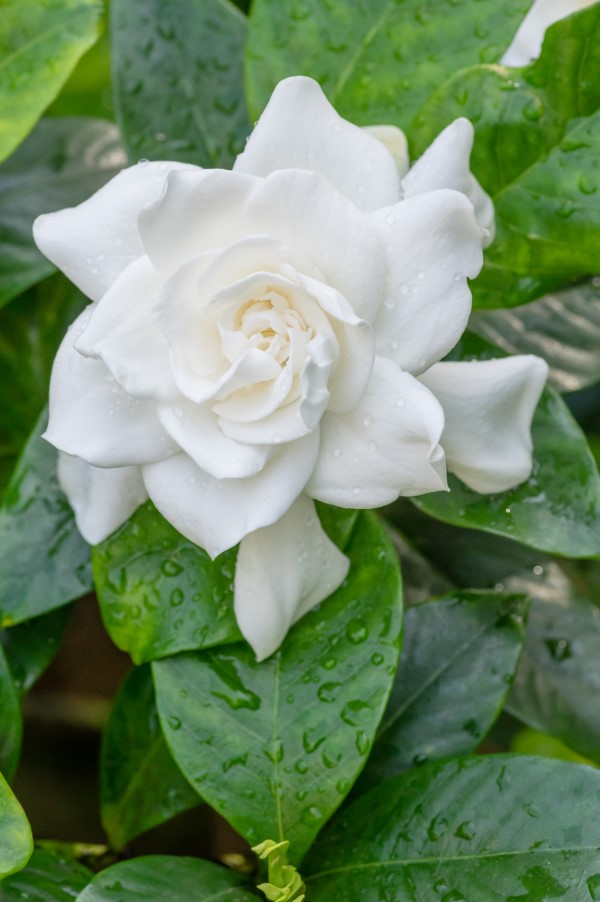 Rose (Rosa spp.) – Zone 3-11
You can not have a fragrant garden without a rose! There is a common misconception that the scent has been "bred out" of roses. While it's true that many roses were bred for form and color alone, there has been a resurgence in interest in scented rose varieties that has led to a better availability in most garden centers. The smells can be anise-like, musky, or fruity, depending on the variety. Roses come in many colors and growth habits and different tolerance to climate; there's one to fit in every garden. In Zone 3, look for "own root roses" that die all the way back to the root in winter and regrow from their own root stock. In Zones 10 and 11, look for varieties that don't need a winter chill to bloom the following year. Roses love the sun (at least 6 hours a day) and rich, well-drained soil.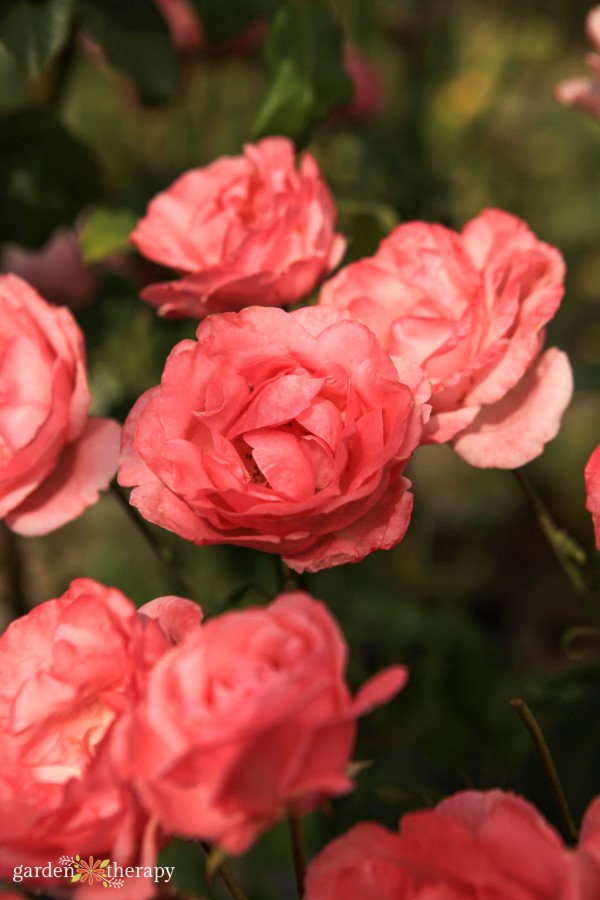 Lilac (Syringa spp.) – Zone 3-9
Sweet smelling lilacs are popular shrubs in gardens due to their heavenly aroma and growing ease. They come in several colors, but purple and white are the most popular. Lilacs are hardy shrubs, easy to grow, and generally low maintenance. The fragrant flowers make great cut flowers and attract butterflies. Plant lilacs in full sun in fertile, humus-rich, well-drained, neutral to alkaline soil.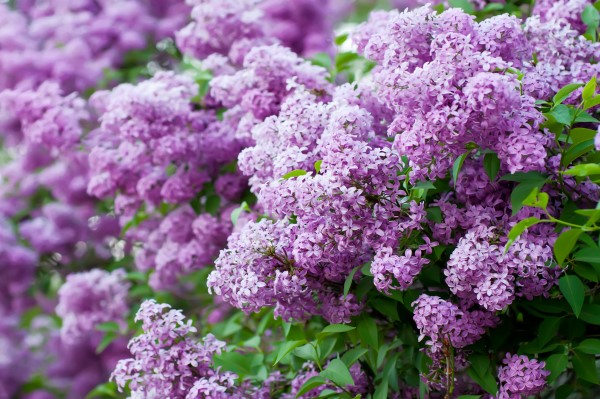 Love plants? Me too! You might also like these plant lists: