Breathe fresh life into an old piece of clothing with a little help from the garden. Making upcycled clothing can become a fun weekend project just by using ingredients grown from your garden. So go ahead and grab some new pieces from the thrift store and let's make some reworked clothing!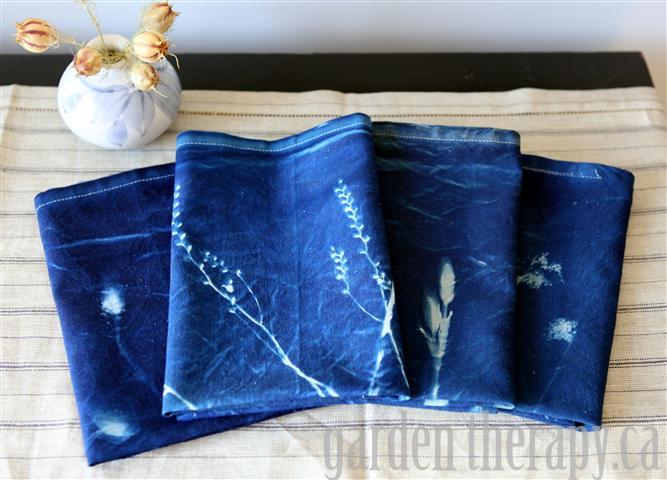 The stats surrounding clothing are downright scary. Approximately 85% of textiles go to the dump each year, and less than 1% of clothing gets recycled. Another says that 35% of microplastics in the ocean come from laundering synthetic fabrics like polyester.
Then you have the making of the garments themselves. Polyester releases 2-3 times more carbon emissions than cotton. The fashion industry itself is the second-largest consumer of the world's water supply.
There are also some dangerous chemicals lurking in the fast fashion world. In an investigation run by CBC, they found that one in five pieces of clothing from fast fashion retailers had high levels of harmful chemicals like lead, phthalates, and PFAS.
Yikes!
Companies will continue to produce vast amounts of cheap clothing as long as the consumer wants it. Upcycling clothing allows us to reimagine how a garment looks or give it a new life as something else altogether.
Upcycling stops one more piece of clothing from going into the landfill and another new piece from being produced and sold. It's important that we try to prolong the life of existing clothes as much as possible. And who doesn't love a good thrifting trip?
Here are ways you can make upcycled clothes with the garden serving as inspiration!
This post will cover…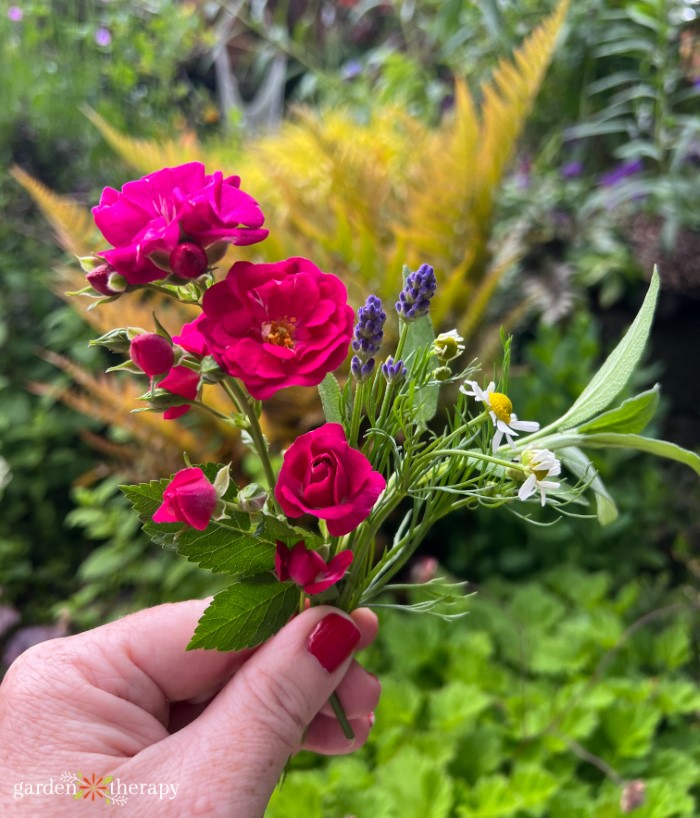 How to Upcycle Clothes Using the Garden
Flower Pounding
I created this post after seeing all kinds of videos of people trying their hand at flower pounding to make upcycled clothing. I've done flower pounding many times before and have written posts about it, but I have never thought to try it on clothing before!
Flower pounding allows you to create botanic prints on fabric by hammering flowers and leaves onto fabric. They leave a colourful imprint of the flower behind.
The key is making the natural dye from the flowers last. To do this, prep the fabric by dissolving 3 tbsp of alum per litre in hot water. Add the fabric and let it sit until the water is fully dry.
Then, follow these instructions for flower pounding.
Afterward, iron the fabric on the highest setting to set the dye. Treat your fabric carefully by machine washing it with cold water and hanging it to dry.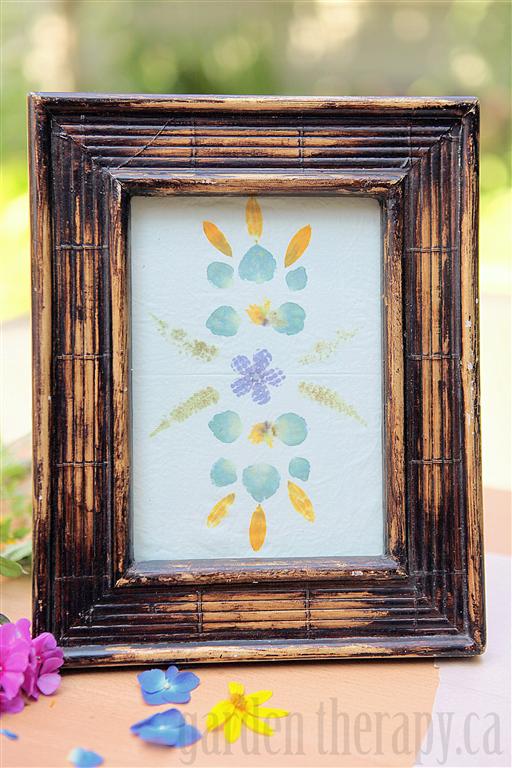 Natural Dyes
So many plants can be made into natural dyes, which is such a fun way to make upcycled clothing. I encourage you to go into your garden and experiment with which flowers and leaves can turn into dyes. You may end up with some unexpected colours!
Here are some plants that work as excellent natural dyes:
Beets
Coffee
Japanese indigo
Paprika
Purple cabbage
Onion skins (red or yellow onions)
Spinach
Turmeric
This post shows you how you can use marigold to dye fabric. It has some great instructions and tips that you can apply to other natural dyes as well!
As a general rule of thumb, take the dried, fresh, or powdered plant material and simmer it in hot water. Use two parts plant material with two parts water. Once you're satisfied with the colour, strain the plant material out and allow the dye to cool before using.
Sun Printing
A couple of years ago, I got obsessed with cyanotype printing. This printing type uses the sun's power to imprint your botanicals onto your fabric.
First, you treat the fabric with potassium ferricyanide and ferric ammonium citrate. It must be on natural materials like cotton or muslin. After the fabric dries in a dark room, you can lay your plant materials on it and let it sit in the sun.
After just 20 minutes, the fabric has been printed! It's that simple.
For beginners, you can get sun printing kits that have everything you need to get started. I have fully detailed instructions on how I made these cyanotype printed napkins that you can apply to any natural fabric.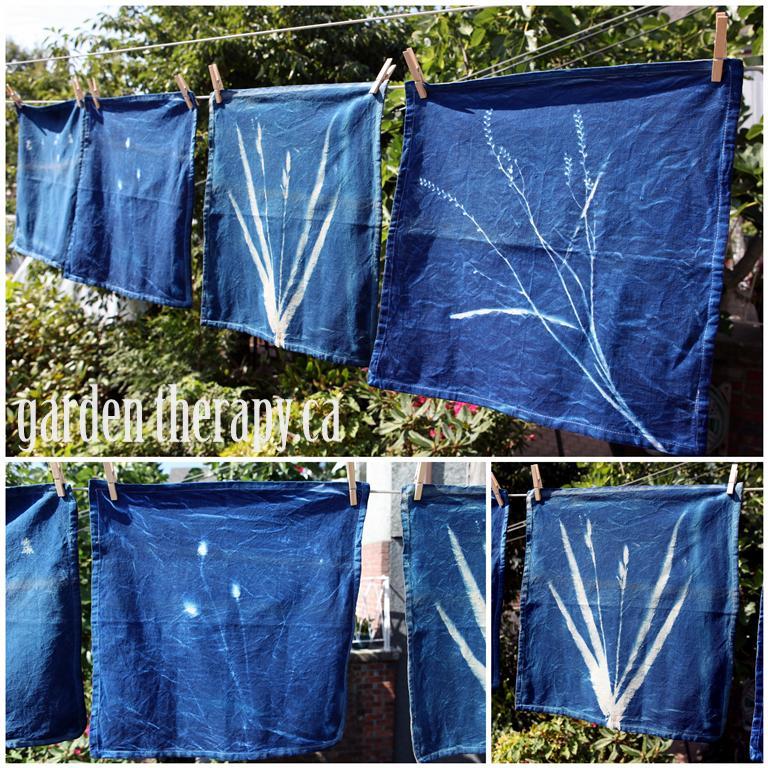 Stamping Prints
This method takes inspiration from the garden. I made stamped fabric napkins at Christmas, and they turned out amazing! I used a roller brush to smooth fabric paint over a rubber stamp to create my botanical prints. The options with this are limitless.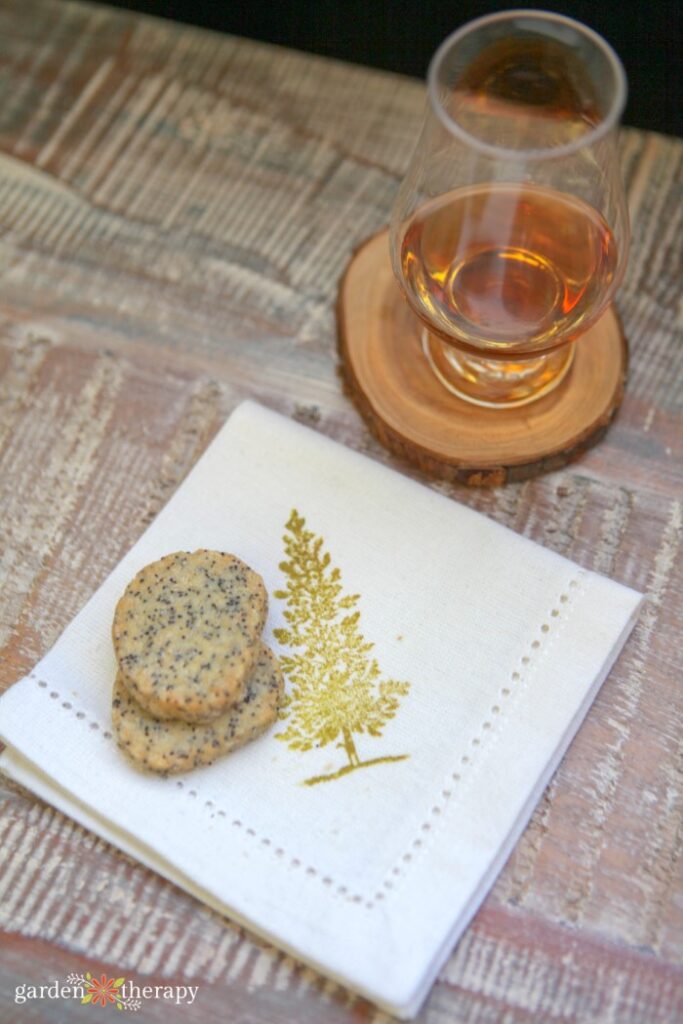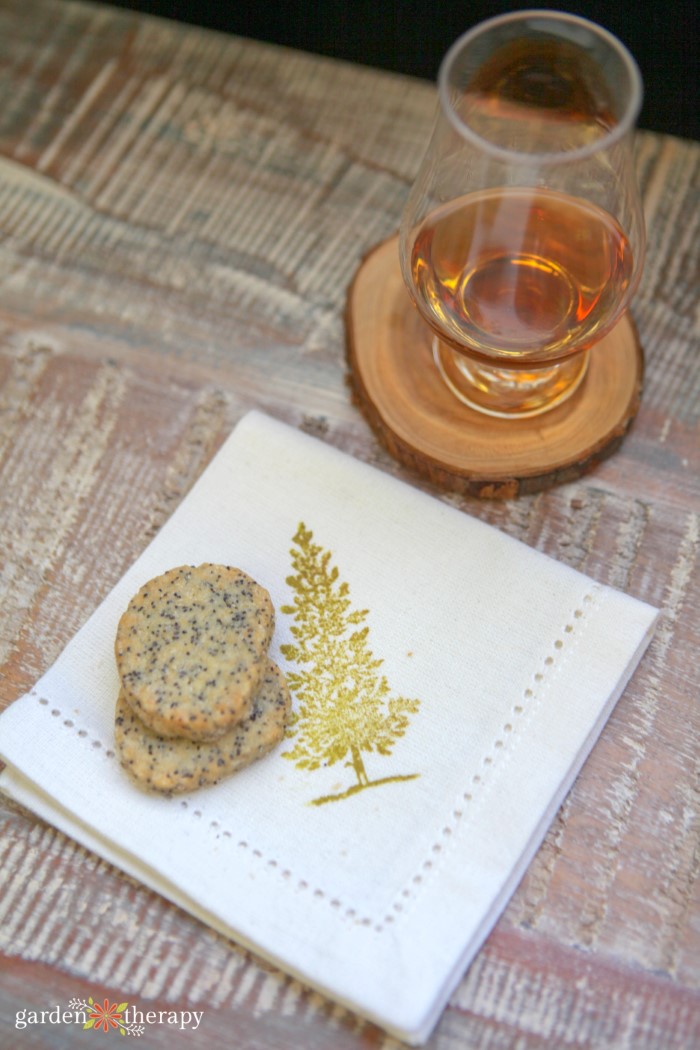 I've also seen some people make their own stamps to replicate their favourite flowers from the garden. You can get stamp making kits that have everything you need to get started making fabric botanical prints.
Thrifted Wool Cozies
Wool is a great material for reworked clothing because it doesn't fray or unravel when you cut it. It can also get pretty pricey when you pay for real wool felt by the yard.
When shopping at the thrift store, try to find mostly wool sweaters or other animal fibres like cashmere or angora. I then felted them using the washing machine, making cutting the wool fabric easy.
I then turned the wool felt into cozies for my plants. They look so cute in the winter, adding some coziness and charm. You can also use them as mug cozies.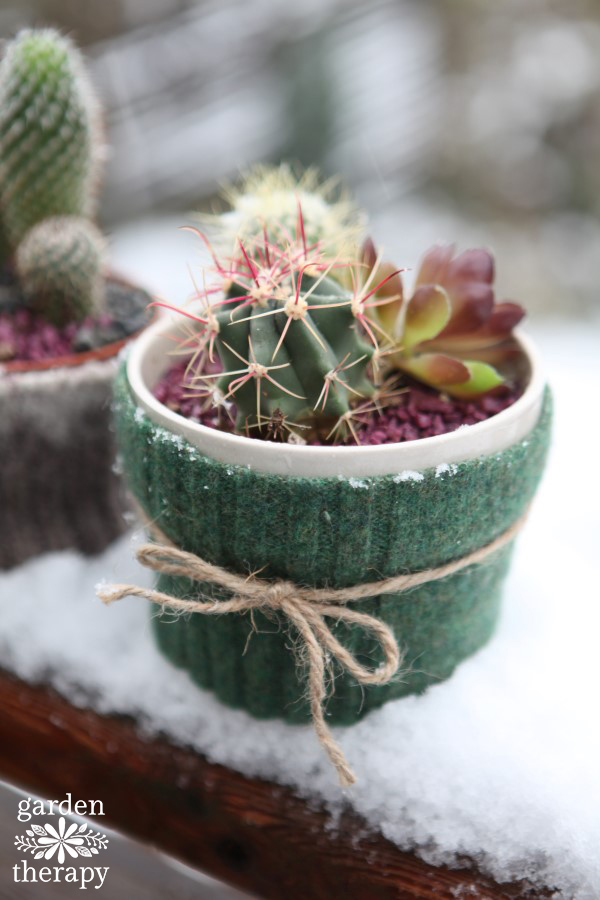 Herbal Drawer Fresheners
Speaking of felted wool, I did another project with the same sweater. Instead of making clothing, I made these herbal drawer fresheners.
The key is filling them with fragrant herbs like lavender, rose, mint, and rosemary. Stick them in your drawers, and they'll keep your clothes smelling fresh.
I did a similar project with these herbal dream pillows. I just changed the shape and filled them with herbs that promote sleep, like hops and chamomile.
For either of these projects, you can try to source thrifted fabric or rework clothing into these new projects.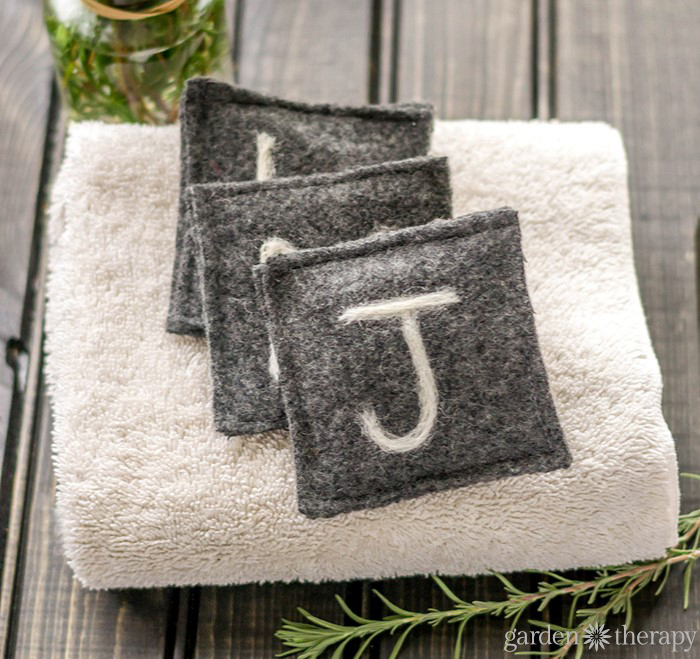 Macrame Plant Hangers
Macrame is back! I love using macrame as it's a chic way to hang plants, adding some greenery and décor from the ceiling. All while keeping plants away from curious cats!
At many thrift stores, you can also find craft supplies. To make a macrame, see if they have wire cable, leather, yarn, cotton twine, or other tactile materials. Then, follow the instructions in this post.
Alternatively, you can turn an old shirt into a macrame. To do this, cut the shirt into long strips. You may need a couple of shirts or one XL shirt to do so. Depending on the fabric, you can leave it as is or maybe even braid it into strips before making the macrame hanger.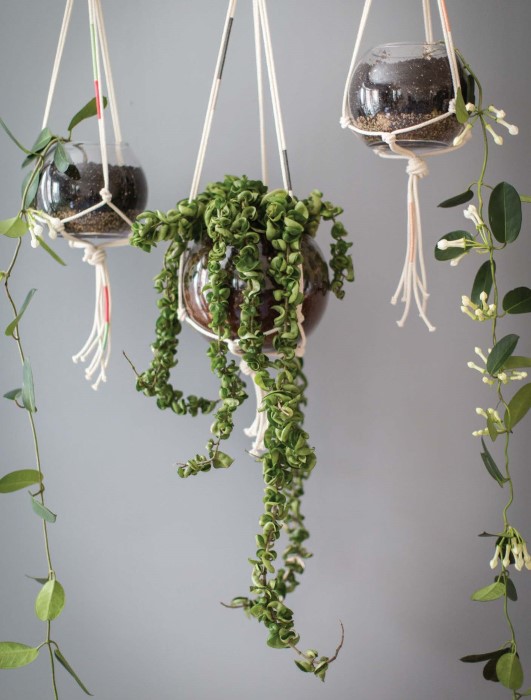 Hand Painted Tote Bags
At the thrift store, check out the bags section as well. I like seeing if any plain bags could use a little spruce up!
I turned this plain tote bag into a fun and vibrant creation that could be used at the grocery store, beach, when travelling, as a lunch bag, or even to hold all your knitting supplies. You can use fabric paint to make all kinds of upcycled clothes, not just bags.
You can either freehand the design using fabric pens or use a stencil to help you out. Then the rest is just painting with fabric paint and setting it! See how I made my market tote here.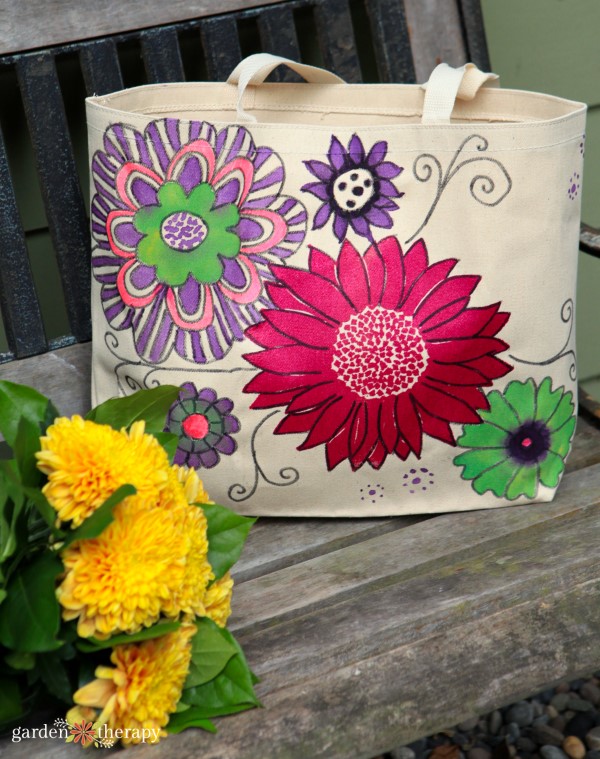 Frequently Asked Questions About Upcycled Clothing
Can you legally sell upcycled clothing?
Upcycled clothes enter into a grey area in the legal world. You don't want to infringe on copyrighted material like original artwork, designs, lyrics, and quotes. Or on trademarks, like company and product names, and brand identity, like logos and slogans.

However, fair use is allowed. This is where you can use and build upon existing works to create new works. But this is tricky to argue with in a legal matter, as it's quite broad.

Avoid using copyrighted imagery, sayings, and specific logos and brand names when reselling. Seek legal counsel if you're unsure whether your upcycled clothing violates copyright or trademark law.
What material is the best for upcycled clothing?
Natural dyes have difficulty sticking to synthetic, man-made fabrics like polyester or rayon. Natural fibres like cotton, linen, bamboo, hemp, wool, silk, cashmere, and muslin work best. When shopping at a thrift store or looking through your closet for reworked clothing, look for these natural fibres.
More Ways to Craft With the Garden