When friends come over to the garden in the summer, they get a treat for their eyes and taste buds when I pour a glass of butterfly pea flower iced tea. The dried flowers may not look like much when they come from the herb store, but the pretty blue flowers are eye candy in the garden and in the glass. Learn how to brew a cup of butterfly pea flower tea, all the wonderful health benefits, and why I can't get enough of this true blue flower.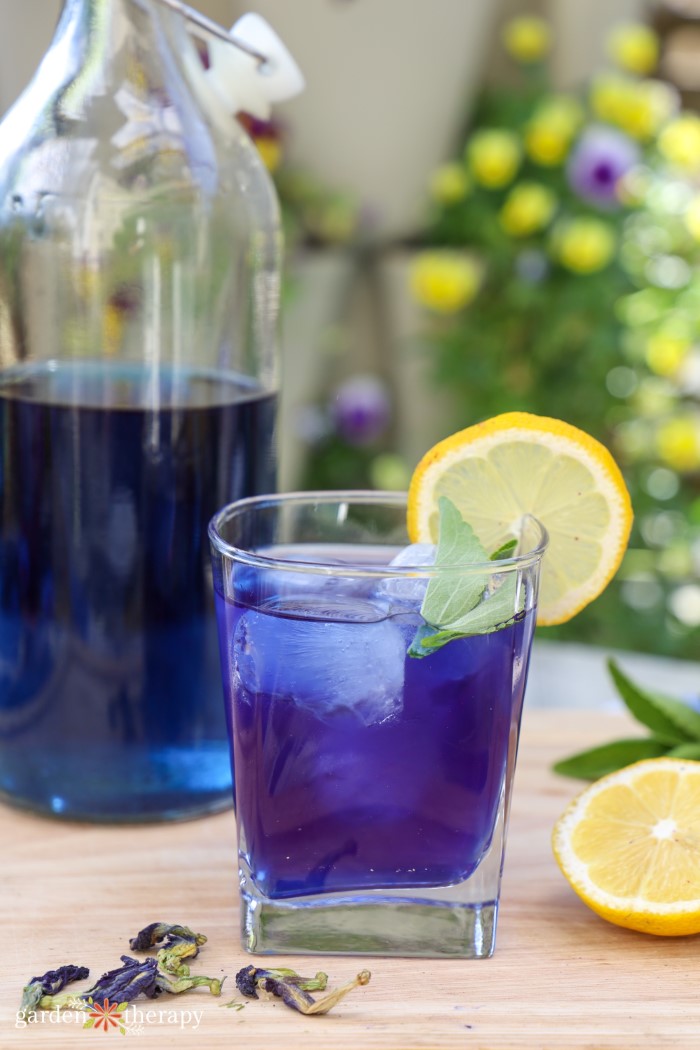 You may have seen this buzzy word on some menus from trendy eateries and bars. Many chefs and bartenders have recently discovered the love of this electric blue flower and just how fun it is to play with in food and drinks.
I pretty much consider butterfly pea flower tea a unicorn drink. The end result is typically a bright blue drink that will wow anyone who takes a sip. After all, you eat and drink with your eyes first!
The brilliant blue colour that comes from steeping the flowers in tea looks like it comes from food colouring more than a herb, but the anthocyanin in it becomes abundantly clear when you add acidic lemon juice and it turns yet another eye-catching colour, purple!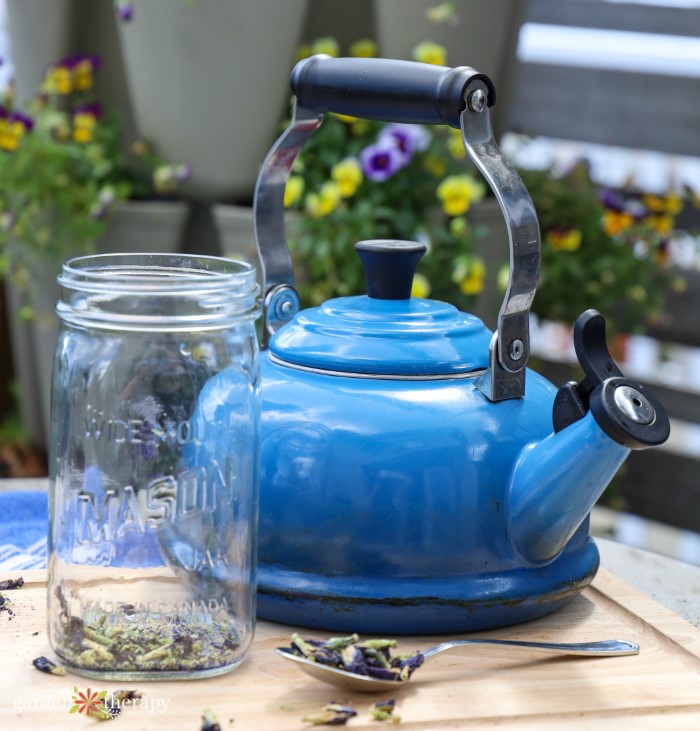 While many use the flower solely for its edible dye qualities, the flower has many health benefits and traditional uses. Let's learn more about this seriously cool plant.
Meet the Butterfly Pea Flower
Butterfly pea flowers come from the plant scientifically known as Clitoria ternatea. And yes, it is named that due to its resemblance to part of the female body. Some also know the plant by the name Asian pigeonwings.
From the Fabaceae (legume and pea) family, it's a herbaceous perennial that grows as a vine. The flowers are a vivid blue with yellow markings, though some of the flowers are white. Most often, they are grown as an ornamental in addition to their dye properties.
While butterfly pea flower may be a trendy drink, it's been around for a long long time. The plant is native to southeast Asia and can be found in places such as Thailand, Malaysia, Vietnam, and Indonesia.
The flower and its dye is popular in Thai and Malaysian cuisines, commonly used in the sticky rice dessert pulut inti and puddings. Malaysians also use it to make the dish Nasi Kerabu, a blue rice. Overall, the flower is valued mostly for the blue hue rather than the flavour.
In India, the butterfly pea flower is considered holy and part of the daily puja rituals. The plant is also traditionally used for dyeing, cosmetics, and cooking.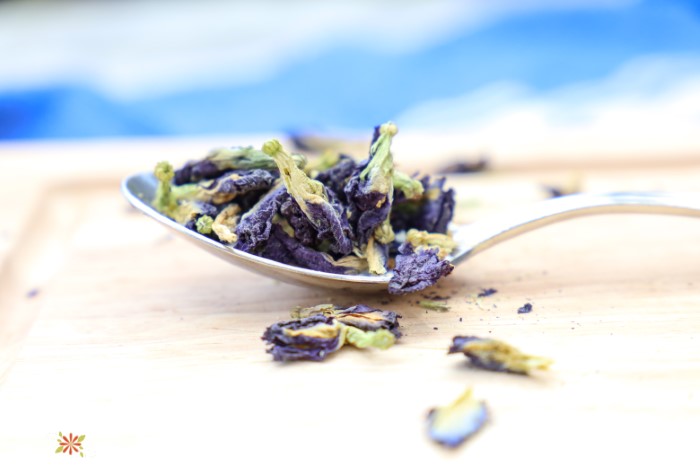 What the plant may be most known for, however, is butterfly flower tea!
Butterfly Pea Flower Benefits
I've become obsessed with butterfly pea flower tea. I drink it both hot and cold, on its own, and in other drinks such as yummy cocktails or lemonade. And luckily for me, the plant is so much more than a blue beauty.
Like other blue foods, the butterfly pea flower is high in anthocyanins, a type of antioxidant we are most familiar with in blueberries and red cabbage. These antioxidants are reported to be good for helping inflammation, heart health, and can even help boost mood.
Some consider butterfly pea flowers to be a natural nootropic. This means it can help with cognitive function. Traditional ayurvedic medicine uses the flower for calming and memory-boosting effects.
Some use the flower as natural paracetamol (acetaminophen) since it has antipyretic properties. It mimics that paracetamol by providing pain relief and helps to reduce a fever. People in Bali use the flower to treat eye ailments.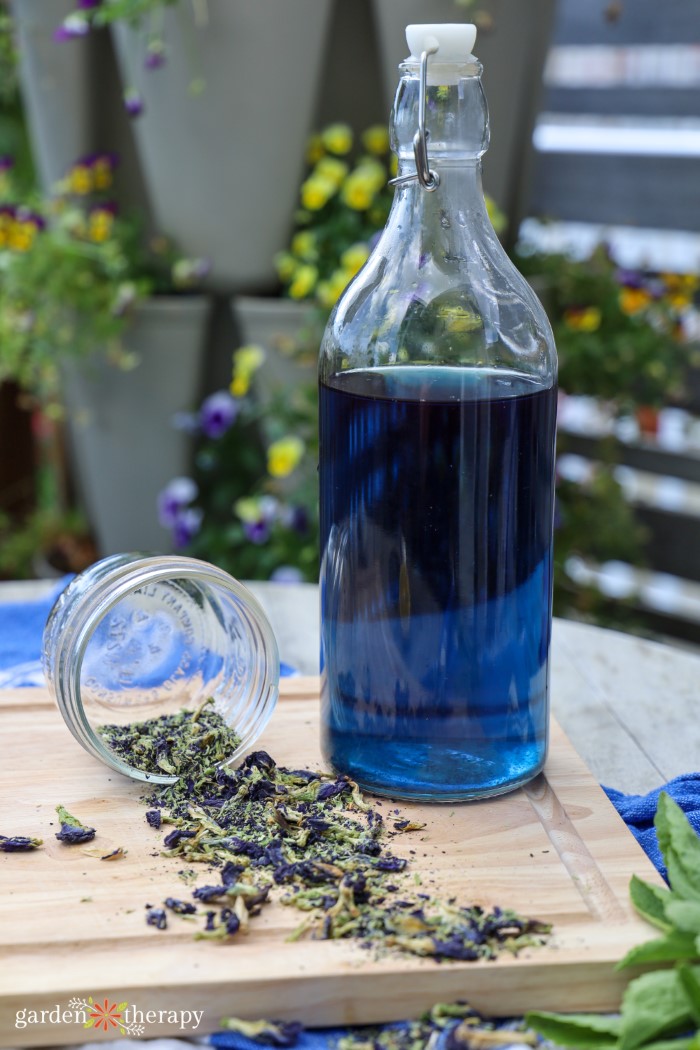 Overall, it's a very safe edible flower that has few side effects. You can drink butterfly tea every day safely, though pregnant and lactating women should consult their doctor beforehand. Keep in mind that overconsumption of the flower can cause vomiting and diarrhea.
Butterfly Pea Flower Tea
Why not start the day off with electric blue? Traditionally known in Thailand as nam dok anchan, butterfly pea flower tea is used as a welcome drink at hotels and spas or as a nightcap at most homes. The drink is made with butterfly pea flower and lemongrass, with honey, lemon, mint, cinnamon, ginger, and passion fruit as optional flavours.
A herbal tea, it has zero caffeine and can be enjoyed morning or night, hot or cold. The taste of butterfly pea flower is more earthy and woody, resembling green tea even though it's herbal. On its own, however, it is very mild and almost unnoticeable. It's more for the eye candy!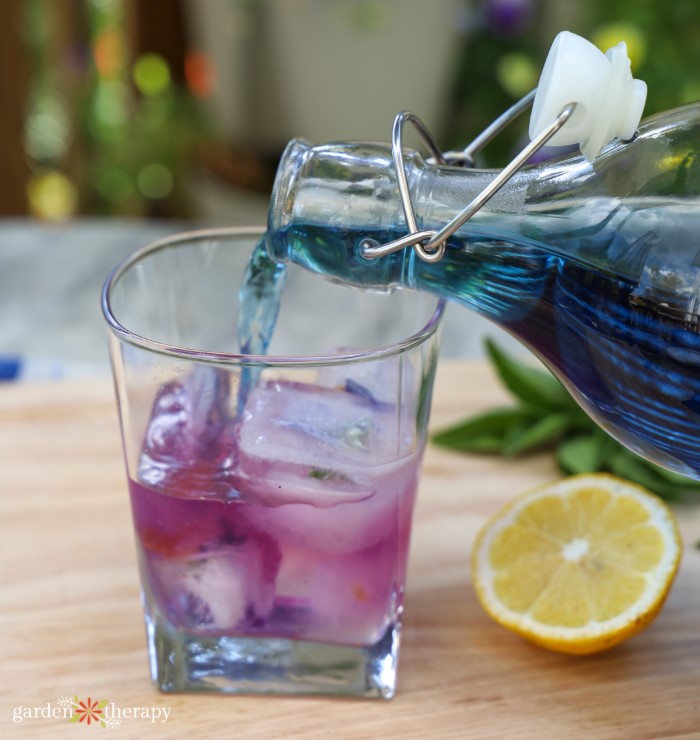 Like you would any herbal tea, you can steep the whole flower to get the bright blue colour. The longer you steep, the deeper the colour will get.
How to Change Butterfly Pea Tea Colour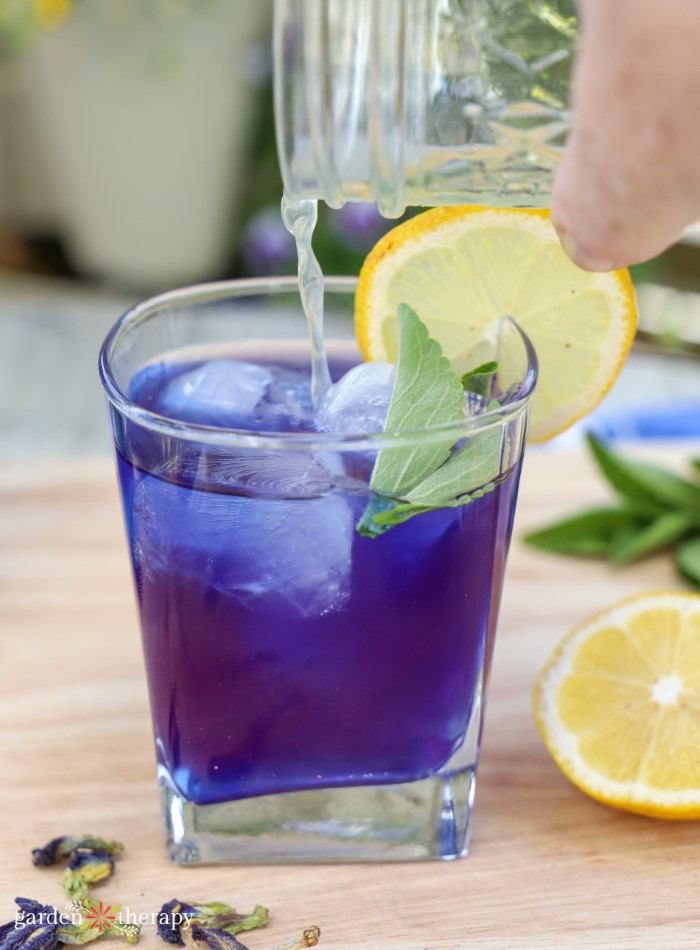 One of the coolest features of this tea is how suddenly it can change colour. As I mentioned, the flowers get their blue colour from anthocyanins. When steeped in water, they will turn the water a natural, vibrant blue.
However, you can easily change the colour of the tea to purple by adding some lemon juice. Anything acidic will change the pH and therefore the colour, just like hydrangeas!
You can even use these flowers to do a home soil pH test. I have a version of this test in my Garden Alchemy book, using cabbage water. Adding a spoonful of soil to the water and stirring will change the colour depending on your pH levels. Alchemy is so cool!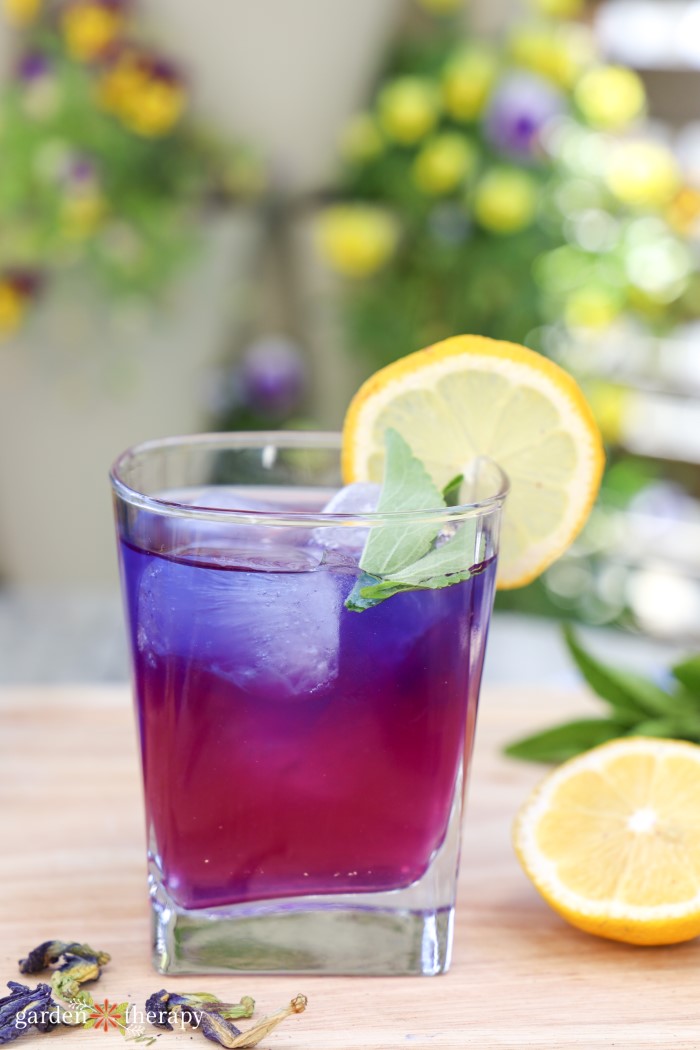 You can also add hibiscus leaves to turn the tea red. Many mixologists love to experiment with these fun colour-changing properties, creating all sorts of bright drinks. Try creating your own colour-changing cocktail or drink.
You can even freeze them as ice cubes and add it to lemonade to watch the colours change as the ice cube melts. This might be a fun one to do with floral ice cubes!
Using Butterfly Pea Flower Tea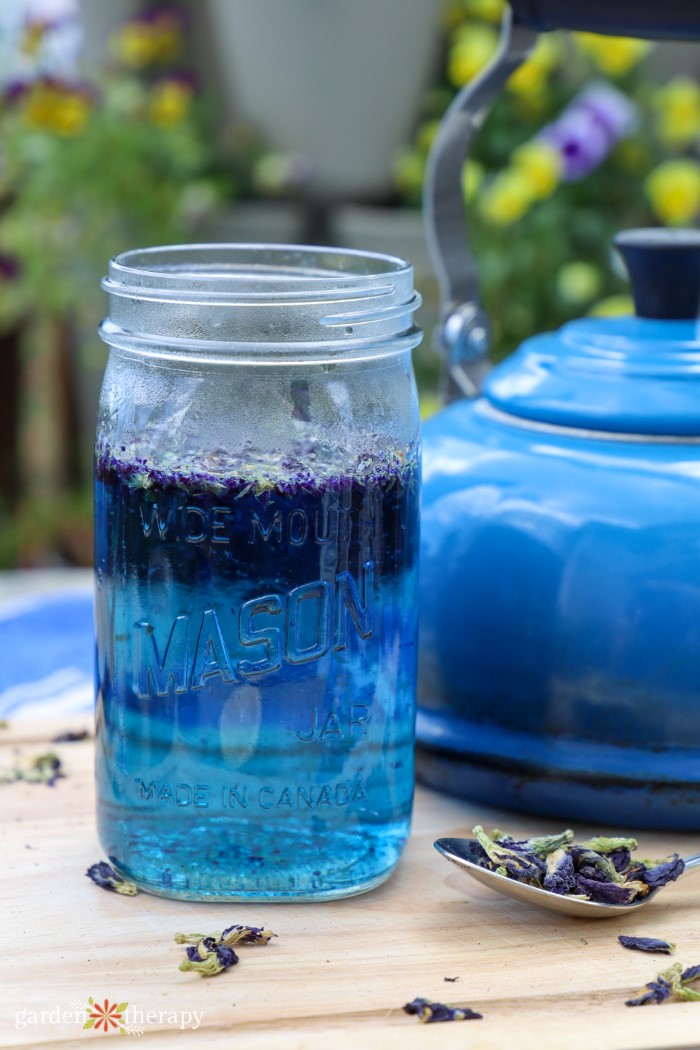 To use the dye in recipes, you can boil the flowers to extract their colour. The flowers will expand in the water, but you want to keep boiling until most of the colour is gone.
You will know when they're done by removing the flower and giving them a squeeze. If no more colour comes out, it's good to go. Now you can use this bright blue water as a dye, base for drinks, or in your cooking.
Where to Buy Butterfly Pea Flower?
You likely won't find these fabulous flowers on the typical grocery store shelf. You can buy the flower either in speciality food stores or online. They come as either full, dried flower buds or in powder form.
The other alternative is to grow them yourself! While native to tropical Asia, you can grow butterfly pea flowers in zones 9-10. They like full sun but can tolerate cool and moist climates. However, it must be frost-free. And since they're a climber, you will want to make sure they have something to climb up such as a trellis.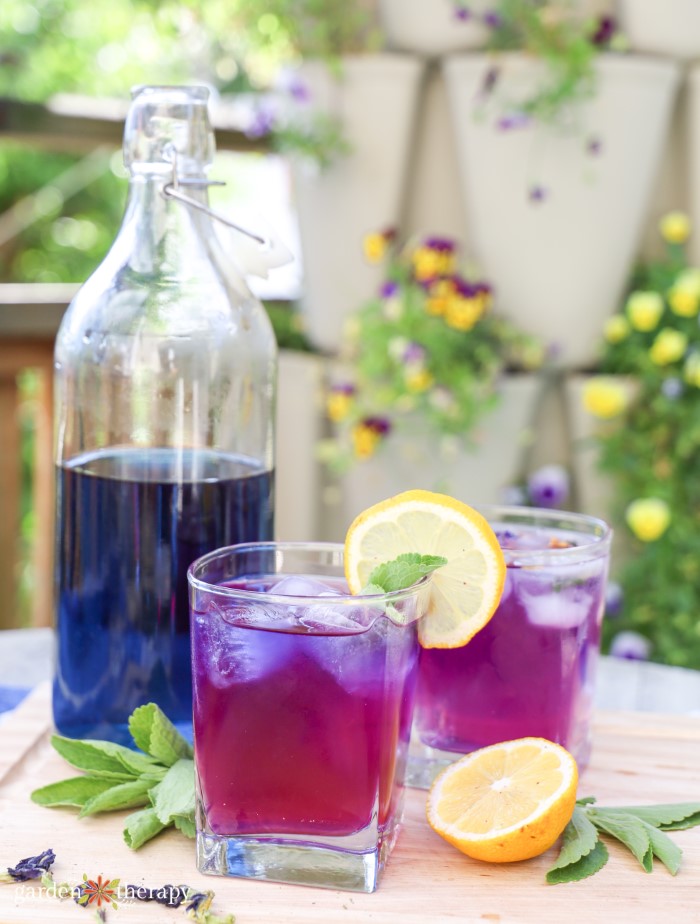 Let me know if you try growing this delightful flower. I would love to know how it fairs where you live! And if you love the colour as much as I do, you'll adore this post filled with 46 vibrant blue flowers you can grow at home!
More Posts About Edible Flowers: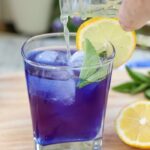 Print Recipe
Butterfly Pea Flower Tea
Create a fabulously blue drink or dye your food naturally with butterfly pea flowers.
Ingredients
Butterfly pea flowers

Boiling water

Lemon juice

optional

Hibiscus leaves

optional
Instructions
Make your butterfly pea flower tea by steeping petals in hot water. Add in honey, lemon, mint, cinnamon, ginger, or passion fruit for traditional optional flavours.

To change the colour from blue to purple, add some lemon juice. To change the colour to red, add in hibiscus leaves.

To use as dye, heat flowers in a pot of boiling water. Steep until most of the colour is gone. You can test this by removing a flower, giving it a squeeze, and making sure no more colour comes out.

Use the dye as a base for drinks or in your cooking to turn food blue naturally.
Nutrition
Serving:
1
cup
|
Calories:
10
kcal