This simple snowball wreath is easy to make and adorable, making it a great project to do with kids. You can create any kind of miniature scene you can think of, and the felted snowballs suspended above the scene makes this project feel like the wreath version of a snow globe. Let your imagination go wild and set up a winter wonderland on your front door!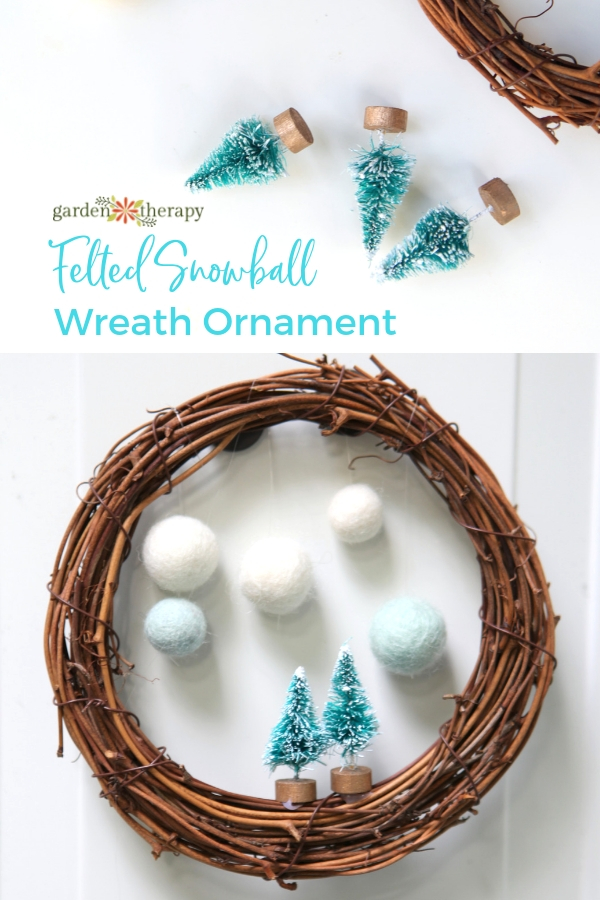 You can create any winter scene you like with this wreath by attaching natural elements, tiny fake trees, fairy garden and dollhouse trappings, and any other small decorative objects your imagination can come up with! I chose to go with a very simple forest scene using snow-covered mini trees.
Materials
Small objects of your choosing, such as fake trees and other winter-themed miniatures
Make it!
Once you have chosen your objects, lay them out on a table or work surface and move them around until you have the configuration that you want. Lay the felt balls above the scene. I used white and pale icy blue felt balls to give the look of snow, but you can certainly use other colors if you'd prefer.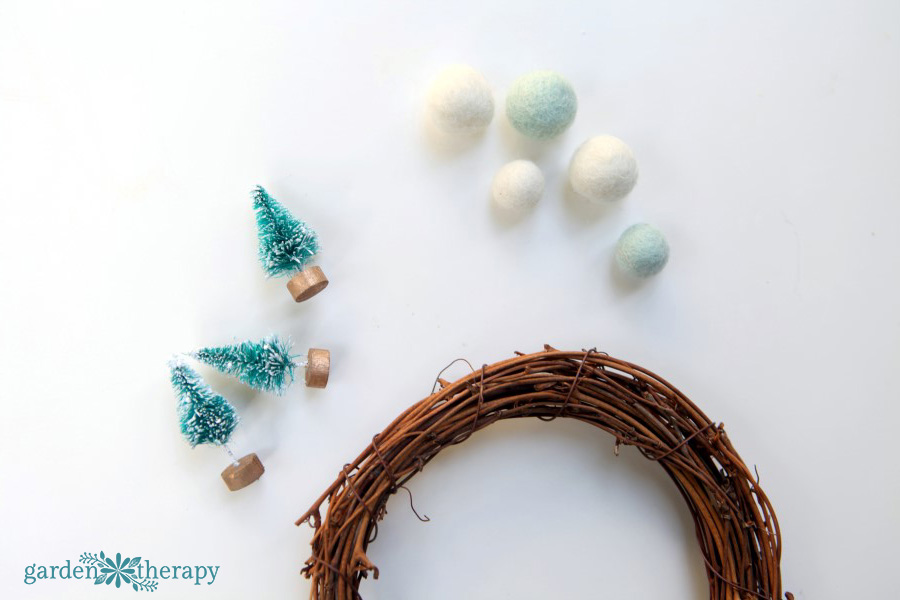 To suspend the "snowballs" above your scene, thread an embroidery needle with clear fishing line and then string the line through the center of a ball. Knot the fishing line on one end to keep the ball from slipping off and cut the line to the appropriate length, depending on how far down from the top of the wreath you want your snowball to dangle. Repeat this process for each ball, varying the length of the fishing line hangers to give the snowballs a staggered look.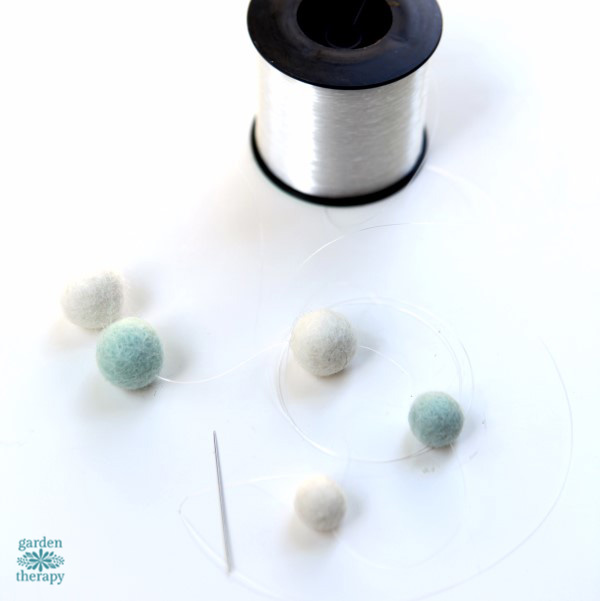 To attach the snowballs to the top of the wreath, use a hot glue gun to glue the fishing line on (you can also tie the line onto the wreath, but I found gluing was easier for keeping things in place and at the length I wanted). The hot glue will be visible, so attach it to the back of the wreath where you won't see it when the wreath is hanging up.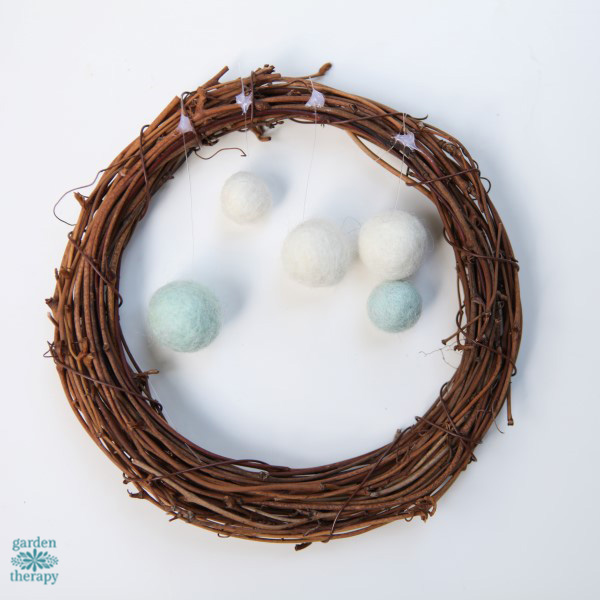 Attach whatever objects you've collected for your scene to the bottom of the wreath (directly underneath the suspended felt balls) with the hot glue gun as well.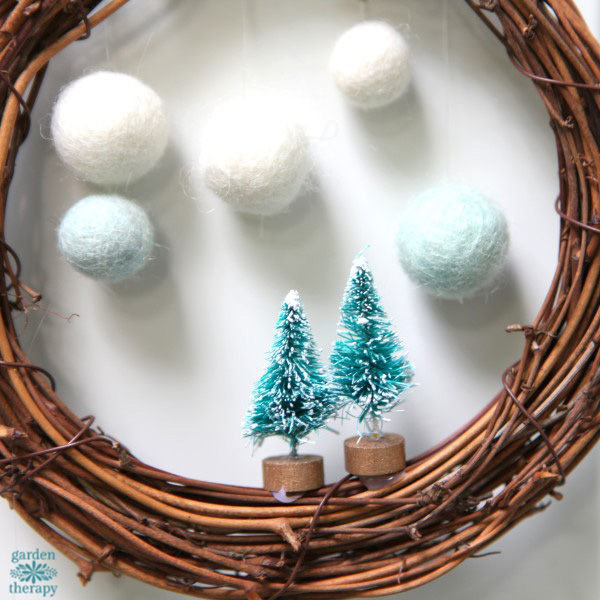 You're done! Hang it up and enjoy the cheer and whimsy it brings all winter long.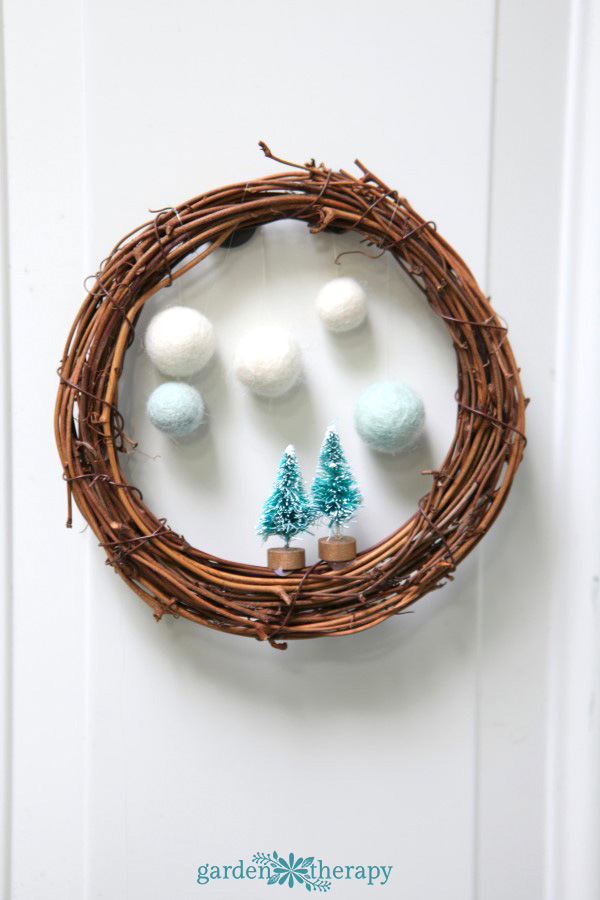 More handmade holiday decor: