Put down the bows and the gift wrap because there's a new, prettier and more eco-friendly way to wrap your presents. Fresh greenery is the perfect gift accessory, and I'd like to see more of it! Here are some of the best greenery for gift wrapping and how you can use it to top off your presents.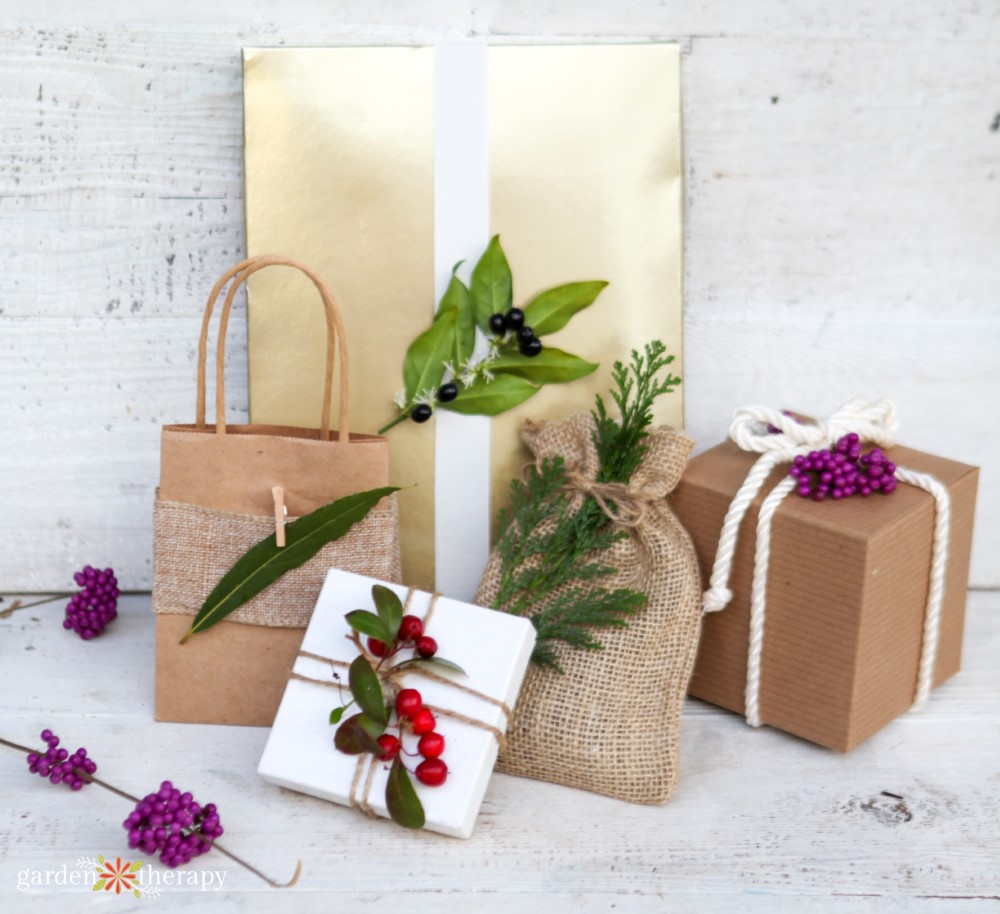 As much as I love the holidays, I hate the wastefulness that can come from it. From faux Christmas trees and presents galore, Christmas has taken on a reputation for overconsumption and the idea that we always need more.
This is a major reason why I make almost all of my own gifts. Homemade gifts don't have to look like they were made in your kitchen and be an impractical item that will just sit on display. No, they can look artisan-made and become a household essential!
When I make my homemade gifts, I also keep up with the theme by adding eco-friendly gift wrapping. Of course, being the crazy plant lady that I am, I often turn to my own garden for natural gift wrap. It's one of the easiest, cheapest, and prettiest ways to dress up a present.
Let me tell you all my secrets about using greenery for gift wrapping.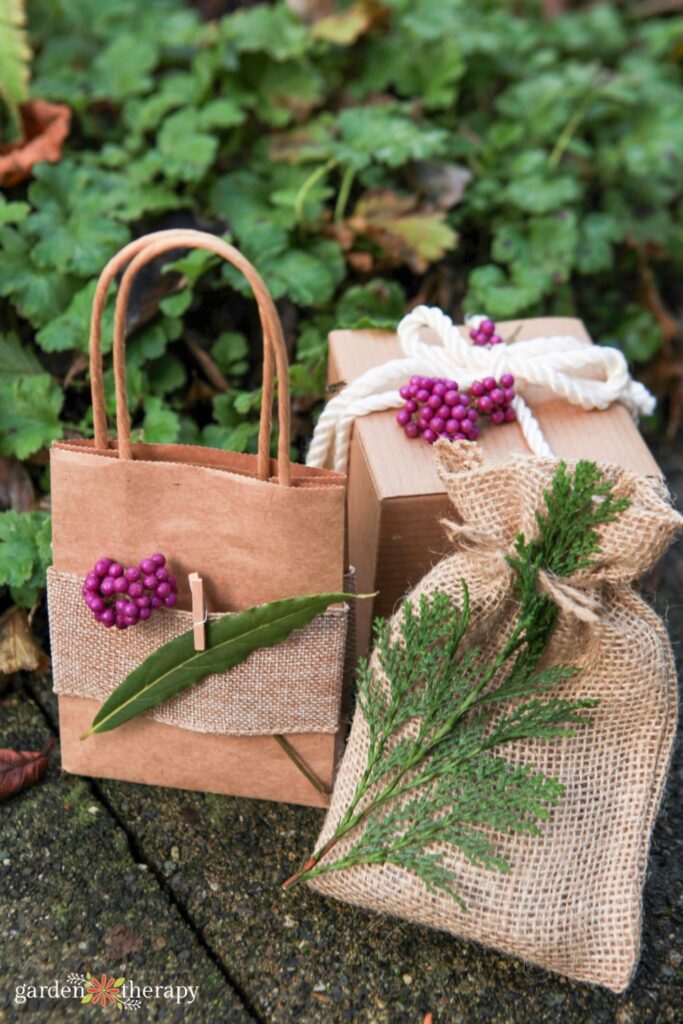 What Can I Use Instead of a Bow on a Present?
Clippings of greenery make for the ideal (and plastic-free) bow replacement. You can take clippings from the plants in your yard and tuck them into your gifts to instantly make them look good.
Yes, it really is that simple. It can save you a ton of time, especially for those last-minute wrappers or those who don't have any gift wrapping supplies.
It can be as easy as clipping on a leaf to the present to tucking it in, or more complicated as creating mini wreaths, garlands, and posies to place on top.
Greenery is also a great way to wrap oddly shaped items. You can forgo the paper and tape and just add some greenery secured with jute twine to "wrap" your present.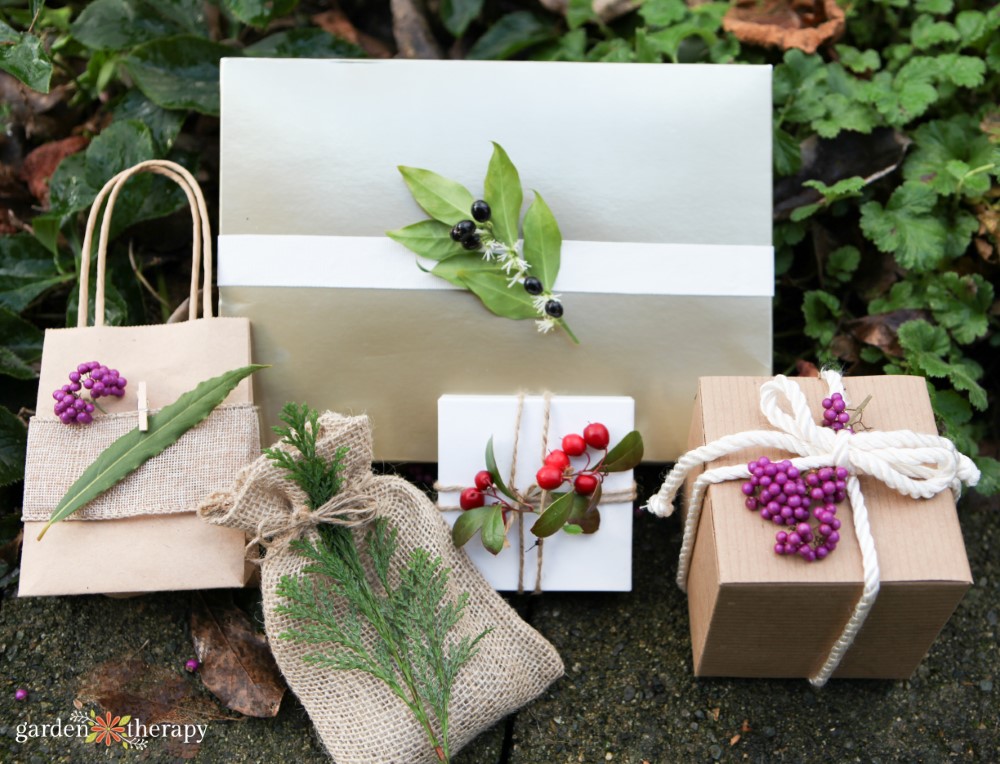 How to Use Greenery for Gift Wrapping
Wrap your gift in paper or a bag. Plain kraft paper and paper bags are great natural options and create a blank canvas for your greenery.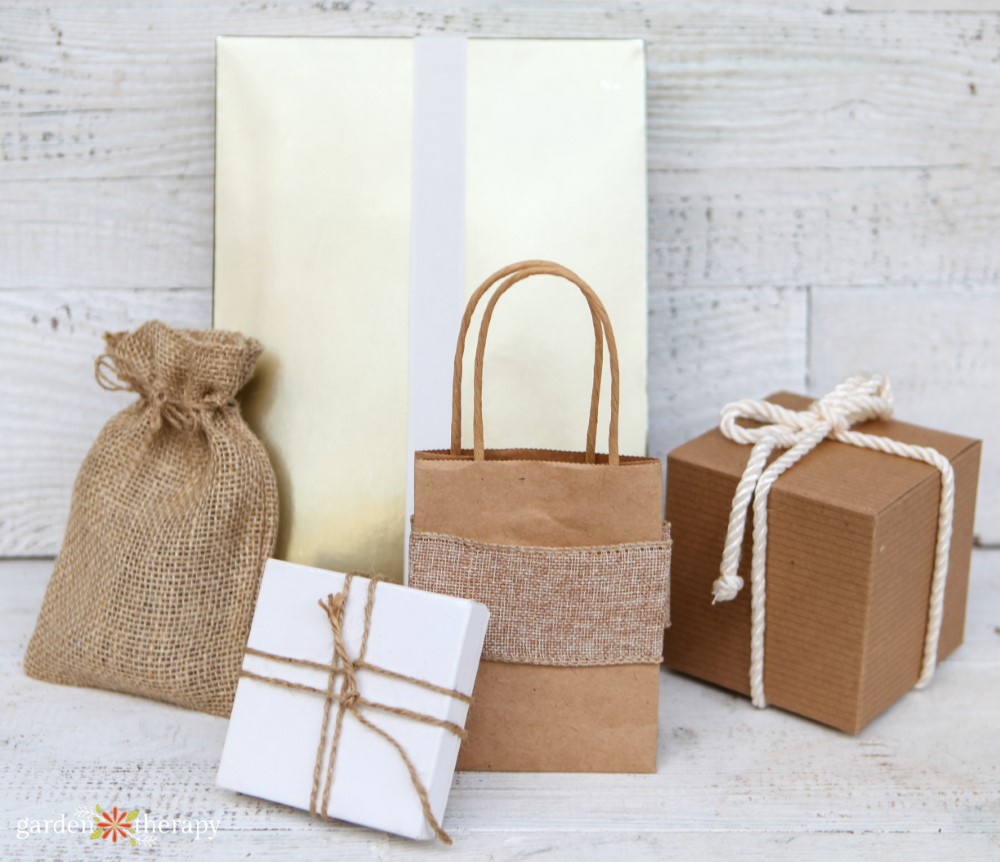 Choose your stems or make posies. If you're making small posie bouquets, choose a sturdy and large stem as the back and work your way up to the most delicate and small stems on top.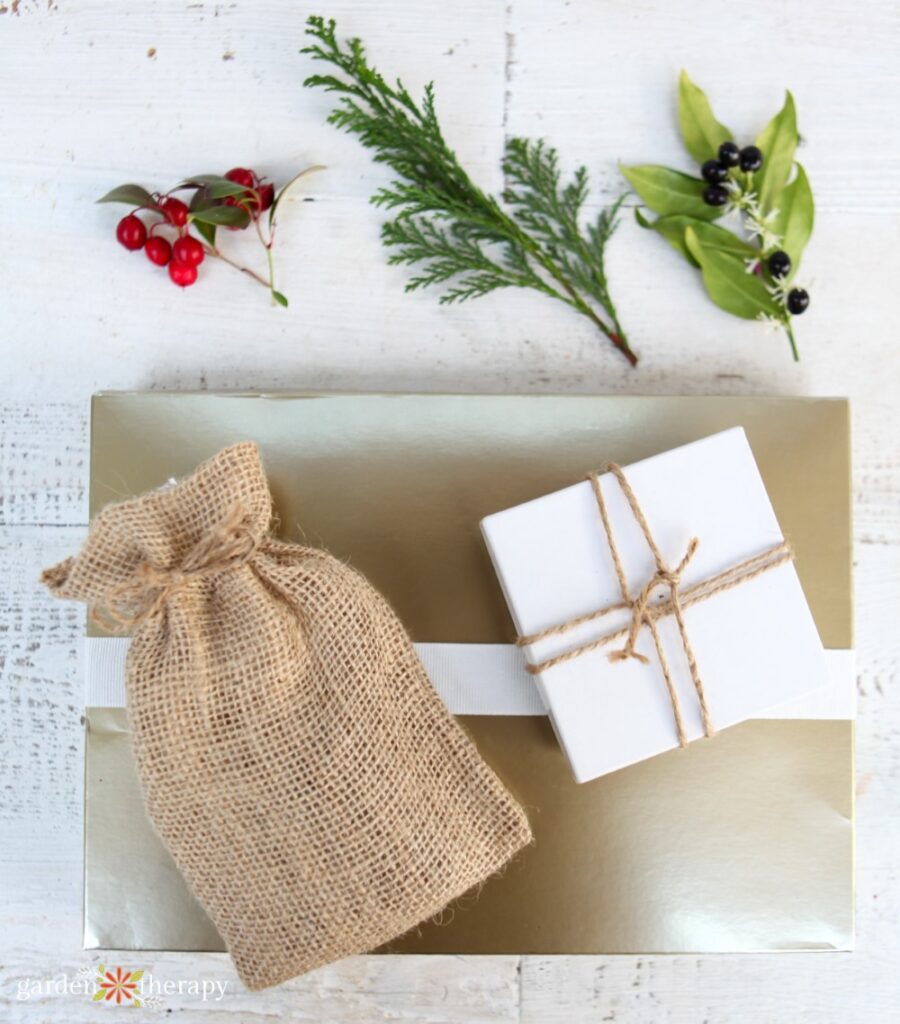 Use string, jute twine, or ribbon to wrap around your gift at least once.
Tuck in the greenery in the center. The leaves should hold themselves around the ribbon just fine without the need for glue or tape.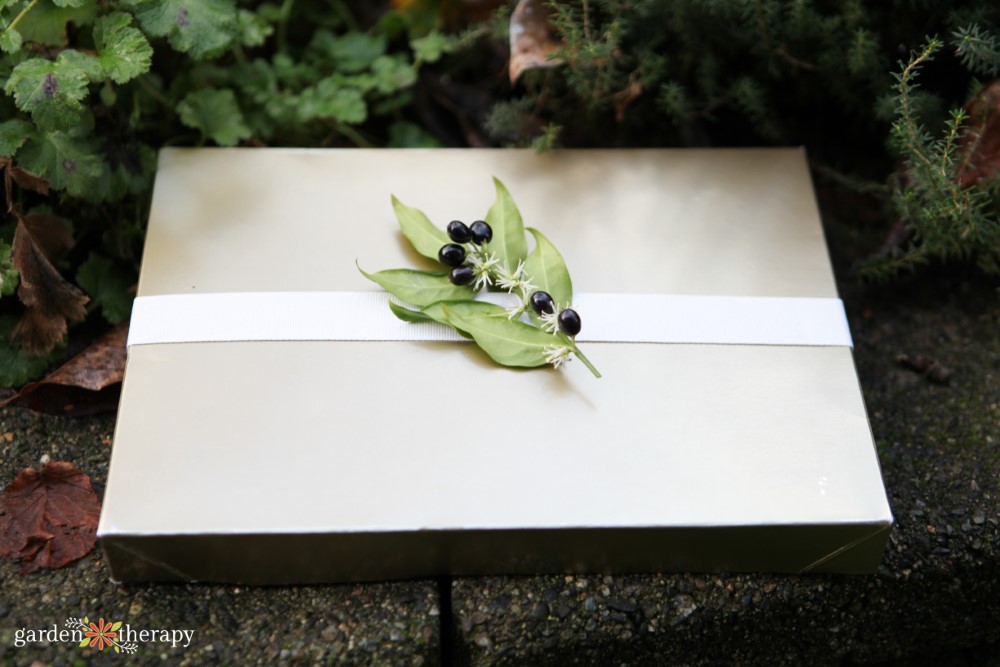 Best Greenery for Gift Wrapping
While you may think of pine and spruce and all things evergreen for Christmas greenery, it can include a lot of other plants. Think beyond evergreens to also include broadleaf evergreens, herbs, flowers (dried and fresh), and other branches for your gift decorations.
When it comes to plant gift wrapping ideas, these are some of my go-to foliage for decorating:
Eucalyptus (silver dollar, seeded, and spiral eucalyptus are all good)
Ruscus
Olive branches
Cedar (an absolute favourite of mine for its longevity)
Wax flowers
Viburnum
Sea holly
White pine
Bay leaves
Holly (burford holly is less prickly than English holly)
Mistletoe
Euonymus
I have a complete list of all the greenery I use for decorating over on this post. This greenery can be used for wreaths, garlands, candle wreaths, and more décor beyond greenery for gift wrapping.
Using Berries as Eco-Friendly Gift Wrapping
Berries are also some of the best natural gift wrap. Their vibrance alone is all you need to decorate a present, and you don't need to combine it with anything else to get a pop of colour.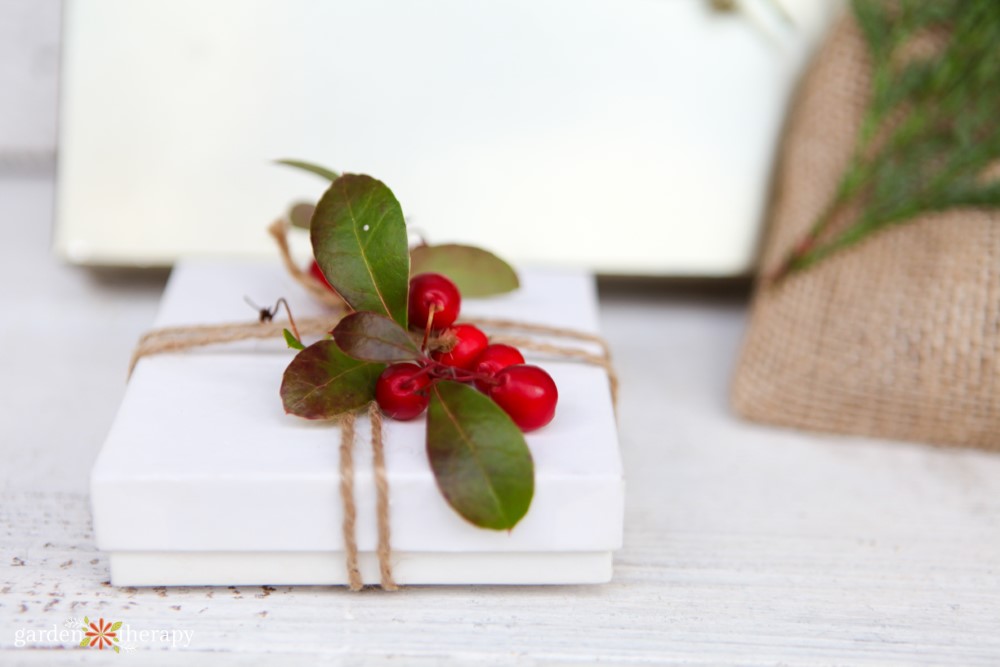 Here are some of my favourite berries to use as eco-friendly gift wrapping:
Orange bittersweet
Black privet
Purple privet
Orange and red ilex
Beautyberry
Sweetbox berries
Wintergreen
Greenery to Avoid for Gift Wrapping
For your gift decorations, you want to avoid using anything that wilts instantly, so it's best to stick to any of the greenery I list in this article. Avoid any fern, yew, and juniper for this reason.
I also avoid short-needled evergreens like spruce or hemlock as greenery for gift wrapping since they lose needles quickly. Avoiding sharp needles, like blue spruce, is also a good idea since people will touch it when they unwrap the gift.
Boxwood is a popular decorative greenery, but I avoid it since it can have a stinky smell similar to cat urine, which is the opposite effect I'm going for with my gift wrapping. The variegated varieties tend to be less potent in smell.
Speaking of cats, also be considerate of your pets. If yours are anything like mine, they like to investigate the tree and the presents beneath it. It's best to keep any greenery away from pets, especially those considered poisonous to them.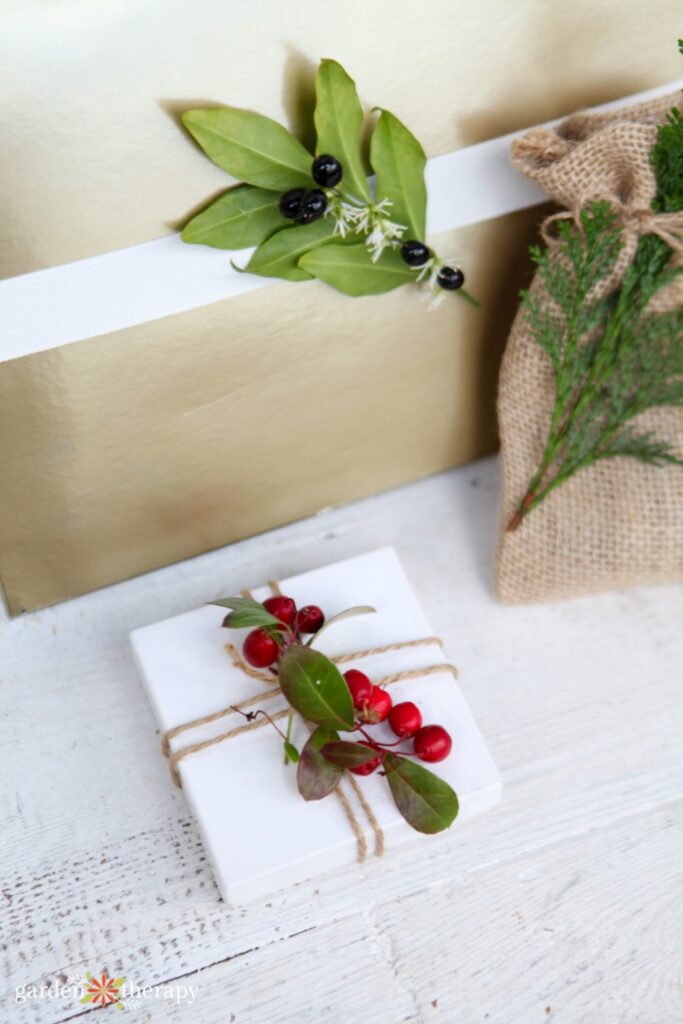 How to Make Your Greenery Last Longer
When you're using greenery for gift wrapping, it's best to do it last minute or a day or two beforehand to look fresh.
However, if you're too busy and want it all done now, you can try to keep your greenery as fresh as possible.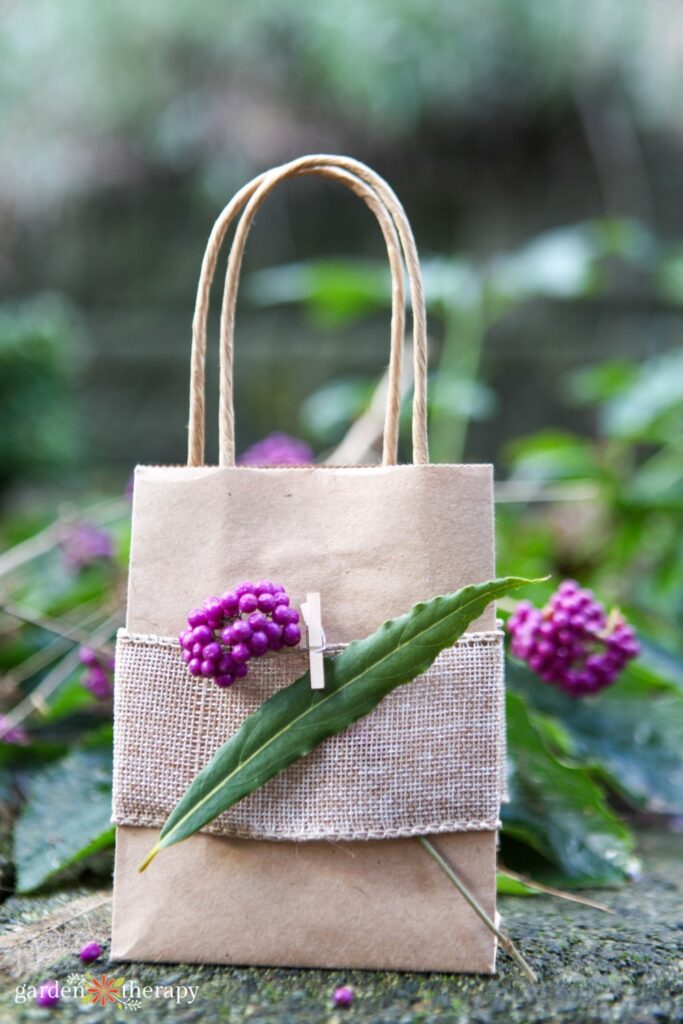 After pruning or buying your greenery, you will want to condition the greenery before you use it. This means you'll cut off ½-1 inch off the bottom with sharp clean pruners and place it in a bucket of water for 24 hours. This allows the whole stem to rehydrate and be in the best condition possible before you start taking smaller clippings to use as natural gift wrap.
You can also spray your clippings with anti-descant, like Crowning Glory. This spray will seal the pores in the needles and the bark, helping them to retain the moisture inside the boughs for longer.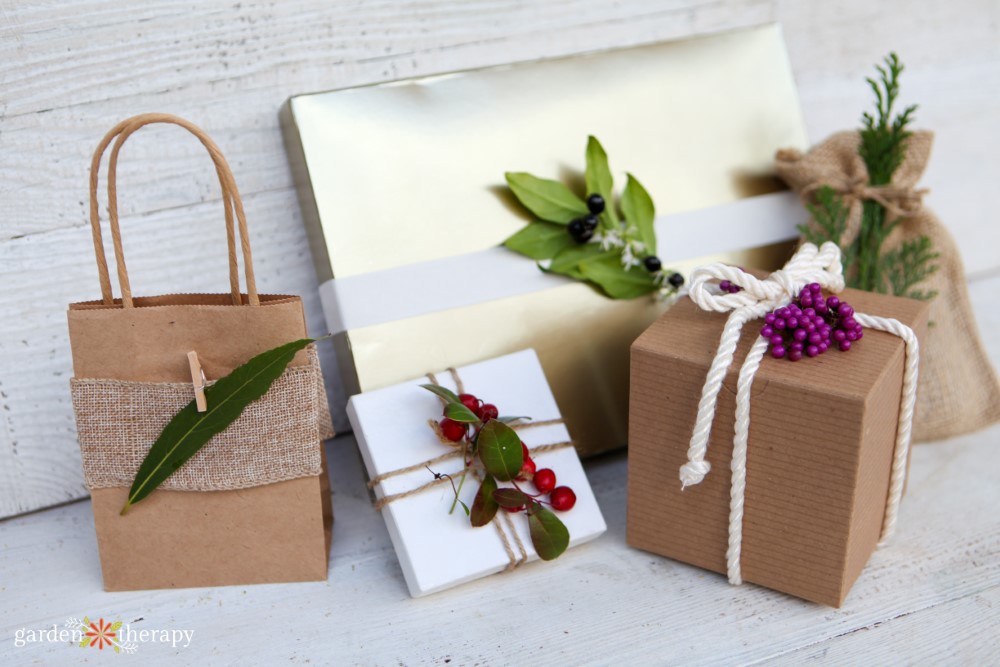 More Holiday Gift Inspiration