Thyme is one of the best herbs you can have growing in your garden this (or any) year. Here's everything you need to know about thyme benefits, uses, and growing thyme.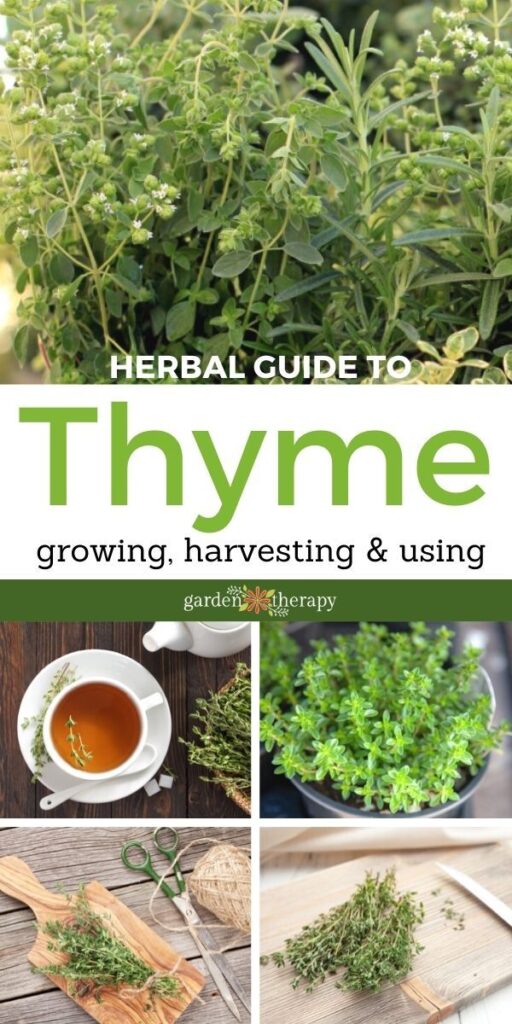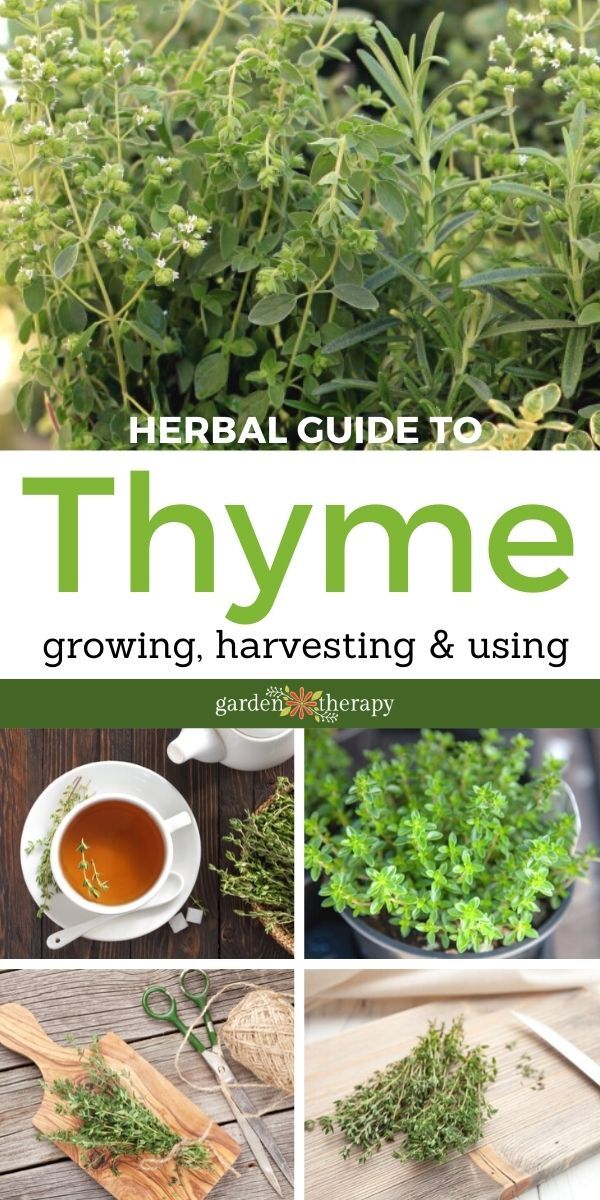 With cold and flu season on the way, thyme is a powerful herb you will want on your side. Thyme is a well-known aid for the upper respiratory and digestive systems, which can help you with coughing, phlegm, nausea, and other symptoms.
Thyme is also the perfect addition to the chef's spice rack. It packs a punch of flavor, but its powerful remedy actions make it a must-have for the herbal cabinet.
Thyme is the general name for 300-400 species around the world. It's botanical name for is Thymus vulgaris and it is a part of the mint family, Lamiaceae. Thyme is native to Europe and Asia and likes to grow in temperate climates. Thyme benefits are numerous, and it is additionally known for its great flavour, it is used for culinary, medicinal, ritual, and ornamental purposes.
There's a lot to know about this versatile herb so let's jump in.
Lori's Green Blessings
This article was reviewed by herbalist Lori Snyder. This is not to be used as personal medical advice; always consult your health care professional for individual concerns.

This is what Lori has to say about Thyme:

Vulgaris is Latin for commonly known or something that is derived from the masses of common people. How interesting that the species with the name vulgaris tells us this plant was commonly used for its many benefits.

I would suggest, which is fast and simple, steaming this helpful herb for its ability to open up the airways and breath in all it's antimicrobial properties. Research on Japanese forest bathing called shinrin-yoku confirms that plant aerosols keep us healthy.
History of Thyme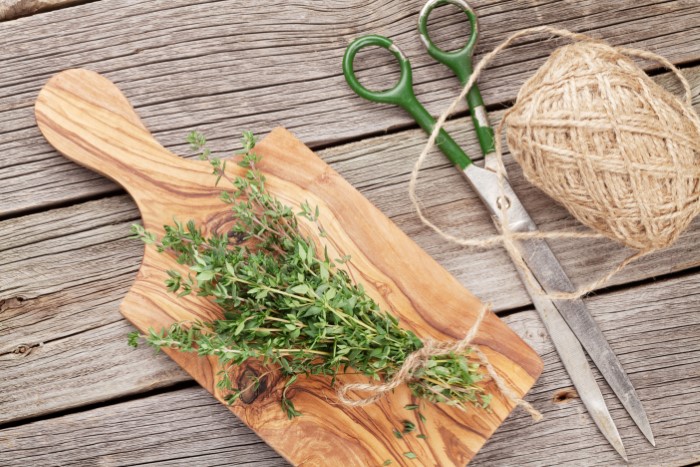 Thyme has a deep connection to our fuzzy buzzing friends, bees. Burning thyme in your house was believed to help get rid of insects and it was also used as a fumigator for early beekeeping in Rome. The herb is a favourite among bees and was used as a sign to determine the quality of the honey that year. Later in the Middle Ages, women would also embroider a bee and thyme together on scarfs which they gifted to knights.
This gifting practice stemmed from thyme representing courage and respect. Roman soldiers would exchange sprigs of thyme and bathe in it in an effort to be more courageous.
In addition to ridding insects from the house, they would also burn the herb to help purify their homes and to conjure courage. The botanical name, thymus, is tied to the Greek word, thymos, which represents strength, courage, spirit, and anger.
In the 19th century, dentists used certain constituents of thyme to treat oral abscesses and inflammation. Thyme was used in ancient times medically for embalming practices as well as lung and respiratory support.
Of course, the thyme herb is a cooking staple in stews, poultry, stuffing, marinades, dressings, and baked goods. It was also used to keep bacteria from growing in meat and vegetables before refrigeration was invented.
Thyme also is tied to a hint of whimsy. The Victorians believed that a patch of thyme found in the woods meant that fairies danced and lived there. Areas of thyme were believed to hold fairy houses and were home to fairies who helped tend the garden. Shakespeare reinforced this reference in A Midsummer Night's Dream where Titania the Fairy Queen's shelter is "a bank where the wild thyme blows…" If growing thyme brings fairies to my garden, you can count me in!
Thyme Benefits for Health
As mentioned above, thyme benefits are numerous and impressive. Here are just a few ways this herb can aid your health.
A Respiratory Aid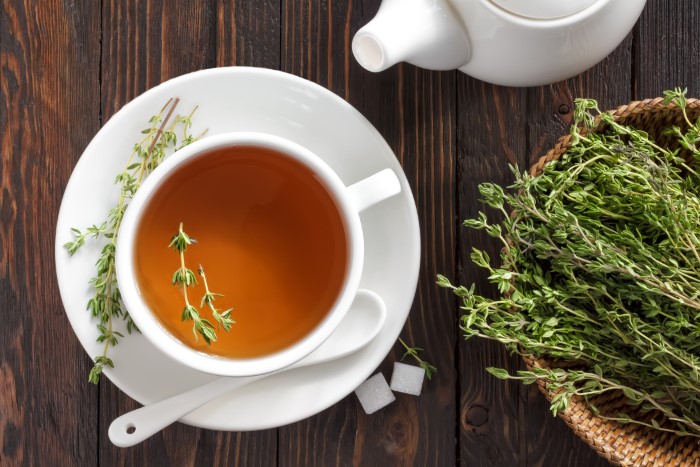 Throughout history and still to this day, thyme is well known as a respiratory aid. Thymol, the primary chemical constituent of thyme, is antispasmodic, antimicrobial, and an expectorant.
The herb is commonly used for breathing difficulties as is works as a bronchodilator and an anti-inflammatory agent. It can be a helpful aid for chronic lung and respiratory problems and has a soothing effect on sore throats for laryngitis and tonsillitis.
Historic uses for it include asthma, shortness of breath, and whopping cough. Today's research has yet to prove that thyme can be beneficial to asthma but more research is underway to confirm its traditional use in this area. Current studies suggest that is could help decrease inflammatory responses and allergic varieties of asthma.
Traditional Chinese medicine also reinforces the use of thyme for the respiratory system. The lungs, spleen, and stomach are considered meridians for thyme. The warming effect of thyme on the lungs helps to clear congestion, phlegm, asthma, tuberculosis, and supports the system during cold season.
The traditional use of tea (with a recipe at the end of this post!) is a great way to utilize these healing properties of thyme.
Digestion Aid
Thyme is also widely known as a powerful herb for the digestive system. Thymol improves digestion, relaxes the smooth muscles of the intestinal tract, and can help prevent menstrual cramps. Thyme is a carminative, meaning it dispels gas and is also antispasmodic. Because of its action on relaxing smooth muscles of the intestinal tract, it makes a great digestive aid and can be helpful for colic, gas, and spasms.
The warming effects of thyme can also help to warm up cold intestines and can improve appetite. It stimulates the movement of blood, oxygen, and energy to the digestive system, which is how to helps to combat bloating, gas, and upset stomachs. As mentioned above, it also connected to the spleen and stomach meridians in traditional Chinese medicine.
More Thyme Benefits and Uses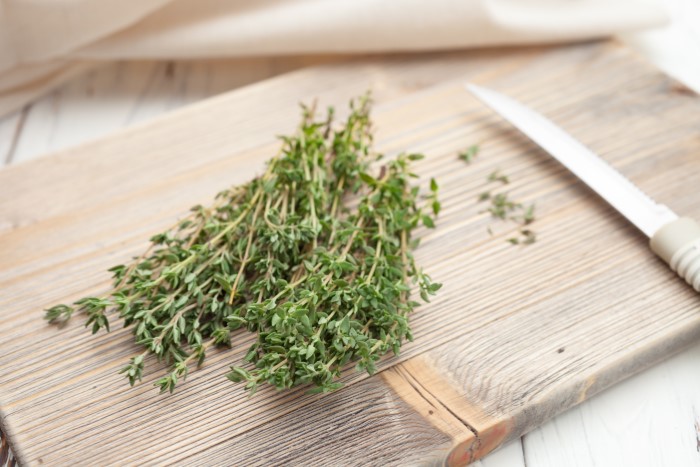 In addition to helping us breathe and digest, thyme is also widely used to protect against infections. The thymol in thyme has many benefits as it is an antioxidant and has antibacterial, antimicrobial, antifungal, and wound healing properties.
Traditional Chinese Medicine uses thyme to aid colds, skin infections, and parasites to help support immunity against infections. Dentists of the 19th century also had it right as it is still used in dentistry for the treatment of cavity infections due to its antimicrobial actions.
Thyme has a warming effect and thyme essential oil can feel very irritating to the skin. However, the herb is much milder and safer than the thymol isolation. Its warming effect makes it a great addition to joint and muscle liniments and salves or for cleansing cuts and wounds. It's strong antifungal properties also make thyme effective for fungal conditions on skin and nails.
Thyme is also a nervine, meaning it can help to calm the nerves. It works best when used to treat chronic fatigue, melancholy, tension, anxiety, and mental and physical exhaustion. The herb has also been used as a mood balancer. It can be both stimulating and relaxing, bringing the body back to proper balance.
It should be noted that thyme may not be appropriate for pregnant women due to its traditional use as an emmenagogue.
How To Grow Thyme
Botanical name: Thymus vulgaris
Family: Lamiaceae
USDA Zone: 4 to 11
Height: 12 to 18 inches
Spacing: 18 to 24 inches
Light: Full sun
Water: Drought-tolerate. Average water needs. Water regularly. Do not overwater.
Warnings: None
More Info About Growing Thyme
Thyme is a low-growing perennial; a fragrant herb with a pungent, clover flavor. It has small, fragrant leaves and thin, woody stems. The culinary types are evergreen. There are many different varieties, and fresh or English thyme are most used in cooking.
Starting thyme from seed indoors is difficult. Growing thyme can be slow and difficult because germination is uneven. It's easier to buy the plants from the store or take cuttings from a friend and then propagate your own cuttings over time. Plant in the garden near cabbage and tomatoes, or drought-tolerant plants. Growing thyme indoors beside rosemary works well because they have similar needs. Make sure the soil is well-drained.
Water deeply only when the soil is completely dry. Prune the plants in spring or summer to contain growth and mulch lightly for winter after the ground freezes. Divide plants every three to four years as they will go woody over time and produce leaves with less flavor.
For the culinary artists or plain Jane home cooks, thyme is a great addition to your indoor herb garden. It takes well to being clipped at often and can be used as a handy fresh herb at your disposal in the kitchen. You can even grow it in a suction cup planter on the kitchen window!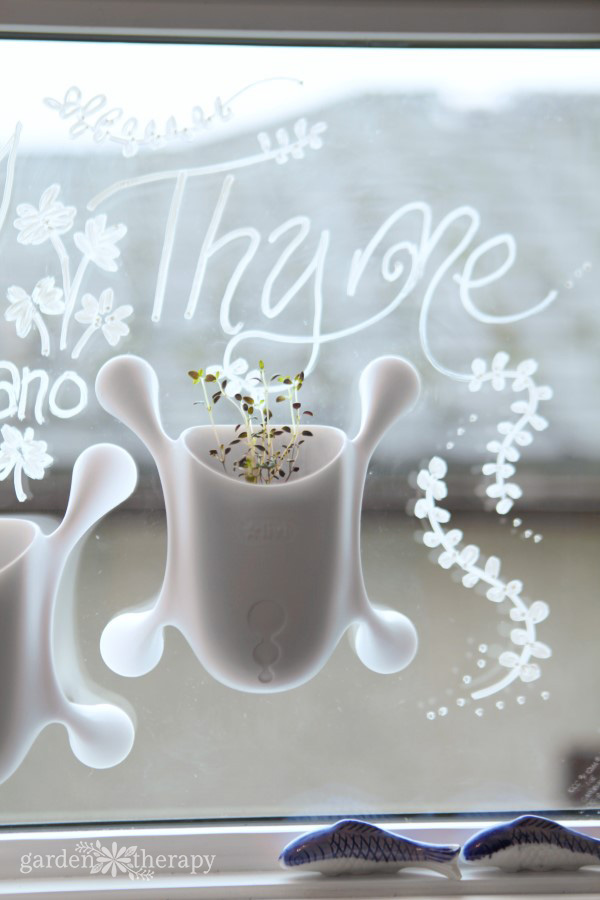 How To Harvest Thyme
To get the most thyme benefits from the plant possible, try to harvest before the herb flowers. This can be done any time during the summer if you're growing outside in the morning after the dew has dried.
Cut off five to six inches of growth off the top of the head. You will want to leave behind the tough, woody parts of the plant.
Try to avoid washing the cleaner leaves as it may remove some of the important essential oils. You can harvest two or more crops during the season. Keep the plant growing by continually trimming it but leave a minimum of five inches so it will thrive.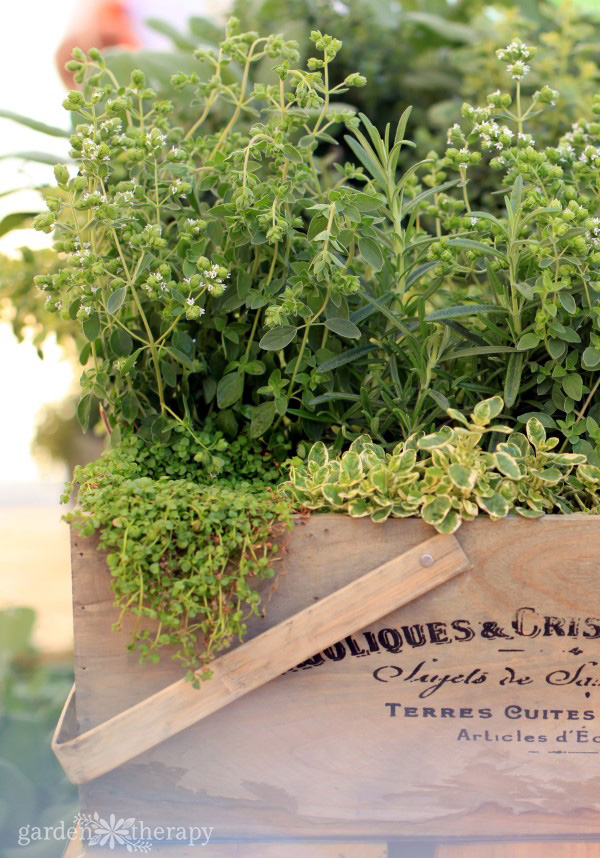 How to Dry & Store Thyme
Fresh is always best! The powerful oils in thyme are key to the herb. For fresh thyme, lightly wrap the plant in plastic and store it in the refrigerator for up to 2 weeks.
If you are going to be using dried thyme, it must be done so carefully to preserve the oils. Bundle the thyme with string and hang in a warm, dark, well-ventilated room out of direct sunlight. Alternatively, place the herb on a tray with wax paper and dry. Once dried, store in a clean, sterilized, airtight container for up to two years. Crush the herb just before using.
Both fresh and dry herbs should be covered in storage to help retain the oils. The more oil, the more powerful and useful your thyme will be!
How to Use Thyme – 3 Recipes
Thyme is such a great addition to your herbal medicine cabinet. There are many ways to utilize the powerful properties in thyme and I have detailed a few of my favourites below. As with any herb, be sure to proceed with caution and consult your primary health care provider before using thyme.
How do you use thyme? Let me know in the comments down below how you utilize this amazing herb.
Soothing Digestive Thyme Tea
The traditional use of thyme tea (with a recipe at the end of this post!) is a great way to utilize these healing properties of thyme.
Ingredients
2

tsp

dried thyme

1

cup

boiling water
Instructions
Place herbs in a tea infuser.

Pour boiling water over top and let steep.

Drink up to 3 times a day. Avoid during pregnancy.
Nutrition
Serving:
1
cup
|
Calories:
6
kcal
Thyme Herbal Honey
Ingredients
1

cup

raw honey

¼

cup

dried thyme
Instructions
Combine honey and herbs into a sterilized glass jar. Place jar into a double boiler.

Heat on low heat for 15-20 minutes. Stir regularly and do not let the honey boil or scorch.

Remove from heat and let cool.

Enjoy immediately or steep for 2 weeks before using.

Add to food or use it in cold and flu tea for an extra antimicrobial boost.
Nutrition
Serving:
1
tsp
|
Calories:
21
kcal
Thyme & Sage Culinary Salts
Ingredients
2

tbsp

dried thyme

2

tbsp

dried sage

1

cup

coarse salt
Instructions
Add herbs to salts. Give the mixture a quick stir and taste-test.

Add more herbs as needed.

If using an extra coarse salt, grind quickly in a blender to make it finer.

Store the salts in a clean, dry, and sterile saltshaker to prevent spoilage. Use it to flavor dishes or gift to a friend.
Nutrition
Serving:
0.25
tsp
|
Calories:
0.1
kcal
More Herbal Growing Guides