St. John's wort is a cheerful, useful plant that any herbalist can easily add to her medicine cabinet. Here is the history of the plant and how to grow it (or forage it). Plus, learn the benefits St. John's wort, plus three different ways you can use it.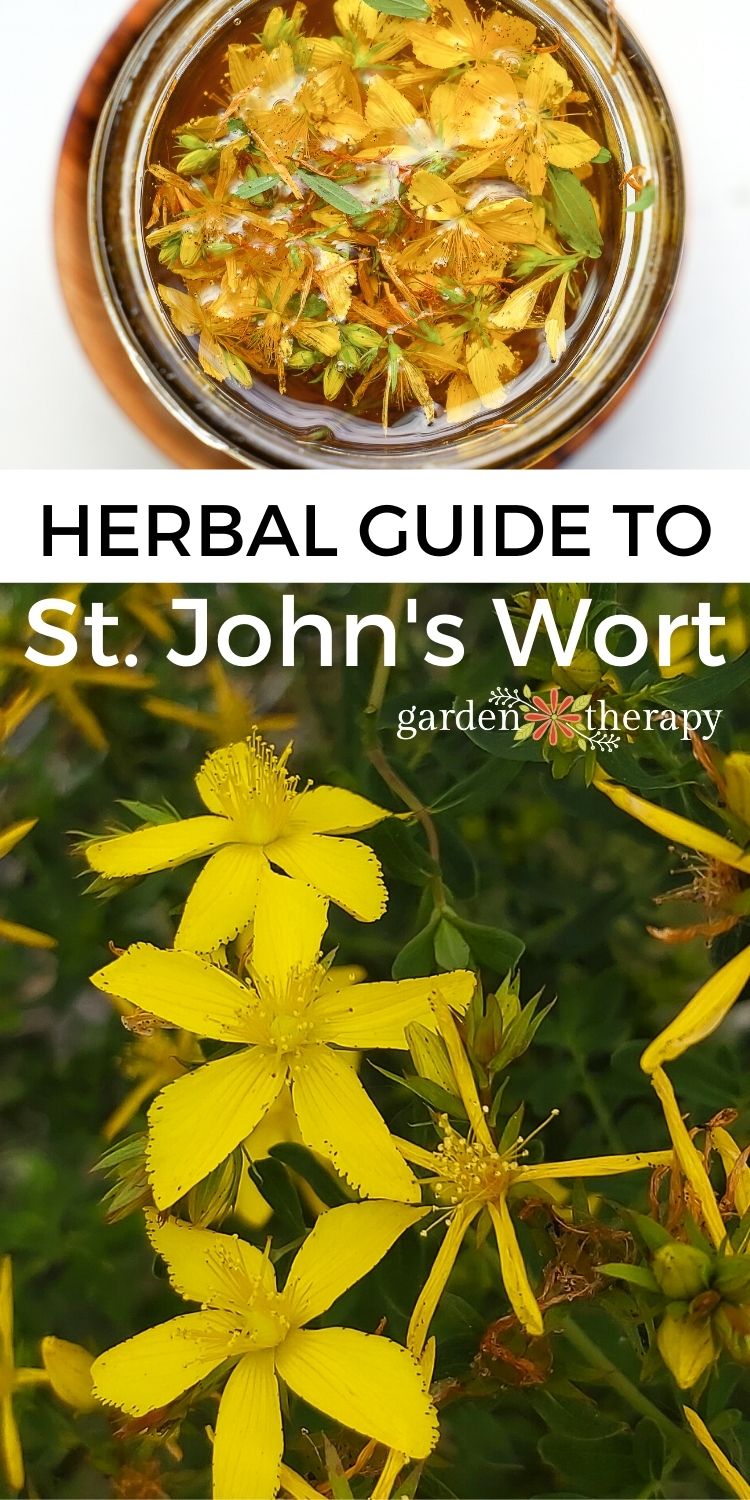 Recently, I was out for a walk with my herbalist friend, Lori Snyder, and we started talking about St. John's Wort. I met Lori a few years ago when she left a comment here on Garden Therapy and I immediately recognized her name as a local herbal teacher in Vancouver who offers many herb walks and plant talks. I messaged her directly to say hello and a friendship was born!
Over the years, I have attended many of Lori's herb walks, and plant medicine talks both in-person and online. On the day we chatted about St. John's Wort, it was blooming all around us and Lori mentioned that with the worldwide uncertainly and stress, folks could really use some of its wonderful benefits.
I invited Lori to share her wisdom with us today. I will hand it over to her now so you can get to know my dear friend and this timely healing herb.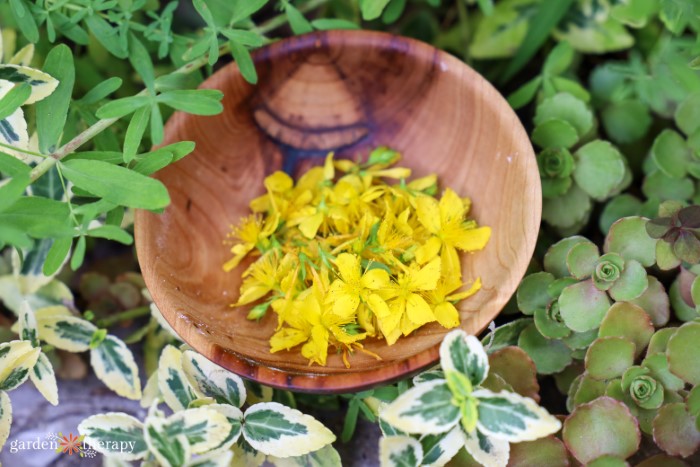 Herbal Guide to St. John's Wort
Written by Lori Snyder
St. John's wort (Hypericum perforatum) is often labeled a weed which is not really her true identity nor a representation of her true gifts. After all, "wort" is an old English word for "herb".
The History of St John's Wort
Like so many 'weeds' there can be a lot of conflicting information. Sometimes we forget how long these medicinal healing plants have been growing with us and helping us to stay balanced and healthy.
Back in the 1800s, if your neighbour was sad, overwhelmed, and anxious (like many of us are today) you would have thought they were possessed! The village herbalist would recommend they drink St. John's wort flower tea and after 6-8 weeks the neighbour would have reported that they felt like a light inside them had turned back on. That's because this magical healing plant is said to help with mild to moderate depression.
This has been proven true in modern times as well. In fact, research in Germany has recognized St. John's wort to be helpful for depression officially since 1984.
Growing the St. John's Wort Plant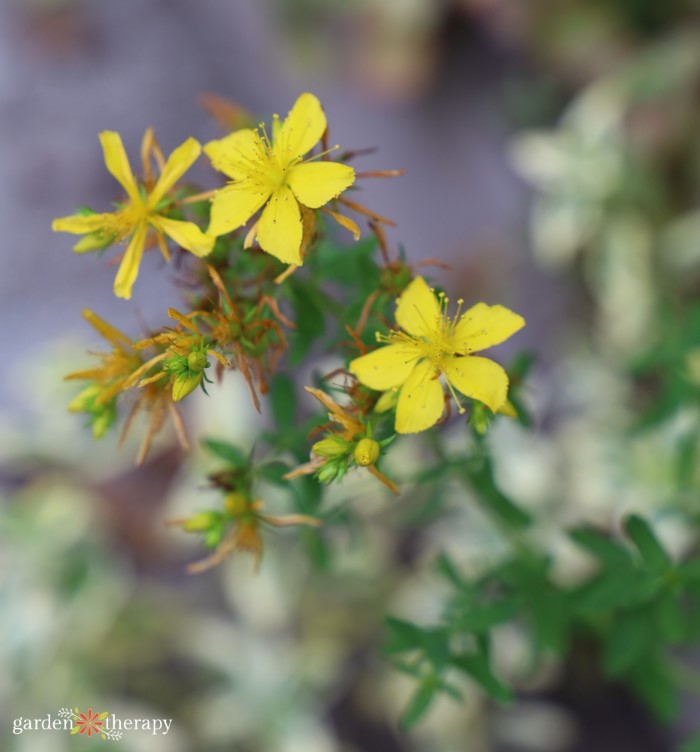 St. John's is described as a mid-size perennial with yellow flowers which differs from other Hypericums by the "perforations" in the leaf, filled with red resinous glands of hypericin and other active compounds.
Planting: St John's Wort spreads by seed and well as an active vegetative root.
Height and Spread: It will grow to 0.9 m (3ft) by 0.6 m (2ft in).
Zone: USDA plant hardiness zones 5 through 10.
Soil: St John's Wort grows well in sand, clay, rocky soil or loam, and tolerates acidic to slightly alkaline pH.
Light requirements:  St. John's wort can grow in semi-shade (light woodland) or no shade.
Watering: St. John's wort prefers moist soil.
Flowering: St. John's wort is in flower from May to August, and the seeds ripen from July to September. The species is hermaphrodite (has both male and female organs) and is pollinated by bees and flies. The plant is self-fertile.
Invasive Species Alert
In the US and Canada, St. John's wort is often considered a noxious weed, also referred to as Klamath weed. The BC Invasive Species Council warns that St. John's Wort can cause injury to light-skinned cattle, has a protective covering on the seeds that allow it to survive for up to 10 years. Additionally, a single plant can produce up to 100,000 seeds.
Keep in mind that what is a weed to some is a wildflower to others. St. John's Wort is full of wonderful properties beneficial for people, the land, and our pollinators.
Foraging the St. John's Wort Plant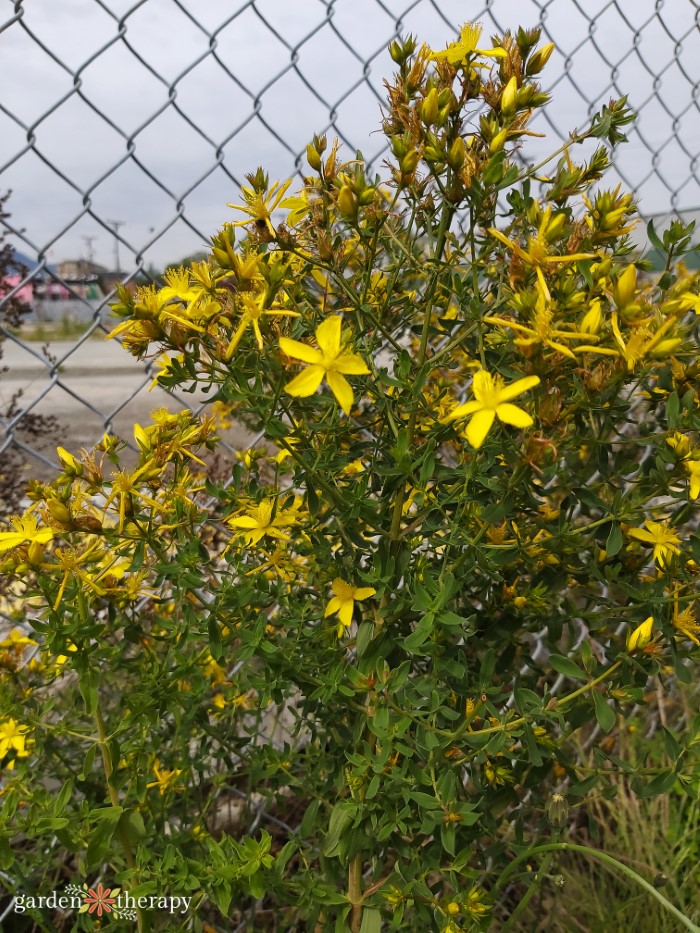 You might find the St. John's Wort plant growing anywhere soil has been disturbed. This includes open woods, grasslands, in dry sunny places, along roadways, in the cracks of sidewalks, alongside pastures, or even in your garden. I know Stephanie has some growing in her garden because I harvested some to infuse in oil on her windowsill during my last visit.
You can identify St. John's Wort by holding the leaf up to the light to look for the small glands that look like holes. There are 10 times more glands in the flower than the leaf or stem which is why the flower is so often used in herbalism.
Harvesting St John's Wort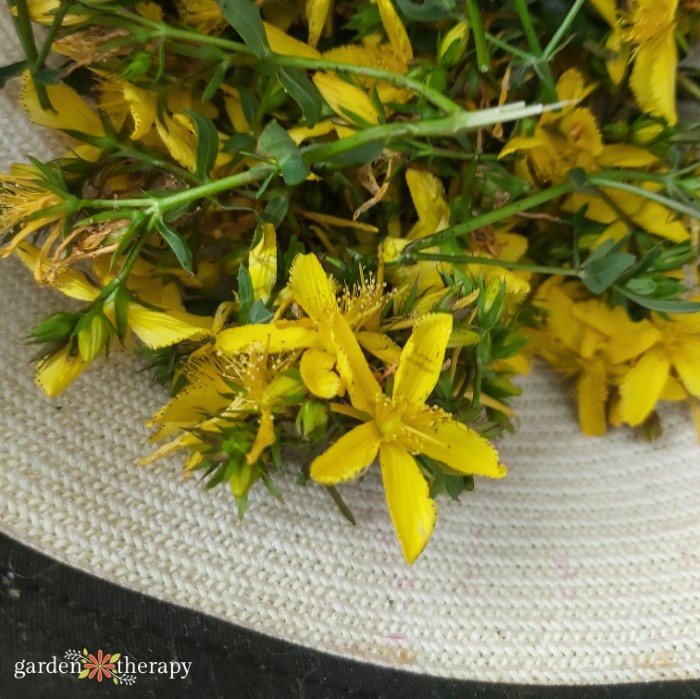 Its prevalence means that planting it in your garden is not necessary; you can very likely find plants growing wild that have plenty of flowers to share.
I have harvested from late June into late August.
The best time to harvest is in the mid-day when the medicinal properties are at its height.  Harvest the flower tops, leaf, and stem. The stems are quite stiff so best to use scissors.
St John's Wort Benefits
Now that you know how to identify and harvest this fascinating plant, let's talk about why you should do so. The benefits of St. John's wort are well-worth your efforts—here are just a few.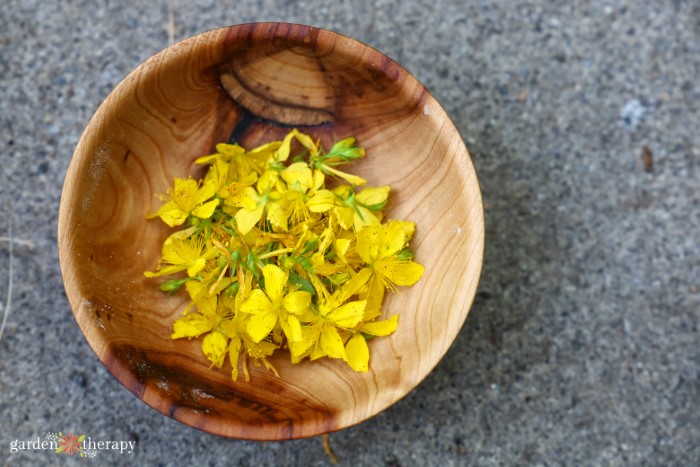 St. John's Wort for Depression and SAD
The chemical component of 'hypericin' is known to interfere with monoamine oxidase (MOA) which contributes to depression.  Pharmaceutical products also act as MOA inhibitors however St. John's Wort is slower acting and has few side effects.
Here in the Pacific Northwest, we can have long cloudy winters with little sun so I use this daily on my face as my moisturizer which is very effective for SAD.  Some people who are fair-skinned report that they are more sensitive to the sun when using St. John's Wort oil; however, the sun is not as strong in the winter so anyone applying it then should be fine.
Digestive and Nervous System Benefits
St John's Wort is also used for the digestive and nervous system. It improves the absorption of nutrients and normalizes stomach acid levels which fluctuate as we age.  Helpful for ulcers, heartburn and bloating.
It is also helpful with bedwetting, menstrual challenges, menopause, liver tension as it gently decongests and strengthens both liver and the gallbladder.
St. John's Wort as a Pain Reliever
St. John's Wort is said to be very helpful as a pain reliever and repairing skin tissue. I use it for my sciatica, applying the infused oil on my lower back and down my leg where the pain is.
St. John's Wort Side Effects and Warnings
Please do not take St. John's Wort with antidepressants without the supervision of an herbalist or medical practitioner. Like any herb, it is important that you research as it and check with your health care professional before using it as might have any interactions with drug medications.
A research paper in 2000 was published which raised a new concern. St John's Wort extract was shown to improve liver function. Although this would normally be considered to be a good thing, this paper raised the concern that improved liver function might cause pharmaceutical drugs to be broken down more quickly and could mean that people who needed to have a drug active in their system 24 hours per day, could now, in theory, have a gap where the drug was not active.
This could potentially be a problem.
For example, if a woman was taking the contraceptive pill and St. John's Wort then there could now be time during 24 hours where her pill would not be actively working in her body and she could in theory become pregnant.
How to Use St. John's Wort
There are three ways I'd recommend to use this helpful plant: an oil, as a tincture, and as a dream pillow.
How to Make St. John's Wort Oil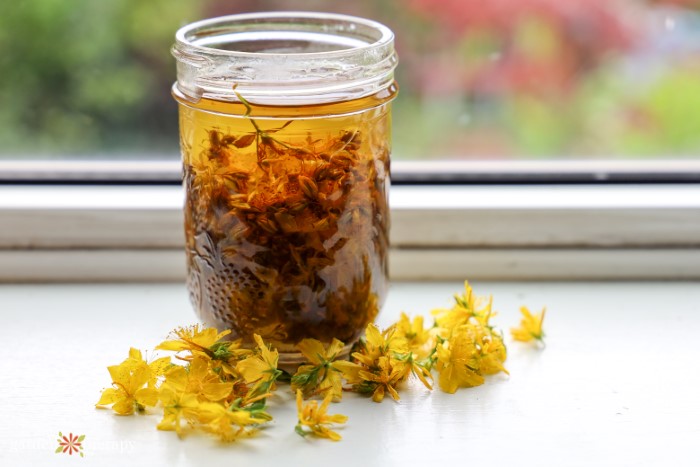 Infusing fresh flowers and leaf into vegetable oil makes a soothing facial oil that has many uses. Only fresh flowers can be used for infusions, not dried plant material.
Infuse it into vegetable oil and place it in a sunny window to infuse in the sun for one month.
The infused oil will turn a beautiful red. Then, strain out the plant material, bottle it, and label.
How to Use St. John's Wort Oil
There are many ways you can use this oil. A few ideas include:
as a facial oil
for back pain
sciatica
neuralgia
arthritic joints and arthritis
help heal wounds
heal surgical scars
assist with bruises and sprains
Make a Tincture
You can also make into an alcohol tincture for seasonal affective disorder, liver congestion, shingles, nervous exhaustion, menopausal moods, viral infections, and jet lag.
Alcohol tinctures are used to extract different chemical components that are alcohol soluble. Some folks are very precise in preparation with weight and volume but I prefer the simple folklore method of 1 part plant to 2 parts alcohol.
Make sure the plant material is completely covered, shake daily for 4 weeks, then strain out the plant and label your bottle with the date.
Tinctures can last up to 10 years.
Dose 1-4 ml 3x daily.  I suggest noticing how you react to any type of stimulus as to the best dosage for your body type.
DIIY Dream Pillow
Make a dream pillow with flowers and leaves and place it into a small cloth bag or a square piece of fabric and gather to tie up.
Place under your pillow for nightmares, bad dreams, and fear of the dark.
Final Thoughts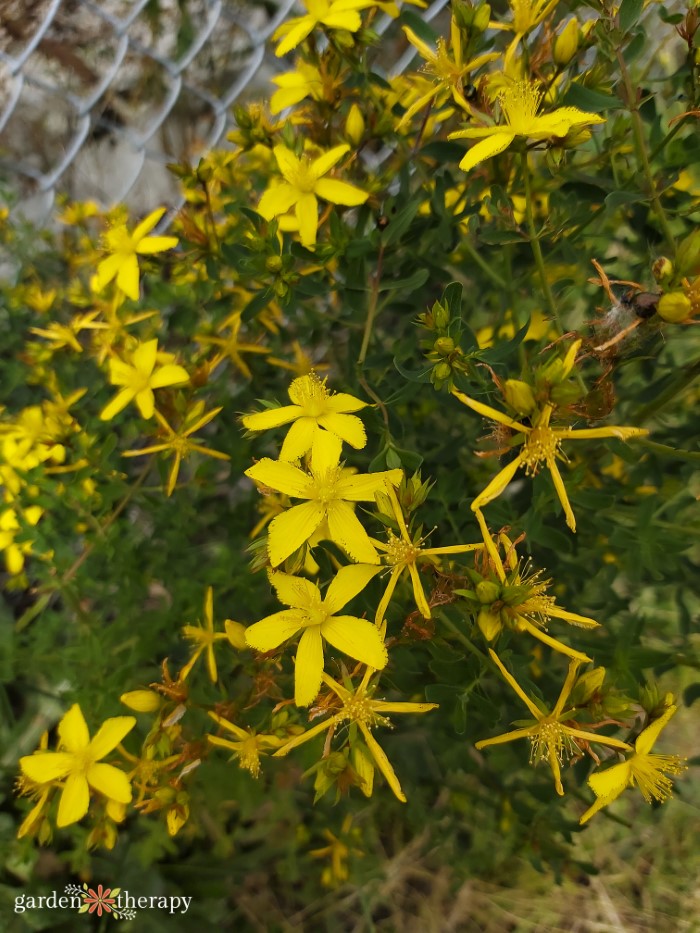 Friends helping friends is a good motto and I am grateful to Stephanie Rose for inviting me to write for Garden Therapy. We met a few years ago and over time have been growing our friendship.
There is a lot of information and research on this bright little yellow flower that offers so much healing for us emotionally, mentally, spiritually, and physically. I am so grateful for her teachings and now we can harvest her medicine vs. spraying her with poisons that eventually poison us as we are all part of the same web.
Chief Seattle once shared….The earth does not belong to man, man belongs to the earth.  All things are connected like the blood that unites us all.  Man did not weave the web of life, he is merely a strand in it.  Whatever he does to the web, he does to himself.
Blessings dear friends,
all our Relations
~ Lori
More Herbal Guides to Enjoy:
3 Ways to Use St. John's Wort
St John's wort is a fascinating plant filled with helpful medicinal properties. Learn three different methods for utilizing it, and enjoy the benefits.
Supplies
St. John's Wort Oil
1

cup

vegetable oil

1

handful

St. John's wort flowers

must be fresh, not dried
St. John's Wort Tincture
1

part

St. Johns wort

2

parts

alcohol
DIY Dream Pillow
1

cloth bag or square piece of fabric

1

handful of flowers and leaves
Instructions
To Make the Oil
Pour the oil into a glass jar, and add the flowers.

Let it sit on a sunny windowsill.

Strain the flowers out and re-bottle the oil.
To Make the Tincture
Combine the alcohol and plant, making sure that the plant material is completely covered.

Let it sit for four weeks, but make sure to shake it daily.

Strain out the plants and rebottle, then label.
To Make the Dream Pillow
Place your leaves and flowers into the cloth bag.

Put it under your pillow to prevent nightmares or fear of the dark.
About the Author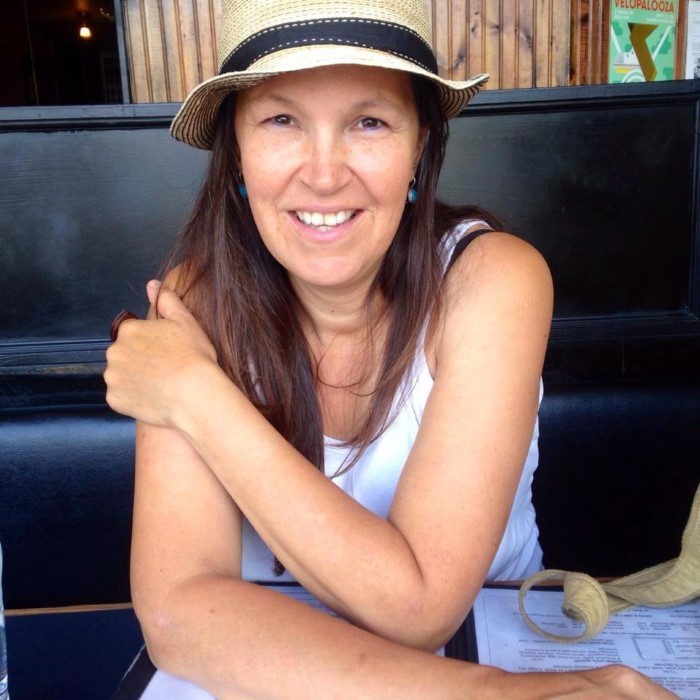 Lori Snyder is a Métis herbalist and educator sharing stories and teachings with children and adults in Vancouver, BC, for the last 7 years.  She has studied horticulture, aromatherapy, herbalist and permaculture and has a deep love for nature.  Tsuu T'ina, Anishinaabe, Cree, Nakoda, and Nipissing Nations are mixed with her Scottish, French, and Celtic ancestry. She loves honouring the plants and their medicines which are growing all around us.
You can find Lori on her website, on Facebook and at the Artists in residence at Hastings Community Centre.
You can also take a fascinating online course with Swallowtail tours featuring Lori's teachings, or join her at the Earthgleaners community guild where her teachings are being featured in July-Sept. If you are in (or will be in) the Vancouver area, you can even join her for an Airbnb experiences plant walk!