Cue the hair flip! Add this herbal hair rinse to your hair care routine and you'll notice an immediate difference. Made from completely natural ingredients, this apple cider vinegar hair rinse works hard to correct your scalp's pH and in turn give you stronger, healthier, and gorgeous hair.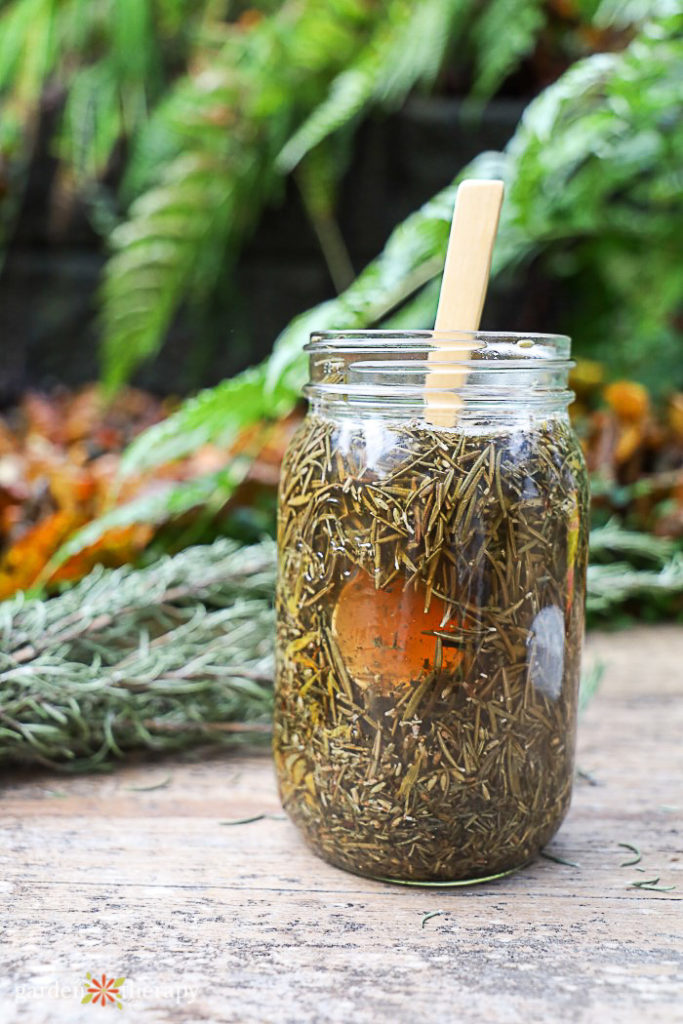 Switching to an all-natural hair care routine is one of the best things I've ever done for my hair. Seriously! I was shocked at the results once I started to make my own dry shampoo, conditioner, hair serum, and now my very own herbal hair rinse.
While a ton of people are switching towards a "clean" skincare routine, I have noticed that few people have yet to embrace an all-natural hair care routine.
I could not recommend it enough. Everyone's hair is so different and by creating your own products, you can cater to your own hair type. Curly, straight, dry, oily…there is a hair recipe for you. My ACV hair rinse is the newest step to my hair care routine and I would never do without it again!
What is Hair Rinse?
A herbal hair rinse is an added hair care step that you do while in the shower. It works to nourish the hair naturally with infused herbs. Most importantly though, it will restore and balance the pH of your hair! I'll explain a little later why this is SO important.
I learned about using a hair rinse from my friend and Herbalist Robin from Garden Mentors. She only uses the hair rinse without any other products and she has gorgeous, shiny hair. I have been playing with recipes and testing it out with my hair for over a year and I have not been able to seamlessly make the transition to not using shampoo and conditioner.
To get there, your hair needs to get used to not having shampoo remove the natural oil. This means that your scalp will produce A LOT of excess oil for a while until it balances out again. I plan to go full "no poo" method one day, but for now, I use the rinse as part of my routine and it works wonders for me. No more itchy or dry scalp and I can go a week between washings with ease. Baby steps!
Robin has a lovely herbal hair rinse in her Etsy Shop. be sure to check it out!
It has quickly become an essential step in my natural hair care routine. By making my own DIY hair rinse, I know where all the ingredients are coming from and can avoid all the harsh chemicals and fragrances that are common in hair care products.
The Best Herbs to Add to an Apple Cider Vinegar Hair Rinse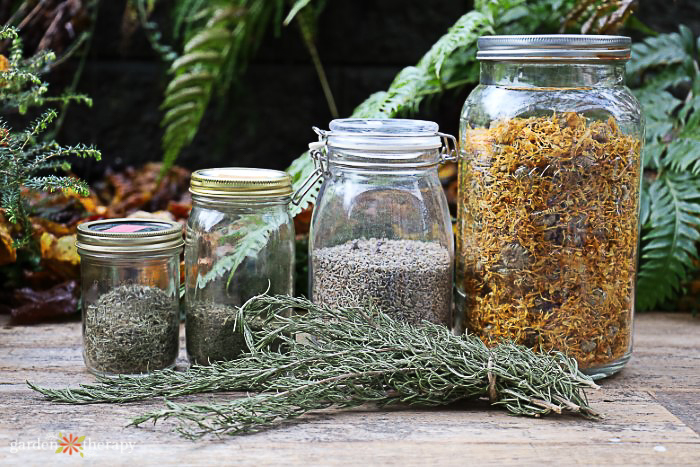 Adding herbs to your hair rinse can make all the difference. Herbs are full of beneficial properties that once infused, can add a ton of benefits for your hair. Below, I've outlined some of the best herbs for hair and how they can help.
Choose which herbs will aid you best for your own customized herbal hair rinse. Ask yourself, which herb will work best for my hair type? The "best for" notes under each section will help you decide if the herb is right for you.
Horsetail
One of the most well-known herbs for hair, horsetail is probably found in some of your favourite hair care products. It has a ton of antioxidant properties which can add sheen and strengthen the hair.
It contains silica, selenium, and cysteine which are all known to promote hair growth. Overall, it is a must-have for those looking to improve overall hair condition.
Best for: all hair types and those looking to strengthen hair and promote growth.
Rosemary
Rosemary has always been a top ingredient in my hair care recipes as it works to improve scalp circulation and nerve growth. Why is this important? Improved circulation in the scalp prevents hair follicles from not getting enough blood supply and dying off, leading to hair loss.
It also has antiseptic and antibacterial properties which can aid in preventing dandruff and lice. I'd like to avoid the two as much as possible!
Best for: increasing scalp circulation and promoting hair growth.
Lavender
Aromatherapy's most popular scent, lavender is known to have a calming effect on the body. This extends to hair as well, where its antimicrobial properties helps to calm issues like itchiness and dandruff by preventing bacteria and fungi from growing. It also works to soothe scalp inflammation and dryness.
A few studies have backed up lavender's hair claims, where it has been known to be useful in preventing head lice and help with pattern baldness and alopecia in mice.
Best for: soothing skin irritations and irregularities due to its antimicrobial properties.
Nettles
Rich in minerals like iron, magnesium, and zinc, your hair follicles will love nettles. It's anti-inflammatory and antioxidant properties also work to protect the scalp from damage and promote new hair growth. This also makes it an aid in treating dandruff.
Like horsetail, it also has high levels of silica. Combined with high levels of natural sulphur, it makes the hair shinier and healthier.
Best for: dry and damaged hair as it helps to strengthen and promote growth.
Calendula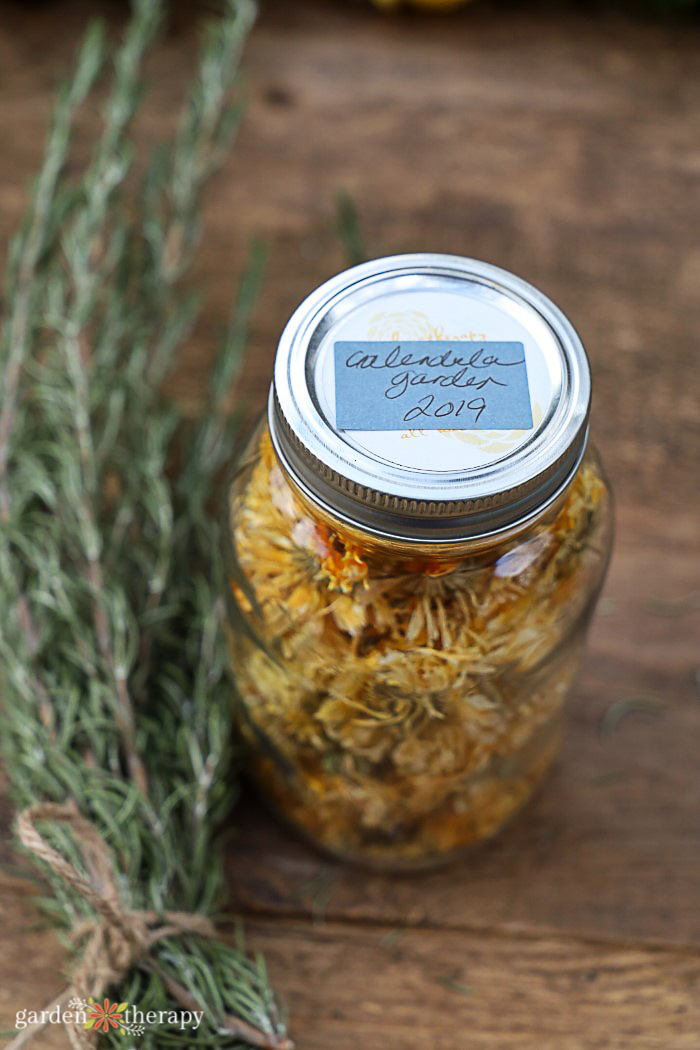 Beautiful on the outside and the inside, calendula is packed full of helpful hair properties. It is anti-inflammatory, antimicrobial, and antiviral, making it useful in improving scalp conditions. Calendula fights dandruff, rashes, and other dry skin issues, as well as helping to speed up recovery time for wounds or damaged hair follicles.
It also contains flavonoids and carotenoids, two antioxidants that protect from sun and environmental damage to hair.
Best for: hair that needs extra protection and improving overall scalp condition.
The Benefits of an Apple Cider Vinegar Hair Rinse
Apple cider vinegar has long been a household remedy favourite. Want to preserve food? Apple cider vinegar. Want to lose weight? Apple cider vinegar. Want shiny, glorious hair? Apple cider vinegar.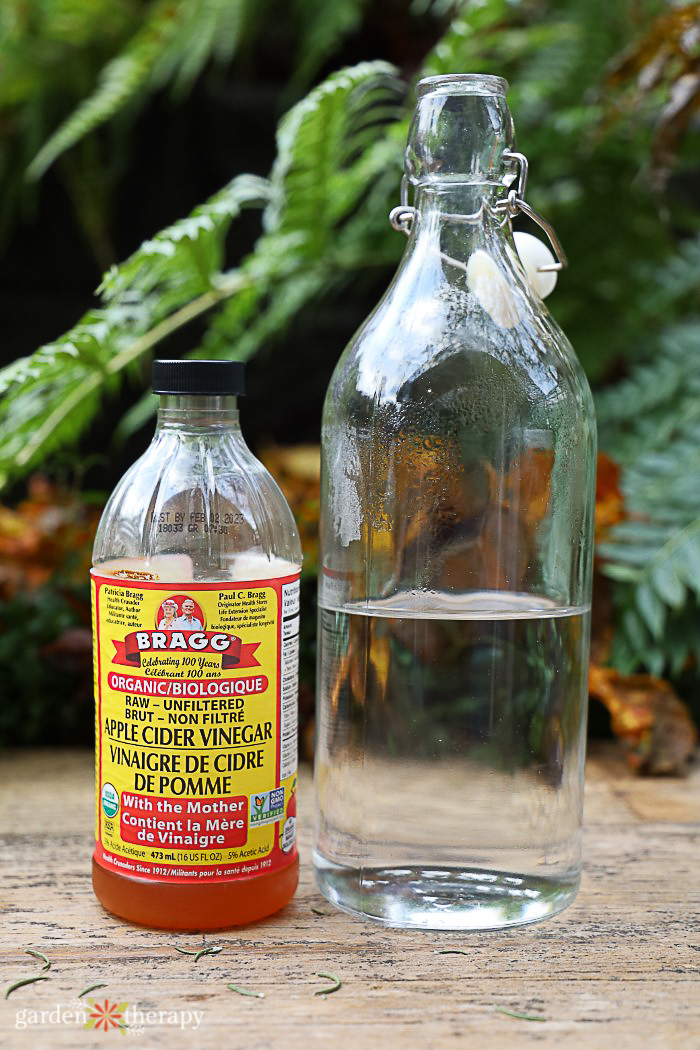 Maintaining a Good pH
Apple cider vinegar is made from fermenting apples with live cultures, minerals, and acids. Like most vinegar, it is an acidic substance and contains high levels of acetic acid. While applying something acidic to your hair may seem scary, it is actually super beneficial. Here's why!
Our hair and scalp have an acid mantle (like the rest of our skin) that requires a healthy pH balance in order to have happy hair. The normal pH of your hair should range between 4.5-5.5 when it is healthy.
However, most hair products don't keep pH in mind; colouring, bleaching, and even something as simple as shampoo can throw the pH of your hair off balance. When hair is brittle, dull, or fizzy, it is likely more alkaline and ranges higher on the pH scale than normal.
That's where the apple cider vinegar hair rinse comes in!
Using an acidic substance on the hair can help to balance out the hair and lower the pH. By maintaining a good pH, you are preventing unwanted hair breakage all while maintaining a healthy amount of natural oils. Sebum, our skin's natural oil, is essential in keeping our hair glossy and strong.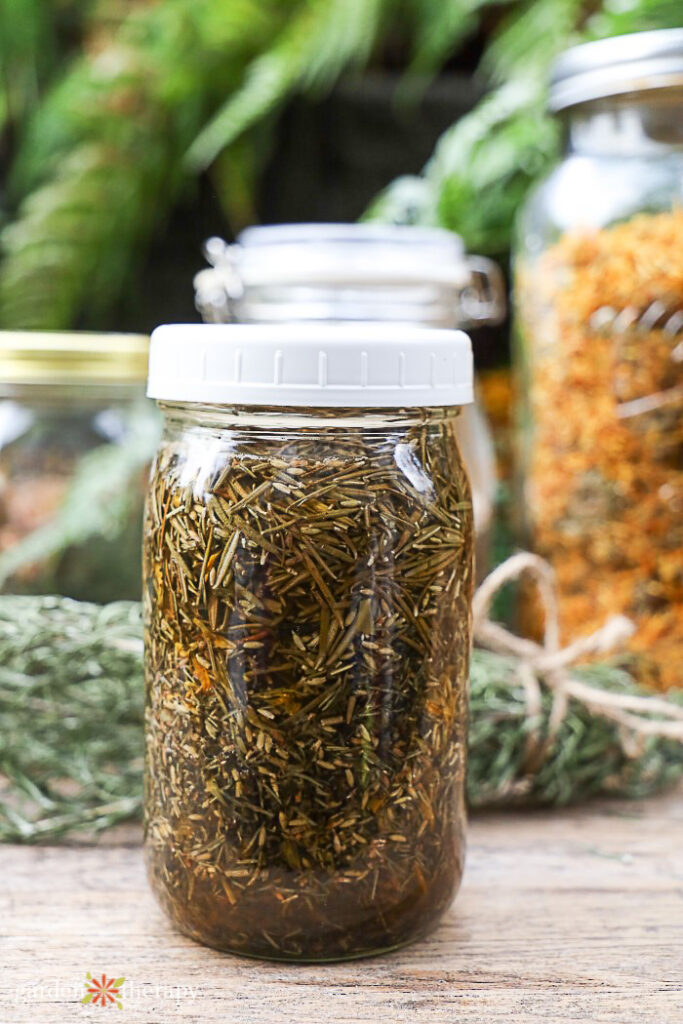 Other Wonderful Hair Benefits
Beyond maintaining the pH of our hair, the apple cider vinegar hair rinse has some other benefits as well. Since apple cider vinegar is a popular disinfectant due to its antimicrobial properties, it can aid in treating itchiness and dandruff.
It is also rich in minerals, especially ones that are good for the hair such as Vitamin C and B.
Lastly, it gets out that stubborn product that won't go away even after you give it a good scrub with your best shampoo. If you used a ton of hairspray to achieve that perfect 80's look for Halloween or layered up on the dry shampoo for longer than you would like to admit, apple cider vinegar has your back. Since it is more acidic than regular shampoo, it can help to gently remove the product, dead skin cell build up, and grime.
Video: Watch How to Make Herbal Hair Rinse!
In this video, I'll walk you through what a herbal hair rinse is, my favorite herbs to use, and how to make this hair rinse step by step.
Be sure to subscribe to the Garden Therapy YouTube page to get more awesome video content!
How to Infuse Your Apple Cider Vinegar
Before you can use your apple cider vinegar hair rinse, you will need to infuse the vinegar first. To do so, you will want to measure out your herbs. Choose from the herb list above and find which ones best match your hair type. By customizing your herbal hair rinse with the right herbs, you will get the most benefits.
Place your herbs in a quart mason jar or any other container that will seal tightly. Add at least 3 tbsp each of your desired herbs. Fill the jar with your apple cider vinegar and give it a good shake.
Your mixture will need to sit for 2-4 weeks. This allows the vinegar to be fully infused with the herbal properties and scents. Waiting is tough, but necessary!
After your vinegar is infused, you can strain the herbs and store the rinse in a glass bottle.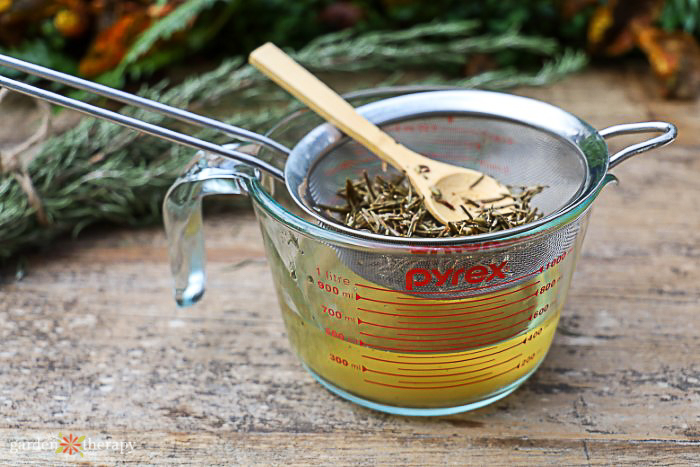 How to Use This Apple Cider Vinegar Hair Rinse
Now that you've been patient and your vinegar is ready to go, it's time to use your herbal hair rinse!
1. Dilute Your Mixture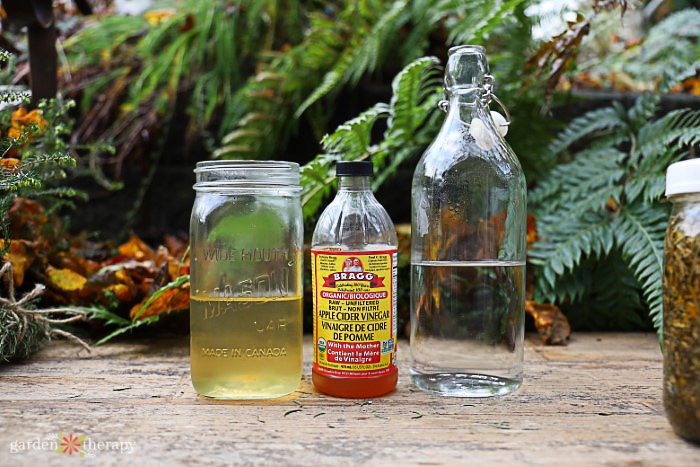 The first thing you will want to do is dilute your vinegar. While apple cider vinegar helps to balance hair, you don't want to overdo it and make your hair more acidic or risk harming your skin.
To dilute your vinegar, add approximately ¼ cup of infused vinegar with 1 pint of water into a squeeze bottle. If after using you find that your hair is still too oily, reduce the amount of vinegar to 1/8 cup. If it feels too dry, try increasing the amount of vinegar to ½ cup.
All hair will react differently, so use your best judgment.
2. Apply to Hair
The herbal hair rinse is best applied after you have shampooed your hair. Use the squeeze bottle to apply to your roots and massage it into the scalp. Next, use a wide-tooth comb to go through the hair and get rid of all the tangles. Squish and scrunch your hair to ensure it really soaks in throughout your hair.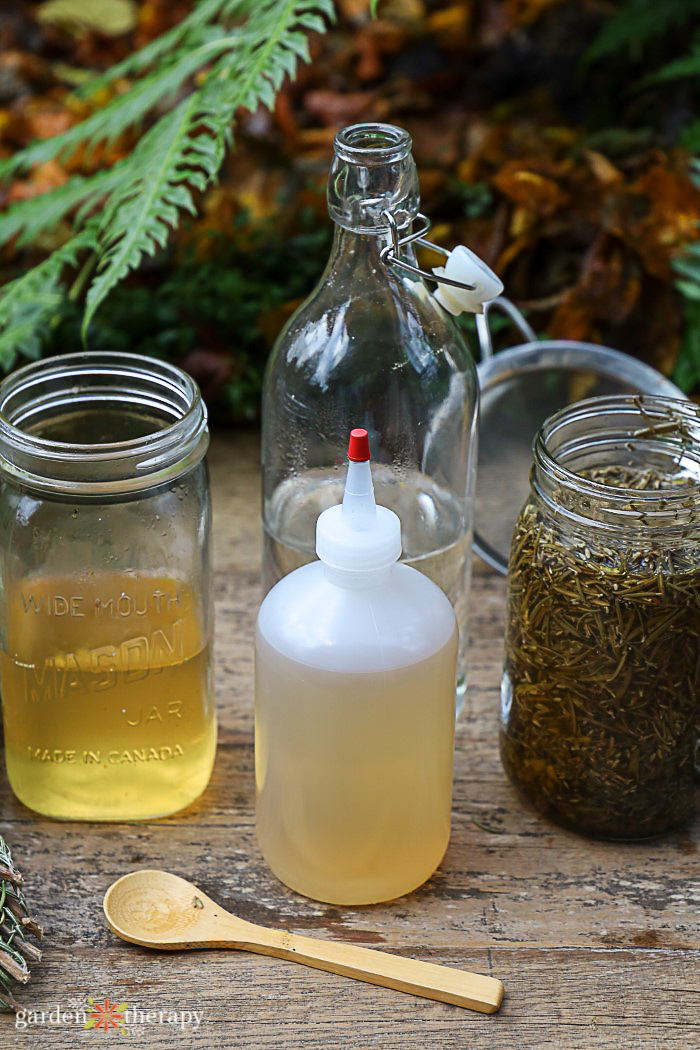 3. Rinse Well
Rinse out your hair well and then apply conditioner to help mask the smell. Though, after diluting the vinegar and infusing it with herbs, the smell isn't as strong as you may think. I like to use my homemade conditioner as it has a ton of yummy essential oils to leave my hair smelling fantastic.
I use my herbal hair rinse once a week, but you can use it as often as you prefer. And voila! You should notice a huge difference in your hair pretty fast. Shiny and healthy hair is always in!
More Hair Care Posts to Read:
DIY Apple Cider Vinegar Hair Rinse
Keep your hair shiny and healthy with this simple herbal hair rinse! Apple cider vinegar promotes healthy pH while herbs are tailored to help your specific type of hair shine.
Equipment
quart mason jar 

strainer

plastic squeeze bottle
Supplies
Herbs that Help Your Hair Goals (use at least 3 tbsp of one or several of the herbs below)
Instructions
Infuse the Apple Cider Vinegar with Herbs
Choose herbs that best meet your hair goals from the above list. Measure out at least 3 tbsp of dried herbs to use.

Place the herbs in a quart-sized mason jar, then pour in enough apple cider vinegar to fill the jar.

Let the herbs steep for 2-4 weeks to get the most benefits possible.
Dilute the ACV Hair Rinse
Strain out the herbs from the ACV mixture. Discard the herbs.

In a shower-safe plastic squeeze bottle, add 1/4 cup of infused ACV with 1 pint of water and apply to hair after shampooing. Rinse well and apply conditioner.
Video
Notes
If your hair feels too oily, reduce the amount of herbal apple cider vinegar to 1/4 cup. If your hair feels overly dry, increase the amount to 1/2 cup.