This Himalayan pink salt scrub is a powerful detoxifier packed with healing minerals for your whole body. Our busy lives often result in tired, achy muscles, stress and environment related skin issues, and not very much time to stop and take care of ourselves. This scrub is a simple, quick way to give your body some of the love it needs in just 20 minutes. With rose petals and essential oils added, this scrub becomes a home spa treatment that also heals, soothes, and revitalizes the skin.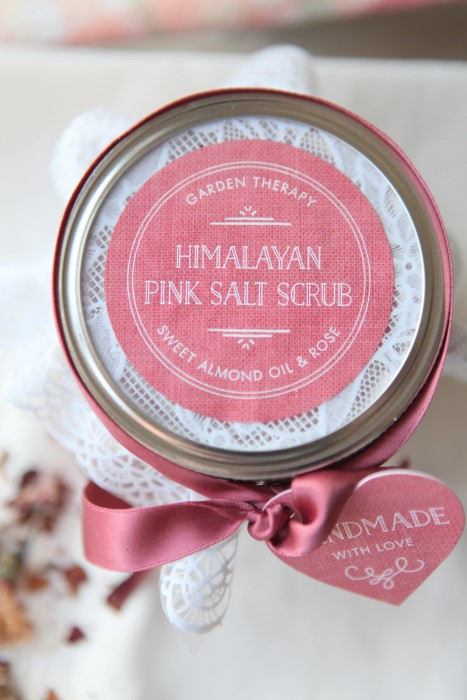 There are many benefits to using Himalayan pink salt as a culinary ingredient, as it is full of 80+ minerals and elements such as magnesium, calcium, and potassium. The pink color is a result of these trace elements in the salt, including energy-rich iron. These minerals can often be more accessible to the body through dermal absorption, making this salt scrub a nourishing and therapeutic experience for the body.
Rose geranium, pink grapefruit, and ylang-ylang essential oils have been added for an aroma that helps to bring balance and harmony as well as stimulating and uplifting properties. This powerful combination works wonders to transform a weary body and mind in just the time it takes to have a bath.

Detoxifying Himalayan Pink Salt Scrub
Ingredients
Make it!
Mix together all ingredients in a jar. Warm up the coconut oil if you need to soften it. Add dried rose petals to the top of the jar if you want a more luxurious bath, or if giving this as a gift. Store in small batches in the fridge to prolong life.
How to Use
This Himalayan pink salt scrub is best when applied before a warm bath. Massage into wet skin all over the body and step into a warm bath for at least 20 minutes. Soak, rest, relax, and dry your skin after the bath. Bring a cool glass of water to the bath with you as detoxification can be powerful.
You may feel a bit woozy right afterward as your body gets used to the toxins being drawn out. Drink at least two 8-oz glasses of water during and within one hour after the bath. If this routine is being done before bed, you should have a wonderful night's rest. In the day, give yourself an extra 30 minutes to relax after the bath, then jump up and get on with your day.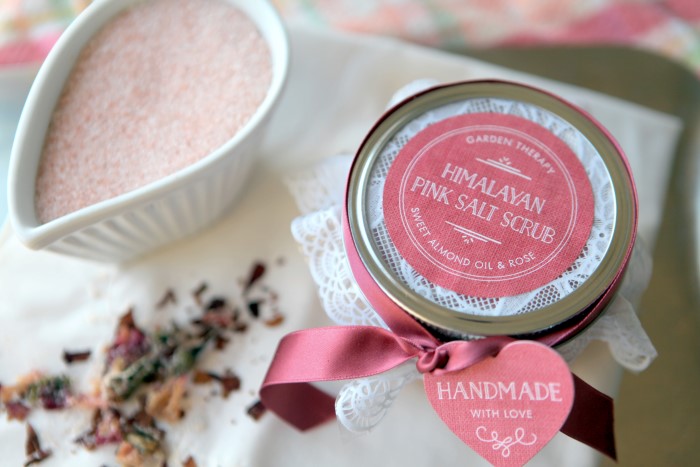 More Posts You Might Like: