Keeping clean on the go doesn't have to be a struggle. These homemade disinfectant wipes easily remove dirt and grime, all while safely sanitizing your hands and surfaces with natural ingredients. Easy, cheap, and delicious-smelling, say goodbye to germs instantly with these DIY sanitizing wipes.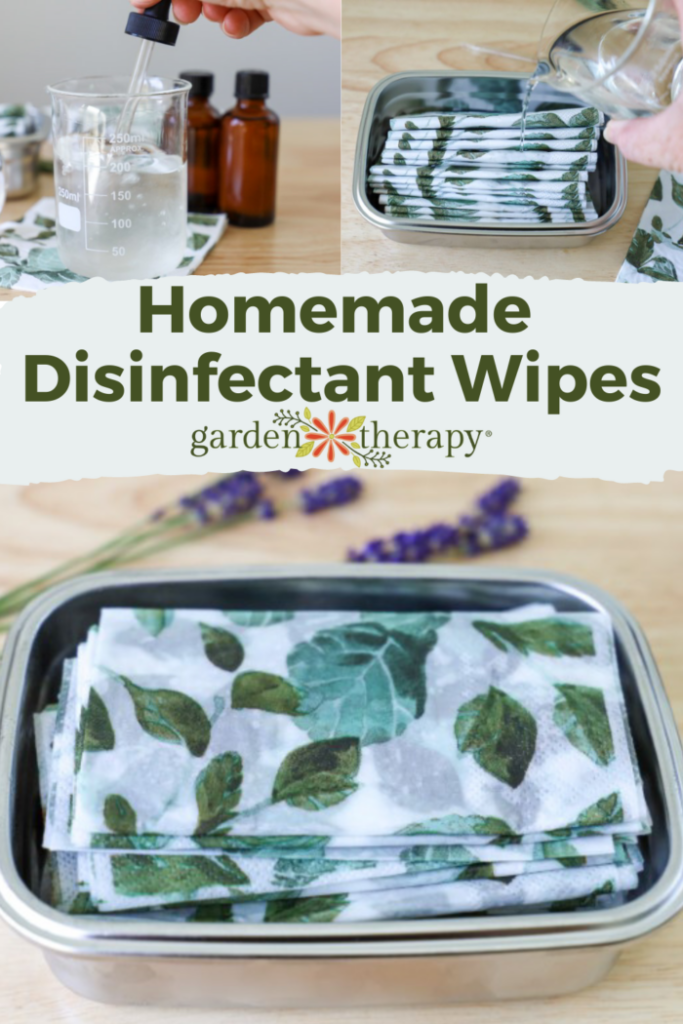 Throughout the years, I have gradually been swapping out store-bought cleaners and have opted to make my own natural cleaning products. As someone who is sensitive to artificial fragrances and chemicals, natural and homemade products work much better for me and my family.
The best part is, I haven't had to compromise on cleanliness. One common myth I hear about natural cleaning products is that they don't work as well as commercially made ones. That's simply not true. Not only are my natural cleaning products effective, but they are cleaner for the earth too.
My latest book, Soaps, Sanitizers, and Cleaners has a ton of natural cleaning products for every room of the house and for the person on the go. I wanted to share my tried and true recipes so you too could feel good about the ingredients you use at home. I'm pleased to say it is now available online at Amazon.ca or at Leisure Arts if you're interested in a paper copy.
Today's post comes from Soaps, Sanitizers, and Cleaners and features my must-have travel product, homemade disinfecting wipes! Even though these disinfecting wipes are made with pretty cocktail napkins, don't let them fool you. They're still powerful enough to effectively clean your hands or surfaces.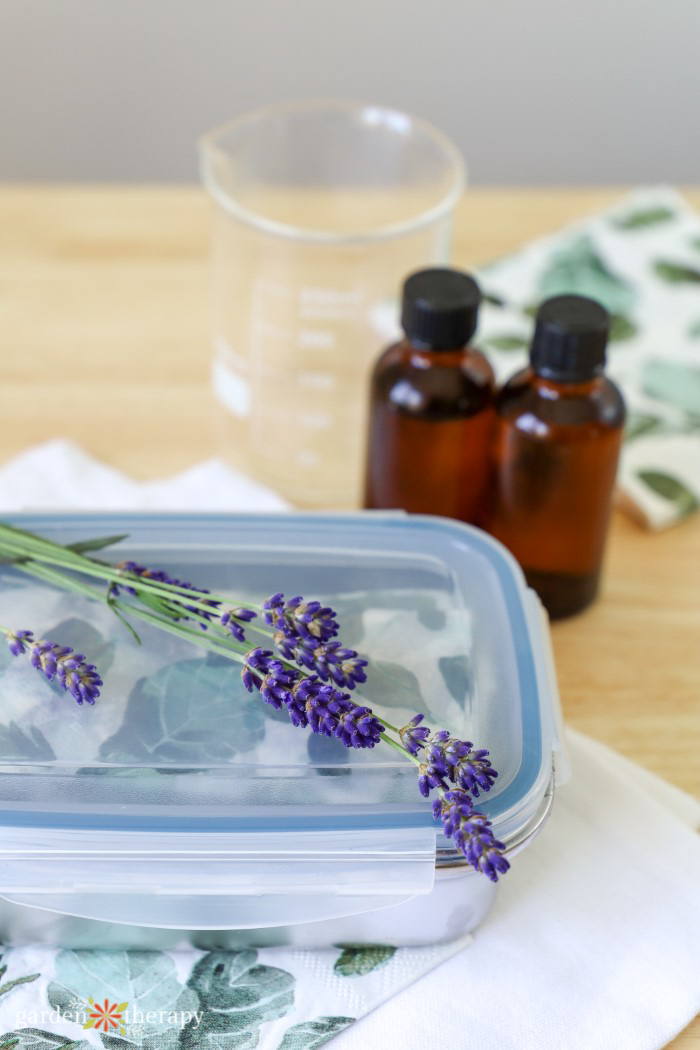 Why Make Homemade Disinfect Wipes?
While you can easily purchase your own pack at the grocery store, I still prefer to make my own homemade disinfectant wipes. Regular wipes that you buy at the store aren't skin-friendly, packed with artificial fragrances, parabens, and nasty chemicals.
Even if I am using the wipes for everyday objects such as door handles or grocery carts, I still like to keep things as natural as possible! You aren't sacrificing any sanitizing either. Made with isopropyl alcohol, these homemade sanitizing wipes are effective against bacteria, viruses, and fungi.
I store my wipes in a reusable container to avoid unnecessary plastic packaging. Once I've used up all my wipes, I can make a new batch in the same container. They smell wonderful and even leave my hands feeling softer after giving them a good wipe.
While great to have on-hand, sanitizer is no substitute for washing your hands. Cleaning and sanitizing are two very different things. When I have dirt and grime on my fingers, a disinfecting wipe helps to clean my hands AND sanitize them all in one go. It's the next best thing to running water and soap!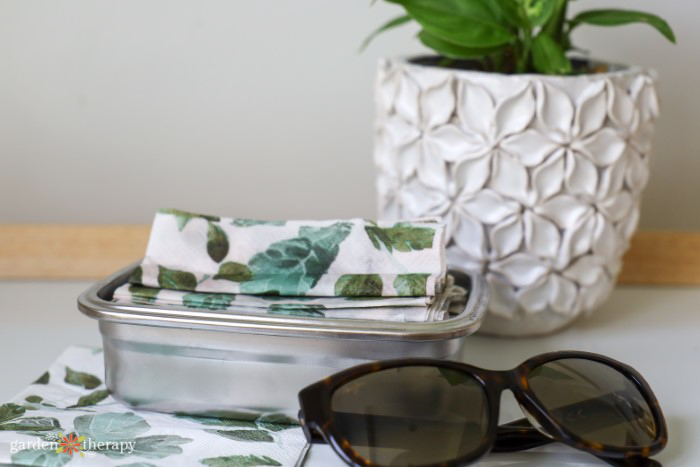 When to Use Your Homemade Disinfectant Wipes
These days, everyone understands how handy it is to have sanitizing wipes on hand. Pack them with you when going to the grocery store to wipe down your cart or to wipe your hands before and after entering. Keep them in a metal storage container and toss them in your bag so they're handy whenever you need them.
They can also be kept by the door so you can wipe down your keys and phone each day when you arrive home. I have used mine all around the house for quick wipe downs such as on light switches, door handles, computer keyboards, and even my counters.
When it is time for us to travel on airplanes again, these wipes will be very handy to have on hand. For ease when traveling, you can store your wipes in a reusable Ziplock bag.
They also are great for any travel adventures when you won't have any facilities, such as hiking and camping trips. I can use them to give myself a quick freshening up or even use them to wipe down dirty gear.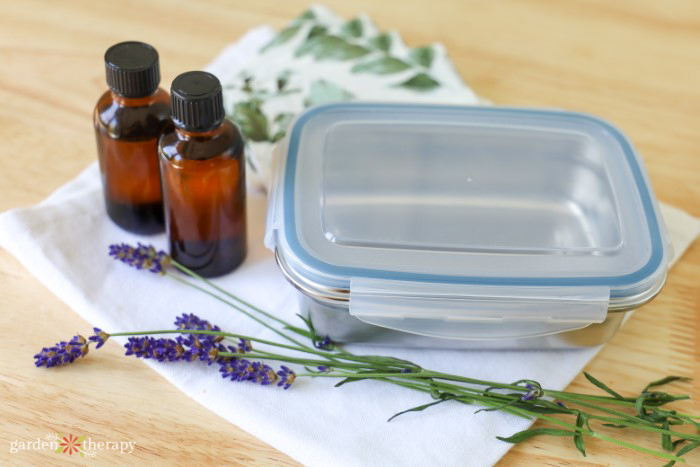 Fresh & Clean with Lavender and Lemon
The combination of these two popular essential oil fragrances is one of my favorites for balancing. Calming, floral lavender and uplifting, bright lemon work together to leave a pleasant scent on your hands once the alcohol dissipates.
When you open the travel container of your DIY sanitizing wipes, you will certainly be hit by the alcohol aroma. But once you rub a wipe on your hands, that will quickly dissipate, leaving behind the softness of coconut oil and the scent of lavender and lemon.
How to Make Homemade Disinfectant Wipes
Materials and Ingredients (see recipe card for measurements)
Make It!
Step 1: Fold your napkins to fit in your container.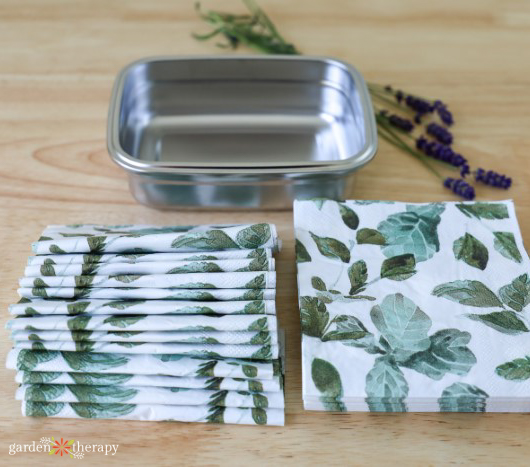 Step 2: Mix together your coconut oil and isopropyl alcohol. Add in your essential oils to get a refreshing smell.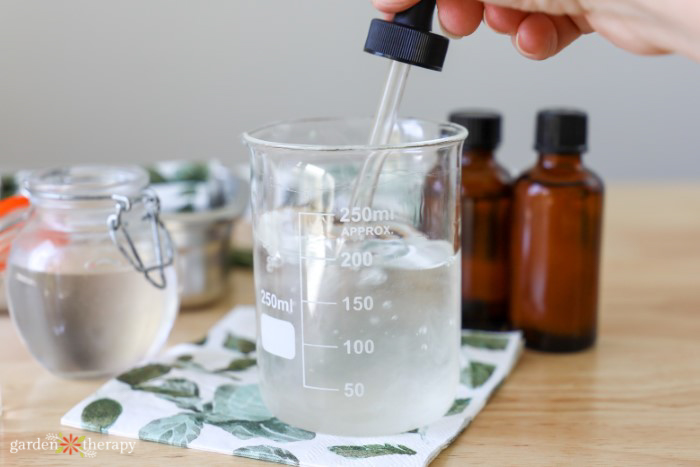 Step 3: Pour your mixture over your napkins, generously coating all of them.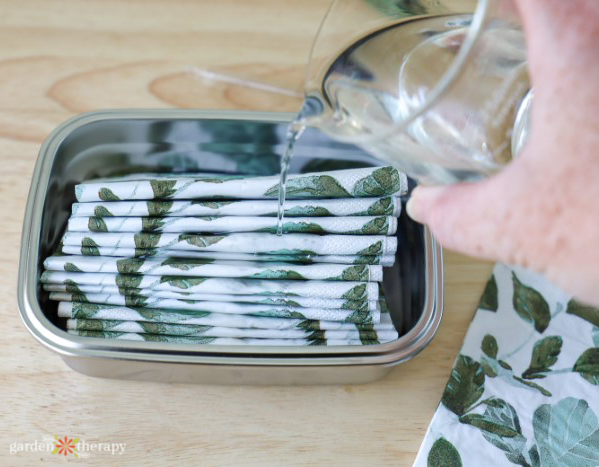 Step 4: Using clean hands, push down on the napkins to ensure they have all evenly soaked up the mixture. Close the container and they're ready to go!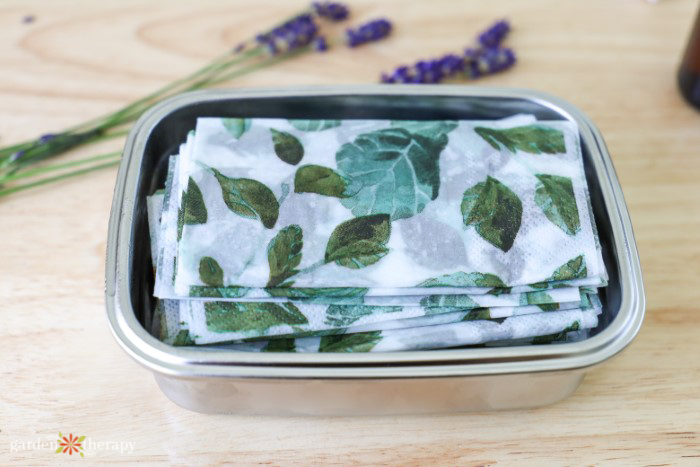 How to Use
Remove a wipe from the container and thoroughly rub it over your hands or the surface you want to clean. Discard the used wipe. Do not flush it or add it to green waste.
How Long Will These Wipes Last?
The alcohol content in this recipe will prevent bacterial and mold growth. However, its potency will wane over time, and the wipes will dry out. Keep the wipes in a sealed container to prolong their shelf life. Discard them when they have dried out or after one year to be safe.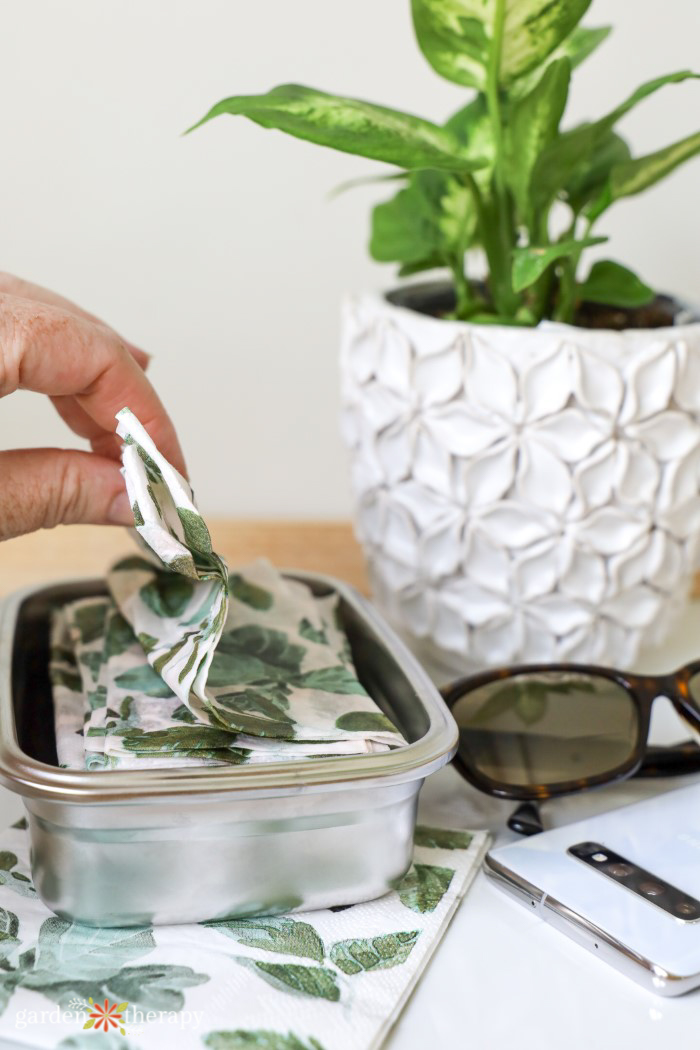 How to Sanitize a Plane Seat Properly
By far one of the handiest ways to use these DIY sanitizing wipes will be on the airplane. While a quick wipe seems easy enough to do, there are few important things to note on how to properly sanitize your airplane seat.
Get your wipes out ahead of time and even board early if possible. It will take a moment to get everything clean and the less time you spend holding up the boarding lineup, the less grumpy everyone will be.
When sanitizing, focus on all the high touch areas such as the armrests, tray, and TV screen. The tray is especially important as you may be eating from it. Let the surfaces stay wet until the liquid evaporates on its own. Don't use the wipes on any upholstered fabric as it will just absorb the wetness and won't sanitize.
To keep extra safe on an airplane, consider choosing the window seat as you will have the least interaction with fellow travelers possible. Avoid touching the seat pocket and the magazines inside as they are packed full of germs.
Consider bringing one of your homemade sanitizing wipes with you to the bathroom to use when opening and closing the door. And lastly, bring some hand sanitizer with you too! It will come in handy after cleaning your airplane seat and before eating anything.
More Posts to Read:
Homemade Disinfectant Wipes
Great for the smart traveller, these homemade disinfectant wipes keep your hands and surfaces sanitized using natural, safe ingredients.
Instructions
Fold all the napkins in half so they fit in the container.

Mix the alcohol and coconut oil. Then add the essential oils.

Place the folded napkins in the container and pour the mixture over them.

With clean hands, press down on the napkins to ensure they're evenly saturated with the alcohol mixture. Close the container, add a label, and your wipes are ready to use.
Notes
Shelf Life: The alcohol content in this recipe will prevent bacterial and mold growth. However, its potency will wane over time, and the wipes will dry out. Keep the wipes in a sealed container to prolong their shelf life. Discard them when they have dried out or after one year to be safe.