This lavender oatmeal soap is soothing and calming for your skin. And any recipe that uses my garden-grown lavender rates especially high in my books! Lavender is my favorite ingredient, especially when it comes to natural beauty recipes, a slight addiction which can be seen in a simple search for lavender crafts. But along with being one of my favorite scents, dried lavender buds make this soap as beautiful to look at as it feels when you lather up.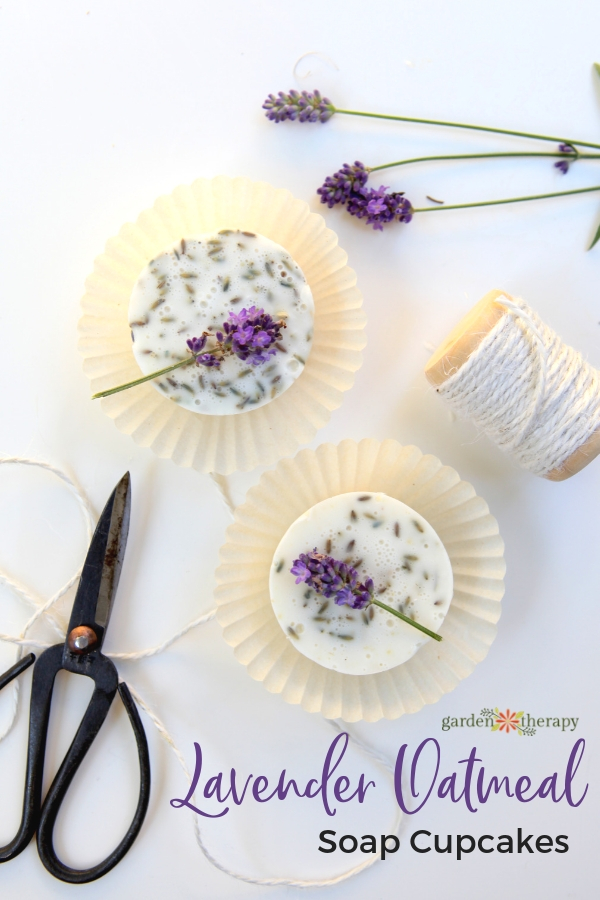 To make this soap as a gift for holiday gift-giving or for someone special, make it in cupcake molds and then wrap it in a cupcake wrapper. Who wouldn't want to get a lavender oatmeal soap cupcake as a gift? I can imagine even the burliest person out there would want to suds up with these!
Making these lavender oatmeal soap cupcakes can work with both cold process recipes and with melt and pour. If you choose to make cold process soap, please follow the recipes and the instructions in this article on how to make cold process soap. Cold-process soap is my go-to skincare bar, but it does take a long time and a lot of equipment to make.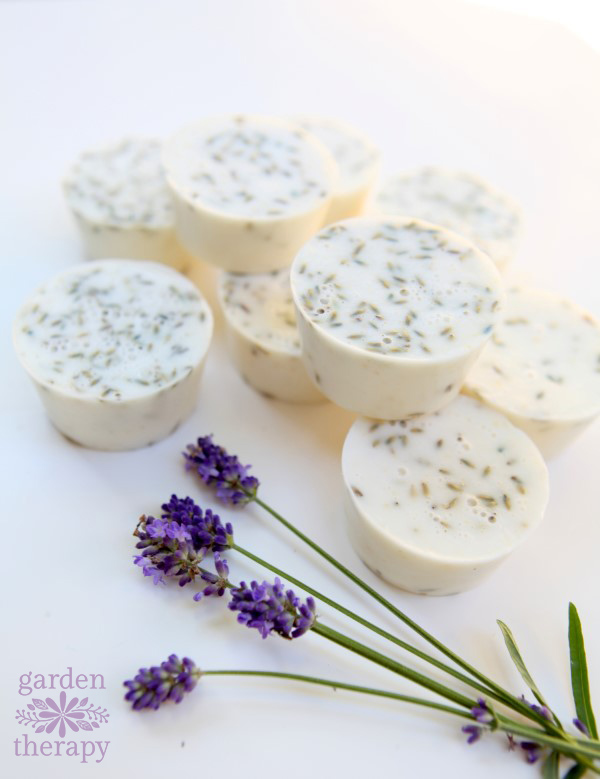 Today, I'll demonstrate a speedier soap-making project using melt and pour soap. Melt and pour soap kits are very easy to work with and simply require you to cut up the block into cubes, melt it, add your scents, and pour it into molds.
Materials
Make it!
The melt and pour soap base should come as a block and have a list of the ingredients. You can choose from a number of different formulations such as glycerin soap, milk soap, and fat- and/or butter-based soaps. I chose a natural soap base that had shea butter and oatmeal in it. If you would like to add oatmeal separately, then grind a few teaspoons of organic oats and add it to the melted mixture when you add the lavender buds.
Use a sharp knife to cut your soap base into 1-inch cubes or smaller. Put the cubes in a heatproof container like a Pyrex measuring cup and put that in the microwave.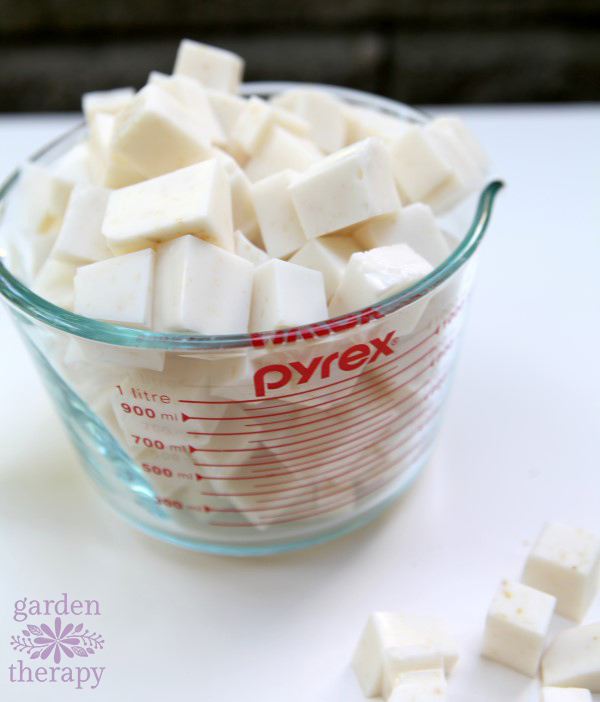 Melt the soap base on medium-high in the microwave for 3 to 4 minutes. Stop the microwave occasionally and check the soap base. It should be melting but not steaming. Take the soap base out of the microwave before it's completely melted and use a metal spoon to stir it until it has no lumps.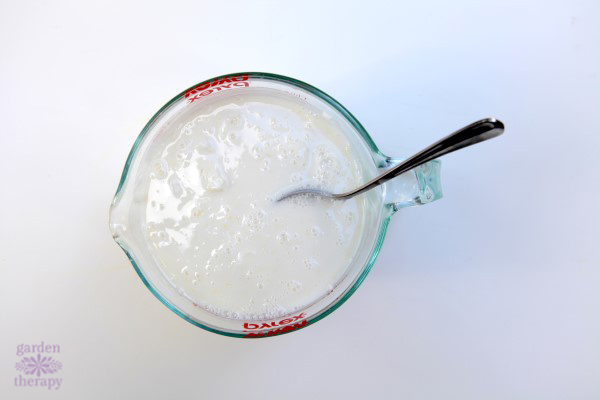 Add one teaspoon of lavender essential oil and 1-2 tablespoons of dried lavender buds.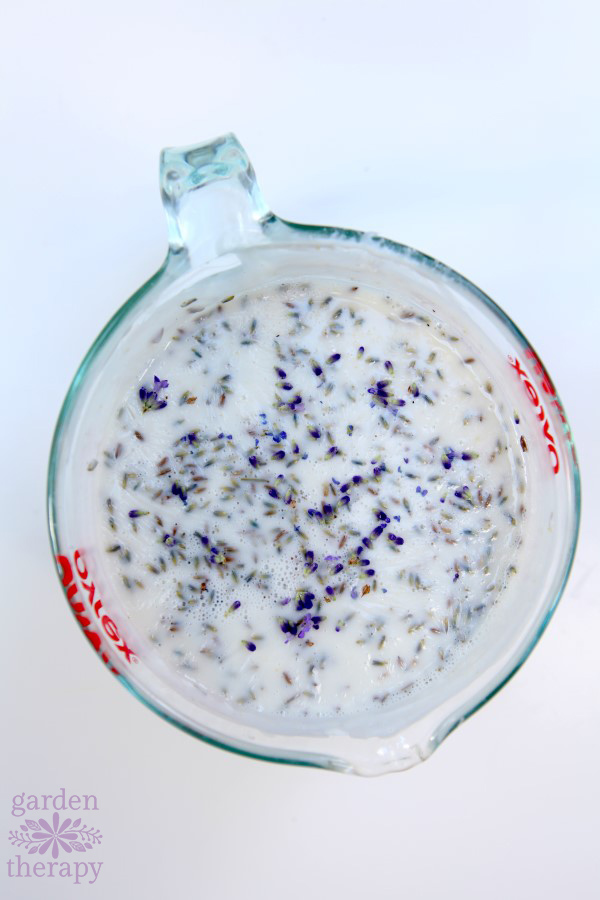 Stir the ingredients well and pour the soap into silicone cupcake molds. I chose a cupcake mold that was quite tall but I only filled each cupcake section halfway so that the soap was a nice manageable size when finished.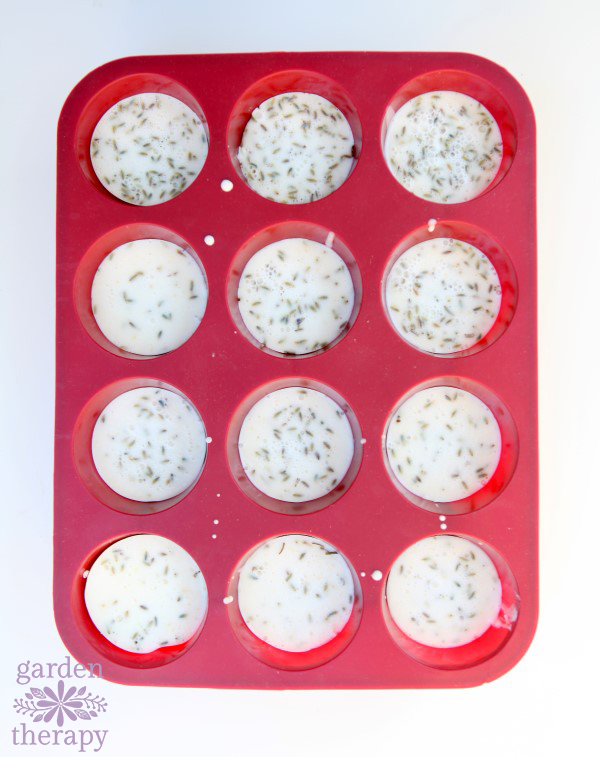 Add a few extra lavender buds on the top of the soap if you think it needs it and allow the soap to dry undisturbed for at least an hour. When the soap is hard you can unmold it and use it right away or wrap it up for gifts.
A simple parchment paper cupcake liner makes a great wrapper for these lavender oatmeal soap cupcakes. I like the natural look of parchment paper but you can use any cupcake liner that you think would add to the presentation. Use a bit of garden twine to tie it up and if you have a stem of lavender add that as well.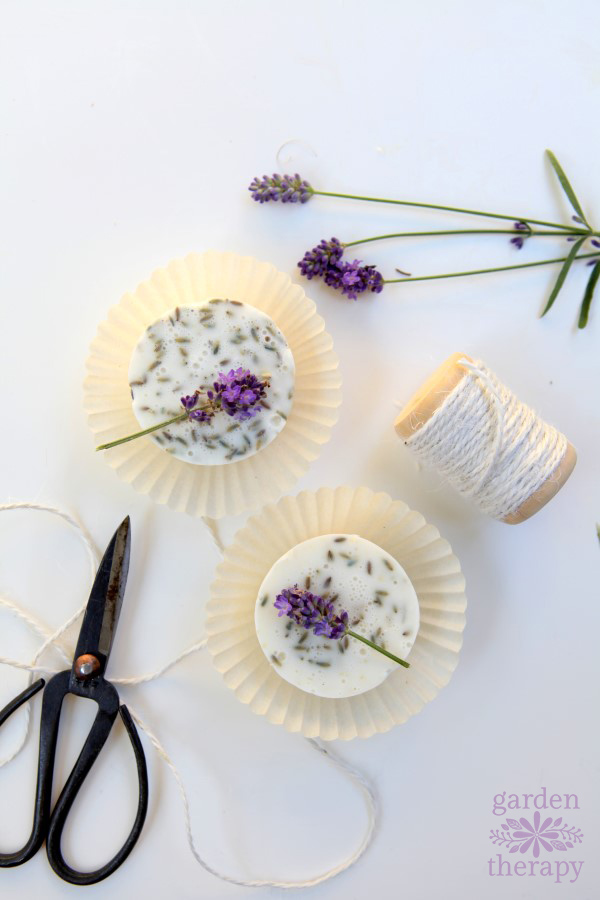 For more beautiful recipes inspired by the garden, pick up a copy of my Natural Beauty Recipe Book. It comes as an instant download that is filled with 5 chapters of over 40 natural beauty recipes for the whole family. Read more about the Natural Beauty Recipe Book here.
Even more soap recipes: