If you love the flavour of mojito, you've got to add a mojito mint plant to your garden! Not only is this prolific growing plant perfect to use in a mojito or lemonade, but I love using it to make mint popsicles. Learn about the mojito plant and how to make mint popsicles with lemon and honey.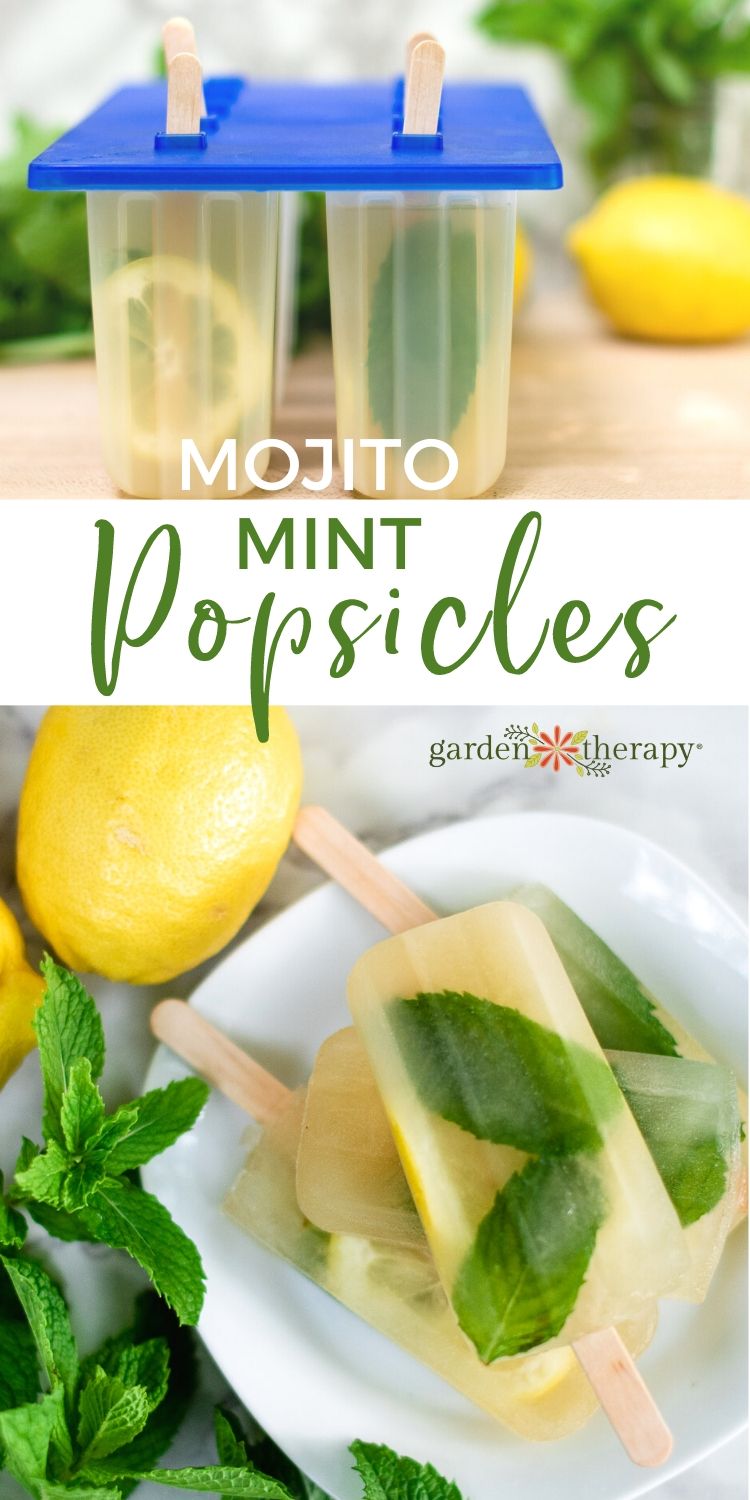 What came first, mojitos or mojito mint?
Of course, the answer is mojitos. Although mint has been around for a heck of a lot longer than the cocktail, Mentha x villosa has been more recently given the common name "Mojito Mint."
The Mojito Mint Plant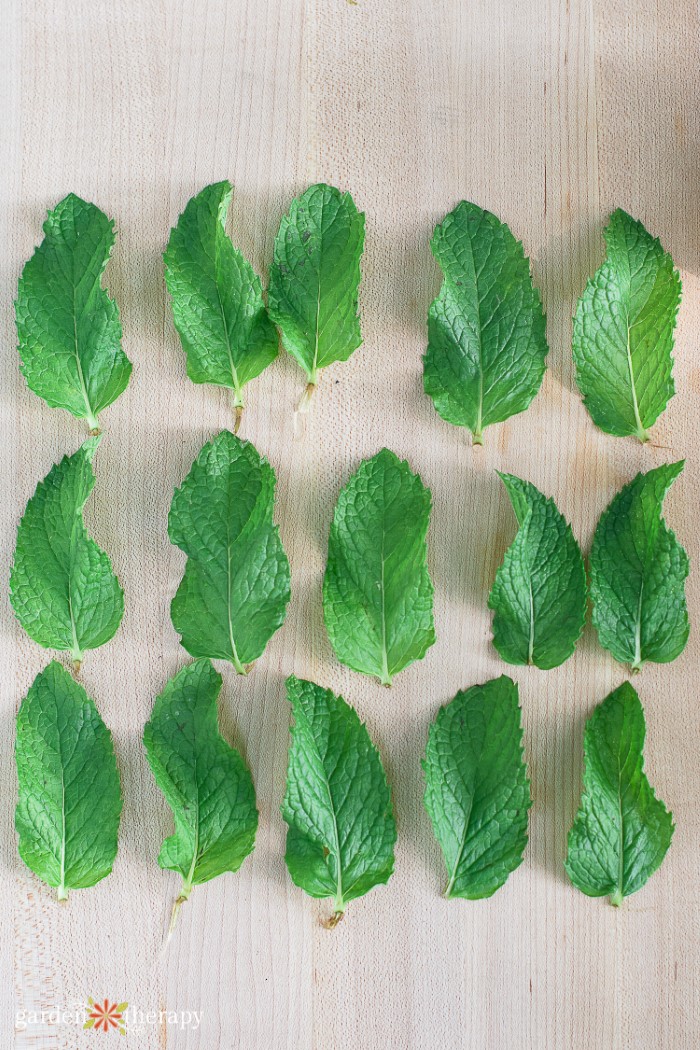 Mentha x villosa, also known as Cuban mint or mojito mint plant, comes from Cuba. This herbaceous perennial does well in USDA zones 5 through 9.
Watering: once established, mint needs average water, a bit more when it's hot.  In my temperate rainforest climate garden, it requires very little supplemental water. Although letting it dry out in the summer too much can sunburn the leaves.
Light: the mojito mint plant loves the sun but can tolerate some shade. In a shady spot, the stems will grow a bit taller and there will be more spaces between the leaves. Mints are a great plant to grow at the back of the herb garden where it gets more filtered light.
Flowers: mojito mint plants are grown for their foliage, which is aromatic, attractive, and prolific. Additionally, mint plants have gorgeous flowers that are wonderful for pollinators.
Height: 24″
Spread: 24″
Growing conditions: mint can be invasive and take over the garden so I always growing in containers in the herb garden.
Culinary Uses for the Mojito Mint Plant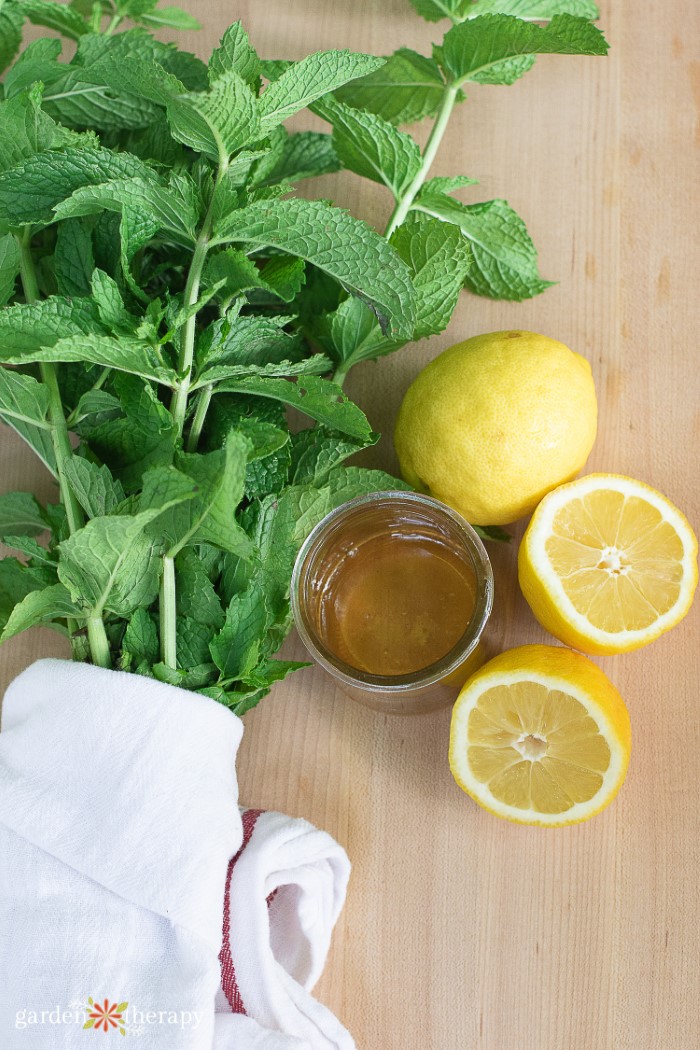 Mentha x villosa is commonly used in beverages like mojitos. But it's also a fantastic addition that can be used to make tea, herbal jelly, and garnish desserts.
And of course, popsicles!
Mojito Popsicles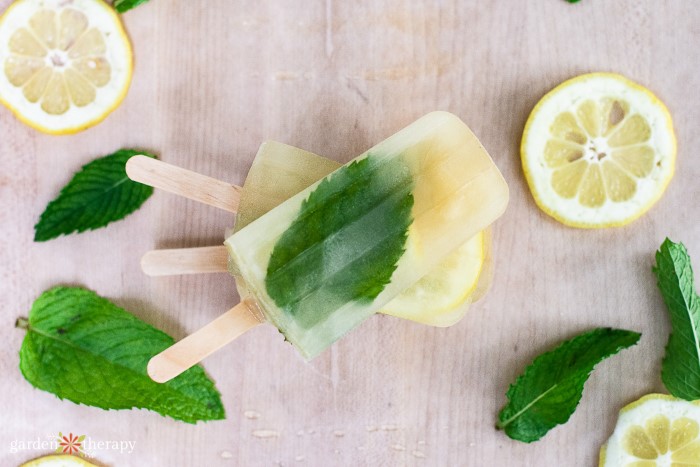 I often find myself attracted to particular herbs naturally when I most need them. This spring and summer has certainly been unique and challenging for all of us. With the stress and uncertainty of a global pandemic, I've been finding myself turning to calming herbs like chamomile and lavender. I also have been craving cheery herbs like mint and lemon.
As we move into summer, it seemed like a good time to celebrate the happiest herb available in the garden. The mojito mint plant is naturally cooling. By infusing water with mint and then freezing it, it's a fresh and delightful twist on a summer treat.
How to Make Herbal Popsicles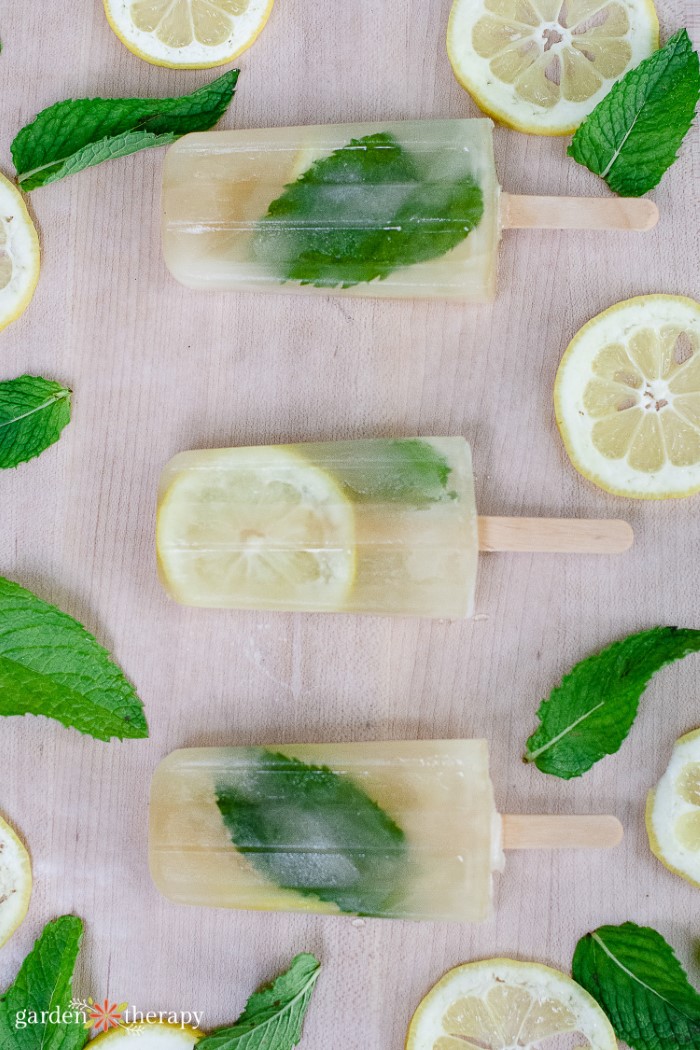 You can certainly make these herbal popsicles with any herbal tea that you enjoy. In this recipe, I start with fresh mint leaves steeped in hot water for 2 hours. If you prefer, you could certainly substitute those for
lavender
,
lemon balm
, pineapple sage, or other varieties of mint.
You can also use a mortar and pestle to muddle the herbs releasing more of the flavour. Whenever you bruise it, it helps for the volatile oils to release.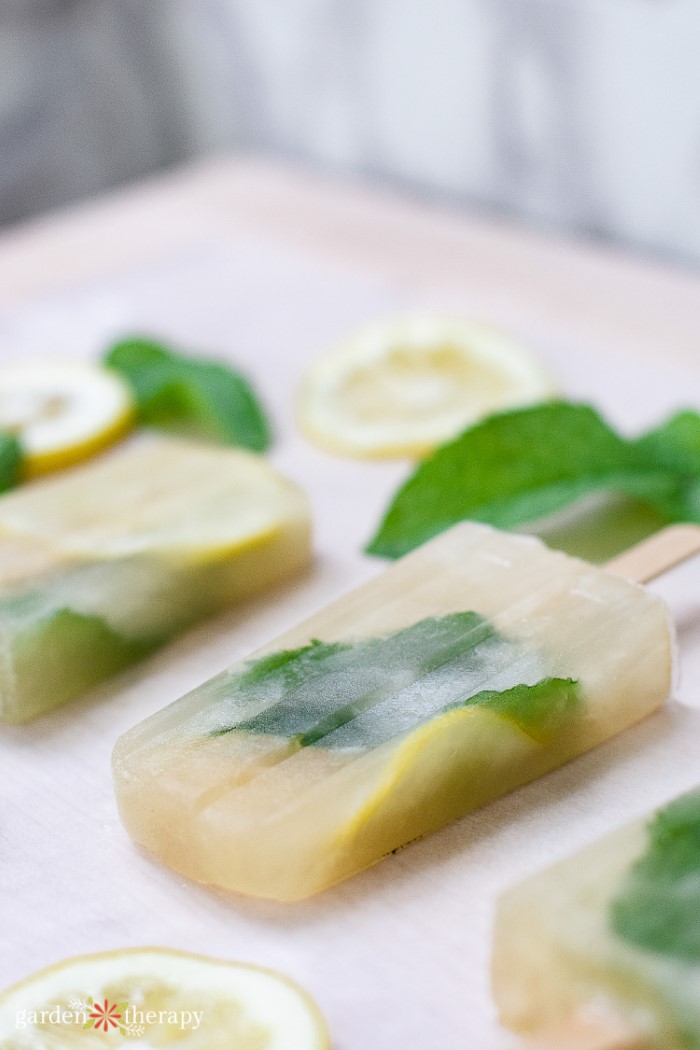 No matter which herb you use or whether you choose to muddle them first, when you're steeping be sure to put a saucer or lid over the Mason jar that the herbs are in. The volatile oils are the first to release in the bit of steam, so I make sure that I have a lid or saucer readily available as soon as I put the hot water over the herbs.
I also like to add the honey when the hot water cools down so that it is not so hot that it changes the beneficial properties in the honey, but so that it's warm enough to allow the honey to dissolve into the water.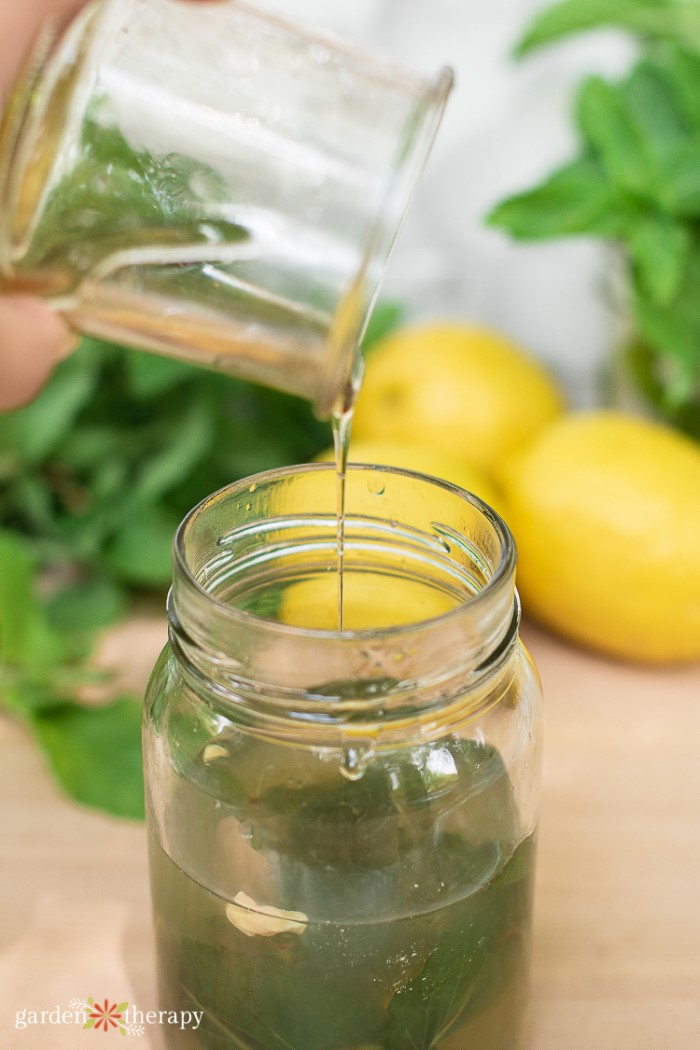 You can also use stevia for this recipe for a sugar-free mojito popsicle. You can simply substitute the honey for liquid stevia to taste. Just keep in mind that stevia is much sweeter than sugar and so much less will be needed.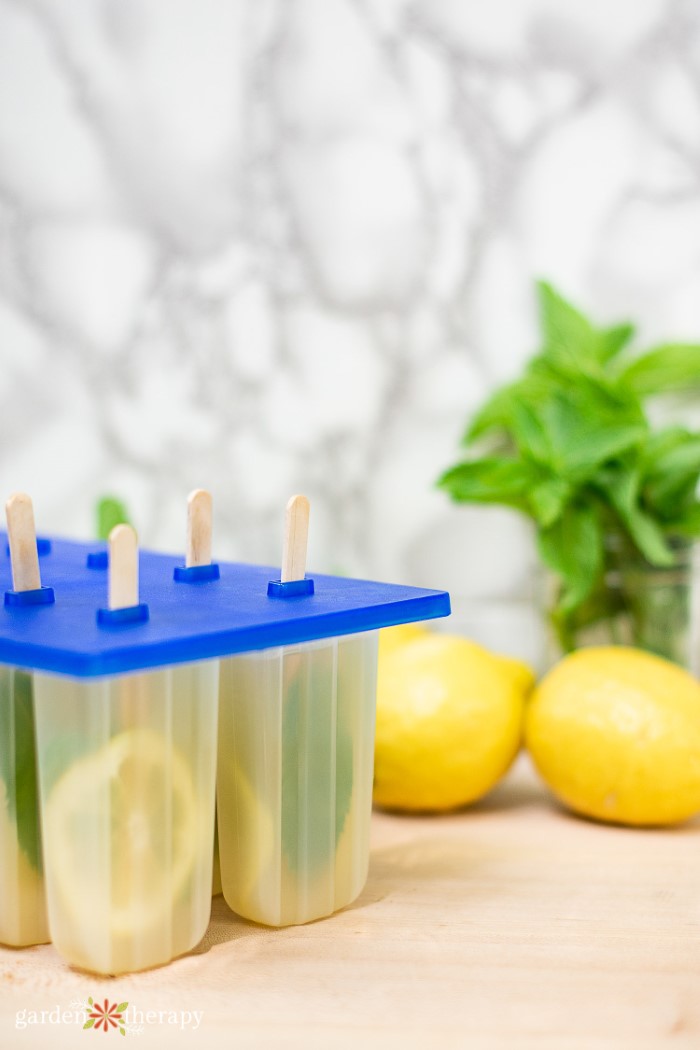 When it comes to shape, you can use just about any popsicle mold that you have on hand. Here are a few fun ones that I found online that will make great mojito popsicles:
Scroll down to the recipe card to find the exact instructions for making these yummy mojito popsicles.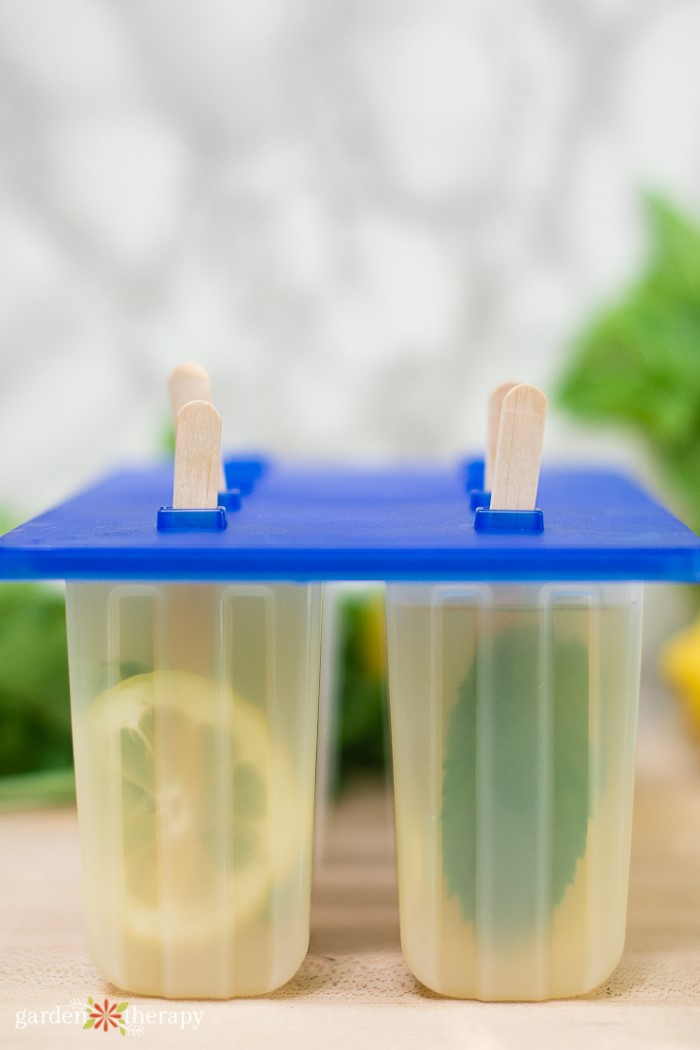 I have More Herbal Recipes for You!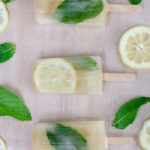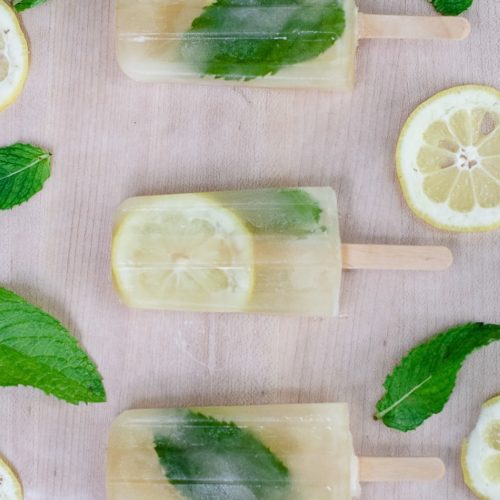 Print Recipe
Mojito Popsicles with Lemon and Honey
These mojito popsicles are the perfect treat for a warm summer day. This recipe makes 4 mojito popsicles that are 3" x 2" x 3/4".
Ingredients
15-20

fresh mint leaves

1

lemon

1

cup

hot water

2-3

tbsp

honey
Instructions
Place mint in Mason jar and pour over hot water. Cover, and allow to steep for 2 hours.  Optional, muddle the mint leaves in the water to release more flavour.

When the water has cooled somewhat but is still warm, add the honey and stir to combine.

When cool, squeeze the juice of 1 lemon in, and stir to combine.

Pour into popsicle molds.

Optional: You can also add in full mint leaves and lemon slices to the popsicle molds like these. They also add a fun flavour, extra minty or sour. If you want to add in mint leaves or lemon slices, just fill the mold halfway, add them in, and then top up the rest of the way.

Freeze the mojito popsicles for at least 5 hours to set.
Nutrition
Serving:
1
g
|
Calories:
65
kcal