Looking for a natural, refreshing, and delicious herbal iced tea? This hibiscus tea is so good that even kids think it's a delicious treat! As a bonus, it's good for you and sugar-free! Here's how to make this tasty herbal treat.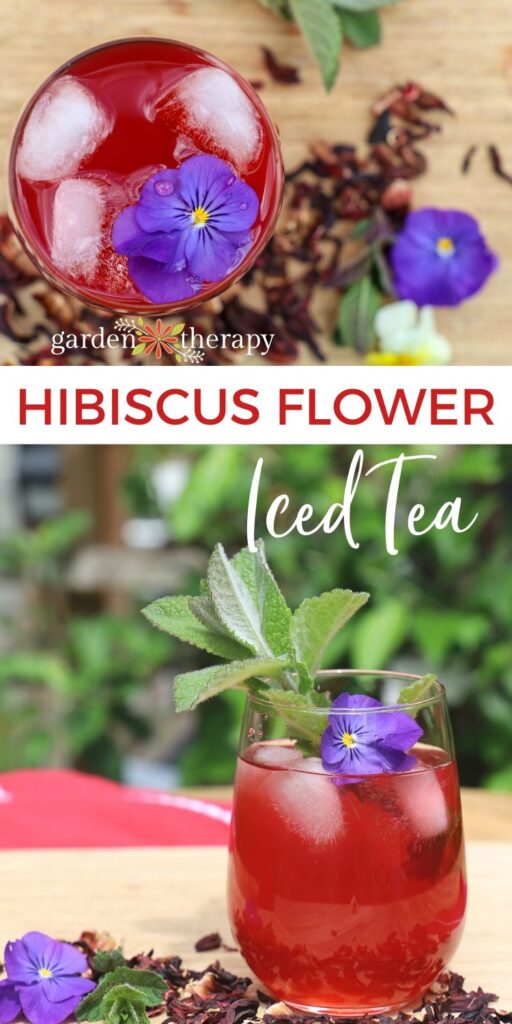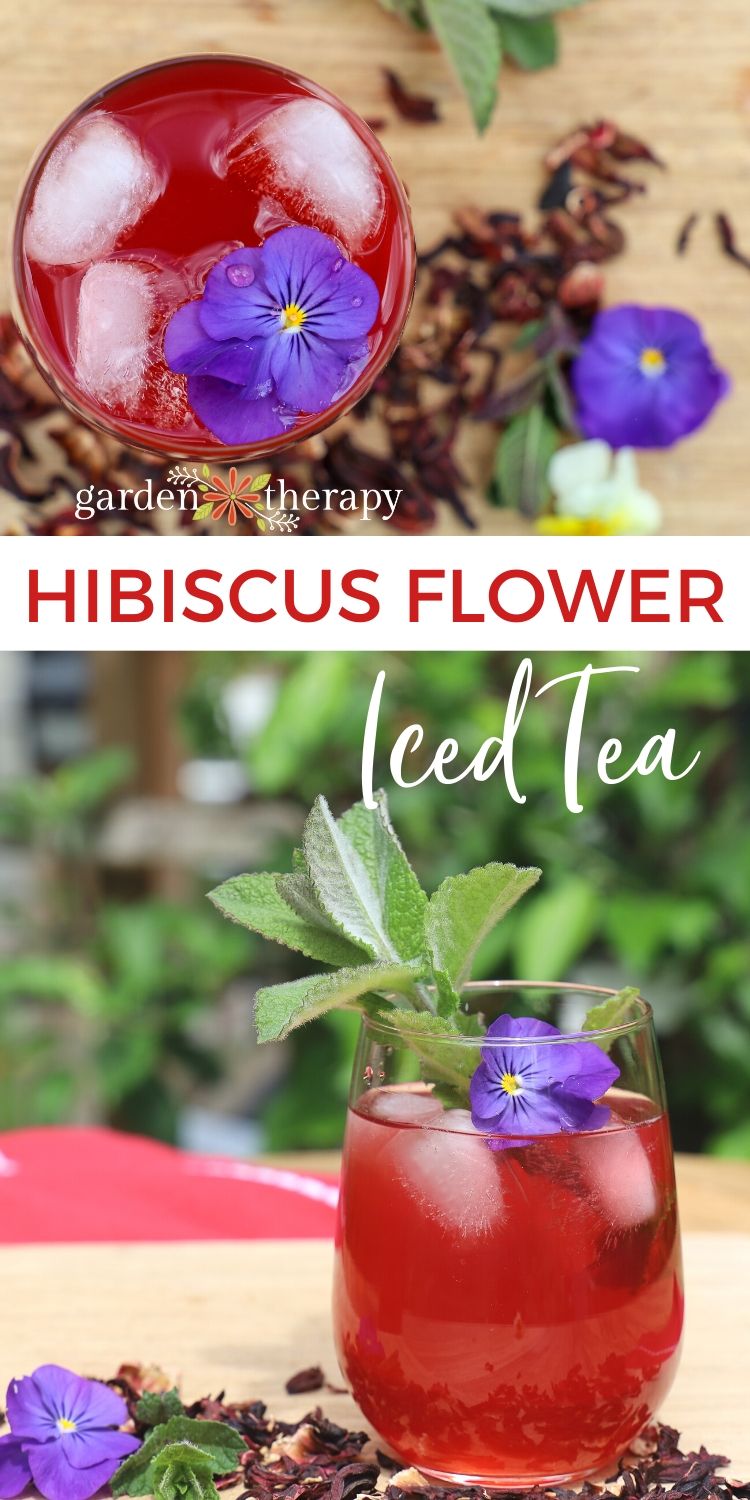 There's nothing quite like sitting down after a long day in the sun and enjoying an ice-cold refreshing glass of iced tea. As a herbal tea aficionado, I have tried just about every combination of making dried and fresh herbs into tea.
Well, I have many favourites. No joke. I even have a huge herbal tea garden. However, out of all the tea options out there, this may be the winner. I always have this hibiscus iced tea prepared and ready chilling in the fridge, and I'm sharing the recipe with you today.
It tastes so good that, get this, my son raves about it to his friends. There's nothing funnier than listening to a 6-year old tell a friend that if they come over to our house for a play date that his mom will make them hibiscus iced tea!
It really does make me so happy, though. And since it has none of those artificial colours or sugar, I feel good about giving it to him (and his friends).
How to Grow Hibiscus Flowers
Hibiscus sabdariffa, or Roselle, is the botanical name for the plant that's used as hibiscus the herb. It's a full-sun (otherwise considered a heat-tolerant plant), fast-growing shrub with large yellow flowers that have a reddish-purple center. The roselle shrub makes a breathtaking and delicious addition to your (edible) garden.
Hibiscus sabdariffa is not to be confused with Hibiscus rosa-sinensis, which is also known as Hawaiian hibiscus, or Chinese Hibiscus. These are the more frequently seen in deciduous shrubs with the larger, showier blooms that are grown in warm climates or as indoor flowering plants.
While different, I think what they do have in common is that they grow natively in tropical and subtropical regions. In cooler climates, Hibiscus sabdariffa can be started indoors and grown outside as annuals.
Ready to grow some of your own? Here are some growing tips for hibiscus!
When to Plant Hibiscus sabdariffa
Roselle needs warm soil temperatures (around 75 – 85 degrees) to germinate and does well sowed directly into the ground in warmer climates. In cooler climates, start seeds indoors about 6-8 weeks prior to the last frost and transplant seedlings into the ground when they are approximately 3-4 inches tall.
Where to Plant Roselle
Hibiscus does best in fertile, well-draining soil. Choose a spot that gets full sun for best growth. However, if you live in a hot region, an area that receives afternoon shade will work well too.
As it's a shrub, give your hibiscus room to grow by planing it 3-6 feet away from other plants.
Moisture Needs for The Hibiscus Plant
Hibiscus sabdariffa does best in warm, humid environments, and it does not tolerate frost. Keep the soil evenly moist as your roselle grows, and avoid overwatering as it can lead to root rot.
Hibiscus is Day-Length Sensitive
Your hibiscus won't bloom until the fall when the days start to get shorter. You may still get blooms if you plant your hibiscus in July or August, but your plant will have many more blooms and a much larger harvest if you plant it as early as you can in the season.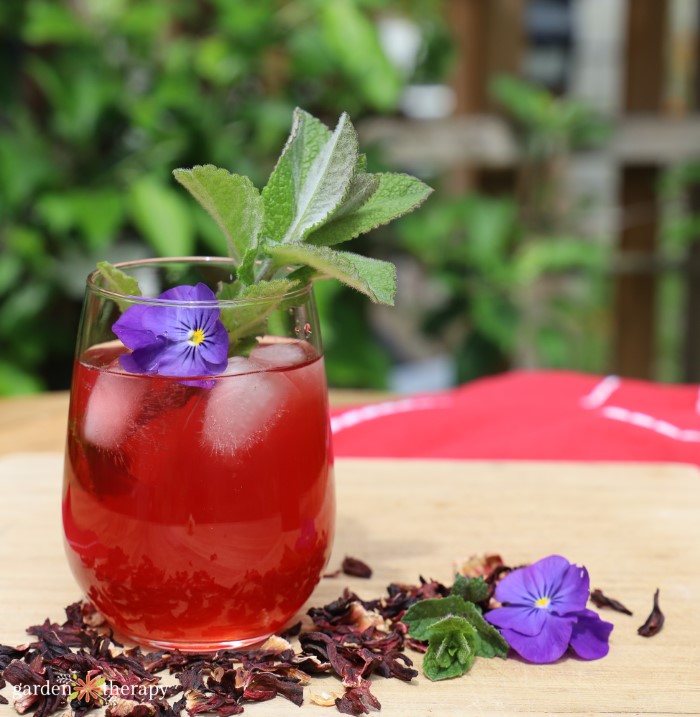 How to Harvest Hibiscus
After the Hibiscus sabdariffa flowers die, they wither and fall off leaving behind a pointy red pod, called a calyx. This seed pod is what people harvest and use to make teas, syrups, tinctures, jams, or infused honey. Watch this video to see how to harvest hibiscus.
Health Benefits of Drinking Hibiscus Tea
If you didn't know this, hibiscus iced tea is full of ingredients that are oh-so-good for you.
This tea is full of:
high amounts of vitamin C
electrolytes
antioxidants
anti-microbial properties
anti-inflammatory properties
minerals: phosphorous, magnesium, calcium, potassium, iron
Thanks to all these benefits, hibiscus has been used around the world for centuries to help provide many health benefits.
Here are a few of the most well-known benefits:
Body Temperature Regulation & Inflammation
The astringent properties of hibiscus make it useful for cooling and regulating body temperature as well as cooling and reducing inflammation in the body, particularly the liver, bladder, urinary tract, stomach, uterus, and colon.
Immune System
The antioxidants and high levels of vitamin C in the hibiscus flower help to strengthen the immune system and keep our cells healthy.
Cardiovascular Health
Hibiscus has been used around the world to maintain healthy blood pressure, reduce high cholesterol, and act as a diuretic (reducing the amount of sodium in the body).
Urinary System
Hibiscus' antimicrobial properties aid the system by helping to prevent urinary tract infections and bladder infections. Its diuretic properties also aid in removing uric acid from the body, possibly helping to prevent kidney stones and bouts of gout.
Reproductive System Benefits
Hibiscus helps to balance hormones, regulate menstrual flow, and reduce menstrual cramps.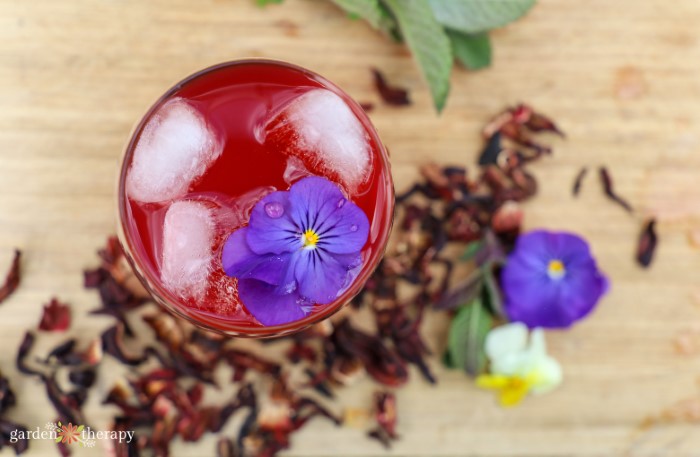 Enjoy A Glass Of Homemade Hibiscus Iced Tea
I usually combine hibiscus with rose hips in this recipe, because it adds some more acidic flavour to the blend.
In addition, rose hips contribute their own benefits, helping with:
diabetes
arthritis
heart disease
varicose veins
menstrual cramping
urinary irritations
blood circulation
I really enjoy using hibiscus iced tea in the summer months to quench my thirst, and I find it to work even better than just plain water. In the heat, when you're sweating and getting exercise from working in the garden, hibiscus tea cools the body and helps to regulate body temperature!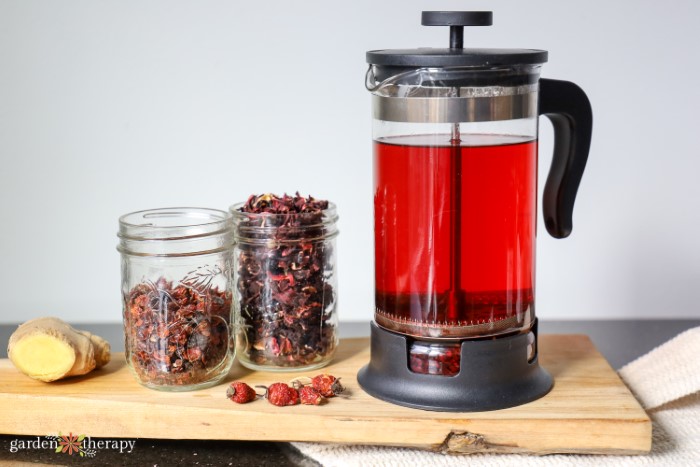 How to Make Hibiscus Tea At Home
This tea is quick and easy to make, so you can enjoy it on those hot summer days!
Here are a few quick tips for your hibiscus iced tea:
If you use dried herbs, make sure the hibiscus calyx and the rose hips are roughly ground in either a spice grinder or a food processor for a more flavorful tea.
Then put the loose herbs into a Bodum to steep your tea.
If you don't have hibiscus in your garden just yet, you can use prepackaged teabags. I like these hibiscus tea bags from Traditional Medicinals. In this case, use 3 to 4 tea bags per litre of boiling water.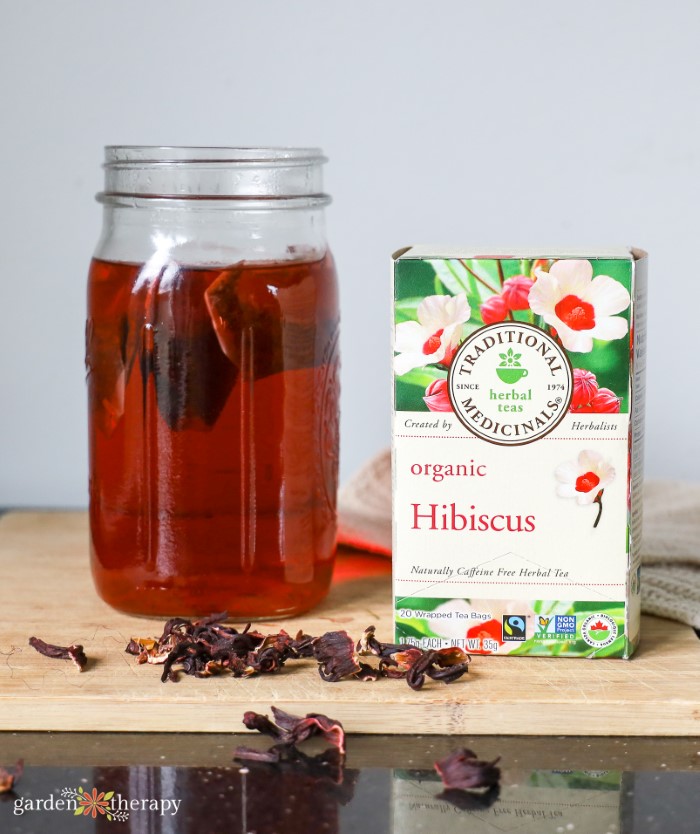 In a short time, you can prepare hibiscus tea that not only tastes amazing but also provides many benefits, including quenching your thirst. I hope you love it as much as my household does!
More Garden Recipes to Try: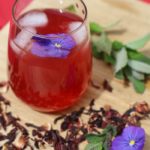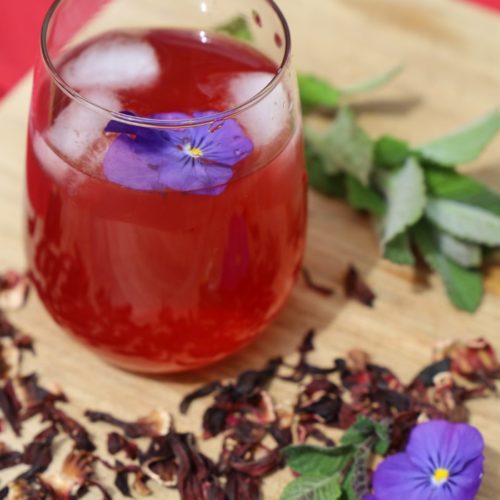 Print Recipe
Hibiscus Iced Tea
This hibiscus iced tea is a refreshing, hydrating drink you can enjoy year round!
Equipment
Spice Grinder

Coffee Press
Instructions
Put the loose herbs into a Bodum French Press to steep (the tea bags can be steeped in a mason jar or teapot). If you don't have enough room for one full litre of water when steeping, you can steep using as much water as fills your container and then top up the concentrated tea with the rest of the water when you bottle it.

Cover the Bodum or mason jar to keep the volatile oils from escaping with the steam.

Allow the tea to steep and cool for 30 minutes to 4 hours. I usually brew the tea in the morning, and by lunchtime, I bottle it up and put it in the fridge.

When the tea has cooled add lemon juice, and if you like a sweeter tea, then you can add liquid stevia, another herb that has great health benefits.
Nutrition
Serving:
1
cup
|
Calories:
2
kcal