Quick and easy holiday gifts are essential for surviving the holiday season. This free printable "Season's Greetings" Herb Packet is perfect for small gifts and can easily fit into the mail with your holiday greeting cards! Use herbs harvested from your own garden to create flavorful seasoning mixes paired with a simple and delicious recipe.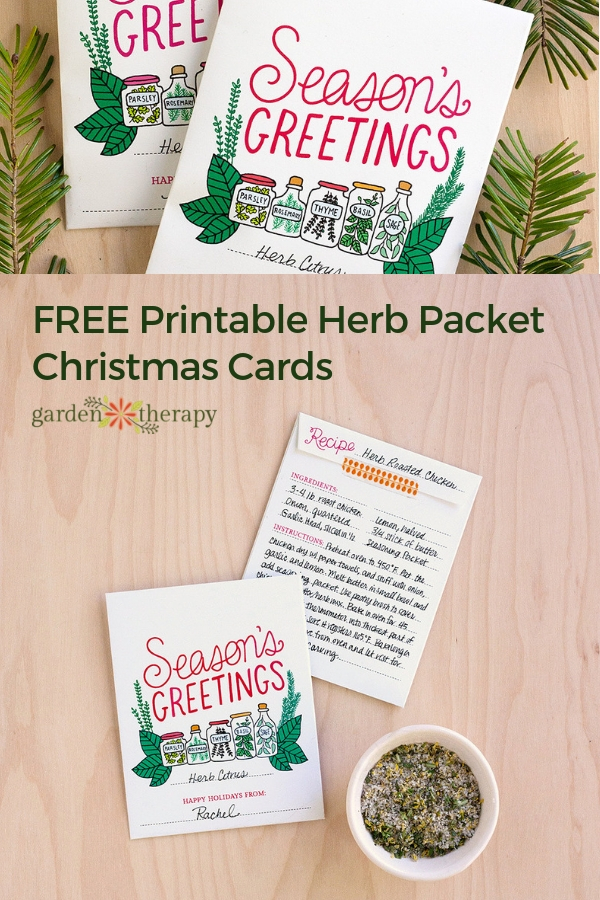 Materials:
Make it!
Download the printable file here. We have a coloring version as well if you want to personalize it. You can get the coloring version here.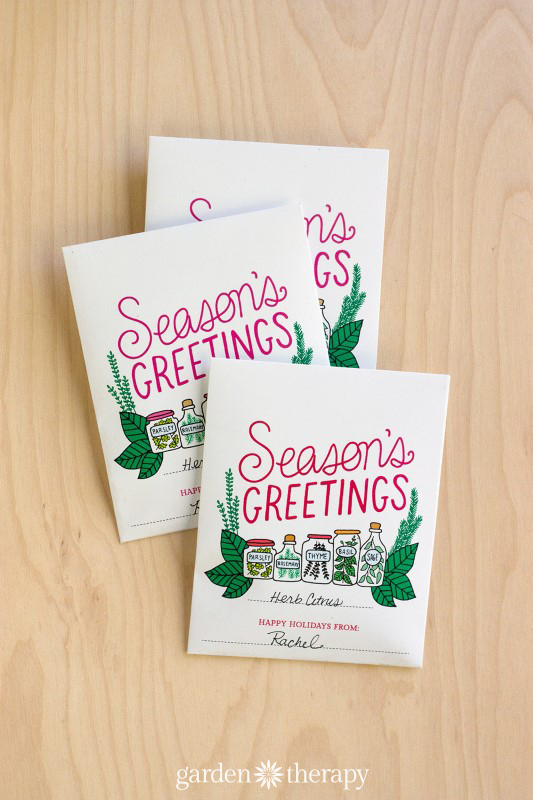 Choose your design and print the herb packet onto cardstock paper. Use a ruler and X-acto knife to cut out (you can also use scissors). Score the flaps and fold into an envelope. Use a glue stick to secure flaps.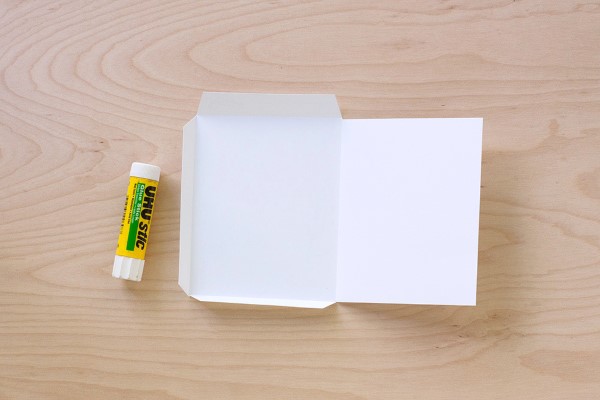 Choose your recipe (see examples below) and write out onto the back of the envelope. On the front you can write what type of seasoning it is and also sign your name. Prepare the seasoning mix and fill the envelope. Glue or tape closed with washi tape.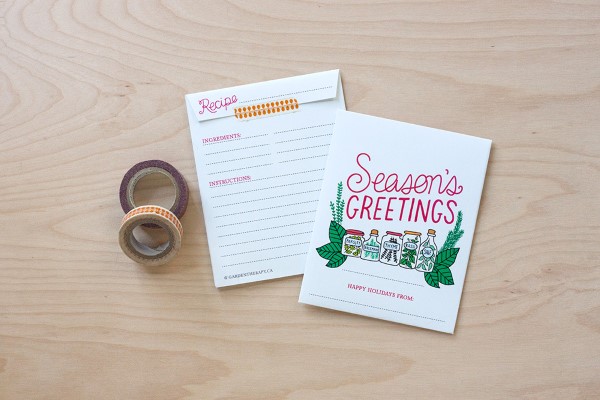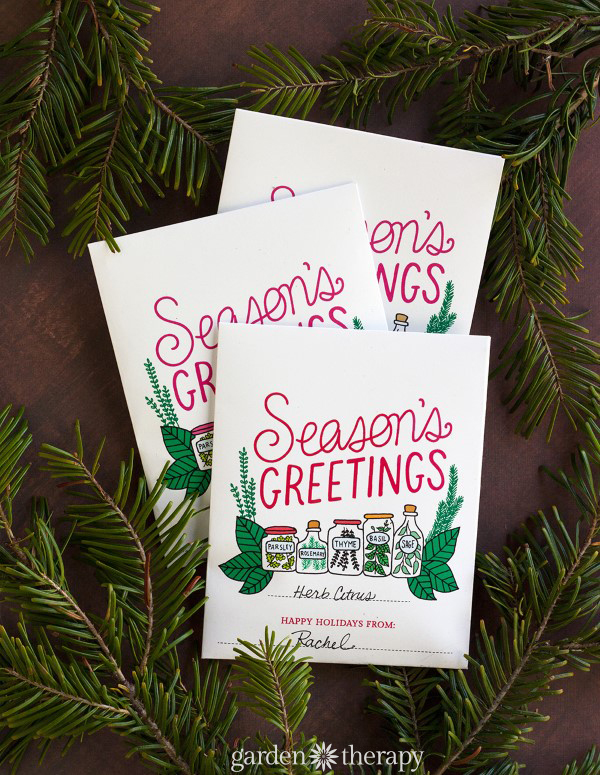 Recipe Ideas
What herbs should you pack into these packets? Here are some of my favorite blends and the recipes to add to the back of the cards.
Herb Citrus Seasoning Packet
1 tablespoons herbs (rosemary, thyme, sage)
1 tablespoon kosher salt
1/2 tsp black pepper
Zest of ½ lemon
Herb Roasted Chicken
3-4 lb whole chicken
Onion, quartered
garlic head, sliced in half
Lemon, halved
¾ stick of butter
Rosemary Citrus Seasoning Packet
Preheat oven to 450 degrees F. Pat the chicken dry with paper towels and stuff with onion, garlic and lemon slices. Next, melt butter in the microwave and add seasoning packet. Use a pastry brush to cover the chicken generously in the butter/herb mixture. Place in the oven and bake for 45 minutes. Insert thermometer into thickest part of the bird and make sure it registers 165 degrees F. Bake longer if necessary. Remove from oven and let rest for 15 minutes before carving.
Pepper Garlic Seasoning Packet
¼ teaspoon kosher salt
1/8 teaspoon of each: ground red pepper, ground black pepper, chili powder, and garlic powder.
Roasted Chickpeas
1 can garbanzo beans (chickpeas) (15oz)
1 tablespoon olive oil
Pepper Garlic Seasoning Packet
Preheat oven to 400 degrees F. Drain and rinse garbanzo beans. Dry chickpeas thoroughly with a cloth or paper towel. In a medium bowl, combine the chickpeas, olive oil and seasoning packet. Stir until well coated and mixed. Spread onto a baking sheet and bake for 30-40 minutes, stirring occasionally. If they are not roasted to your liking, reduce heat to 250 degrees and continue baking for another 5-10 minutes.
Sweet Hot Mustard Seasoning Packet
½ cup dry mustard
1/8 teaspoon turmeric
1/8 teaspoon black pepper
1/8 teaspoon white pepper
1/4 teaspoon salt
Sweet Hot Mustard
½ cup vinegar (apple cider vinegar or white wine vinegar)
1 cup sugar
2 eggs, beaten
Hot Mustard Seasoning Packet
Combine the Mustard Seasoning Packet with the vinegar in a metal bowl. Stir to combine. Cover and let stand overnight. Fill a medium saucepan with water and bring to a simmer. Add the egg, sugar and butter to the mustard mixture and set over the simmering saucepan to create a double boiler. Whisk constantly for 2-3 minutes until mustard thickens. Remove from heat and continue whisking 1 minute more, then let cool.
Spicy Black Bean Dip Seasoning Packet
1 teaspoon cumin
1/2 teaspoon garlic salt
¼ teaspoon chili powder
¼ teaspoon kosher salt
Spicy Black Bean Dip
1 can black beans (15oz), drained and rinsed
¼ cup salsa
¼ cup fresh cilantro, chopped
2 tablespoons lime juice
Spicy Black Bean Dip Seasoning Packet
Place all ingredients in a food processor and pulsate until black beans and cilantro are nearly blended. Add up to a tablespoon of water to thin if necessary. Serve with tortilla chips or fresh veggies.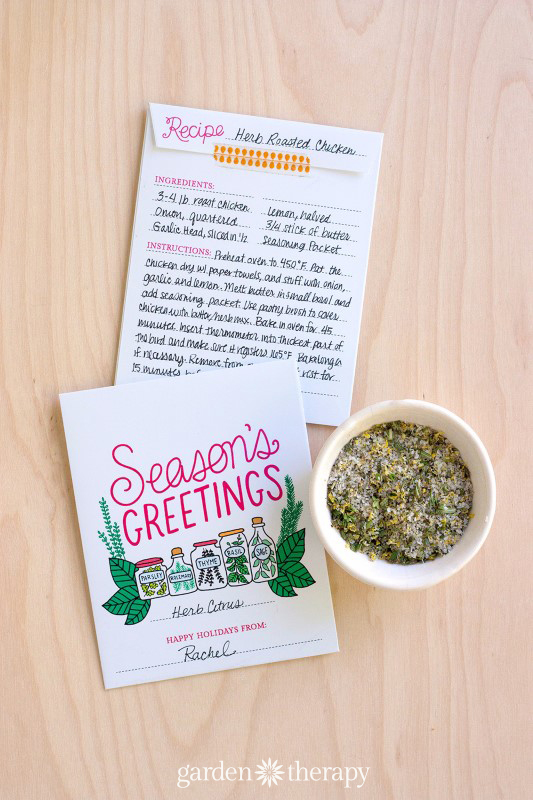 You might also like this Culinary Herb Wreath Tutorial!