A rock wall is a smart landscaping solution that becomes a unique garden feature. It may help to redirect water from buildings, stop soil erosion, or help with steep elevation changes on a property. Without a doubt, it also becomes a garden showpiece. A rock wall garden has unique planting and care needs from an in-ground garden and yet it also adopts some of the design rules of container gardening. Read about how Patty from Lancaster, PA, created a rock wall that provides color and enjoyment all season long while saving their home from flooding.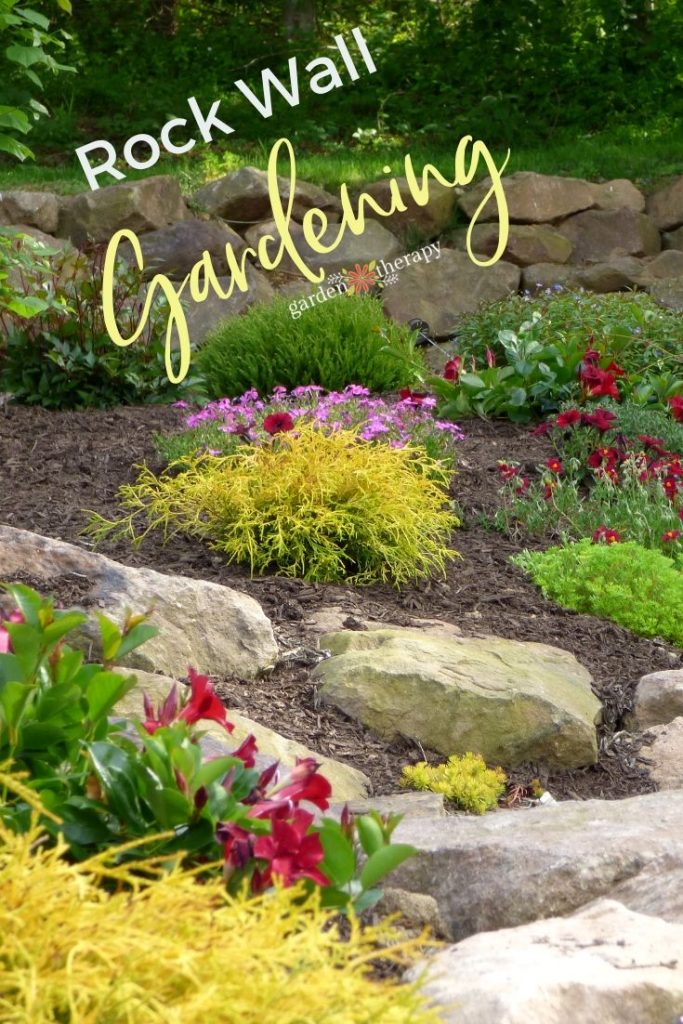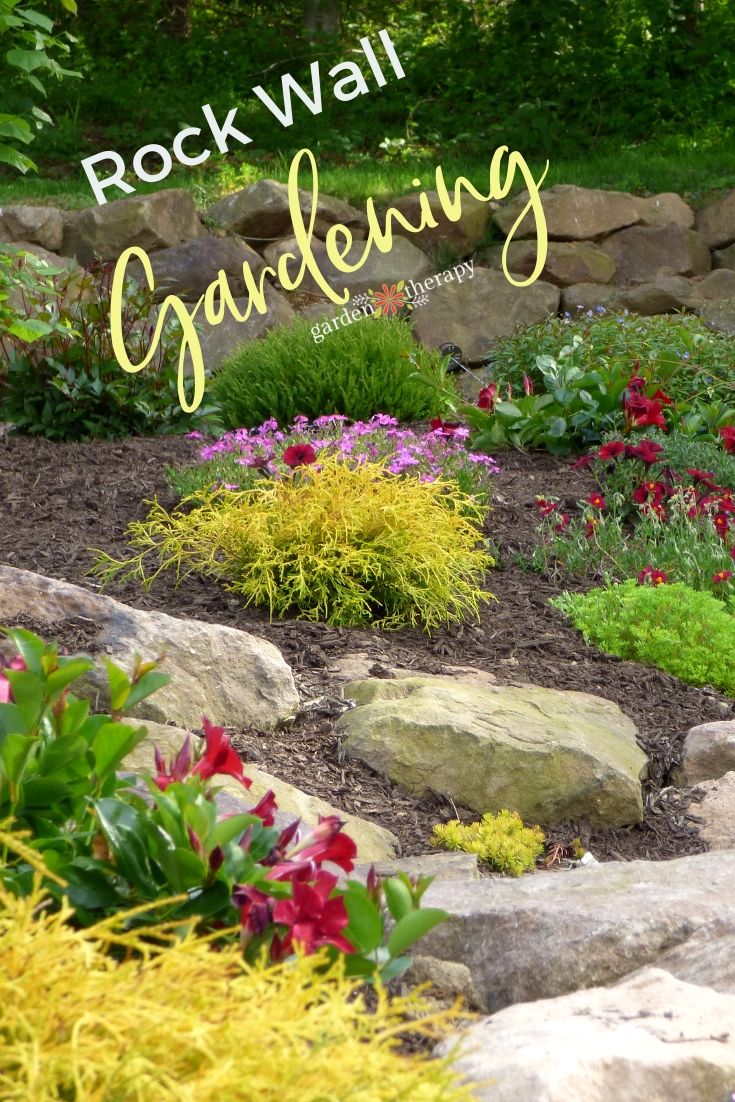 This Gorgeous Rock Wall Garden Saved The Day!
Photos and story by Patty from Fun Fam Living
Built from Necessity
We had a landscaping problem: our backyard is on a semi-steep hill and when it rained heavily, the water flow would wash into our basement! So, we asked a landscaper friend for help. He suggested we build a rock wall and install pipes behind it to redirect the flow of water out to the end of the wall. This was far enough away from the house that the water flow gradually watered the lawn, a double bonus!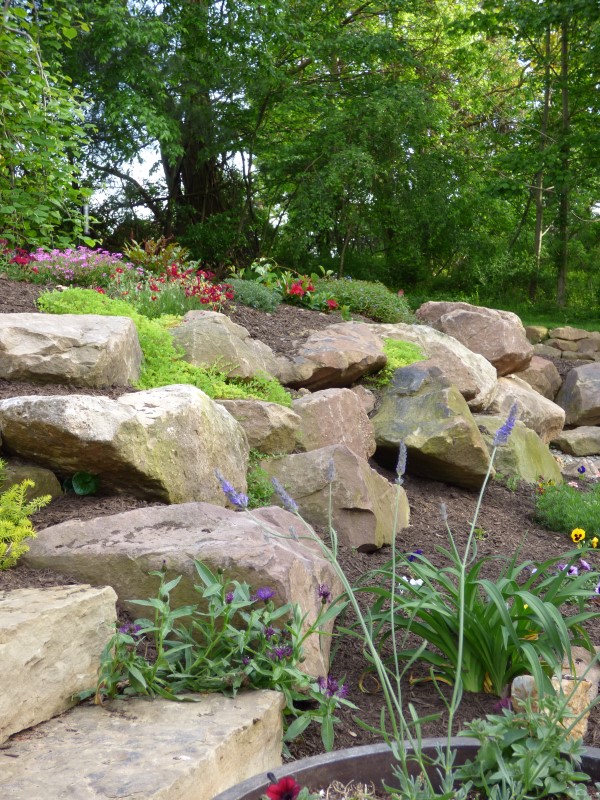 The rock wall presented us with a new design feature for the landscape and an opportunity for me to do some interesting gardening. Come along on the tour of my rock wall garden.
First, There Was Rock
We found the rocks on Craigslist in a PA town called Brickerville. The man selling the rocks was digging them out of a portion of ground that he wanted to use for a lawn. He just wanted them out of his way and was selling them all for five hundred dollars. It was impossible to find the stone to build a wall the size we wanted so we jumped on it. We did have to pay for an excavator to haul the rock and place the rocks with his equipment. Even so, we ended with two stone walls for less than paying for materials and a mason to build one. We have woodland around us so the natural look of the wall fit in nicely.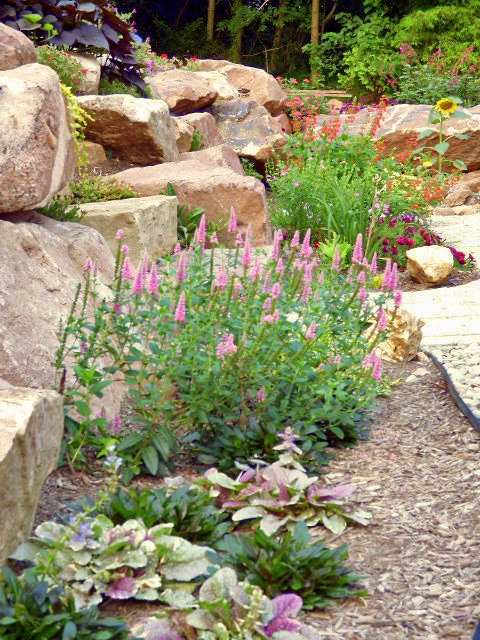 Then, There Was Soil
Our soil was disturbed during all the excavating and there wasn't any good quality of topsoil left after the grass was dug up. Most landscape supply stores will sell you a truckload of topsoil by the yard and will deliver it. We bought our topsoil from our excavator friend. The soil was the product of many years of growing and amending, probably with manure and other fertilizers so it was just right for our project.
Once the soil was in, it was time for planting.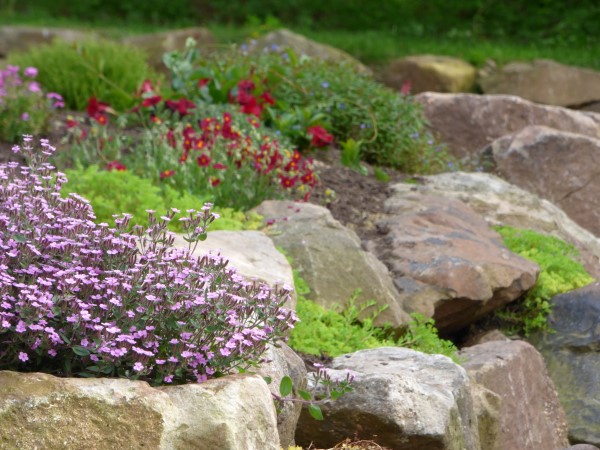 Hot Rocks!
All the plants I used along the rock wall grow best with full sun. Rocks will radiate extra heat when the sun is hot. Tender plants are not the best for rock walls, even if they do well in other parts of your garden. Look for plants that can handle heat and excellent drainage, as the soil will be warmer and drier than you are used to.
I'm a big fan of mulch! Mulching around the plants will help hold the moisture in longer between rain and watering and it can give the spaces a finished look as the plants grow in.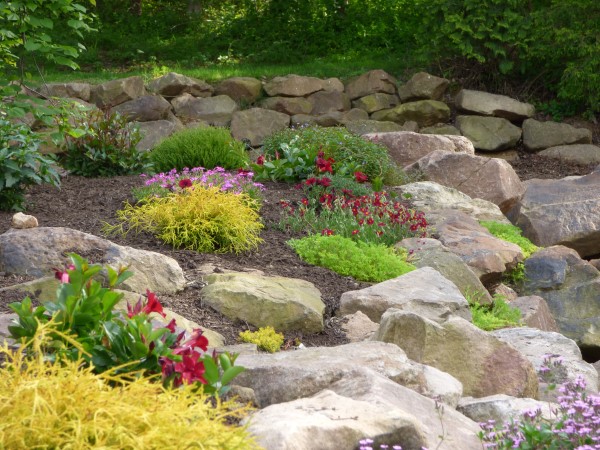 How to Plant a Wall
Water the soil in the rock wall spaces well and transplant healthy nursery plants in. Slip the plant out of the container and gently loosen the roots. Place the plant in a hole so the top of the dirt and the base of the plant will be even.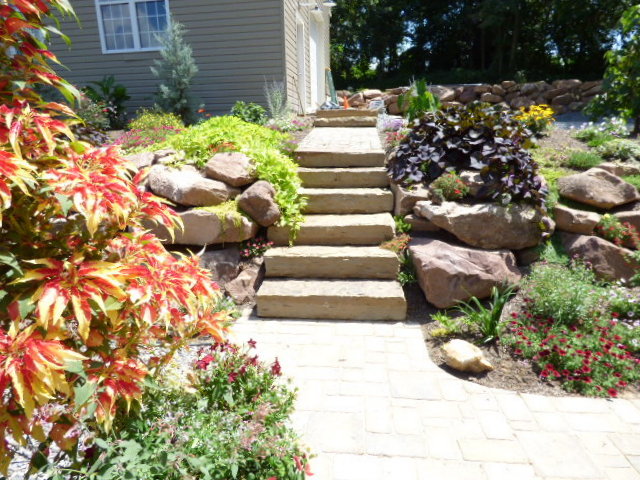 Thrill, Fill, and Spill
As with a container garden, a rock wall garden looks best when planted with thrillers, fillers, and spillovers. I use a lot of perennials that bloom most of the summer as my thrillers. My fillers are fuller perennials and annuals in different shades of green, varying sizes of blooms, leaves, and textures. My spillers are dependable hanging basket plants like sweet potato vine and petunias.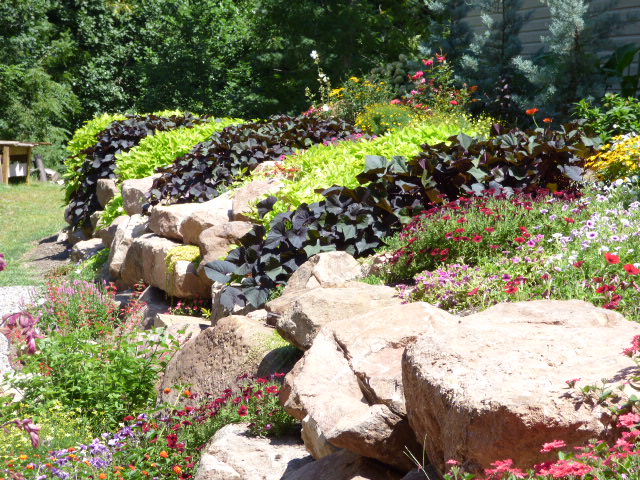 Here are some of the plants that have thrived in my rock wall:
Sweet Potato Vine, Ipomoea batatas 'Black Heart' and 'Sweet Georgia'
Petunia 'Tickled Pink'
Supertunia 'Black Cherry'
Coreopsis verticillata 'Moonbeam'
Purslane 'Mojave Pink'
Verbena hybrid called Superbena 'Coral Red'
Salvia 'Hummingbird'
Salvia 'Sensation Rose'
Stonecrop, Sedum rupestre (reflexum) 'Angelina'
Hens and Chicks, Sempervivum 'Ruby Heart'
Sedum Sexangular
A rock wall garden is a fulfilling and exciting garden to work with. If you have the opportunity to create one in your space, you will not be disappointed!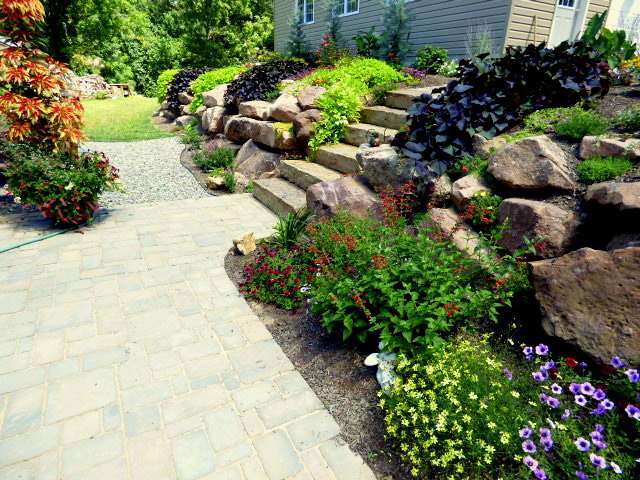 About the Author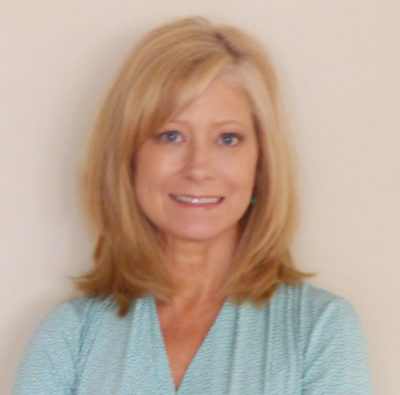 Patty is a Wife, Mother of 4 adult children, and Nanna to 4 Grandchildren. She loves to be creative in the garden, home, or with anything that could be made useful again. She writes and hopes to inspire people who've struggled through trauma or bad times by sharing her story, in her book and on her blog, Fun Fam Living.
More Posts You Might Like: