The terrarium craze isn't going anywhere anytime soon! I decided to add a little Christmas twist to the trendy indoor planting idea. Make your own stunning terrarium ornaments using found treasures from your neighborhood and liven up your tree this year!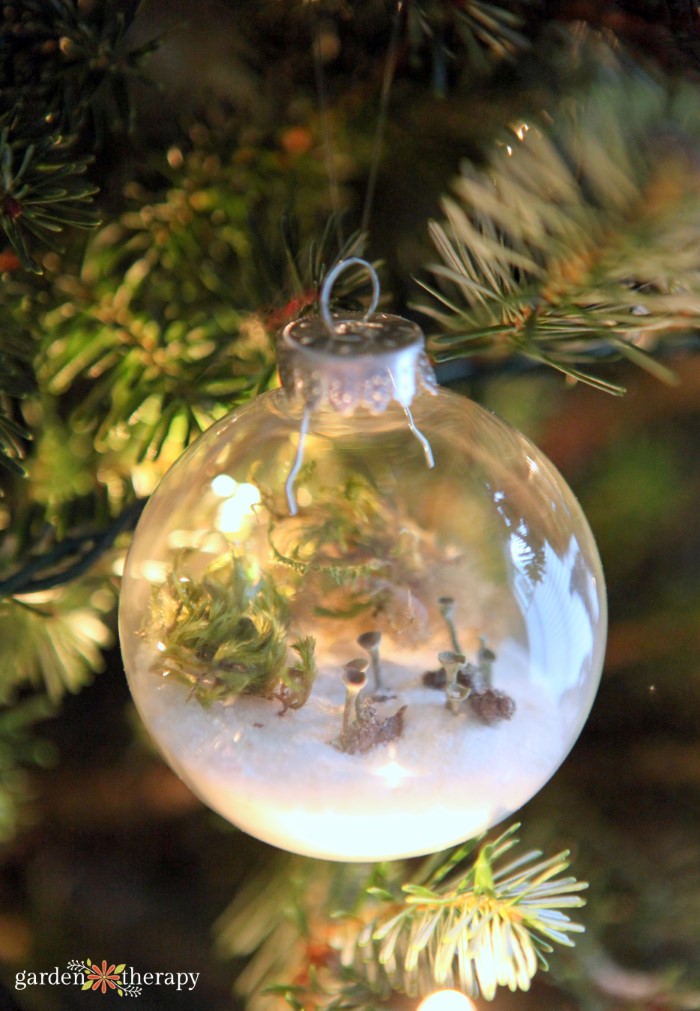 One of my very favourite things as a child was decorating the Christmas tree. Not because of the promise of presents or Santa or holiday cookies. No, I loved to unwrap the time capsule which was our ornament box.
Packed full of homemade treasures made year after year, marking the crafts that we created as a family. There were salt dough stars, felt fruit, and golden-painted pinecones tucked amidst the glittery balls and strands of tinsel. Each year presented a new challenge of what to make for our tree to mark the year.
I first made these mini terrarium ornaments the Christmas my niece and nephews came to visit. To keep four busy children from getting into too much trouble we went on a scavenger hunt deep into the West Coast forest.
We found animal tracks, mushrooms, lichen, and moss. We found leaves, pinecones, acorns, and rocks. The kids collected bags of treasures to take home, examine, and dissect. When it all was laid out we picked a few tiny treats to save in glass ornaments and mark the year we spent together.
I love the idea of adding these terrariums to artificial trees to give a sense of life lost without a real one. And unlike so many other DIY ornaments, it's sophisticated and cute and SO not homemade-looking. So I present to you…terrarium ornaments!
In this post, we will cover: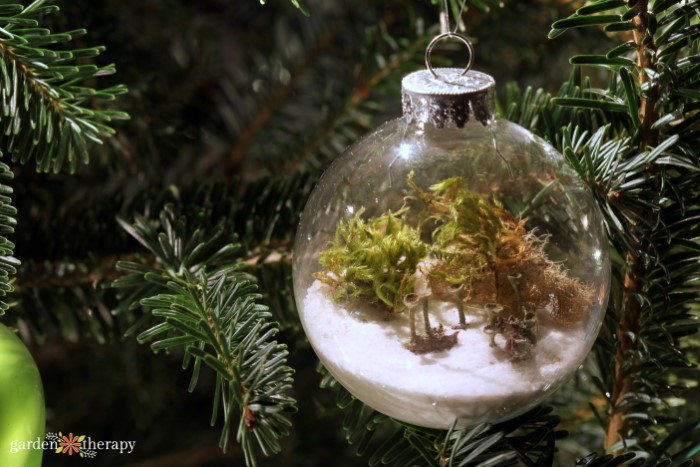 DIY Terrarium Ornaments
This crafty Christmas project comes from my book, Garden Made. It has over 40 projects either for the garden or taking inspiration from it! Inside, I have projects for every season of the year, so be sure to check out Garden Made for year-round inspiration.
Materials
The materials for this project are pretty basic. The most fun part, as you can imagine, is foraging for material around the garden!
Found treasures, such as stones, pine cones, moss, lichen, bark, and twigs
Ribbon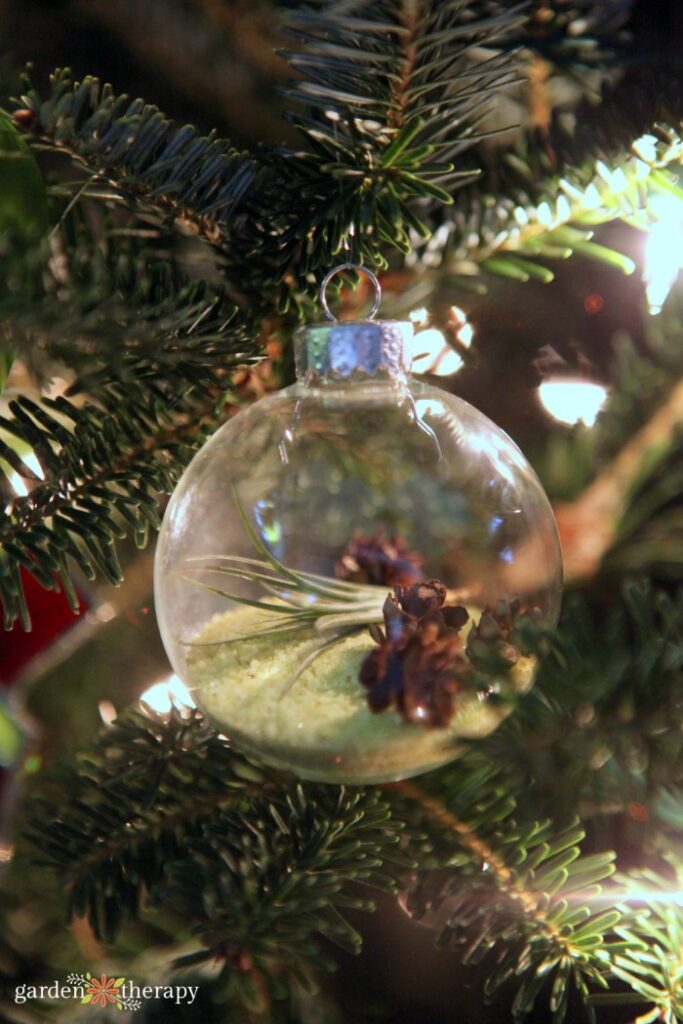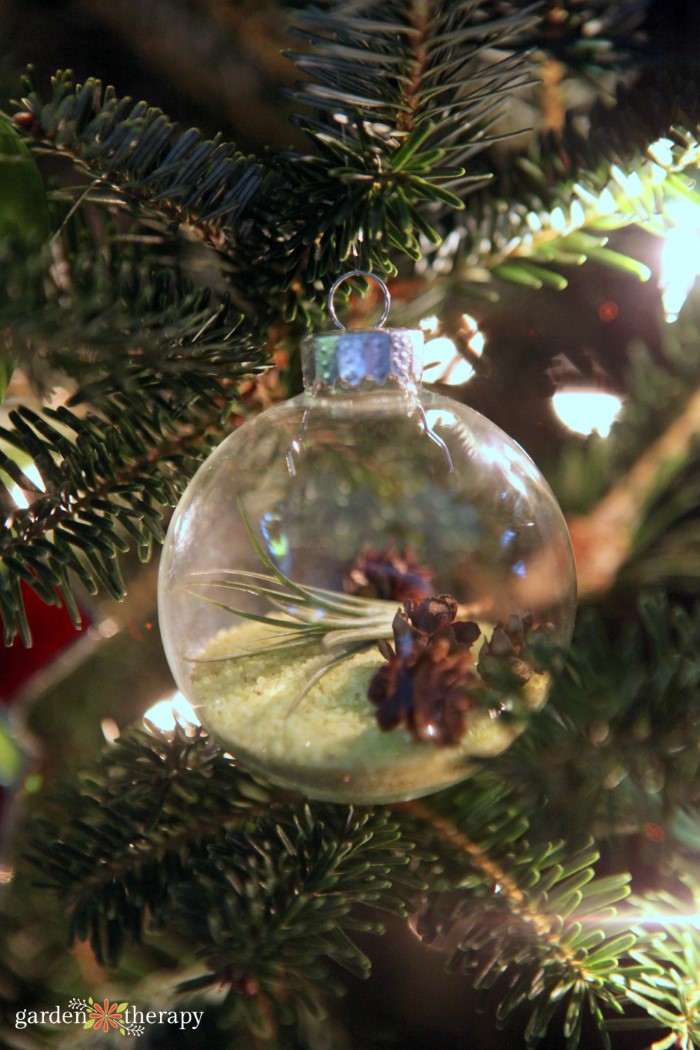 Instructions
The first step is to pull on your boots and go hunting for fascinating things in the garden or woods that are so tiny they have been previously unnoticed. It's a great exercise in appreciation of the small stuff that often gets overshadowed.
Once your foraging is finished, it's time to put together the ornament. Add decorative sand or rocks to the bottom of a glass ornament. Using a funnel can help get the sand in the small hole without making a mess. This will act as the base to hold items in place. Just keep in mind you don't want to add too much and make the ornament too heavy to hang on your Christmas tree branches.
In this mini wonderland, little lichen structures stand like people in the sand surrounded by a landscape of moss and bark. Use a pair of tweezers to get the right placement in the sand. Add the top back on and then use ribbon or a wire hook to help hang it from the tree.
Hang mini terrariums with lights behind them to amplify the life within. Enjoy them for the season then pack them into an ornament box and store them upright. Next year it may just take a little shake to settle the sand and set the scene again.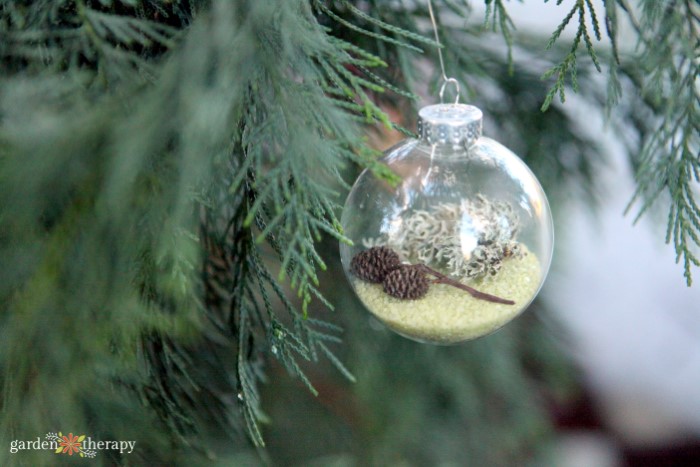 Choosing Your Plants and Other Treasures
Choosing plants for your terrarium ornaments depends almost entirely on the opening. For mine, I only had a teeny tiny opening so the only alive plants I could get in were air plants. If you have a larger opening, you may be able to fit in some of these terrarium plants.
BUT, tiny terrariums work best when filled with organic materials no longer growing. Dried versions of moss, lichen, mushrooms, flowers and more will do much better in your terrarium ornaments than living plants.
Besides plants, you can put a whole host of items in your terrariums. Make tiny clay mushrooms, add some healing crystals, and pretty rocks you collected from the beach. I love round display cases to have little scenes made of preserved nature like moss, lichen, pinecones, rocks, sand, seashells, bark, and more.
My favourite item to add to terrarium ornaments is probably the pinecone magic trick. Mini pinecones will open as they dry so add a few when they are closed, and people will wonder how the puffed-up cones ever got in there!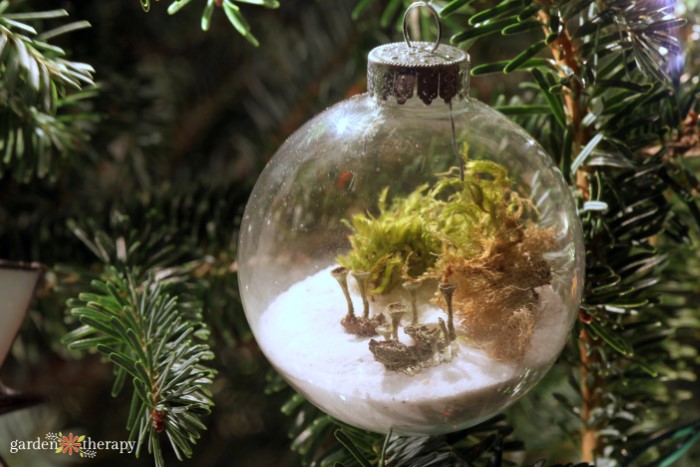 Caring for Your Terrarium Ornaments
While there are plants small enough to add to a terrarium, like my air plant, it's not the best environment for them to thrive in. As adorable as they look through the glass, the basics of air, light, and water needs become challenged in a tiny space.
The small opening and cap restrict airflow. Light may be limited, or so intense that it heats up too much. All this and watering will take careful attention. It is not to say it cannot be done, but it will take a level of maintenance that I, personally, have no interest in.
But if you're feeling up for the challenge, you certainly can put live plants in your terrarium ornaments. Real plants will need a layer of rocks, followed by soil (use houseplant soil or succulent soil mixes).
Like all living plants, your terrarium will need water. Add a spoonful of water to your ornament. Ideally, it should sink to the bottom where the rocks are and won't cause root rot. With the lid on, it should create its own mini-ecosystem that thrives on its own. However, you need a delicate balance to pull this off. If it appears too soggy in your terrarium, open the lid and let some of the water evaporate. Too little water, add a hint more.
Your plant will also need sunlight. To avoid overheating the plant in its dome, always place it out of direct sunlight no matter the type of plant it is. While on the tree, it's okay to be away from sunlight but move it back to indirect sunlight after the holidays end.
Let me know how your terrarium ornaments go! I'd love to hear in the comments down below.
More Christmas Crafts
DIY Terrarium Ornaments
Add some life to your artificial Christmas tree this year with these adorable mini terrarium ornamnets.
Supplies
Found treasures such as moss, lichen, stones, pinecones, bark, and twigs.

Dried rather than living items are best.

Ribbon
Instructions
Go out forgaging for items to place in your ornament. Keep in mind the size of the opening and look for items small enough to fit in your ornament.

Using the funnel, add decorative sand or rocks to the bottom of your ornament. This will act as your base. Careful not to make your ornament too heavy,

Use the tweezers to place your found treasures inside the ornament and get the placement right.

Put the cap of the ornament back on and use ribbon to hang it from the Christmas tree. Hang in front of lights to amplify the ornament.

Store upright in an ornament box. Shake the ornaments to help the sand settle when you pull them out again next year.