Romance away with this beeswax massage balm recipe infused with the delicate nature of rose. Whether you're looking to give the perfect gift or want to give a subtle nod to your honey that you'd like a massage, this balm will work to moisturize the skin and stir up a little bit of romance.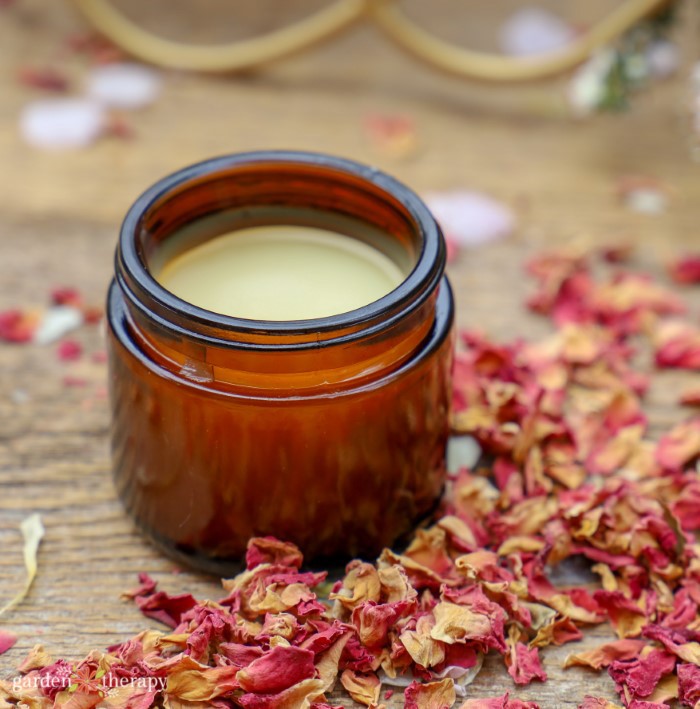 At the end of a long day outside, my muscles often ache. While my go-to is usually a soak in the tub with a healing herbal tea, sometimes all I want is a good deep tissue massage. Since the wallet doesn't allow me to hire a full-time, live-in masseuse, I'll just have to settle for at-home massages!
Luckily, this massage balm is truly the best thing to use for at-home massage. You can make it as a lovely personal gift or use it on your sweetheart. Or better yet, ask them to use it on you!
When I was formulating this massage balm, I naturally reached for my jar of rose petals. The true herb of love and romance, you can't help but get in the romantic mood when you take in a deep breath of its sweet floral scent.
What many don't know is that roses were first grown for their medicinal and culinary benefits long before they became an ornamental garden staple. So while your muscles enjoy the massage, just know that the balm is equally good for your skin!
This post will cover…
What is Massage Balm?
When you have a massage, you're going to need something to stop the skin-to-skin friction that goes on. Massage balm lubricates the skin to make things feel better for both the recipient and the giver of the massage. The massage balm also absorbs and nourishes the skin long after the massage is done.
Oftentimes, balms contain butters (liquid solids or fats), vegetable-based oils, and beeswax. To make them different than salves, you incorporate a higher amount of beeswax which acts as a binder and creates a thicker consistency. This combination creates a protective barrier on the skin that in turn keeps in moisture.
To make this beeswax massage balm recipe, you'll need to melt down all the wax, oils, and butter together and then let them harden to the desired consistency. Most often, balms have herbal-infused oils that carry herbal properties from the plants. This makes them good for the topical relief of pains and aches. AKA, perfect massage material!
Typically, balms are a tad bit harder than salves which contain less beeswax. But in this recipe, the balm works more like a salve even though it has a high beeswax content. With a perfect consistency, it rubs onto the skin nicely.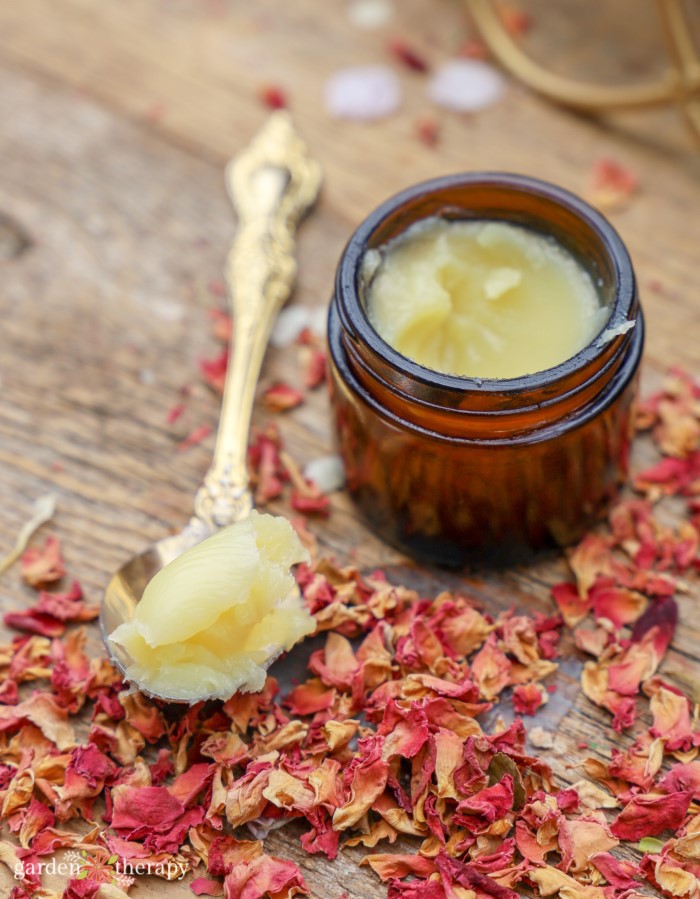 Rose Massage Balm Ingredients
To make this balm ultra-moisturizing and friendly for the skin, I used a range of oils, butters, and waxes. Here's everything you'll need and exactly why I've chosen to include it.
Olive Oil
By far, olive oil is one of the most commonly used oils in the household and in DIY beauty products. It's a very stable oil and good at conditioning the skin. While it has a distinct olive scent, it's easily masked by using essential oils.
In this recipe, I infused the oil with rose petals. Not only does it add a touch of love and romance, but it adds a pink hue to the oil as well. Rose increases skin permeability, reduces discoloration, and helps with wrinkles. And that's just the beginning! Learn more about rose's healing skin benefits here.
Grapeseed Oil
A by-product of winemaking, grapeseed oil comes from pressing the natural oils out of grape seeds. The oil itself is very light and quickly absorbs into the skin, hydrating without leaving the skin feeling greasy. It has a minimal fragrance and is packed with antioxidants.
For this recipe, I infused the grapeseed oil with lavender. Another great herb for the skin, it has antibacterial properties, a soothing aromatherapy scent, and adds a slight purple and brown colour to the oil.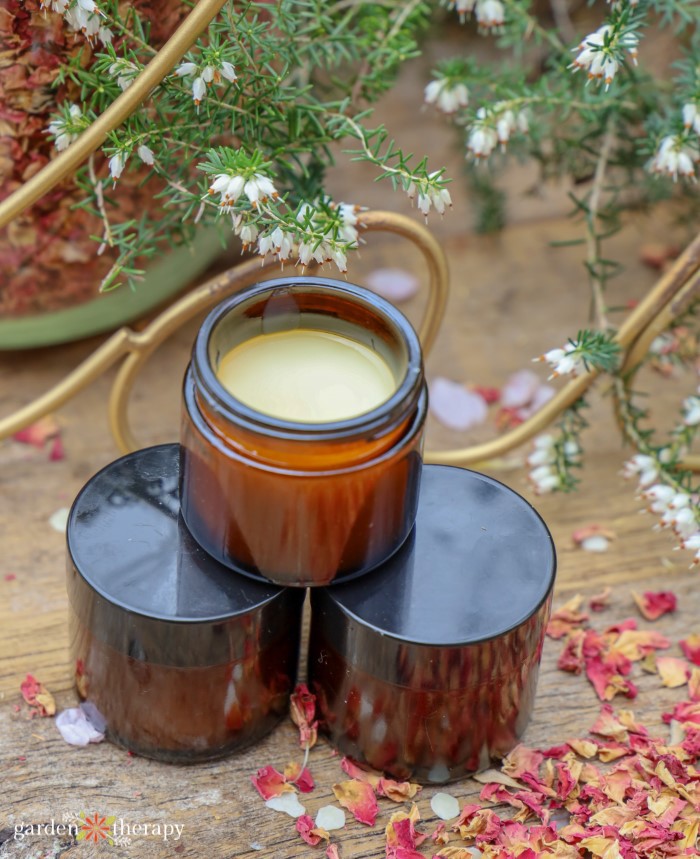 Shea Butter
Made from the nut of the African shea tree, shea butter is an expeller pressed fat. Thanks to the high-fat content, it has superior moisturizing properties. It works as a humectant, meaning it helps to attract more water to the skin.
Slightly thicker than the oils, it mixes well with the other ingredients in this recipe. While it has a strong aroma, I find it very pleasing and it easily blends into the essential oils.
Beeswax
The higher content of beeswax is what technically makes this recipe a balm rather than a salve. Beeswax is a popular ingredient in products because it binds together other ingredients and solidifies fats. Plus, who doesn't love the sweet honey aroma?
When buying beeswax, look for the clean cosmetic grade beeswax sold in pellets or pastilles. This prevents you from needing to grate it.
Rosehip Oil
Because we need more rose in this romantic recipe, I included rosehip oil. I've already noted some of the benefits of using rose in your skincare routine but rosehip oil adds even more to the recipe! Made from the fruit and seeds of rose bushes, rose hips work as an anti-inflammatory and are high in antioxidants.
This means they can repair the skin's barrier all while moisturizing the skin. It also contains phenols, chemicals with antibacterial properties that help to protect the skin against skin conditions like eczema.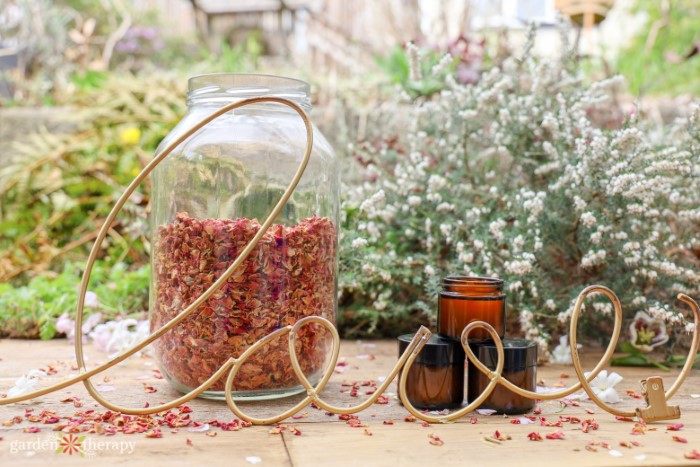 How to Make Beeswax Massage Balm
Once you have all the ingredients, it doesn't take much work to put together this beeswax massage balm recipe. Infused with the herbal properties of rose and lavender, the balm also smells heavenly while being great for the skin.
Ingredients
Makes 200g. For exact measurements, refer to the recipe card.
Jump to Recipe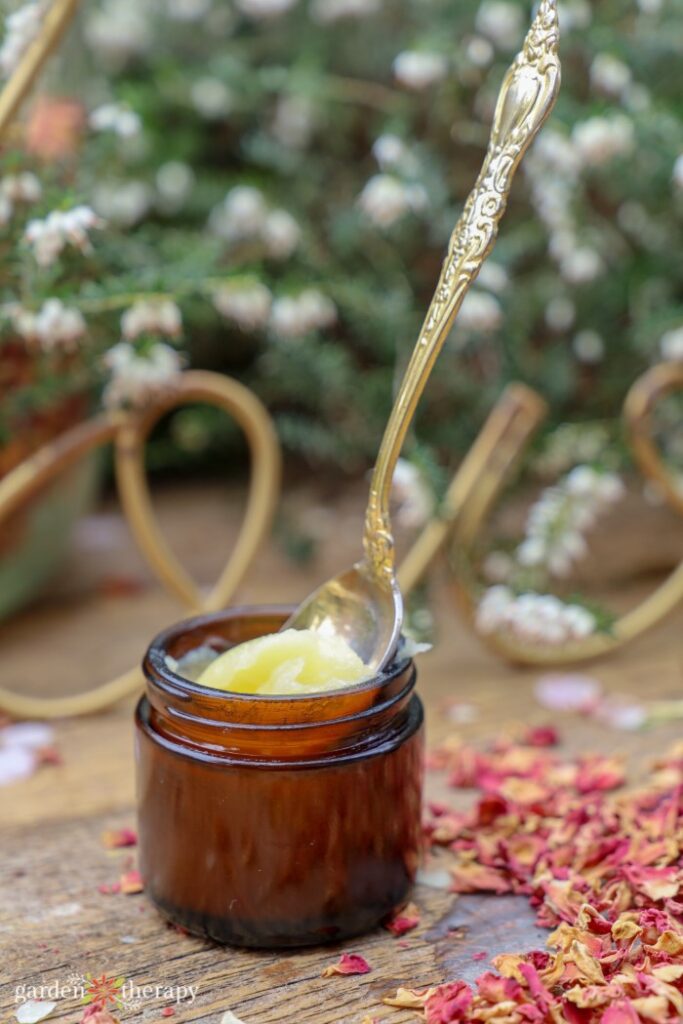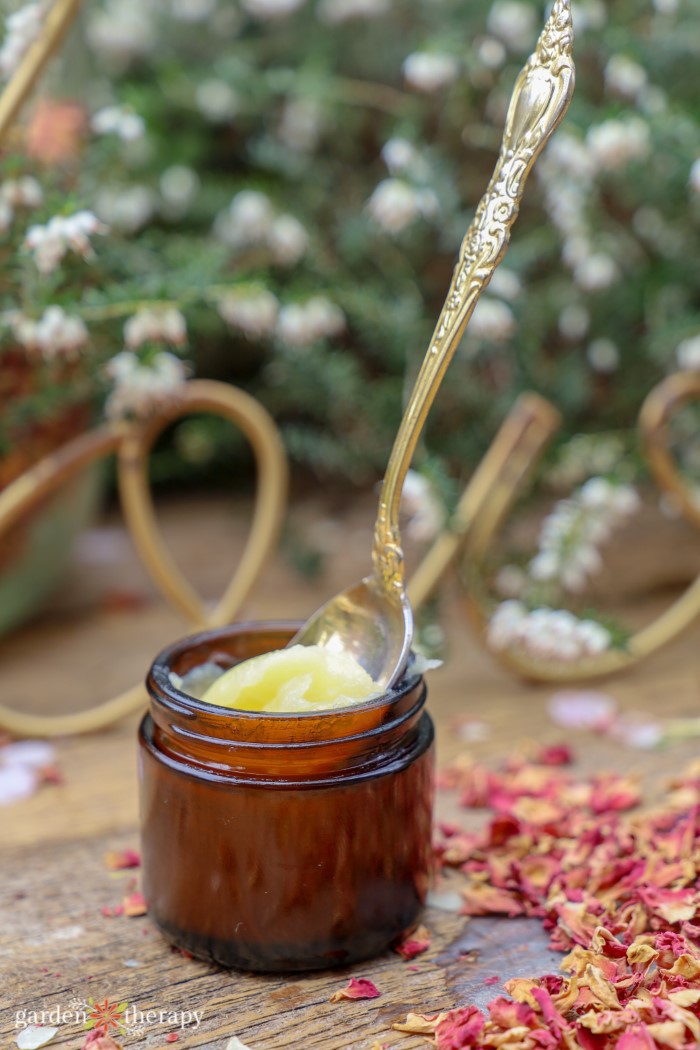 Make It!
Before starting your recipe, make sure your olive oil and grapeseed oil are ready to go by following these infusion instructions. I infused my olive oil with rose petals and my grapeseed oil with lavender.
Add your olive oil, grapeseed oil, beeswax, and shea butter to a double boiler. Over medium heat, slowly melt the ingredients together until the beeswax is fully melted. Don't allow the oils to cool or leave them unattended.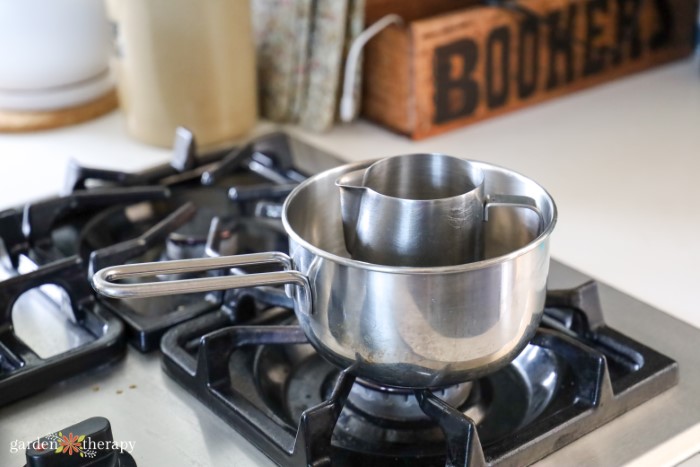 Once melted, remove from heat and allow it to slightly cool (while still remaining in a liquid state). If it does accidentally solidify, simply reheat slowly again. Add in your rosehip and essential oils. Since these oils are more volatile, they break down easier with heat. That's why we want to add them at the last possible minute.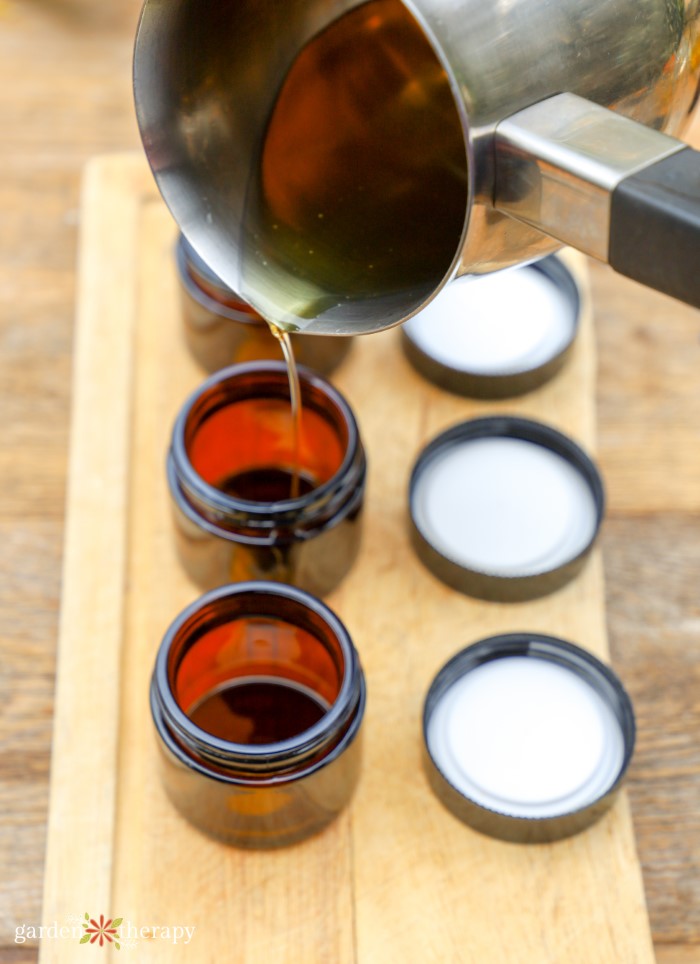 Stir the combination well before pouring it into clean and sterile containers. Let them sit undisturbed until fully cool. Once set, wipe the rims with a clean cloth before placing the lids on.
This rose massage balm is good for three months. If you notice any change in colour, discard it earlier.
Frequently Asked Questions About This Beeswax Massage Balm Recipe
What Are the Benefits of Beeswax?
Besides its delightful honey aroma, it has anti-inflammatory, anti-bacterial, and anti-viral properties. This helps to nourish, calm, and hydrate the skin. Beeswax acts as a humectant (attracts water) to really lock in your skin's moisture.

In beauty products, beeswax also acts as a natural binder and solidifies oils and fats in recipes.
What Does Rose Do For Skin?
Rose is an incredibly powerful herb for skincare. It has anti-inflammatory properties that help to reduce overall redness and puffiness.

The natural astringent and antibacterial properties make it a useful tool for fighting and preventing acne. It also helps to heal scars and even overall skin tone and discoloration. Rose is also full of natural oils that hydrate the skin.

Check out this post to learn more about the healing benefits of rose.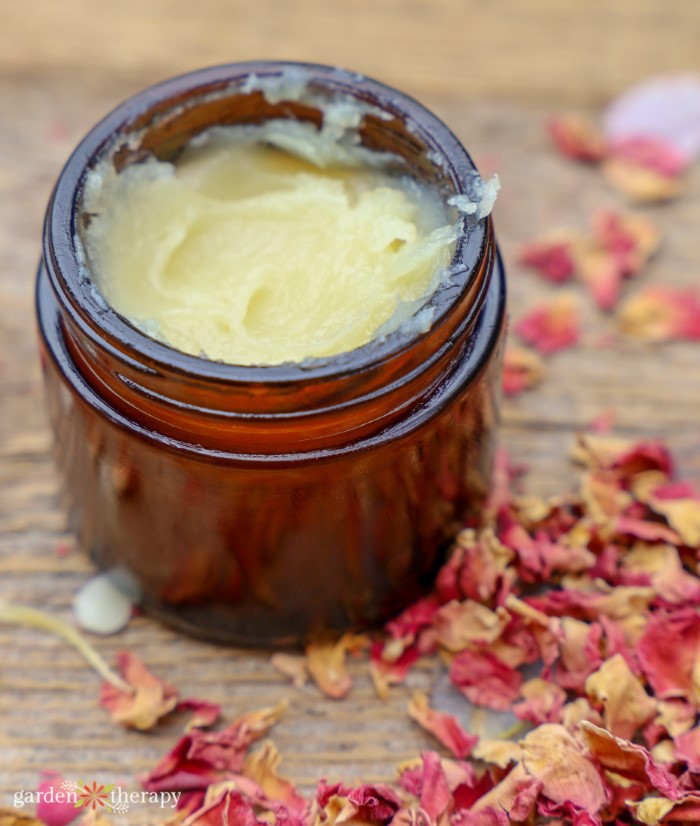 This recipe is truly meant for relaxation and a hint of romance. Let those aches and pains go!
More Skincare Recipes with Rose
Romantic Beeswax Massage Balm Recipe With Rose
Infused with luxurious butters, oils, and beeswax, this balm will moisturize the skin and ignite romance into the air. Makes 200g.
Instructions
Add olive oil, grapeseed oil, shea butter, and beeswax to a double boiler. Melt over medium heat.

Once melted, remove from heat and allow it to slightly cool. Add in rosehip and essential oils. Stir well.

Pour into a clean, sterile container. Let sit undisturbed until fully cool.