I've said it once and I'll say it again, dandelions have incredible benefits! I can't help but use these incredibly underrated flowers in my recipes. This multi-use dandelion salve is just one of the many possibilities that dandelions have to offer. Delve into this healing and multifaceted dandelion salve!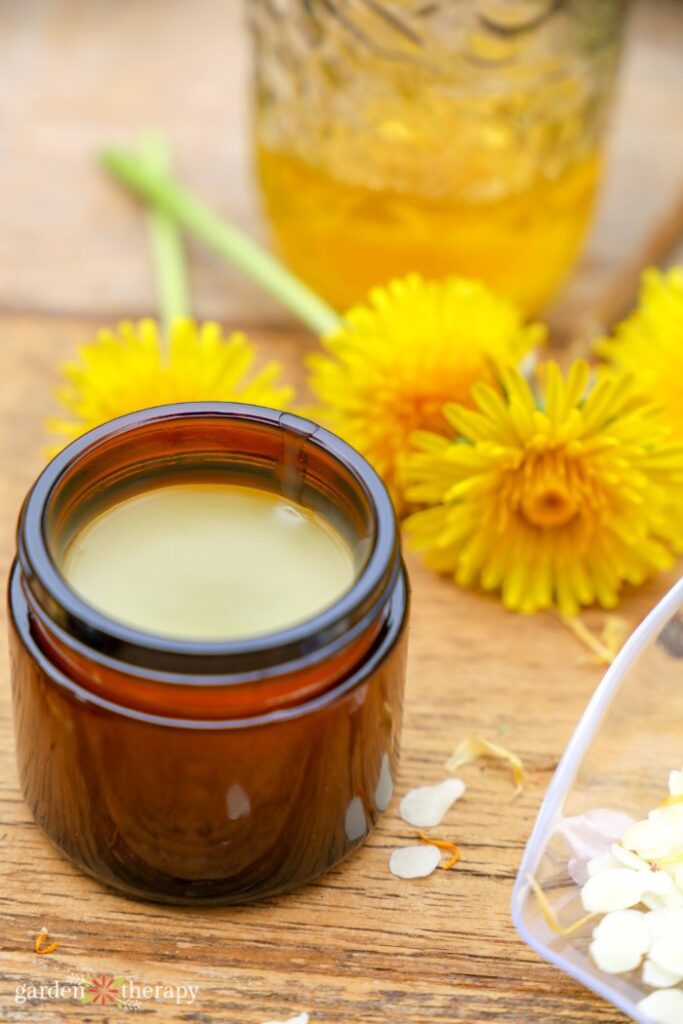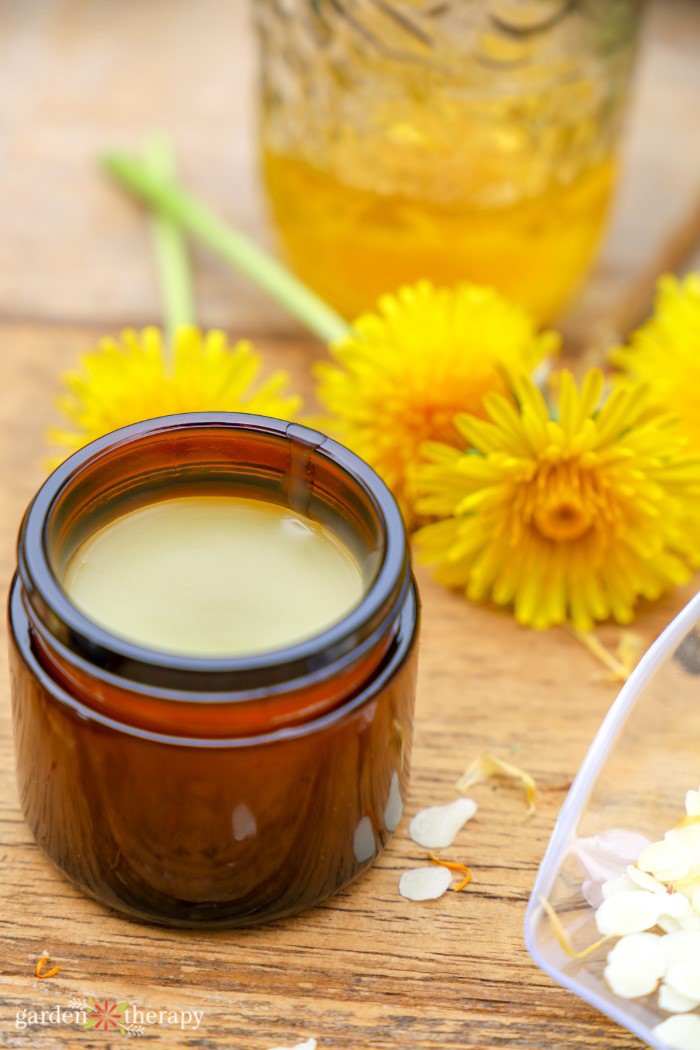 Dandelions have the worst PR team out there. Yes, I'm talking about that common perennial most often accused of being a weed (not true!). The dandelion is an extremely useful flower, all the way down to its roots.
Dandelions have always been a staple in my home, even when I was a child. I can remember my mother foraging for dandelions in our yard, collecting them in an impossibly large bowl.
She was a huge advocate for the health benefits of dandelions, particularly in their diuretic properties. This has left me with undying respect for the flower and I want nothing more than to clear their name as a common weed!
I've talked before about how eating this surprising superfood can boost your health, but using it topically really ups the anty! Combined with soothing shea butter and chamomile, this salve is seriously healing.
This post will cover…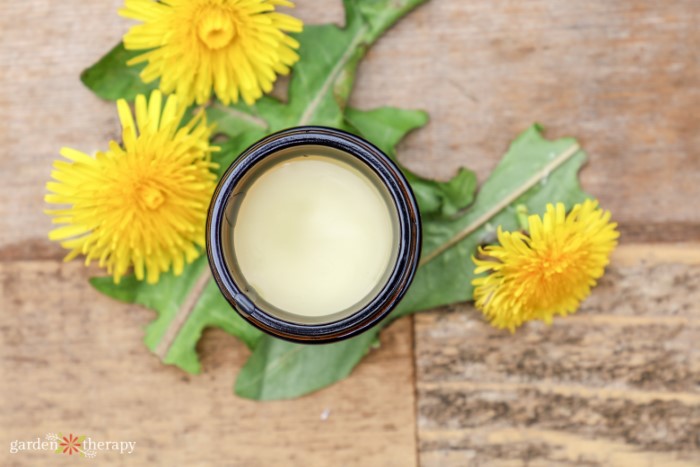 Dandelion Salve Uses
This handy dandelion salve is no one-trick pony. It has multiple benefits for widespread personal health. In other words, it's a skincare dream!
Anti-inflammatory and Anti-Itching
Dandelions have anti-inflammatory and anti-itching properties that can be used to help heal wounds. If you find yourself with a minor cut, first clean the area with soap and warm water.
Dry the area and apply a generous layer of dandelion salve to the area. Then, cover the wound with an appropriate bandage.
This salve will help ease discomfort and heal you faster.
Aids Skin Conditions
These anti-inflammatory and anti-itching properties work double-time on skin conditions. Apply this dandelion salve topically to skin conditions including rashes, psoriasis, eczema, and boils.
This will limit your itching and prevent further damage. It can also calm your skin condition and lessen its appearance.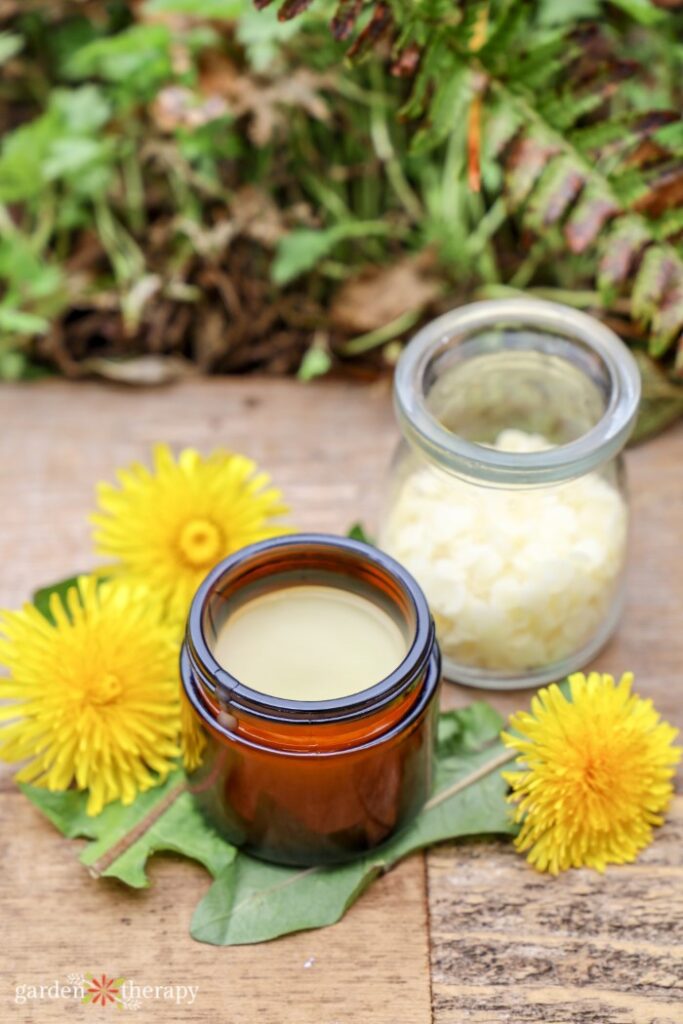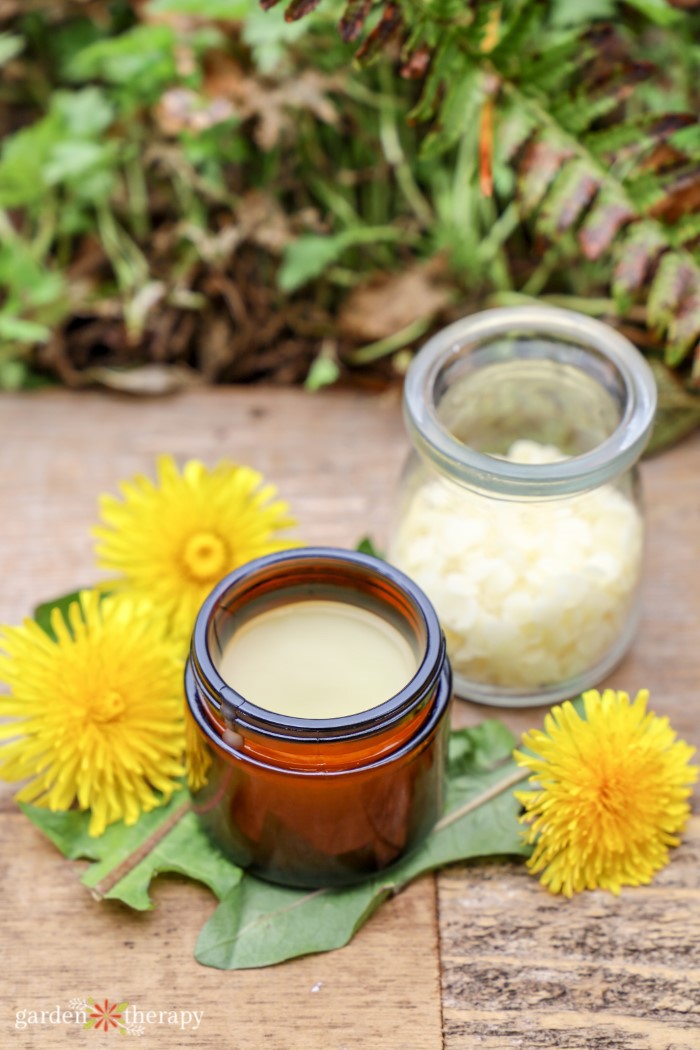 Anti-Aging Properties
Dandelions are super rich in antioxidants. This means my dandelion salve is a total powerhouse when it comes to anti-aging properties. Vitamins A, B, and E are all found naturally in the flower.
This triple threat helps to protect your skin from damage and keep it healthy and glowing! It has even been shown to reduce and prevent the appearance of fine lines and wrinkles.
Apply this salve anywhere that needs a bit of extra moisture and elasticity (remembering to avoid the eye area).
A Natural Perfume
Beyond being an amazing natural remedy, this salve also smells amazing! The earthy floral scent of dandelion combined with chamomile and essential oils creates a scent that is too good to be medicinal. No need to save it for a bump or scrape. Simply smudge a bit of salve behind each ear or wherever you prefer!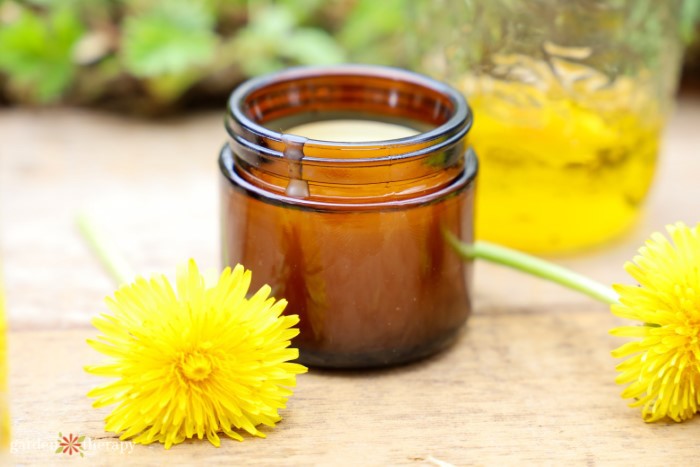 Gives An All-Purpose Moisture Boost
I like to apply this salve to the driest bits of skin. Dry, flaky skin can be really uncomfortable and many of us suffer from it year-round.
Rub a bit of this salve onto your knees, your elbows, or between dry fingers. The salve soothes immediately. Use repeatedly to help keep these dry bits at bay.
When using a new product on your skin, it's always best to do a test patch first. Try a small amount of salve on clean, undamaged skin and leave for 24 hours before applying to any large area or skin condition.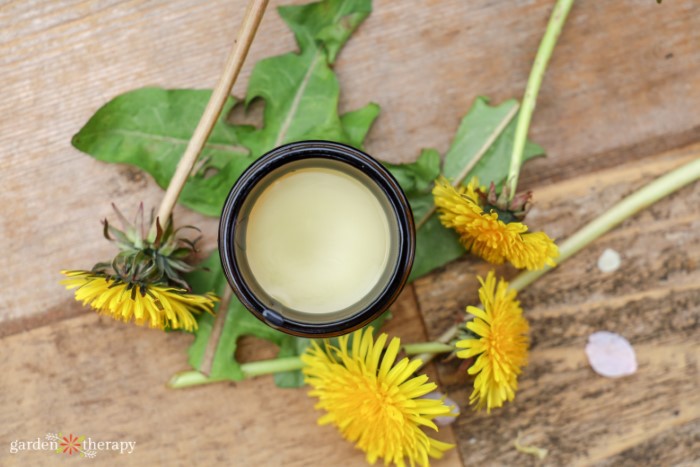 How to Harvest Dandelions
Below, I'll show you how to make this salve. But first, let's chat about the most important ingredient and how to find it!
The harvesting is easy; simply pop off the tops of the flower when they're in full bloom. Do this in the early morning and at a time of year when the flowers are plentiful.
And though you can probably find dandelions popping up all over the place, remember that you should always harvest them responsibly.
Harvest What You Need
When harvesting dandelions, only take what you need. This means knowing how much you'll be able to use and leaving the rest. Help avoid unnecessary waste and save some dandelions for your next harvest as well as for local wildlife (such as bees!) to enjoy.
Take What is Yours
Stick to harvesting from your yard. If you're going to harvest from another private area, make sure you have permission. You never know how others may be utilizing this fabulous flower or what it's been treated with!
Harvest What You Know
Keep everyone safe by only harvesting dandelions that you have been sure haven't been treated with herbicides or pesticides. You never know which areas have been treated, even in remote areas.
You'll also want to avoid areas subject to vehicle pollution and anywhere that is frequently visited by dogs. It is best for everyone's health if you only harvest dandelions from your yard.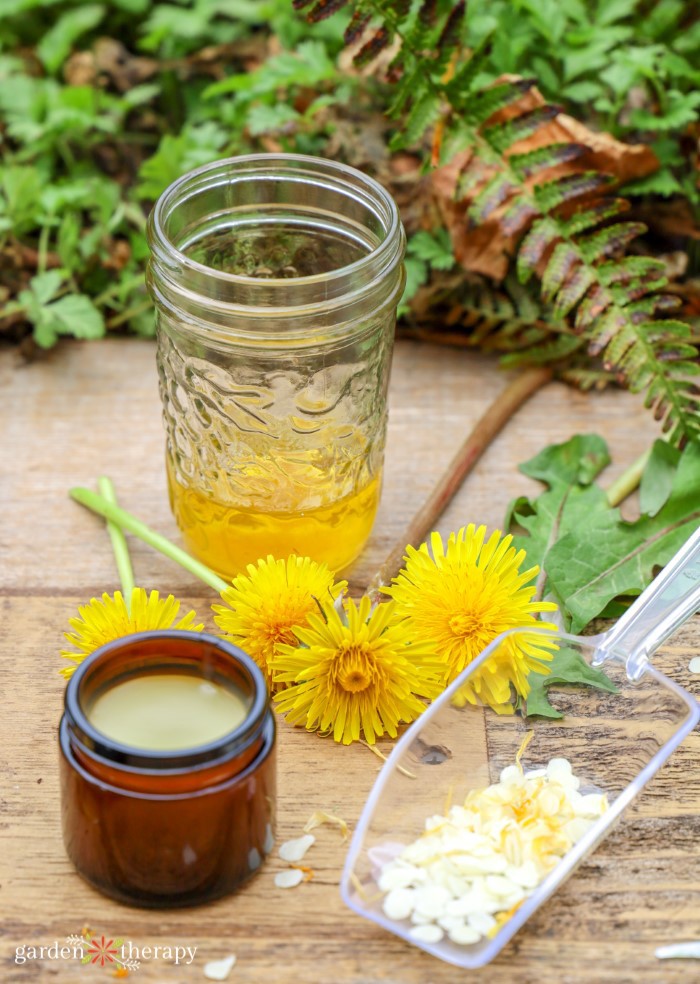 Homemade Dandelion Salve Recipe
Put those hardworking dandelions to good use with this homemade salve recipe. Once you have all the ingredients, making it is simple!
Ingredients
Makes 100g. For exact measurements, see the recipe card.
Jump to Recipe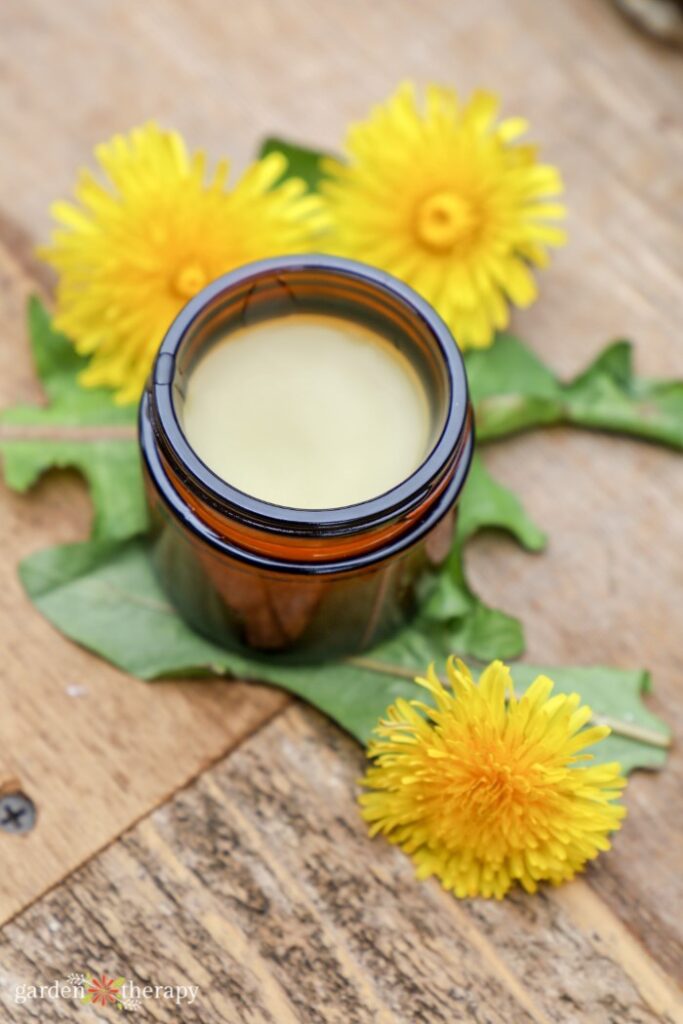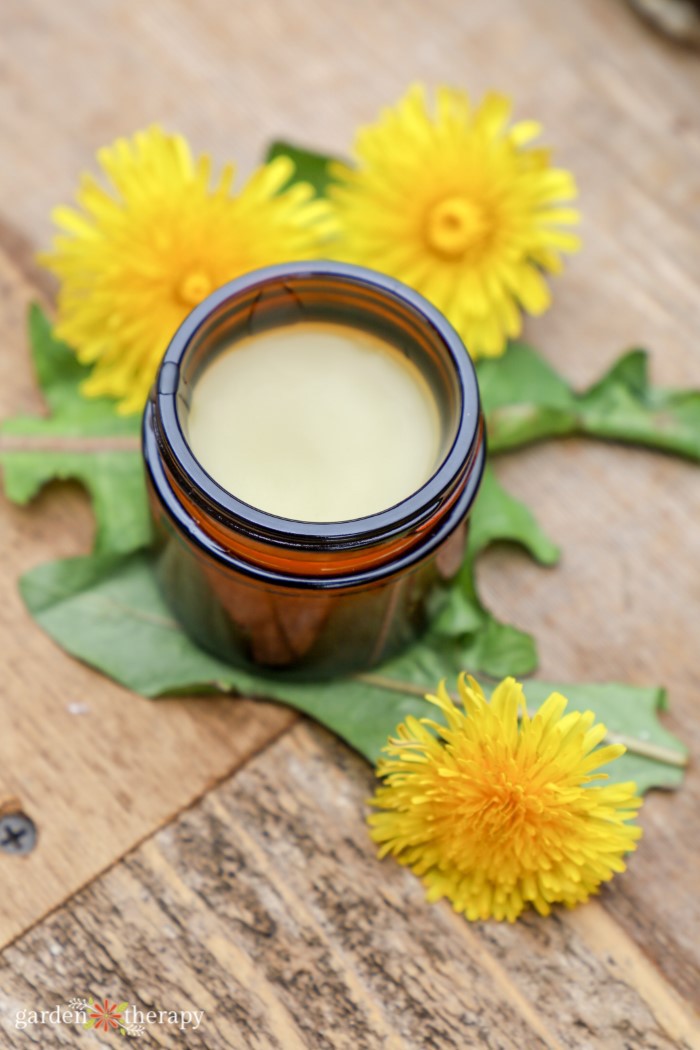 Preparation
Prepare your olive oil and grapeseed oil by infusing them ahead of time. This post gives easy instructions on how to infuse with dandelions and this one will give you tips for all-purpose oil infusing!
Make It!
Add olive oil, grapeseed oil, shea butter, and beeswax into a double boiler. Set heat to medium and slowly melt your ingredients. Do not leave your oils unattended or allow them to cool (this will affect the product).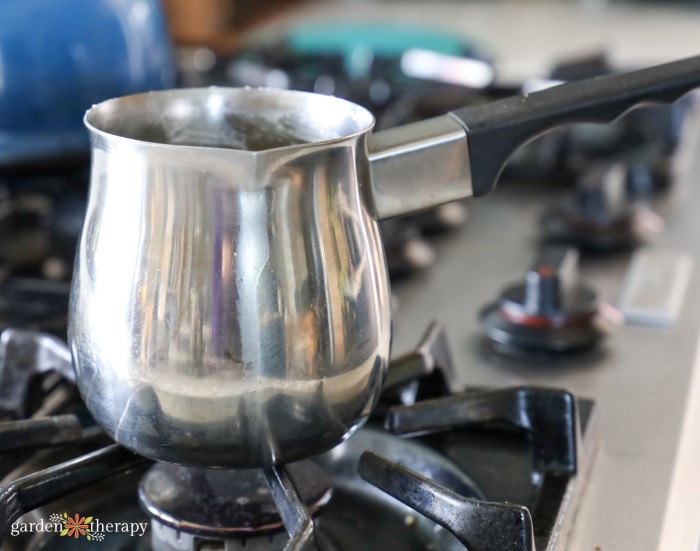 Stir ingredients until the beeswax is completely melted then remove from heat. Allow for your mixture to cool down a little but don't let it begin to solidify. If your mixture begins to solidify, quickly heat it again until melted.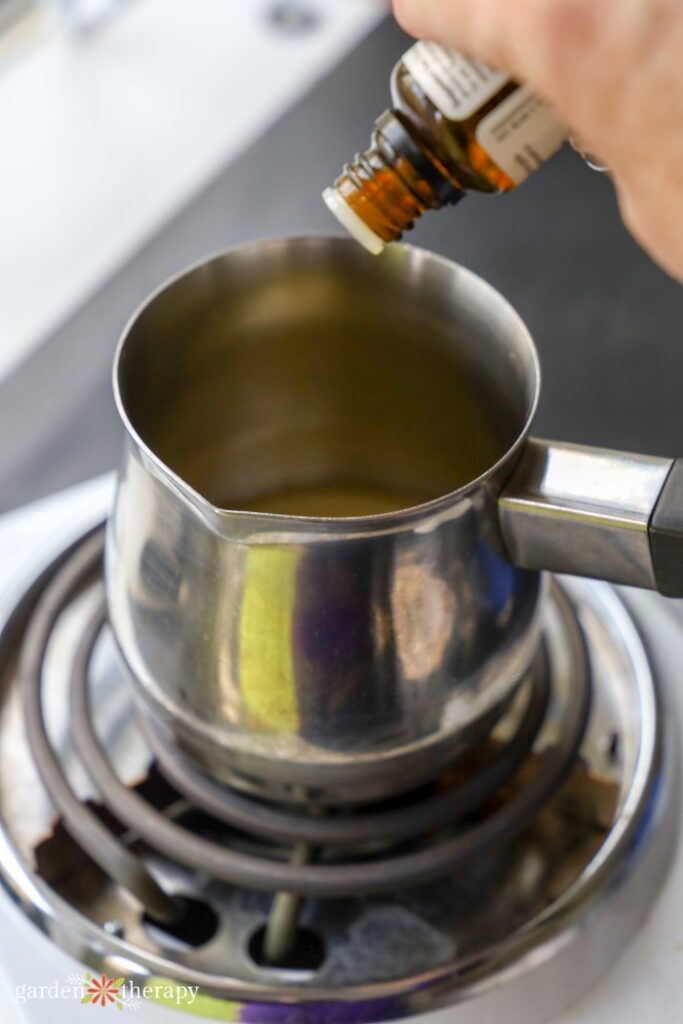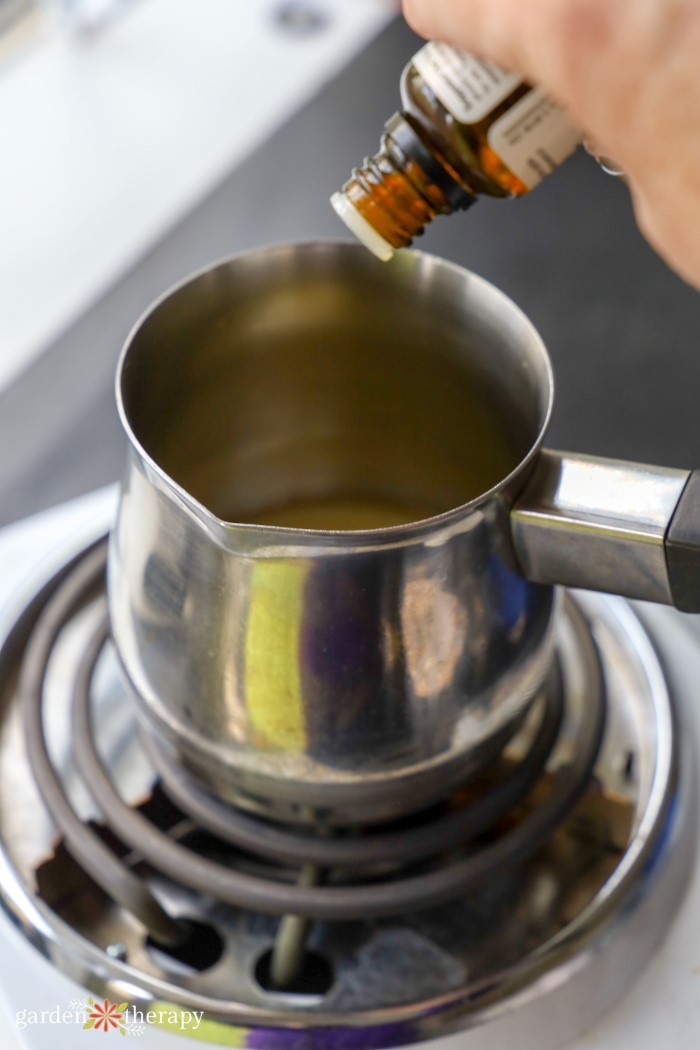 Add the essential oils of your choice if you want your salve scented. Lavender oil is always a wonderful choice if you want a suggestion! Stir Well. Essential oils break down easily with heat so you'll want to add them at the last possible moment before completing your recipe!
Immediately pour the mixture into clean, sterile containers. Leave your containers undisturbed until they have set (you'll know they're ready when they have completely solidified). Wipe the rims with a clean cloth and cap with lids.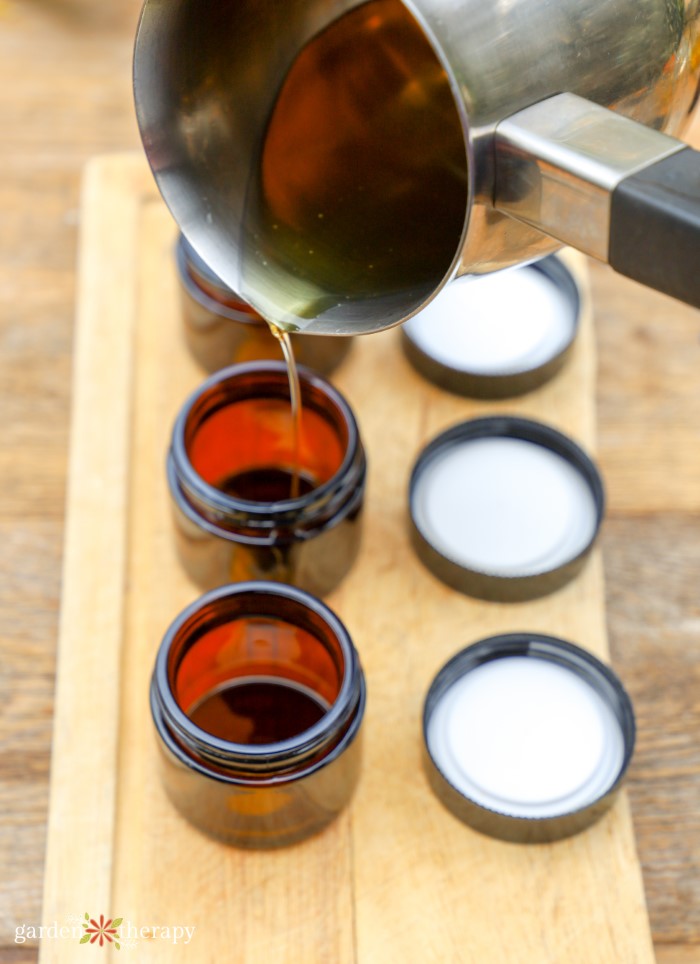 Use your dandelion salve within 3 months. If there is any discolouration or change in the odour, dispose of it earlier! Enjoy!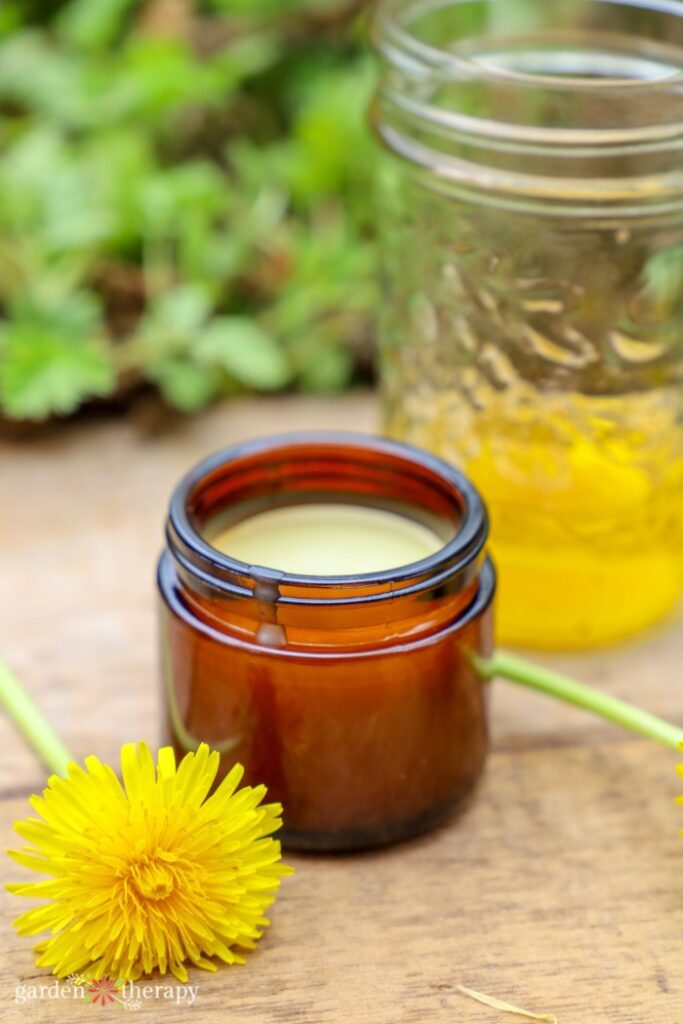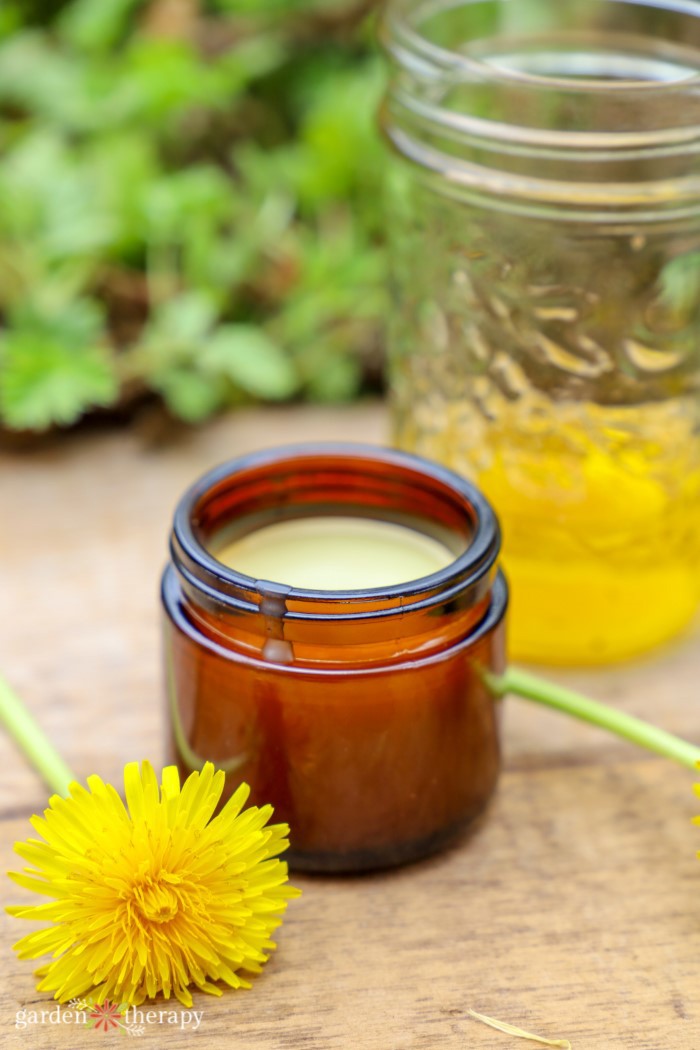 More DIY Skincare Ideas
Dandelion Salve for Dry Skin
Embrace the antioxidants and anti-inflammatory properties of dandelions while soothing dry skin with this dandelion salve. Makes 100g.
Instructions
Add the oils, beeswax, and shea butter into a double boiler. Slowly melt over medium heat.

Once the beeswax is completely melted, remove it from heat. Let it cool but don't allow it to solidify.

Scent your salve with essential oils (optional). Stir well.

Pour the mixture into a clean and sterile container. Let them fully solidify before wiping the rims with a clean cloth and placing the cap.

Use your homemade dandelion salve within 3 months.