How do we make our lives a little more green? Natural-product enthusiasts like myself are always looking for new ways to answer this question. Switching out your chemical-based cleaners for natural cleaning products can be your next step towards a greener lifestyle!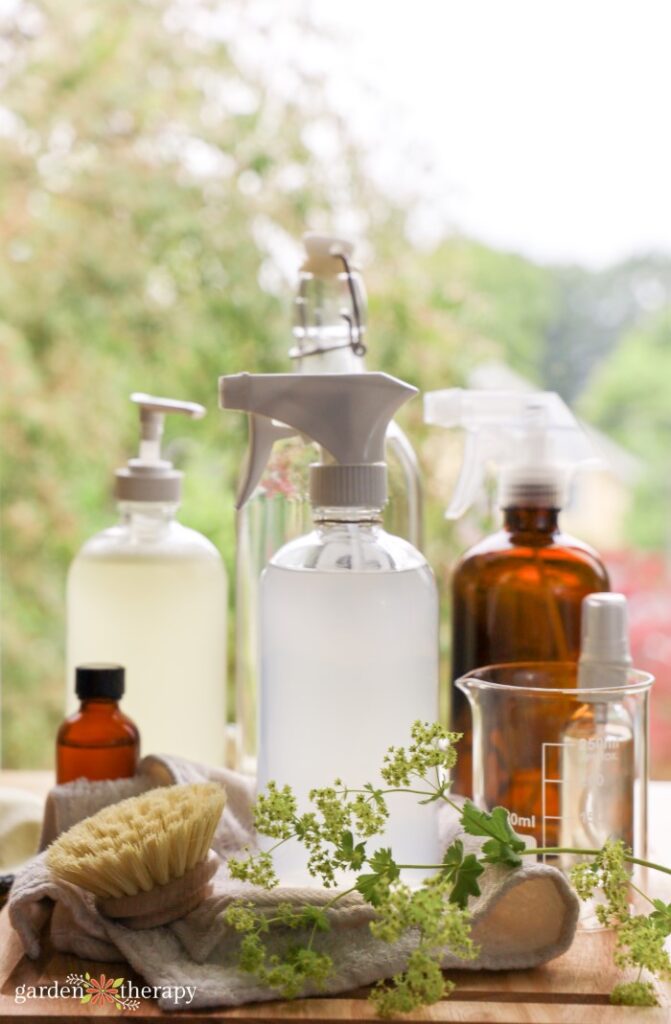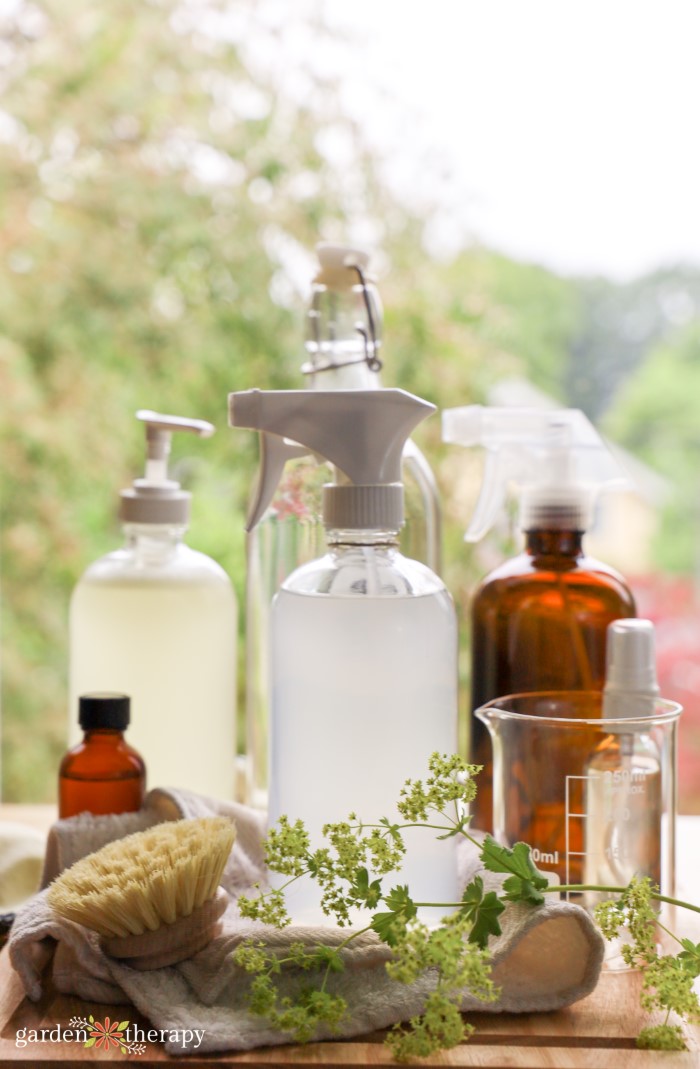 My love affair with all-natural products has withstood the test of time. DIY natural cleaning products are an especially rampant obsession of mine. I've been making my own natural cleaners for years now and have seen a steady (and growing!) increase in demand for them.
When I was doing my most recent virtual book tour, a few major publications were particularly interested in the plants that I use for my natural cleaning recipes. You'll quickly find one of my favourites down below!
I've always been harvesting from my herb garden to make natural cleaning products. I even wrote a book about it, Handmade Soaps, Sanitizers, and Cleaners: 10 Recipes to Sanitize Your Home and Cleanse Your Body.
But today, I've compiled a list of my go-to homemade cleaning products for you that will cover all of your sanitation needs. The natural cleaning products that I create are made from plant-focused ingredients, many of which you probably already have lying around your home.
They are also super effective in cleaning and disinfecting, despite their lack of harsh chemicals. Best of all, the natural ingredients in these recipes are inspired by the garden!
This post will cover…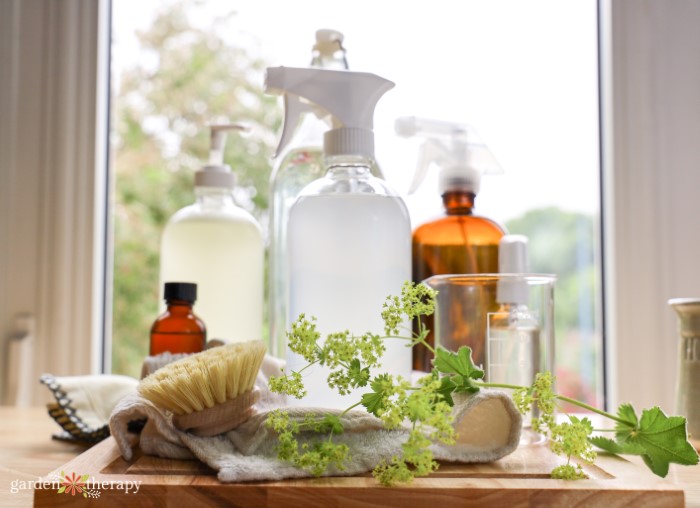 The Cleansing Power of Lavender
Before you start cleaning away, I want to talk about a herb that you'll find mentioned a ton below. Lavender!
Not only does it smell absolutely wonderful, but it also works as a sanitizing agent. For centuries, lavender essential oil has been used to prevent many concerns caused by antimicrobial agents.
Lavender has natural antiseptic and cleansing properties. It also works as a natural solvent to remove oily residue on surfaces such as countertops. You can enhance your products with just a little bit of lavender essential oil to your already powerful cleansers.
15 Natural Cleaning Products for Your Home
If you're looking for eco-friendly cleaners, I've got something for every room of the house. All made with easy ingredients, you can simplify your routine with these recipes.
Cut stubborn grease and grime with these eco-friendly (and fun!) cleaning bombs.
These fizzing bombs include baking soda and citric acid that chemically react to create a powerful cleaning agent. And when the fizzing starts, they release an invigorating boost of your favourite essential oils.
Use these cleaning bombs to melt away built-up grime throughout your home. Say goodbye to smelly garbage disposals and pipes suffering from product build-up. Simply pop in a homemade cleaning bomb and witness the magic!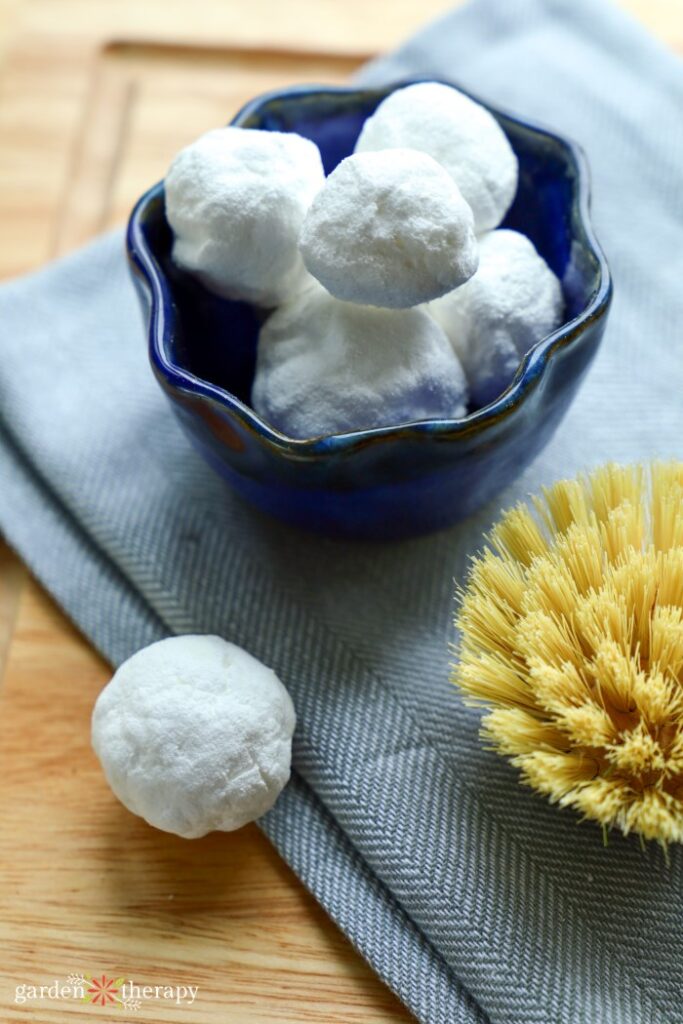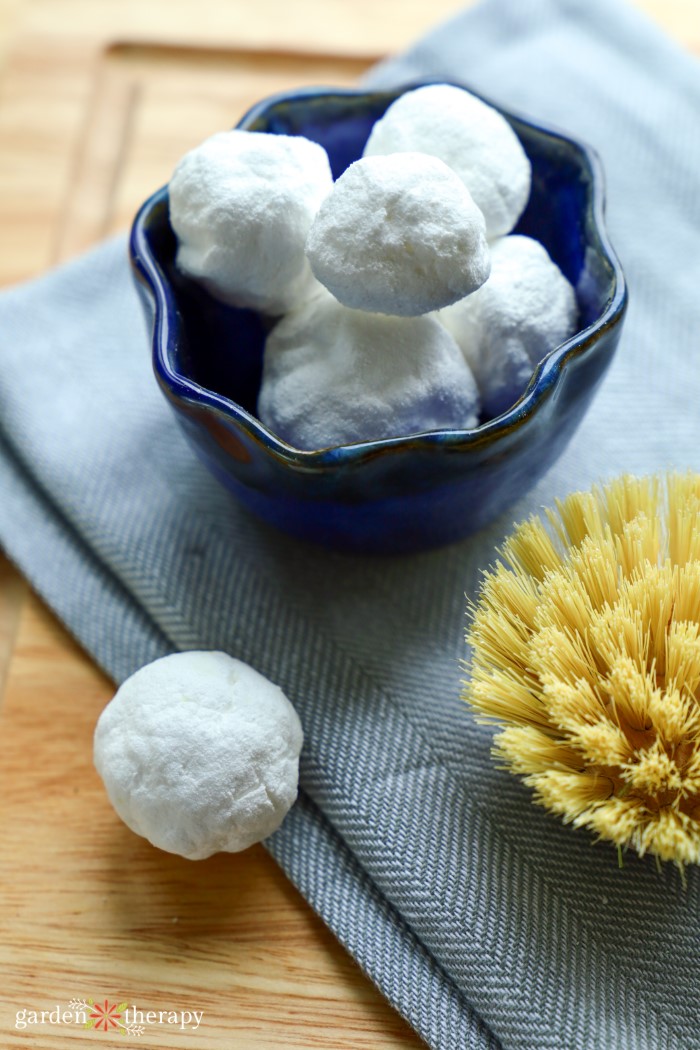 Freshen up the air! I like to keep my house smelling fresh long after a good clean. I make my own natural reed diffuser to slowly emit a mild, natural fragrance throughout the house.
Commercial diffusers are usually too strong for my nose, and I find myself sniffling and sneezing from the artificial fragrances. With these reed diffusers, I use the power of essential oils to keep things fresh yet natural.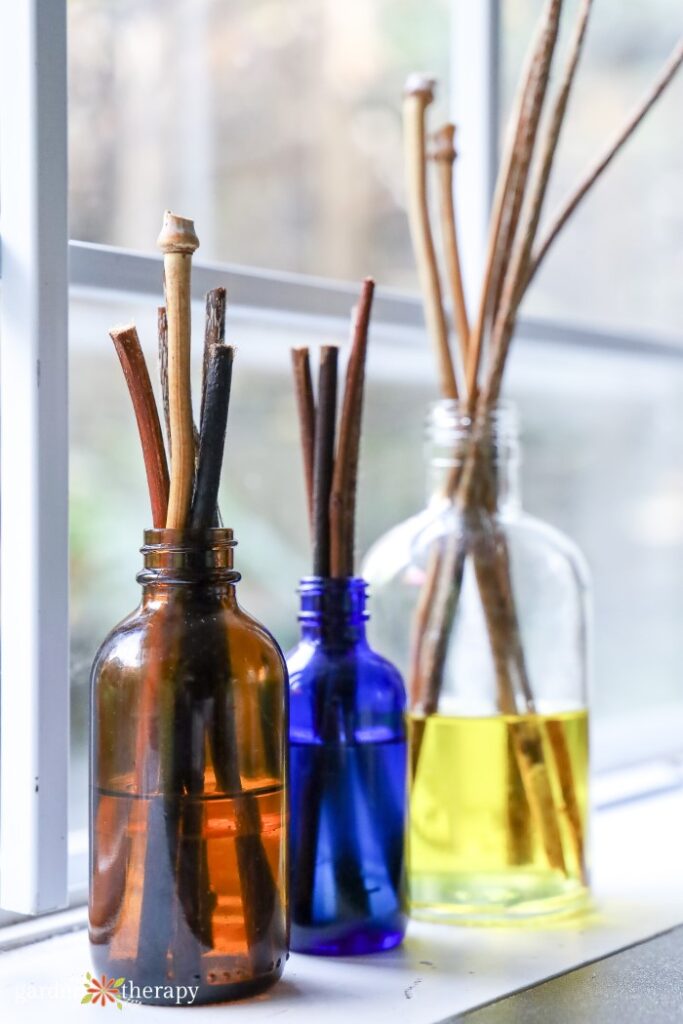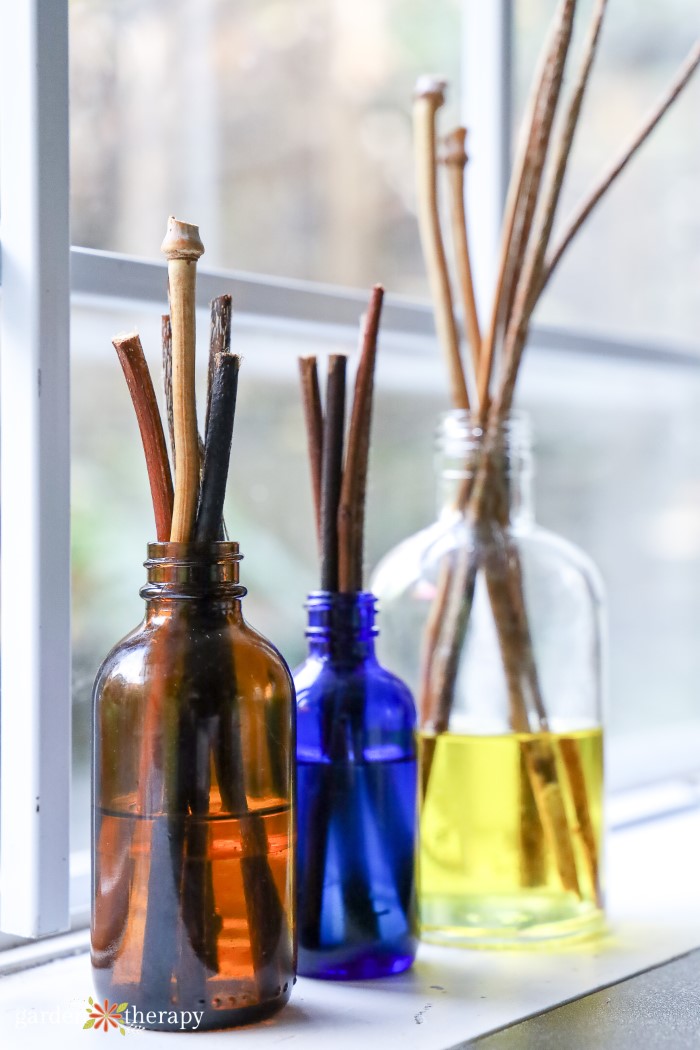 Some parts of our homes need a little more love and care than others. And though natural homemade cleaners are my go-to, some of them are just a little bit too harsh for my granite countertops.
This granite cleaner is the perfect solution. It packs a powerful, antibacterial punch while avoiding the wear and tear caused by harsh chemical cleaners.
Keep your granite looking its sparkling best with a mixture of alcohol, Castille soap and essential oils!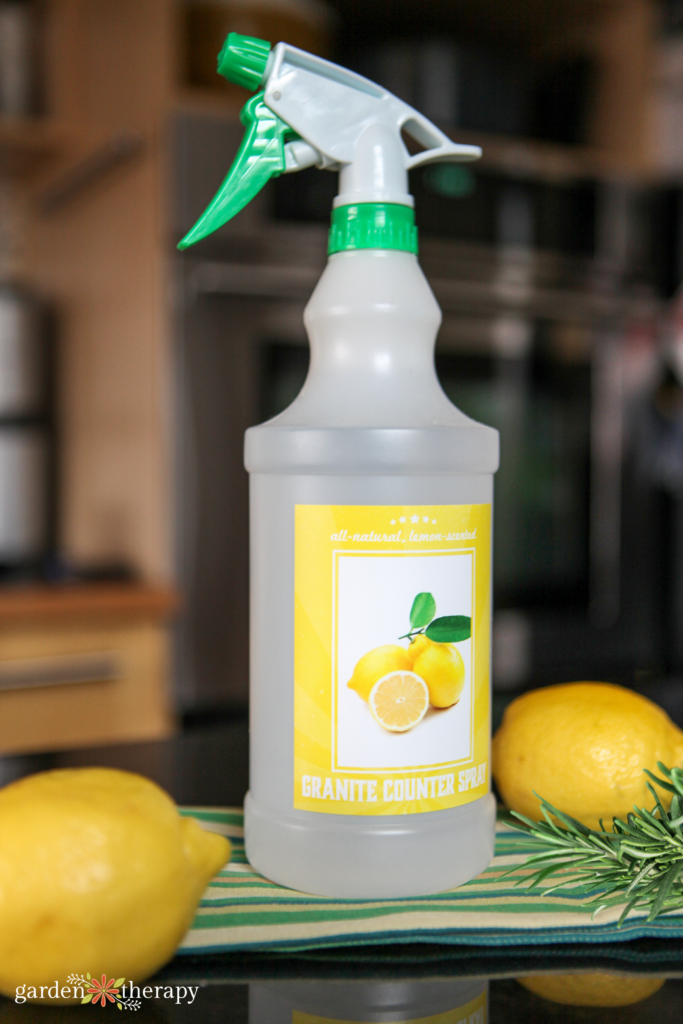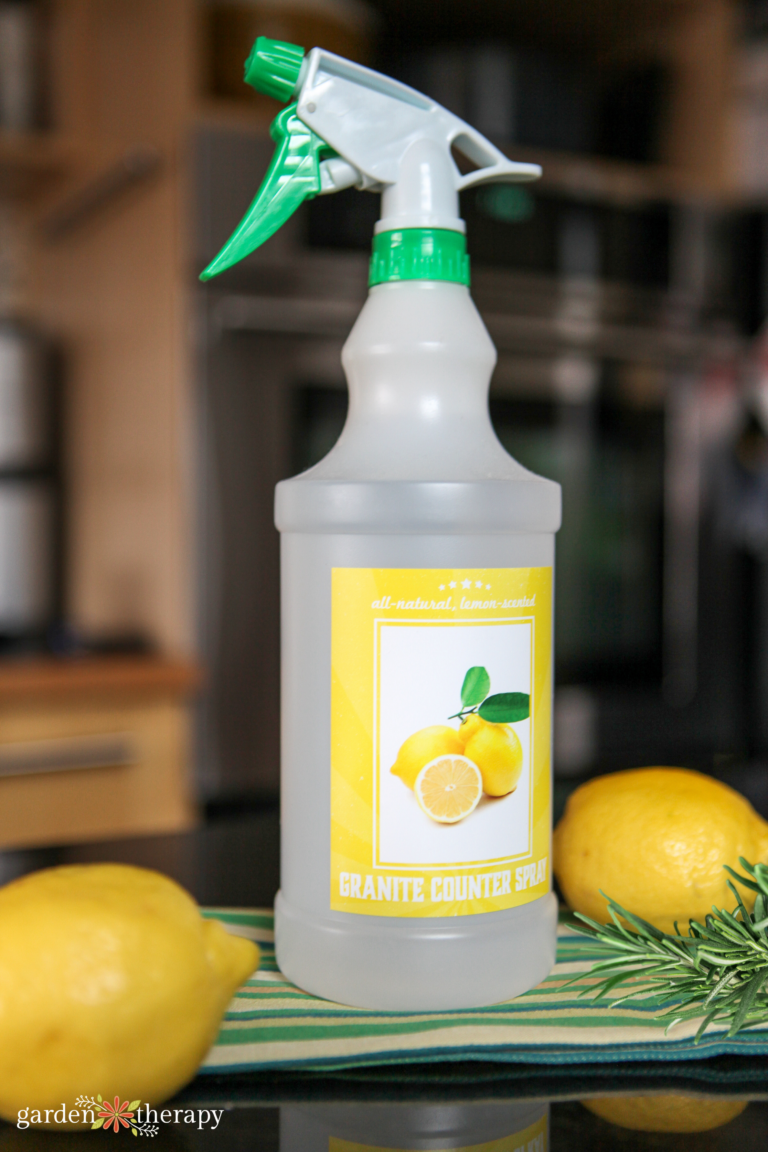 I love the smell of fresh laundry. I added these herbal drawer fresheners to all my folded clothes to ensure they smell amazing long after they've left the dryer.
I made these from thrifted wool sweaters and used felted wool to personalize them with letters. They make for wonderful gifts for the clean and eco-conscious friend. Or make them all for yourself!
To fill the fresheners, I use fragrant dried herbs such as lavender, rosemary, and mint from my garden. But you can even use some from tea bags or your spice cabinet!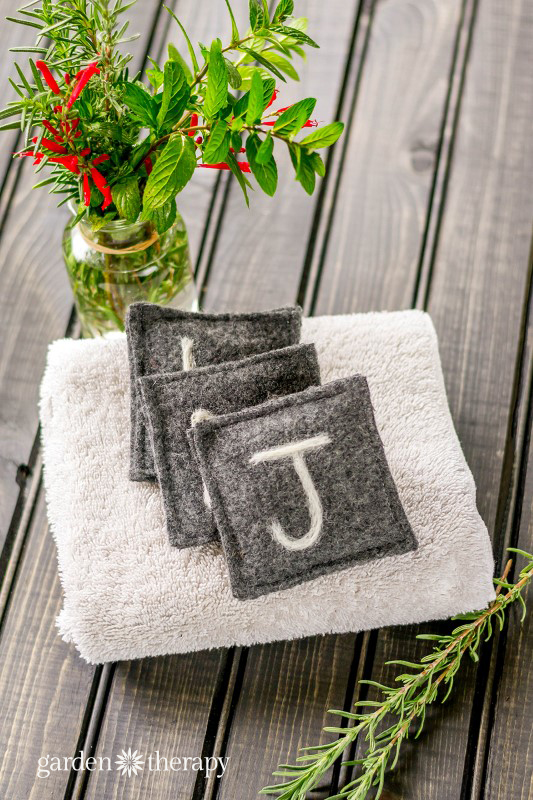 Disinfectant wipes are notoriously harsh. However, with these homemade disinfectant wipes, you can steer clear of chemicals without giving up the convenience of a quick cleaning solution!
Their isopropyl alcohol base is a powerful disinfectant, helping protect against bacteria, viruses, and fungi. Once the alcohol fumes dissipate, the lavender and lemon essential oils work together to create a tantalizing scent.
Use these convenient, portable wipes around the home or on the go – wherever you need a quick freshening up!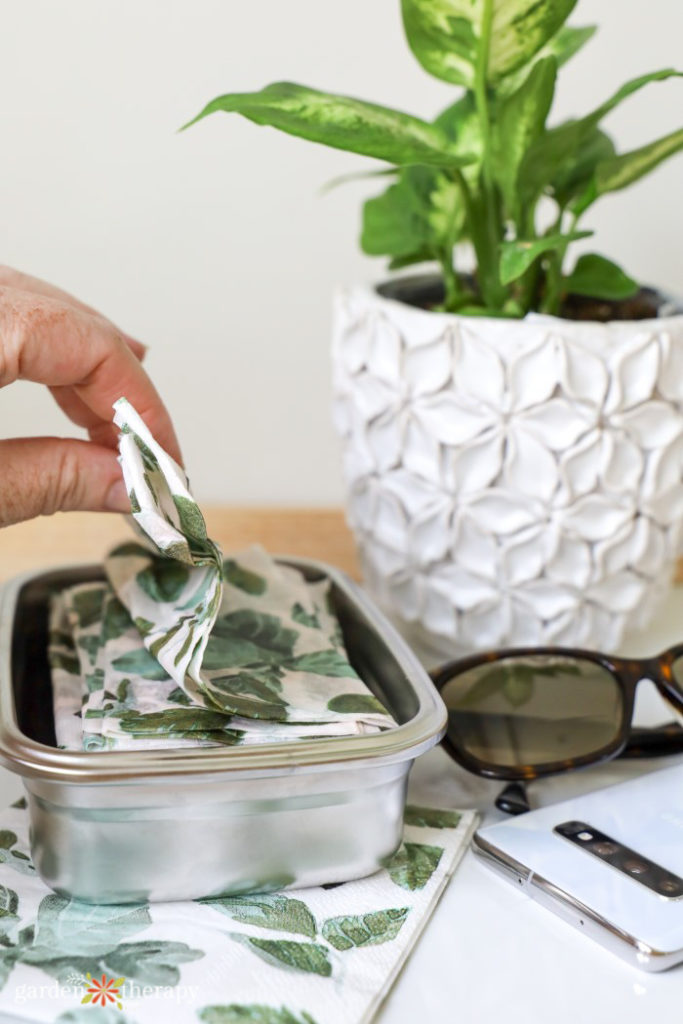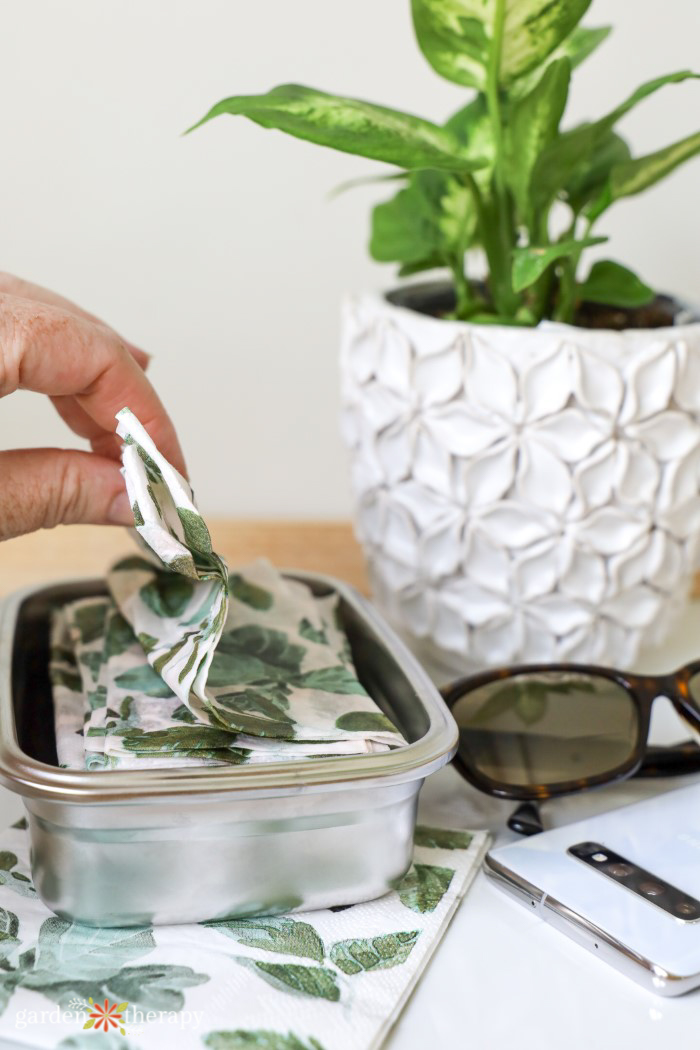 Pine is amazing for respiratory health, so I'll happily breathe it in while I'm cleaning! I made a super simple pine needle all-purpose cleaner by infusing alcohol or vinegar.
The effect is a refreshing, wintery scent that smells amazing, especially during the colder months. You can use this cleaner in the kitchen, bathroom, and floors, or keep it on hand to wipe up any spills, dirt, and debris.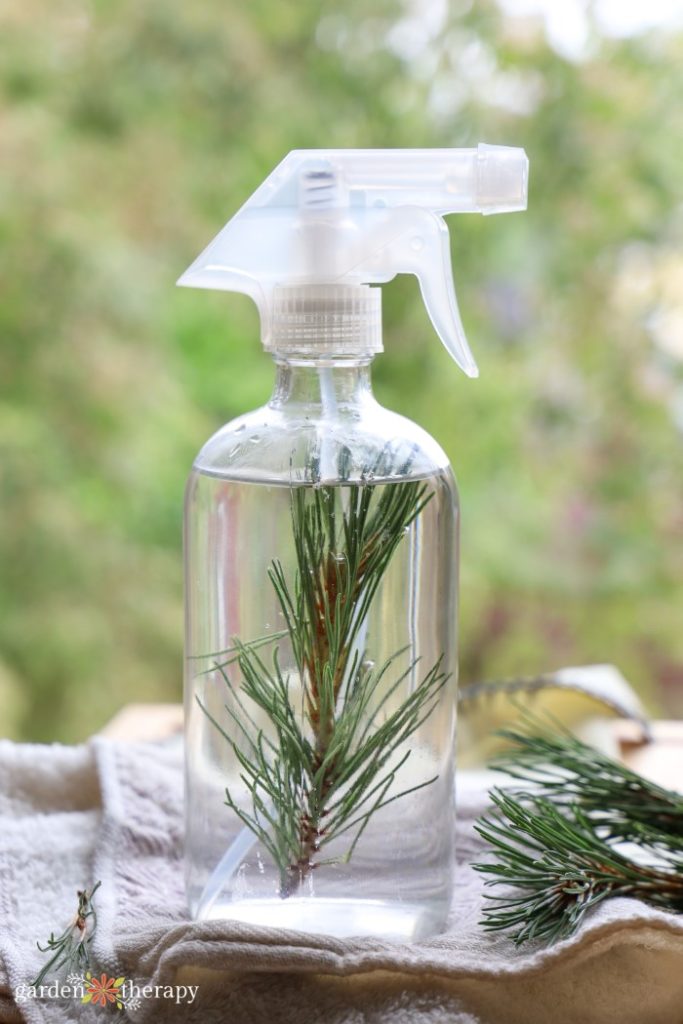 Unless it's homegrown, we often have little knowledge about where our produce really comes from. Rinsing with hot water can get rid of visible dirt and debris, but what about hard-to-remove waxes, pesticides, and herbicides?
This fruit and vegetable wash helps give you peace of mind while keeping your produce fresh and free from unwanted additives.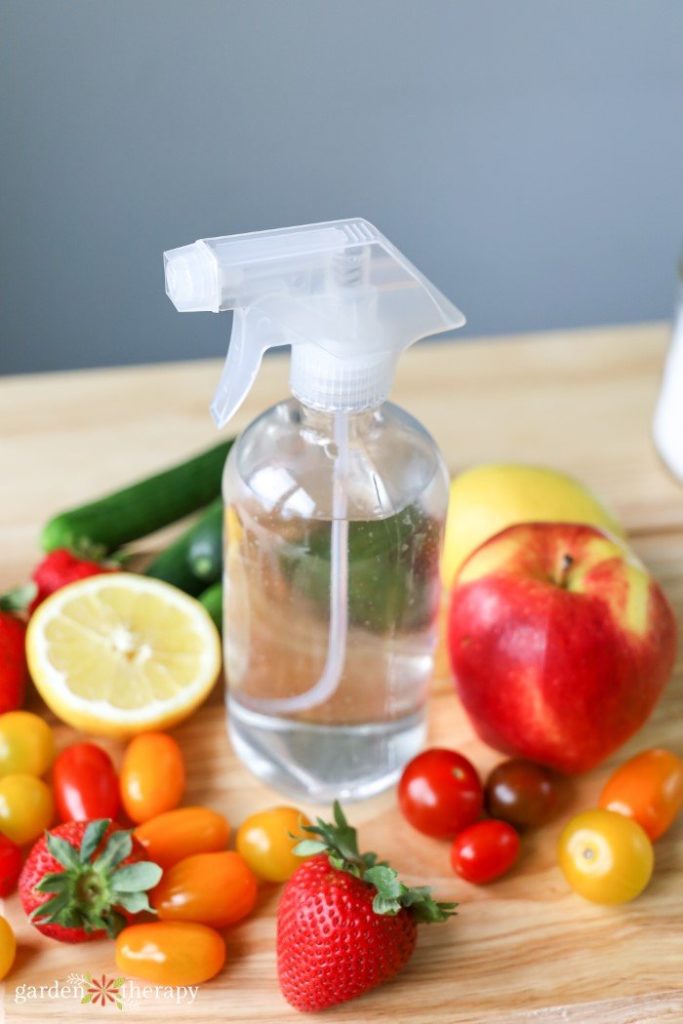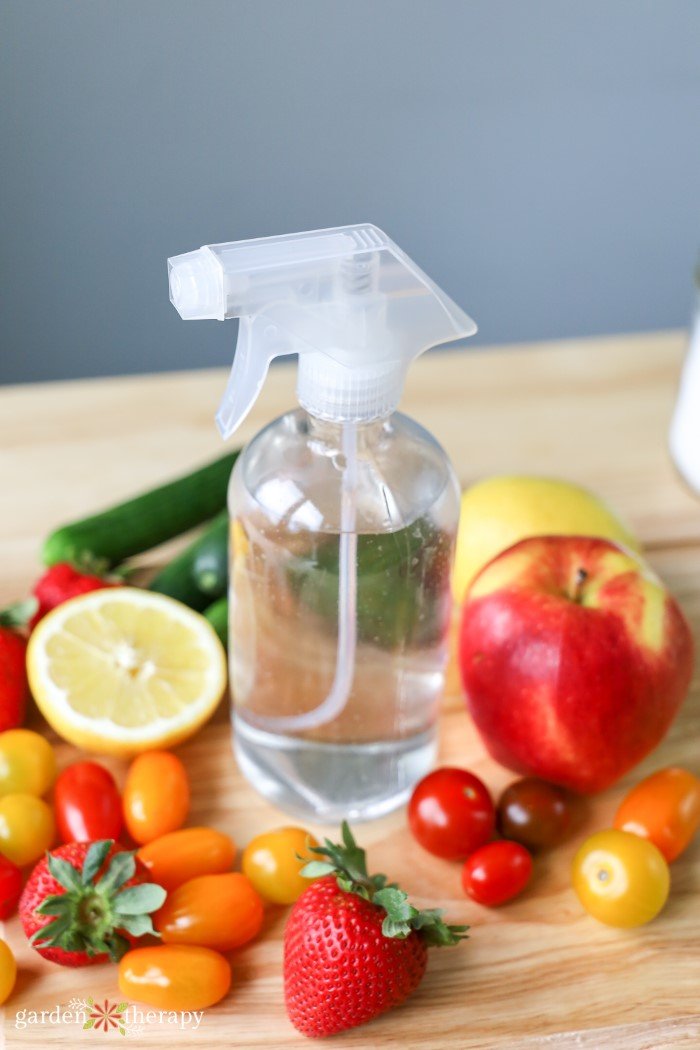 This soap is one of my favourite eco-friendly cleaners. Its biodegradable components are a perfect addition to a greener lifestyle.
Most commercial soaps include ingredients that contaminate water systems and the surrounding areas. This biodegradable soap recipe doesn't cause harm to the environment.
Bonus, it's multi-purpose and smells fabulous!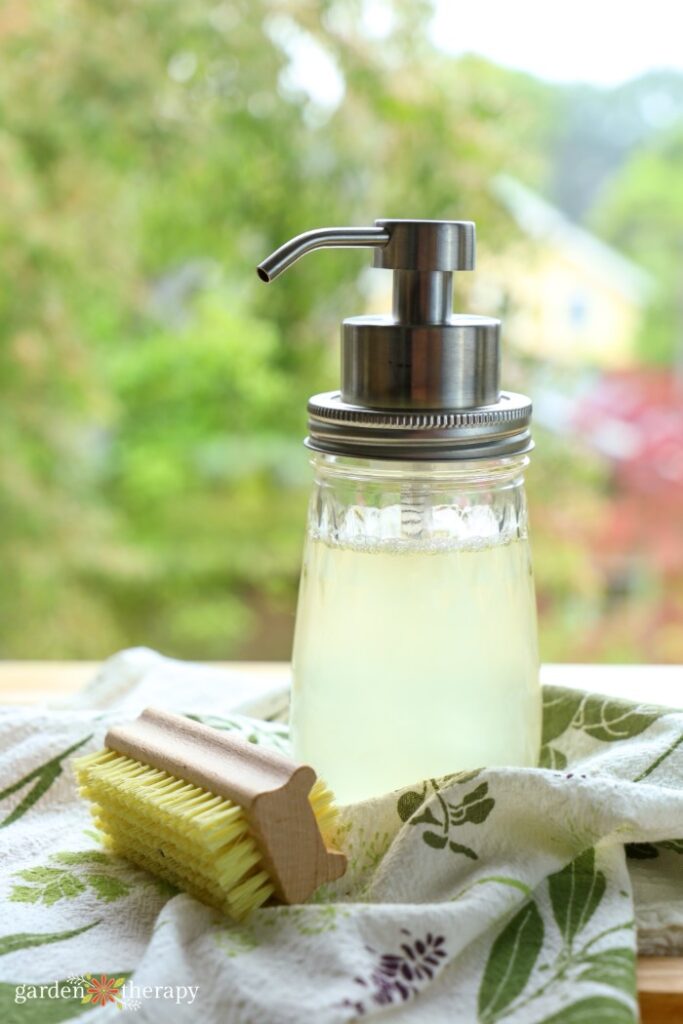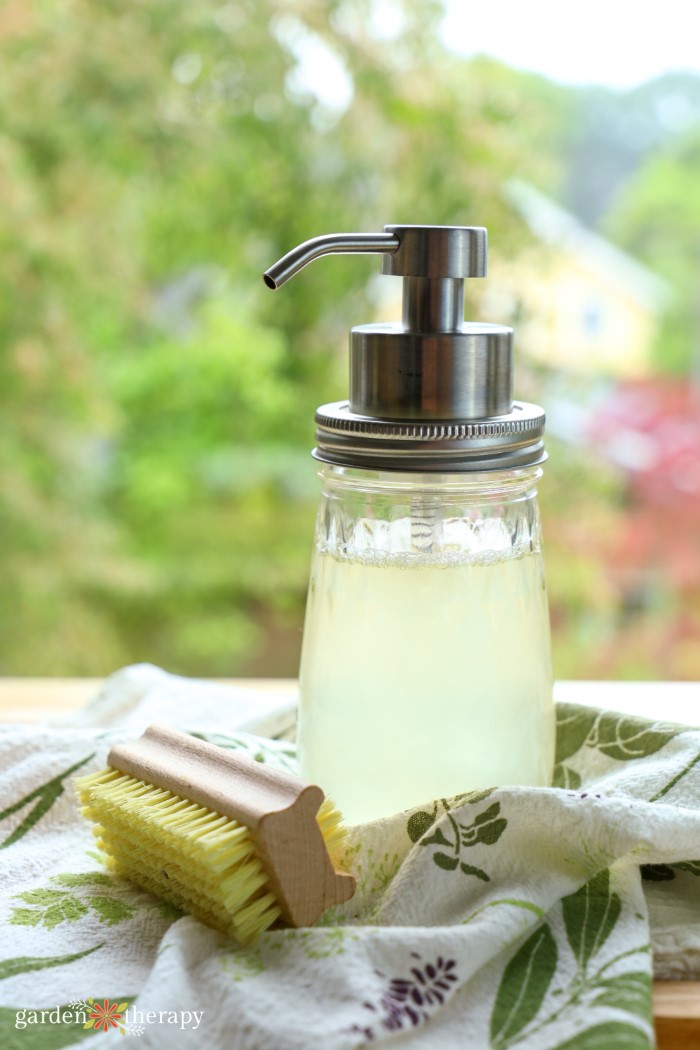 These lavender dryer bags are a DIY dream! They're simple to make and are guaranteed to leave your clothes smelling fantastic.
Normal dryer sheets contain harsh ingredients that can irritate your skin. These homemade dryer sheets combat that by using soothing lavender that you can grab right from your garden!
Plus, these bags are more eco-friendly than your traditional dryer sheets. While a dryer sheet is a one-and-done product, these lavender dryer bags will keep your clothes smelling divine for up to 10 washes.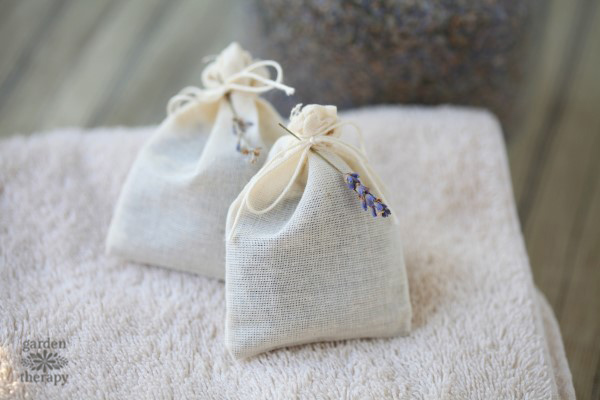 Ramp up your green cleaning products with this delicious all-purpose cleaner. This natural cleaner is my go-to for a reason; the vinegar properties make it a super effective anti-bacterial, while the orange & cinnamon scents leave your house smelling positively yummy.
Use this DIY natural cleaning product all around your house for a natural, effective clean.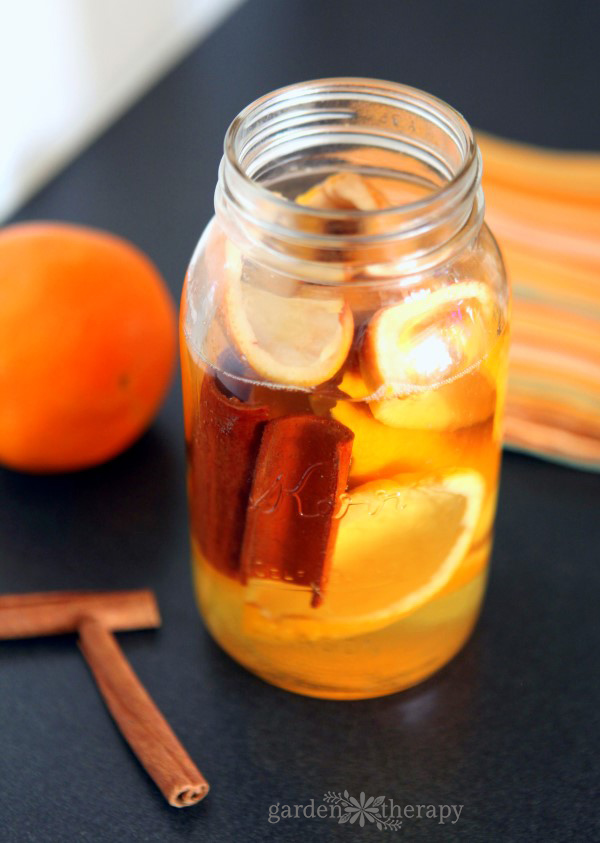 For the lavender lovers out there, this is the cleaner for you! This homemade cleaner includes alcohol which is considered the most effective natural disinfectant you can use. This means it is tough on bacteria while being gentle enough to be used on most surfaces (yes, even granite countertops).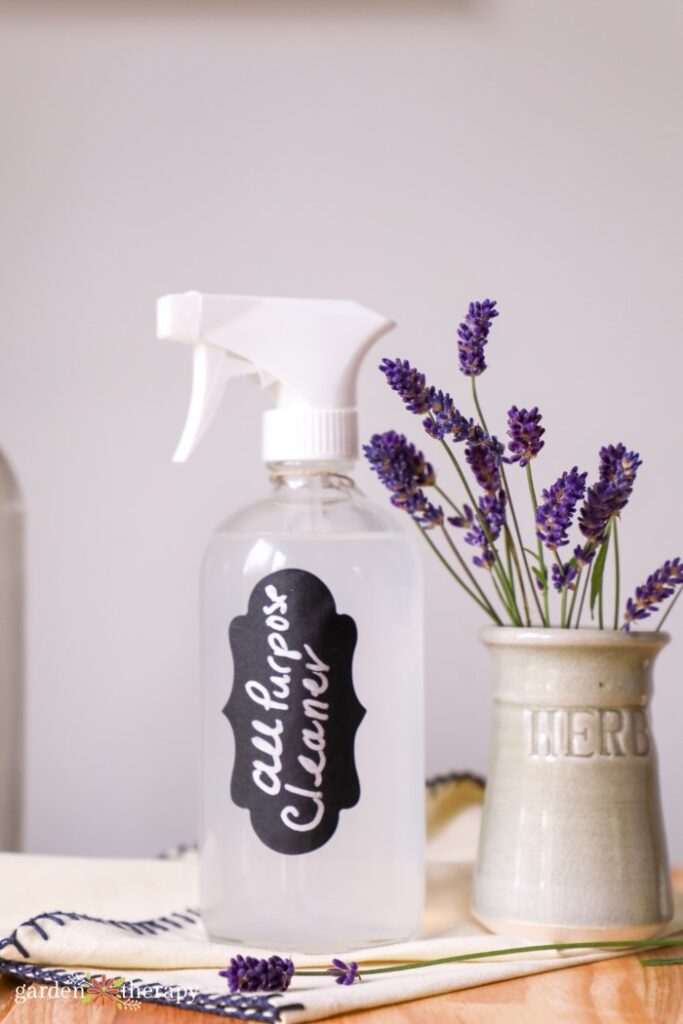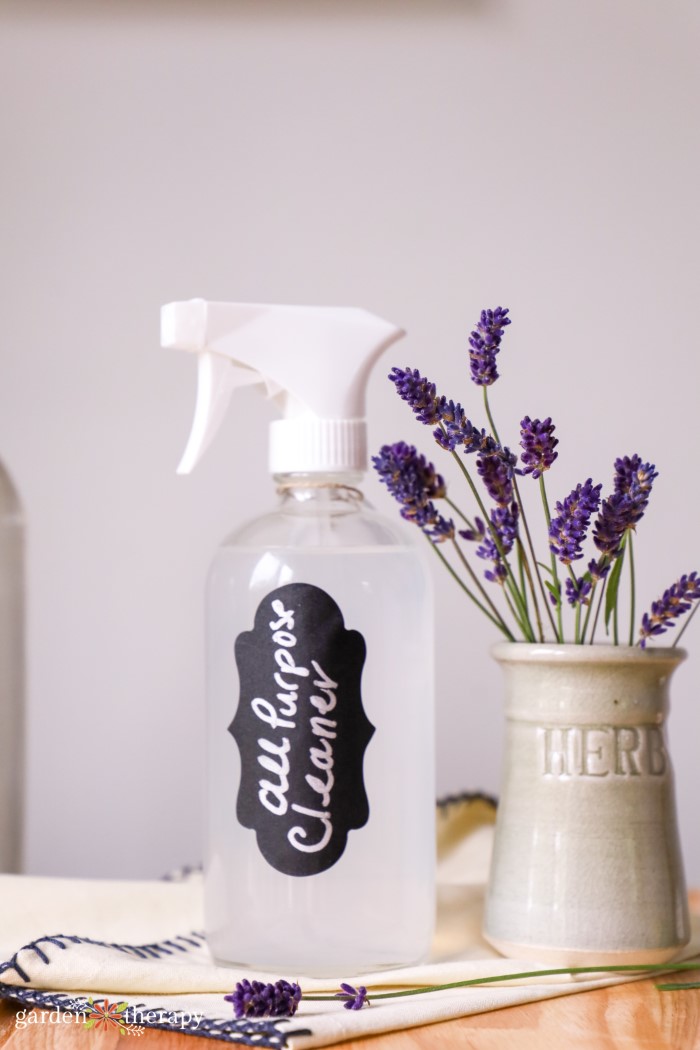 If a streak-free glass cleaner is what you dream of, I have the recipe for you (no it's not a myth!). This all-natural glass cleaner includes simple ingredients you have around the house that make for an excellent, green cleaner.
Simply spray your DIY cleaner on a clean cotton or microfiber cloth for a hassle and streak-free clean.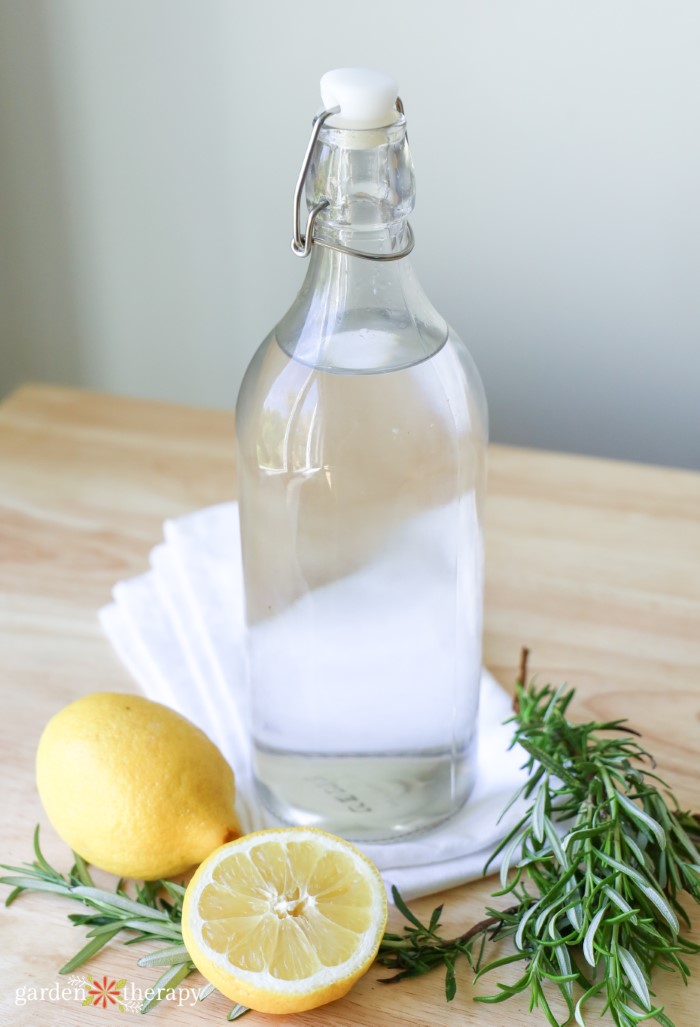 This lavender linen water is one of those amazing multi-purpose sprays. I originally made it as a way to spray my clothes while ironing. Made with lavender, it infuses the clothes with its amazing calming and fresh scent at the same time as ironing.
I also use it on my clothes to give them a freshening up or on other linens like towels and bedding. Honestly, you can use it however you like to deodorize. Think of it like a natural Febreze!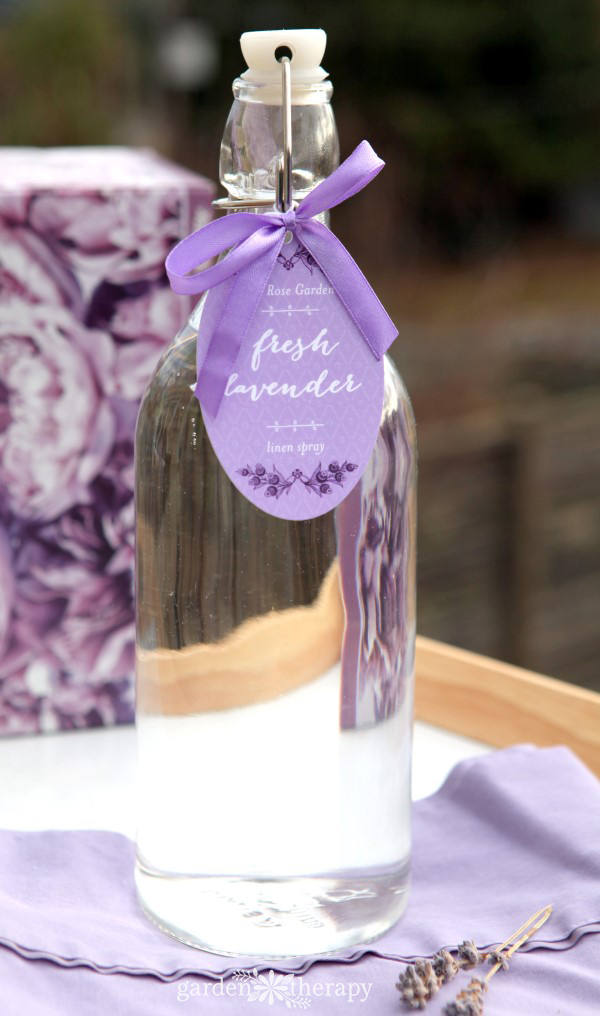 I like to make my cleaning a little more festive when the holidays come around. This pinecone diffuser is perfect once the chilly weather sets in. You can utilize the natural beauty of pinecones in this easy DIY diffuser.
You can fill your home with all kinds of warm and cozy fragrances. To add the scents, I use all kinds of dried spices and essential oils. You can customize it completely to your favourite seasonal scents.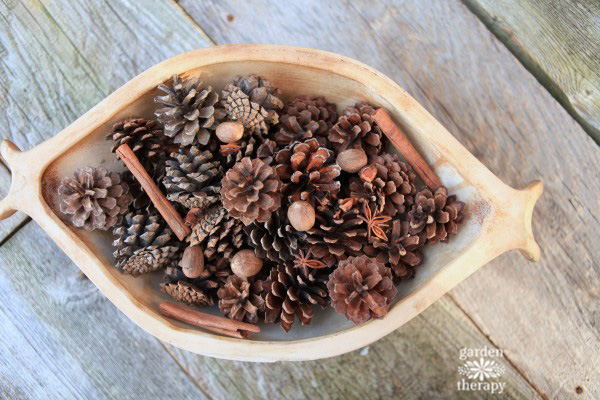 One time I found yucky, gross clothes moths all over my closet. It became apparent that they had made a home and the last thing I wanted to do was throw out my clothes if they stayed too long. After thoroughly cleaning the closet and all the clothes, I made these clay closet fresheners.
Using powerful essential oils, I hung up these adorable clay fresheners, and they've kept the moths away ever since. And every time I open my closet, it smells positively amazing!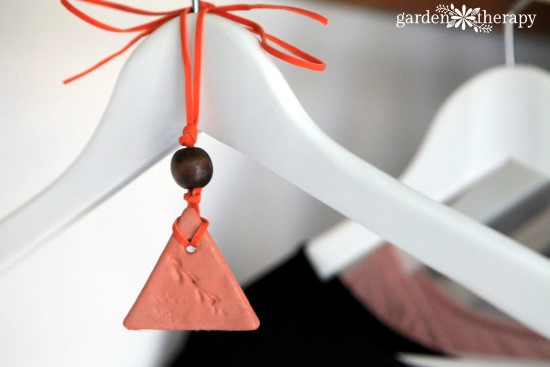 Frequently Asked Questions About Natural Cleaning Products
What is the Most Effective Natural Cleaner?
Alcohol is believed to be the most effective, and best alternative, to chemical cleaners. You can dilute isopropyl alcohol with hot water to eliminate some of that harshness (choose 99.9% isopropyl alcohol so it is still effective after dilution).

In my home, I use white vinegar for cleaning pretty much everything. It's also a highly effective disinfectant that can kill some bacteria and viruses. Most importantly, it's much cheaper than alcohol.

I also find it a bit unnecessary to disinfect everything. There's much to be said about not being overly concerned with sterilizing⁠—natural cleaning helps to maintain all the healthy organisms that also exist.

You can use either it in conjunction with essential oils to create a pleasant and long-lasting scent for your home. 
How Can I Naturally Sanitize My Home?
I like to use a variety of natural ingredients to sanitize my home. When in doubt, I usually use what I already have in the house. Alcohol, hot water, vinegar, essential oils, and even lemons all work to sanitize your home and keep it looking, and smelling, fresh!
How Do I Disinfect My Countertops Naturally? 
When sanitizing my countertops, an alcohol-based DIY spray is my go-to. Whip up a quick cleaner by adding equal parts alcohol and hot water in a spray bottle Next, add a few drops of the essential oil of your choice and you're off to the races!

Alcohol is a tough disinfectant while being gentle enough on my granite countertops. For a thorough, trustworthy clean, try my recipe for lavender all-purpose cleaner or granite cleaner. 
Does Tea Tree Oil Really Disinfect?
In simple terms, yes! Tea-tree oil makes for a safe and natural disinfectant to help clean your home. Tea-tree oil contains natural anti-bacterial properties that both sanitize and disinfect. Mix tea tree oil with equal parts vinegar and water in a spray bottle for a natural and effective cleaner.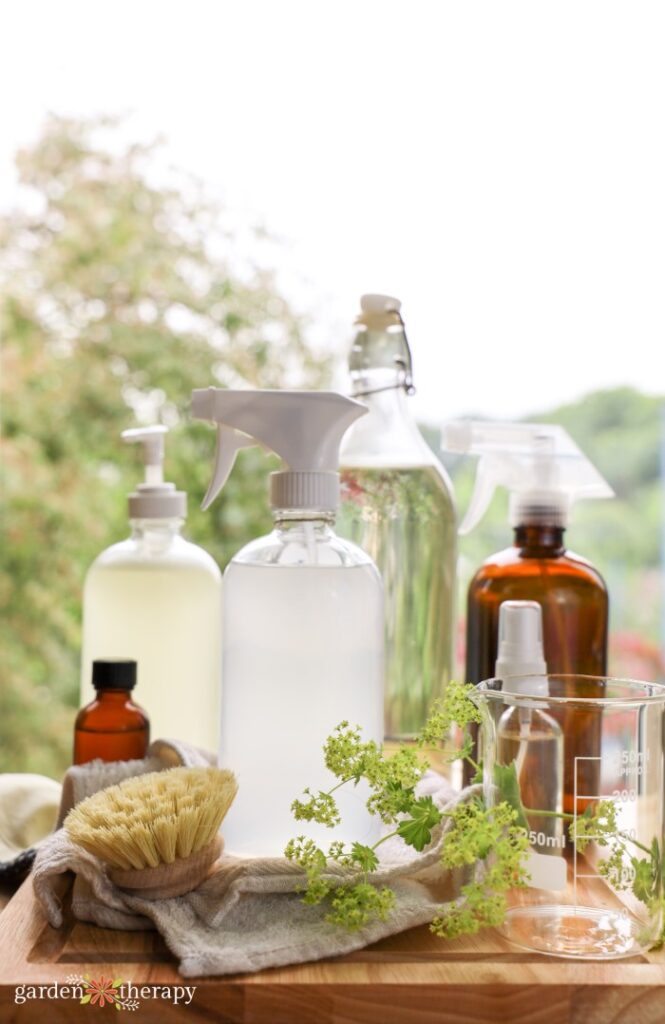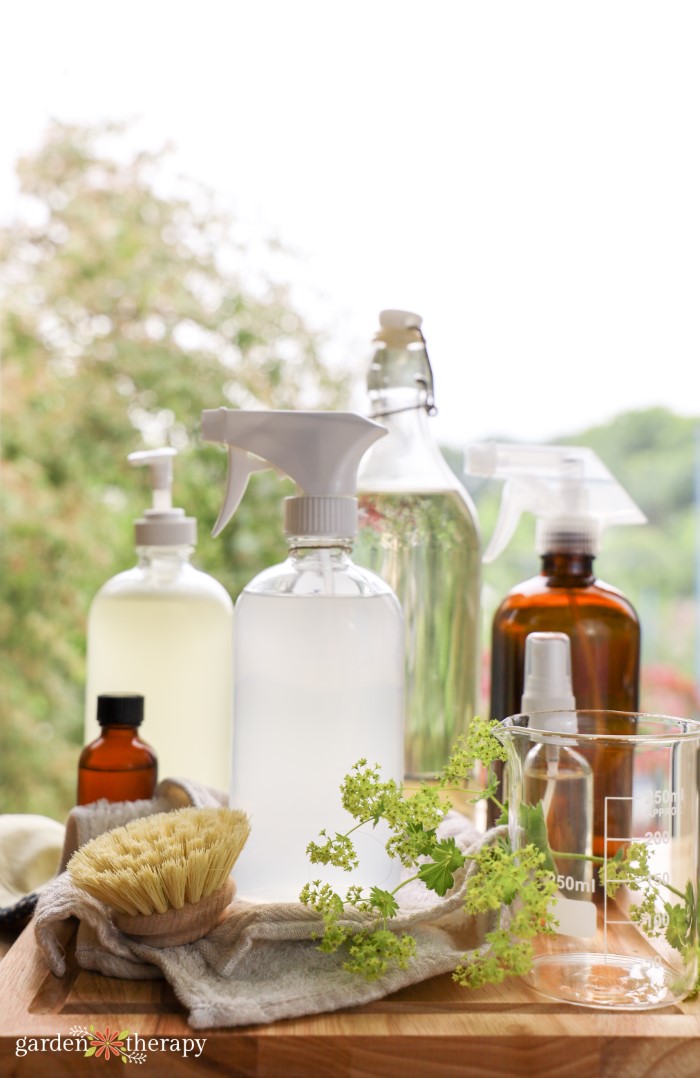 Let me know which of these natural cleaning products you make! I love making new recipes all the time and likely will add more to this list down the line.
More Ways to Keep Your Home Healthy and Happy