Now the temperature is getting cooler and the sunlight hours are shorter, it's time to start your fall garden preparation. I've written a lot on fall gardening, so I decided to put it all together into one convenient resource guide so that you can have all of my advice for the season at your fingertips. This fall garden checklist is a handy guide to help you wrap up your garden for winter and get ready for next year.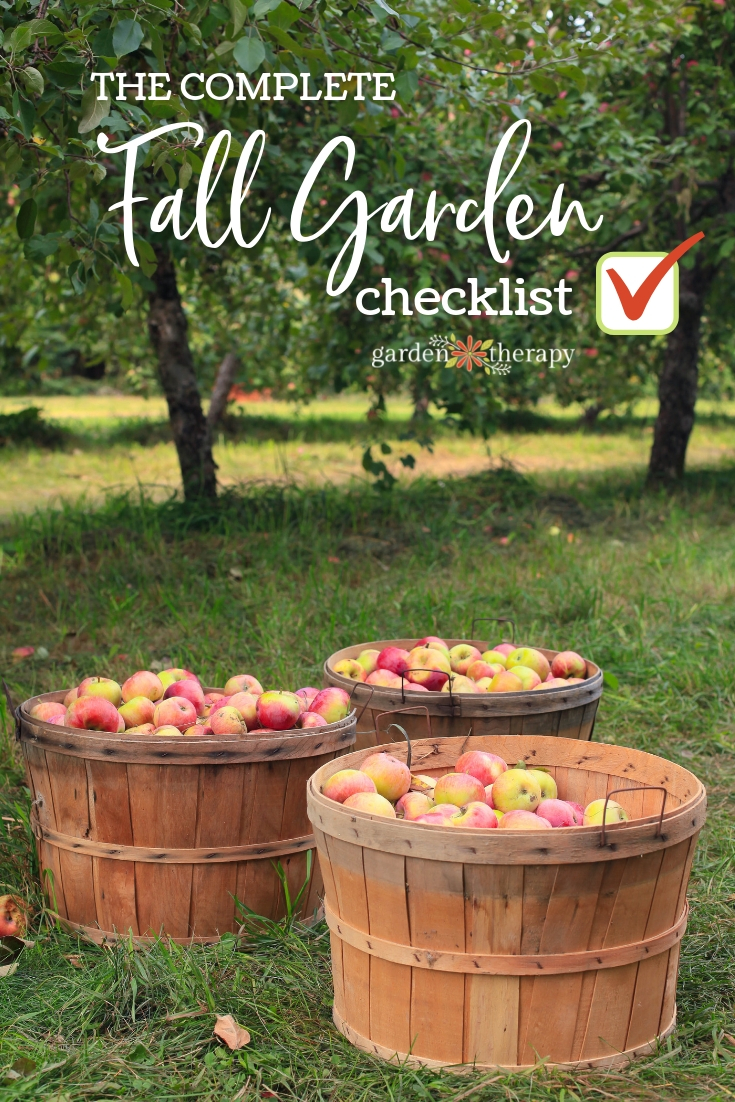 Some people like to clean everything up in the fall so that the garden looks neat and tidy as it goes into winter. Others prefer to let the seed heads stand and the leaves fall where they may. Either way, you'll want to clean up anything that has disease or pest damage so that it doesn't overwinter in your garden.
Clean Up the Leaves
As this summer was uncharacteristically hot and dry, there were a lot less fungal problems in the garden than usual but there was a much higher incidence of pests. Spider mites, aphids, leafhoppers, and friends went crazy in the garden this year. To make sure that they don't have a chance to overwinter, I'm cleaning up all of the fallen leaves and adding them to the compost.

Think About Spring—Bulbs, That is
Shop catalogs or visit your garden stores to find the bulbs that you want to plant in your garden next spring. Here are some ideas of bulbs and locations to plant them that might be helpful:
Grow Fall & Winter Vegetables
Vegetable gardening doesn't have to end in the fall. Here are some resources on last-minute vegetables you can grow in the fall as well as overwintering favorites like garlic and broad beans.
Save the Seeds
As your plants go to seed, it's time to collect them! See how in these articles on seed collecting:
And here are some free printable envelopes for your seeds (including an adorable Valentine):

Preserve the Ornamental Garden
Preserve flowers, leaves, and seed pods for crafting so you will have all the materials to make handmade gifts, wreaths, or home and garden decor.

Plant Your Shrubs
Fall means it is time to plant shrubs and evergreens. It's a great time to allow them to develop a strong enough root system so that they can get through the winter in their new homes.
Amend Soil
Fall is the perfect time to amend your soil. You can scratch in an inch of compost everywhere, or brew some of your own compost tea. Plenty more details in these articles:
Fall Lawn Care
Take care of your lawn. If you think of what the natural life cycle is of grass—without us mowing it—the plants would have flowered, set seed, and dropped the seeds to the ground in order to supply new growth for the following year. As you have likely been mowing your lawn instead of letting it grow long and go to seed, it needs your help in order to continue filling in and replacing old plants. In the fall, you should spread seeds over the lawn with a light dusting of soil over top. For more about how to care for your lawn, please see the organic guide to lawn care:

Plan Your Garden (on a Budget)
Fall is the time to do garden planning whether you are on a budget or not. Read more about that here:
Divide Perennials
One of the ways to save money in the garden is to get your plants for free! Dividing perennials increases your plants but also helps them to fill in, improve blooming, and avoid overcrowding. For the healthiest perennials, dividing them in the fall is an essential fall task.
Whew! There you have it! A whole lot of tips and tasks to get your garden gorgeous this fall. Did I miss something or do you have a question about your garden specifically? Leave me a comment and I'll do my best to get you some answers!