Treat yourself to an herbal tea garden this year! Whether you have a small space or large garden, you can always fit in a tea garden. Growing herbs is simple and low maintenance, and they can be used in so many ways. An herbal tea garden moves beyond rosemary, sage, and thyme, to a whole host of sweet and flavorful—and deliciously decorative—plants that can be harvested for tea.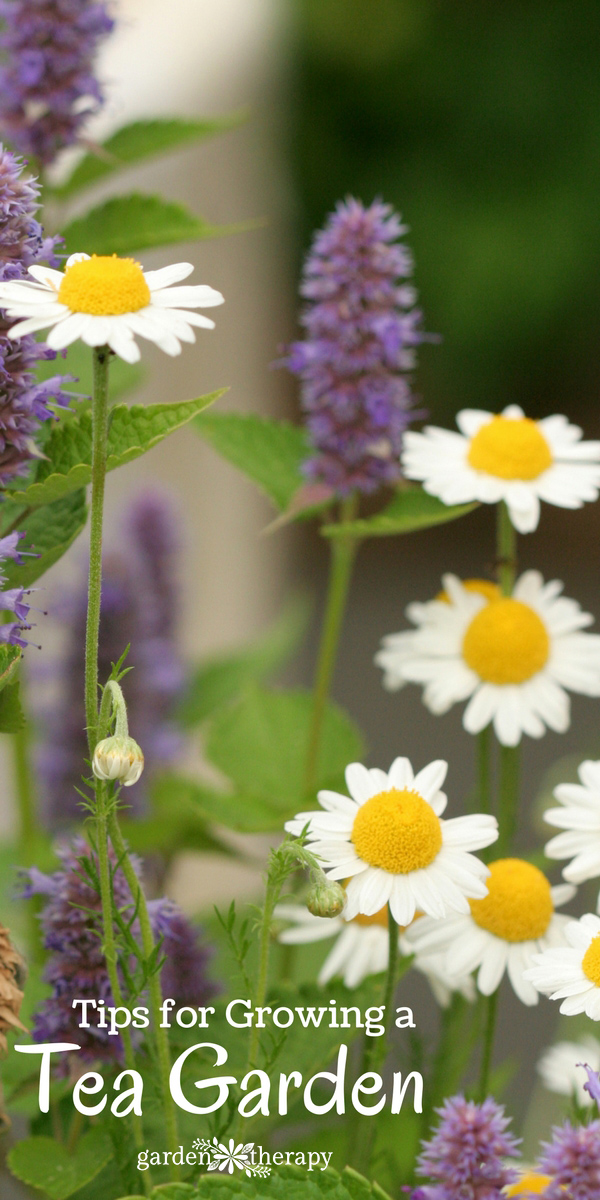 Read on for ideas on the best flowers and herbs to plant in your tea garden, how to harvest and preserve herbs for tea, and how to steep the perfect cup.
There is a huge list of herbs and flowers that make wonderful tea. Some have healing benefits and some are just plain yummy. As a seasoned herbal tea drinker, I have a number of perennial favorites (or annual favorites, as the case may be) that I grow year-after-year in my home garden.
Here are my absolute favorite herbs and flowers for tea:

DIY VIDEOS
Chamomile
Chamomile is a good go-to tea just before bedtime because it is purported to promote sleep and treat insomnia. It may also reduce anxiety and soothe an upset tummy.
Dandelion
Dandelions aren't just annoying weeds, they are actually a nutrient-packed superfood! They are rich in potassium and well as Vitamins A, C, and K, and dandelion tea is often used to help treat digestive problems.
Lemon balm
Lemon balm has a citrusy, slightly minty taste that makes for a delicious tea. It is also thought to have stress-reducing properties, so sip this when you need to calm your mind.
Rosehips
Rosehip tea has a tart, fruity flavor and is packed full of nutrients such as Vitamin C, calcium, and zinc.
Mint
This herb is one of the most popular for tea, and it's no wonder why. The comforting flavor of mint tea is perfect for a hot drink on a cold day. It can help soothe a sore throat and is thought to improve sleep.
Pineapple sage
Pineapple sage makes a lovely tea because it has the sweet taste of pineapple combined with the earthy flavor of sage. It also contains antioxidants, so this is a sweet treat you can feel good about putting into your body.
How to Harvest and Prepare Herbs for the Perfect Cup of Tea
Use good, sharpened pruners to snip your herbs early in the morning, as this is the time of day when plants have the highest water retention and will taste the freshest. If you are making tea with flowers, choose flowers that are mature and in full bloom.
To prepare tea with fresh herbs, it's best to first bruise the herbs a bit using a mortar and pestle. Then add about a tablespoon of herbs to your favorite teacup and pour boiling water over top of them and allow to steep for about five minutes (you can give it a bit more or less time depending on how strong you like your tea).
You can also use dried herbs to brew tea. Follow the directions above but skip the mortar and pestle step.
You can also use the herbs to make sun tea right out in the garden. Or steep yourself in a relaxing tub tea that soothes the sore muscles you worked so hard digging and weeding.
Small space? No problem! Plant your tea herbs in a strawberry pot or turn this mosquito repelling planter into a tea garden with some of the herbs listed in the previous articles.
No garden space outside? Grow inside! You can create this vertical herb garden and harvest tea all year round.
Pin it!
If you want to pin these articles for later, here you go!