Today I'm happy to share a recipe that I have been perfecting for a few years. I am finally ready to post it here with the support of iHerb, who has graciously provided me with the ingredients I needed to test out the many variations. I love this recipe and am thrilled to share how you can make a topical magnesium lotion to help with pain management and improve sleep.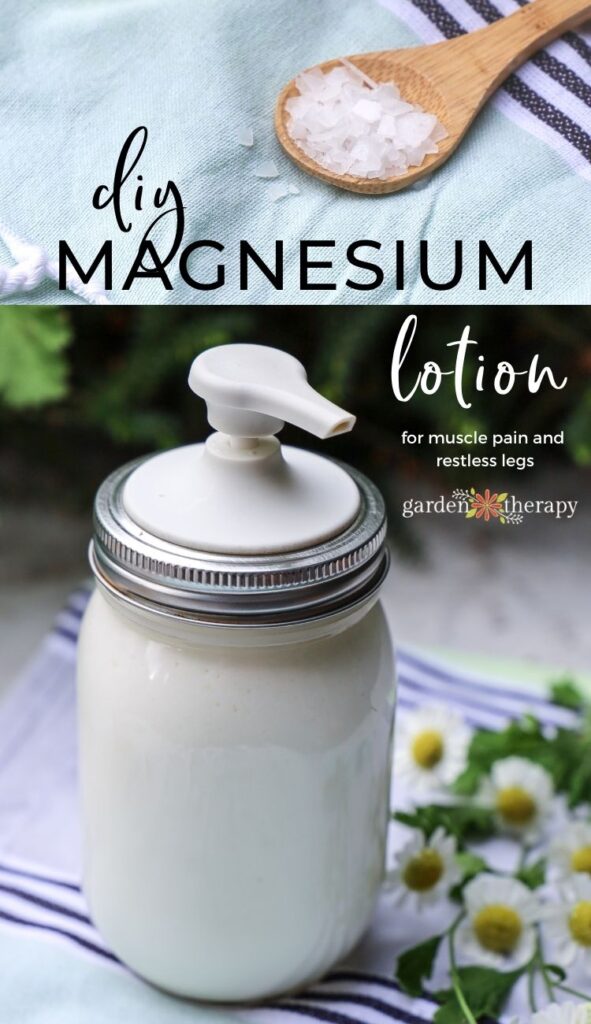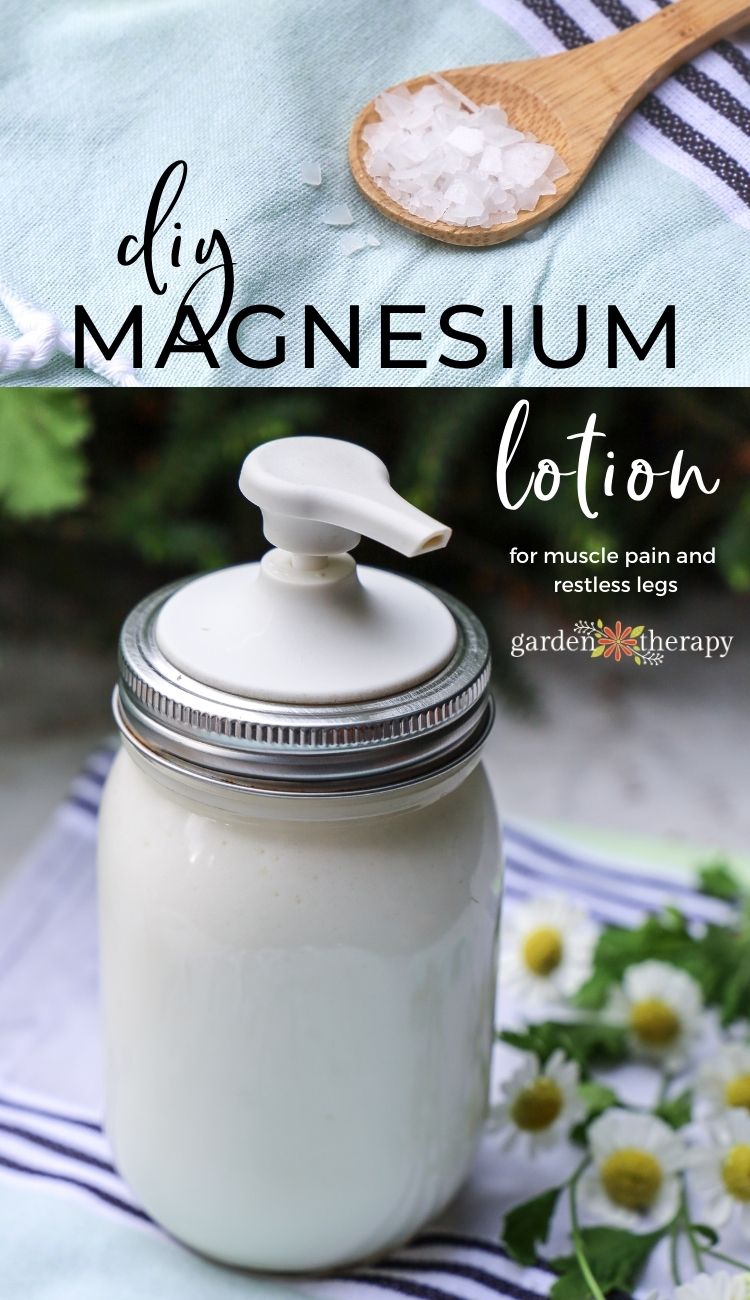 I've long been a proponent of Epsom salt baths. Over the years I've shared many recipes for botanical bath salts and tub teas in which the main ingredient is Epsom salts.
I started taking Epsom salts baths when it was recommended to me by a physiotherapist to help treat pain from fibromyalgia and restless leg syndrome.
Over the years, I found that an Epsom salt bath was absolutely essential after a day of hard work in the garden. I would be so sore the next day if I didn't have a soak the night before. By simply filling up a warm bath and adding Epsom salts and herbs, I would sleep well and wake up the next morning in great shape.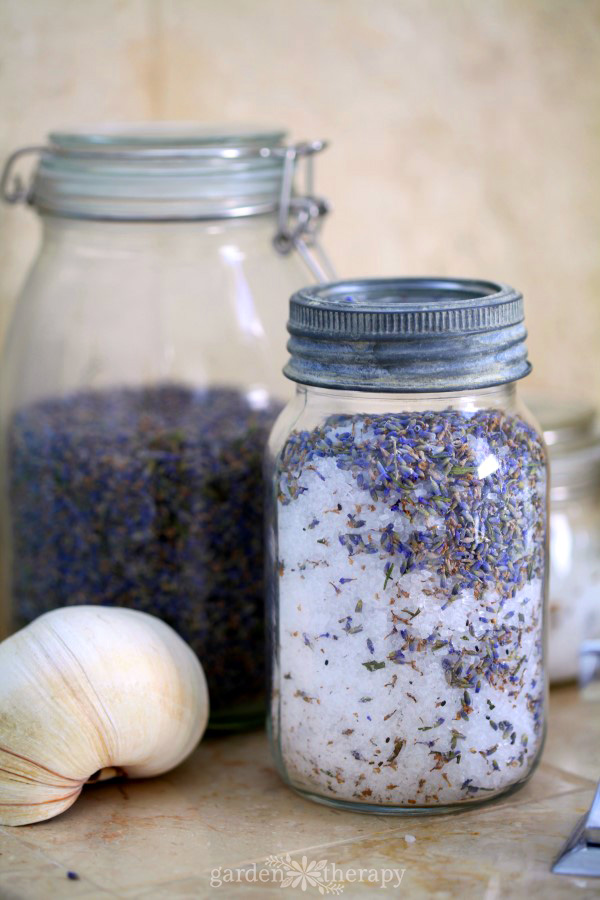 Epsom salt is the common name for magnesium sulfate adopted in Epsom in Surrey, England where it was first discovered. Epsom is home to lush mineral waters that attracted folks to come and bathe in the healing salts.
Magnesium sulfate has since been packaged and available in every grocery and drugstore to turn the home bath into a soothing mineral bath.
This post covers…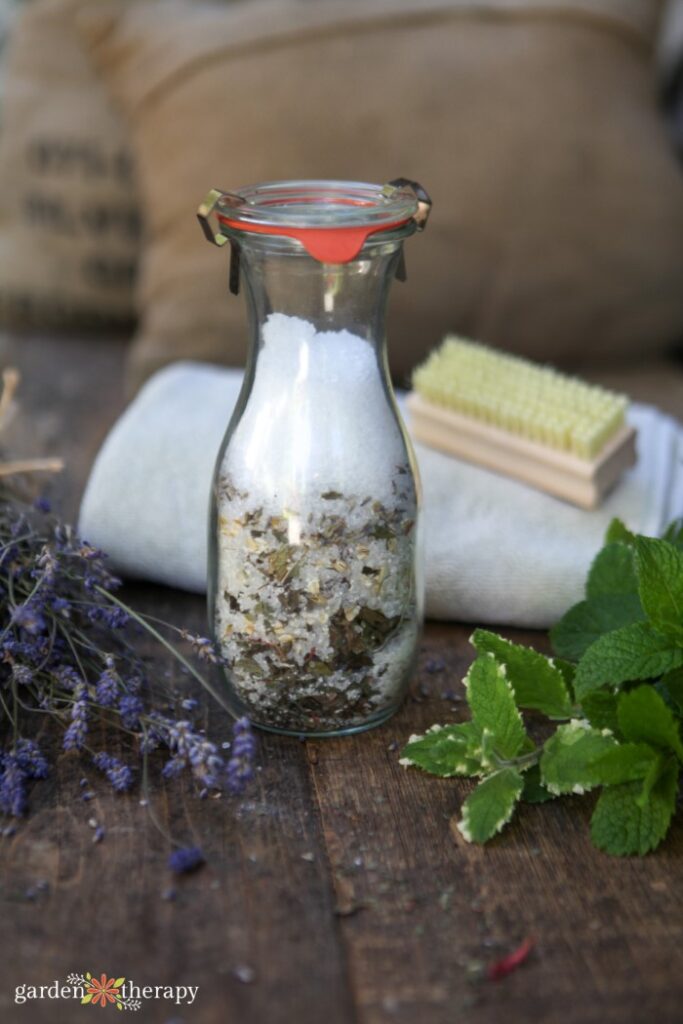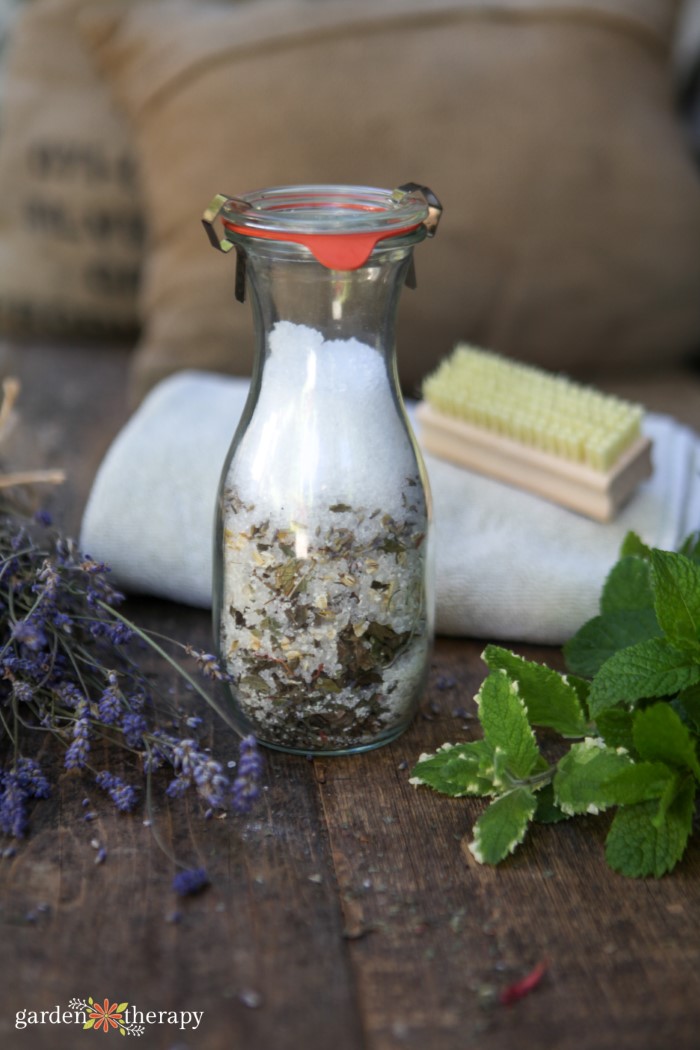 What Is Magnesium and How Much do I Need?
Let's start at the beginning. What is magnesium anyways? This mineral is the 7th most abundant mineral on the planet. You can naturally find it in many foods, but our daily intake is much less than what it once was thanks to changing diets, industrialized agriculture, and the advent of processed food.
Foods with Magnesium
Here are a few of the foods to consume regularly, along with their magnesium content:
Pumpkin seeds – 1 oz has 168 mg
Dry-roasted almonds – 1 oz offers 80 mg
Dry-roasted cashews – 1 oz has 74 mg
Cooked and shelled edamame – 50 mg per half cup
Cubed avocado – 1 cup has 44 mg
Baked potatoes with skin – 3.5 oz has 43 mg
Recommended Daily Intake of Magnesium
To avoid the risk of developing chronic disease, the recommended daily intake for adults is between 300 mg/day and 450 mg/day. Some experts say this is a basic amount but the body may need more to operate optimally.
Paleolithic nutrition from the former hunter-gatherer cultures shows that a normal diet included about 600mg of magnesium every day, which is higher than today. Our basic mechanisms to regulate magnesium in the body were developed millions of years ago. Those mechanisms are still the same, and researchers say this means our bodies are best suited to higher levels.
Magnesium Lotion Benefits
Magnesium is responsible for helping many functions of the body.
Some benefits include maintaining:
proper nerve and muscle function
proper immune function
strong bones
regular heartbeat
blood glucose levels
When magnesium is deficient in the body, it can cause heart disease, osteoporosis, and has been associated with type 2 diabetes.
Magnesium also influences bone cells, active vitamin D levels, and the function of other glands that regulate the natural homeostasis and balance of bones. Getting more of this mineral may improve bone density.
Additionally, magnesium deficiency can correlate to increased neurotransmitter release and vasoconstriction. This is associated with migraines.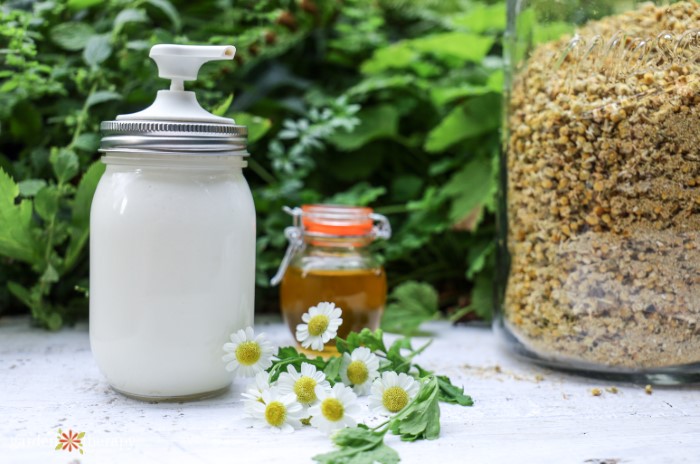 Applying Magnesium to Skin
There's limited evidence that soaking in an Epsom salts bath helps to raise your body's magnesium levels. Magnesium flakes, or magnesium chloride, show a stronger ability to be absorbed through the skin. However, there is still a question as to how much is absorbed.
If you are deficient in magnesium then your best to take eat magnesium-rich foods and/or take a magnesium supplement. BUT, if you have aches and pains or fidgety limbs, the topical application of magnesium can be quite helpful.
My Experience
Since finding that magnesium oil has helped me, I have been working on a lotion recipe that feels good on my skin. The final result is this chamomile-infused magnesium cream. I use it to help ease aches and pains and counteract restless leg syndrome.
For anyone who has fibromyalgia, soft tissue pain, or restless muscles, it can be hard to settle those parts of the body down at night in order to get a good sleep. This is what I have found works for me when I use it nightly.
And it's not just me! A study on fibromyalgia patients found that when they used magnesium spray for 4 weeks their pain levels improved. The highest improvement was recorded at 2 weeks and again at 4 weeks.
My lotion made with chamomile and magnesium oil help to calm down the soft tissue and nerves allowing a more peaceful sleep. I hope that by sharing this recipe, it helps you as well!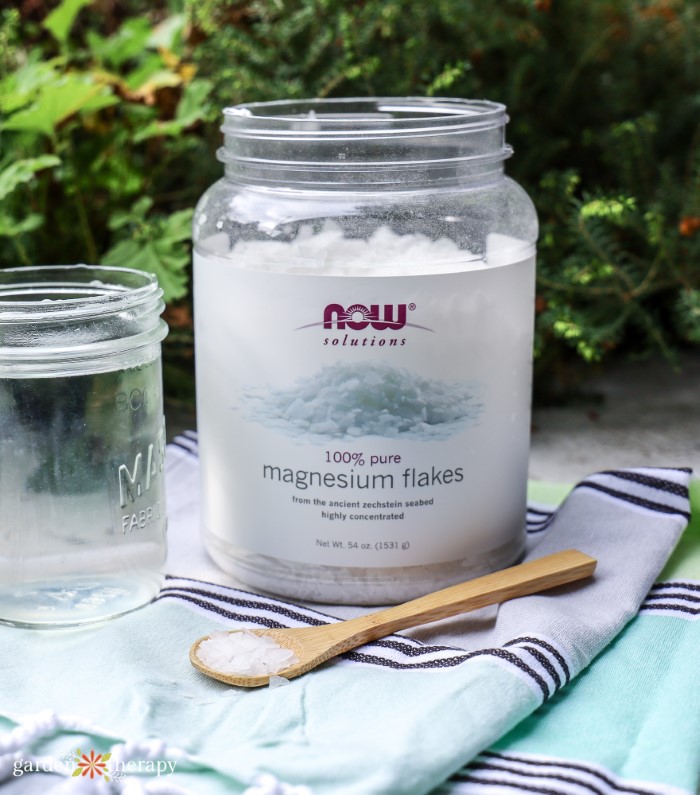 Magnesium Lotion Ingredients
Magnesium Flakes.
Now Foods, Solutions, Magnesium Flakes are what is typically used to make magnesium oil. These highly concentrated flakes contain approximately 19 grams of elemental magnesium per cup.
Chamomile Flowers
While I typically grow chamomile in my garden to harvest for tea and infused oils, I bought a large bag of Frontier Natural Products, Organic Whole German Chamomile Flowers to make this recipe. Chamomile is soothing and calming to the skin, making it a good addition to magnesium lotion.
Grapeseed Oil
Now Foods, Solutions, Grapeseed Oil is a fast-absorbing, dry oil. Magnesium oil is quite greasy feeling, so the oils that I pair with it in this lotion helps to combat that, making the overall feel of the lotion very balanced.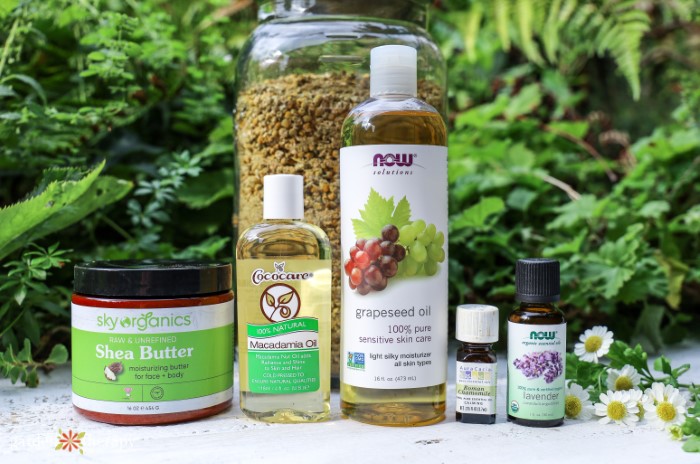 Macadamia Nut Oil
Cococare, Macadamia Oil is another dry oil that doesn't have a greasy feeling and absorbs quickly.
Shea Butter
Sky Organics, Shea Butter protects and deeply moisturizes the skin. Magnesium oil can burn and be drying so the shea butter helps to counter this.
Lavender Essential Oil
Now Foods, Organic Essential Oils, Lavender is my favourite essential oil for skin care products because it is subtle and pleasant. The aroma of lavender also helps with sleep.
Chamomile Essential Oil
To add a little extra chamomile to the mix, you can add in some Aura Cacia, 100% Pure Essential Oil, Roman Chamomile. This oil is very expensive per oz, so it's optional to add to this recipe. You should get plenty of chamomile benefits from the infused oil.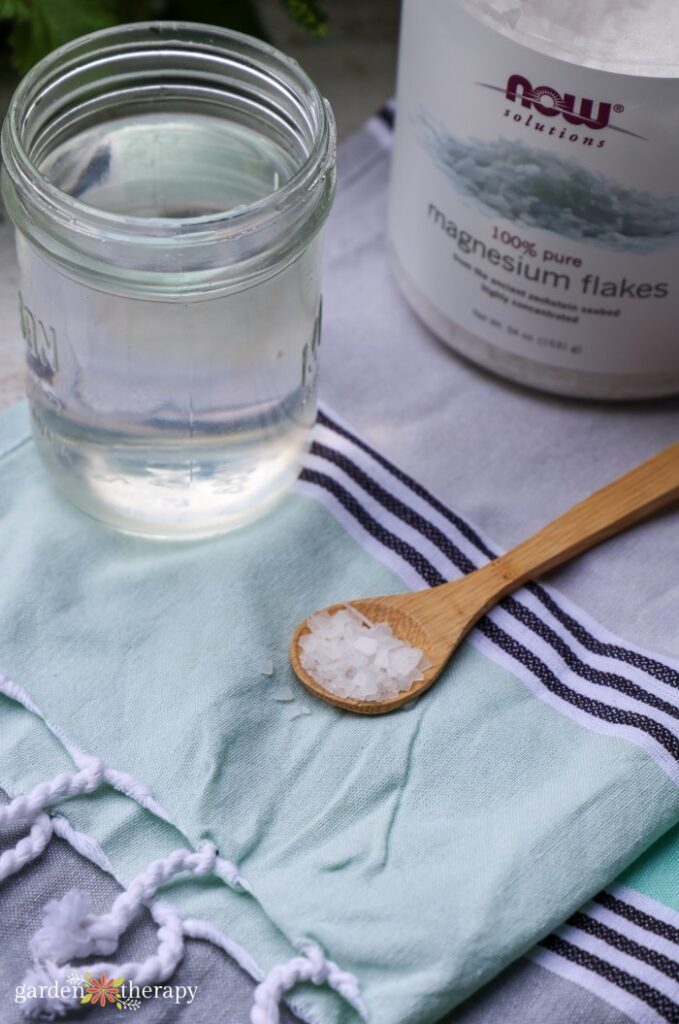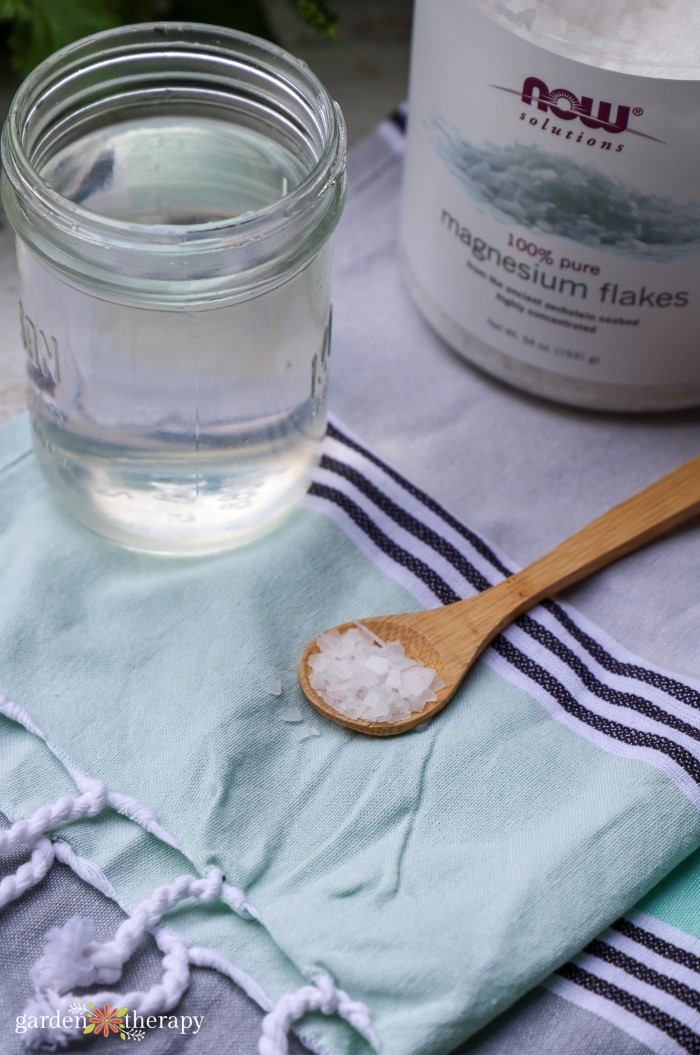 How to Make Magnesium Oil
The first step in making the solution is to make magnesium oil. Magnesium oil is made by mixing distilled water and magnesium flakes, or magnesium chloride. It produces an oily-feeling clear liquid.
The general recipe is to dissolve one part magnesium flakes in one part distilled water.
You can then add the magnesium oil to the spray bottle and apply it directly to the skin.
This seems easy enough, however, it can give a prickly, itching, or burning feeling on the skin. If I'm having restless leg syndrome this is not necessarily a bad thing. The feeling is not damaging the skin it's simply a reaction to the magnesium.
Sometimes the prickly burning itching feeling is enough to stop my legs from being so restless. But, I much prefer magnesium in a lotion with other ingredients that help to buffer the burn and soothe skin.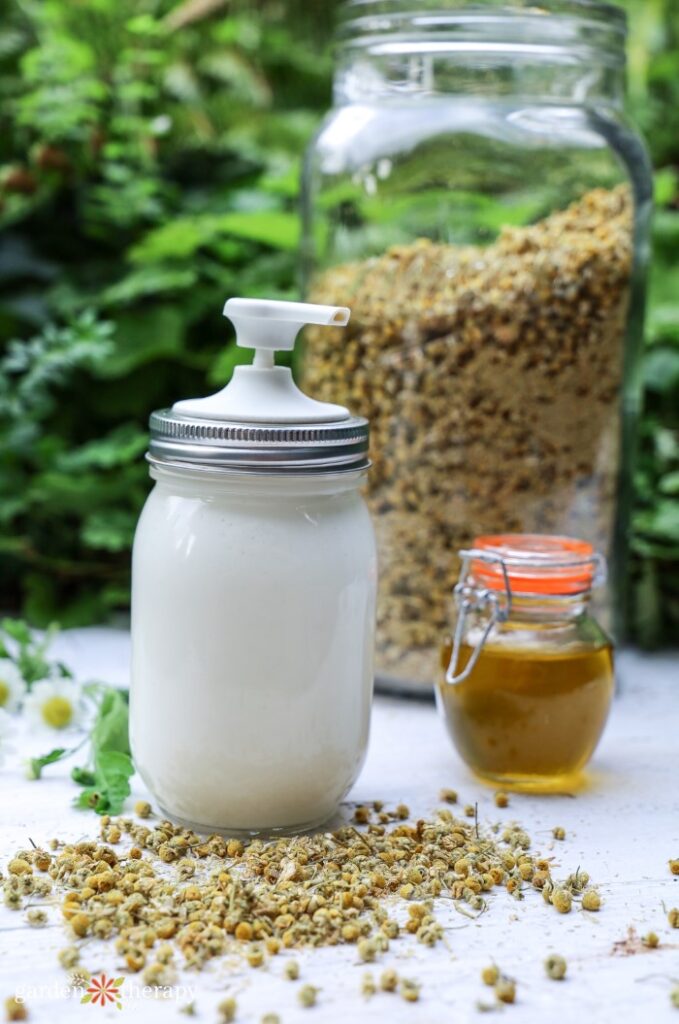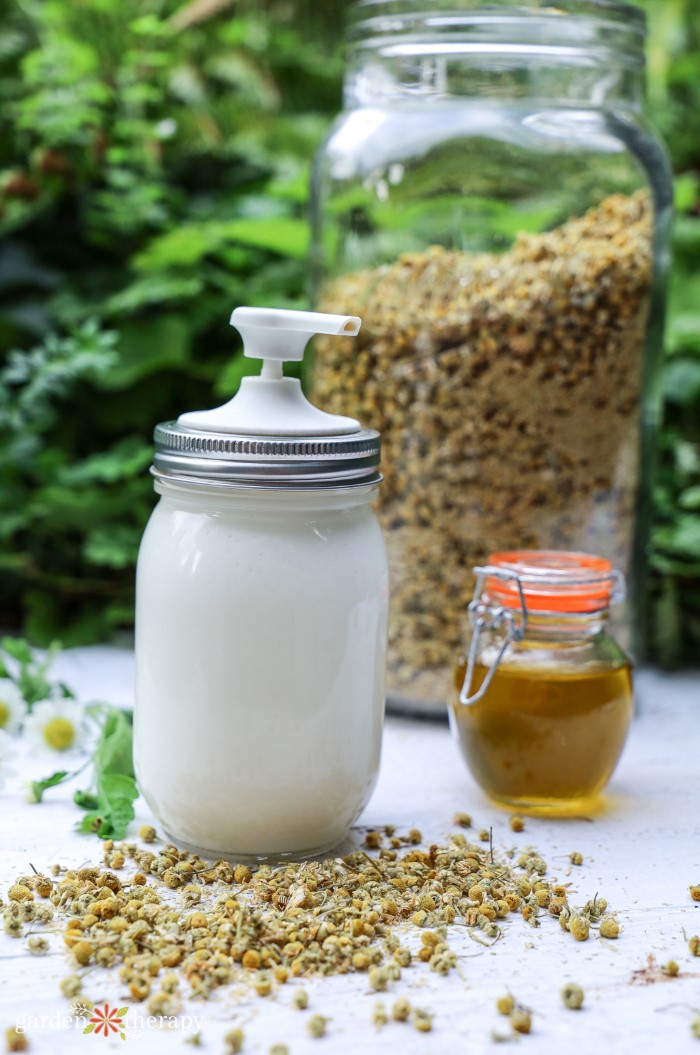 I like to make my magnesium oil double concentrated so I can use less magnesium oil in the recipe. I have made many versions of this recipe and find that with too much of the magnesium oil it's prone to separating. I've now got a recipe that stays emulsified and feels great on my skin while allowing the magnesium to help calm and soothe my aches.

How to Make Magnesium Lotion
Thankfully, you can make your own magnesium cream at home and reap all the benefits for yourself. This recipe is one I have spent years perfecting, and I can attest to its effectiveness.
Equipment
Beakers or other heatproof containers
Kitchen scale
Double boiler
Spatula
Electric mixer
Mixing bowl
Alcohol (to sterilize equipment and tools)
Ingredients
Makes 400 g
Aqueous Phase Ingredients
242 g distilled water
52 g double-strength magnesium oil
Oil Phase Ingredients
40 g grapeseed oil (infused with chamomile)
20 g macadamia nut oil
8 g shea butter
15 g ewax (emulsifying wax)
12 g cetyl alcohol (thickener)
Cool Phase Ingredients
8 g leucidal (preservative)
3 g essential oil (optional)
Make it!
Before you start, there are two ingredients that need to be prepared in advance:
Double-Strength Magnesium Oil Recipe
1 cup magnesium flakes
1/2 cup distilled water
Stir in a glass measuring cup to dissolve completely.
Chamomile-Infused Grapeseed Oil
To infuse the grapeseed oil with chamomile, fill a Mason jar 3/4 of the way full with dried chamomile flowers and pour oil over top.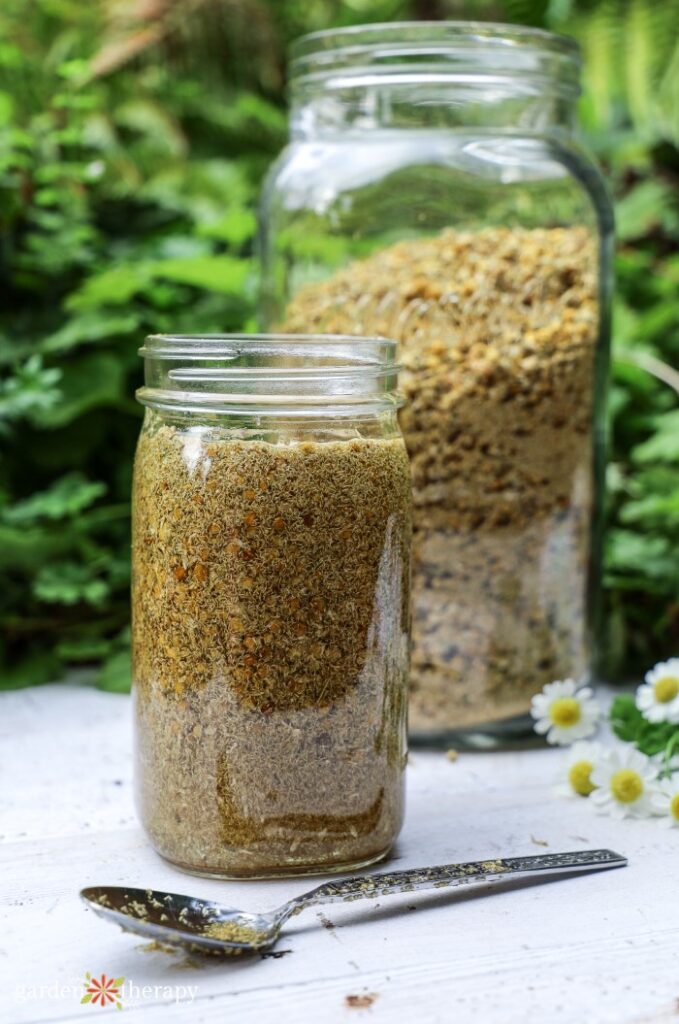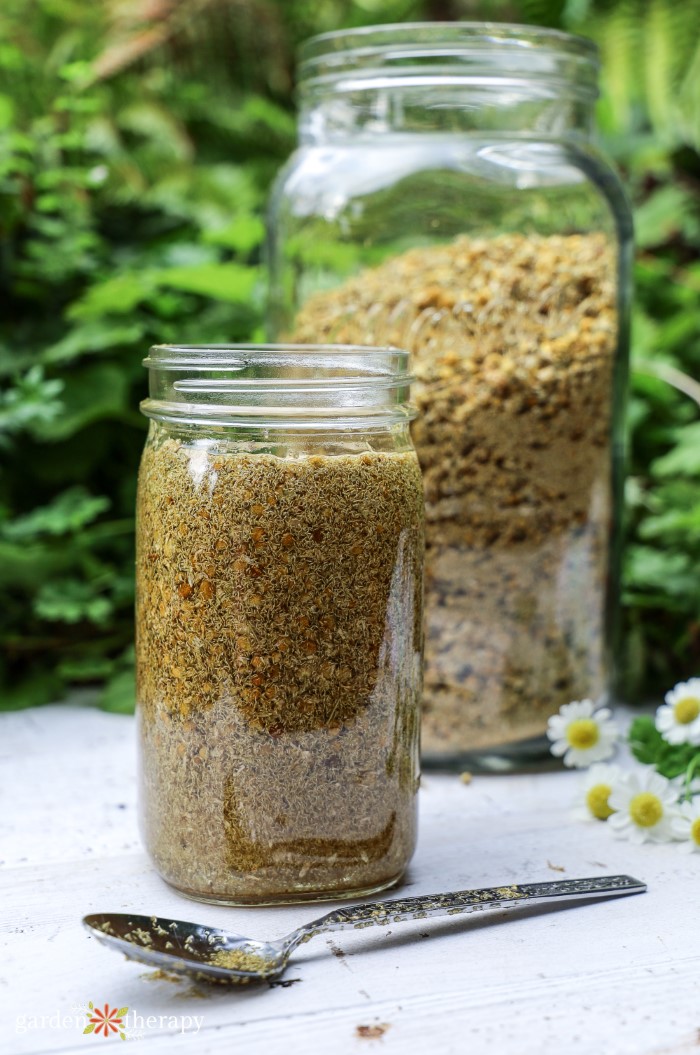 For this recipe, you only need 40 g of the oil. However, I usually make a large 500 ml to 1L jar of the oil and then have plenty to use in soaps, salves, and lotion bars as well.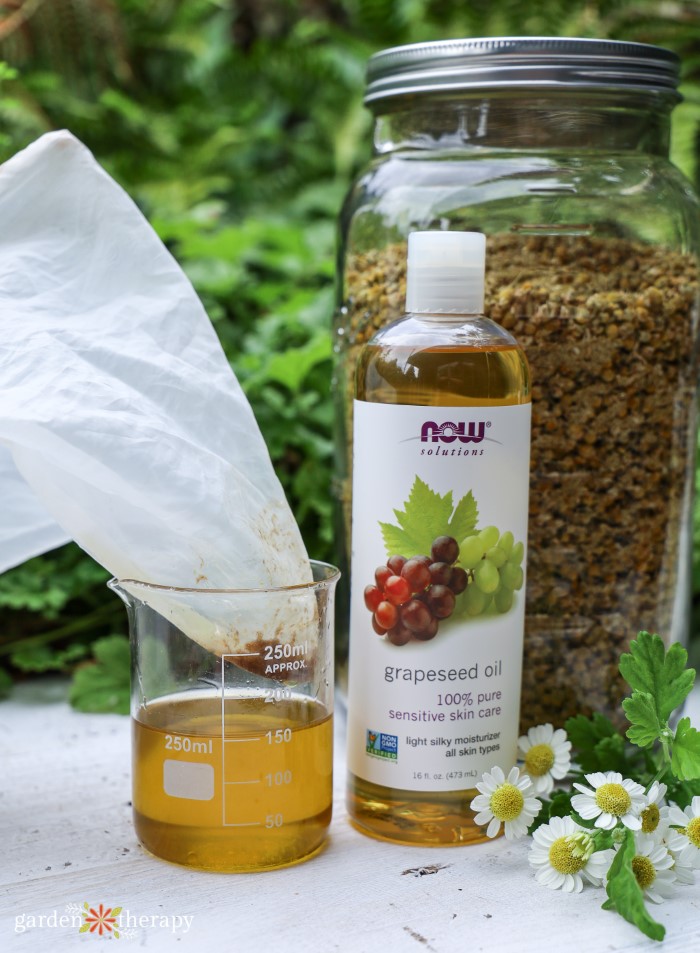 Infuse the oil using one of these three methods, and then strain out the herbs using a nut milk bag or fine cheesecloth.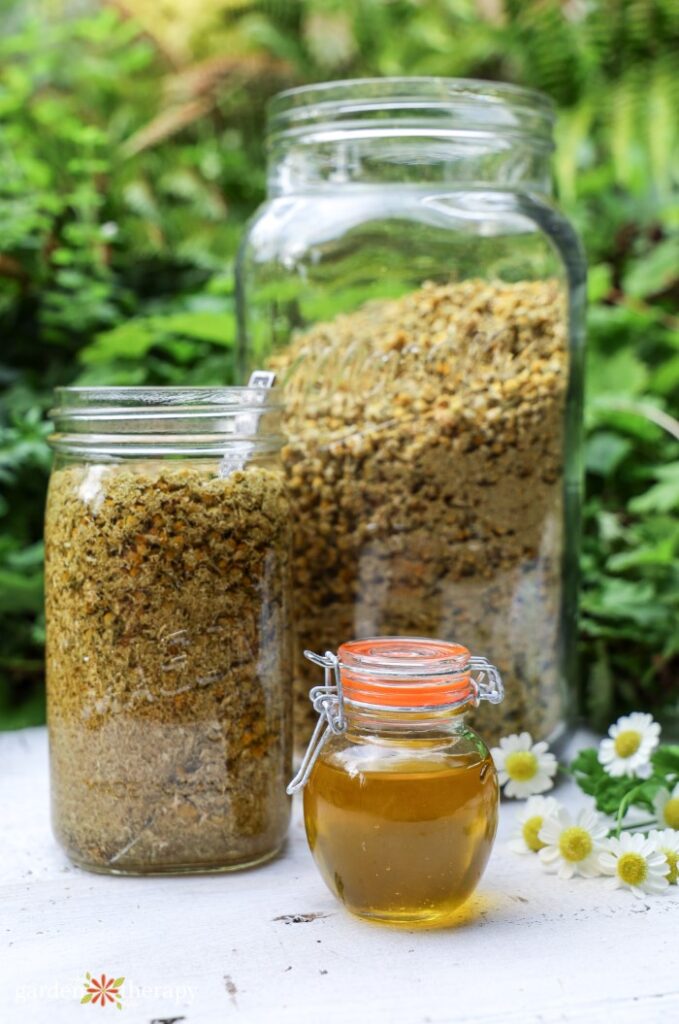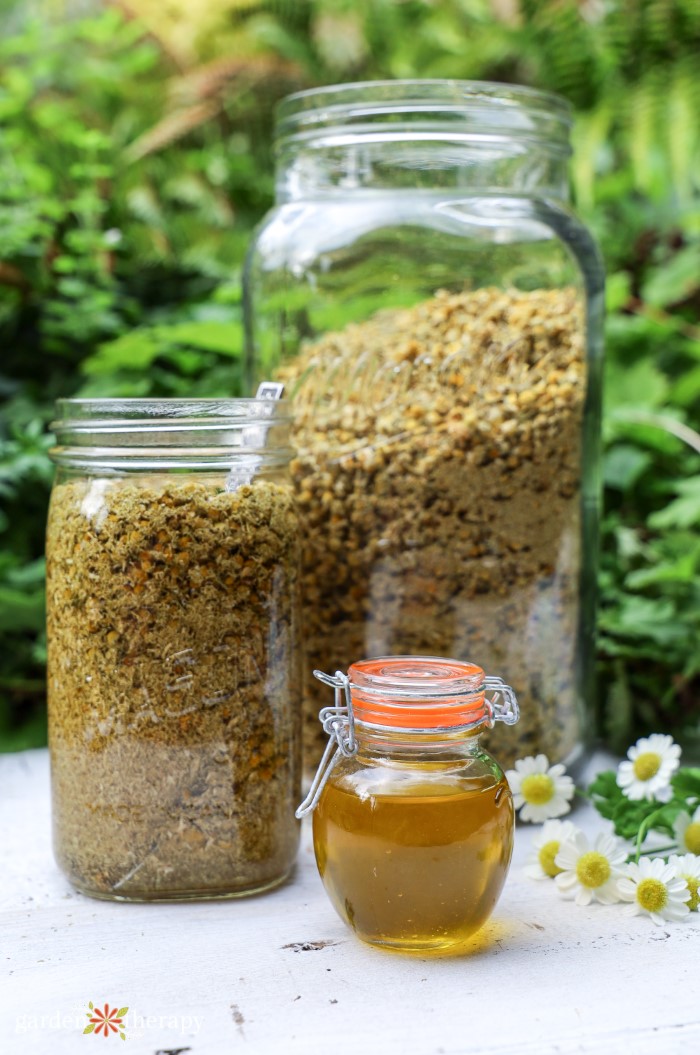 Store the leftover oil in a sealed jar in a cool, dark location for as long as the expiry date was on the oil packaging.
Now, it's time to make the lotion!
Please make sure that all of your equipment and workspace are sterilized using alcohol. It may be tempting to skip this step, but I strongly encourage you to do this and do it well.
Use a kitchen scale to measure the oil ingredients in a heatproof container like a beaker.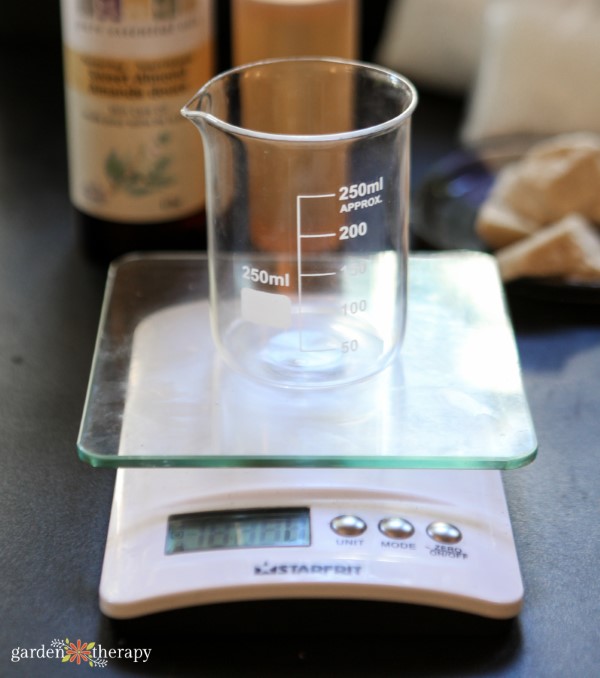 Next, measure all of the water ingredients in another heatproof container. In this case, I used a Turkish coffee pot.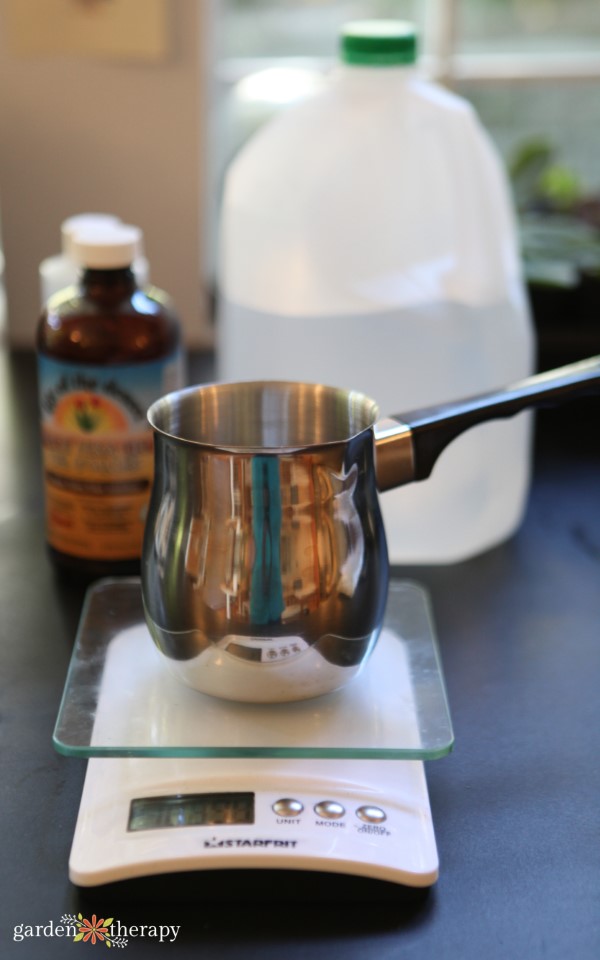 Create a double boiler and heat both the oil ingredients and the water ingredients to 160 degrees.
Keep both the water ingredients and oil ingredients at 160 degrees for 20 minutes. Similar to canning, this helps to kill off any bacteria.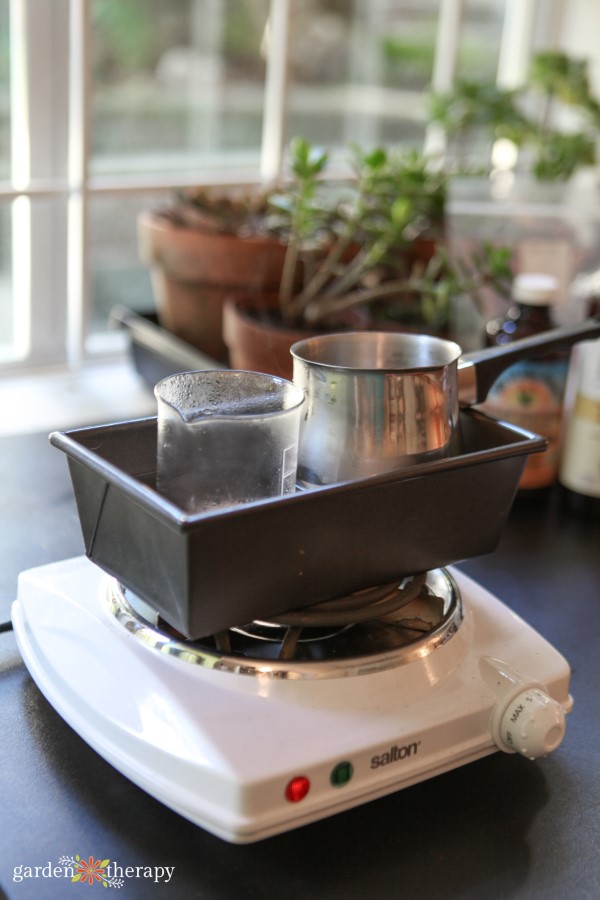 In a mixing bowl, add the oil ingredients first and then pour in the water ingredients.
Use an electric mixer to combine the ingredients. In a large bowl, they should thicken up quickly and cool down.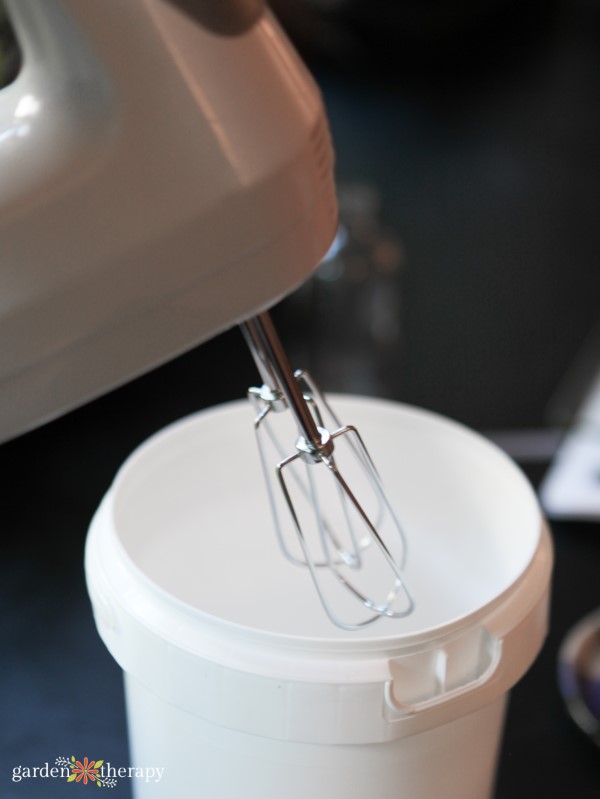 Once the ingredients have reached 80 degrees, you can add the cool phase ingredients. Remember, these ingredients are heat-sensitive and will break down at higher temperatures, which is why they're added at this time.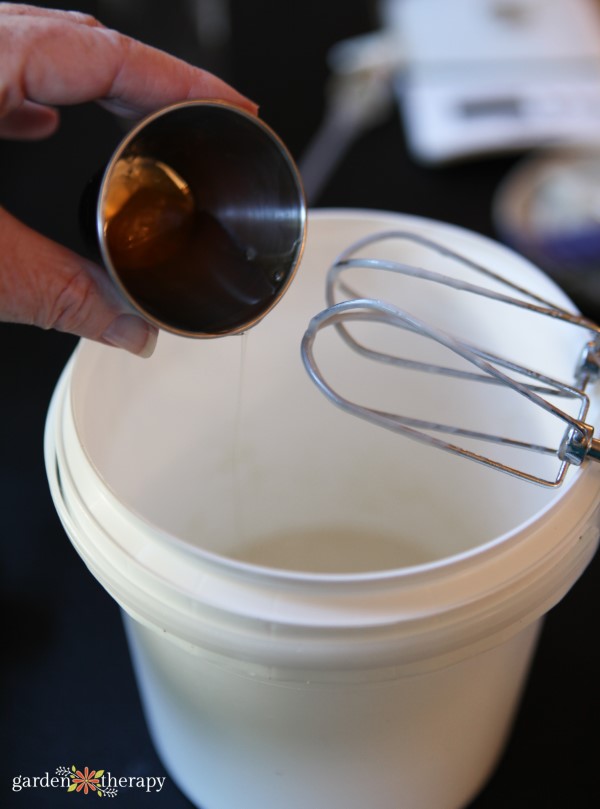 Continue mixing your lotion until it's thick and fluffy.
Separation Tip
I get a lot of questions about this lotion separating, so I'd really like to highlight that making this magnesium lotion is tricky as it's prone to separating. This recipe has enough emulsifier added to it, but it can take patience to blend it. The trick is often to use an electric blender (beaters or an immersion blender) until it's visibly holding together and then let it cool. You can speed this up by blending over a bowl of ice or by putting it in the fridge and then blending again. If it holds together when cooled, it's ready!
I also got this tip from a reader who has made the recipe multiple times:
"I followed your recipe completely until mixing it all. Instead, I mixed it with a stick blender for a few minutes. Left it for 10 minutes. Mixed it and left it for 10 minutes. And continued doing this until it just went very thick and set. My husband uses it every night and says it definitely works."
How to Store Magnesium Lotion
Now you can add it into a sterilized container like a Mason jar with a pump lid attachment.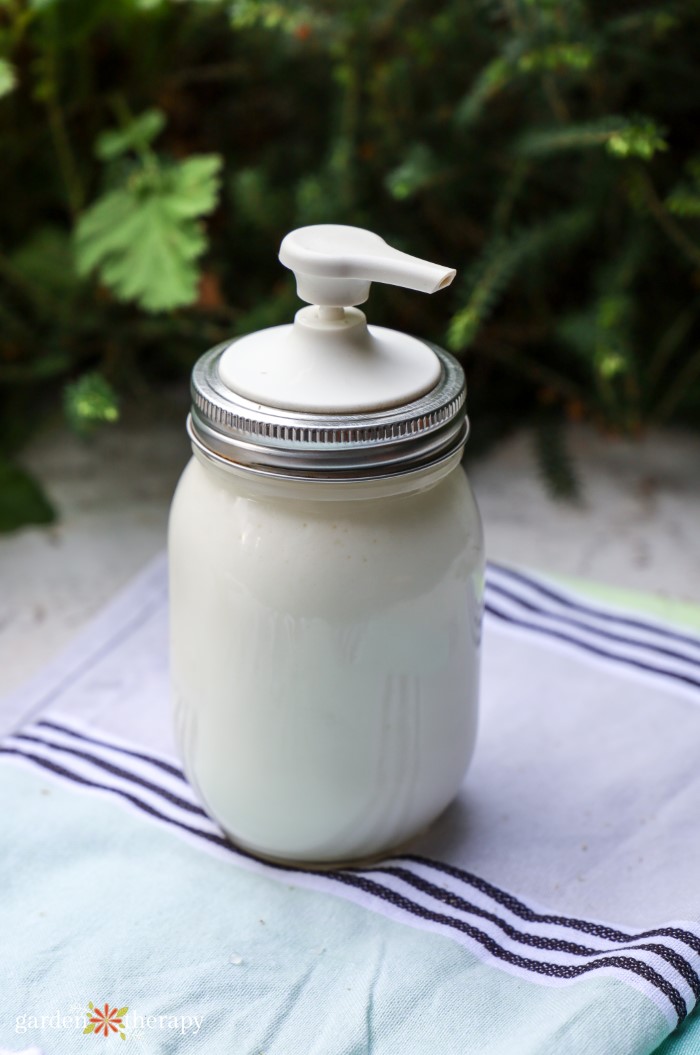 I like using a Mason jar because the opening is large enough to easily fill, but if the opening to your container is quite small then you can put the ingredients into a piping bag for frosting or a plastic zip-topped bag.
Cut off one of the corners of the zip-top bag and it should be easy to get all of the lotion into a pump bottle with a small opening.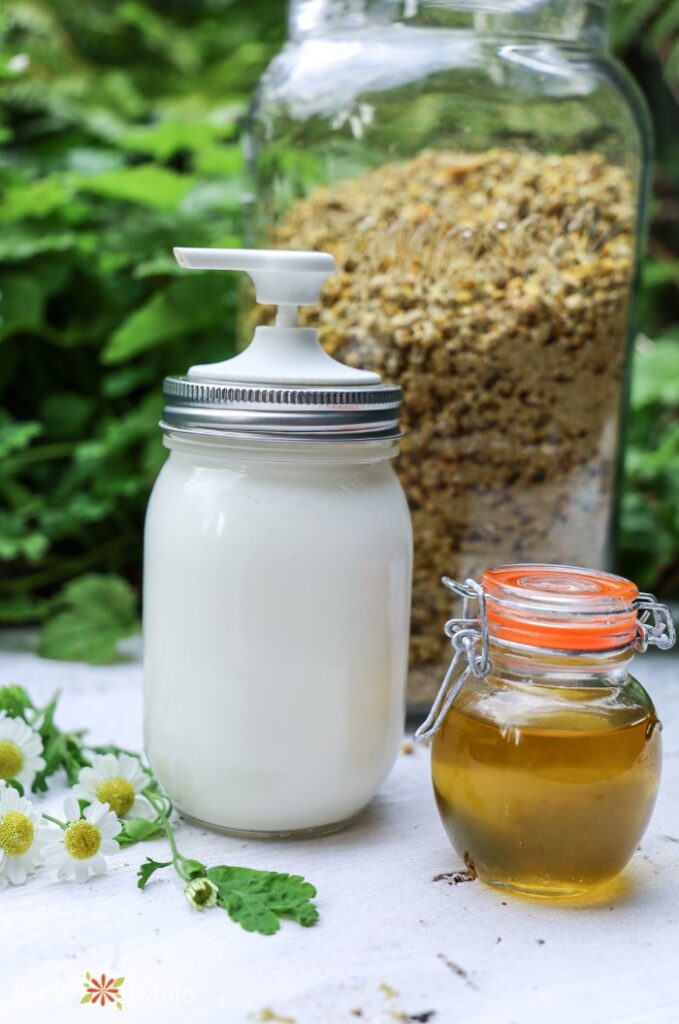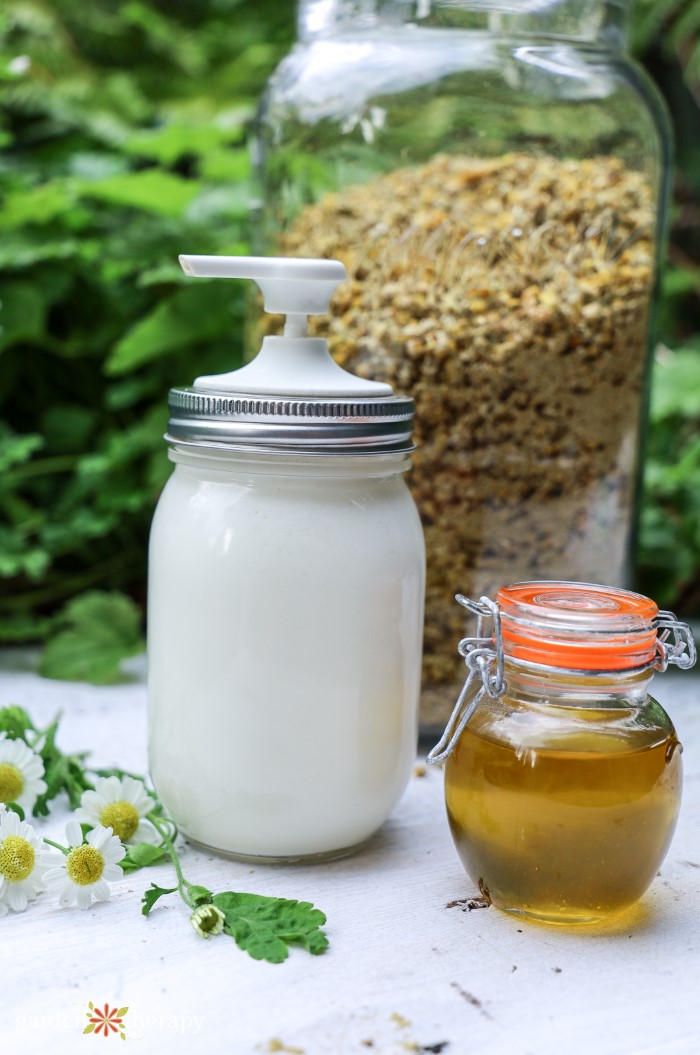 I like using a pump because it releases lotion without any risk of contaminating the lotion by touching it with your hands.
Use this lotion within six months.
Frequently Asked Questions About Magnesium Lotion
What Do I Do If My Lotion Begins to Separate?
This likely means that your lotion wasn't blended enough in order to emulsify. You can shake it well and put it in the fridge to chill. Next, take it out and shake again if separated to use.

You can also try using your immersion blender and blending it some more.
What If My Lotion is Too Thick?
If your lotion is too thick and won't pump through the dispenser, you can try adding some distilled water and blending it again to thin it out. It's a fine line to walk on!
I have a Nut Sensitivity. Are There Any Substitute Oils I Can Use?
Yes! You can replace the macadamia oil with more grapeseed oil in this recipe.
What is Magnesium Lotion Used For?
Magnesium helps to promote proper muscle and nerve function in addition to a host of other benefits. I designed this magnesium cream to help with my aches, pain, and to ease restless leg syndrome. Applied topically, it works well for those with fibromyalgia, restless muscles, and soft tissue pain to help settle down the body.
Where Can I Use Magnesium Lotion?
You can use magnesium lotion anywhere on the body where you have aches and pains. It works the same way as an Epson salt bath but can be absorbed easier and you can apply it to specific areas of the body.
Does Magnesium Lotion Help You Sleep?
Yes! The primary reason I used magnesium lotion is to help reduce pain so I can sleep at night. I apply my magnesium cream at night and it calms down nerves and soft tissues to help me have a more restful sleep.
More DIYs to Try
DIY Magnesium Lotion
Magnesium lotion can be used topically to help relieve restless leg syndrome and pain from Fibromyalgia. I've spent a year testing and developing this recipe, and can personally attest to its effectiveness!
Supplies
Double-Strength Magnesium Oil
Chamomile-Infused Grapeseed Oil
Aqueous Phase Supplies
242

grams

distilled water

52

grams

double-strength magnesium oil

see recipe below
Oil Phase Supplies
40

grams

chamomile-infused grapeseed oil

see recipe below

20

grams

macadamia nut oil

8

grams

shea butter

15

grams

ewax

emulsifying wax

12

grams

cetyl alcohol

thickener
Cool Phase Ingredients
8

grams

leucidal

3

grams

essential oil

optional
Instructions
Supplies to Prepare in Advance
Magnesium Oil: combine 1 cup of magnesium flakes with 1/2 cup of distilled water. Stir in a glass measuring cup until dissolved completely. Then set aside.

Chamomile-Infused Grapeseed Oil: Fill a Mason jar 3/4 of the way full with dried chamomile flowers and pour oil over top. You will need 40 grams of this oil for the recipe.
DIY Magnesium Lotion
Sterilize all equipment and workspace area with alcohol to prevent bacteria growth.

Use a kitchen scale to measure all ingredients for the oil phase. Set aside.

Measure all the aqueous ingredients in a heatproof container, such as a Turkish coffee pot.

Using a double boiler, heat both the oil and water ingredients to 160 degrees. Keep them at this temperature for 20 minutes to kill off any bacteria.

Add the oil ingredients into a mixing bowl. Then add the water ingredients. Combine them with an electric mixer until they thicken and cool.

Once the lotion base reaches 80 degrees, add the cool phase ingredients. Continue mixing until the mixture is thick and fluffy. Then add the lotion into a sterilized glass container such as a mason jar.