Lotion bars are becoming more popular due to the elimination of packaging, common ingredients, and how they soften skin so deliciously. They couldn't be simpler to make and they look gorgeous too. Here is why and how to make lotion bars.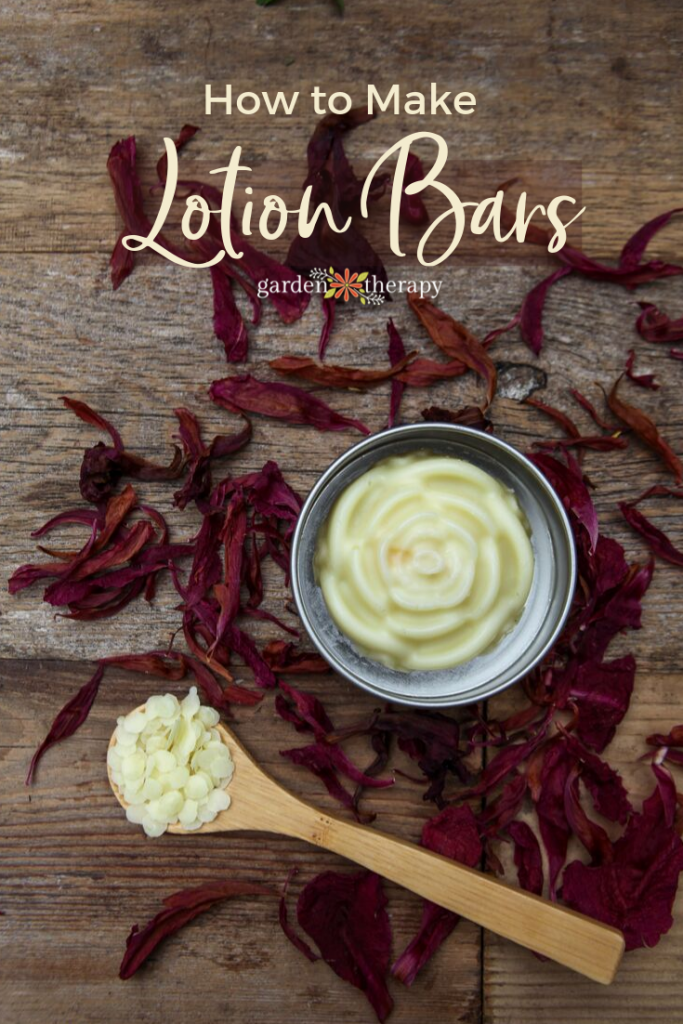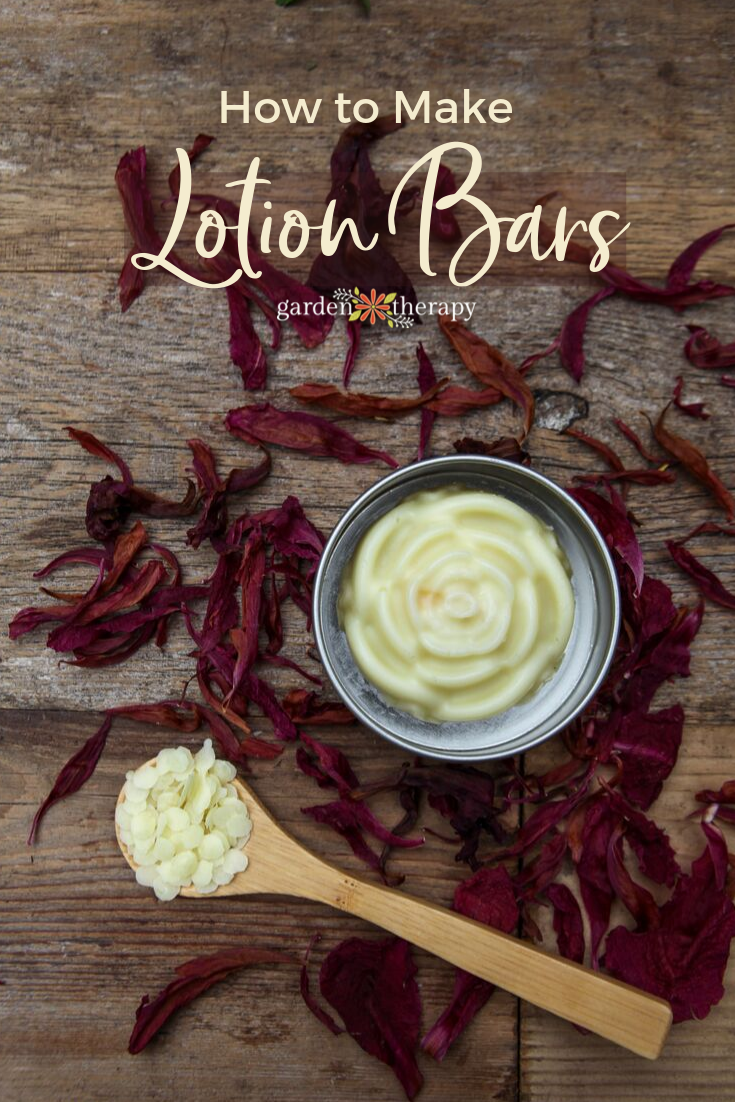 What's All The Hype About Lotion Bars?
Lotion bars are all the rage for so many reasons! They contain all the concentrated goodness in lotion without any added water to dilute the oils and butters. A lotion without water also means that lotion bars can be made without any preservatives. Lotion is much more complicated to make, as you need to make it in three phases (the aqueous phase, the oil phase, and the cool-down phase) so it becomes a barrier to some folks who want to make it at home. In lotion, some of the ingredients that are a little bit more complicated to find like an emulsifier, a thickener, and a preservative. There are options for these that are considered natural and ethical, but they do need to be sourced and the supply chain investigated to ensure that your finding ingredients that you feel good about. If you want to read more about what goes in to making lotion, encourage you to visit my ultra- moisturizing lotion recipe.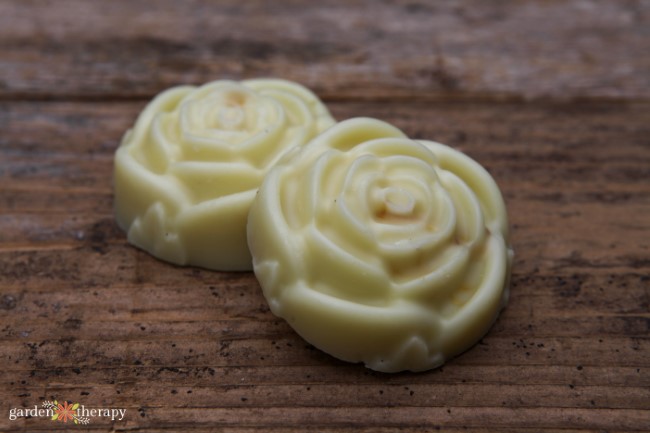 In contrast of the many steps it takes to make lotion and all the different ingredients, lotion bars are very easy to make and require few ingredients. They are also more concentrated so you'll use less. AND they also require less packaging. While I do use reusable glass bottles to dispense lotion, lotion bars don't need any packaging at all if you're using them at home. I keep mine in a soap dish or a metal tin in my bathroom, similar how you would store a bar of soap.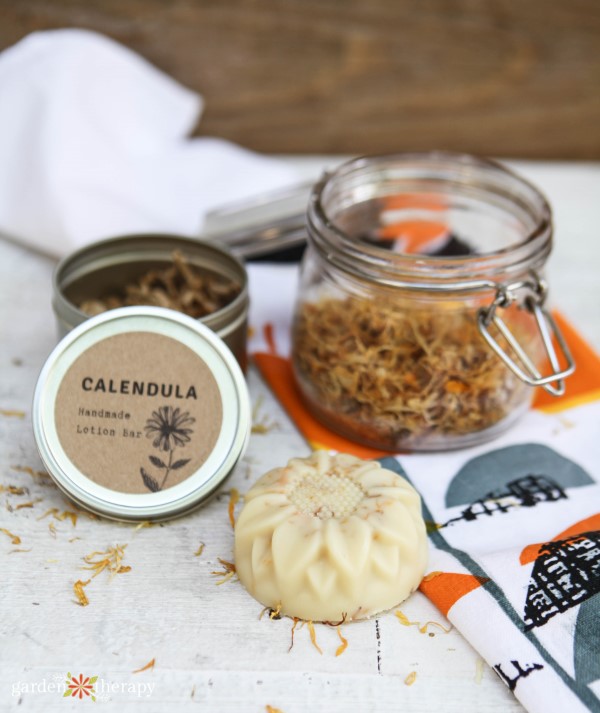 Last but not least, lotion bar makes a great gift. You can make up a bunch of these beauties in a flower silicone soap mold give them away as thoughtful homemade gifts throughout the year.
Botanical Beauty as Gifts
For ideas on how to package up and gift wrap lotion bars and other botanical beauty creations, check out my Make & Give book, Home Apothecary. I have take it one step further and brought that book to life in the Botanical Beauty Holiday Gifts Workshop. Both are filled with a variety recipes for making natural skin care products from gorgeous botanicals, natural colours, and essential oils. Plus each project comes with unique and creative ways to wrap them as gifts.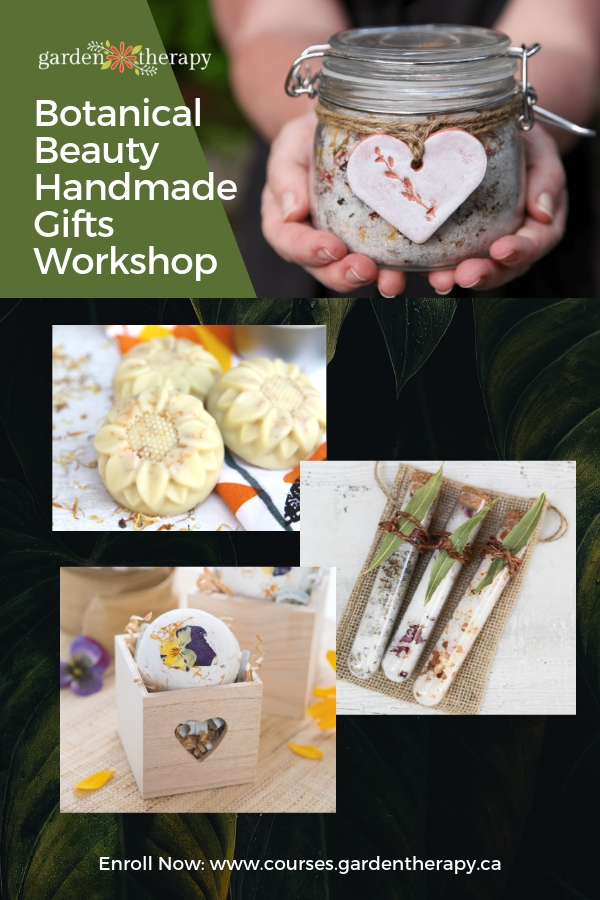 What Ingredients go into a Lotion Bar?
A lotion bar is made of oils and butters that moisturize and repair skin. The oils and butters can be infused with herbs to gain additional properties to benefit skin.
A harder substance like beeswax or soy wax is then added to firm up the oils into a solid bar.
The bars can be scented with essential oils, colour with natural plant-based colorants, and decorated with botanicals like flower petals or coffee beans.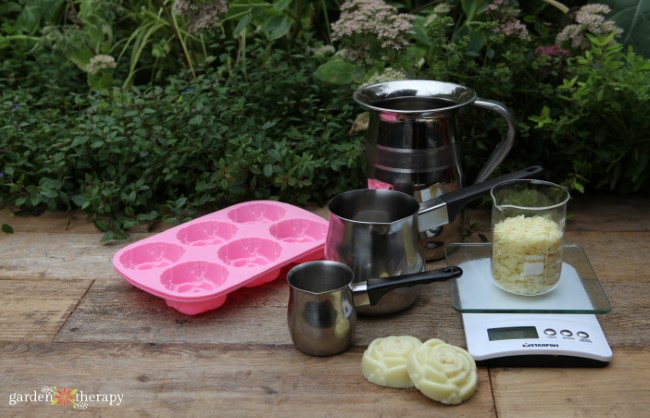 The ingredients are melted together in a double boiler to combine and then poured into a mold like a silicone cupcake or soap mold. When you apply the lotion bar to your skin you're applying the pure ingredients and therefore you'll need less.
How Long Does a Lotion Bar Last?
A lotion bar can last for many months. As there's no water in the formulation it means that it is not a hospitable place for bacteria and fungus to grow. Of course, how you use your lotion bar could allow for these elements to colonize. For example, if your often using it on wet skin or with wet hands, keeping it in a steamy bathroom, or storing it (eek) beside the toilet. Using common sense to keep your lotion bar clean, means it will continue to be safe to use for many months.
In terms of spoilage, the oils, while long lasting, do have expiry dates. When making your lotion bar be sure to note the expiry dates on the ingredients. The expiry date for your lotion bar will be the soonest expiry date of all the ingredients. The lotion bar won't last for many years, but it could certainly last well for quite a while.
If the lotion bar changes consistency, colour, or scent, discontinue use immediately and discard lotion bar. Any change can be an indication that the lotion bar how spoiled. Again, common sense will guide you here.
How to Apply a Lotion Bar?
To apply lotion bar simply rub it on dry skin. You can rub the lotion bar between your hands to melt some of the oils and then apply them to your skin. Or you can rub this lotion bar directly on your skin.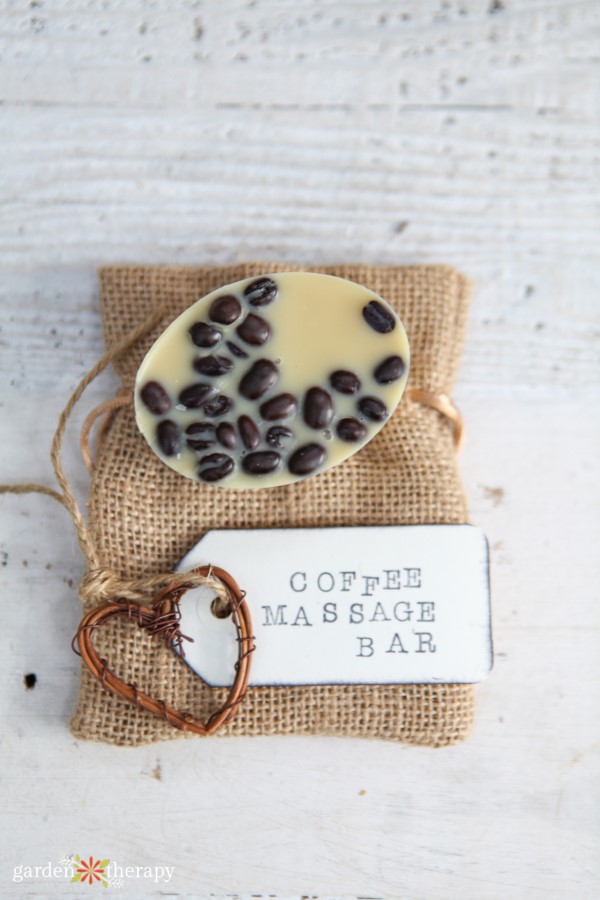 A bar like this one with the coffee beans from my Home Apothecary book, the lotion bar is a bit firmer and the coffee beans act as a massage to the skin.
The best oils and butters to use for lotion bars are ones that melt at body temperature. This will keep the bars firm in a normally climate-controlled space, and melt the oils and butters rapidly when rubbed in your hands.
Seasonal and indoor temperature also comes into play when using lotion bars. I make a winter lotion bar that doesn't have any beeswax in it that I keep in my cool bathroom in the winter months. It stays firm in the winter and it melts rapidly in my hands so that I can apply it all over quickly after my showers. In the summer, that lotion bar is not solid enough to hold up to the warmer months, so I use one with beeswax added.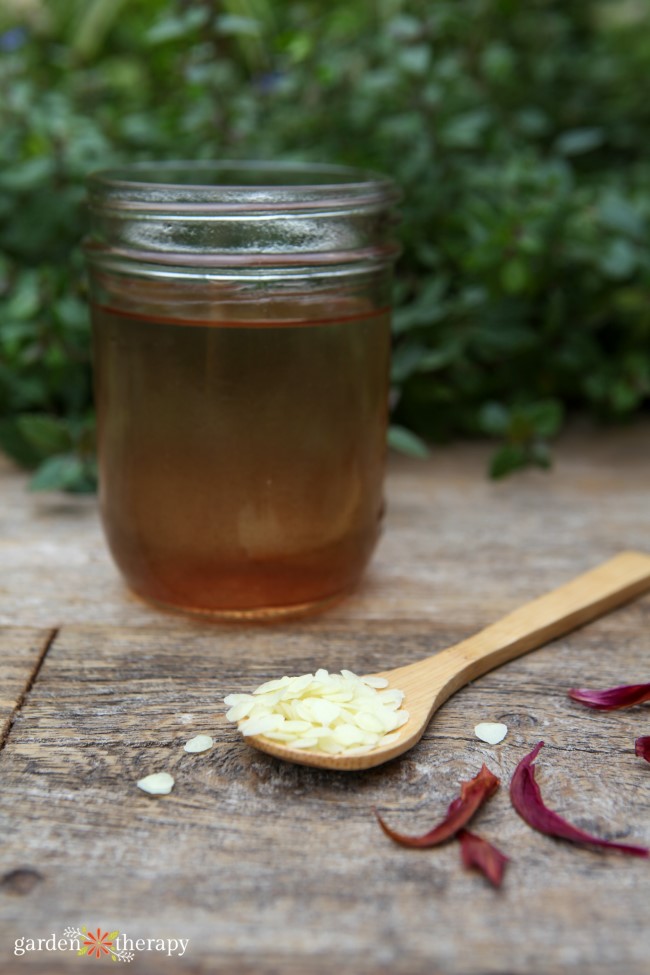 What Oils, Butters, and Waxes to Use in Lotion Bars
There are so many oils, butters, and waxes that can be used in lotion bars but I tend to stick with most commonly available options. There are certainly some exotic oils that can be added to skin care if needed, but often times the simplest recipe is the most accessible and affordable which fits into my life best.
Oils & Butters
Grapeseed Oil
Extra Virgin Olive Oil
Waxes
How to Make Lotion Bars
The key to making lotion bars is to heat the oils so that they are melted gently and not cooked. Overheating oil can burn the oil or change the properties. As oils, butters, and waxes melt at different temperatures, here are a few tips how to make lotion bars without modifying the properties of the ingredients.
Different kinds of liquid oils can be combined together in the melting pot, but butters and waxes should be broken up into smaller pieces, grated, or purchased in pastilles or pellets to ensure that they melt more quickly.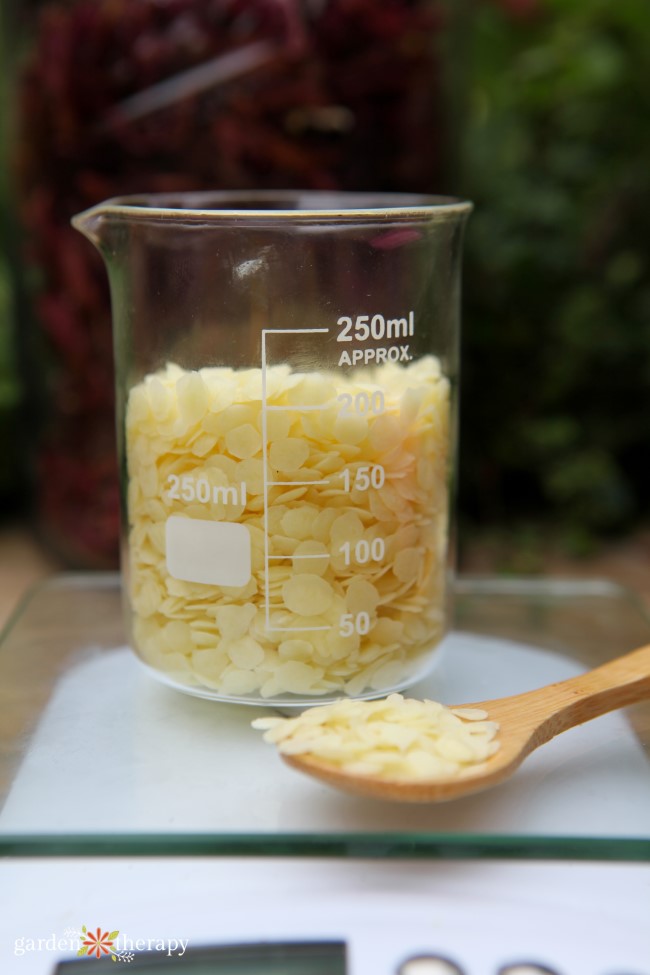 If you are using a solid wax, melt the wax first in the double boiler, without any of the other ingredients. As it will melt at a higher temperature and take longer, which could affect the integrity of the oils.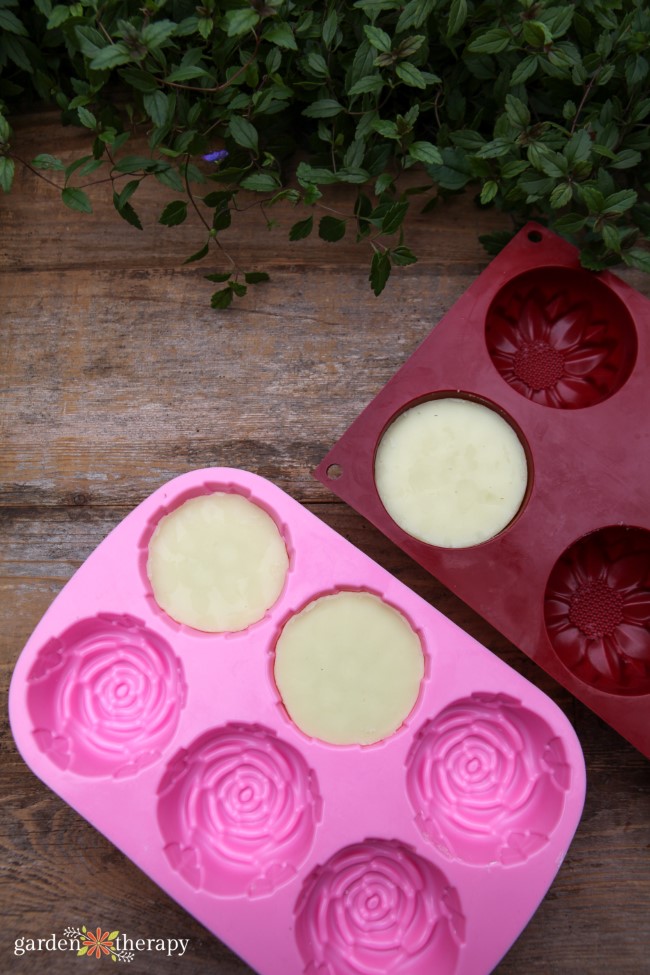 Make it!
Melt the wax, over medium-low heat in a Turkish coffee pot, double boiler, or a small pot with a pour spout. Add the oils and butter when the wax is liquefied and melt all of the ingredients together.
Stir constantly and keep a watchful eye on the oils. You want them to just reach the melting point and not overheat.
When the oils have melted and combined, add the essential oil and calendula petals if using and stir well.
Pour the ingredients into a silicone mold usually used for baking or soap making, dividing the contents equally. Leave the lotion bars undisturbed until they are set.
If you are making them in a warm room, move the silicone tray into the fridge to firm up.
Remove from the mold and store them in the refrigerator when not in use.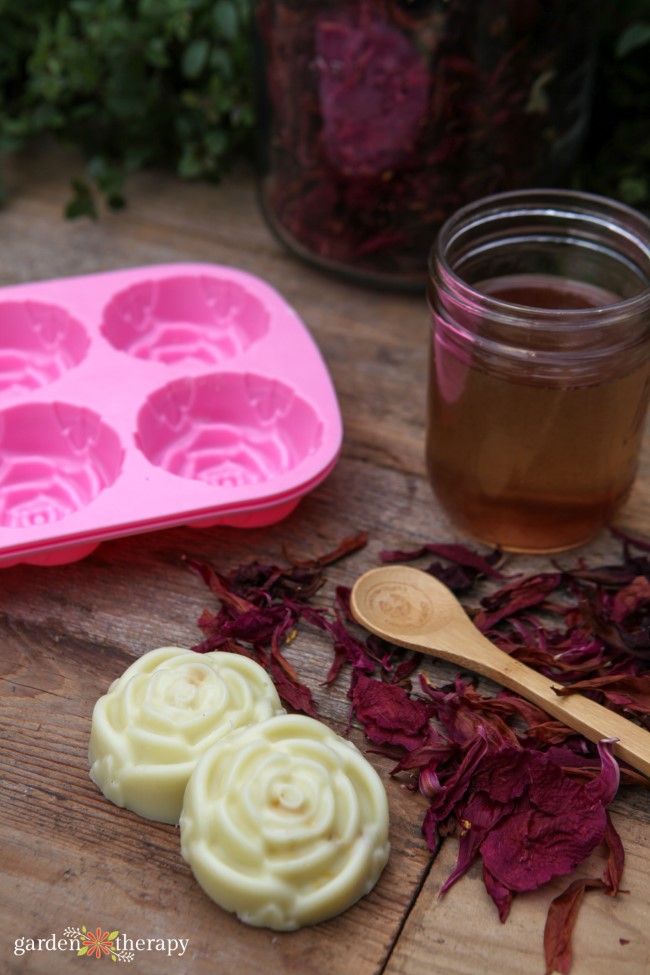 More Moisturizing Recipes for Skin